Are you looking for decorative table tops ideas to try in your home? Here is a list of ideas to try right now! Most ideas on the list don't include complex supplies, advanced tools, and skills.
You can easily make them in one afternoon or engage your whole family and have a lovely family project which will result in beautiful table top decoration!
Attractive decoration for tables is a must-have detail in every interior space, such as dining and living room. You can also try some of the ideas from the list for console tables in hallways and every other room!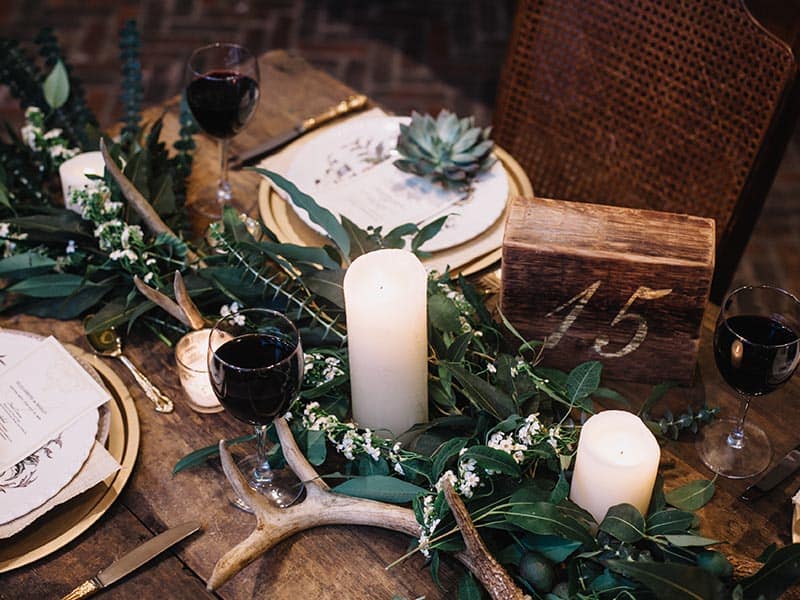 1. Faux Succulent Arrangement
Yes, natural plants are always a great choice! But, if you don't have the motivation to care for plants, and you still like the look, here is an idea to try. Instead of planting a succulent, add a fake one on top of rocks!
A simple, round glass bowl can serve as a base. Fill it in half and add a faux plant in the middle. An arrangement like this will look beautiful on a console table and a coffee table.
2. Rustic Centerpiece
If you want to welcome the spring most spectacularly, I recommend making a rustic centerpiece for your table and decorating it with fresh flowers. Prepare a wooden box, mason jars, and fresh flowers.
I recommend placing hydrangeas in mason jars. You can also add candles between mason jars, but the table top centerpiece will look charming even without them. Keep the color scheme light and pick white, blue, and green as your primary colors.
3. Orange Table Top Decor
Save the next idea for the fall season! However, if you love the orange color and you want to brighten up your interior space, you can make pumpkin candle holders and use them as colorful table top decor year-round! You'll have to carve the inside of the pumpkin to make space for the candle. If you can get your hands on the mini pumpkins, make mini candle holders and combine them with larger size holders for dynamic arrangement!
4. It's all in the Details
Did you know that you can make stunning table top decorations, using cheap candles, a branch of the herb you've got in your garden, and small pots with plants? Use votive candles for the project, because they have a low melting point.
They will last a long time, and you can easily replace them once they are completely burnt. Even if you choose candles without smell, a branch of the fresh herb will provide an aroma!
5. Romantic Table Top Decor
Candle table top decor brings a dose of romance and looks spectacular in outdoor settings. If you have different size glass bottles, save them for decoration. First, remove labels from the bottles and learn how to cut the bottom part of the glass bottle.
Lit the candles and put bottles on top. Leave the top of the bottle unsealed, so your candles have enough oxygen to burn.
6. Perfect Idea for Coffee Table
A coffee table can become a central decor piece in your home if you make a nice table top element. Combine fresh flowers with a succulent greenhouse on a rustic plate. You can make a mini-greenhouse from picture frames.
Add a third element, a small clock or picture frame, and complete the arrangement!
7. Let the Spring In
With the first days of spring, your garden will bloom with magnificent flowers and aromas. Use them to create a lovely floral arrangement for the dining table. You'll need a piece of foam and a candle.
Cut the foam in a circular shape, damp it and combine various flowers to create a bright and vivid decor. Put a white candle in the center and don't forget to take care of your flowers in foam so the centerpiece will stay fresh for longer.
You can spray the flowers every day and check if the foam is damp to see whether your blooms need more moisture.
Use foam to make beautiful floral centerpieces for the dining table
8. Nothing is Too Elegant For Your Home
People usually associate mirrors and flowers with wedding decorations. But, who says you cannot elevate your living room with a beautiful mirror table top decor? You can find beautiful items for this project in thrift shops.
Or you can make a mirror tray by yourself and customize the arrangement. Add roses or whatever fresh flowers you have available and green plants for contrast!
9. Green Wreath For Table
Wreaths aren't only for doors and Christmas decorations. A wreath made from green plants can look stunning as a table top decoration. You can also make a laurel wreath to celebrate accomplishments and decorate your table for special occasions!
A simple way to make a green wreath for your table
10. Corks Table Top
Instead of making a centerpiece arrangement for your table, why not decorate a table top instead? Collect wine corks and get the epoxy resin to seal the table top once you're done displaying your corks.
You may decide to arrange corks in regular or irregular patterns, whatever seems more beautiful to you. The project may work for the indoor or outdoor table!
11. Coin Table
If you have an old table that requires a bit of love to shine, you can make a penny table top! Making a penny table top requires patience, but the final result will make all your efforts worth it! You have to arrange rows of a penny on top and seal them with an epoxy resin.
A table top like this provides a lot of options for customization! You can arrange coins in different patterns and make stunning masterpieces.
Making a penny table top so simple that even a kid can do
12. Faux Marble Table Top
If you are a fan of minimalism, you can make a faux marble top. The elegant marble decor will blend in all minimalistic-style interior spaces. Luckily, the faux marble effect isn't difficult to achieve.
Prepare sponge, paint, brushes, feather, and white chalk paint. You'll also need light gray and black paint to complete the look. Prepping the table top with primer will help the paint remain long-lasting.
13. Sand Candles Arrangement
Candles are common elements in table top decoration. But, if you want something different for your home, play with colorful sand and make unique sand art candles for your table tops.
It is a fun and engaging project for the whole family, kids included. You can also experiment with wood logs and similar details as candle holders to create attractive arrangements.
14. Coastal Table Top
If you want to keep the beach vibe in your home for as long as possible, collect as many shells as you can! Save them for your shadow box shell table top and enjoy your unique decor!
You can make a shadow box table from an old bench or an old desk. Once you've displayed the shells, don't forget to add a piece of glass on top, to get a flat surface and protect your arrangement.
How to make a shadow box coffee table
15. Rocky Table Top
If you have always thought that something as ordinary as rocks can be a decoration superstar, you were wrong! Rocks are versatile, crafty material which you can use to make table centerpieces or spruce up an old bucket and create a beautiful side table.
If you want to try this idea as soon as possible, you can get pebbles at Dollar Store. Two bags should be enough to cover the top of the five-ballon bucket.
16. Traveler's Table Top
Where would you like to travel next? Just point at the map on your table top and book a flight! With a world map table top, planning a trip is as simple as that.
The easiest way to make a map table top decoration is to use a gift wrap in that pattern. But, if you are skilled enough, you can also use a jigsaw world map puzzle and a glass top!
17. Rocks Centerpiece
As I already mentioned, there is so much you can do with rocks! You can paint them, arrange them in the tray, combine them with candles and get wonderful rock centerpieces.
I recommend using self-sealing paint for rocks to save time and skip a few steps. If you want to leave rocks in their natural color, you can only add meaningful inscriptions!
18. Macrame Centerpiece
If you want to add a dose of boho style to your home, start with simple details such as a macrame centerpiece. To make a macrame decoration, you'll have to learn a few basic macrame knots, such as square knots.
Once you conquer the basics of macrame, you can customize your designs and make additional decor details, for other tables in your home or walls.
19. Tiered Coffee Table Decor
Repurposing things is a great part of DIY projects. You can use an old tiered cake stand, buy one in a thrift shop or build a tiered stand by yourself! Then, choose items to decorate the stand with and make sure they match.
For example, you can display your bowls with cream and sugar and add a small vase with greenery to brighten things up!
20. Take Your Herbs
Fresh herbs aren't only a must-have addition in your kitchen. You can use them to create lovely table decorations. It is one of the easiest DIY projects because you have endless possibilities for mixing and matching herbs and fruits.
Start by making a loop with twine and attaching a bundle of fresh herbs. Keep adding herb bundles until you've made a beautiful centerpiece. You can decorate it with pines, fresh and dry flowers, and fruits!
21. Birch Log Centerpiece
Once the Christmas season is complete, you can find attractive birch logs on sales. You can use them to make the lovely table top decor. A birch log can serve as a multiple candle holder, or you can place air plants in it. Both live and faux plants will work for the project but ensure you use air plants, which can survive without soil and with minimal maintenance.
22. Bottle Caps Table Top
Don't throw the bottle caps! Save them for your next project – bottle cap table top! You'll get a unique table top for a side table or outdoor dining table. Don't forget to add a resin layer on top that will keep the caps in place and ensure your top table surface remains durable.
23. Tree Stump Centerpiece
If you have basic carpentry skills, you can use them to make a tree stump tray as a central piece of your table decoration. Pair it with flowers and glass candles for a romantic and rustic centerpiece. An idea like this will also work on weddings.
You can also add the handles on the opposite ends of the tray, to make it easier to move!
24. Pampas and Dry Flowers Bouquet
Pampas grass is long-lasting and easy to combine with both fresh and dry flowers for lovely arrangements. Mix pampas grass with dry flowers, put in a glass jar, add a bow and you've got a lovely boho table top decor for a side table.
If you make a larger bouquet or several small ones, you can use them on your dining table.
25. Flower Monogram Decor
Monogram centerpieces are great table top decorations for special occasions. They are often very expensive to order from professional florists. Luckily, you can make a flower monogram at home!
Decide which letter, number, or symbol you want and make a box in that shape. Fill the box with styrofoam or floral foam and fill it in with flowers with foliage. You can display it upright or horizontal, whatever seems more beautiful to you!
26. Wine Cork Candle Holders
As a last idea, I saved something easy to make with a stunning visual effect – wine cork candelabrum! People who have been saving wine corks for years will finally have something to do with them!
You'll need two containers to make one candleholder. One should fit into the other one, and the smaller one should hold the candle. You can secure a small container with glue! Fill the larger container with corks and light the candles!
Table Top Can Transform The Complete Aesthetics of Your Home
If you can change one decoration element in your home, make it your table top! It will instantly bring the vibe you want to your home, either through a lovely centerpiece arrangement or through unique table top projects.
I'll definitely try the pumpkin candle holders in the fall, and now I am collecting supplies for the penny table top! What will you try first?
Come back for more interesting DIY project lists and ideas!