Are you looking for some attractive and easy-to-make pot painting ideas? Here is the best list to get some inspiration from and decorate your indoor and outdoor pots!
You can bring the whole family to the project and have a fun weekend! However, you'll need to pick your paint wisely so it will adhere to the various pot surfaces. Choose between spray and acrylic paint and have fun!
Here is the list with multiple ideas to try!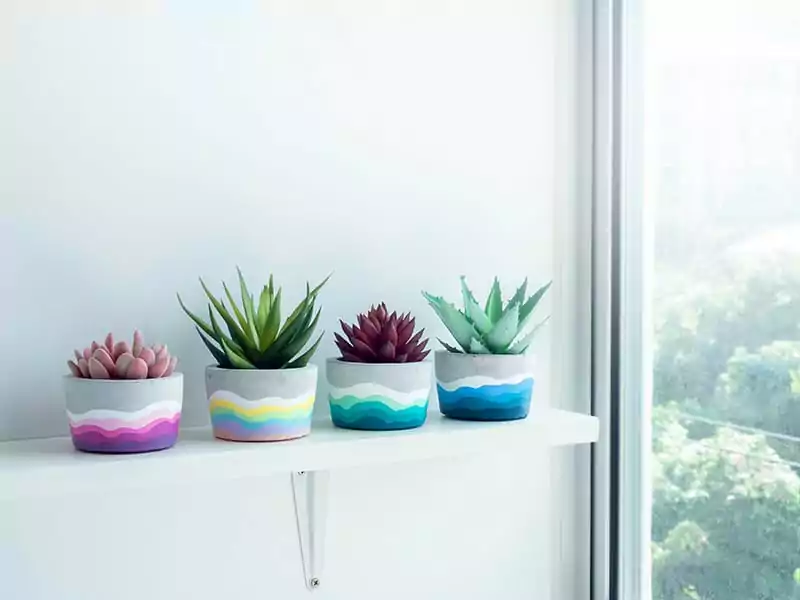 1. Contrasting Art
People don't usually pick dark-colored pots for their flowers. But, if you add details in contrasting colors, you can make the whole setting more appealing.
First, paint your terra cotta pots black and use thin brushes for detailed work.
2. Embrace the New Season
Here is a fun idea to try for the upcoming spring. Get all your pots and paint them yellow like a pro! Draw little daisies on the pots to welcome the springtime! You can choose to decorate pots differently, but keep the spring vibe!
Best tips for painting pots with acrylic paint.
3. Christmas-Themed Pots
Save the next idea for the holiday season! Draw the most famous reindeer, Rudolf, on pots in which you grow miniature conifers. You can also decorate the pots with snowflakes and glitter to make them more festive.
4. Random Flowers
If you don't want to repaint the entire pot, you can only draw and paint a couple of flowers to make the pot prettier. You can even have your kids do that for you! I recommend choosing the bright colors on terra cotta pots, so they will pop out even more!
A vivid red and yellow combo looks very pretty on the brown surface.
5. From Nothing To Something
Plain plastic pots are often ugly and not very inspiring. But, you can choose a variety of paint types to decorate plastic pots.
If you don't feel very artistic, just add small details on the pot with a brush or change the color completely!
6. A Polka Dot Pot Brightens Every Patio
Polka dot is one of the easiest patterns to try on pots, plastic, clay, or whatever material. It can look beautiful, and you don't need more than a couple of minutes per pot! If you combine bright colors such as sky blue and yellow, you will quickly get a fun pot to brighten up your space!
7. Make Your Elegant Pots
You don't have to buy a set of new elegant outdoor containers. If you have a set of old, plastic pots in a dark color, you can easily make them more elegant by painting them pure white! Then, you can plant any flower or shrub and the entire setting will get a whole new look!
8. Add Face To Your Pot
A sunny afternoon is a perfect time to gather your family and decorate old pots! You can draw faces on the pots, and do a complete pot makeover!
Your kids will love the project!
9. Simple Concrete Pot Art
Who said concrete pots aren't elegant? Concrete pots aren't too ordinary for the interior space if you create simple art on them.
If you want to achieve an elegant look, choose simple geometrical patterns. However, not all paint types will look good on concrete or will adhere to the surface. Don't forget to use latex primer before painting!
Make and decorate a cement pot from the scratch.
10. Unique Shade On Plastic Pots
Plastic pots come in a wide range of colors. If you are interested in achieving the one specific shade on the plastic pot, like a royal blue, you might have to spray-paint the pot.
Elegant, hand-painted pots can be expensive. Using spray paint on cheap plastic pots will help you save money and elevate your plant display!
11. Extreme Plastic Pot Transformation
Plastic is the cheapest material for pots, but it isn't the most beautiful one for sure! Did you know that you can make your dull plastic pots look like ceramic or stone?
You'll have to use several layers of multi-purpose paint and do detailed work on every pot, but the final result will amaze you!
12. Use Markers For Quick Decor
If you don't want to fuss with paint or spray, you can use markers to decorate your pots. Pick a black marker on white plastic pots and draw some geometric patterns on the pot for an elegant look!
The white marker will look fun on bright green pots, and it is easy to use! Clean and dry the pot before you start for better results.
13. Glow in The Dark Unique Pots
If you want your pots to glow in the dark, you'll have to use spray paint that glows in the dark. You can also draw some patterns on the cardboard, cut them, and use them as a mold to spray-paint the pot instead of painting the whole surface.
Always apply several layers of paint to make the glowing effect brighter!
14. Metallic and Quotes On Pots
If you lack motivation, it can be a good idea to surround yourself with happy words and interesting quotes! A combination of gold inscriptions on a white plastic pot looks elegant and blends into every interior or exterior setting.
Metallic paint is available in most home-improvement stores, and it is easy to handle with a thin brush. You can also paint the pot rim and pick simple black paint for the words.
15. Watermelon Pots
Here is a fun idea to bring the summer vine into your outdoor space! Making a watermelon flower pot is also a craft project for your kids. You'll need hot pink, green, black, and black colors for the seeds!
Only two brushes are needed, a large one for the pot and a thin one for detailed work!
16. Nail Polish Art on the Pots
Use nail polish to create a stunning, almost marble effect on your old pots. You'll need a large bucket of water, several nail polishes, and planters. Mix nail polishes in water and stir with a wooden stick. Then, immerse the pot in the mixture and watch the details appear on the pot!
Satisfying video of painting terra cotta pot with swirling technique.
17. Glitter Flower Pot is Always a Great Idea
If you want to add a little sparkle to your plant display, use glitter! Glitter pots are so fun to make, and they might be beautiful party decor! If you don't want to use primer on pots first, and glitter glue, pick glitter paint.
You can find it in all shades and it is easier to work with than glue and glitter.
18. Rainbow Pots
You won't need a lot of paint to create a beautiful rainbow effect on your pots. Also, making rainbow pots doesn't require any skills at all! The project is so simple, that you can even include a toddler!
Paint the bottom with darker acrylic paint and switch to lighter and brighter shades as you move to the pot top. I found that square brushes work exceptionally well for the project!
19. Color-Combos With Painters Tape
If you prefer clean lines and contrasts, you'll have so much fun decorating pots with painter's tape and acrylic paint. Because you don't need a lot of paint, you can use paint leftovers from other projects.
I like the combination of blue and yellow, but you can pick whatever colors you prefer. Use painter's tape to achieve clean lines and regular geometrical shapes.
Skip the first minute and find out how to use tape to decorate pots.
20. Plastic to Cement Transformation
Cement containers are a great addition to your garden. Large cement containers are quite expensive, but here is a trick you can try. Fake the cement finish on plastic containers to save money!
Latex primer is a must for the paint to stick. A clear sealer is an optional final step, but it will make your artwork more durable.
21. Golden Foil Art
Adding golden foil to your flower pots isn't one of those time-consuming projects! On the contrary, the project requires minimal time and effort, and has an outstanding visual effect!
You'll need gilding sheets, craft paint, brush, scissors, and planters for decoration! These pots can be placed outside or inside, in all rooms!
22. Stickers For Quick Refurbishments
Stickers are a quick, cheap, and easy way to decorate old pots! You can even have your kids use them to decorate your containers. Or, combine stickers with painting for unique decoration on terra cotta pots.
Whichever method you choose, I am sure, you'll have a lot of fun playing with stickers!
23. If you Lack Skills, Stick With Geometry
Here is another project you can complete with minimal supplies and no skills! You can use painter's tape or ruler to draw the outline of the geometrical pattern on the pots.
Then, fill it in with bright colors and unique combinations. Don't forget to use multi-surface paint for best results on terra cotta pots!
24. Make A Set
Cacti and succulents are low-maintenance, so you can utilize your skills and efforts in creating a set of decorative pots for them.
Match the color of the pot with the plant, or paint several pots in the ombre effect! Some people prefer gradient color displays, while others like contrasts!
25. Dots Decor On Pots
The next idea doesn't focus on brush strokes! Instead, try using the back of your brushes to dot the paint on the pots.
If you use round brushes in different sizes, you can achieve outstanding patterns and create true masterpieces! Also, dotting the paint on the pots is mess-free, which is always an additional plus!
26. Decoupage and Paint
Decoupage is such an interesting technique for decorating everyday objects such as pots! You can paint the pot rim and decoupage the rest of the pot, or use the technique on the entire pot.
Supplies required for the projects are decorative napkins, paint and paintbrushes, mod podge, and scissors! Be patient and creative and you'll love your new pots!
27. Chalk Paint on Terra Cotta
Have you ever worked with chalk paint before? If you haven't, using chalk paint on terra cotta pots is a great way to start!
The essential step you wouldn't want to miss before applying chalk paint is deep-cleaning! Use a rough sponge to clean dirt from the pots, and the chalk paint will apply smoothly.
28. Halloween Pots
Get ready for Halloween by refurbishing your old clay pots in the Halloween spirit! Try painting the pots in black and adding white paint to mimic scary faces.
Or you can always create an imitation of Jack-o'-lantern on orange pots!
29. Pots with Weathered Effect
If you are a big fan of weathered effect and rustic decoration, you will love the aged-looking pots! Use chalk paint to achieve the weathered effect on terra cotta pots.
The white craft will also work, but chalk paint is easier to handle. Once your pot is complete, you can use it to make beautiful table centerpieces.
30. Scarecrow Pots DIY
Scarecrow decoration on pots is an easy project to try with your family. It is also perfect for Thanksgiving decoration! You can paint scarecrow faces on mini pots, or combine several pots to create a larger scarecrow!
31. Dripping Color Effect
Color dripping from the rim isn't an accident or craft project gone bad! It is a beautiful decorative effect to try on your pots! You can play with the gold metal color or use any other color. It is also something to try if you want to upcycle old pots and you have paint leftovers!
Mix paint and epoxy resin to achieve a glossy dripping paint effect. Let the pot dry for at least 24 hours, and apply acrylic varnish to seal your art!
Why you should never skip sealing painted pots.
32. Aztec Pattern on Pots
If you have only two colors – black and white and one brush, you can still spruce up your old pots! Embrace the Aztec pattern on pots. You can also achieve a similar effect with vinyl stickers, but painting the pots by hand is more fun!
You can sketch the pattern with a pen before you start for a smoother paint application.
33. A True American Pot
Celebrate national holidays with pots decorated in the style of the American flag. Start by adding stars around the rim and painting the rest. You can use star stickers to save time if you don't want to hand paint every star on the rim.
Once your patriotic pots are complete, use them to create lovely table centerpieces for the 4th of July celebration!
34. Pots with Pastel Ombre Effect
The ombre effect looks beautiful on everything, from your hair to your pots! Achieving the ombre effect on pots is the same as achieving on paintings! You'll need several shades of the same color and a piece of cloth that will allow you to blend colors well and prevent stripes.
Once you master the ombre painting technique, you can embellish all your plants in a pastel ombre effect and decorate your home!
35. I Heart Pots
Don't wait for Valentine's Day to embrace decoration with hearts! Simple, hand-painted hearts on pots will make all the difference in your need and refresh your entire plant collection! You can add a whitewash effect with a soft cloth for a pastel look or paint the pots and hearts with bright and solid paint.
36. Try Colorful Patterns
Decorating your mini planters for succulents requires creativity and inspiration! Luckily, if you like patterned decoration, you have plenty of colorful designs to choose from! Simple geometrical patterns, animal print, and ikat patterns are some ideas to try.
Terra cotta pots will work excellent for the project, but you can paint plastic and cement containers as well. Just ensure you're using the right type of paint.
37. Galaxy Pot
A galaxy pot is a striking detail that can elevate even the most modest plant collection. At the same time, it is a project which might require a bit more time and effort to complete, galaxy pot but will also make a tremendous handmade present for your loved ones!
Start by applying black multi-surface paint on the pot, and use a sponge to cover random spots on the pot with glazing purple paint. Do the same with light and dark blue, and add some glitter to complete the look!
38. Flowers For Flowers
Did you know what detail on flower pots will never go out of style? The answer is flowers! I love the subtle lavender details on pots, but you can also try roses and other flowers!
If you have some unreliable bloomers in your plant collection, paint the pots with flowers to compensate for the lack of blossoms!
Wake Up Your Inner Artist With Pot Painting Ideas
A great thing about pot painting is that you cannot do wrong! You can always use artistic freedom as an argument for oddly painted pots! Also, if you don't like your freshly painted pots, just repaint them!
The possibilities are endless!
Which pot painting idea will you try? I chose galaxy pot as a challenge for next weekend!
I hope you found the article useful! If you did, please don't forget to give it a thumbs up!