Are you searching for the best DIY watering globe ideas to implement in your garden? Find the list below, and finally stop worrying if your plants receive enough water every day!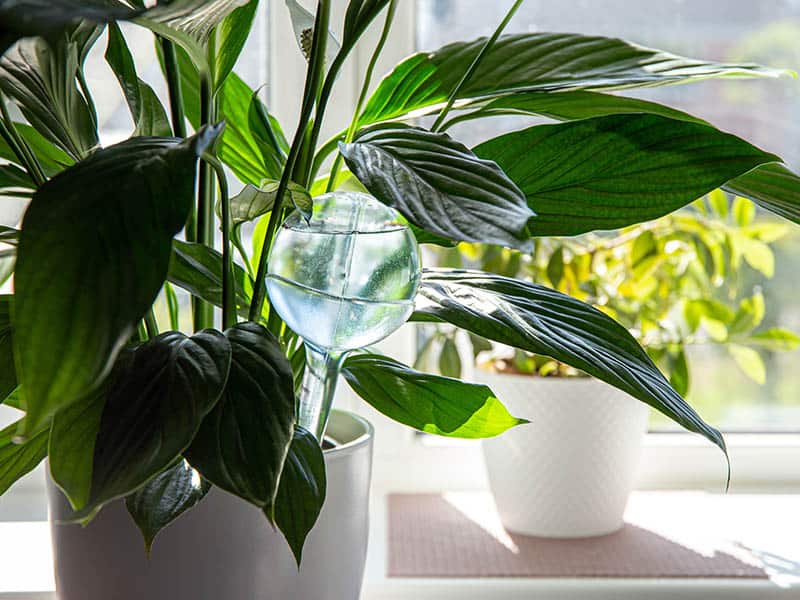 People with busy schedules often struggle to grow their plants. The following globe watering ideas will save your plants from drying out during drought.
Expect a lot of practical examples and everyday items you can repurpose easily for practical and stylish self-watering systems.
Some ideas won't look like globes per se, but they will work the same as store-bought watering globes!
1. Beer Bottle Watering Globe
A good automatic-watering system for your plants allows you to go on summer getaway trips without worrying about your plants! With a beer bottle watering system, your plant will be safe!
Besides a clean beer bottle, you'll also need a garden shovel for this project. Before you start, water the plants deeply, so the soil is wet, and the hole is easy to dig. Make a small hole and insert several inches of bottleneck inside. The bottle should snugly fit inside the hole.
Fill the bottle with water and press the opening with your thumb. Then quickly invert the bottle and press it into the soil. The bottleneck shouldn't be visible so press the bottle deeply into the soil.
Check if the bottle is stable and secure. It shouldn't be easy to tip over.
2. Bottle With a Lid Watering Globe
The next project also includes a bottle as a primary tool. But, you'll need a bottle with a lid. I recommend using a liqueur bottle because it has a sturdy lid which will work great for the project. An olive oil bottle with a metal lid can also work.
Use a thin nail and a hammer to pierce not more than two or three holes in the lid. Otherwise, the water will drain too fast through the lid and can cause rotting issues with your plants.
Fill the bottle with clean water and push it to the soil upside down. The water will drain slowly and provide needed moisture for your plants. Occasionally check how quickly the water drains and refill it when the bottle is empty.
3. Cristal Watering Globe
A watering globe doesn't have to be a globe at all! The vast majority of commercial products for automatic watering are round, hence the name. So, you can also find products in different shapes, such as diamonds and crystals.
At the same time, you can also use glass or plastic bottles in an unusual shape with an opening on one side as a watering globe. The key to success with these DIY or commercial bought watering globes is to use them correctly. Plant them in large and deep pots so they won't easily tip over.
4. Compact Planter Self-Watering System
If you are ready to transplant the latest green gem you brought home from the nursery, it is best to include a self-watering globe at the time of planting.
Prepare a large, watertight container planter, a container lid, a chosen plant, potting soil, a plastic bottle, and two textile strips.
Pierce holes on the lid and put it on the bottom of your planter. On one side of the lid, pierce a larger hole, about the size of a bottle opening. Put two fabric strips on top of the lid. At that point, you can add a cage or trellis before you add soil.
All that is left is to cut one side of the bottle, add soil and plant and fill the bottle with water.
5. Budget-Friendly Solution For Larger Container Garden
Buying one watering globe for a pot isn't a large hit on your family budget. If you have a lot of plants in pots, which require consistent care, supplying them with watering globes can turn into a costly investment.
There is a cheaper alternative. You can use whatever bottles you have on your hand. But, I find that glass bottles are better for the project because they are heavier, and don't lose shape when empty, like glass bottles.
Fill them with water, and push them in the pots as deeply as possible. Let gravity do the rest!
6. Bottle Watering Globe With Store-Bought Stakes
If you don't want to buy watering globes, you can only get a stake and attachment. It will cost you less, and your plants will still get the same treatment!
Assemble the stake and drip watering system according to the instructions included. Then, get a clean coke bottle, fill it with water, and put it on top. It will work as a water reservoir and ensure the roots are deeply moist. When the bottle is empty, refill it and watch your plants thrive.
7. Glass Bulb Watering System
You can repurpose an old glass bulb by transforming it into a watering globe system! Because glass bulbs are genuinely small, they can contain a small amount of water.
They are better suited for small pots or plants with low water needs, such as succulents. Disassemble the glass bulb and fill it with water. Then, turn it upside down and push in the soil.
If you are ready to spend some cash, you can find beautiful glass bulb globes on the market!
Whatever option you choose, your plants will be thrilled!
8. Planter & Globe in One
People who live in apartments and have limited space for gardening don't have to give up on their plants. They can make a compact planter and watering system in one bottle.
You can use plastic or wine bottles, if you've got something to cut the glass with, the choice is on you. Also, prepare a small piece of window screen, a rubber stopper, and a piece of string.
Cut two bottles and sand the edges to prevent them from being too sharp. Then, insert a rubber stopper to prevent one bottle from sliding too far. Assemble the construction by putting one bottle into the other with a stopper.
Tie a thick fabric knot and insert it in the inner bottle, so it cannot pass through the bottle opening. Fill the inner bottle with soil and herbs, and the outside bottle with water!
The strings should be soaked in water so the plants in the inner bottle can receive their dose of moisture!
The best way to use small plastic bottles.
9. Two-Piece Self-Watering Globe
Here is an interesting foolproof vacation watering system to try!
It is similar to other bottle systems, but refiling is much simpler! The process is so easy that even a kid can do it! You'll need a bottle with a lid for this one. Cut the bottom of the bottle and pierce several tiny holes on the lid.
Press the bottle firmly in the pot, with the lid facing down. Then, fill it with water from the opening on the other end. This way, you'll never have to remove the bottle from the pot, and you can continue using the system even when you're back home!
10. Glass Self-Watering System
Here is an automatic watering system, which works similarly to a water globe, but it is located outside the pot. It is suitable for short-term trips!
You'll need a cotton rope and a glass of water. Bury one side of the cotton rope in your pot with plants and put the other end on the bottom of the glass with water. Put the glass as close as possible to your pot, and the rope can wick water to the plant's soil.
The system provides a consistent water supply and prevents the soil from drying completely.
11. Stylish Planter Watering Idea
Bushy flowers such as Hydrangeas look stunning in large planters. They also need a lot of moisture to remain fresh and bloom all summer long. A plastic bottle might not look stylish enough, so you can spruce your DIY watering globe project.
You'll need a clear glass bottle, colorful pebbles or stones, and silicone glass glue. When you remove the label on the glass bottle, decorate it with colorful pebbles or crystals!
Fill it with water and push it into the soil! That is all, you can go on your summer holiday and come back to the well-watered plants!
12. Milk Jug For Garden Soil
During the establishment phase, a lot of plants need plenty of moisture. To skip consistent watering and save time, you can make an automatic watering system for your garden with a milk jug!
Use a sharp and pointy tool to make holes in the bottom of your milk jug. Then, fill it with water and put it in the garden soil.
Watch how soon the jug is empty and make larger holes to give your plants more water during dry spells!
13. One Solution For Them All
I love how simple, yet effective the next variation on the self-watering globe is! It is also practical for keeping several houseplants hydrated at a time with minimal effort!
Fill a large bowl with water and put it on the shelf or small chair. It should be located a few inches higher than the houseplants.
Prepare as many pieces of cotton ropes as you have pots. One side of the cotton rope should be on the bottom of the bowl with water, and the other one in the soil.
That's all, you've built a working self-wicking system for multiple plants at a time!
Build a system that prevents overwatering.
14. Elegant Watering Globe
I already mentioned how you decorate glass bottles with rocks and crystals. But, here is another idea – make a watering globe system and plant label in one construction!
You can find patterns for whatever plant you are growing, including tomatoes and other vegetables. Cut the patterns and put them on the bottle, then add your stencils and put the newspaper to cover the bottle, except for the part where you applied the stencils.
Apply etching cream to the bottle and let it dry for 15 minutes. When the cream is dry, remove the paper and rinse off the etching cream.
Fill the glass with water and insert it into the soil with the opening facing down.
15. Stylish Watering System
If you don't want to use a classic glass bottle to make your DIY self-watering globe, use something else, such as a wine decanter.
A vintage wine decanter can be repurposed for many interesting DIY projects. You can use it with self-watering stakes or on its own. A glass seltzer bottle will also work. You have to pierce the holes in the top, fill it with water and add it to the planter.
16. Watering Globe For Hanging Tomatoes
DIY watering globes aren't suitable for self-standing planters only. You can use them for hanging planters, too. Make one for your hanging tomato planter because frequent watering of tall pots is challenging!
The key is to ensure the bottle you use as a water reservoir is stable and secure. Bury it deep in the soil or support it with stakes, even tie for the chains that hold the planter in the air.
17. Wine Bottle and Copper Tubing
If you are ready to spruce self-watering with a wine bottle, spruce things up with copper tubing. You'll also need a male and female copper adapter, size 1/2 inch, copper tubing, Teflon and black electrical tape, O-ring, and silicone sealant. Ensure it is waterproof.
Assemble copper tubing and fill a bottle with water. I also recommend placing the bottle at an angle for the best results.
18. Watering Globes System For Vegetables Garden
Growing your veggies in the garden is a wonderful way to ensure a fresh supply of homegrown veggies all the time! However, taking care of a large garden is time-consuming and requires effort for the best crops.
A shortcut to excellent crops is building a drip irrigation system.
You can make a system with cheap plastic bottles in less than an hour! All you have to do is pierce the holes on the bottom of each bottle. Then, fill it with water, and bury it in the soil, bottoms facing down.
Self-watering drip system for growing tomatoes – explained.
19. Upside Down System for A Growing Garden
If your garden is constantly expanding, you'll need to come up with a sustainable watering system to keep your plants moist and happy!
As in the previous example, plastic bottles come are the stars of the show! But, this idea also includes using plastic spikes for irrigation. You can find them at great prices in most home improvement stores.
These spikes go on top of each bottle, instead of a lid. So, unscrew the lid, fill the bottle with water and screw the spike on the bottle. Then, use a hammer to push the bottle with the spike facing down in the garden soil.
The process is quick and simple.
Moreover, you can easily enhance the system by adding more and more irrigation bottles as your garden expands.
Keep Even The Thirstiest Plant Happy With DIY Watering Globes
Taking care of your plants has never been easier with simple watering globes systems. Most of them don't require advanced skills and do an amazing job for irrigation, no different from store-bought watering globes.
I like the ideas with upcycled wine bottles with rocks and plant labels the most. Which DIY watering globe idea will you try first?