Do you want to know how to grow bamboo from cuttings? Here is a simple guide that will provide you with all the necessary information about growing this popular garden plant!
If you have ever grown bamboo in your garden, you've experienced its great advantages. bamboo can be used for furniture, screening, and landscaping, so no wonder that you want to propagate it and grow even more bamboo plants!
People growing unusual species may propagate them to share with their friends. For whatever reason, you want to propagate bamboo, the good news is the process is simple.
In essence, you have to choose between several propagation methods for bamboo. Some include growing it from cutting – culm, rhizomatous roots, and growing bamboo from seeds.
For most bamboo varieties, rhizomatous or culm cuttings are the fastest way. Growing bamboo from seeds can be a challenging, and slow process, so only a few people choose it.
Below, I will walk you through techniques of growing bamboo from cuttings. But first, let's discuss different types of bamboo and their features.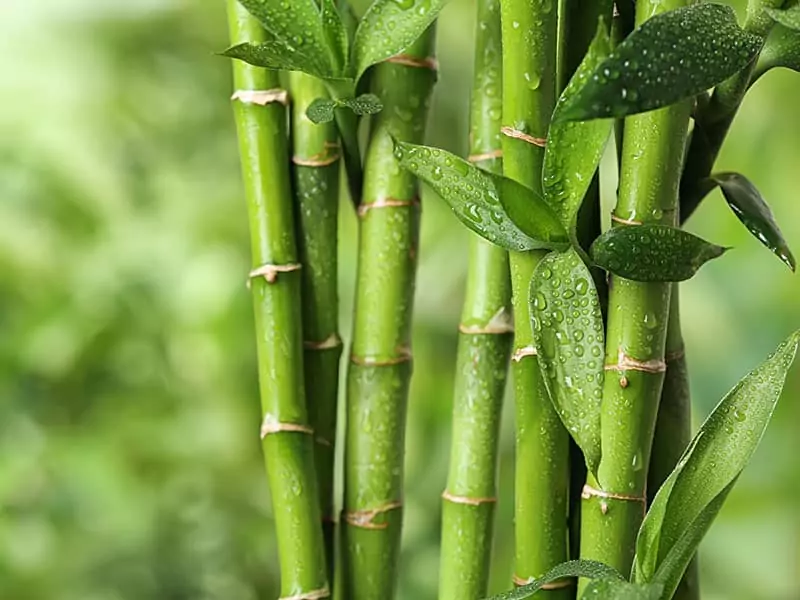 Types of Bamboo
All bamboo cultivars are classified into two larger groups – clumping and running bamboo.
As the name suggests, clumping bamboo forms clumps. Running bamboo develops long rhizomes or underground stems. New growth appears on rhizomes, so the underground stems colonize additional ground.
The most common running bamboo varieties are:
Marbled bamboo
Square bamboo
Moso bamboo
Running black bamboo
If you prefer clumping bamboo, look for some of the following varieties:
Fasca
Ghost
Himalayan Weeping
Oldhamii
Gracillis
How To Grow Bamboo From Culm Cuttings?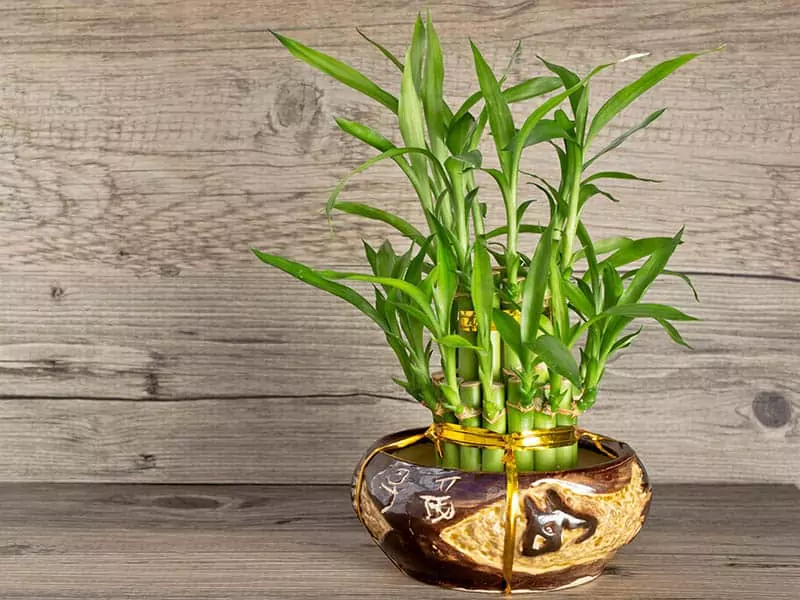 The easiest and beginner-friendly method to propagate bamboo is from the fresh stem and leaves cutting. However, the method doesn't work with all bamboo varieties.
Propagating bamboo from the stem and leaves cutting is most suitable for tropical clumping cultivars, more specifically Guadua and Dendrocalamus bamboo.
The new plant is almost identical to the parent plant, and the process is colloquially called cloning.
The easiest way to share your bamboo with friends.
Taking Culm Cuttings – The Steps
Take the cutting that is about one foot long. Use a clean and sharp knife to cut below the node. Your cut should have a visible nodal joint. In healthy bamboo plants, lateral branches are already coming from the joints.
The alternative is to take the young branch cuttings with at least one nodal joint and follow the next steps.
Use a sharp blade to make shallow cuts on the sides of young branches and cut them back to expose the nodes.
From that point, you have two options – to keep growing your bamboo in soil or water.
The Ideal Time To Propagate Bamboo Via Culm Cuttings
Wait until your plant is one or two years old to take the cutting. The science is that you need a mature plant, but the one that is still able to produce new branches.
If you take cuttings from old bamboo, nothing will happen. A too-young bamboo may need too much time to heal and recover from cuttings.
Also, you can take cuttings once you have trimmed the mother plant.
Growing Bamboo from Rhizome Cuttings
Rhizome cuttings are an excellent method for propagating bamboo because it mimics natural underground propagation. Most industrial bamboo growers also use this method to ensure success.
Propagating running bamboo via rhizome cutting is much simpler than applying the method for clumping varieties. But, it works with both. Because of its natural urge to spread, running bamboo will develop more rhizomes to work with and allow simpler propagation.
You'll need a shovel to dig up the underground rhizomes. You can also use spades if you are growing bamboo in pots. Don't forget to disinfect a sharp knife before you start cutting rhizomes.
Taking Bamboo Rhizome Cuttings: The Steps
Taking bamboo Rhizome cuttings is simple. In simple words, you need to remove the rhizome from the parent plant and bury it in the soil. After a while, the cut rhizome will develop and grow roots which will further develop culms, if you provide the ideal growing requirements.
The first step to do is to dig your bamboo.
Pick larger rhizomes for cuttings, from 12 to 18 inches in length. Ideally, the rhizome should have many feeder roots and swelling buds.
If you have clumping bamboo, the roots will be bunched together, and you need to be careful to leave as many roots as possible intact.
Use a sharp and clean knife to remove the rhizome from the parent plant.
Apply a clean cut.
Put the rhizome in a sterilized pot and cover it with sterilized potting soil to prevent diseases and germination of weed seeds.
The trick is to ensure the soil remains moist, but not soggy. Too wet soil will cause rotting, and the culms may not even develop. If you aren't sure about the optimal moisture level for soil, it is better to stay on the dry side than overwater your rhizome.
Bamboo rhizomes may retain moisture for a short time but will rot excessively in soggy soil.
If the soil is evenly moist and well-draining, you can expect the culms to appear within a year. Wait for another year, and new rhizomes will develop.
Advantages of Rhizome Propagation
In simple words, rhizome propagation is excellent because the rhizome is the base plant's life. So, it contains the central nervous system and can do all other operations independently.
Bamboo first produces a foothold and then develops further to produce new culms. So, to start a new plant, you need to start from the base, and rhizome cuttings are perfect!
How to Grow Bamboo from Cuttings in Water
Most people prefer propagation in water. The process is simple, and growing bamboo in water is also a lovely green decoration! Here is how to propagate bamboo in water.
Find a healthy bamboo shoot with a minimum of two nodes on the stem.
Get a clean jar and fill it with fresh, filtered, or distilled water. If you don't have distilled water, let the tap water sit for at least 24 hours so the chlorine will dissipate.
Next, add clean pebbles to the water. Those will support the stem and keep it upright. If the stem doesn't stay upright, the propagation won't work.
Find a suitable location for the jar. Partial shade is ideal, and the jar should be protected from the harsh afternoon sun.
Change the water in the jar once a week. Rinse the pebbles and jar thoroughly.
Expect your roots to appear in a month or two.
If you want to boost the process, add rooting hormone to the water. Or make your solution to boost the root growth. Mix saliva with crush aspiring and add the diluted apple cider vinegar. Instead of aspirin, you can add a tablespoon of aloe vera gel.
Once the roots appear, transplant the plant into the soil.
Put the cutting in moist soil upright, and bury about 1/3 of the cutting. Ensure at least one nodal joint is under the soil. The alternative is to bury the entire cutting in soil.
Fill the pot with soil and water it thoroughly. Keep the pot in a warm spot but away from direct sunlight.
Things To Consider When Growing Bamboo From Cuttings
Now when you have everything sorted out about different propagation modes, let's cover a few things that will help you choose the best method.
Bamboo Type
Before you start propagating your plant, identify which type you have.
One way to tell which bamboo you have is to dig the whole plant from the ground. If you notice roots growing in clusters, you have clumping bamboo.
If you want to identify the type before digging the plant, touch the stalks all the way to the ground. If the stalks are smooth, you've got a running variety. Clumping bamboo has a distinct groove around the stalks.
Underground expansion is the best method for running bamboo. In other words, pick rhizome cutting for running bamboo. For clumping forms, the culm cuttings propagation mode will ensure excellent results.
Selecting The Cutting
The key to successful propagation is selecting a healthy cutting. However, there is more to it. You have to choose the cutting at the correct age and development stage. The first time you propagate bamboo from cutting but follow the next advice to ensure the cutting is appropriate for propagation.
First of all, your cutting needs to be free of pests and visible traces of diseases. If the plant is affected by the disease, first cure it. Then, take the cutting. Pick tall trunks, no older than three years.
The cuttings should come from the middle part of the trunk with two healthy, undamaged internodes and one-half internode.
Clumps Condition
If you have clumping bamboo, which has overgrown the current pot, and you've chosen the rhizome cutting propagation mode, here is what to keep in mind.
Once you dig the plant, you'll have to work your way through messy clumps and untangle knotted root mess with a sharp knife or saw.
Propagate the plant when you have four viable sections. Don't forget to soak the rhizomes well for better effects.
Dividing messy bamboo roots.
Timing
The propagation timing is also important. Wait for the spring to do the propagation. The ideal propagation time for all methods is before the growing season starts – spring or early summer.
Also, plant the cuttings immediately after cutting, because they are sensitive to shock. If you don't plant them promptly, it can cause stunted growth at best.
Worst case scenario, your new bamboo will never grow, and your propagation will be a complete failure.
Therefore, before you start propagating your bamboo, ensure you've prepared everything you need for a complete propagation.
Keep in mind the time of the year and comply with ideal growing requirements for the bamboo you have.
FAQs
Bamboo is a hardy plant that doesn't require complex care. Still, you need to complete the propagation to set the plant for success. Also, take good care of the plant until it establishes to ensure the best results. Hopefully, the following section will help you!
Below are the answers to the most common questions about growing bamboo from cuttings and propagation methods.
Bamboo – Easy to Grow and Easy to Propagate
Which method do you prefer – rhizome or culm cutting? Before you apply any, ensure you are fully aware of the exact bamboo variety you've got.
Luckily, bamboo is one of the easiest plants to propagate. Because cuttings need a lot of moisture, I always recommend keeping them in water for a week or two. Then, you should transplant them into the soil.
Do you have questions about propagating bamboo from cuttings? If you do, don't hesitate to ask them in the comments!
I hope you found the article useful!