Are you searching for the most beautiful Alocasia types to grow indoors? Use the following list as a guide!
Alocasia is a popular plant for several reasons. Most Alocasia varieties are low-maintenance, with broad leaves and showy flowers. Some of the types of Alocasia plants are also known as air-purifiers, so it's a good reason to grow Alocasia in your home!
In general, Alocasia is a tropical plant that features large rhizomes. Sometimes, the plant is called Elephant's ear because of the broad and funny-shaped foliage. In most cases, people grow Alocasias indoors because they need warmth. You can also bring them outside during summer!
Here are Alocasia types to consider!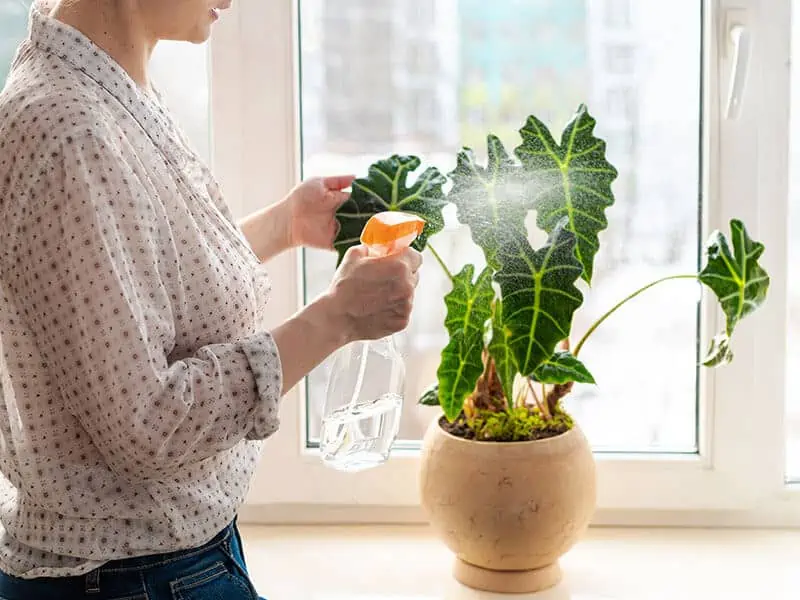 1. Zebrina Alocasia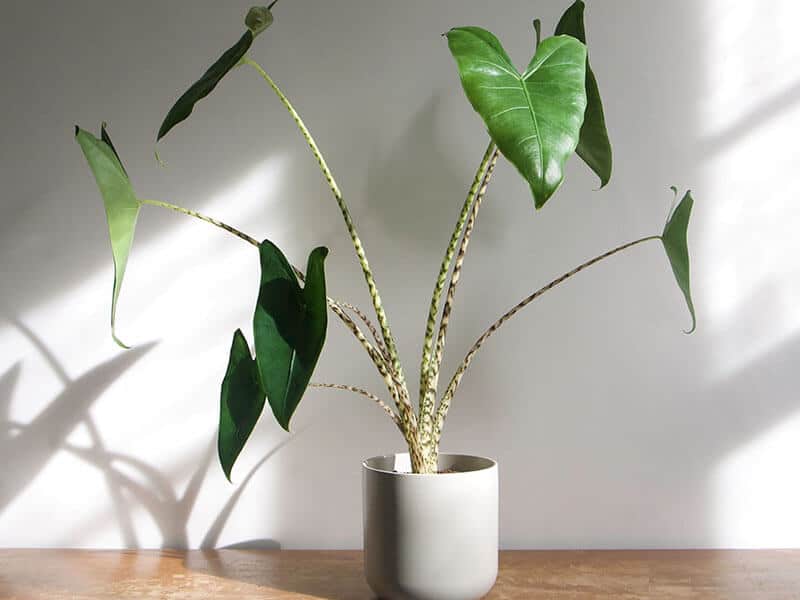 Zebrina Alocasia is one of the most common types of Elephant's ear plants. The plant needs simple care – weekly irrigation and often misting. Ideally, keep the soil evenly moist all the time, but it shouldn't be wet. You can reduce the watering in winter and let the top soil inch dry between two watering sessions.
Zebrina isn't drought-tolerant. The leaves can turn brown if the Zebrina doesn't receive enough water.
Zebrina needs medium or bright, but indirect light to thrive. You can also apply houseplant fertilizer in the growing season.
Beginner-friendly tips for growing Alocasia.
2. Tiger Taro Alocasia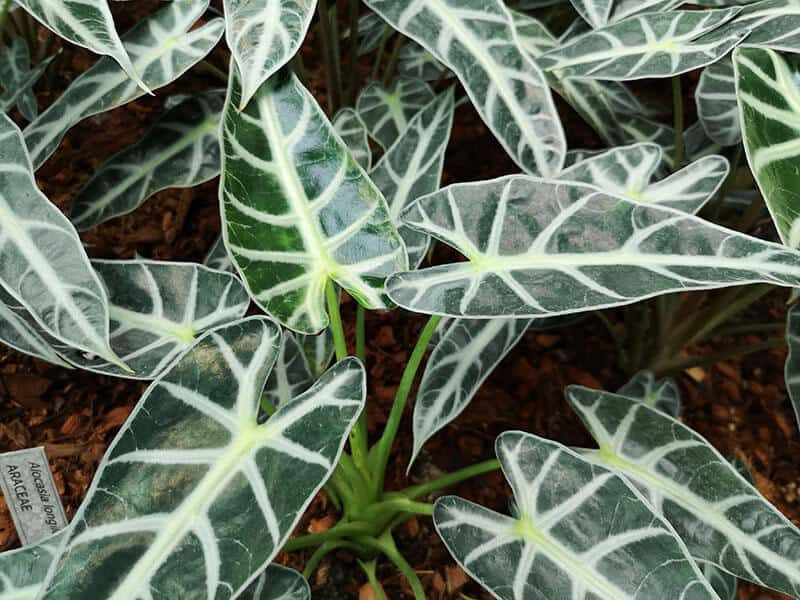 Alocasia longiloba or Tiger Taro plant is easy to find in the rainforests of Java, Sumatra, and Singapore. The plant features large arrow-shaped foliage and petioles with attractive patterns.
It develops clusters of small orange-red fruits.
You may struggle to find Tiger Taro Alocasia in local nurseries. But, the ones specializing in exotic plants might have one ready for you!
3. Giant Taro Alocasia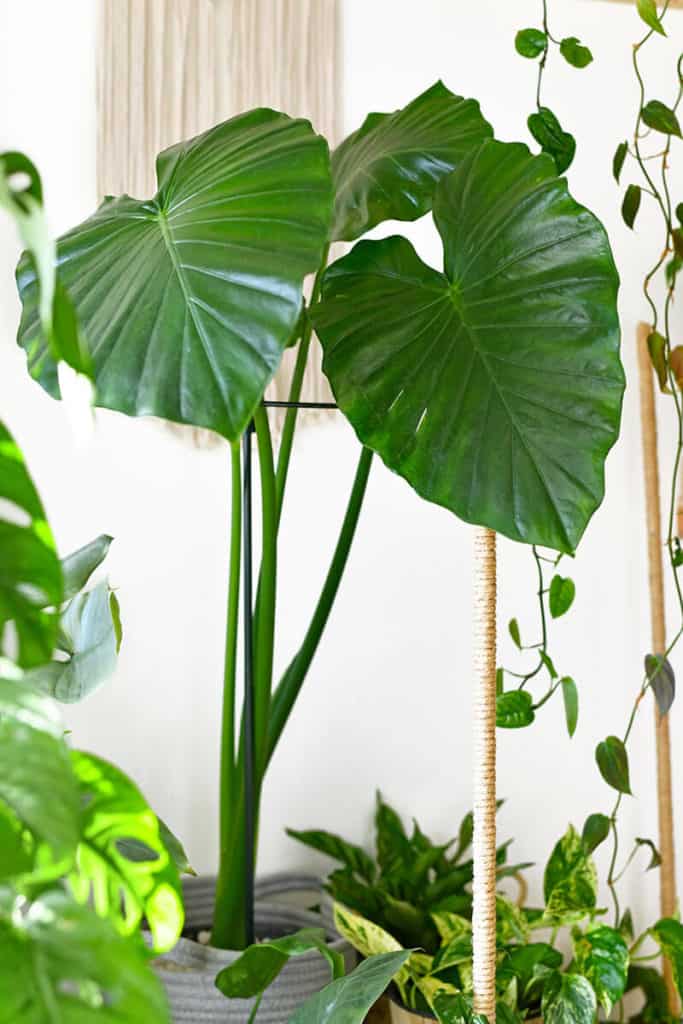 Alocasia macrorrhizos or Giant Taro Alocasia is a beautiful striking variety with huge leaves! It can transform exotic gardens or bring stunning effects to every room! The thick leaves appear on rigid stems about 15 feet tall! The average spread of the Giant Taro is between six and eight feet.
However, in the native areas of Sri Lanka, Giant Taro gets slightly taller.
Giant Taro prefers part shade and organically rich soil. The soil should be kept moist all the time, but not soggy. Unfortunately, this one is prone to spider mites, aphids, and scale.
4. Green Velvet Alocasia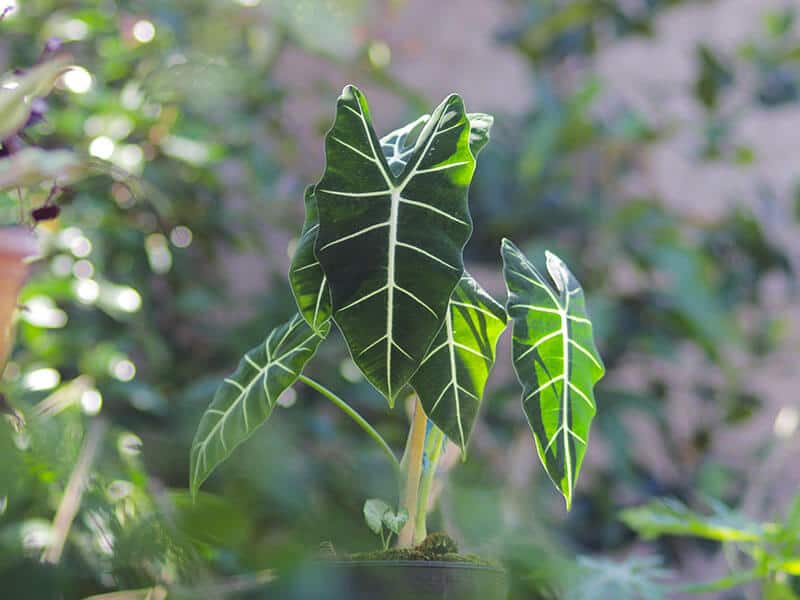 Alocasia micholitziana or Green Velvet Alocasia is a somewhat difficult to find. In some nurseries, you may find it under the name Alocasia Frydek.
It is native to SouthEast Asia and isn't difficult to grow. Provide warm temperatures and high humidity and Green Velvet Alocasia should thrive in your home. Most people grow Alocasia Green Velvet because of the stunning foliage.
The leaves feature striking white veins which stand out against dark, velvety leaves.
The flowers of Green Velvet Alocasia are also beautiful. However, the Green Velvet Alocasia rarely blooms indoors, because it needs extreme humidity and hot weather to flower. Alocasia Green Velvet may struggle during winter, but it should come back to great health when the spring arrives!
5. Dragon Scale Alocasia
Alocasia baginda is an attractive type of Alocasias. The common name is Dragon Scale because the veins on the foliage remind of dragon skin! It thrives in great lighting and airy soil. Allow the soil to partially dry between two waterings.
Ideally, grow Alocasia baginda in the temperature range between f 55 and 80 degrees Fahrenheit. The plant also prefers humidity over 60% and occasional use of fertilizer.
Dragon Scale Alocasia is a striking plant, which stands out in greenery displays with its silvery-green leaves. But, keep the Alocasia baginda away from direct sunlight, because it can scorch the leaves.
6. Hilo Beauty Alocasia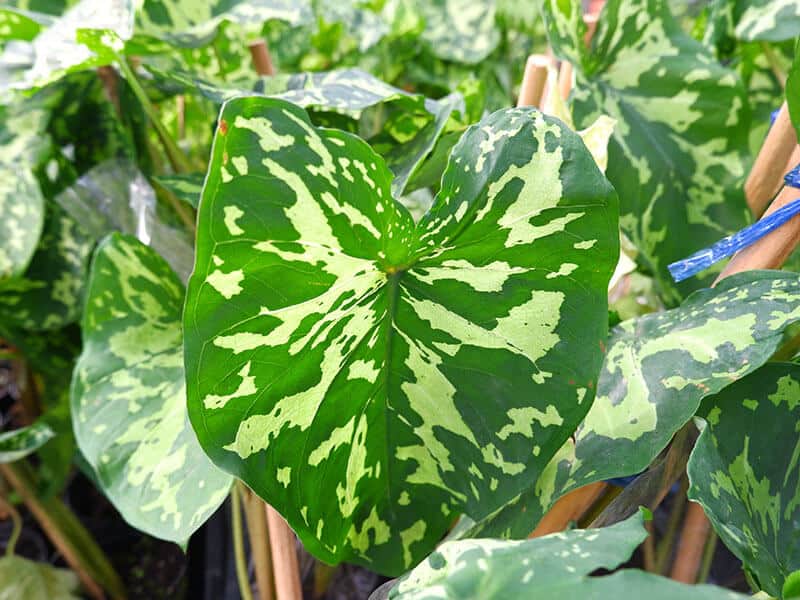 Hilo Beauty Alocasia or Caladium Praetermissum features slightly elongated, heart-shaped leaves. Hilo Beaty is often grown indoors as an evergreen perennial ornamental plant.
The foliage has attractive yellow and white variegation, which results in a camouflage-like pattern. Also, the stems are dark and rigid.
Overall, Hilo Beauty Alocasia is a lovely, low-maintenance plant. It will grow in most indoor conditions, and Hilo Beauty can get up to four feet tall.
Filtered light is great for the Hilo Beauty plant as well as high humidity. Fertilizers can boost growth in the growing season, but the application is optional. The plant looks great in the pot, and during summer, you can bury the entire pot in the ground to create a more natural and exotic effect!
7. Red Secret Alocasia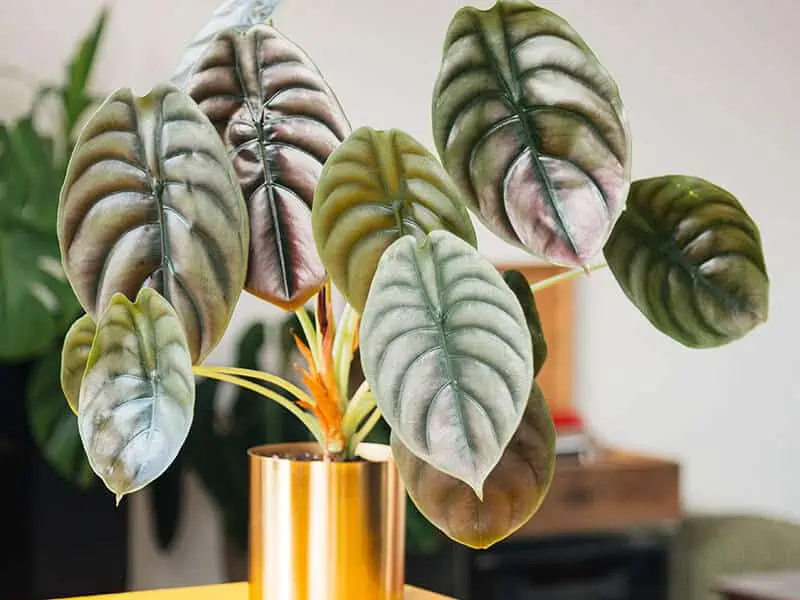 Elephant's Ear Red Secret or Alocasia cuprea is an ornamental tropical gem that might be quite difficult to find. It is native to Asian rainforests and enjoys warm temperatures and high humidity.
The leaves are attractive with deep red leaves with a metallic gloss on the green base. The ideal growing conditions for this Red Secret Alocasia are well-draining soil and indirect light. Too much or too little sunlight will cause changes in the leaves.
When taking care of the Red Secret, stick with the regular watering schedule.
8. Purple Sword Alocasia
Alocasia Lauterbachiana or Purple Sword Alocasia features slightly different leaves than most others. The leaves are long and narrow with serrated edges and purplish coloration.
Interestingly, the leaves can grow two feet long and stand out as a beautiful decoration in every home!
The Purple Sword Alocasia is evergreen, which means it has visual interest year-round! Choose well-draining, loamy soil and only water the Alocasia when the soil gets dry.
Additionally, the plant loves high humidity, and it can benefit from frequent misting. Bright, indirect light will help develop the most beautiful foliage!
You can see this video to know more:
9. Mayan Mask Alocasia
Alocasia Mayan Mask isn't picky about the soil. It can grow well in clay, loamy or sandy soil as long as it is well-draining! Because of the lush and tropical leaves, Mayan Mask Alocasia looks fantastic in containers. The attractive leaves have chocolate undersides, which gives them a distinctive charm.
On average, the plant gets between six and eight feet tall and about four feet wide. The leaves are sensitive to strong winds and keep the plant protected from draft indoors or sheltered outdoors.
10. Morocco Alocasia
Morocco Alocasia needs a lot of light to thrive. But, position the Morocco Alocasia where it can receive indirect sunlight because harsh direct sunlight can burn the foliage. It prefers moist soil, but you should allow the top two inches to dry between two waterings.
The ideal temperature for Morocco Alocasia is around 77 degrees Fahrenheit, but the plant can survive slight variations. Don't forget to keep the Alocasia Morocco away from the AC unit or heating vents!
You can see this video to know more:
11. New Guinea Shield Alocasia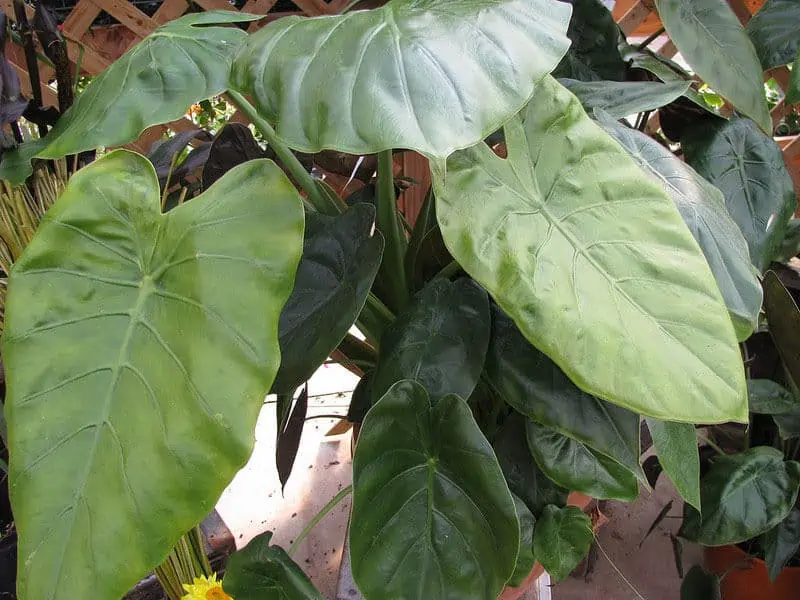 Alocasia wentii or New Guinea Shield Alocasia is one of the hardiest Elephant's Ear plants! It has attractive purple-green leaves and only needs simple care. Water it once a week if the soil is well-draining. Don't overwater this Alocasia because it can cause rotting.
New Guinea Shield is a heavy-feeder. If you take good care of it, your Alocasia wentii can get around two feet tall.
12. Persian Palm Alocasia
Persian Palm Alocasia is another gigantic Alocasia that has a grande decorative effect and requires minimal care! The plant is a fast grower and needs a large container to develop properly.
The leaves are vibrant green with distinctive texture and showy ribs.
Persian Palm Alocasia thrives in moist soil indoors, or warm climates outdoors. It can grow well in the temperature range between 55 and 80 degrees Fahrenheit.
You can use fertilizer three times a year to help the Persian Palm establish better.
13. Polly Alocasia
Polly Alocasia needs moist soil. Ideally, water Polly once a week, or less frequently in the winter. When the temperatures drop, allow the top two inches of soil to dry to keep the roots healthy.
Caring for Polly Alocasia isn't different from caring for other types of Alocasias. The plant should be exposed to bright, indirect light and high humidity. Like other types of Alocasia, Polly is also sensitive to sudden temperature changes.
14. Chinese Taro Alocasia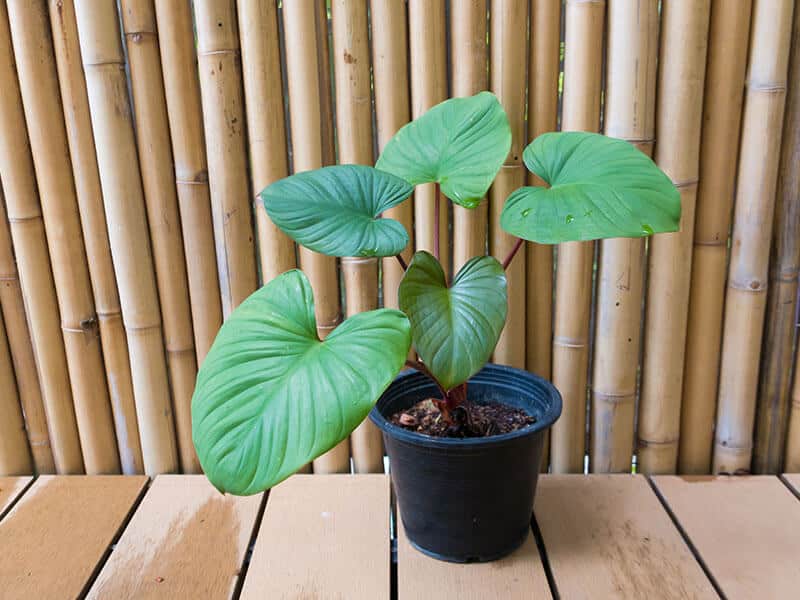 Alocasia cucullata is native to Thailand and Laos. The plant is easily recognizable by beautiful, glossy heart-shaped leaves with distinctive veins. Sometimes, the plant is called Budha's hand and placed in Buddhist temples as a sign of good luck!
Some nurseries call it Chinese Taro Alocasia as well.
It needs above-average moisture and humidity. In the growing season, spring and summer, you can use a slow-release fertilizer to feed the plant and induce bushier foliage.
15. Triangular Alocasia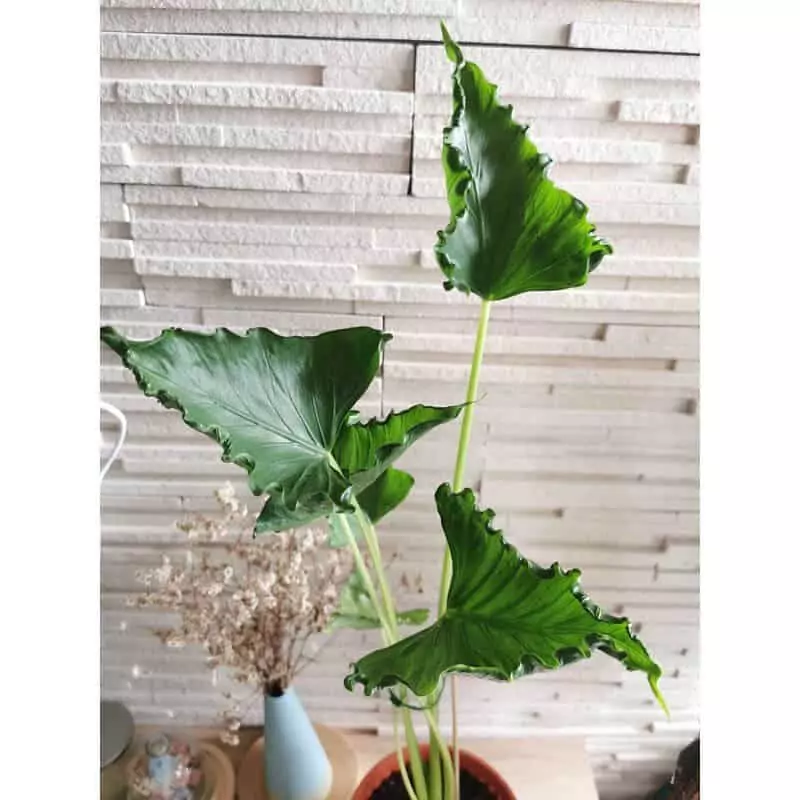 Alocasia triangularis or Triangular Alocasia is another Alocasia grown mostly for its ornamental leaves. The foliage is diamond-shaped, glossy green with slightly ruffled edges.
Triangular Alocasia needs temperatures above 45 degrees Fahrenheit. Otherwise, it can go dormant.
Soil should be kept evenly moist, but not soggy. If the leaves change color or position, the plant might be over or under water.
Triangular Alocasia is a rare variety and a true collector's gem!
16. Black Velvet Alocasia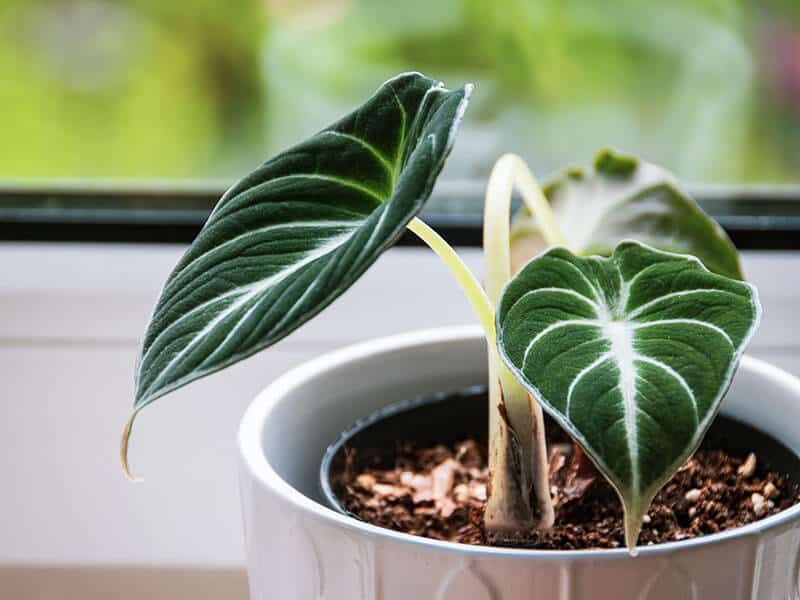 Exotic and elegant, Black Velvet Alocasia, scientifically, Alocasia reginula, comes from Southeast Asian jungles. It features dark velvety foliage with pale veins. Black Velvet Alocasia is a rare compact variety of Alocasia because it rarely gets over 18 inches tall and wide.
Black Velvet Alocasia loves humidity and warmth. It is also one of the rare Alocasia types that can tolerate low light. To keep the plant healthy, apply a balanced fertilizer once a month during the growing season – spring and summer.
17. Portodora Alocasia
Alocasia Portodora features beautiful green leaves which appear on long and fleshy stalks. When you display it in the corners of the room, the Portodora can help you create a bit of an urban jungle!
Alocasia Portodora needs a lot of sunlight and humidity between 60% and 80%.
The plant isn't beginner friendly. It requires frequent misting and dusting. Additionally, you need to use fertilizer once a month to help the plant develop fast.
18. Macrorrhiza Stringray Alocasia
Alocasia Macrorrhiza Stringray is great for bright locations. Too little sunlight and poorly drained soil will increase the root rooting risk. Additionally, if the plant doesn't get enough sunlight, the leaves can become yellow.
It is one cultivar of the Giant Taro plant, but the leaves are different. They are smaller and slightly winged. The Stringray thrives in acidic soil and needs bright, indirect light to develop.
Protect it from cold temperatures and keep it in a room with high humidity.
The plant needs well-aerated soil with excellent drainage.
19. Dark Star Alocasia
Dark Star Alocasia has large and oval green leaves which appear on tall, dark-green stems. It is sensitive to the hot sun and cold temperatures.
The plant looks great in every greenery setting because it adds bright green color and interesting texture. Dark Star Alocasia needs even moisture and consistent use of fertilizer in the growing season.
Ideal temperatures for Dark Star Alocasias are above 70 degrees Fahrenheit.
20. Macrorrhiza Variegata Alocasia
Macrorrhiza Variegata Alocasia is one of the rarest varieties of Alocasia. It has spectacular huge green leaves with large splotches or white color.
Interestingly, the plant doesn't need complex care. If you provide bright, indirect light, warmth, and high humidity, your Variegated Alocasia Macrorrhiza should thrive and become a superstar of your plant display!
You can see this video to know more:
21. Tiny Dancer Alocasia
Tiny Dancer Alocasia is one of the smallest Alocasias, and it doesn't have huge, showy leaves like other varieties. On the other hand, it has charming leaves, slightly curled, which resemble the shape of Alocasia Cucullata.
Caring for Tiny Dancer Alocasia is easy. Check the top two inches of soil to see if the plant needs water. Grow it in airy and slightly acidic soil with excellent drainage and position in the bright spot! That should be enough for the Tiny Dancer to show its full magnificence!
Also, Tiny Dancer can survive slightly drier air than most other Alocasias.
22. Sarian Alocasia
Sarian Alocasia can grow in part shade. You can grow it outdoors if you live in a warm, frost-free climate. Or grow the plant indoors during winter and bury the pots in soil when the temperature increases.
Importantly, protect Sarian Alocasia from wind and extreme sunlight which can burn the leaves.
Sarian Alocasia features large emerald green leaves with distinctive veins. It can be an excellent accent plant for shady areas or a great, low-maintenance houseplant!
Is Alocasia The Ideal Houseplant?
Yes, it is! Alocasia can transform every indoor or outdoor space with minimal care! The large and showy leaves look great year-round. If you don't have a lot of space in your home, you can pick some of the smaller Alocasias to grow.
Which one is your favorite Alocasia? I like Tiny Dancer and Giant Taro!
If you find the article useful, hit the like button and share the article with your friends and family!