Are you looking for different Begonia types to grow? The following list is tailored to you!
There are several types of Begonia, scientifically known as Rex Begonia. These types differ based on their light requirements, foliage, blooms, native areas, and other characteristics.
Because each Begonia is unique, you'll have to apply personalized care so the plant will grace you with lush foliage or stunning blooms.
Below, you can find a comprehensive list of the most beautiful varieties of Begonia alongside pictures and growing tips!
Let's get straight to the list!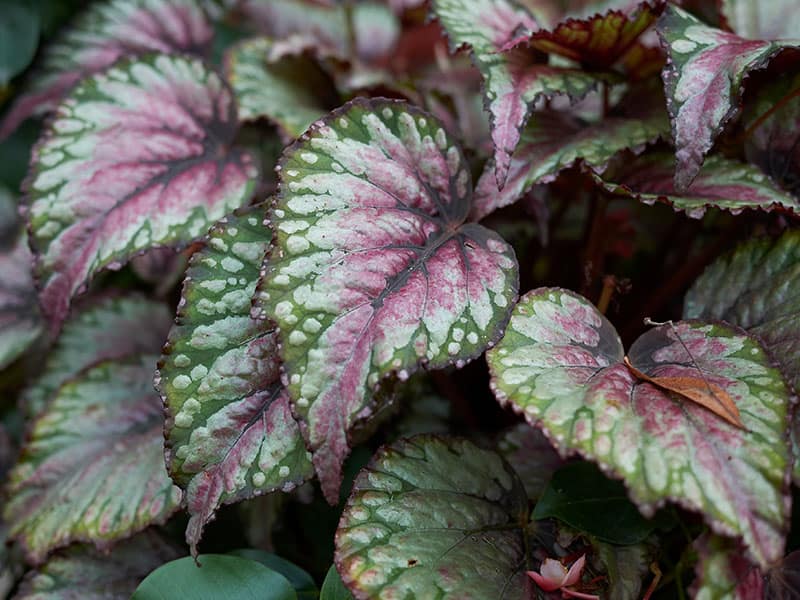 #1 Reiger Begonia
The scientific name of Reiger Begonia is Begonia x hiemalis. It is a cultivar with stunning yellow, white, orange, or pink flowers. Reiger Begonia usually blooms in winter, with short-lasting flowers.
The plant likes partial sun exposure, well-draining soil, and moderate temperatures. Read more about Reiger Begonia to find out if it is the right Begonia for you!
Find out what are the most common mistakes when growing Begonias.
#2 Begonia Exotica
Begonia brevirimosa subspecies exotica or shortly Begonia Exotica is one of the most beautiful Begonias. It is mostly grown for its ornamental foliage. The plant doesn't do well in direct sun, because it can burn the foliage.
Ensure the plant gets high humidity, especially during the growing period and your plant will thrive. Avoid over-watering the plant, because it can cause rotting or fungal diseases.
Begonia Exotica comes from New Guinea, and it isn't a hybrid. This unique-looking plant is naturally occurring in forests!
#3 Boliviensis Begonia
Boliviensis Begonia is a stunning outdoor plant with a cascading growth habit. The plant is easily recognizable by its fierce-red blooms contrasting lush green foliage.
Prepare slightly acidic soil, and ensure consistent watering so the plant can establish soon. Keep your Boliviensis Begonia away from direct sunlight to prefer burnt leaves.
Find out if your Begonia will survive in acidic soil.
#4 Bethlehem Star
Bethlehem Star is a variety of rhizomatous begonias. It has a royal appearance with deep green and spiraled foliage with bright yellow star-shaped centers. The plant is a tender perennial, which thrives in shade locations. The ideal soil type is loamy.
Bethlehem Star Begonia is a wonderful ground cover. It is a hardy plant, but sensitive to cold temperatures. When you take good care of it, pinch and prune it, the plant will develop bushier foliage.
#5 Crinkle Leaf Begonia
Begonia moyesii is better known as Crinkle Leaf Begonia, and it is another Begonia grown for its beautiful foliage.
The plant features dark green, glossy leaves that look like savoy cabbage. The foliage is divided by distinct veins, which become red as the plant matures!
Crinkle Leaf Begonia also develops flowers. They appear in small clusters with bright yellow centers!
Find out how tall Crinkle Leaf Begonia gets.
#6 Breakdance
Breakdance Begonia is suitable for full and partial shade locations. Still, the plant needs some light to develop, but indirect light works the best. The soil should be light, but rich, moist, and well-draining.
If you plan to grow Breakdance Begonia in a container, choose a peat-based potting mix and only water when the top inch seems dry.
Find out how not to kill Begonia Breakdance!
Learn how to propagate Begonias.
#7 Big Red Bronze Leaf
Begonia x benariensis F₁ or Big Red Bronze Leaf Begonia is a reliable and resilient plant, best known for its landscaping possibilities. The plant is a vigorous grower with distinct branching and bright red flowers.
It is also one of the most adaptable Begonias you can find. Full sun or shade – the Big Red Bronze Leaf Begonia doesn't mind!
Big Red Bronze Begonia can be used in many ways and grace every space. You can use it for landscaping, in hanging baskets, mixed containers, single pots and packs.
#8 Angel Wing Begonia
Begonia coccinea, Angel Wing Begonia, or Scarlet Begonia features shiny foliage and colorful flowers. The plant is native to South America and can grow up to four feet in height if you don't prune it.
Angel Wing Begonia is a summer bloomer. Ensure indirect light, regular pruning, and the optimal amount of water and your Angel Wing Begonia will award you with a stunning appearance!
Angel Wing Begonia is a hybrid. The plant is developed for sub-tropical and tropical areas, but it is adaptable to a range of conditions.
#9 Solenia Dusty Rose Begonia
Solenia Dusty Rose Begonia is best known for its beautiful, rose-like, pink flowers. The plant features vigorous branching and is adaptable to different conditions. Because it is a mildew-resistant, wind and drought-tolerant plant that does well in full sun and partial shade locations, it is one of the easiest Begonias to grow.
#10 Polka Dot Begonia
Begonia maculata or Polka Dot Begonia is a statement plant in every collection. The plant features olive green leaves with white splotches of color.
The key to keeping your Polka Dot Begonia healthy and beautiful is high humidity and moist soil. You can also prune the plant to keep the shape you like and repot every spring to ensure healthy roots.
Discover the full guide on Polka Dot Begonia care!
#11 Million Kisses Elegance Begonia
If you are looking for vigorous trailing Begonia, look no more. The Million Kisses Elegance is a low-maintenance plant, perfect for hanging baskets.
The plant features a lot of orange-pink flowers, contrasting with lush green leaves. You can grow the plant in a partial shade location for best results.
#12 Nonstop Mocca Yellow Begonia
The Nonstop Mocca Yellow Begonia features beautiful double, bright yellow flowers. The plant is short and doesn't get taller than 12 inches in the garden, even with the ideal conditions. Luckily, the plant is easy to grow!
The Nonstop Mocca Yellow Begonia doesn't need deadheading to produce more flowers. The plant is used for landscaping and looks great in containers on the patio!
#13 Glowing Embers Begonia
Glowing Embers Begonia is a tender perennial with a trailing growth habit. Therefore, it looks great in hanging baskets.
This Begonia features dark green leaves and warm orange flowers with yellow centers. Overall, the plant doesn't need complex maintenance. Keep the soil neutral, moist, and well-draining, and ensure moderate sun exposure.
The plant blooms in summer and autumn!
#14 Begonia Harmony's Passing Storm
Begonia Harmony's Passing Storm is a hybrid variety of Begonia rhizomatous. The plant features beautiful grey foliage with a pink sheen. As the plant matures, the foliage turns silver!
Begonia Harmony's Passing Storm is a vigorous grower with dense branching! It will look great in a hanging basket on your patio!
Here is how to take care of your Begonia Harmony's Passing Storm.
Check out the most useful tips for caring Rhizomatous Begonia.
#15 Ambassador White Begonia
Ambassador White Begonia has cute white flowers with yellow centers. It is often used for landscaping because it has a uniform growth habit and blooms all summer.
This Begonia thrives in full sun to partial shade locations and doesn't need complex care. The ideal conditions for the plant are warm temperatures and a humid environment!
#16 Ambassador Rose Begonia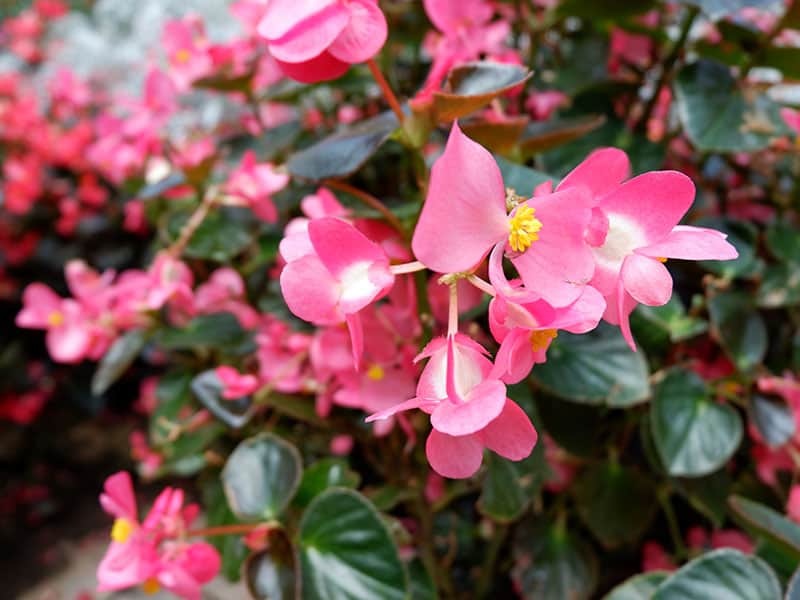 Ambassador Rose Begonia is similar to the Ambassador White variety, but it features pinkish blooms. The plant can be grown in flowering beds, containers and hanging baskets.
Use fertilizer every two weeks to ensure the vigorous growth of your Ambassador Rose Begonia.
Check out the primary information on this Begonia.
#17 Spitfire Rex Begonia
Spitfire Rex Begonia features variegated foliage with green edges and punk centers. This Begonia grows up to eight inches and spreads about the same. The plant is a favorite-collector plant but can be difficult to find. Keep it away from the direct sunlight if you want the foliage to remain healthy!
Find out the best tips for growing Begonias that apply to all varieties!
#18 Salsa Rex Begonia
Salsa Rex Begonia is another statement Begonia with stunning and patterned foliage! The plant can be grown indoors or outdoors in flowering beds, containers, hanging baskets.
Because it does well with other plants, you can mix Salsa Rex Begonia with similar plants to create a striking plant display. The plant prefers shady outdoor locations and medium water.
The Rex Begonias are believed to come from Northern India. People developed many cultivars with different foliage, flowers, and textures. Salsa Begonias are still one of the most popular varieties for their unique beauty.
Discover how to care for Salsa Rex Begonia.
#19 Begonia Red Planet
Begonia Red Plant is the perfect plant for a windowsill. It is a variety of rhizomatous Begonias, known for its distinct foliage.
The foliage is dark green, with chocolate brown splotches and red dots. The shape is oval and the plant is very small and easy to maintain. It doesn't get taller than six inches! The plant needs partial shade or shade location, warm temperatures, and not much water.
Read more growing advice for Begonia Red Planet from an experienced nursery.
#20 Begonia Illumination Scarlet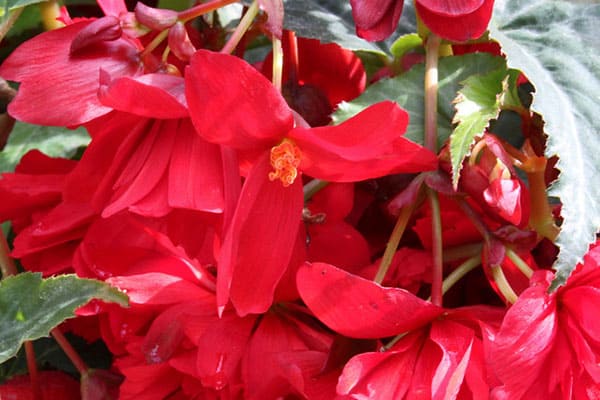 Begonia Illumination Scarlet is best known for its large red flowers! The plant develops a cascading growing habit and a bushy appearance with the fresh and rich green foliage. Illumination Scarlet is more suitable for growing in pots and hanging baskets, especially in full sun locations!
The plant isn't picky about the soil and will thrive in almost every type, as long as the soil is well-draining.
#21 Begonia Silver Queen
Begonia Silver Queen features large and oval-shaped leaves with purple centers. The leaves have dark green veins which stand out on the silvery foliage, hence the name.
Most people grow Silver Queen because of its ornamental foliage, but only a few know that it develops lovely tiny pink flowers.
Read how to take care of your Begonia Silver Queen.
#22 Cocktail Mix Begonia
The vivid Cocktail Mix Begonia is often used for landscaping, because of the colorful blooms and bronze foliage. Each plant may produce white, pink, pastel pink, and white flowers with yellow centers!
A great thing about this variety is that it grows uniformly and blooms all summer!
Begonias Cocktail Mix are easy to grow from seeds, and you should sow seeds in December.
#23 Tornado Rex Begonia
Tornado Rex Begonia features silver and pink spiraled leaves with dark purple, almost black foliage borders. The plant is a creeping rhizome, and relatively easy to establish. The foliage has high ornamental value, and the plant can be grown indoors and outdoors.
It has average water needs but may need slightly more water during the growing season.
#24 Begonia Aquamarine
Begonia Aquamarine is another Rhizomatous Begonia. It has an upright growing habit, large and glossy green leaves with a bluish and silver sheen. This Begonia is one of the easiest to grow and a perfect plant for beginners.
It is a medium-sized Begonia that blooms in late winter. The flowers are pink and not very showy!
Discover everything you need to know about your Begonia Aquamarine!
#25 Solenia Salmon Coral Begonia
Solenia Salmon Coral Begonia features lovely double flowers in a warm salmon shade. The plant needs a minimum of three hours of sunlight per day and moist soil to thrive. But, ensure the pot has drainage holes to prevent rotting.
Solenia Salmon Coral Begonia needs fertilizer once a month and is resistant to powdery mildew.
Find out in which zones your Solenia Salmon Coral Begonia can survive winter before you plant it.
#26 Begonia Deco Daddy
Begonia Deco Daddy has basil-green star-shaped foliage with burgundy red splotches of colors. The plant is compact and great for the window sill.
It needs more time than average to establish after propagation, but if you don't overwater it, your plant will be just fine.
Read first-hand experience on growing Begonia Deco Daddy!
#27 Rumba Begonia
Begonia Rumba has ornamental foliage in purple shades with silver variegation. The maximum height it can reach is about eight inches. It spread about the same.
Because of its unusual leaves, the plant is often used as a houseplant. It needs highly moist soil, indirect light and moderate humidity!
Read more on proper plant care for unusual Begonias.
#28 Red Kiss Rex Begonia
Red Kiss Rex Begonia has long and fleshy stems and alternate foliage. The foliage has high ornamental value because of the deep purple centers and pink borders.
The ideal conditions are moist and well-draining soil, occasional watering, and partial sun exposure.
Red Kiss Begonia isn't frost-hardy, but it is still a relatively low-maintenance plant.
#29 Begonia Black Knight
Black Knight Begonia grows around 14 inches. It has large, heart-shaped leaves in deep burgundy shades. Each leaf has a long strike of faded pink and white, which highlights the foliage shape.
The plant develops cute pink flowers in the late summer, and they appear until the beginning of the winter.
The ideal location for Black Knight is a sheltered area in partial shade.
Read primary information about the Black Knight Begonia!
#30 Begonia Helen Teupel
The Helen Teupel variety of Begonia enjoys high humidity and consistent temperatures. Therefore, if you grow it as a houseplant, keep it away from the source of warmth and coldness. The plant enjoys filtered light and develops the pointy dark purple leaves, variegated with light green and pink.
Begonia Helen Teupel grows well on the window sill, as long as you keep the humidity over 50%.
Find out a few interesting tips on how you can increase the humidity around your Helen Teupel Begonia.
#31 Begonia Escargot
Begonia Escargot features striking, spiral-shaped leaves in silver, green and chocolate brown color. The plant grows between six and 12 inches in height and the same in width. It has lovely small, pastel pink flowers that stand out against dark foliage.
The plant doesn't need complex care or pruning to keep its beautiful appearance!
Learn how to take care of your Begonia Escargot!
#32 Begonia Rex China Curl
China Curl Begonia Rex has similarly shaped leaves like the Escargot variant. It is easy to propagate by leaf cuttings or stem cuttings. China Curl features dark-colored leaves with bright white splotches of color. It grows best in partial shade and moist and free-draining soil.
Discover more growing tips for China Curl Begonia Rex!
Begonias: Colorful Plants For All Light Conditions
Which Begonia type is your favorite? Do you prefer the types with ornamental foliage over varieties with large and showy flowers? My top picks are Begonia Tornado and Begonia Cocktail Mix because they are so different from other plants.
Luckily, most Begonia types are easy to grow and can adapt to different lighting conditions!
If you enjoyed the article, don't forget to give it a thumbs up!