Belgian mums are the brightest and most charming fall-blooming flowers. It is one of the finest bred of so-called mums on the market that comes in attractive colors and isn't difficult to grow.
Belgian mums are also something I often get asked about, so let's learn how to grow Belgian mums!
The look, their growing habits, and the resilience are what differentiate them from other chrysanthemum types.
What are Belgian Mums?
Belgian mums are the finest sort of wonderful chrysanthemums, and they have been out on the market for quite a while now. This variety will ensure that you have flowers in your garden for longer because they blossom when other plants stop.
They are also a subset of perennials and got their name by their origin – Belgian. Because the plant is highly prolific and provides numerous buds in different growing conditions, Belgian mums are sometimes called supermums, garden mums, fall mums. Moreover, they are also hardy plants that are superior compared to other chrysanthemums.
Belgian Mums Look
Belgian mums come in a wide color range, from whites to bronze, bright pink and yellow, to pastel rose and violet. These are tough and hardy plants and have beautiful, dark green leaves.
One plant can grow up to 1000 buds per season, and each flower looks as if it has numerous petals. Actually, each petal is a tiny floret.
You can grow them indoors or outdoors.
When you place them outdoors, they make a gloomy fall landscape.
Image: Belgian mums are wonderful for creating a charming garden landscape!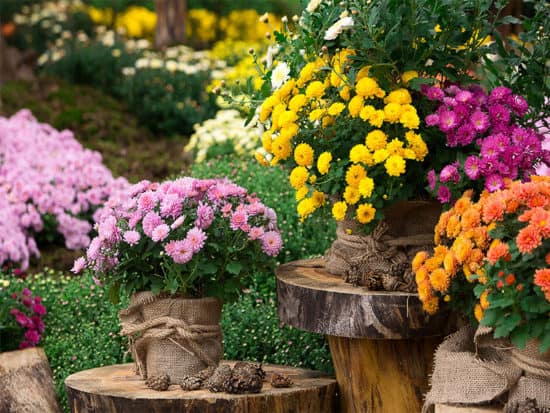 Belgian Mums Varieties
There are numerous varieties of Belgian mums that you can find in the nurseries around the USA. They are classified by the colors of their buds and the start of their blooming season. Moreover, some varieties grow better in the sun, while others enjoy the partial shade. Also, there is a delay in the start of the blooming season between North and South, and you can ask for more blooming details in the nursery.
Moreover, there are colors mixes of Belgian mums, but the combinations depend on the nursery.
Let's have a brief overlook of the most common varieties you can find in nurseries across the country.
Early-Blooming Varieties
Early bloomers start their blooming season in late July. Similar to other varieties, they continue to bloom for around eight weeks. But, some species can finish their blooming season in as little as four weeks. Early blooming Belgian mums grow well in the pots and are available in different colors.
I included the most common varieties in the table.
| | | |
| --- | --- | --- |
| Name | Colors | Start of the Blooming Season |
| Urano | Yellow, orange, red | Late August, early September |
| Fonti | White, yellow, pink, coral, orange, red, etc. | Late August |
| Temptress | Red | August |
| Camina | Red | Early September |
| Molfetta | Pink | Early September |
Mid-Season Varieties
Mid-season Belgian mums start their blooming in mid-September to early October. Their blooming season also lasts from four to eight weeks, and some of the most unusual color mixes are in this category.
Check the table for some of the most common Belgian mums mid-season varieties.
| | | |
| --- | --- | --- |
| Name | Color | Start of the Blooming Season |
| Margo | White | Mid-September |
| Milano | Pink, orange, yellow, white | Late September |
| Veritas | Yellow, orange | Late September to Early October |
| Staviski | Yellow, orange, white, red, pink | Early October |
| Jasoda | Purple, red, orange, white, etc. | Early October |
Late Fall Varieties
The Belgian mums that start blooming in mid-October to late October are my personal favorites. Their blooming season often lasts from six to eight weeks, and there are beautiful colors and combinations available in this category.
| | | |
| --- | --- | --- |
| Name | Color | Start of the Blooming Season |
| Vigorelli | Red, violet, orange | Mid/Late October |
| Aramis | White | Mid/Late October |
| Mouria | Yellow | Mid/Late October |
| Dark Veria | Yellow | Mid/Late October |
| Mefisto Purple | Purple | Late October |
When to Buy your Belgian Mums?
The earliest time for buying or ordering your Belgian mums is early September. But, if you wait for a little, you can have more colors to choose from in nurseries.
But, if you live in a hot climate, you can wait a week or two and get your plants when the temperatures drop, in early to mid-October.
Image: Belgian mums come in a variety of colors, which makes them easy to mix with other plants!
What is an Ideal Location for Belgian Mums?
Belgian mums can be grown both indoors and outdoors, and they need a lot of suns to grow to their full potential. Also, the soil needs to be well-draining, because the soggy soil can cause the roots to rot and develop fungal diseases.
Moreover, keep your plants at least 18 inches away from other plants to ensure they have enough space for root development.
If you plan to grow your Belgian mums outdoors, find the location, which gets from six to eight hours of sun. Inside, put the pots near the windows to ensure enough sun.
How to Choose the Pot for the Belgian Mums?
First of all, I recommend cutting around 1.5 inches that aren't older than 18 days. You can expect the best results with plants that are 1.5 inches taller than the soil level at the moment of planting.
You need to prepare the proper size pot first.
Generally, the smallest pots of 6-inch diameter are enough for one plant that grows around 10 to 12 inches max. For everything larger, you can consider the pots with 8-inch and 10-inch diameters.
Also, you can plant one or two plants in larger pots.
How to Plant Belgian Mums?
Don't exaggerate with the soil. You can add the soil up to the pot top because the soil will settle down a bit after you first water the plant. Also, make sure that the soil is evenly moist in the pot and not only at the top surface.
In my experience, planting Belgian mum cuttings deep boost the growth of the plants. Moreover, I suggest placing the cutting tip in the line with the pot rim after planting.
I would do so with rooted and unrooted cuttings.
Conveniently, the bottom shoots emerge from the soil quickly and enhance the plant support.
If you plant the cutting deeply, you have better chances to get a beautiful shape of your Belgian mums without leaves at the base. Moreover, when transplanting your Belgian mums, place the cutting directly in the center of the pot to ensure symmetrical growth.
Next, amend the soil with a fertilizer rich in phosphorus and nitrogen. The fertilizer can help the plant develop a healthy root to support the sturdy base. I recommend using 20-20-20 fertilizer.
During the first couple of weeks, prevent the soil from drying.
How much Water Belgian Mums Need?
After the first couple of weeks, you want to avoid overwatering your mums. Experienced gardeners will be able to find the optimal amount of water by observing the soil and according to outdoor temperatures.
But, if you are a newbie, stick to one inch of water per week. It is the optimal amount that cannot harm the plants.
What about Pinching?
There are different opinions about pinching Belgian mums, but in general, it depends on the plant itself. Newer sorts of Belgian mums don't require pinching as they don't have issues with branches, and they grow to the perfect shape.
Still, if the cutting arrives stretched, you can pinch it after planting to ensure proper growing shape. Pinching is basically removing only 1/2 inch of a cutting tip to get a symmetrical shape and help the plant get stronger.
Moreover, if you grow Belgian mums in a container smaller than 6-inches, I recommend pinching to boost the strength of the plant.
However, make sure that you pinch only at the plant base and that you aren't doing it after mid-July, because it can affect the blooming.
What about Fertilizer?
Fertilizer can help all plants to grow stronger and healthier, and Belgian mums aren't different.
When it comes to fertilizing Belgian mums, timing is essential. Don't apply fertilizer before the spring season. If you start fertilizing the plants too soon, it can actually make them less resilient, and the plants may struggle to survive the winter.
Wait for spring and amend the soil with a water-soluble fertilizer once a month until the end of July. The nutrients will help the plants to grow stronger and to have more flowers.
How to Help the Plants Over the Winter?
Belgian mums can survive the winter, but they need a little help.
However, the winter care for the Belgian mums starts when you first plant them. If you put the plants in a location that doesn't get too much wind, going through winter will be easier.
Also, when it comes to the soil, drainage is essential. It is because the cold won't kill the plants, but the ice might kill the roots.
Next, you need to insulate the plants in the fall. Naturally, the leaves die and turn brown after hard frosts, but you have to cut the foliage and the leaves to ensure proper growth next year. I usually cut the stems to around 3 inches above the soil.
That way, new stems can grow back from the trimmed ones. If you cut the stems all way to the ground, you can expect fewer stems to grow next year.
Also, applying a thick layer of mulch after the ground freeze will keep the soil insulated. That way, you will prevent the soil from thawing and freezing several times, which can be more harmful to the plant than keeping the soil frozen for the entire frost season.
Pests and Diseases
Belgian mums are chrysanthemums, and they are prone to the majority of pests and diseases like other mums. Even though Belgian mums are resilient and suffer fewer issues with insects and diseases, I recommend checking my short guide on common issues.
Fungi
Different fungi can cause leaf spots on your Belgian mums. You can identify fungi infection if the leaves start getting yellow spots that slowly turn brown or black. Also, lower leavers always get infected first, and the infection progresses upwards.
If you notice these symptoms, you should handpick the infected leaves and remove them from your plant. To prevent spore development in your garden, you should regularly clean your garden and remove all the dead plants.
For severe cases of infections, you can use chlorothalonil or mancozeb-based fungicide.
Nematodes
Foliar nematodes can infect Belgian mums. These are tiny roundworms that overwinter in the soil, and leaves get distinct brown spots. Eventually, as the infestation spreads, the leaves get completely brown and fall. Foliar nematodes can kill chrysanthemums if not treated.
The best way to treat them is to remove infested leaves and to replace the soil. Use insecticidal soap to help reduce these roundworms.
Mildew
If you notice a gray, powder-like matter on the leaves, your plants might be infected with the fungus Erysiphe cichoracearum. It can develop in places with overly moist atmosphere.
When you first notice the powdery mildew, spray myclobutanil on your plants to solve the problem.
Mold
When the Belgian plants are crowded and there isn't enough air-circulation, the leaves can get water-soaked sockets. The foliar spray might help, but you need to provide distance between plants to prevent the mold from happening again.
Viruses
Even though Belgian mums, in most cases, are trouble-free, several viruses might attack the plant. You can identify virus disease through yellowed leaves and stunted shoots, pale areas, mottling, or ring spots across the plants. Generally, the plant will have smaller flowers and won't look healthy.
Prevent the viruses' diseases by keeping your plant free from aphids and other insects, because there isn't a cure for the infected plants.
Insects
Aphids are the most common pests on Belgian mums. The species that attack mums is dark brown to black, and it pierces the plant to feed on it. It can attack leaves, as well as flowers and buds.
A severe attack of aphids can kill the plant, but most likely it will only cause stunted growth. Apply the spray once in two days, for at least ten days.
In my experience, it shows better results from using strong insecticides that can kill the beneficial insects that control the aphids' population.
Spider mites and leaf miners can also attack Belgian mums. These pests are challenging to identify until they cause severe damage by destroying leaves and messing up with the flowers.
You will have to remove infested plants. However, you can use insecticidal soap in the early stages of infestation to control the spider mites, but only foliar systemic insecticide can be effective against leaf miners.
How to Propagate Belgian Mums?
Belgian mums are easily propagated by taking cuttings.
To do so, you should snip off a stem, around 4-inches long. Make sure that the stem has leaves, and plant it in the pot.
To get the best results, you can fill the pot with vermiculite or other soilless media. Ensure that the pot stays moist and keep the pot for a couple of weeks in the sun.
Next, once the sprouted roots appear, transfer the plant to a smaller pot or container and fertilize it.
You can wait for at least two weeks to transplant the plant to a bigger pot or your garden. Apply fertilizer and ensure optimal watering.
Tips for Growing Belgian Mums Indoor
Growing mums indoors differ slightly from growing them outdoors. First of all, ensure that the pot is large enough because Belgian mums are root bound after buying them.
Choose a window that gets at least four hours of direct sunlight as the location for the pot. Next, the soil needs to remain moist. But if you overwater them, you can fix the damage. Just place the pot in a larger bucket filled with two inches of water. That way, the plant will take only the water it needs.
Also, to avoid overwatering, only water Belgian mums at the base.
Next, after the blooming season passes, you should take off the dead stems and wilted flowers.
Finally, after the blooming season, the Belgian mums will enjoy time outdoors when the temperature starts to get warmer again.
Still, your plants will bloom inside, but outdoor air can help them stay fresh for the next season.
Which Flowers go Well with Belgian Mums?
Because there are so many colors and options for Belgian mums, you can get creative when planning your garden landscape. Whether you want a colorful and vivid display of large flowers in the late fall or a monochromatic look in the garden – Belgian mums are great for it.
Image: Some nurseries offer interesting mixes of colors that are great for creating unique and vivid flowers display.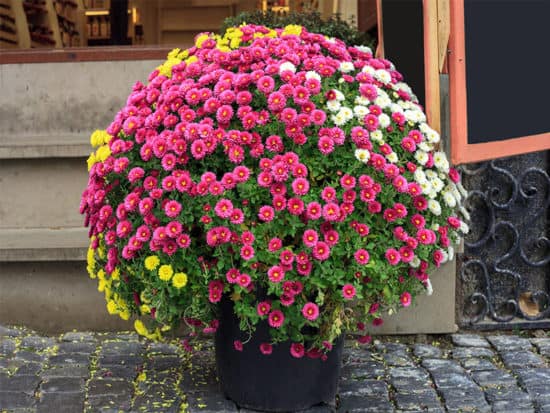 But, you might be wondering which flowers can be planted along with Belgian mums.
Ornamental cabbage and kale add structure to the landscape and go pretty well with the mums.
Sedums and coral bells come in a wide range of colors, and you can mix them with Belgian mums to create a unique flower setting.
Additionally, because Belgian mums are fall bloomers they make a beautiful, fall display when used around pumpkins and gourds!
Conclusion
Rich and vibrant, Belgian mums are among the best fall bloomers to grow either in the garden or in pots. The plants love the sun and require simple maintenance to ensure good shape and numerous flowers. Did you know that a single Belgian mum plant can hold up to 1.000 buds?
Because these plants are available in different colors, shades, and mixes, they are an amazing choice for all gardens!
Have you ever grow Belgian mums? What is your favorite color?