There is no wrong time to plant the best flowering shrubs in your yard. But every shrub you plant dies or doesn't bloom? I understand. Here is a list of simple and easy-to-maintain flowering shrubs that will surely bloom in season. They are sorted according to the seasons, so you know when they bloom.
So, get looking for the shrubs that best suit your backyard or garden.
Flowering Shrubs for Spring
Weigela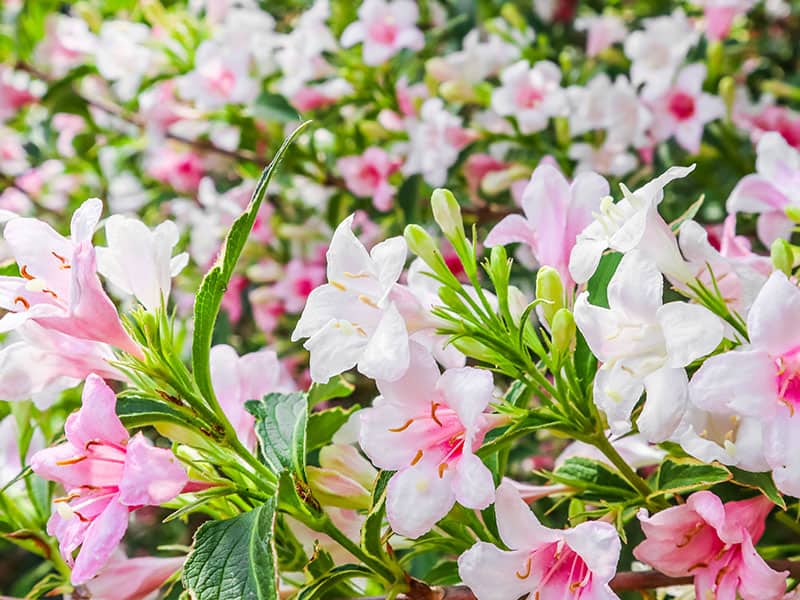 Scientific name: Weigela
Plant this shrub in full sun to enjoy its blooming season of red, pink, or white-colored flowers. In well-drained soil, a Weigela shrub can grow 6 to 10 feet tall. Weigela blooms late into the summer so its foliage is the perfect garden decoration for your spring.
Though their pruning should only be done after their flowering season is over since the new ones will shoot out of a year old wood only.
Watch this video to know more:
Camellia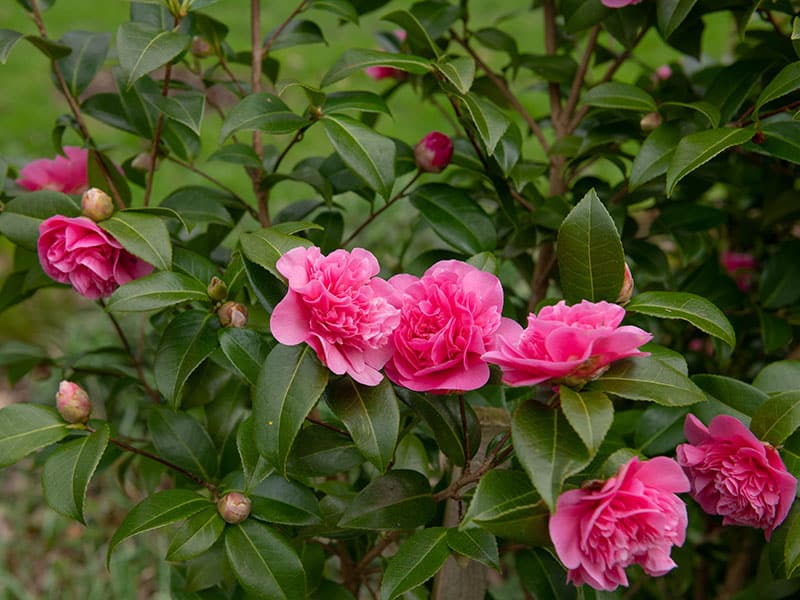 Scientific name: Camellia japonica
Camellia is one of the most beautiful perennials that bloom into pink, white, and red colors across seasons. The leaves are distinctly thick and glossy. It grows 10 to 15 feet wide and tall and needs a nice shaded spot to grow well. This flowering shrub grows best in acidic soil, though if you have alkaline soil in your yard you can try growing these in containers too.
Camellia is one of the more difficult species to grow, watching a guide before you start is a good way to ensure they survive.
Here is a step-by-step guide to growing Camellia.
Forsythia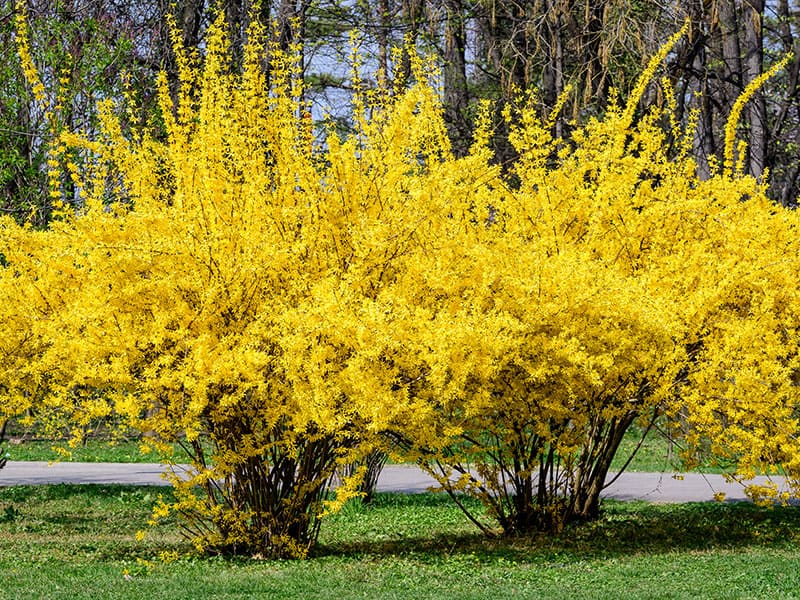 Scientific name: Forsythia suspensa
It's hard to miss this shrub that bursts into a beautiful yellow cover every spring announcing its love for the season. You might have spotted the 10 feet shrub growing around springtime. Plant the shrub in a space that gets full sun for most of the day in some well-drained soil and grow them from cuttings.
You should see the video below:
Lilac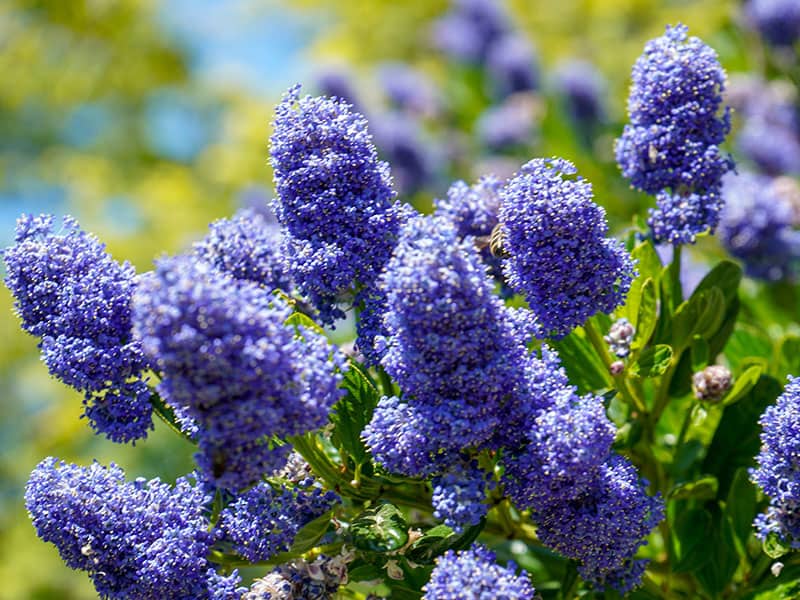 Scientific name: Syringa
Lilac is perfect if you want a flowering shrub with a sweet smell. They can be planted in moist, well-drained soil and should be left outside to soak in 6 to 8 hours of direct sunlight. They are spring flowers that bloom into purple, pink, white, and lavender colors. You need to give them a 20 feet space to grow freely in your yard.
Let's have a look at the following video!
Mock Orange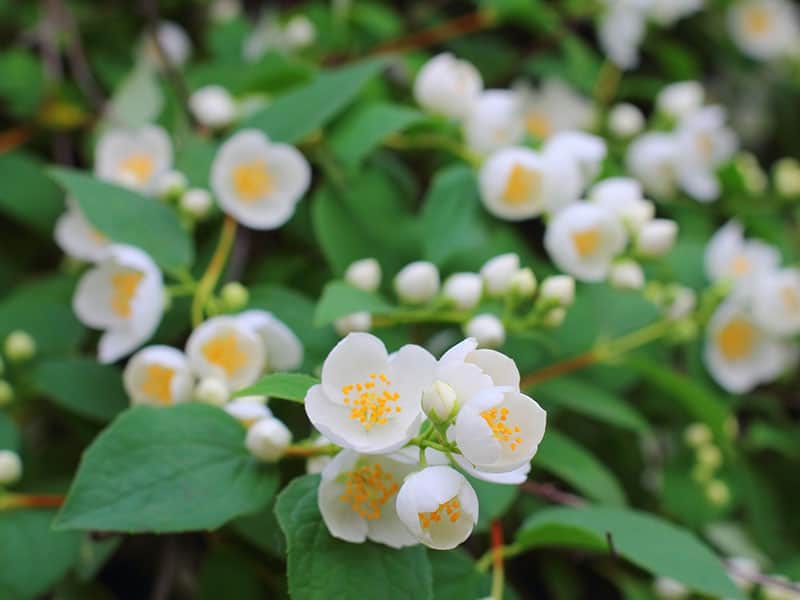 Scientific name: Philadelphus
Mock Orange, like the Lilac, has a sweet scent similar to orange blossoms. These shrubs are known to grow almost 24 feet tall in a year and spread about 15 feet wide. If you don't have space but want these beautiful white flowers to bloom in your garden, just look for a smaller variety. They grow strong in well-drained soil and direct sunlight.
You should see the video below:
Spirea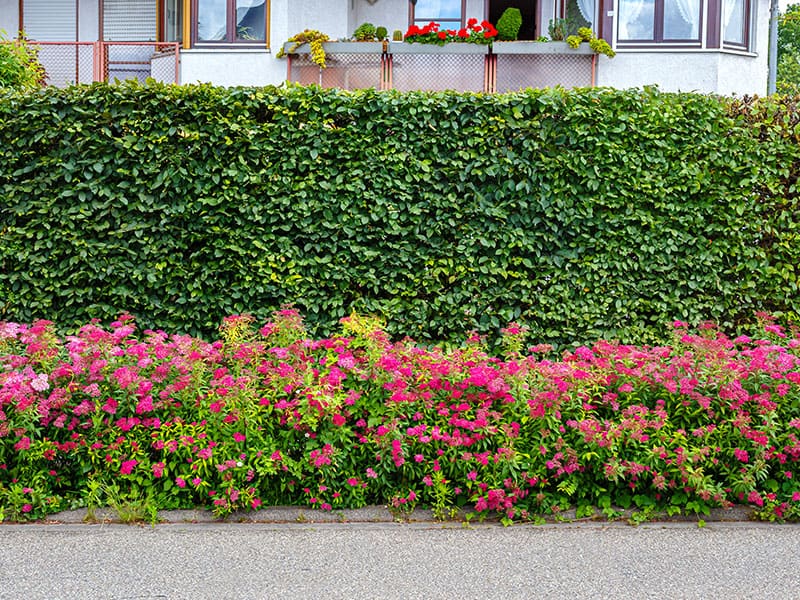 Scientific name: Spiraea
You may also know them as steeplebushes or meadowsweets. Similar to the Weigela, the flowers in a Spirea shrub grow out from last years' wood. The flowers are white-pink in color. These shrubs grow 2 to 10 feet in size and are known to prevent soil erosion. Spirea needs particular care for better health.
Watch this video to know more:
Flowering Shrubs for Summer
Viburnum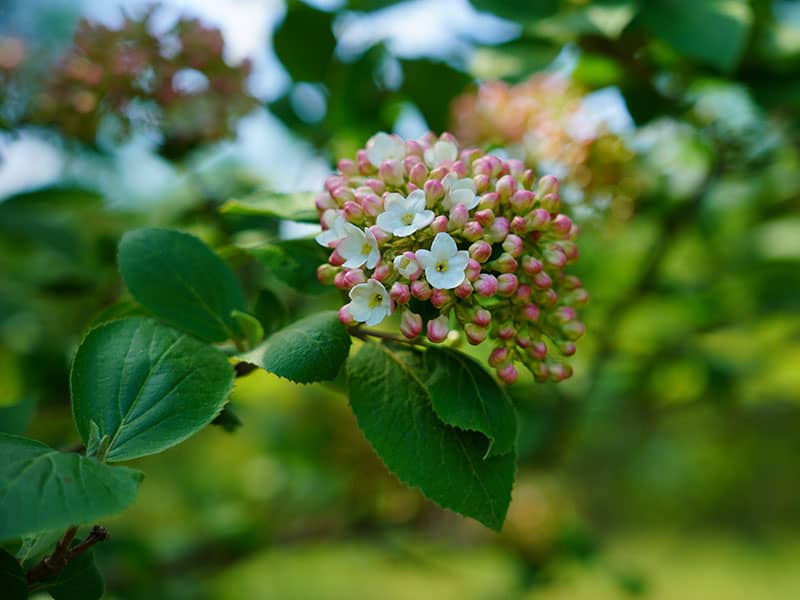 Scientific name: Viburnum
Viburnum does get mistaken for hydrangeas, but unlike hydrangeas, these can grow 20 feet tall. They grow in well-drained soil and will be happy in full sun or shade. The shrubs will also produce berries of pink, blue and yellow colors and flowers in pink or white. Some of their species give off a pleasant scent when in bloom and could come in dome-shaped or flat floret clusters.
Watch this video to know more:
Hydrangea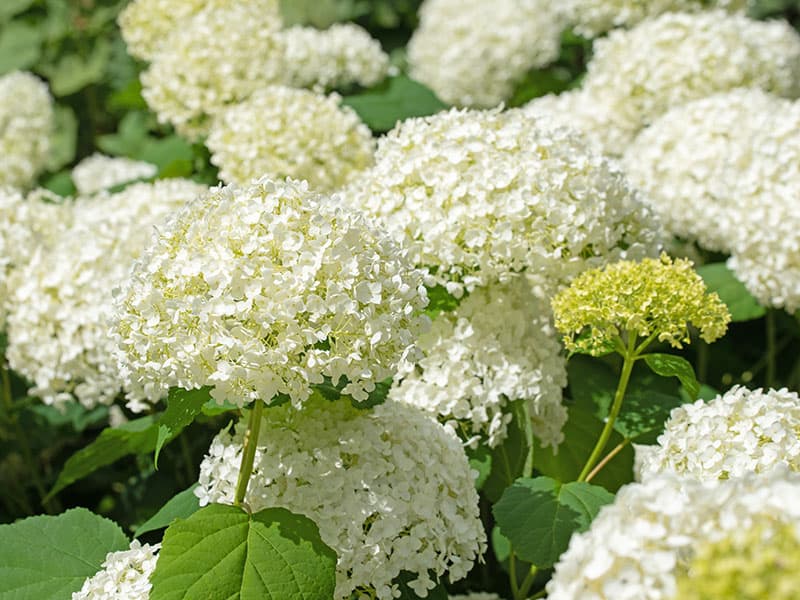 Scientific name: Hydrangea macrophylla
Hydrangea is a good summer shrub that needs only partial sunlight. The tiny flowers come in a variety of pink, white, blue, and red colors. Plant it in a shaded spot that receives minimal sun. If you plant it in containers ensure it has lots of space to grow and the soil is drained properly. The hydrangea bush will grow 15 feet in height in its blooming season.
If your Hydrangea flowers are wilting then you could be over-watering the plant or keeping it in direct sunlight, both are a big no!
You should see the video below:
Lobelia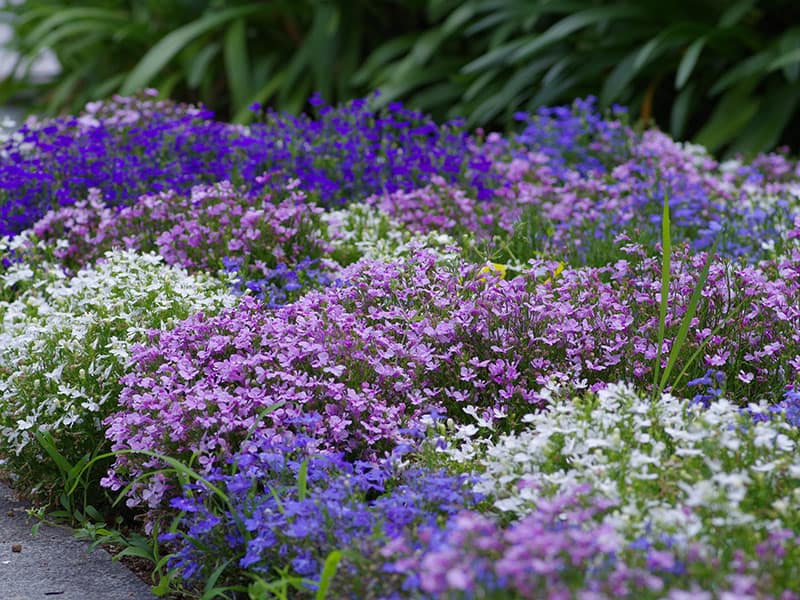 Scientific name: Lobelia
Partial shade to full sunlight and moist rich soil is what Lobelia loves best. This summer bloom will produce a beautiful bush of blue, red, pink, or white flowers but violet is the most common variety seen.
These are the smallest flowering shrubs on our list growing only 3 feet tall at best. However, if you live in an apartment and need something smaller then you can try planting African Violets.
You can enjoy the flowers for all of the summer. The shrub is also known to be useful in people suffering from asthma problems, cough, and bronchitis.
Here are some tips and tricks to pruning your lobelia.
Rose of Sharon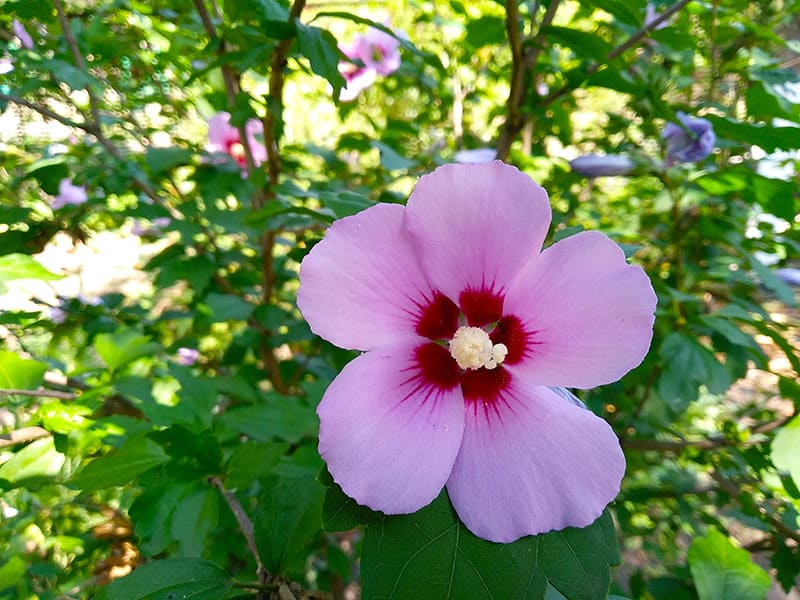 Scientific name: Hibiscus syriacus
Commonly known as Hibiscus, this variety of summer flowering shrubs is the best choice for your summer garden. The red, pink, lavender, blue, or white-colored flowers will keep your yard looking its best in the hot sunny season. While the blooms on this shrub last for a good few weeks into fall.
To keep the flower numbers high plant it in full or partial sunlight where the soil has good drainage.
You should see the video below:
Flowering Shrubs for Winter
Winter Jasmine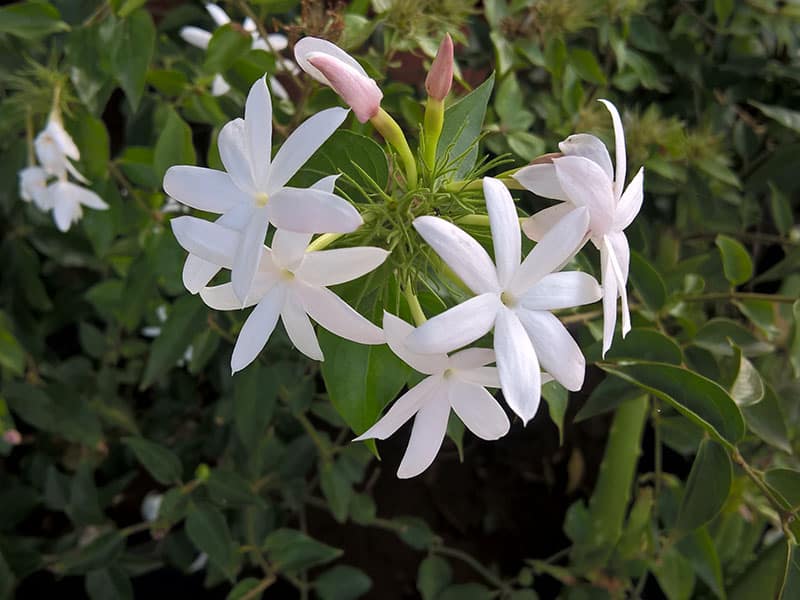 Scientific name: Jasminum nudiflorum
The winter jasmine needs care and attention. They tend to hold root every time, and while the shrub coming in contact with the soil is fantastic. That won't make for a good yard.
They need lots of sunlight and moist, fertile soil. Their blooming season is right after winter so that's one plant to keep around when the end-of-year blues settle. Its pretty pink, white, or yellow flowers will brighten up the winter better than any decoration.
Try to look for the fragrant types like the Jasminum floridum, Star jasmine, or the Italian jasmine. Overall it doesn't need too much maintenance and can also be planted in containers.
Let's have a look at the following video!
Witch Hazel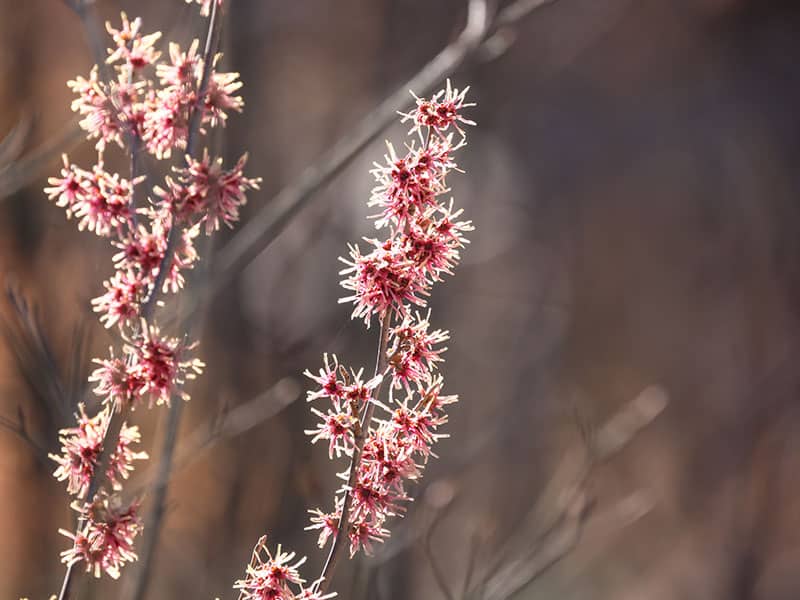 Scientific name: Hamamelis
This shrub will brighten up the cold season. Their scented flowers have spidery petals that bloom in shades of red and orange. It was a popular medicinal shrub in folk medicine to apply topically on cuts, burns, and insect bites.
Witch hazel needs to be left in full sun or partial shade to grow to its 15 feet height and width. All you need to do is water the shrub regularly, do some pruning and it'll grow just fine.
Watch this video to know more:
Winter Hazel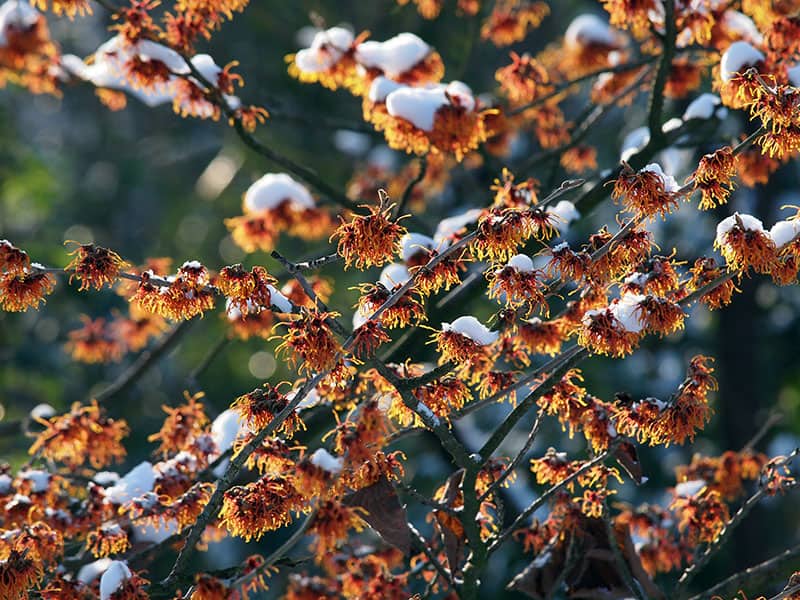 Scientific name: Corylopsis
Coming from the witch hazel family this shrub is also a great medicinal plant. The most famous use of it is in Ancient Egypt, where the plant was used in making mummy coffins.
If you do plant them in your yard, you're sure to cherish them the most when they bloom. Tiny yellow flowers in the shape of bells hang in clusters on these leafless branches. Their smell is sweet and reminds you of flowers and herbs, perfect for the snow season. It grows about 6 feet tall in proper sunlight and well-drained acidic soil.
You should see the video below:
Flowering Shrubs for Fall
Summersweet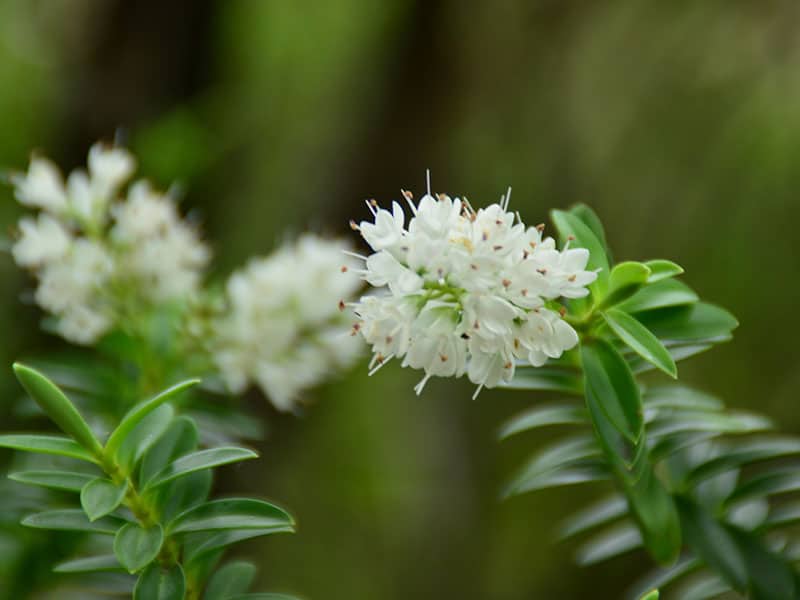 Scientific name: Clethra alnifolia
Expect a Summersweet shrub to grow 10 feet tall and 4 to 6 feet wide. The fall blooming season brings with it a sweet and spicy scent. The flowers are white or yellow and shaped like cups. Well-drained soil in the shade is best for this plant's health.
With these flowers in bloom, you are sure to be visited by little hummingbirds and butterflies so keep an eye out in early fall to winter.
However, some varieties have berries that are poisonous so grow those only if you don't have children or pets wandering around your yard.
Here is some useful information and the profile of the shrub.
Bluebeard
Scientific name: Caryopteris
Tiny blue flowers with white centers are the most identifiable feature of these shrubs. They grow 4 feet wide and 3 to 8 feet tall in dry drained soil. Add more water and you may kill the plant.
However, it is fairly easy to care for this shrub if you place it in full sunlight. Similar to a summer sweet bush, butterflies and hummingbirds will flock to a Bluebeard in bloom.
Let's have a look at the following video!
Perennial Flowering Shrubs
Shrub Rose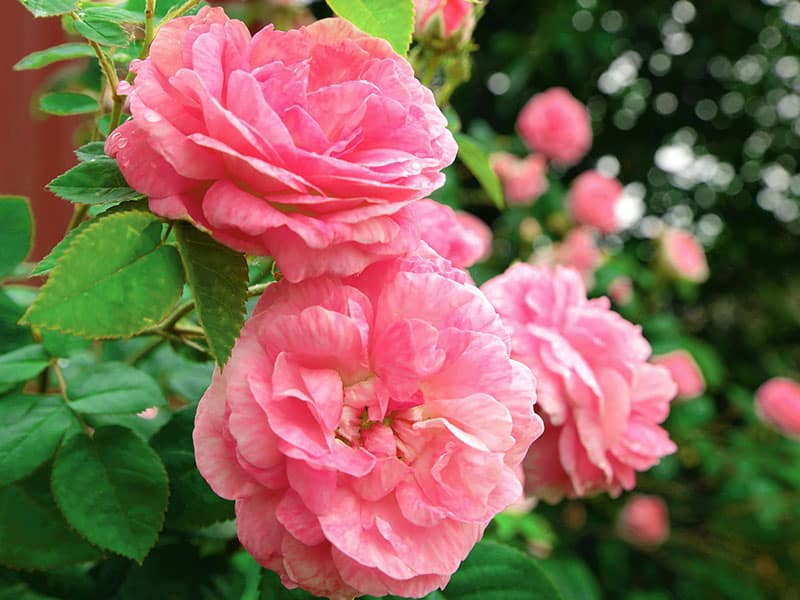 Scientific name: Rosa
These are bigger than the bush rose variety and a shrub can grow as tall as 20 feet. Roses have the most types of plants, they can climb, crawl, trail, or grow as a shrub. It also has one of the largest varieties in colors from shades of pink, red, and yellow to orange, white, and purple.
Most will grow perennially with the right care and plenty of sunlight. Plant them in containers with good drainage. They require minimum care and when in bloom are sure to attract local birds, bees, and butterflies to your garden. However, not all species are richly fragrant so be sure to keep that in mind when you're buying them.
Here are some deadheading shrub roses you should know about.
Oregon Grape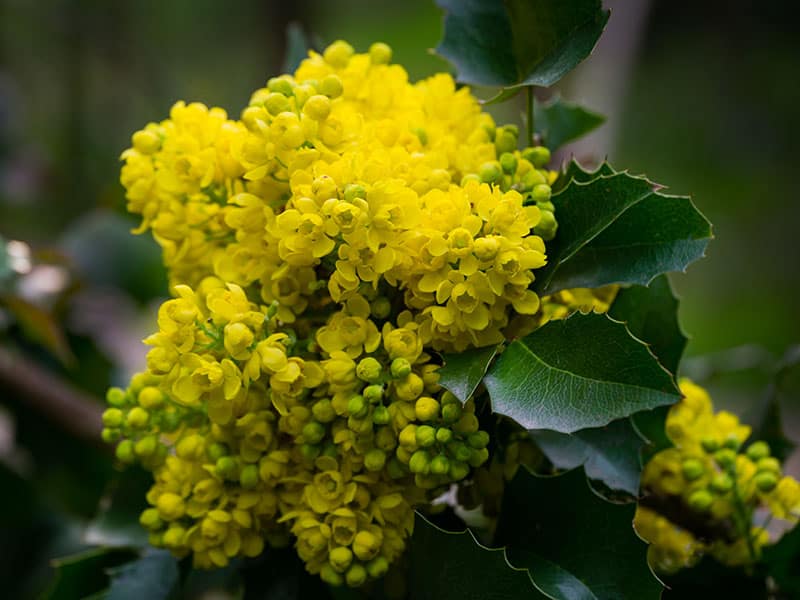 Scientific name: Mahonia aquifolium
The shrub grows 2 to 5 feet in width and 15 feet tall with little yellow flowers during blooming time. With partial shade or full sunlight, the Oregon grape happily grows in all seasons. Those tiny grape-like berries you see growing on the shrub are safe to eat, but not exactly tasty. They are nothing like grapes but you can be the judge of it.
Popularly used for stomach-related problems, infections, and GERD.
Watch this video to know more:
Azalea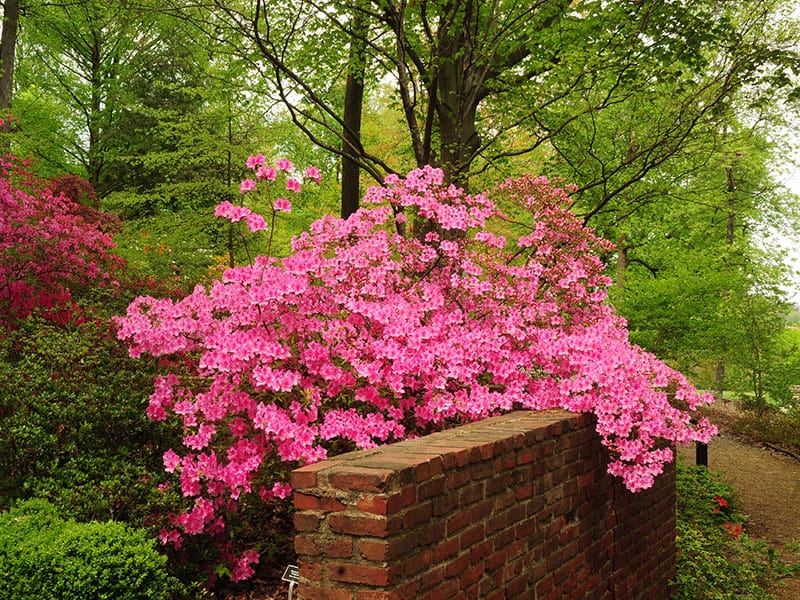 Scientific name: Rhododendron
This is a spring shrub with the most number of colors when it comes to flowers, then you are going to love Azaleas. Leave them in the sun to grow out healthy into their 15 to 20 feet in size. The flowers could bloom perennially or only in spring depending on the species. The spring type typically lasts for three weeks in the blooming season.
You should see the video below:
Coneflowers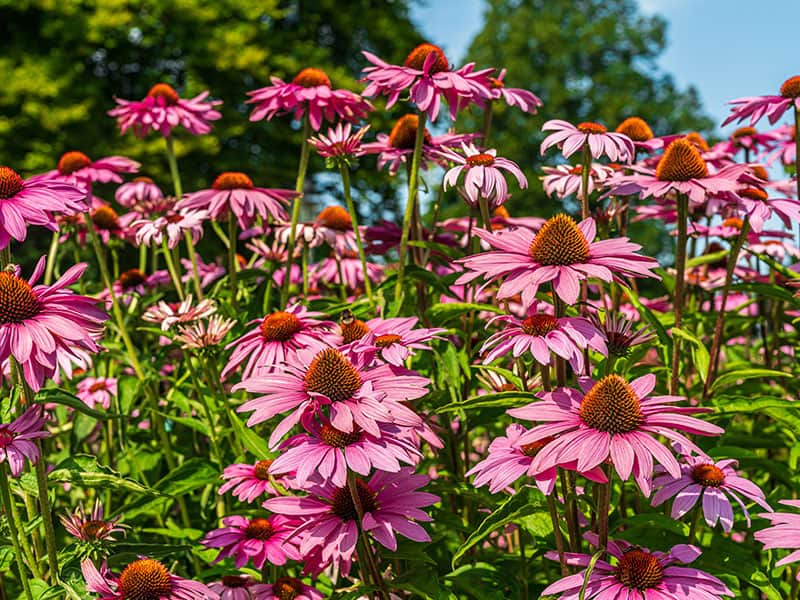 Scientific name: Echinacea
These little flowers are available in a variety of colors like pink, orange, yellow, red, etc. If placed in full sun they can grow 2 to 4 feet tall and put on a show throughout the year.
You can call them the most basic shrubs but they are resistant to drought and heat, unlike most flowering shrubs. While their perennially blooming flowers grow with minimum care, they still can attract butterflies, birds, and bees.
Let's have a look at the following video!
How to Plant a Flowering Shrub?
We do include the most common, and best flowering shrubs in our list that need only basic care. But you need to attend to them. Watch tutorials and guides to learn more. Here are a few tips you HAVE to follow:
Give Them Space to Grow
If you are planting different shrubs together then make sure they are planted far apart. Check the size the shrubs grow and how you will be pruning them to know the space to leave in between two shrubs. You don't want both the shrubs to die because the soil wouldn't support their nutrition requirement.
The Right Soil Texture
Most of the shrubs on this list need well-drained soil. While a few of them can survive drought and over-watering, don't let that happen. It will disturb their environment and could affect their blooming schedule.
Wait for the Right Time
The best time to plant is at the end of fall for most shrubs but individual timelines may vary according to when the shrub blooms. Also, the best hour of the day to plant a shrub is morning, the rule of thumb is to plant it when the sun isn't up.
Watering Them
Water amount changes based on the season and climate. If it is raining the roots are probably not getting drained as well. On cold days they may need less water but in summer the moisture will evaporate faster. This is why most gardeners suggest watering plants before sunrise or after sunset.
Let's have a look at the following video!
It's Not Easy to Grow More Flowers…
However, if you need more flowers on your shrub in the blooming season, then read our guide on methods and techniques for deadheading.
Did you plant one of these shrubs? Are you going to? Tell us in the comments below what you do to make your plants flower.