Best shrubs for containers look beautiful around the entrance, deck, or on the patio. Here is an article showcasing the stunning shrubs that are easy to grow in containers and provide a beautiful effect.
When choosing shrubs for containers, consider the container quality as well. The containers need to be weatherproof so they won't crack or fleak, especially in cold temperatures.
The recipe for success is picking the hardy shrub for your climate. When taking care of shrubs in containers, you shouldn't bring the shrub indoors. Shrubs need fresh air to grow to their full potential!
Get ready for the list of best shrubs for containers!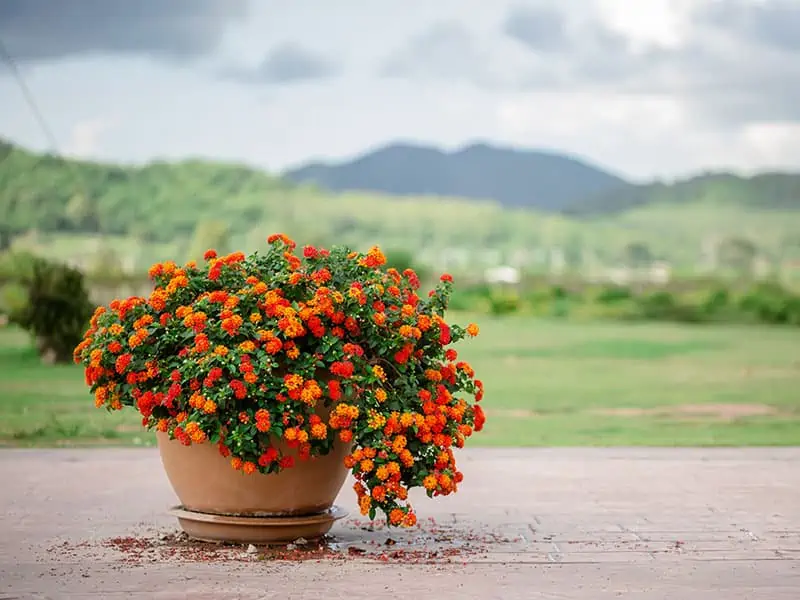 1. Rose Shrub
Rose shrubs are such an elegant and beautiful choice for containers. But, when picking the variety, you need to be careful whether it is suitable for growing in containers.
English roses are a perfect choice and look stunning in a large container. During the flowering season, in spring and summer, the shrubs are fragrant!
Rose shrubs need frequent use of fertilizer to provide rich blooms. You also need to keep the soil moist but not soggy. Also, keep the containers in sunny spots and move them as the sunlight moves to your plants to receive maximum sunlight.
Best tips for growing Roses in containers.
2. Camellias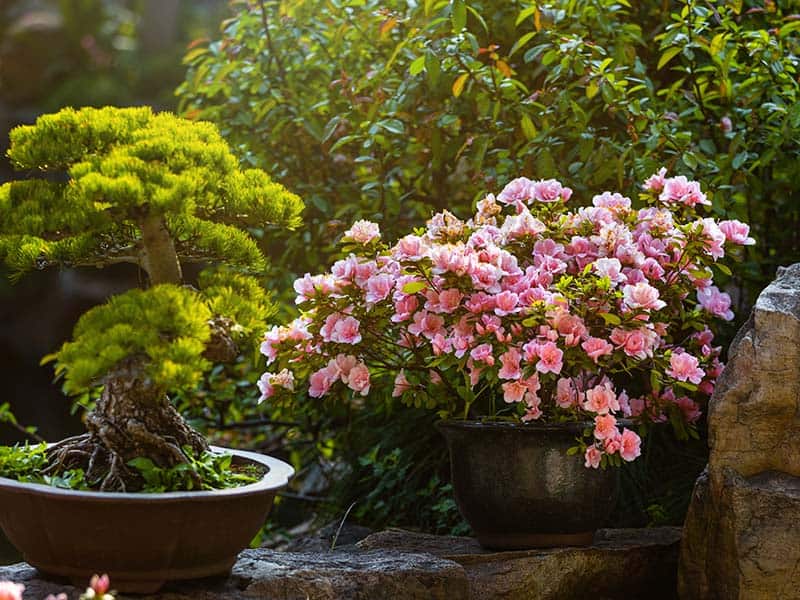 Camelias require special care to grow well and provide blooms in containers. Every two or three years, you'll have to repot your Camellias because the soil becomes soggy and not suitable for plants anymore. Also, the plant outgrows the container in that time.
During repotting, you'll have to trim the roots for two inches. It will help the plant refresh and absorb nutrients from the soil better.
Camellia shrubs require frequent fertilization in containers. You can use standard camellia/Azalea fertilizer. But, don't use fertilizer when the temperatures are above 90 degrees Fahrenheit because it can burn the leaves.
3. Beaked Yucca
Beaked Yucca, or botanically Yucca rostrata is a real eye-catching, unusual-looking shrub for containers. It is an evergreen shrub with a lovely crown of silver-blue foliage.
Yucca rostrata isn't difficult to grow. The plant needs well-draining soil and several hours of sunlight per day. The plant doesn't need pruning, but removing old leaves will be beneficial for the plant. Water the plant once a week and the Yucca rostrata will be more than happy!
Lastly, Yucca rostrata is hardy, but it will still need protection from severe frosts.
4. Japanese Pieris
Japanese Pieris is the perfect choice for semi-shaded spots on your patio. Ideally, put the container on the spot where the plant will enjoy the morning sun! A harsh afternoon soon with excessive heat may be harmful to the plant.
The shrub is deer-resistant and looks great year-round. In late winter, the shrub produces buds and flowers in early spring.
If you want to grow Japanese Pieris, ensure the soil is acidic. Otherwise, your shrub will die within two years!
When you grow it in soil the Japanese Pieris shrub is a vigorous grower and can reach ten feet.
But, in a container, the plant doesn't get very tall.
During winter, move the Pieris to somewhere sheltered to protect the foliage and roots.
5. Daphne Odora
If you want a statement shrub for your outdoor space, check the Daphne Odora shrub. The plant disperses beautiful fragrances and grows pretty big. Therefore, you'll need a large container to hold the long roots of the shrub.
Daphne Odora needs excellent drainage. So, the container needs to have excellent drainage holes, and you can also use bricks to lean the container so gravity can do its magic.
Daphne Odora needs a monthly dose of fertilizer during the growing season. Don't forget to put the container in a sunny place, sheltered from the harsh afternoon sun. There are many beautiful cultivars, but my favorite is Majeima.
6. Anna's Magic Ball Arborvitae
Arborvitae shrubs in containers are great for commercial and residential spaces. They look beautiful when planted near the entrance. The shrub is low-maintenance and may only need occasional pruning in summer to retain the pretty look.
Other growing conditions for Anna's Magic Ball Arborvitae include well-draining soil and semi-shaded spots. It is one of the most beautiful shrubs during winter, because of the evergreen yellow foliage!
The botanical name of the plant is Thuja occidentalis. You can grow it from zones 3a to 7a! It is one of the dwarf Thuja shrubs, so it will remain compact.
A few ways to transform your patio with shrubs.
7. Pinky Winky Hydrangea
Hydrangea is a classical shrub whether you grow it in a container or garden soil. The Pinky Winky variety looks exceptionally well with the soft pink flowers and moderate growth rate.
You'll need good potting soil, which you can amend with some organic matter for even better results.
The plant loves water and full sun exposure. Also, container Hydrangeas need more water than ones planted in the soil, so water the plant when the top layer of soil is dry.
Don't forget to snip the dead flowers once the blooming season is done!
8. Little Honey Hydrangea
Here is another Hydrangea bush on my list. But this one is perfect for shade! It features yellow-green foliage shaped like oak leaves, hence the second common name – Oakleaf Hydrangea.
The plant is easy to grow and requires repotting once it overgrows the current container. Use well-draining, acidic soil and add mulch around the roots to help the plant retain moisture.
9. Viburnum
Multiple cultivars of Viburnum shrub look stunning in containers, but Tinus has beautiful showy flowers. The plant grows tall and can quickly become a focal point on your deck or patio, especially during the flowering season. It loves the sun, but it can tolerate a slight shade. However, the more sun you provide for the plant, the more flowers your shrub will bear!
Additionally, Brandywine Viburnum is grown for the multicolored ornamental foliage and can also be excellent for container growing.
10. Fine Wine Weigela
Fine Wine Weigela is a very adaptable plant. But, the plant needs good drainage to prevent root rot. Also, Weigela shrubs need slow-release fertilizer for trees and shrubs. The ideal time for fertilizer application is in early spring.
Position the container where the plant can receive maximum sunlight!
Weigela bush looks charming during the flowering season at the end of the spring. Unfortunately, the flowering season is short and only lasts for a couple of weeks. But, to ensure new flowers, trim the dead ones!
WaThe trick to induce new Weigela growth.
11. Elderberry Lemony Lace
Lemony Lace Elderberry is given texture and color to every space with its bright yellow foliage. The plant's ideal location depends on your climate. In cooler climates, position the container in full sun location. In warm climates, Lemony lace will grow best in the slight shade.
Once the plant is established in a container, it is somewhat tolerant to drought.
But, don't leave the plant dry for too long, especially during summer.
Prune young plants to train them to grow in the shape you prefer. Once the plant reaches full maturity, remove suckers from the soil, to prevent the unwanted spread of the plant.
12. Boxwood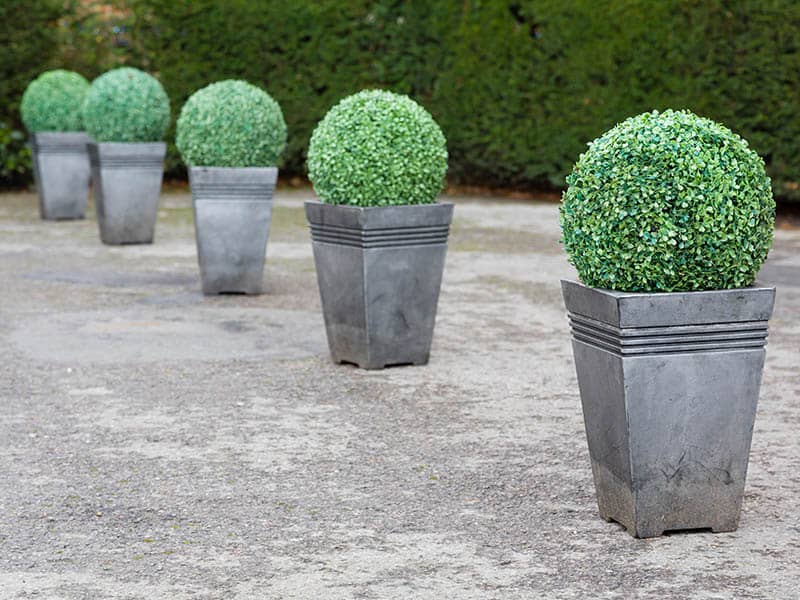 Boxwood is one of the most common container shrubs. It is easy to maintain and the plant looks elegant and fits in most outdoor settings. You can prune it to the shape you want. Growing multiple Boxwood shrubs in containers improves the visual impact.
When caring for Boxwood, you need to be aware of the outside conditions. In summer, when temperatures get hot, move your shrub in a slight shade and water thoroughly and regularly.
During winter, protect the shrub from harsh winds to prevent the foliage from turning brown.
13. Tiny Wine Ninebark
If you are looking for something that can adapt to various conditions and survive harsh weather in a container, try Ninebark, the variety Tiny Wine. It is easy to identify by the beautiful purple foliage and upright growth.
The plant needs at least six hours of sun per day to bloom! Watering Tiny Wine Ninebark is easy to get used to because the plant has average watering needs. As long as the soil is well-draining, your plant is safe from overwatering.
Discover more tips for growing Ninebark shrubs in containers!
14. Rhododendron
Rhododendron is one of the easiest shrubs to grow in a container because the plant has shallow roots. But, the container needs to have excellent drainage capabilities to prevent the soil from getting too soggy.
The ideal soil for Rhododendron shrub is slightly acidic, and you can mix it with grit and peat to improve the effect. The plant doesn't tolerate too much sunlight. So pick a location where your container will be protected from afternoon sun and heat.
If you want a cultivar with large and showy flowers, pick Polaris!
15. Hebe
The Hebe shrub, especially cultivar Heartbreaker, looks stunning year-round. This one is famous for white stems with pink flushes, which appear when the temperatures drop in late fall and winter. The shrub remains looking like that until the spring arrives and the last frost passes.
From June, the plant flowers with beautiful lavender blooms! The shrub needs a lot of sunlight and well-draining soil. The plant doesn't need pruning and rarely suffers from any pests and diseases.
You can display it as a single specimen in a container, or mix it with other plants to create a stunning arrangement!
16. Wintercreeper Silver Queen
Silver Queen is praised for its elegant foliage, with dark green glossy leaves and white borders. The ornamental leaves get a leathery texture which sometimes gets a purple hue when the temperatures drop. The botanical name of the plant is Euonymus japonicus.
The plant is tolerable to a variety of soil, including chalk, clay, loam, and sand. Silver Queen is hardy in zones from five to nine, and the plant needs five to ten years to reach its full maturity.
The shrub develops tiny light green flowers, which give the plant a charming look.
17. Abutilon
Abutilon is known for its beautiful papery bell-shaped flowers. It is a perennial in warm climates. In colder climates, bring it indoors during winter, or buy a new plant every year.
There are multiple varieties of Abutilon shrub with flowers in shades of pink, orange, red, white, and yellow. Varieties with variegated leaves are also available and can decorate every outdoor space.
Most of the cultivars are hybrids. They prefer rich, loamy soil with a top compost layer. It will help the soil retain moisture!
The shrub is a vigorous grower, so to remain well-shaped and suitable for a container, you'll need to prune it regularly.
18. Magnolia
If you love Magnolia and you don't have enough space to grow it in soil, pick a dwarf variety for a container growing. Normal Magnolia can also be suitable for containers, but the pot can limit their development and affect their appearance.
The container needs a sunny, sheltered location and protection from cold temperatures.
19. Wavy Leaf Privet
Wavy leaf privet is a low-maintenance plant that blends in well in all settings. The tips of the leaves are curved, so the plant looks unusual and pretty.
Wavy leaf privet is the most charming in spring. The shrub gets covered with small white flowers which stand out against dark green foliage.
The shrub grows well in the shade and is quite tolerant to drought. In the garden, the plant gets around eight feet tall. But in containers, the Wavy leaf privet is significantly shorter.
The scientific name of the plant is Ligustrum japonicum Recurvifolium.
20. Lavender
When growing Lavender in containers, you need to select the right soil type. Also, the correct size of the container matters.
The container needs to be large enough to provide the plant space to grow and develop to its full potential.
A sandy potting mix with excellent drainage will do perfectly for your lavender shrub. You can also add a layer of mulch to help the soil stay moist.
Don't forget to place the container where it will receive at least six hours of sunlight each day!
Foolproof guide for planting Lavender in pots.
21. Brugmansia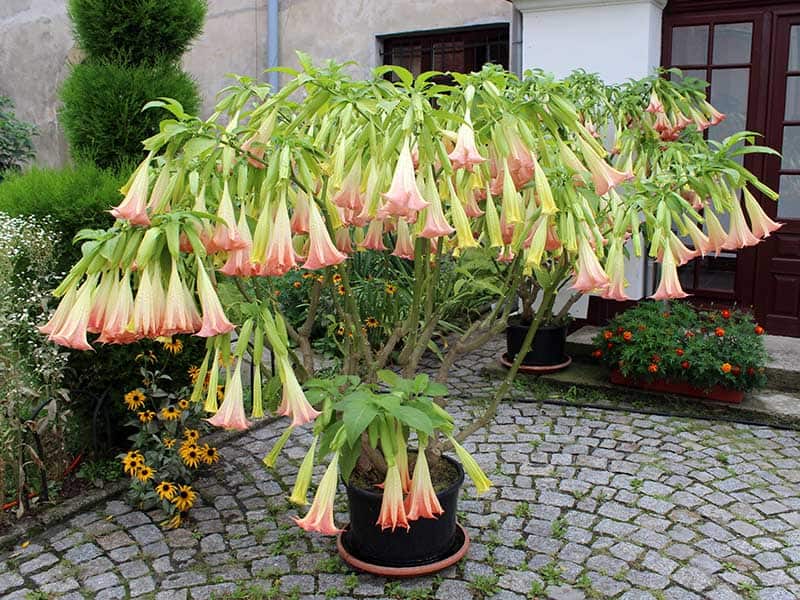 Brugmansia is an excellent shrub to grow in a container, even for beginners. But, you need to know a few tips. First of all, pick a large container, the minimum diameter is two feet. It will allow the root system to develop so the plant can grow healthy and vigorously.
You can keep the container outside in a sunny place. But, then night temperatures drop below 50 degrees Fahrenheit, you need to bring the plant indoors.
22. Calamansi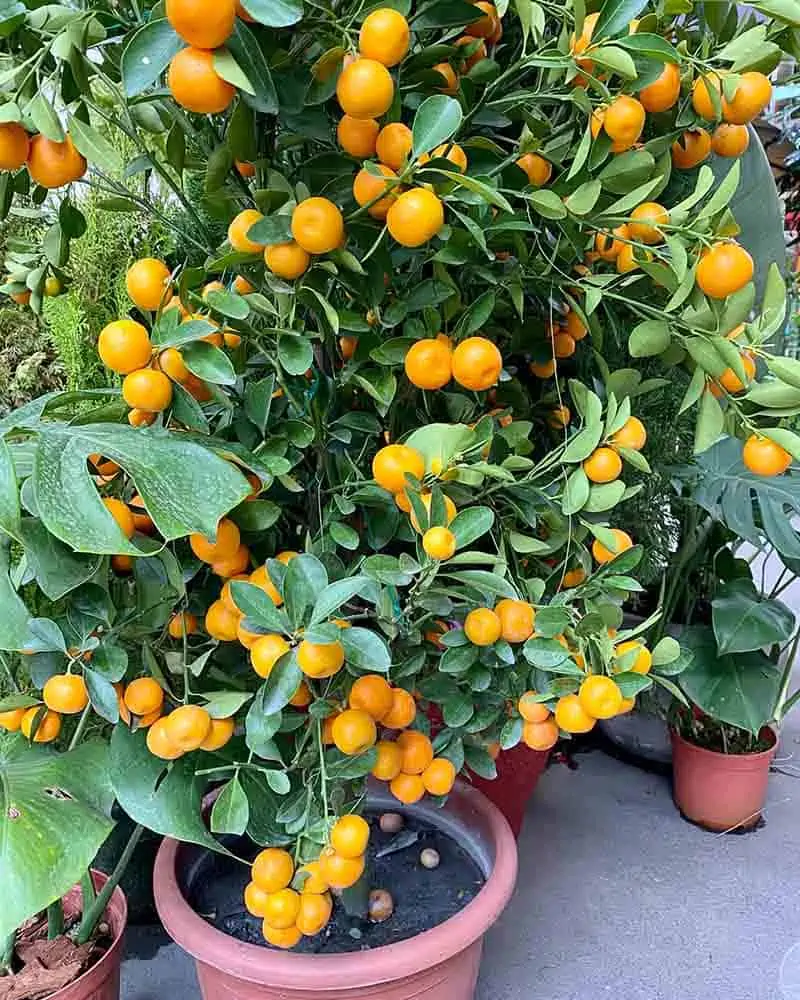 For Calamansi, you can use standard plastic containers. Start with a smaller one to sow the seeds and transplant to a larger one when your citrus shrub overgrows it.
You can pick one size larger container to allow the tree to develop freely and produce great fruits. Calamansi needs a lot of water, warm temperatures and high humidity to thrive.
Otherwise, the shrub won't provide successful crops.
23. Anisodontea
Anisodontea is an old-time favorite gardener's spring-flowering shrub. The plant is also known as Cape mallow.
The average height Anisodontea can reach is around five feet, when the ideal growing conditions are met.
Anisodontea needs at least six hours of sunlight per day to develop its beautiful evergreen foliage. Also, when you place the container on a sunny spot, the flowering season may last from April to October.
24. Lilacs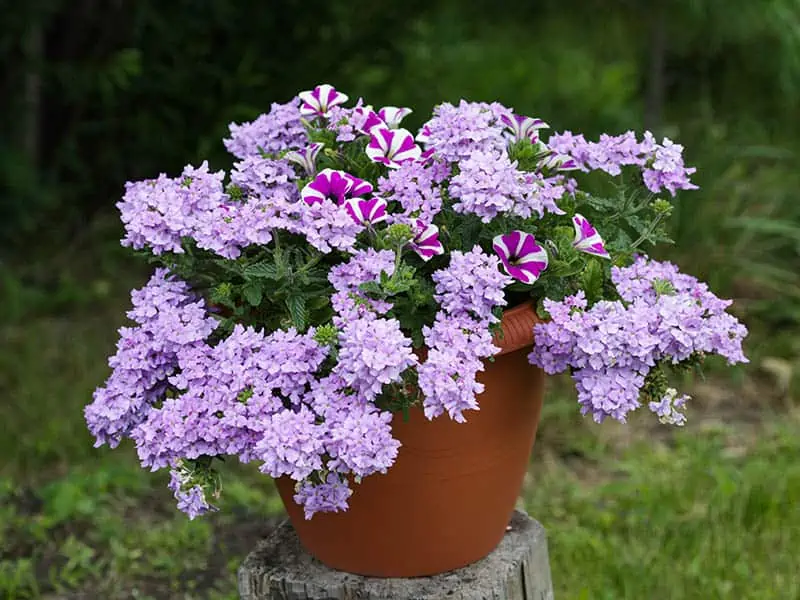 When you grow Lilacs in a container, you need to ensure enough room for their development. You can start with a 24-inches wide container for smaller varieties.
Also, I recommend choosing terra cotta containers for Lilac shrubs, because of better insulation, longer lifespan, and prettier appearance.
But, not all Lilacs varieties will successfully grow in containers. Pick only dwarf Lilacs and you can grow them on balconies, patio, deck, rooftop, anywhere where the pots can get a lot of sunlight.
25. Lantana
When growing Lantana shrubs in a container, you need to provide well-draining soil. Check the drainage holes in the bottom of the container and ensure they are pierced. Also, add sand or perlite to the potting mix to improve drainage.
Lantana needs bright sunlight to develop beautiful flowers, so pick the location wisely. It is one of the most beautiful shrubs for containers, and it can reach around eight feet in height and four feet in spread.
26. Aster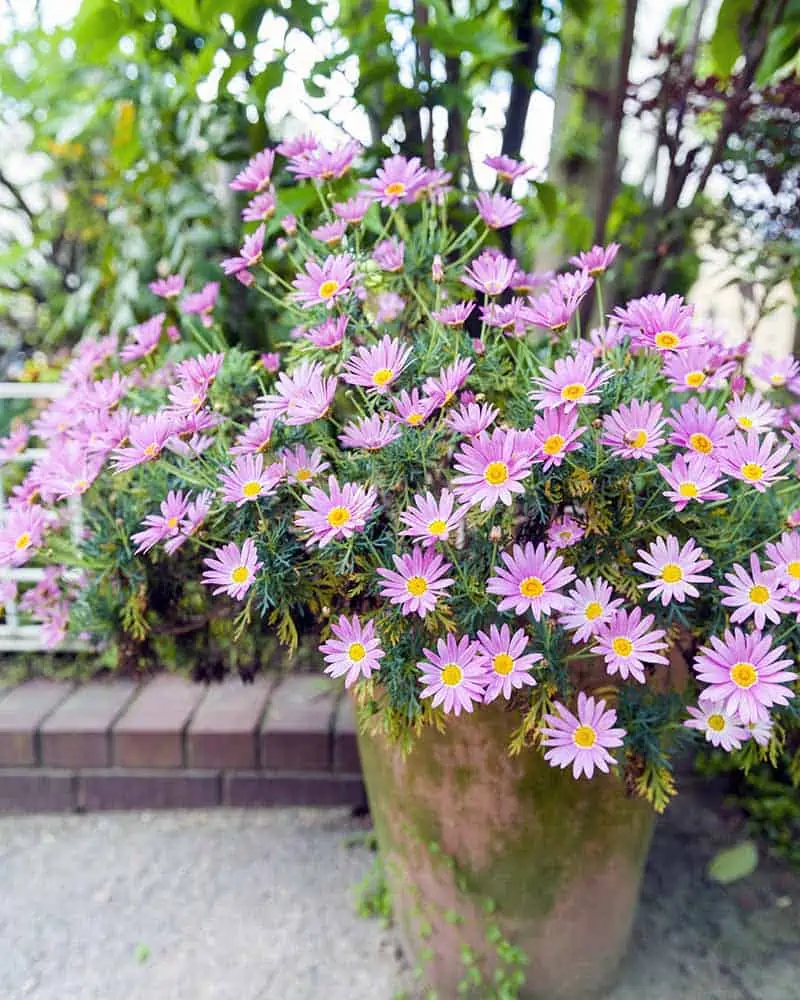 The trick for growing Aster bush in the container is to use well-drained compost. Plant it in spring and place the container in full sun location. Water the plant regularly until the plant establishes. Then only water Aster when the soil is dry.
Generally, Asters are easy to care for, and don't require any special treatment. But, deadheading is recommended because it will prolong the blooming season!
Can you plant Asters in the fall?
27. Holly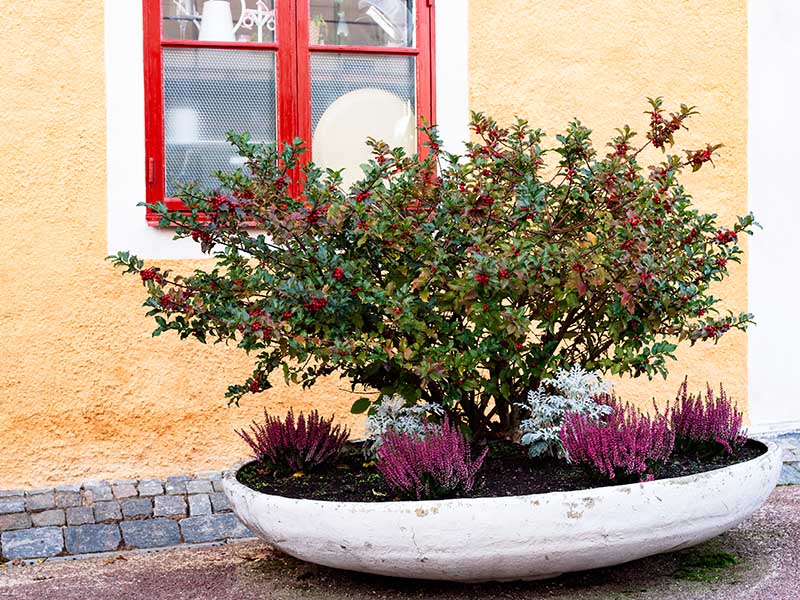 Growing Holly shrubs in the container is simple. Keep the soil moist, but well-drained because sogginess can easily kill your plant.
Adding perlite helps with the drainage!
Pick the pot that you plan to use for the next two or three years before your Holly will require repotting. I recommend you start with a container that is at least ten inches wider than the current diameter of the root ball.
The plant needs a lot of sunlight, so keep it in mind when choosing the location for your container.
28. Fuchsia
Fuchsia is a statement plant that can instantly transform any outdoor space. You'll need a large container with a diameter of a minimum of 14 inches. Use a compost soil mix and ensure the soil is loose and airy.
Plant one Fuchsia per pot to allow the plant to develop well. Keep the soil moist until the plant is established.
Remember to protect your Fuchsia from harsh sun, so keep it in the shade. Morning sun will be sufficient.
29. Crepe Myrtle
Crepe Myrtle can have a long life in a suitable container. It needs to have drainage holes. Additionally, adding shredded bark or Styrofoam chips to standard potting soil will help the plant to grow better. It will also protect the roots from rotting.
Use a large container to accommodate the root-ball. Watering after planting is essential, and the use of fertilizer is optional. But, your Crepe Myrtle can benefit from a nutritive boost.
In most zones, Crepe Myrtle doesn't need winter protection. But, if you live in zones below six, keep the tree in the garage.
Pairing Black Diamond Crepe Myrtle with other plants.
30. Gooseberry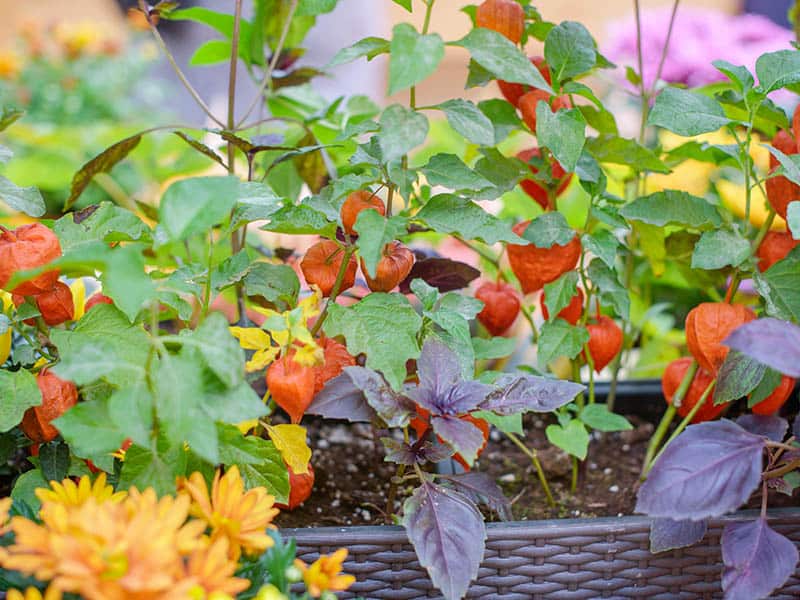 When you grow Gooseberry in pots, it needs a lot of space to provide sufficient crops. Start with a container that has a diameter of 15 inches and transplant once it becomes too small.
Potting compost will be good for young plants, but ensure it is well-drained.
Gooseberry shrubs in containers need more water than the ones in the garden. Also, amend the soil with fertilizer to ensure perfect crops!
31. Gardenia
If you decide to grow Gardenias in a container, keep them away from direct sun. Filtered shade is ideal for these plants.
You can also keep the container indoor, but near the sunny window.
Gardenias need a lot of water – at least one inch of water each week! During summer, your Gardenia might need even more water to thrive.
32. Bougainvillea
If you don't have a large garden, it doesn't mean that you have to give up on growing Bougainvillea. You can grow it in containers!
Ideally, pick clay or terra cotta containers, with a 12-inch diameter.
During the growing season, water your Bougainvillea once per week. Reduce the water when the temperatures drop. Once in two or three weeks will be sufficient during fall and winter.
When the temperatures go below 50 degrees Fahrenheit, Bougainvillea requires winter protection.
33. Hibiscus
Grow Hibiscus shrub in a container, but choose peat-free compost. The ideal soil type for Hibiscus is loamy and well-draining.
You can also choose compost, but ensure it remains moist but not soggy.
Hibiscus can survive outdoors at temperatures above 50 degrees Fahrenheit. When you bring the container indoors for winter, keep the plant near a window where it will receive a nice amount of humidity and be protected from bright light.
34. Pomegranate
Dwarf pomegranate cultivars, such as Nana, make excellent plants for containers. These varieties can grow up to two or three feet.
You'll need a wide and deep pot, alongside excellent quality potting mix.
Pomegranate needs a lot of sunlight. But, at the same time, the plant is sensitive to harsh winds, so find a sheltered location for the container.
35. Cistus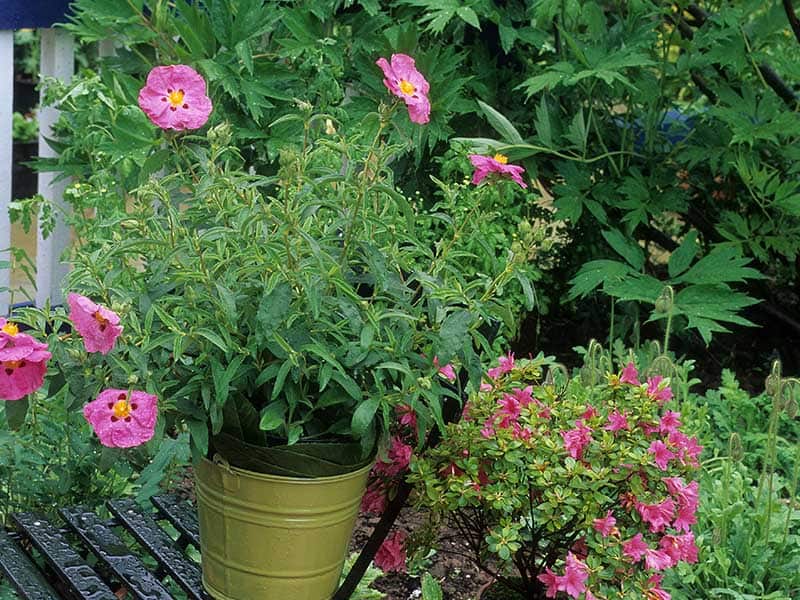 Cistus is one of those shrubs you can easily set and forget! It is a common inhabitant around rocky Mediterranean locations. So, it needs a hot and dry climate to grow.
When you pair it with some other shrubs, such as lavender or rosemary, Cistus or Rock Rose becomes a pretty shrub arrangement, perfect for every outdoor space.
Free-draining compost and regular watering during the growing season help the plant grow.
36. Gaura
Growing Gaura in containers might be tricky, but achievable. The crucial thing to remember is to keep the soil moist for young plants, but not soggy. Mature Gaura plants are somewhat drought-tolerant, but young ones need consistent moisture to develop.
Organic soil is ideal for your shrub. Once your plant matures, the maintenance simplifies! You can cut the plant by half in midsummer after the flowering season. It might induce a second bloom and new bushy development!
In spring, trim the plant to boost growth development.
37. Escallonia
There is so much you can do with Escallonia in terms of decorating your space! It can provide a beautiful pop of color with pink or red flowers in summer, or give a jungle vibe year-round due to evergreen foliage.
The plant is native to Chile and loves a lot of sunlight. You can train it to climb on the nearby structures or plant it in pots as a single specimen.
The plant is adaptable to various conditions and grows pretty great on its own, so little assistance is needed.
38. Cotoneaster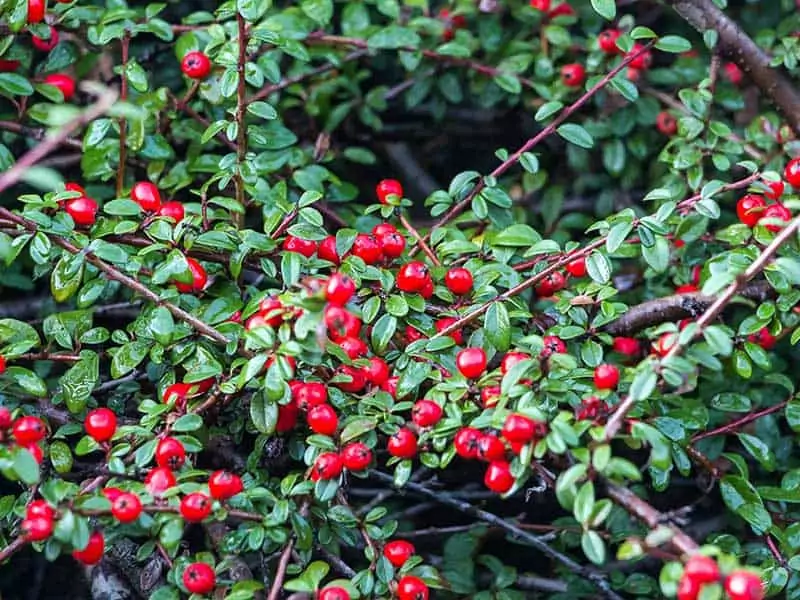 The ideal soil type for Cotoneaster is fertile, well-draining soil. But, your shrub will grow in any soil as long as it isn't soggy. You can also add garden compost or well-rotted manure to boost nutrient intake.
Pick full sun or dappled shade for your container.
Cotoneaster is a lovely shrub that provides color year-round! In spring, the shrub develops stunning white flowers, and in fall and winter, it produces bright red berries!
There are plenty of Cotoneaster varieties to choose from, so pick the one suitable for your hardiness zone.
39. Azalea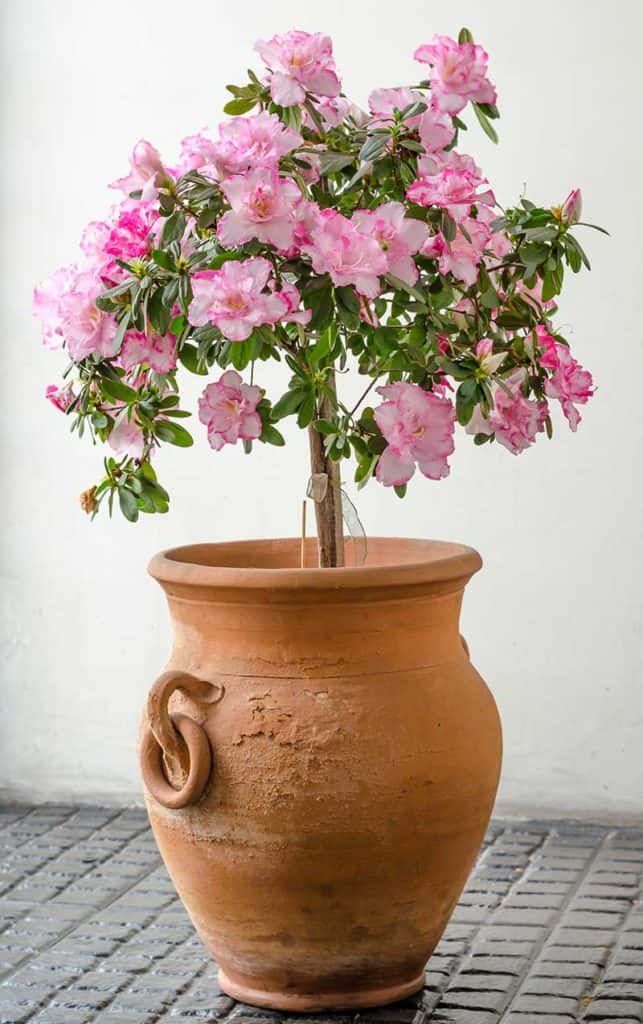 When growing Azalea in a container, ensure the container is big enough to withstand the massive root development. A small container will limit the growth and the plant won't be as nearly as beautiful.
Also, Azaleas in poor-drained soil will start to rot, so pick the container with plenty of drainage holes and use airy soil.
Azaleas don't like bright and direct sunlight, so keep the container in semi-shade.
40. Wintergreen
For Wintergreen, the soil mixture is most important for success. The ideal combination is soil mix with heath soil. It is because the plant grows only in acidic soil.
Protect the plant from the sun during the hottest parts of the day.
During summer, water the plant regularly and use your Wintergreen shrub to decorate the balcony or patio.
41. Lemon
Lemon shrubs need a lot of water. If you allow your Lemon to dry in the pot, the leaves will soon start to fall off and it will take time and effort to regenerate. Pot Lemons also need a consistent dosage of fertilizer to provide healthy foliage and bear fruits.
Lemon trees look attractive when planted in large terra cotta containers and located around the entrance!
The best advice for growing citrus trees in pots.
42. Forsythia
You can grow Forsythia in pots, but get ready for repotting every two years. You'll need soil mix for flowering plants and a half-sun location.
Forsythia is a hardy plant, so the maintenance is simple. Pruning is one of the things you need to apply, but the technique is irrelevant. Cut the plant the way you want to achieve the desired shape.
The average height Forsythia can reach in containers is below five feet. In a garden, these shrubs can grow up to ten feet!
43. Buddleia
Buddleia or Butterfly Bush is rarely grown in pots. But, you can definitely do that, as long as you provide a large container that can accommodate this huge plant!
Whiskey barrels should do the work the best. For Buddleia, use commercial potting mix instead of garden soil. A lot of sunlight and regular watering are ways to grow Buddleia in the pot.
Butterfly Bush in the container is even more striking than the varieties in the garden! Keep in mind that mature plants are difficult to move. So pick the initial location wisely!
44. Callistemon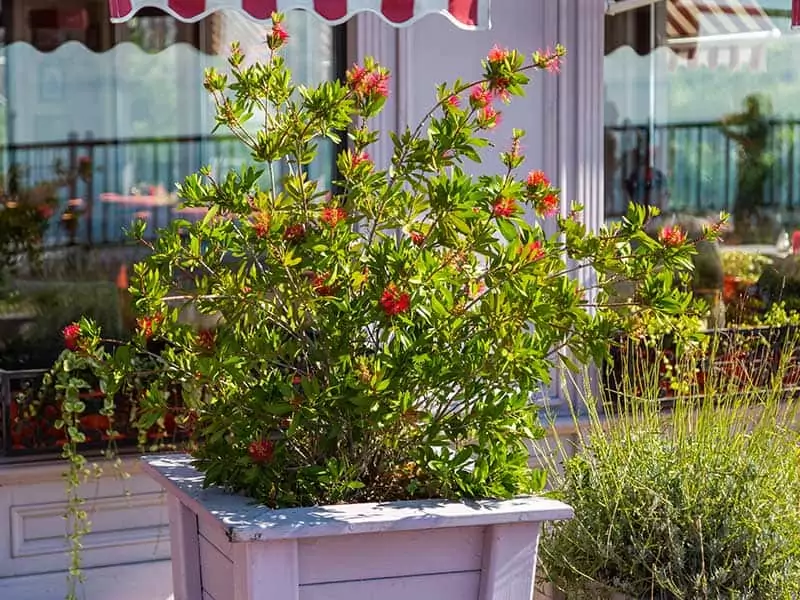 Callistemon or Bottlebrush bush is possible to grow in pots. But, I recommend you soak the shrub thoroughly and drain it before you plant it in a larger container. It will help the plant grow on the right track from the start.
After you transplant it to its permanent container, water thoroughly and mulch around the plant base to retain moisture.
Bottlebrush needs fertilizer two times per year – in spring and fall.
Dwarf varieties are only suitable for containers. You can also prune them to keep them tidy and well-shaped.
45. Aucuba Japonica
Aucuba Japonica is also known under the name Japanese laurel. It is a striking shrub with evergreen foliage.
Generally, Aucuba Japonica is a low-maintenance plant and adaptable to various conditions.
The plant doesn't need a lot of water, and overwatering is a safe way to kill it. It is also one of the best container shrubs for shade!
Container Shrubs Are Perfect Outdoor Details
Nothing complements any setting like plants. Shrubs in containers have massive visual impact and can easily transform any simple patio or deck into a charming one!
Most of the shrubs in containers require more water and fertilizer, than if you've planted them in soil. But, once your shrubs develop, all the effort will be worth it!
I like the Rhododendron and Viburnum shrubs for my patio! What are your favorite shrubs?
If you enjoyed the article, please give it a thumbs up!