Big leaf outdoor plants are the perfect addition to your garden. You can use them to fill in bald spots in the garden, accentuate certain parts, or add structure and decor! If you are wondering which plants can help you achieve that effect, here is a list for you!
You will find some common plants on the list with large foliage. Also, I included some rare varieties and exotic species.
The growing requirements for each plant differ but you shouldn't have too much trouble planting and growing each one!
Without further due, let me walk you through the most spectacular plants with large leaves for your garden!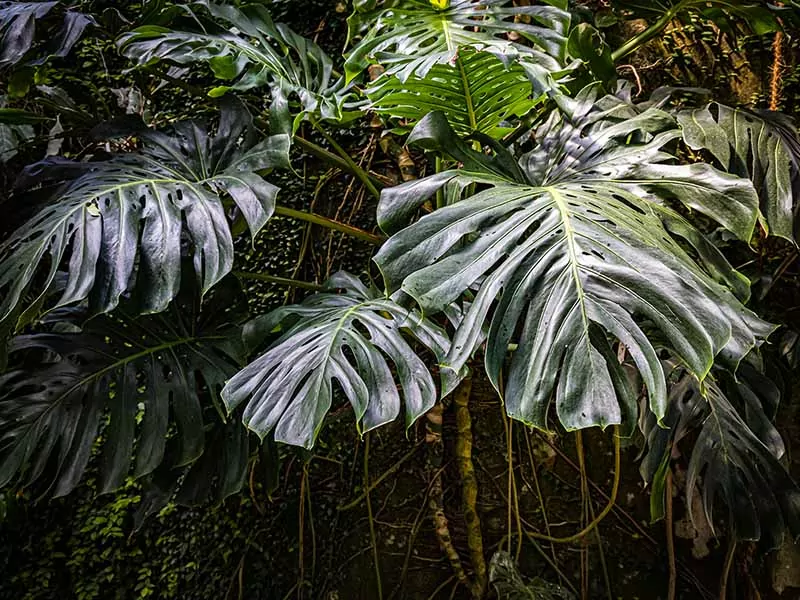 1. Canna
Canna Indica, shortly Canna, is a beautiful and colorful plant with huge leaves. You can grow it outdoors in a garden or in large containers. Position the plant in a location with at least four or six hours of direct sunlight.
You can mix the soil with compost to boost the nutrient value and plant Canna Indica in a 12-inches deep hole. Cannas are easy to combine with other plants, including Zinnias, Elephant ears, Salvias. However, simple grass will also work and create a stunning landscape!
2. Mayapples
You can start your Podophyllum spp or Mayapples from seeds or rhizomes. Mayapples are relatively low-maintenance plants that require semi-moist soil and moderate sunlight exposure.
The ideal pH value for the soil is between four and seven, which means they prefer slightly acidic soil but don't mind neutral. They can survive in bright or semi-shaded spots equally.
Mulching with wood chips will help the plant in spring and protect it in autumn. If you like your Mayapples, you can propagate them after the flowering season. Position the new plants at ten inches apart.
3. Banana
Only a few plants can bring the jungle vibe in your garden as a Banana! The scientific name is Musa, and most people recognize the huge leaves and call it Banana.
Musa needs fertile and well-drained soil and can grow in full sun or partial shade. In most zones, Musa won't produce fruits. If the fruits appear, they are not edible. The fruits need months of warm temperatures and sun to ripen.
You can mulch around the roots to protect the system and stems from harsh frosts.
Take good care of your Musa during winter.
4. Hostas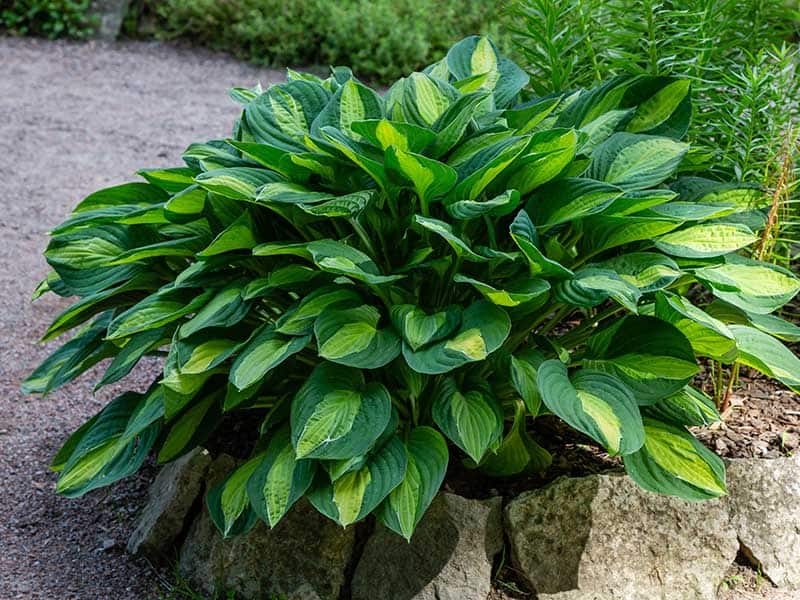 Hostas feature beautiful, dramatic foliage which will fit in every garden and instantly brighten it up! You should plant it in humus-rich soil and provide consistent moisture as well as excellent drainage.
Hostas are adaptable to different lighting conditions, and the plants can even survive in full shade. However, a slight exposure to sunlight can help Hostas develop to their full potential.
A slow-release fertilizer in spring will boost the foliage growth.
Do this to promote gigantic Hostas foliage.
5. Ligularias
Ligularia or Ligularias is a beautiful plant that thrives in fertile and moist soil. The ideal location for Ligularia is a partial shade and sheltered position because it is sensitive to harsh winds and hot sun. Ligularia is sometimes called Leopard plant and can be grown in a container or soil.
I like it under tall trees because filtered light is great for Ligularia growth. You can also use general-purpose fertilizer during the actively growing season.
6. Flowering Sea Kale
Flowering Sea Kale or Crambe cordifolia has attractive foliage which can be harvested once it grows up to 5 inches. The large and attractive leaves are edible!
Overall, Flowering Sea Kale is an easy plant to grow in the garden. You can start it from seeds in March or April. Don't forget to blanch the young shoots to keep them tender and white! The Flowering Sea Kale may become attractive to slugs, but you can use any commercial slug repellent products to keep the foliage safe.
Mulch around the plant to protect it from the cold!
7. Rodgersias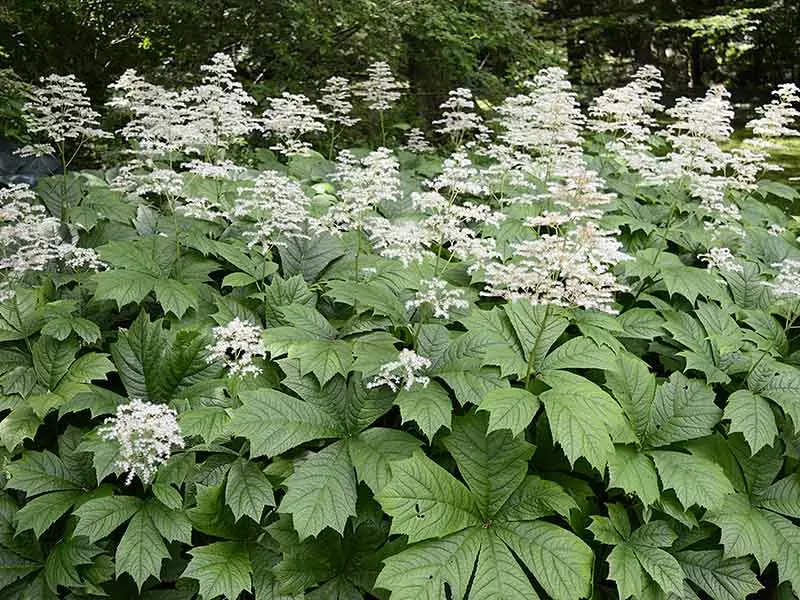 Rodgersias is a beautiful addition to your garden, whether it is a formal, informal or cottage garden. You can grow it in moist and well-draining soil. Ideally, pick loamy soil with an acidic pH value.
Rodgersias prefer full sun, but they can survive in partial shade.
You can grow them around borders or in flower beds for the best effect. To help your Rodgersias establish, prepare the soil with compost before planting. Also, water thoroughly after planting to help Rodgersias take nutrients from the soil.
8. Umbrella Plant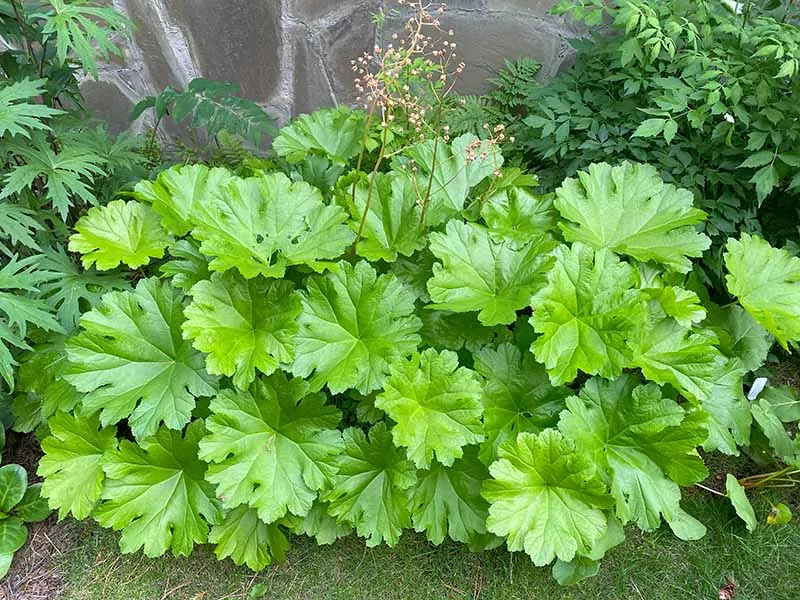 Darmera peltata is the scientific name of the Umbrella plant. It is excellent for your garden, because of its beautiful appearance and ability to attract pollinators and bees! The Umbrella plant is also suitable for indoor use, but you have to prune it and it won't be as beautiful as outdoor species.
Darmera peltata is believed to bring luck and abundance to the owner! So, if you trust plant symbolisms, get one for your garden as soon as possible!
9. Giant Silver Mullein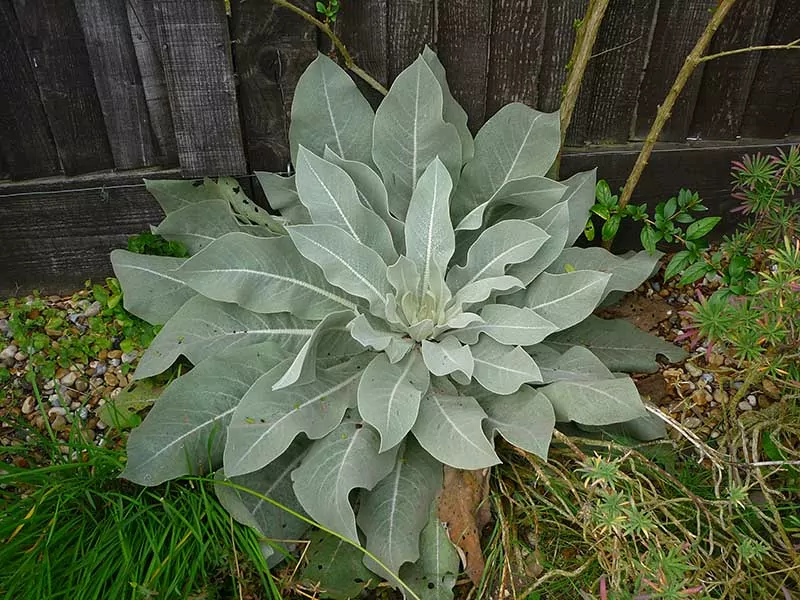 Verbascum bombyciferum or Giant Silver Mullein is a true head-turner because of the dramatic, large, and wilted leaves. Mullein produces beautiful bright flowers, which stand out in every garden!
In most zones, Giant Silver Mullein is annual or biennial and grows up to five feet in height. It spreads about 24 inches.
Mullein needs full sun and well-draining soil to thrive. Overall, it is a fuss-free flower with excellent tolerance to poor soil, pests, and diseases.
10. Giant Rhubarb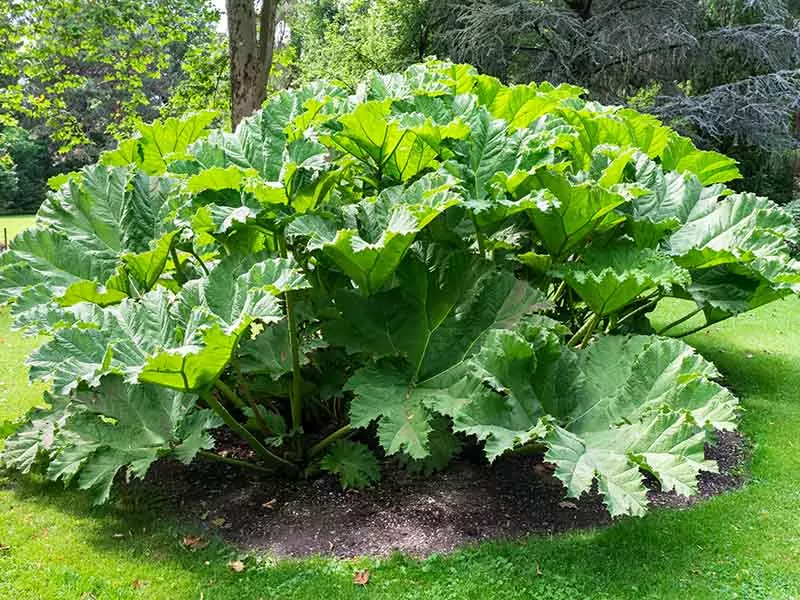 Gunnera manicata or Giant Rhubarb is a highly popular plant for the garden. It features gigantic leaves as the most recognizable plant characteristic. Giant Rhubarb needs deep, moist and airy soil and a lot of moisture. However, if the soil is poorly drained, big Rhubarb won't grow as desired.
The plant thrives in full sun or partial shade and can benefit from organic matter in the soil.
11. Siberian Bugloss
Siberian Bugloss or Brunnera macrophylla looks attractive with contrasting huge leaves and charming, tiny flowers. The foliage is glossy and you can find various cultivars with variegated leaves for an even prettier effect.
Siberian Bugloss needs moderate moisture but hates soggy soil. The lighting requirements include full sun or partial shade.
With given ideal conditions, Siberian Bugloss can reach up to one and a half feet in height.
12. Spade-Leaf Philodendron
Philodendron domesticum is a beautiful plant to grow in your garden. Because of the distinctive and large leaves, it got the name Spade-Leaf Philodendron. The foliage is dark green and the stems are dark burgundy, which gives the Philodendron domesticum a tropical vibe.
Spade-Leaf Philodendron thrives in medium light. But, it can survive in bright spots, when you provide more moisture. You can prune the Philodendron to keep the shape you prefer.
13. Big Leaf Paper Plant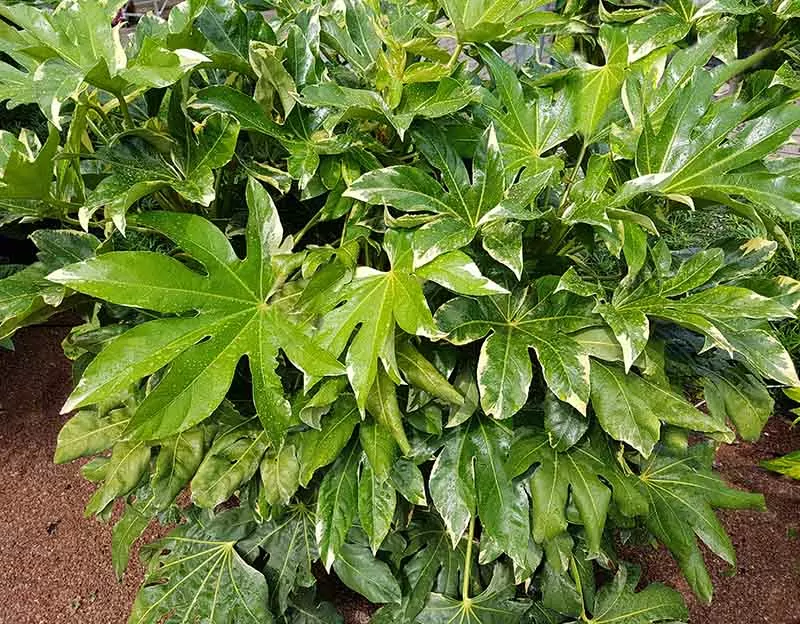 Fatsia japonica or Big Leaf Paper plant isn't picky about the soil. You can grow it in clay, loamy, sand or chalk soil, acid, alkaline, and neutral. The only soil requirement is excellent drainage.
Fatsia japonica is native to Japan and used around the world as a low-maintenance plant in informal gardens and city gardens. It needs around 15 years to reach ultimate height.
14. Sacred Lotus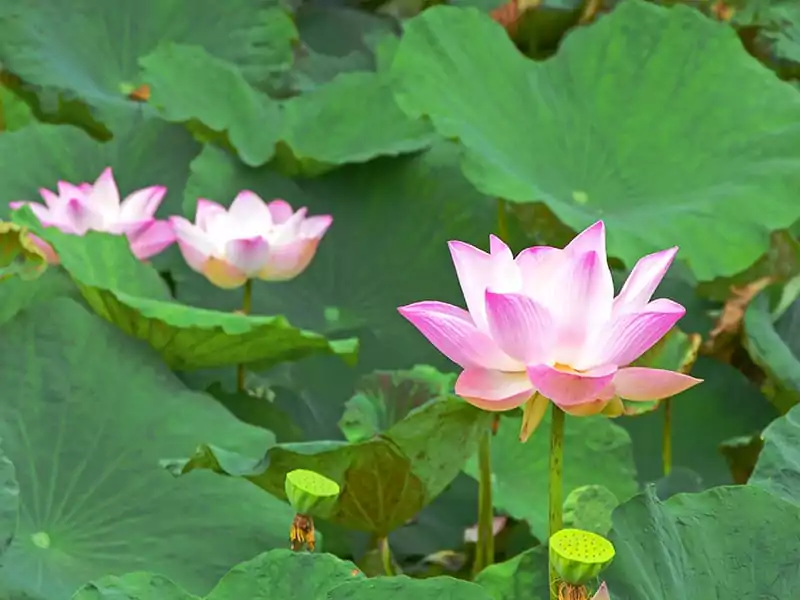 Sacred Lotus or Nelumbo nucifera is a charming plant for your garden. Lotus needs a bright spot, which means at least six hours of direct sunlight per day. The plant doesn't do well near fountains because of the excess moisture.
It isn't a cold-hardy plant, so you might grow it outside in pots for the warmest parts of the year. Sacred lotus will require repotting, once the current pot becomes too small!
If you want to induce a fast growth rate, use fertilizer in summer.
15. Bird of Paradise
Strelitzia or Bird of Paradise features stunning leaves and out-of-this-world flowers. When you engage in a regular watering schedule, your Strelitzia will look and grow the best. It means not too wet and not too dry soil! During summer, you can add more water, and reduce the irrigation in winter.
Bird of Paradise is only suitable for growing outside year-round in zones nine to 12. Outside these zones, Strelitzia needs winter protection.
16. Lobster Claws
Lobster Claws has foliage similar to the Banana plant. The scientific name is Heliconia, and the plant is usually grown in containers. But, if you live in a warm climate, you can grow Lobster Claws outside from seed.
Pick fertile, moist, well-draining soil and slightly acidic soil. Adding wood mulch and peat moss will help with drainage.
The lighting requirements are full sun or partial shade.
Basic care for Lobster Claws.
17. Giant Pothos
A tropical plant like Pothos, scientifically Epipremnum aureum, needs warmth and high humidity to thrive. The ideal spot for Giant Pothos is a mostly shady location with average temperatures between 70 and 90 degrees Fahrenheit.
If you take good care of it, Giant Pothos will reward you with healthy, fleshy, and showy, large foliage in bright green color. These will transform your garden into tropical heaven!
18. Velvety Anthurium
Velvety Anthuriums might not be your first choice for the backyard. But, Anthurium magnificum is one of the cultivars worth your attention! It has large and delicate leaves with contrasting white veins and velvety texture.
Like many other, big-leaf plants, Anthuriums need excellent drainage and medium moisture. Bright medium light is great for the plant to induce blooms. But Velvety Anthuriums can survive slight shade as well.
19. Papaya Tree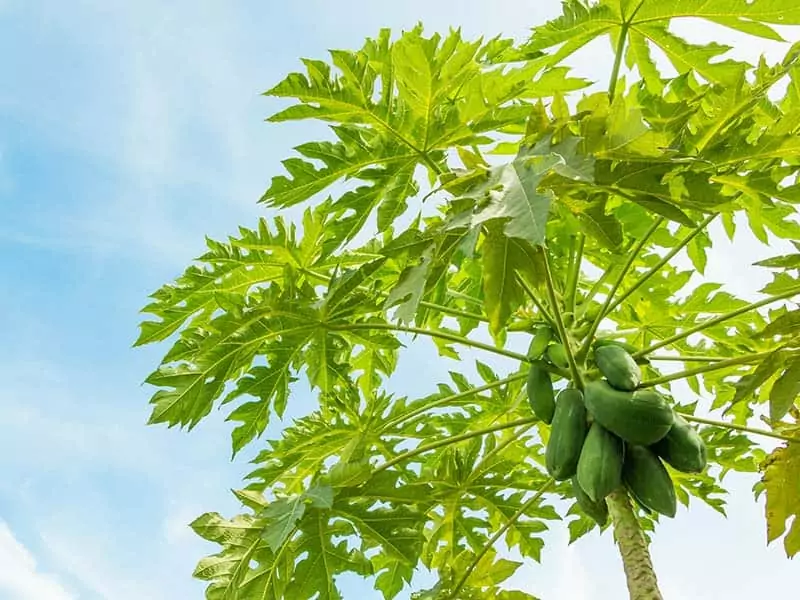 Carica Papaya or simply Papaya Tree is a great landscaping tree with large and beautiful foliage. In most cases, Papaya is a single-trunk woody herb with a short lifespan and a fast growth habit. Carica Papaya rarely grows over 15 feet.
Papaya loves the full sun, warmth, and regular fertilization. When you take proper care of it, you can expect the first fruits to appear within six or ten months.
The tree is frost-sensitive and can only survive in zones ten and 11.
Best tips to protect tropical trees from cold.
20. Swiss Cheese Plant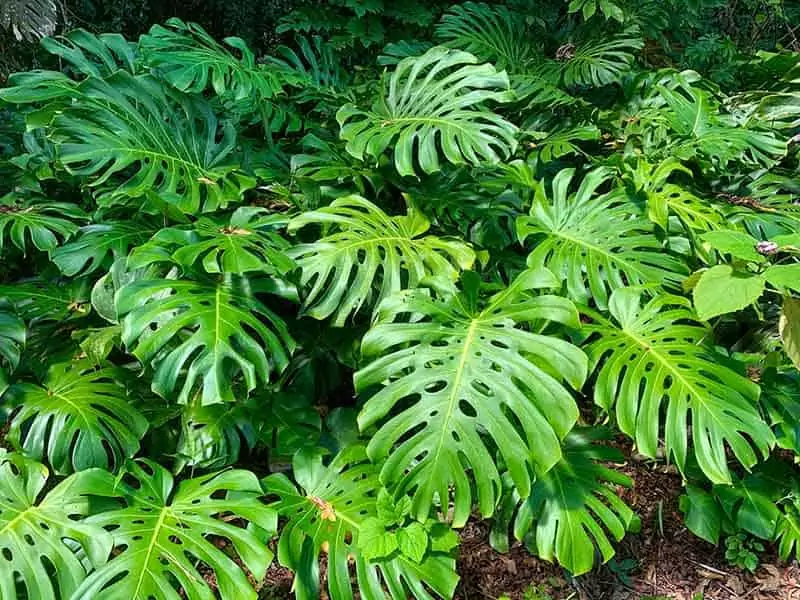 Swiss Cheese plant or Monstera deliciosa is a popular houseplant in all parts of the country. But, only in Florida, grow your Monstera deliciosa outside! However, if the temperatures drop below 50 degrees Fahrenheit, bring the Swiss Cheese plant indoors for protection.
It needs warm temperatures to thrive and develop the characteristic foliage.
21. Windmill Palm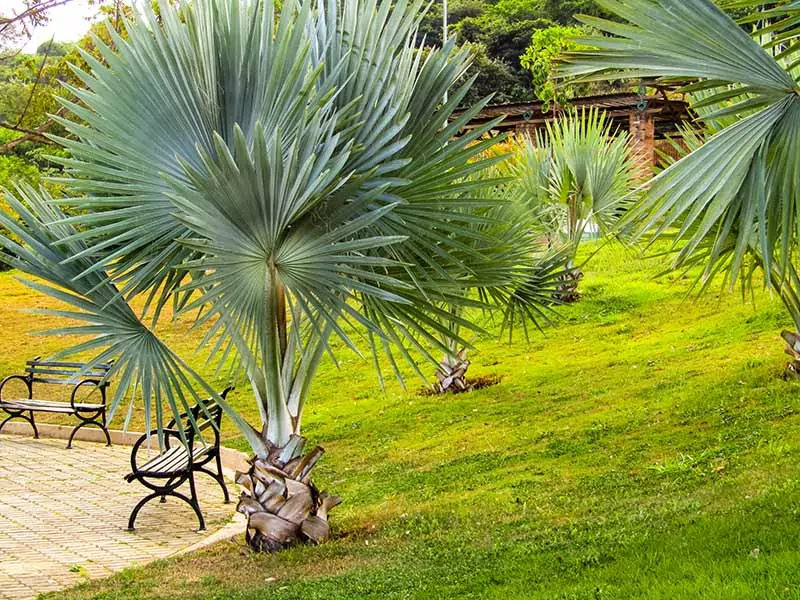 Windmill palm, scientifically Trachycarpus fortunei, is a focal point in many gardens! It can help you effortlessly achieve a tropical look in your garden, without fussing too much with the plant's care. Also, it is one of the rare palms which can grow in temperatures as low as ten degrees Fahrenheit!
Windmill palm grows between ten and 40 feet tall. Grow it in a semi-shade location with or in full sun if you live in a cold climate. Water the palm every couple of days after planting, and reduce the watering as the palm matures.
22. Fiddle Leaf Fig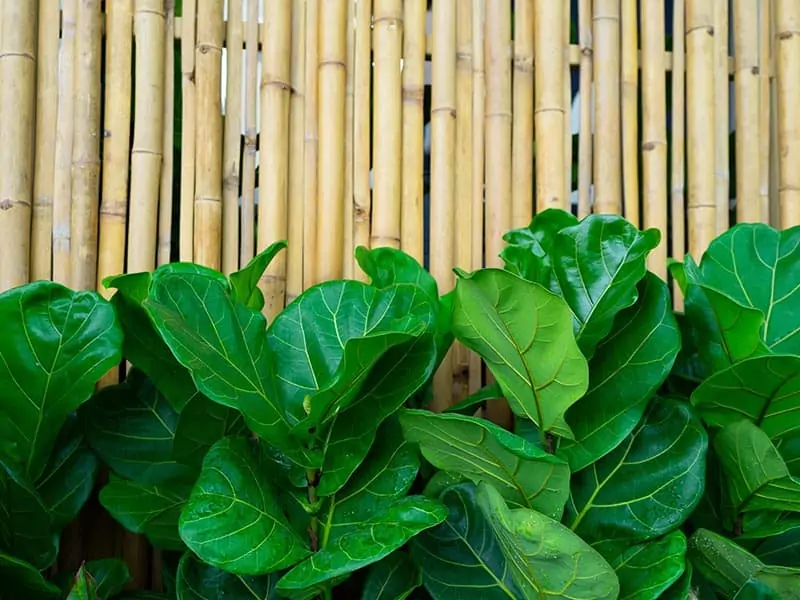 An all-time favorite houseplant – Fiddle Leaf Fig, or Ficus Lyrata, can be grown outside in warm climates. Fiddle Leaf Fig's temperature requirements are between 50 degrees and 95 degrees Fahrenheit for night and day. However, the Fig is sensitive to sudden temperature changes and drafts, so pick a sheltered location.
Moreover, Fig needs filtered light because too much bright light will burn the leaves. If you grow Fiddle Leaf Fig in a container outdoors, and the weather will get cold soon, transport the pot inside. But, do it slowly and allow the Fig to adjust to the new conditions.
23. Elephant Ears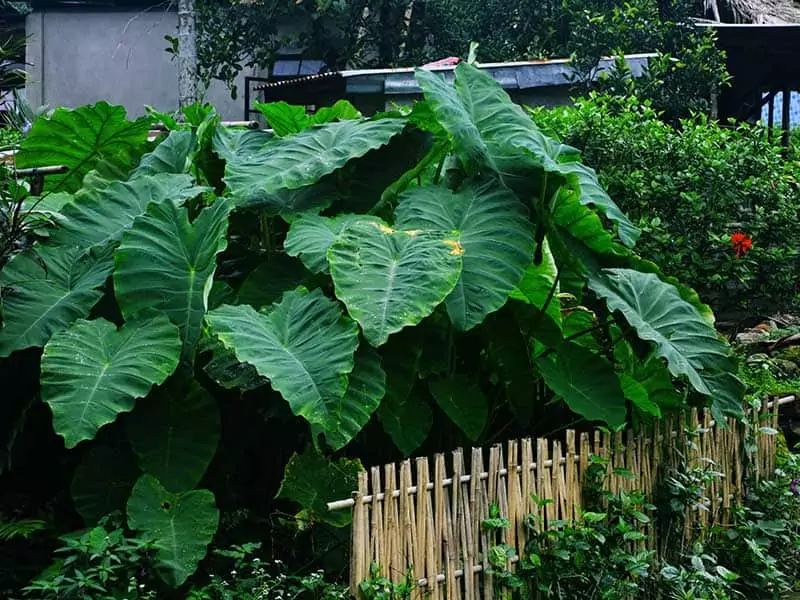 The Elephant Ears plant is one of the easiest greens for your garden. Colocasia esculenta needs full sun or partial shade. You can start the Elephant Ears from tubers which you will put directly in soil after frost has passed.
The rest is simple. Ensure consistent moisture and leave the Elephant Ears to grow on their own!
In USDA zones from nine to 11, Elephant Ears are outside perennials. Outside the range, people grow Elephant Ears as beautiful annuals!
24. Butterbur
Start growing Butterbur or Petasites japonicus from seeds. This Asian gem is well-known for its herbal properties. People used it from ancient times to aid with spasms, pain, asthma.
Grow Butterbur in moist soil and expect lush foliage when the temperatures increase! On average, Petasites japonicus grows nine feet tall and about three feet wide.
Ideally, grow it in light shade and sandy or loamy soil.
25. Grecian Pattern Plant
Acanthus mollis or Grecian Pattern plants are usually grown in a group of several plants. You'll need to space them about three feet, so each one has space to develop.
Choose well-draining soil, and grow Acanthus in full light or partial shade. Soil pH should be between six and seven so the plant can thrive.
Before blooming, water Acanthus generously and then, reduce the frequency. However, never overwater Acanthus, because it can cause root rotting.
26. Caladiums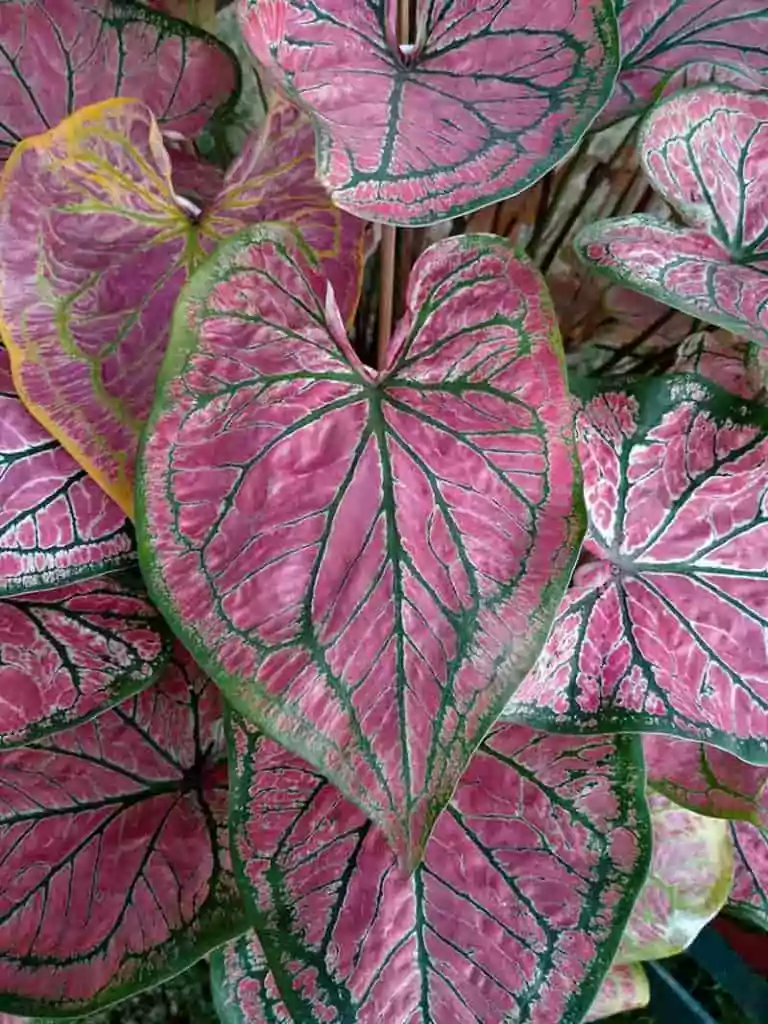 Pick a sheltered spot for your lovely Caladiums and wait for the frost to pass to plant them. Additionally, the soil should be airy and loose, to ensure good drainage.
Caladiums grow best in areas with high humidity and moderate sunlight. Use pine bark or compost to feed your Caladiums and maintain the ideal pH value between 6.0 and 6.2.
27. Rice Paper Tree
Rice Paper Tree or Tetrapanax papyrifer is a fast grower, with an average growth of three feet per year. It is a fuss-free tree with excellent resistance to pests and diseases.
Rice Paper Tree requires excellent drainage and can grow in both full sun and partial shade spots. In colder zones, you should start it early in the year. Use mulch in autumn to protect the plant from cold.
Keep an eye on the Tetrapanax papyrifer and prune if you find it necessary. Because it is a vigorous grower, it can often spread too much!
A closer look at Rice Paper Tree grown in poor soil.
28. Zebra Plant
Beautiful Zebra plant or Aphelandra squarrosa is prettier in partial shade. You can grow it in full sun spots, and it will induce more blooms. However, too much sunlight can scorch the large and showy foliage, which is the primary visual interest for most people.
Zebra needs an average temperature between 65 and 85 degrees Fahrenheit to thrive. It also loves high humidity, so growing the Zebra plant in the greenhouse is an additional possibility.
29. Dumbcane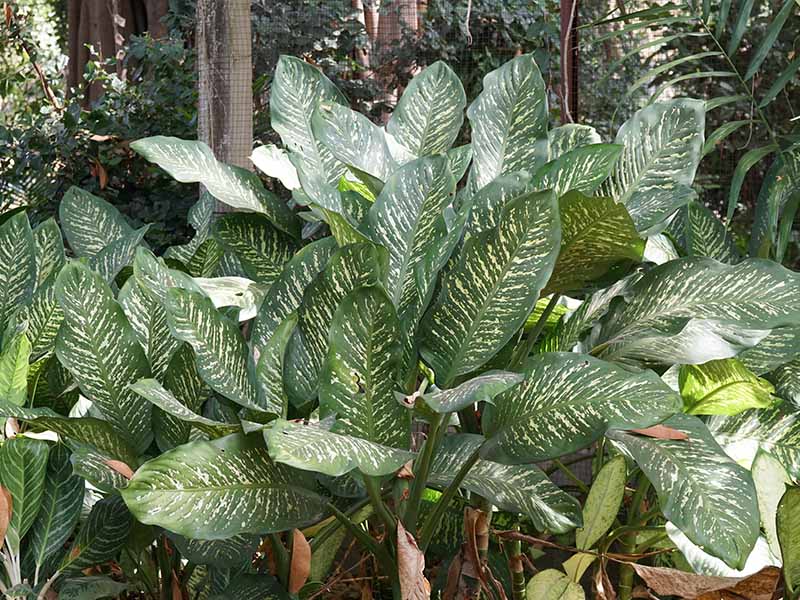 Dieffenbachia seguine is a botanical name of Dumbcane plant. You can grow it outside in zones 11 and 12, in a sheltered and shady location with filtered light. Dumbcane is an easy-care variety with stunning lush foliage with slight variegation.
The ideal pH value of the soil for Dumbcane is between 6.1 and 6.5. Dieffenbachia seguine needs warmth and can survive in the temperature range between 65 and 75 degrees Fahrenheit. When you expose it to draft, harsh wind, or cold, Dumbcane will drop the leaves and die.
30. Garland Lily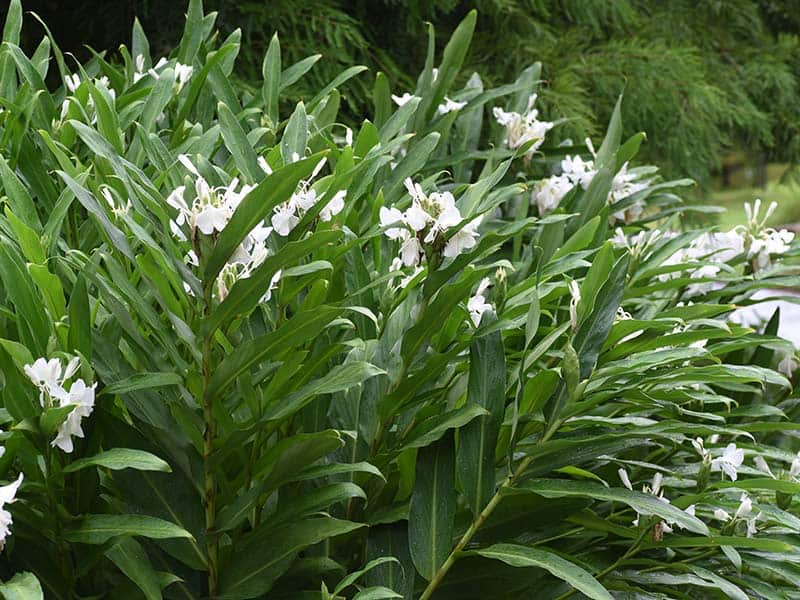 Garland Lily is an ornamental flower with beautiful bright blooms and large foliage. The scientific name is Hedychium coronarium.
Garland Lily is suitable for full sunlight or dappled shade locations. It thrives in humus-rich and moist soil. After the blooming season, you should cut the spent stems back and add mulch to protect the plant roots! Propagation is simple, via rhizomes in winter.
Design Your Outdoor Heaven With Big-Leaf Plants
Blooms aren't the only reason to nurture your plants! Sometimes, species with lush and large foliage, like the ones from the list, are equally beautiful and showy! I chose Banana and Windmill palm for my garden because of their easy-going nature and impressive visual effect.
Tell me your favorites! Share the article with other like-minded gardeners and come back for more garden ideas!