Black and white flowers are rare, but wonderful in their unique contrast. These flowers will improve the look of any garden as soon as the blooming season starts. If you are looking for eye-catching, conversation-started plants, you've found them!
Here is the list of the best black and white flowers from all around the world. Some of them can only be found in well-supplied nurseries and require special care.
Others, such as black and white Petunia hybrids are easier to find but equally striking.
Also, you can find dark purple flowers speckled with white, that seem black and white from a distance.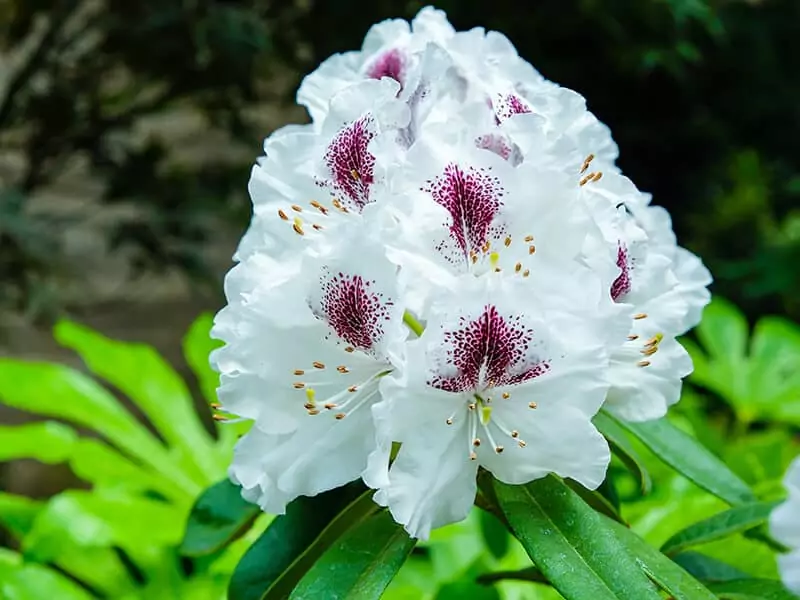 #1 Hellebore Flower
A few flowers have such a distinctive look as Hellebore. It is sometimes called Christmas Rose and has a botanical name Helleborus Niger.
The plant is an evergreen perennial and looks almost like wild roses. People grow black Hellebore for its unique blossom and beautiful, dark leathery foliage. It blooms in early spring and thrives in rich soil, in partial shade. Find out what is the best place to plant your Helleborus Niger!
#2 Petunia Hybrida Black Magic
Black and white Petunias have an almost velvety appearance. Rich, velvety flowers with white centers and white dust on the petals near the center are primary features of the Petunias variant Black Magic.
You can keep them in a hanging basket but ensure they have plenty of water in the summer. Garden petunias need less watering than those in containers.
Here is a complete guide on how to take care of Petunias to get the brightest flowers!
#3 Pantaloons Foxglove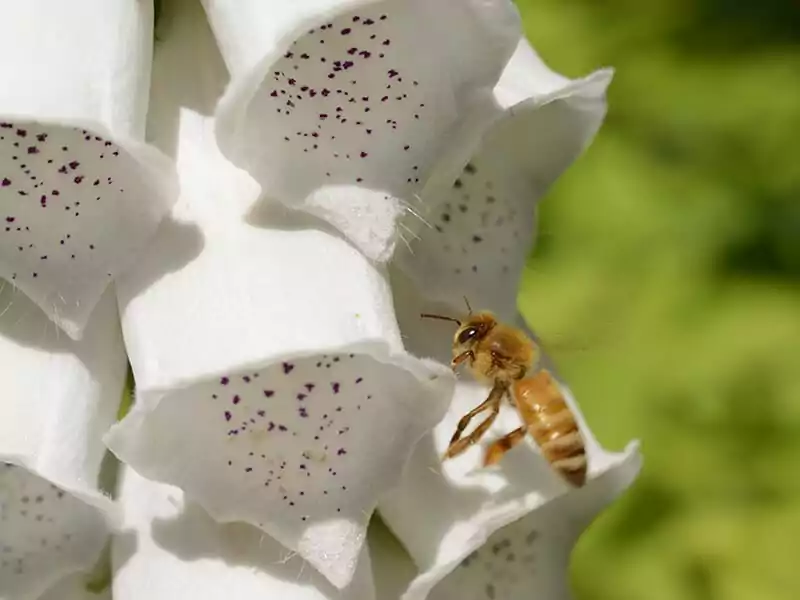 Digitalis Purpurea is a botanical name for the biennial plant known as Foxglove. The plant has vivid flower clusters in vivid colors.
The Pantaloons variant has white flower clusters with dark centers and dark purple, almost black speckles on the bell-shaped flowers.
The plant blooms in early summer and enjoys full sun or partial shade locations.
Find out how to grow Foxglove in your garden!
#4 White Black Eyed Susan
Thunbergia Alata Sunrise White or white Black Eyed Susan is great if you are looking for a plant that has a long blooming season. The classy and contrasting look with white petals and dark centers pairs well with most other plants in your garden.
If you plant your white Black Eyed Susan seeds in a full sun location, it will award you with large, wide open flowers with bold centers!
Discover how to take care of Black Eyed Susan.
Let's see this video to know:
#5 White Anemone
White Anemone plants with dark centers are dramatic flowers and central pieces in every garden. People call them Panda flowers!
You can find Anemone variants in different colors, but the cultivar with deep navy, deep black center, and bright white petals is the most gorgeous and rarest. Just like other Anemones, the ones with black centers are low maintenance. You have to ensure enough water and the plants thrive in cooler seasons.
Find out how to take care of Anemones!
Let's see this video to know:
#6 Nemophila Snowstorm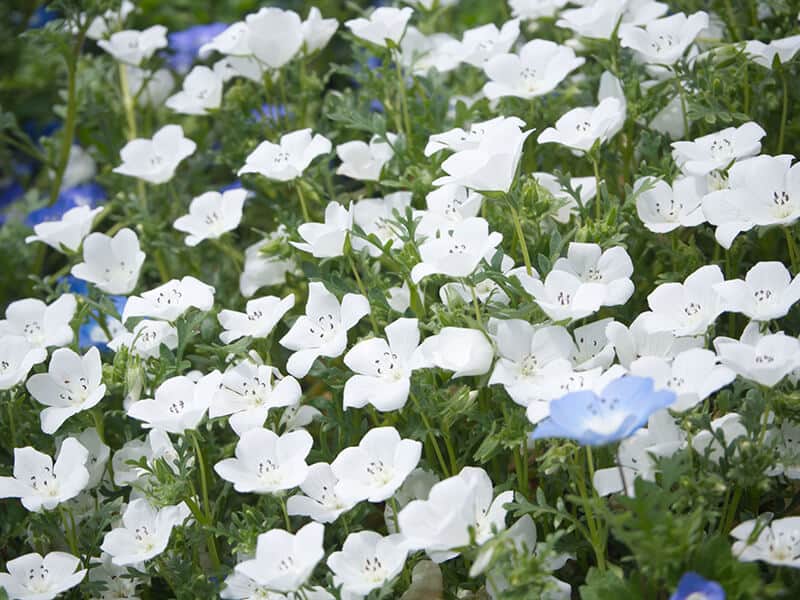 White Nemophila with black speckles is the most sophisticated-looking black and white flower. The botanical name is Nemophila Menziesii var. Atomaria, and its popularity rises from the Victorian age to the present day.
Because the plant loves shade, use it to fill in the shaded areas where other plants cannot succeed. Around the fence is a suitable location for a Nemophila Snowstorm.
People call this flower Baby Eyes and Freckles, and here is the basic care explained!
#7 Oriental Poppy Royal Wedding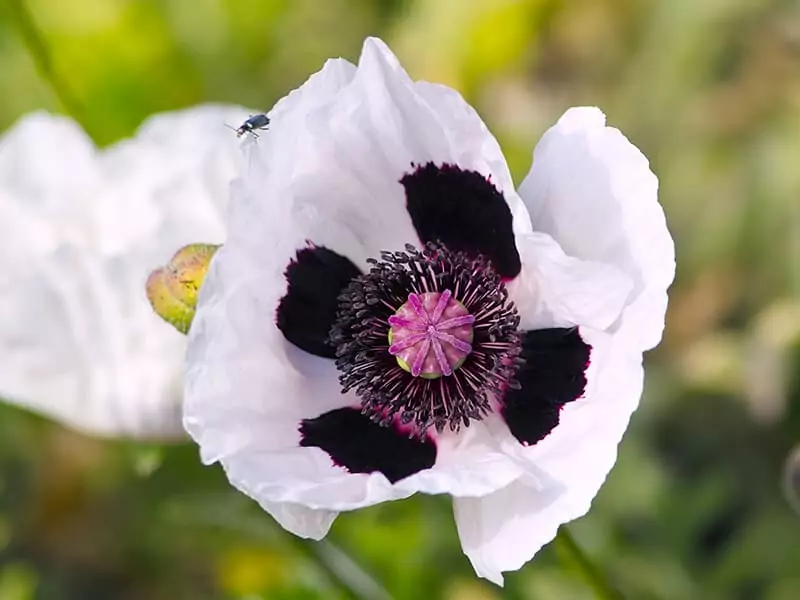 Royal Wedding Poppy blooms from May to September and provides lovely, large white flowers with dark centers. The variant Royal Wedding is easy to grow. All you have to do is ensure a lot of sunlight and minimal watering.
Mature plants reach 36 inches and add texture and dimension. These are also great as cut flowers!
Find several useful tips for growing Oriental Poppy or Papaver orientale!
#8 Big-Bang Lily
Big Bang Lily is also known as Garden Lily, Lilium Big Bang or Asiatic. The plant has a stunning and velvety texture on the swirling petals. The exact color combination of the petals and wash of color may vary, but you can find the ones with white petals and dark purple and black petal roots.
Big Bang Lily has large and fragrant flowers on single stems. It is the variety of Lily that blooms first from all other varieties – in the early summer. The plant can grow up to three feet which makes it perfect for landscaping.
Big Bang Lily isn't challenging to grow. It can thrive in full-sun location and partial shade with occasional watering and fertilization in acid soil. Another great thing about the plant is that it is frost-hardy. It can survive in cold temperatures up to 23 degrees Fahrenheit, and it is suitable for multiple zones.
The flower looks spectacular, and here is how to grow all Lilies, including the Garden cultivar!
#9 Flower Of An Hour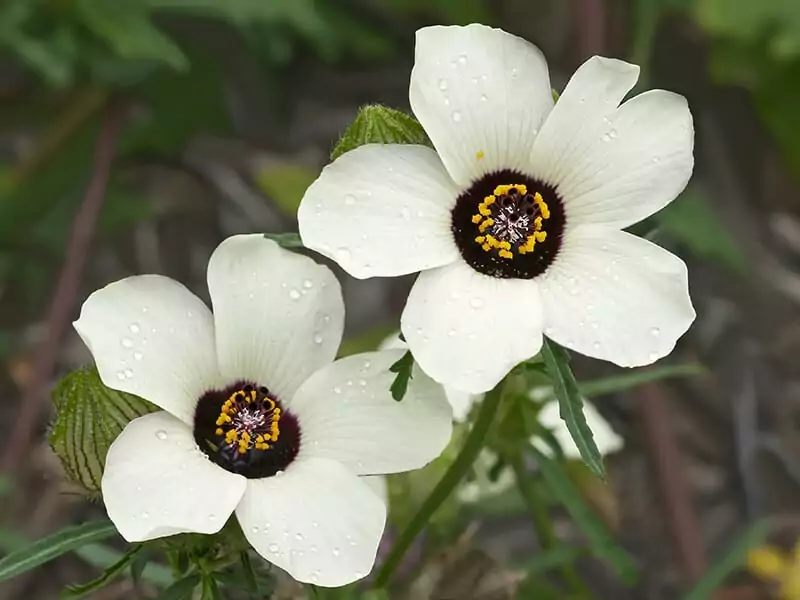 Hibiscus trionum or Flower of an Hour has large white flowers comprising five white petals, each growing on a single stem. The center of the flower is dark purple which looks like black from above. Also, the petals are dark at the base, which makes the plant more attractive.
You have to start growing Flower of an Hour from seeds because there aren't bedding plants available. Sowing seeds might seem intimidating for beginners, but the process is simple for Flower of an Hour. Seeds need to be sown outdoors in fall, so they have enough time to emerge until spring.
The ideal location for Flower of an hour is rich, moist, well-draining soil in the full sun. You can use compost to improve the fertility of the soil before planting, or mulch to retain moisture in the soil.
Flower of an Hour is an annual plant that reaches its flowering peak in summer. Here is a description with care instructions for Flower of an Hour!
#10 Rhododendron Sappho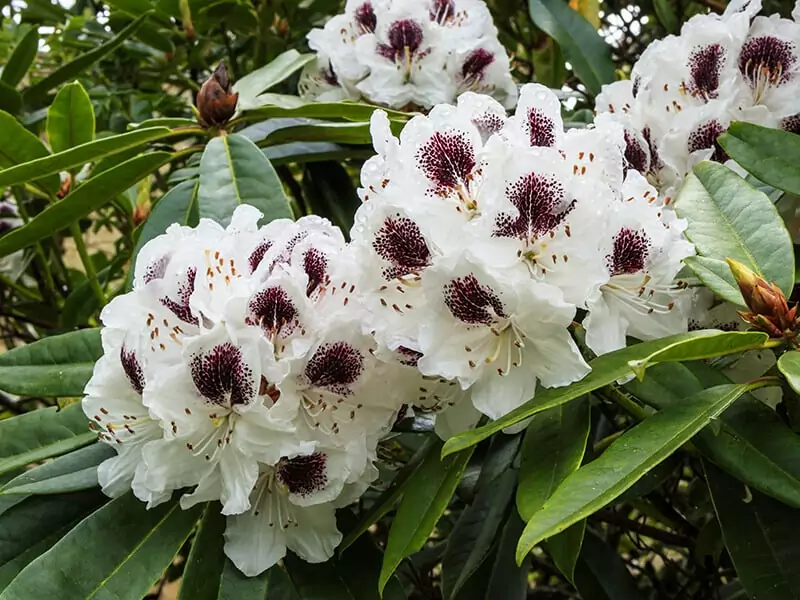 Rhododendron Sappho is a beautiful evergreen shrub that can grow up to six feet. It is a broadleaf type of shrub with funnel-shaped flower clusters. The blotch is black-purple with white petals.
The plant is easy to use for landscaping and filling the large areas in your garden. It has narrow leaves and prefers a moderate climate.
Here is the best way to care for any Rhododendron!
#11 Fredclarkeara After Dark Orchid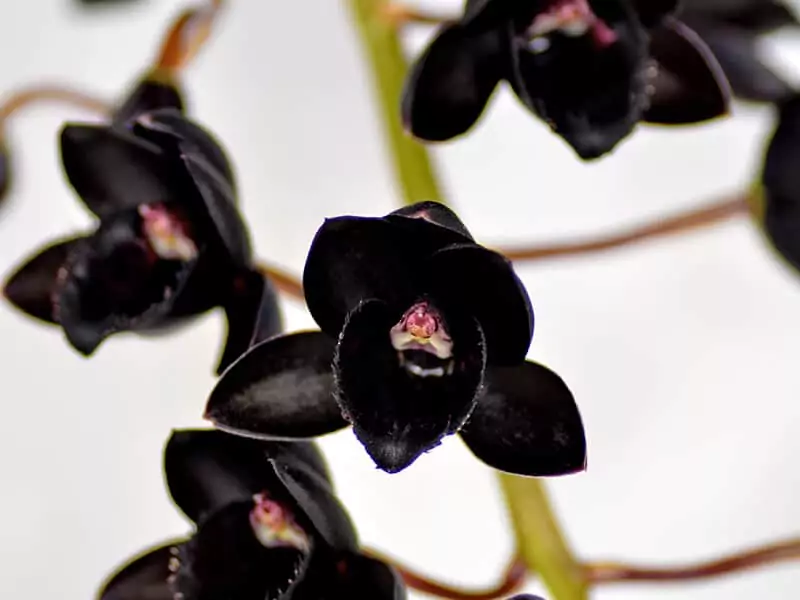 Orchids are stunning, and the black varieties are almost impossible to find. But, if you can get your hands on the Fredclarkeara variety, or Black Pearl Orchid, don't miss the opportunity!
Only a few nurseries sell this variety. It is a delicate flower with an unusual flower shape and heavily fragrant flowers. The deep black petals are in contrast with neutral, beige-white centers, and the spicy and sweet fragrance is very potent.
The trick when caring for orchids is to stop watering once the flowers are spent and to use fertilization once you notice the new growth. In the summer, you need to water and fertilize your orchids frequently. The ideal light conditions are bright light, but sometimes, the orchid can tolerate partial shade.
Read more about rare black orchid varieties!
Let's see this video to know:
#12 Pansy Giant White Black Face
Pansies are such a humble plant to grow. Ensure fertile soil, sunlight, compost, and moderate watering, and your pansies will provide a lot of flowers.
To encourage the growth of new flowers, you need to deadhead pansies. The variant with clear white petals and dark spots on them looks stunning and elegant!
Here is everything to know about growing pansies!
#13 Dianthus Japanese Pink
Dianthus Heddewigii is a botanical name of the plant known as Dianthus Japanese Pink. Dianthus is one of the most dramatic summer bloomers with dark purple and black petals with pink edges.
The backside of each petal is white which, alongside black and pink, gives the flower a multidimensional appearance. To promote new blooms, you need to regularly deadhead the spent flowers.
Check out how to provide the best conditions for your Dianthus plant!
Black And White Flowers: Worth Searching For
You can meet Mother Nature at its best when looking at these black and white flowers! Sure, some of them are human-made, but nature helped cultivars establish and maintain such rich colors and contrasts.
These flowers are grown for ornamental purposes and landscaping. But, the challenging part is finding them!
Which one left the strongest impression on you? Would you dare to try growing a black orchid? Or you will stick with easier flowers to grow such as Black Eyed Susan or Petunias!
If you find the article useful and interesting, please like it and share it with like-minded gardening enthusiasts!