Most Caladium varieties are well-known for their fashionable foliage that comes in all color shades and patterns! Whichever Caladium you choose, it can be the standout plant in your collection.
Did you know that people have grown Caladium for several centuries? Nowadays, there are numerous cultivars available, with mottled, striped, and veined patterns. The ribs are often brightly colored and different from the leaves' margins.
Interestingly, Caladium doesn't have stems. Instead, leaves appear on long petioles.
Most common Caladium varieties have green, rose, red, pink, and white ornamental foliage. But, which Caladium to choose? Let's take a look at the most stunning cultivars!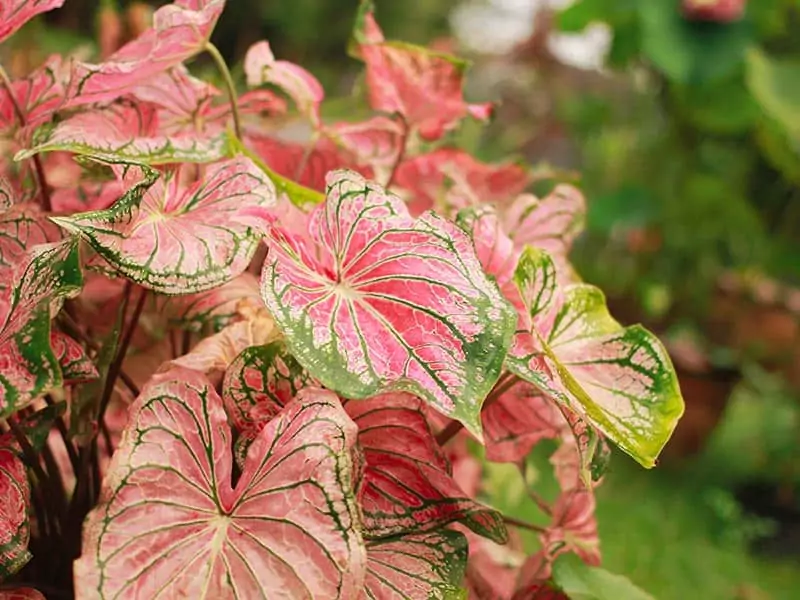 1. Carolyn Whorton Caladium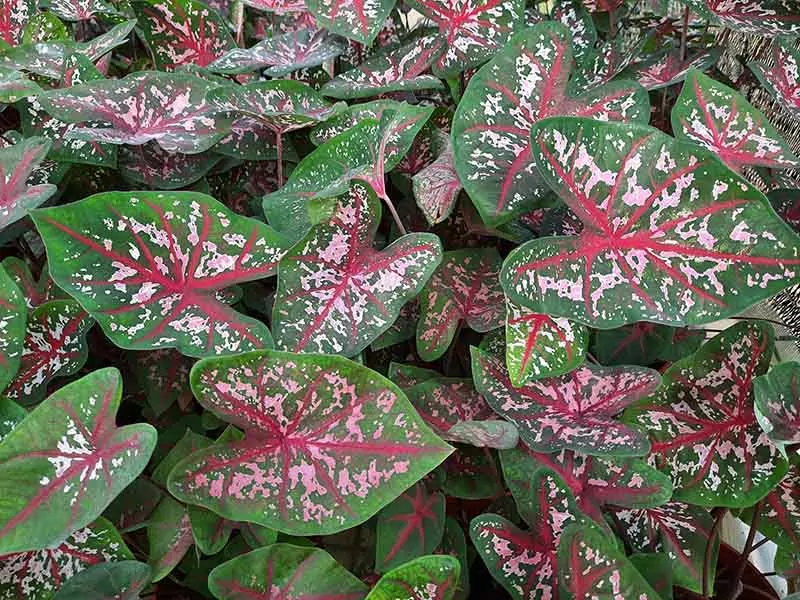 Caladium x hortulanum Carolyn Whorton features an upright growth habit, and it is a wonderful warm-season perennial. On average, it gets around 18 inches tall and about the same wide. Carolyn Whorton Caladium features classical Caladium heart-shaped leaves which grow up to 12 inches long.
Filtered sun is the best, but you can also keep this Caladium variety in full shade.
2. Florida Sweetheart Caladium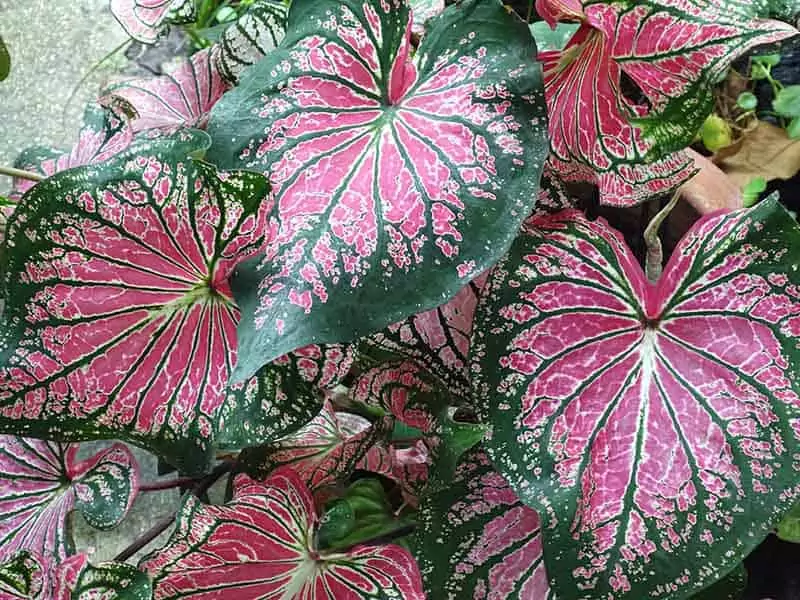 Caladium bicolor Florida Sweetheart is one of the most common indoor Caladium varieties which require simple care. It has outstanding dark green margins and bright pink leaves centers.
Medium-light and protection against harsh afternoon sun are recommended for the Florida Sweetheart cultivar. Mist the plant regularly or place a tray with wet pebbles to increase the humidity around your Caladium!
3. Candidum Caladium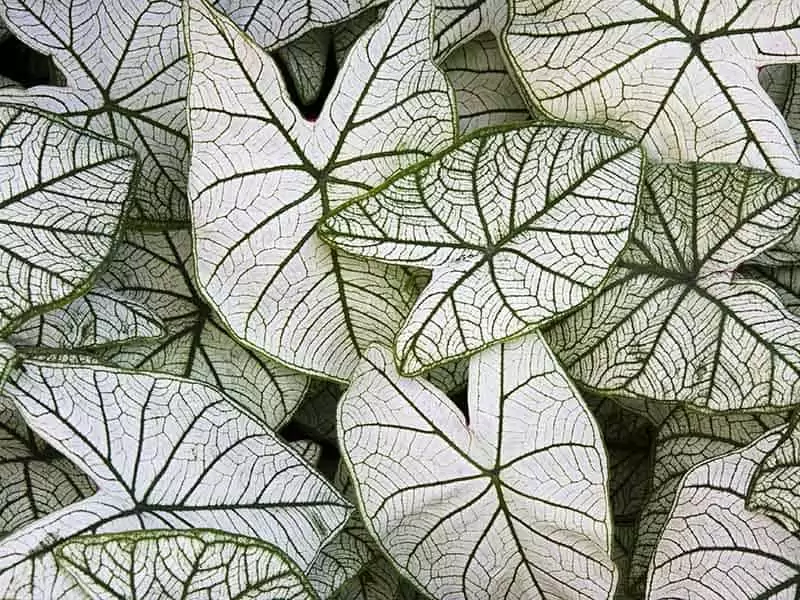 Candidum Caladium is lovely and showy with its white leaves with contrasting dark green veins. Candidum Caladium is an elegant variety, which looks especially pretty in deep shade and during the night. The white leaves become almost luminous.
People grow it because it provides color all summer, and grows well in containers. You can also use it in mixed containers!
Position Candidum Caladium in full sun or partial shade, and it will thrive during warm and humid weather.
4. Candidum Junior Caladium
Candidum Junior Caladium looks similar to the original Caladium Candidum, but it is smaller and doesn't stand upright. Junior Caladium is often used as a ground cover under tall trees and mid-size shrubs.
The white leaves are speckled with dark green veins, and have a distinct heart shape.
5. Fannie Munson Caladium
Caladium bicolor Fannie Munson is one of the most spectacular garden plants!
It has delicate, thin, and almost translucent leaves. The leaves are pink with dark pink veins.
Fannie Munson Caladium produces many leaves and may grow up to 12 inches. This Caladium is a little frost-hardy and can survive outdoors at temperatures around 32 degrees Fahrenheit. It grows best in partial to deep shade.
6. Aaron Caladium
If you don't want colorful Caladium, consider Caladium hortulanem or Aaron Caladium. It has beautiful green leaves with striking white variegation. The edges are dark green, which highlights the leaves' shape.
Aaron Caladium grows perfectly in containers or garden soil. Keep it away from direct sunlight to prevent foliage from scorching. The plant needs regular watering and fast drainage.
7. Gingerland Caladium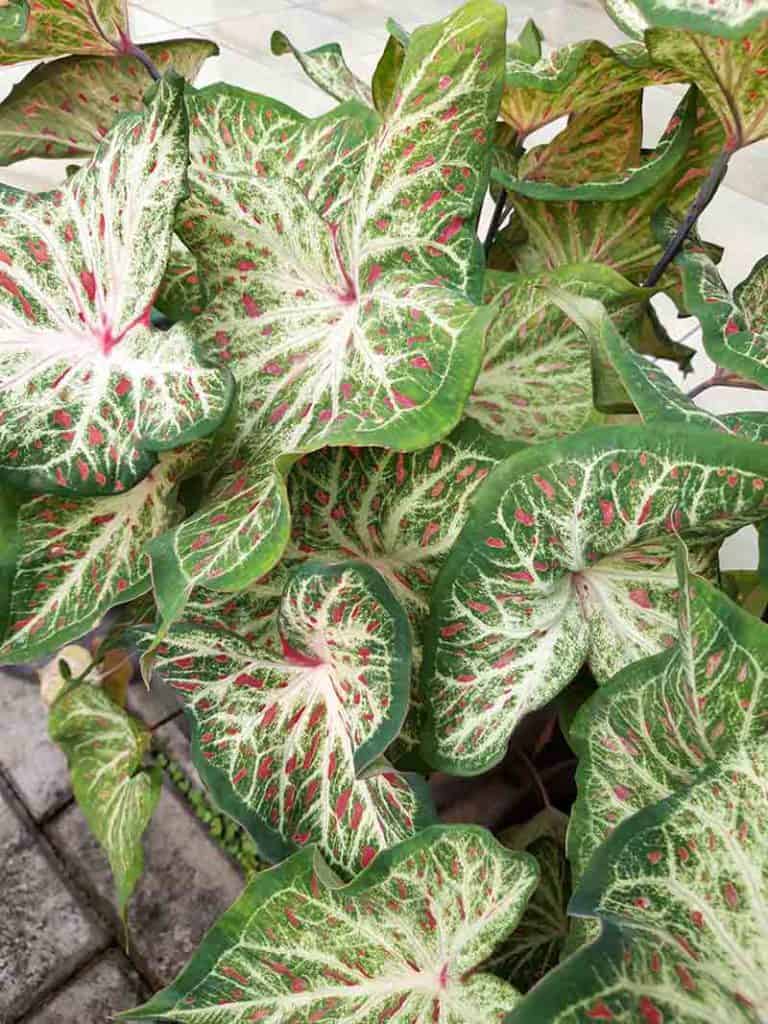 Gingerland Caladium has an attractive, colorful pattern on the leaves. The heart-shaped, creamy white leaves are speckled with cranberry speckles and feature dark green margins.
Gingerland Caladium is a dwarf variety and perfect for border planting and containers. Humusy and moist soil are great for Gingerland Caladium. Pick partial shade or shade for the container, and your Caladium will be happy!
8. June Bride Caladium
On average, June Bride Caladium grows between 12 and 24 inches tall. This attractive Caladium variety comes from South America.
Interestingly, young June Bride Caladium leaves are completely green. During the second year, they develop creamy-white variegation and become showier. Plant it in part-shade.
But, June Bride Caladium won't mind growing in full sun, as long as you keep the soil evenly moist but not soggy.
9. Freida Hemple Caladium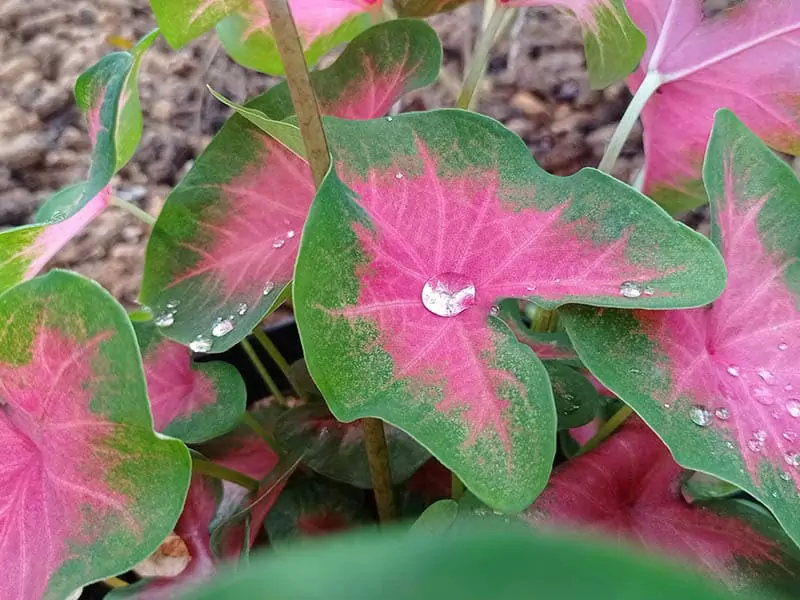 To ensure your Caladium bicolor Freida Hemple develops maximally, ensure three things – even moisture, high humidity, and high heat! This Caladium has grass-green margins with pastel pink centers. The leaves look almost as if they are painted!
Freida Hemple Caladium is a great shade-loving plant. It is excellent for container gardens and can reach three feet in ideal conditions.
10. Miss Muffet Caladium
Caladium x Cultivar Miss Muffet features bright light green foliage speckled with burgundy color. It has moderate water needs and is generally a fuss-free plant. Miss Muffet Caladium is compact and perfect for shady window boxes.
You can grow it outdoors in zones nine to 11, or indoors in colder regions.
The fool-proof way to propagate Miss Muffet Caladium.
11. Pretty Pink Caladium
Of all pink Caladium varieties, Pretty Pink is the most spectacular. It features dominantly white leaves with bright pink veins. Caladium Pretty Pink prefers partially shaded areas and moist soil. However, ensure fast drainage to prevent the sogginess of the soil, which can be harmful.
Aso, be careful with fertilizer. Overfertilization will leave the leaves white and veins will fade.
12. Pink Gem Caladium
Pink Gem Caladium is popular because of the dark green-bright pink combo on the foliage. The leaves are slightly frizzy and curled. You can plant Pink Gem Caladium in hanging baskets, garden borders, mixed containers, or garden beds.
Caladium is sensitive to direct light and grows best in shade or partial shade. It also enjoys high humidity.
13. Pink Symphony Caladium
Caladium bicolor Pink Symphony features pale pink arrow-shaped leaves with bright green veining. It is valued for large and colorful leaves which can also get bronze and white variegation.
Pink Symphony Caladium grows excellent in containers, indoors and outdoors, as long as you ensure warm temperatures. Also, keep in mind that Pink Symphony has skin-irritation properties, and wear gloves when handling it.
14. Postman Joyner Caladium
Postman Joyner Caladium is often used in floral arrangements alongside other large-leaved plants, such as Hostas. It is native to the Amazon Basin and prefers a hot and humid environment. Overall, Postman Joyner Caladium is easy to grow in mildly acidic soil.
If you stick to an optimal watering schedule and prevent the Caladium from underwatering and overwatering, it will award you with stunning foliage.
15. Pink Beauty Caladium
Pink Beauty is another easy-care Caladium variety. Compared to other pink variants, the colors are slightly faded and pastel.
Pink Beauty Caladium needs protection from direct sunlight. In fact, it is the perfect plant to brighten shade areas! Caladium is also toxic to pets, so keep it away from puppies and kittens.
16. Red Flash Caladium
If you need a quick break from pink foliage, check this vivid red Caladium. It has fire-red centers mixed with dark margins.
Red Flash Caladium grows best in slightly acidic soil. However, you can overcompensate for the lack of acidic pH with regular fertilization. Never let your red Caladium dry out completely and increase the humidity around it if you can.
17. White Christmas Caladium
White Christmas is an elegant and low-maintenance caladium. It is also called White wings, because of the elongated, arrow-shaped white leaves.
This Caladium is almost disease-free. White Christmas Caladium looks perfect in shade garden beds and containers. Protect it from cold temperatures in winter.
Things to know before you start growing White Christmas Caladium indoors.
18. White Wing Caladium
White Wing Caladium differs from the previous Caladium variety because the leaves are predominantly green. They have pale-green or white centers and elongated shapes.
White Wind Caladium is hardy in USDA zones from nine to 13.
Well-draining, slightly acidic to neutral soil mix is best for this variety.
19. Red Frill Caladium
Red Frill is a shorter cultivar with stunning foliage which remains good-looking all season long! The plant is native to South American rainforests and thrives in half shade and high humidity. Warm weather allows the Red Frill Caladium to develop to its full potential.
Don't mistake frilled leaves for the lack of moisture. Red Frill Caladium needs medium moisture and may suffer from overwatering.
20. Mesmerized Caladium
Mesmerized Caladium features a unique rhapsody of green, white, and red colors and distinctive colorful pattern on the foliage.
It is a heat-tolerant plant that is best grown as a houseplant or in outdoor containers. You can grow Mesmerized Caladium outdoors in zones 10a to 11b. The plant needs filter light and thrives on a windowsill.
21. Rosebud Caladium
Rosebud features an almost fluorescent pink hue on the foliage! It is suitable for displaying in both sun and shade locations.
Interestingly, the pink centers on Rosebud Caladiums are surrounded by bright white, followed by dark green margins.
Use fertilizer carefully in the growing season to maintain the pink color on the leaves. Too much can cause a faded appearance.
A closer look at attractive colors of Caladium Rosebud in daylight.
22. White Queen Caladium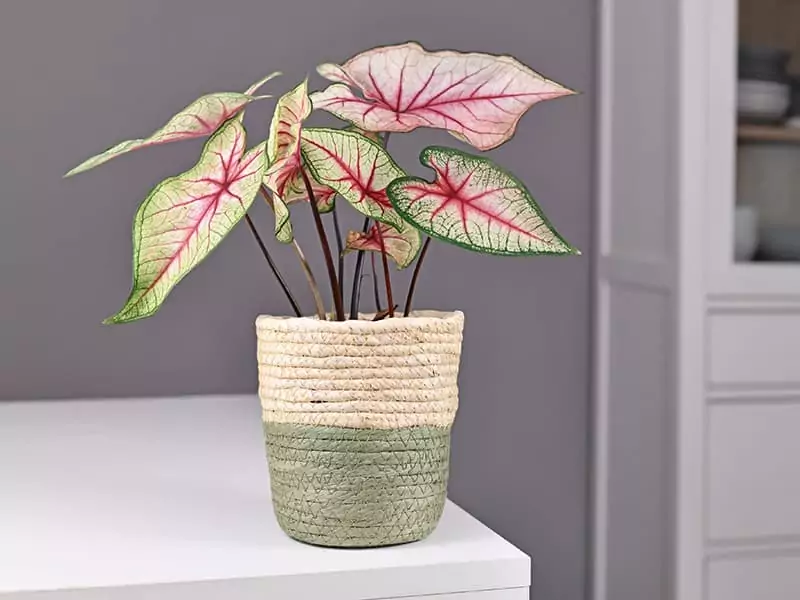 There isn't a plant such as White Queen Caladium with its unique color combination on the leaves! White Queen Caladium features transparent pale green to white leaves with bloody veins!
It prefers partial shade to full sun exposure and can be grown as an outdoor perennial in warmer climates. An ideal watering schedule for White Queen Caladium is once a week. If the weather is too hot, water your plant twice a week and protect it from direct sun exposure.
23. Carousel Caladium
Carousel Caladium isn't as showy as some other types. It features dark green leaves with whitish freckles and pastel purple veins.
Carousel Caladium is an excellent ornamental plant for the shade. It needs frequent moisturizing and fast drainage to thrive.
24. Lemon Blush Caladium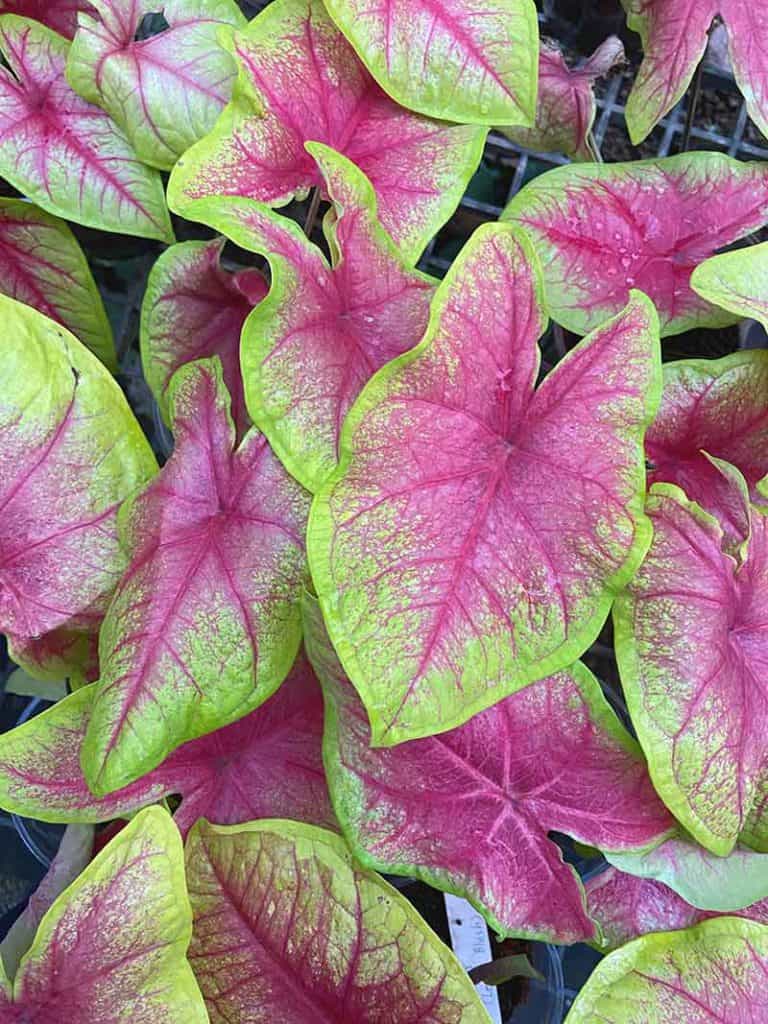 Lemon Bush is a newer Caladium cultivar with huge, heart-shaped leaves. It is developed to look great in shady borders and containers on the patio.
Lemon Bush Caladium grows between 18 and 24 inches and spreads on average 12 inches.
I recommend planting several Lemon Bush Caladium around the entryway for the best results!
25. Raspberry Moon Caladium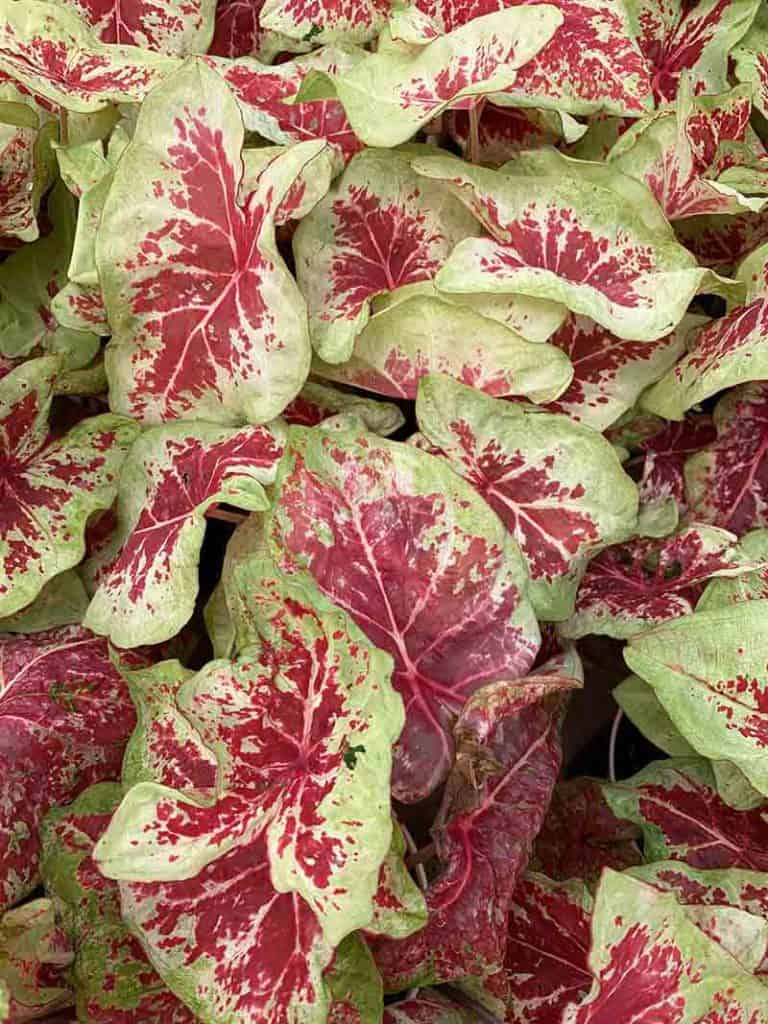 Caladium Raspberry Moon grows best in temperatures above 65 degrees Fahrenheit. The soil should be kept evenly moist all the time. Cool and soggy soil will cause the plant to start growing leggy. Keep your Raspberry Moon Caladium in pots or raised beds with excellent drainage.
Also, use diluted fertilizer regularly to boost the foliage development.
26. Celebration Caladium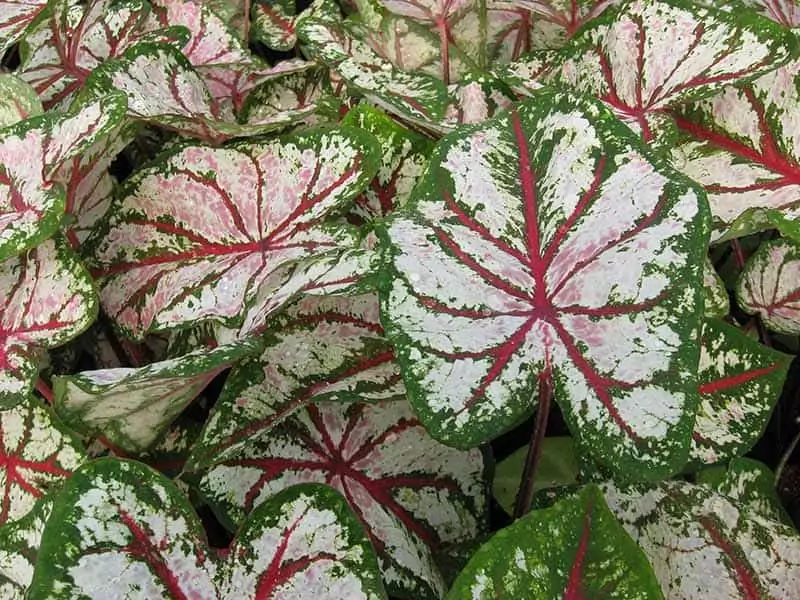 Celebration Caladium is a lovely houseplant that looks almost marbleized from a distance. The central vein is dark red and it highlights the contrast between pale green, white and red on the foliage!
Celebration Caladium can also be grown outside, in warm and humid climates. The care level is easy, and the plant is toxic to animals and may cause irritations on sensitive skin.
27. Day Dreamer Caladium
Day Dreamer Caladium is a beast when it comes to leaf size. It features huge and colorful leaves in the green-white-pink color combo.
Day Dreamer Caladium isn't as common as some other varieties, but it has the same care level. It is easy to grow and makes a beautiful indoor or outdoor decoration.
28. White Diamond Caladium
If you love the subtle beauty of white foliage, you will adore the White Diamond Caladium. It doesn't get taller than 18 inches and usually spreads around 12 inches.
White Diamond Caladium is excellent for container gardens and general garden use. But, it will look the most beautiful in hanging baskets!
29. White Dynasty Caladium
White Dynasty Caladium is shorter than the previous variety and reaches 15 inches when mature. This ornamental plant features radiant green-blue-white leaves with darker margins.
White Dynasty Caladium isn't readily available in all nurseries. Plant it in partial shade to full sun, in evenly moist and well-draining soil.
30. White Pearl Caladium
White Pearl Caladium has slightly elongated, arrow-shaped foliage with dark edges and pastel green centers. The plant is loved because it ensures visual interest all year long!
White Pearl Caladium is elegant and has a frosty appearance, and the care isn't complex. As long as you keep it protected from direct sun and overwatering, your Caladium will be happy!
31. White Wonder Caladium
The huge leaves of White Wonder Caladium are patterned with thin red veins and dark red centers. It has a unique appearance that can easily become a focal point in all plant displays and compete with some of the most attractive blooms!
White Wonder Caladium grows between 15 and 20 inches in the garden. When you grow it as a houseplant, it will remain shorter.
32. White Star Caladium
White star Caladium has attractive white and pale green to dark green foliage. Water your White star Caladium frequently in the growing season to help it establish faster.
In general, it is a comparably disease-free plant, but if you grow it in a garden, watch for snails. Indoor White star Caladiums may suffer from aphids.
33. Chinook Caladium
Chinook Caladium features distinct pink foliage with green margins. It is relatively similar to Pink Beauty and Pink Symphony cultivars, but the leaves have an unusual salmon pink shade.
Chinook Caladium isn't tolerable of cold temperatures. Water the plant when the topsoil layer feels dry and keeps it away from direct sunlight.
34. Heart's Delight Caladium
Heart's Delight Caladium features an opposite color scheme to most pink varieties. The leaves are true green with pink veins and speckled with white dots.
Heart's Delight Caladium makes an excellent container or houseplant. Filtered light is recommended, as well as moderate watering. Slightly acidic soil is the best.
35. Freckles Caladium
Freckles Caladium differs from other Caladiums because the veins aren't showy. Instead, the foliage is speckled with tiny dots of white and pink color.
Freckles Caladium needs warm soil and abundant moisture to grow fast. It tolerates sunlight to some point but will grow best in partial shade.
36. Dawn to Dusk Caladium
Dawn to Dusk cultivar has extra-large leaves in different shades of green, red, and white. The lavish foliage develops the most in humid environments with warm temperatures.
Dawn to Dusk Caladium doesn't have any special growing requirements. Its bold colors and unique pattern are an excellent addition to shady places in your garden or home!
This is how to make your Caladium bushy.
37. Bombshell Caladium
The magnificent Bombshell Caladium leaves are flat and almost glossy. A large amount of pink or red hue spreads from the center towards dark green margins in an irregular shape.
Bombshell Caladium doesn't tolerate the sun well and grows best in partial shade. Keep the soil slightly acidic and evenly moist during the growing season. Occasionally, you can use general garden fertilizer to induce more foliage growth.
38. Tickle Me Pink Caladium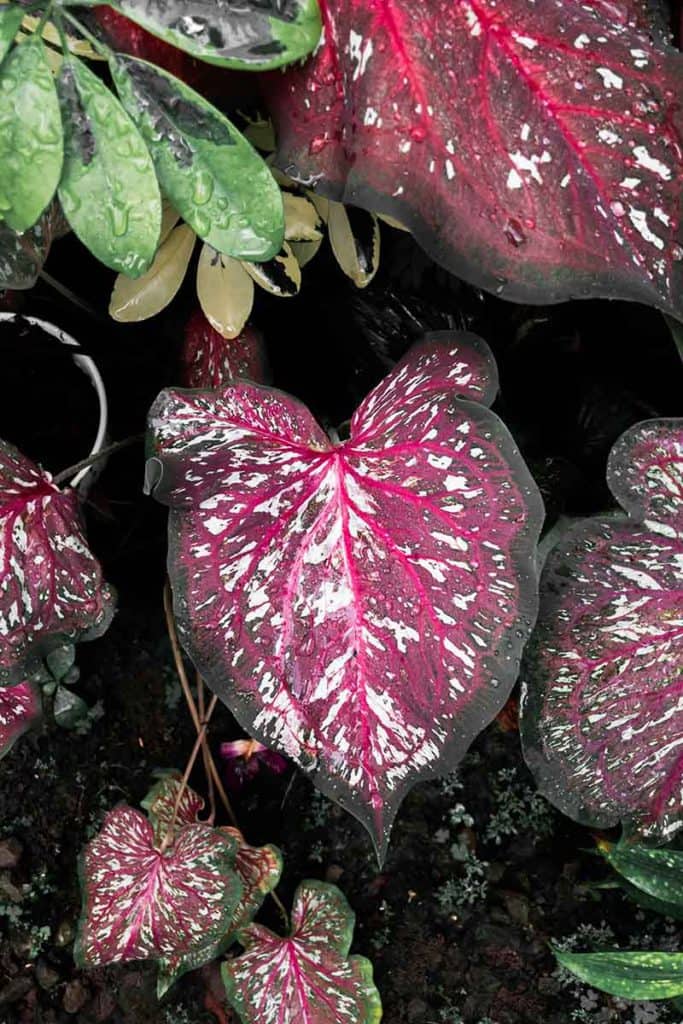 A Caladium with a funny name – Tickle me pink is easy to distinguish from other pink-foliage varieties. The fat leaves margins are green, and the pink variegation on the leaves disappears in traces of white and pink towards the edges.
Tickle me pink Caladium is an easy-going cultivar, which can be paired with tuberous plants, such as Begonias, in mixed containers. You can also grow it as a single specimen plant.
39. Starburst Caladium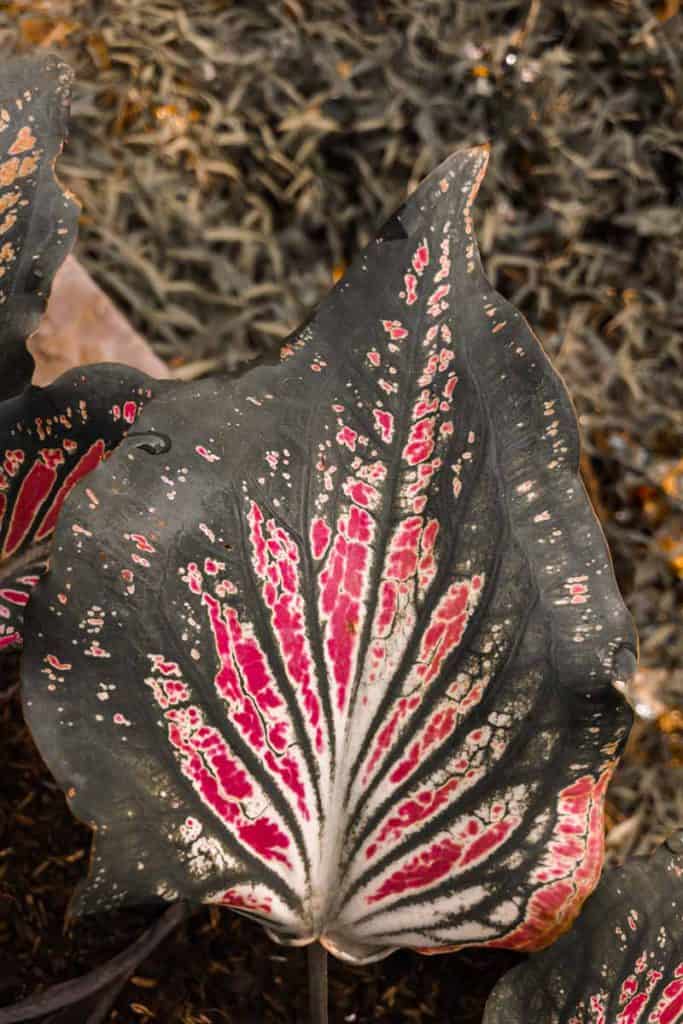 The next Caladium cultivar is worthy of its name. The attractive variegation on the foliage provides a unique burst of color and a visual interest year-long!
Starburst Caladium is a mid-size plant, which isn't picky about soil or sun exposure. It is sensitive to overwatering.
40. Splash of Wine Caladium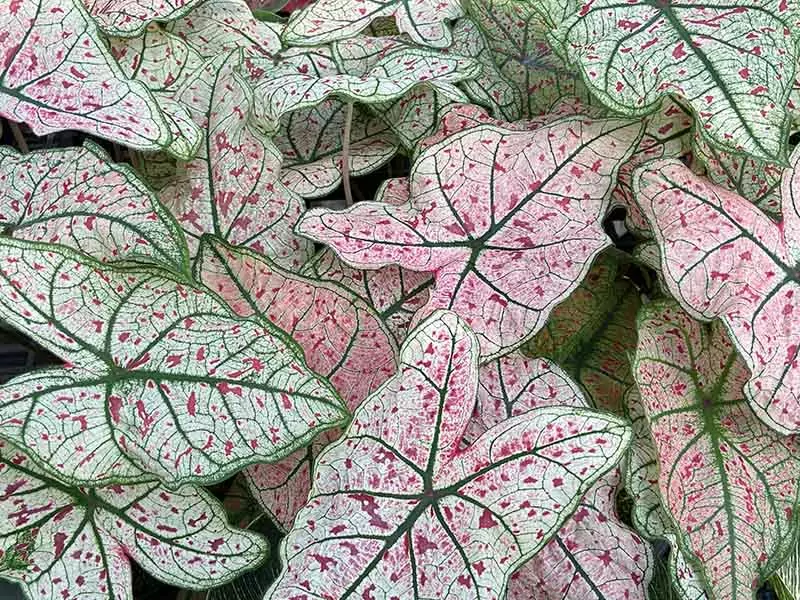 If you prefer pastel shades, consider the Splash of Wine variety. It features lovely pastel pink and green, slightly curved foliage.
Splash of Wine Caladium is best for the part and full shade locations. Its pastel foliage will go magnificently with contrasting dark green plants or will compliment white blooms well. The plant is sensitive to cold, so keep it indoors when the warm season ends.
41. Radiance Caladium
Radiance Caladiums look best when planted in groups. Get a large planter and several bulbs and space your Radiance Caladiums at 4 inches distance.
That way, they will have enough space to grow and develop lush foliage! Wait until the soil temperatures rise above 50 degrees Fahrenheit to plant your Caladiums.
Prepare your Caladium bulbs before planting.
42. Peppermint Caladium
Peppermint Caladium is a classical, heart-shaped Caladium with a subtle touch of pink. This cultivar isn't as popular as some other brighter variants, but it is easier to combine with other colorful plants in flower arrangements.
If you decide to grow Peppermint Caladium in mixed containers, pick Daisies, Zinnias, and Marigolds as companion plants. Those have similar growing requirements, so they will thrive together.
43. Party Punch Caladium
Party Punch Caladium features hot pink foliage, which is probably brighter than some pink blooms! If you want a fuss-free houseplant, consider Party Punch Caladium.
In warm climates, you can grow it as a perennial. But, you can also pick a Party Punch cultivar as a colorful annual plant or houseplant!
44. Candyland Caladium
Candyland Caladium has unusual foliage, even for Caladium. The leaves are light green and feature a unique coloring pattern, which gives them a shiny appearance.
Candyland Caladium is a true gem in the Caladiums family. Grow it in dappled sunlight and evenly moist, well-draining soil.
45. Blushing Bride Caladium
Charming Blushing Bride stands out by its pink centers and pink dots on the pale foliage surface. You can plant it outside in garden beds and borders, or pots. It is also suitable for indoor use.
But, indoor Blushing Bride is susceptible to aphids, like many other Caladium varieties. Luckily, you can solve the problem with soapy water or neem oil.
The DIY pests recipe to save your Caladium.
Caladium Varieties Feature Endless Color Scheme
Do you want Caladium with pink leaves and green veins? Check! What about white leaves and pink veins? Check! All-green foliage? Sure, Caladium has it all!
There are numerous Caladium varieties available in nurseries. So, I get it can be difficult to pick only one colorful variety to grow. Before you decide which Caladium to grow, consider where you will plant it and how it will blend in your current plant's displays.
I like White Christmas the most! Which Caladium variety looks most spectacular to you?
If you found the article useful, please consider giving it a thumbs up and sharing it with your friends and family!
Come back for more articles about unusual plants and growing tips!