Climbing roses are a great choice for people who want to make their garden more beautiful. If you have an empty wall or some columns that you want to have stand out more, then there is no better choice than to add some vibrant flowers or other plants near them.
When it comes to roses, they are the epitome of beauty, romanticism, color, and gorgeous scents. Another great thing about them is that they do not require much space as they can grow vertically by climbing on whatever is near them.
Whenever you see the contrast of these soft petals put against woods, bricks, or even stones, you will inevitably notice the artistic tension. There are so many great things that I can mention about these amazing flowers, but first and foremost I have to make you truly understand roses and learn how you can use them best.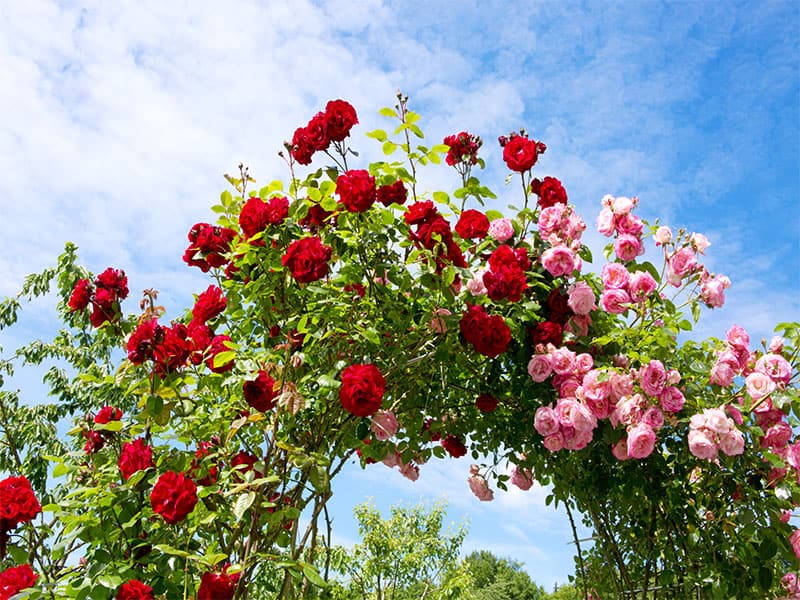 Groups of Climbing Roses
All types of climbing roses can be initially divided into two groups: antique ramblers and modern climbers. I will tell you more about these two groups so you will better understand which types of climbing roses belong to these groups!
Antique Ramblers
Usually, this group is home to some of the older species like Rosa multiflora, Rosa wichuraiana, and Rosa moschata. However, some of the modern varieties can be found in this group as well.
The ramblers are different from other rose types in the fact that they grow in clusters and have smaller flowers that grow on slender little canes coming from the base of the plant. If not pruned, the ramblers will grow flowers all over their base.
These roses tend to grow quite a lot and can reach a height of six meters, which makes them the perfect choice for climbing on trees and pergolas. They produce their first flowers in summer, which last for about six weeks.
Modern Climbers
In the mid 20th century, breeders started to think about creating rose varieties that would grow to a height of 3,5 meters and will bloom several times in one season. They eventually came up with such roses, some of which are the climbing iceberg, altissimo, and the white floribunda sport.
The cane on the modern climbers is much longer than the one of the ramblers. They take the form of shrub sometimes. Nevertheless, they are as gorgeous as one would think they are.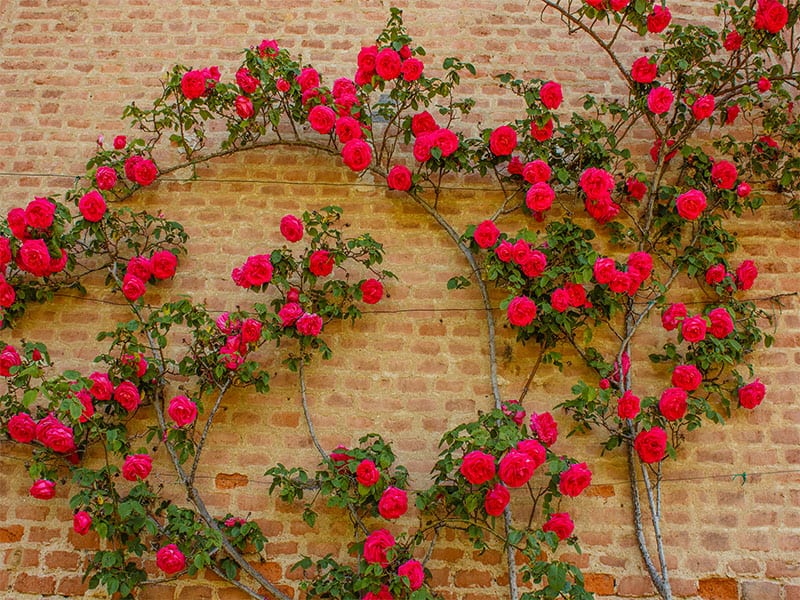 Top 10 Climbing Roses For 2023
There are so many different types of climbing roses, some of them are pruned like shrubs while others look better if left to run wild. Their scents and flowers are what make them so popular and why people want to have them in their gardens.
Today, I will talk about the top 10 best climbing rose varieties and some of their general characteristics which will help you decide which roses are best for you and your garden. Without further ado, let's get to the list!
1. Rosa Altissimo
One of the most vigorous climbing roses, the Altissimo has stiff stems that can branch out readily when they are put against a fence or a wall. This variety has such big clusters of flowers that you will not be able to keep your eyes off it.
The roses are usually yellow in colors with up to 8 petals that are wide open during the blooming period. They do not have a strong smell, but they are known to bloom several times throughout the year.
The roses are known to grow to a height of 15 feet. They can climb on just about anything and are truly a sight to see. If you are considering adding them to your garden, you should do so in a place where they can get a lot of sun. They like to have well-drained soil all around them.
Another great thing about this variety is that it does not require much maintenance. Still, these roses should be on top of your list because of their many great qualities and ability to withstand all kinds of conditions.
If you want to make the roses even more vibrant, you can give them fertilizer three times a year. The first time will be in spring when they are starting to form. The second deeding should be anywhere in between the first and the third, while the third should be towards the end of the summer.
When it comes to the feedings, the only thing you need to look out for is that they are at least four weeks apart from each other. If you give the roses too much water or fertilizer, you can cause them some problems like the development of root rot or fungus.
2. Rosa American Beauty
It is believed that this type of climbing rose was bred in the late 19th century and has existed ever since. Even though they are gorgeous flowers and have a wonderful scent, they are not the easiest to take care of.
One of the things that I would like to mention about them is that they cannot tolerate colder climates. Also, they are quite susceptible to a lot of diseases, so chances are that they will not live long after you plant them. Aside from these problems, they are one of the most beautiful flowers that you can find.
These climbing roses can grow up to 15 feet in height, while the shrub form reaches only 6 feet of height. The flowers are quite large and have the form of a cup. What makes them extra interesting is the fact that they have around 50 petals each.
If you are planning to add these roses to your garden, plant them in freshly dug soil that has a lot of organic matter. Also, consider adding some fertilizer at times to help them grow. You can feed them up to four times a year, but make sure that the feedings are at least four weeks apart.
3. Rosa Cécile Brünner
Some of the other names under which you will find these roses are Sweetheart rose, Mignon, Malteser Rose, and even Mademoiselle Cécile Brünner. They were initially bred in the 19th century and were created by Marie Ducher who named them by either her sister or her daughter.
This variety of climbing roses has small flowers that have a diameter of up to 6.5 cm. The flowers are double and usually in a pale pink color. They also have yellow undertones, while their center is known to be a bit pinkish.
These flowers do not have a strong scent but they are still very attractive. People love to take care of these flowers because they are very low-maintenance, they are not susceptible to diseases, and can withstand even harsh weather conditions.
4. Rosa Dublin Bay
This is one of the newer varieties of climbing roses and was initially introduced in 1975 in New Zealand. When the breeder crosses the Bantry Bay and the Altissimo rose, he got this beautiful variety that has dark red blooms.
What this variety is known for it is resistance to all kinds of diseases. If you plant them in your garden, you will have no worries at all about them falling ill. They are also great because they grow quite large, with a height of around 12 feet and an overall width of 5 feet.
They have a great fragrance that is fruity and attractive. They reach their full potential if planted in a place where they get a lot of sun. Also, they need soil that has good drainage and they like to have air circulation available at all times.
If you are considering planting them in your garden, all that you need to do is dig a hole where you will place the root ball or seeds, add some fertilizer and give them lukewarm water. Aside from that, they will not have any great requirements throughout their life.
When it comes to watering, the roses do not like to be overwatered or under-watered. If they have good conditions at all times, they will bloom from the beginning of spring all through the end of fall.
5. Rosa Fourth of July
A beautiful and strong scented rose, the Fourth of July variety of the climbing rose will leave you speechless. It is a medium-sized variety that can grow to a height of 14 feet. People love it because it tends to bloom from spring to early winter.
The requirements that this rose has are simple – give it well-drained and acidic soil, a sunny spot in your garden, and it will absolutely thrive. Not only that, it will attract beautiful insects and bees that feed on the flowers.
During the blooming period, the rose will require a lot of water. When you water it, make sure that you add the water directly to the soil, as the rose does not like to be wetted from the top down. If the flowers cannot dry properly, chances are that they will fall ill.
Unlike some of the other varieties, these flowers are known to like deadheading. If you see some flowers that are spent, remove them from the stem. This will help the rose focus its energy on the new buds.
Usually, this rose likes to be fed about three times each season. The first one should be at the beginning of spring, the second can be a few weeks later, while the third is towards the end of summer when you want to get another blooming session from the flower.
6. Rosa Iceberg
You can find the iceberg rose in gardens quite a lot these days because rose lovers find it to be very easy to care for. They have a beautiful and strong well, as well as gorgeous flowers that turn heads.
One of the few things that you have to know about this rose is that it is resistant to all kinds of diseases, while it is also known for its winter hardiness. Ever since it was bred in the 1900s, the climbing iceberg rose has developed into several different varieties.
Nowadays, people who want to grow icebergs in their gardens can choose between the blushing pink, brilliant pink, burgundy, and golden variety. All of them are very hardy and resistant.
The only thing to look out for with this rose is pruning. If you go over the top, you might lose the blooms. It is best to prune it sparingly or do it every couple of years.
7. Rosa Peace
A successful rose variety, this rose type is also known under the name Madame A. Meilland, partly coming from the cultivar who bred it. You can differentiate from the other types of roses because of the large flowers in a creamy color, with flushed petal crimson pink edges.
The shrub of peace roses can easily reach a height of 6 feet and a width of 4 feet. On the other hand, the climbing rose can grow up to 20 feet tall. It can easily grow on a fence or a bigger wall.
People love to grow peace roses because they are so versatile and because they have an amazing smell to them. If you are planning to plant this variety, make sure to do so in well-drained, moist, and slightly acidic soil, in a spot in your garden that is in full sun.
8. Rosa Royal Sunset
The Royal Sunset rose has very dark green leaves that are almost glossy on the surface. It can bloom several times throughout the year, and the flowers that it has are quite gorgeous. They are in an apricot color and are quite large.
What this variety is known for is the strong fruity scent that makes it the perfect hybrid tea rose. If you are planning to plant this rose in your garden, make sure to do so in soil that is loamy but well-drained. It also likes to be planted in full sun.
As for the plant itself, you will have to wait about two years before you prune it. Once the time for pruning comes, do it while the plant is dormant and not when it is blooming. During the blooming period, the only thing you should do is deadhead it carefully.
9. Rosa Souvenir de la Malmaison
Another rose cultivar known for its perfect blooms, it is quite often that you see the 'Souvenir de la Malmaison' rose as a centerpiece in bouquets and other flower arrangements. Jean Béluze initially bred it back in the mid-19th century. He named it after a French castle that had a gorgeous rose garden.
The flowers on this type of climbing rose grow in clusters. They have a tea-like smell and are quite solid. Unlike some varieties, they do not have any special growing requirements but do not like to be in a very moist area.
Usually, this type of rose grows up to 7 feet in height and 4 feet in width. It does not like to be pruned too often, while certain diseases might cause problems with its growth. Overall, it is not a very hard rose variety to look after.
10. Rosa Westerland
Created in 1969 in Germany, the Westerland rose is made by crossing the floribunda circus rose with the Friedrich Worlein rose. What makes this variety special is the flowers that it has – their center is yellow but as the flowers go outwards, the petals get to a darker orange color.
Growing this rose is easy – it can be trained as a climbing rose or a shrub. Even though the rose is quite resistant to diseases, it does not like the cold weather and it cannot thrive in it. If it has good growing conditions, it can bloom throughout the year.
It is best to plant this type of rose in sunny places where it will get at least 6 hours of sun daily. It also likes to get good air circulations that will help it stay dry and healthy. Well-drained soil will also contribute to its health.
Taking care of this rose is easy since it does not require much aside from regular watering. If you live in a place where it tends to be hot, you can water it every 4 or 6 days.
Giving this rose fertilizer in spring can help it grow properly and bloom more quickly. Clean up all dead leaves and deadheads from it to keep it from losing energy. Also, it might be a good idea to give it some mulch at the beginning of the growing season.
Learn More About The Best Climbing Roses!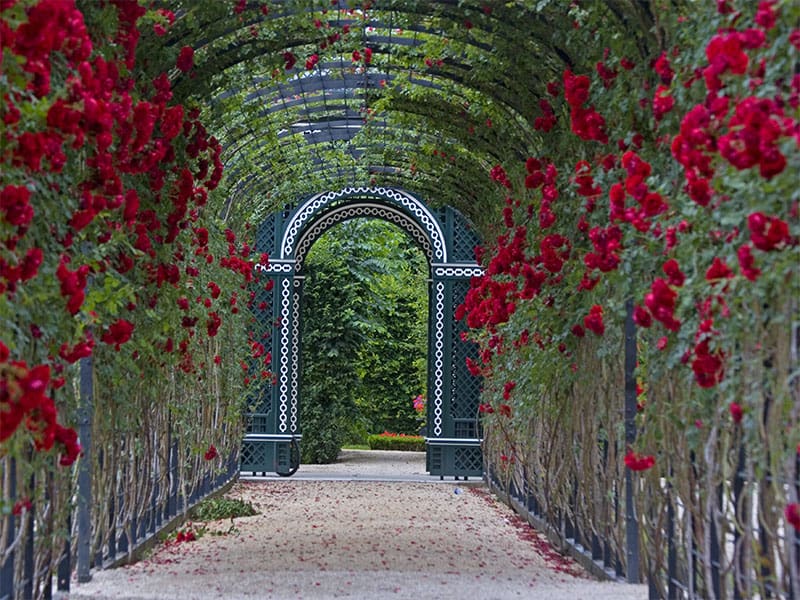 There are so many climbing roses that it is quite difficult to choose only several varieties. All of them have such vibrant flowers and strong smells that make them unique and a great addition to any garden.
I hope that my guide will help you make a better choice when it comes to which roses you will plant in your garden. Whatever type you go with, you will not make a mistake since they are all great in their own way.
Let me know in the comment section what your experience with climbing roses has been like. I look forward to reading your comments!