Colorful houseplants come in all shades and sizes. You can find various plants that require different levels of care. Some are more difficult to keep alive, and others will thrive on their own, so they are great for beginners!
If you have a dedicated corner in your home for houseplants that consists mostly of green plants, a colorful one will make a great addition to your collection!
Don't worry if you don't have enough light in your home. Some colorful plants don't require sunlight to maintain their vivid pigment.
Here is the inspiration you need to brighten up your space! Go through the list and pick your favorite colorful plants.
#1 Polka Dot Plant
Polka dot plant or botanically Hypoestes phyllostachya is a statement plant that stands out in every setting. Polka dot plant has variegated foliage, speckled with pink and green. However, you can also find cultivars with purple and red speckles which provide even better contrast!
Polka dot plant isn't difficult to grow, as long as you keep the plant in a warm room. Indoors, the Polka dot plant remains compact and doesn't get taller than two feet. The average spread is about one foot.
My favorite cultivars are Pink Brocade and Confetti!
Find out more about the Polka Dot Plant!
#2 Ti Plant
Cordyline Fruticosa, Ti Plant, or Hawaiian Ti Plant is having a great comeback at the moment! It is a popular household plant, available in different colors including pink, red, green, burgundy, and different color combinations. The tiered rosette shape of the plant and colorful foliage make up for the lack of flowers.
You can use Ti Plant on its own or mix it with different plants to create a lovely plants display!
Is Ti Plant difficult to grow? Click here to find out!
#3 Vase Plant
The Aechmea plant is a stunning and exotic plant, native to Central America. Nowadays, you can find numerous hybrid plants that become more bright and vivid as the plant matures.
The Vase plant is adaptable to different conditions, but it grows best in hot and humid environments. You can use the Vase plant to provide color and dynamic to your current houseplant setting.
Keep the plant in a sunny location to make the plant even brighter!
Here is how to take care of your Vase plant!
Find out the best way to propagate the Aechmea plant. Watch the video:
#4 Anthurium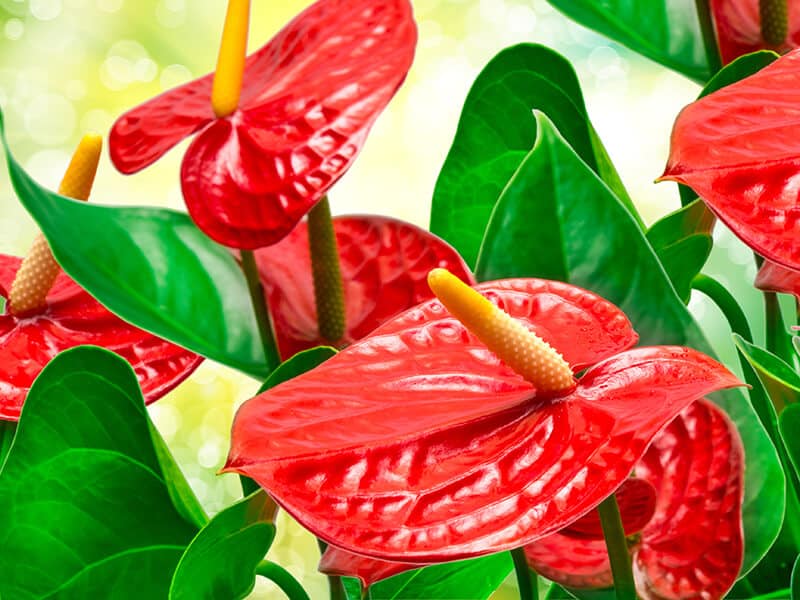 Anthurium is a great plant to add a long-lasting colorful effect to your home. The Anthurium flowers are bright and they last for months.
The amazing flowers are heart-shaped and a symbol of wealth and good luck. Anthurium is a great housewarming gift!
This large and bold plant has glossy green leaves, but it is most known for its red flowers. However, you can find cultivars with pink and purple flowers. These are equally wonderful as the original Anthurium varieties.
Check out the primary information on Anthurium!
#5 Gerbera Daisy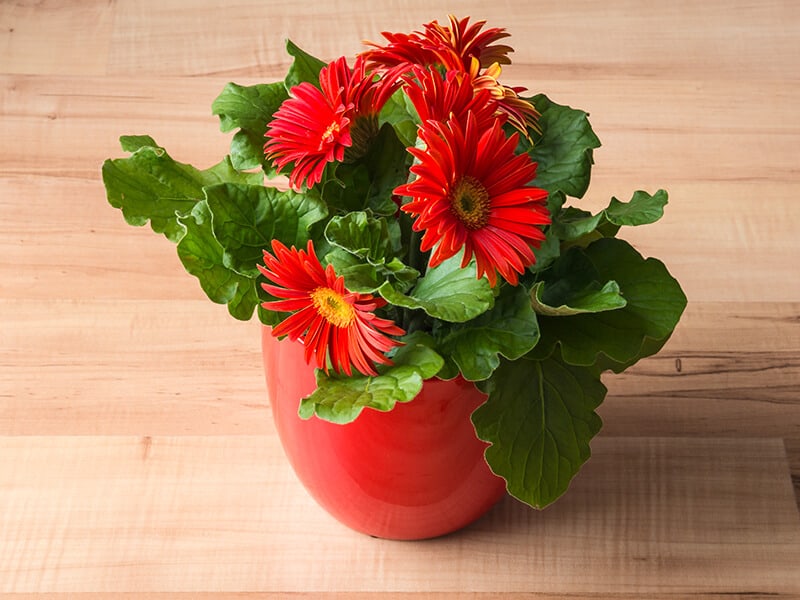 Gerbera Daisies are best known for cut flowers and perfect bouquets for every occasion. However, did you know that Gerbera Daisy is suitable for growing indoors? It will provide the much-needed structure and color in your room.
However, Gerbera Daisy might be a tricky plant to grow indoors. You'll have to ensure enough sunlight for the plant and water only when the topsoil level becomes dry.
The plant will reward you with large and beautiful flowers in bright colors – red, yellow, orange, pink, etc.
Learn the symbolism behind Gerbera Daisy.
#6 African Violet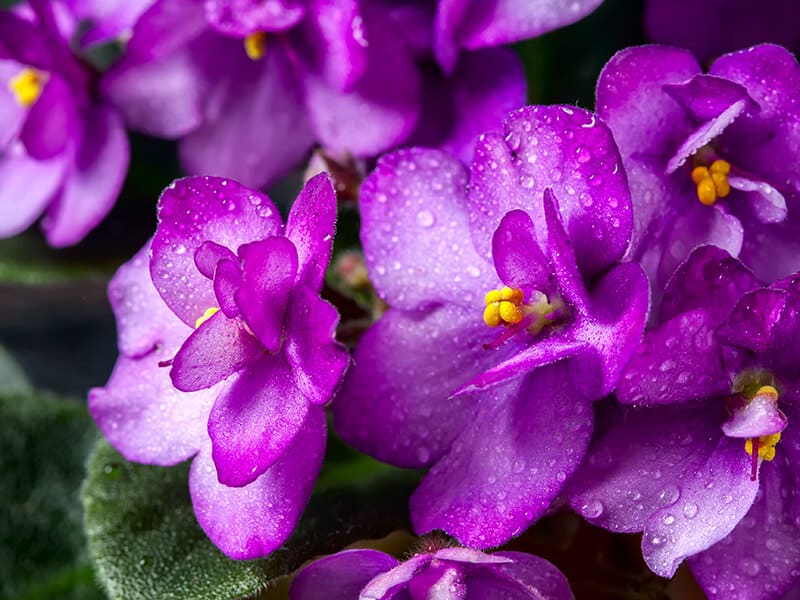 The lovely African Violets have the botanical name Saintpaulia to honor a German baron. The beautiful Violets have been loved for almost a century in the USA. It is because they add color and elegance to every home.
There are quite a few African Violet cultivars in different colors and with foliage differences. Still, the original ones with violet flowers are the most popular.
Read everything about these timeless indoor plants!
#7 Coleus
Plectranthus scutellarioides or simply Coleus is one of the statement plants because of its unique and attractive foliage. Coleus is perfect for beginners because it is a completely fuss-free plant.
You can start Coleus by cutting indoors in the water or by the seed. Both ways are perfectly good! Once you plant it, keep the plant moist, especially if you grow Coleus in a container.
With the beautiful bright pink leaves with vivid green containers, Coleus is one of the plants with the strongest contrast!
Learn more tips on growing Coleus!
Here is are crucial Do's and Don'ts for Coleus care:
#8 Prayer Plants
Maranta leuconeura or Prayer plant has distinct foliage with bright pink veins and dark green leaves. It is the perfect plant for partial shade locations in your apartment because the Prayer plant can die if you expose it to direct sunlight.
Also, the plant grows well in all humidity levels. However, if you can ensure higher humidity in the growing season, the plant will thrive.
Find out the most common problems with the Prayer plant and how to solve them.
#9 Arrowhead Vine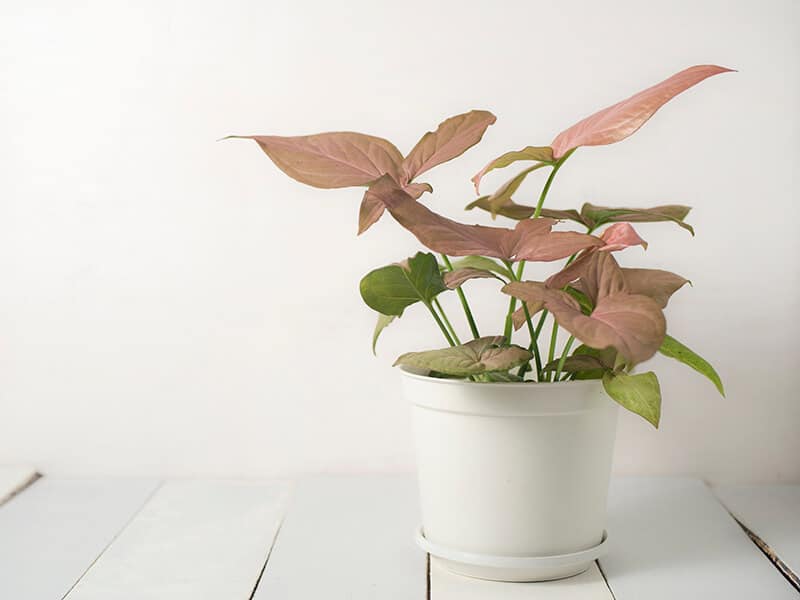 Syngonium podophyllum is one of the cutest indoor vines. It is better known by its common name – Arrowhead, because of the pointy, arrow-shaped leaves.
The pink cultivar Syngonium Neon Robusta has pastel pink leaves with a glossy finish. To keep the Arrowhead pink, you'll have to find the optimal watering frequency so the plant won't turn back to green.
Check out more information on the Neon Robusta Arrowhead plant!
#10 Nerve Plant
Fittonia albivenis is called the Nerve plant because of the impressive nerve net on the leaves. The colorful varieties feature dark green leaves with bright pink nerves.
If the pink nerves aren't appealing to you, pick the variety with red nerves. It is called the Christmas plant and will add the holiday vibe to your home!
The nerve plant comes from Peru. It enjoys high humidity and warm temperatures!
How much light does the Nerve plant need? Find out right now!
#11 Bird of Paradise
Did you know that Strelitzia is called the houseplants queen? It is because it is one of the most beautiful plants you can grow indoors. Because of its colorful appearance, the plant is called Bird of Paradise.
You'll have to keep an eye on the soil, to ensure it remains moist. But, try not to overwater your plant, as it may cause different issues.
Bird of Paradise develops large and broad leaves that highlight the bold flowers even more!
Read the best tips for growing Strelitzia indoors!
#12 Madagascar Dragon Tree
Dracaena Marginata or a pink variety of Dragon trees is the most popular of all Dracaena types. As the plant matures, it develops pinkish foliage which rises above the trunk in the reverse pyramidal shape. The plant quickly becomes a colorful focal point in every room!
There are several cultivars of Dracaena Marginata. One has red edges and dark green foliage, and I also like the one with yellow stripes!
Find out if your Madagascar Dragon Tree is poisonous!
#13 Chinese Evergreen
Aglaonema is better known under the name Chinese Evergreen. It is a tropical plant with rich and lush foliage, which gives bold structure to every plant display.
The cultivar with hot pink edges and splotches of color is especially loved. Aglaonema is also one of the easiest plants to grow indoors.
However, to keep the colorful edges as bright as possible ensure that the plant gets a lot of sunlight!
Discover more information on how to care for the Chinese Evergreen plant!
#14 Purple Velvet Plant
Gynura aurantiaca or Purple Velvet or Passion plant is one of the weirdest-looking indoor plants. The plant can be grown in a hanging basket so the velvety purple foliage can become more visible.
The plant thrives in bright but indirect light and moderate watering. When this purple plant develops flowers, the colorful fusion with purple foliage and orange-yellow flowers will emerge.
If the fragrance of flowers bothers you, it is best to remove them.
Learn when the Purple Velvet plant develops flowers!
#15 Rex Begonia
Rex Begonia is the most dramatic variety of all Begonias and the one the most colorful one. The plant is grown for the ornamental foliage, which can be in bright green, burgundy red, silver, and purple.
The Rex Begonia flowers don't have an ornamental value because the flowers are small and covered with lush leaves.
Keep in mind that the plant is toxic to pets!
Find out how to take care of your Rex Begonia.
These are the most important care mistakes for Rex Begonia:
#16 Poinsettia
Euphorbia pulcherrima or Poinsettia is a popular commercial plant, often associated with Christmas time. The plant is often grown as an annual indoor plant because it needs somewhat specialized care.
Morning light is ideal for the Poinsettia to grow because too much sun exposure may cause the red bracts to fade.
Watering is also tricky. The topsoil layer needs to dry out before you water the plant one more time!
Read more tips for growing Poinsettia this year!
Learn how to keep your Poinsettia healthy year-round. Watch the video:
#17 Spiderwort
Tradescantia Nanouk is a beautiful, easy-care vining plant. It is especially pretty when grown on hangers, trellises, and hanging baskets. The Nanouk variety loves high humidity, so a bathroom might be an ideal location for the plant. You can also keep the plant healthy with frequent misting!
Tradescantia Nanouk thrives in indirect light, ideally bright. Without enough light, the stripes on your Spiderwort will slowly fade, and the plant will have stunted growth.
Read everything about the Spiderwort plant, including the most popular varieties!
#18 Triostar Stromanthe
Stromanthe sanguinea is a beautiful plant with fully variegated leaves with hot pink. The plant is suitable for outdoor use in hot climates. In every other climate, the Triostar Stromanthe grows into a healthy plant indoors.
The plant needs medium indirect sunlight exposure. Too much light will burn the leaves, and too little light will make variegations look washed out.
The Triostar Stromanthe enjoys misting and humid environments!
Read how to grow Stromanthe indoors!
#19 Variegated Rubber Tree
Ficus elastica has multiple cultivars, and the most popular are colorful varieties with pink. You can choose Ruby Ficus elastica if you are into pinkish leaves. The plant is relatively rare and easy to care for.
It will adapt to various indoor conditions easily. During summer, water your Ficus once a week, and twice a month in the winter.
Read the full guide on how to take care of your Variegated Rubber Tree!
#20 Inch Plant
Tradescantia zebrina or Inch plant and Wandering Jew features distinct stripes on the foliage. It is closely related to the Tradescantia Nanouk, but Zebrina has purple stripes on the leaves.
The plant is a creeper and a perfect ground-covering plant but does well in the containers, indoors.
The flowers are unique, large, and purple, but the plant is almost exclusively grown for leaves and not flowers. In fact, indoor Wandering Jews rarely develop flowers.
Read more interesting facts on the Inch Plant!
Top 5 Most Colorful Succulents
Here is my selection of the most magnificent and vivid succulents for those who want something different in their plant display!
#21 Sticks on Fire
Euphorbia tirucalli, Sticks on Fire or Fire Sticks and Pencil cactus, is a unique succulent plant that develops long thin red stems. The plant requires minimal care. But, you'll have to provide a sunny location and warm temperatures in the room for the plant to survive.
This unique plant comes from Africa and India, where it is easily grown outdoors.
Are Firesticks resilient to pests and diseases? Click here to find out!
#22 Paddle Plant
Kalanchoe luciae or Paddle plant grows in the rosette shape, and the foliage has been speckled with dusty pink. If you keep the plant in the sunny garden or the sunny spot, the required care is minimal.
The Paddle plant needs four years to mature, but you may notice charming flowers in the second year.
Read more about the origin of the Paddle plant!
#23 Rainbow Echeveria
Rainbow Echeveria is probably the most beautiful plant of all succulents and beyond. The fleshy leaves grow in a rosette shape and have a hot pink color. Rainbow Echeveria is a rare cultivar of the more popular variety – Echeveria Perle Von Nürnberg.
It may be a bit tricky to keep the plant pink. But the optimal exposure to sunlight and not much watering will keep the plant healthy and colors vivid!
Discover more tips on how to take care of Rainbow Echeveria!
#24 Red Salad Bowl
Aeonium urbicum rubrum or Red Salad Bowl features a green rosette with speckles of red and pink. This succulent is drought tolerant and enjoys acid to neutral soil. Very little watering is needed for the Red Salad Bowl succulent to thrive!
In spring, the plant will develop beautiful small star-shaped flowers!
Here is the primary information on the Red Salad Bowl Succulent!
#25 Golden-Toothed Aloe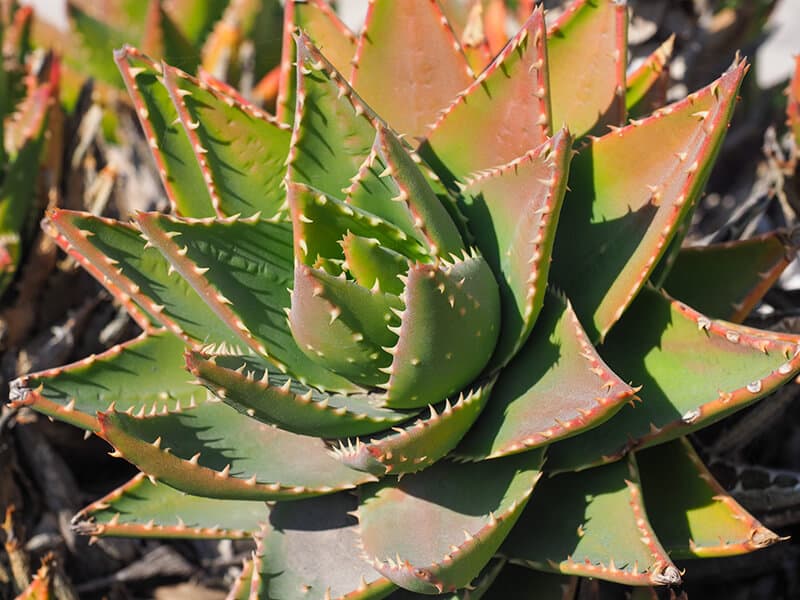 Hybrids of Aloe Nobilis or Golden-Toothed Aloe develop burgundy red foliage covered with golden teeth on the edges. The plant is compact but resilient and sturdy.
When you grow it in the soil, it can quickly spread up to 30 inches. In containers, the plant usually is thinner and grows around 10 inches in height.
Hybrids develop bright red-orange flowers in the late spring and early summer.
Read more care tips for Golden-Toothed Aloe!
Cheer Up Your Day With The Colorful Plants
Sometimes, it is hard to feel blue when you're surrounded by a vivid and colorful plant! Therefore, the plants are not only good as decoration, but they are also great for your mood!
Jokes aside, the colorful houseplants are unique decorations that can transform every room, corner, and plant corner into a stylish display of live plants!
Which colorful plant looks most attractive to you? I cannot make up my mind on Rainbow Echeveria and Rex Begonia. Also, Poinsettia is my favorite Christmas decoration ever!
If you like the article, please hit the like button! You can also share the list with your friends and family!