Colorful succulents are my favorite way to decorate a home and refine every space! In addition to being low-maintenance, colorful succulents are beautiful year-round!
If you are anything like me, you'll appreciate the easy-going nature of these plants mixed with high visual impact. Also, some of the succulents from my list are compact, so lack of space isn't an obstacle to growing colorful succulents!
Succulents transform from green to white, yellow, red, blue, etc. Their transformation depends on the most important growing conditions, such as sunlight, temperature, and moisture. Most succulents will develop the brightest colors if they are exposed to a lot of sunlight. Next, you can slightly reduce watering to help the color pop out. But, always check the specific growing requirements!
Take notes, here comes the list of fascinating colorful succulents!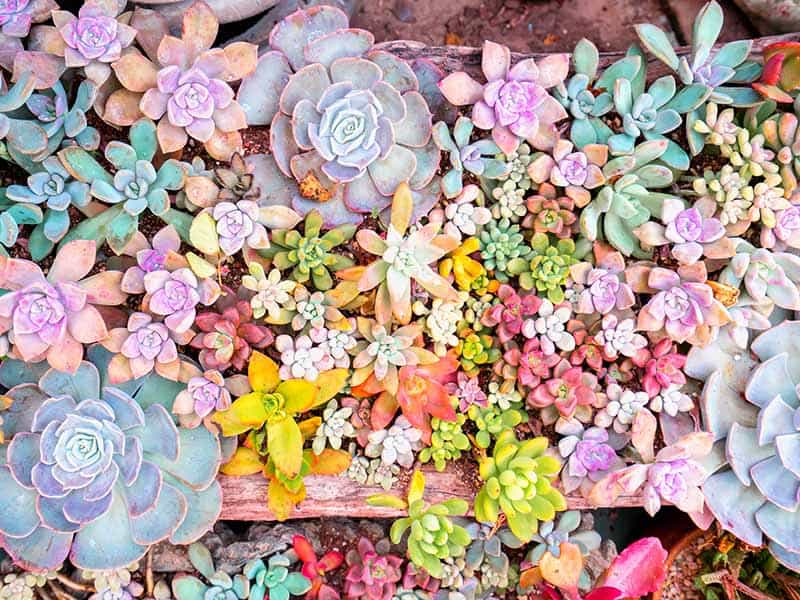 #1 Houseleek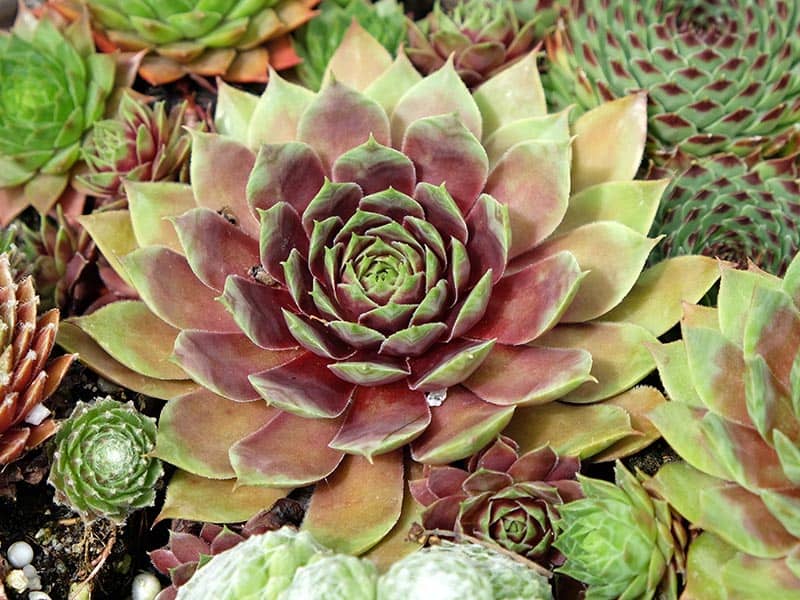 Houseleek or Sempervivum tectorum features thick foliage that grows in the rosette shape. This evergreen, low-growing succulent is best known for its pointy purple edges of the leaves, which sometimes may turn red. The plant is drought-resistant and a perfect choice for rock gardens!
Houseleek is a slow grower and stays beautiful year-round!
#2 Queen Victoria Agave
Agave victoriae-reginae, also called Queen Victoria Agave looks out of this world with dense foliage speckled with white on the tips and borders. The plant is native to Mexico and enjoys full sun and warm temperatures. The optimal watering schedule for the plant is once a month, even rarer during winter.
Queen Victoria Agave also develops lovely red flowers, several years after planting.
#3 Sticks on Fire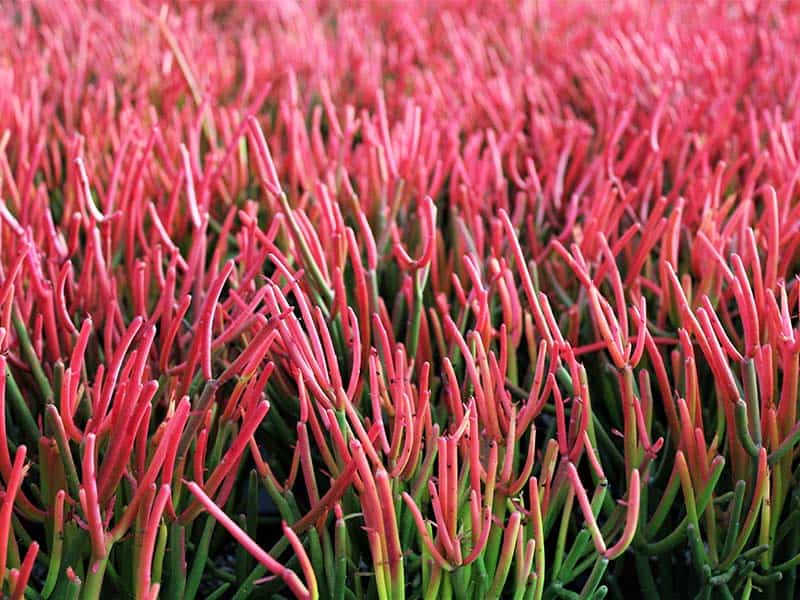 Euphorbia tirucalli or Sticks on Fire is an unusual colorful succulent shrub. The plant is resilient to most known pests and diseases and only needs minimal care. Moreover, it grows well in poor-quality rocky soil, as long as you plant it in a frost-free climate. Sticks on Fire look great in rock and Mediterranean gardens and garden borders, but you can also grow them in containers.
#4 Santa Rita Prickly Pear
Opuntia santa rita is a botanical name of the plant commonly called Santa Rita Prickly Pear. It has an upright growing habit and develops thick and fleshy silver-blue foliage.
During winter, the fleshy pads transform into purple pads and slowly go back to blue just before the plant produces flowers in the spring. Santa Rita Prickly Pear is an attractive succulent that tolerates light shade and is disease-free.
You can find it in Arizona, Texas, New Mexico, etc.
#5 Blue Beaked Yucca
Yucca Rostrata or Blue-Beaked Yucca is best known for its dramatic foliage colors. The plant develops vivid blue foliage, which stands erect on the base and forms a beautiful crown. As time passes, the plant develops a thick trunk.
Yucca Rostrata is often used for landscaping because it looks like a small tree! The maximum height it can reach is 12 feet.
Planting Yucca Rostrata: Easy method.
#6 California Sunset
California Sunset or Graptosedum features warm pinkish leaves and looks like a smaller version of the rosette. But, as time passes, California Sunset develops long stems.
When the new growth first appears, it develops a grayish color. But, in the winter months, due to cold temperatures and lack of moisture, California Sunset foliage turns orangey and pink.
#7 Molded Wax Echeveria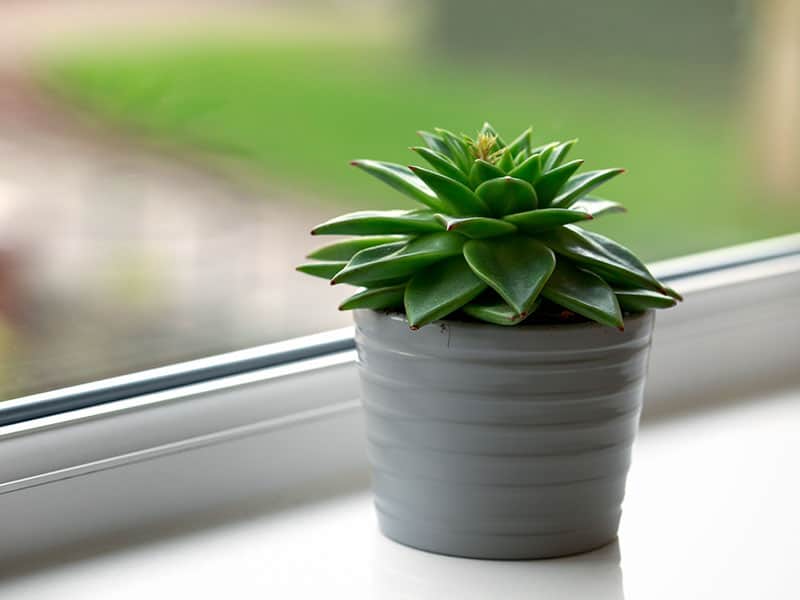 Echeveria agavoides or Molded Wax Echeveria develop small rosettes with maximum diameters of six inches. The foliage has vivid red pointy tips and doesn't need too complex care.
You can try the soak and dry method for this Echeveria to thrive. To do so, soak the plant in water and let it completely dry before you water it again.
Molded Wax Echeveria remains compact and doesn't get taller than five inches.
Quick, easy and safe way to repot Molded wax Echeveria.
#8 Lavender Scallops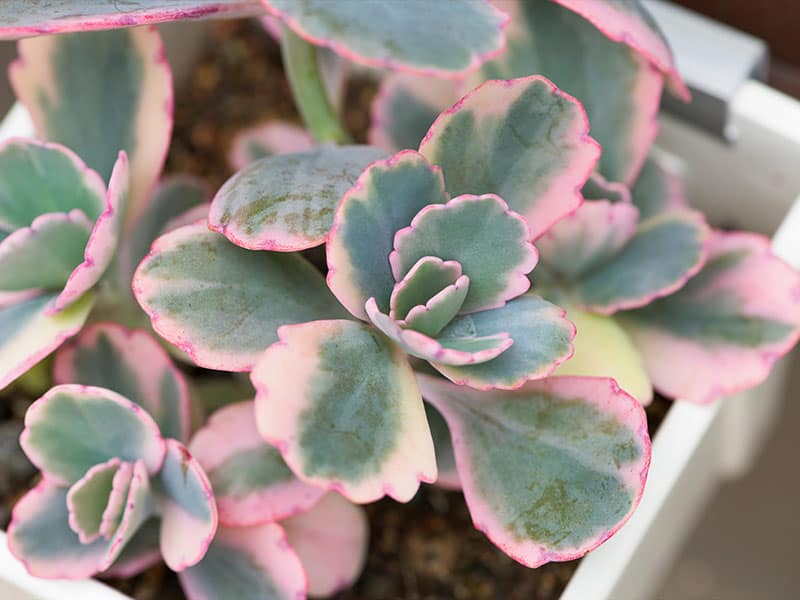 Kalanchoe fedtschenkoi or Lavender Scallops comes from Madagascar and is adored for the ornamental leaves and cute flowers. Because of the low maintenance and beautiful look, Lavender Scallops makes a great houseplant.
It stays short and shrubby and rarely gets taller than 2 inches. It can tolerate cold temperatures for a short time, but as soon as the temperatures drop below 25 degrees Fahrenheit, you need to provide warmer conditions.
Read the complete care guide for the lovely Lavender Scallops!
#9 Baby's Necklace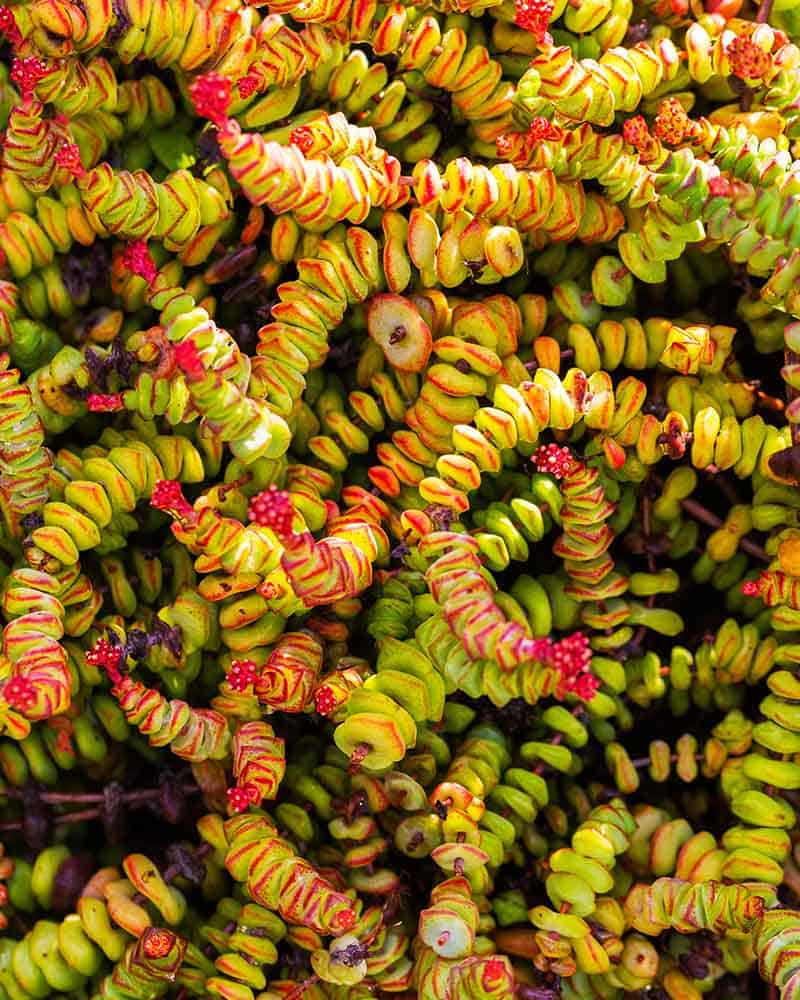 Crassula rupestris or Baby Necklace succulent is a stand-out plant! It forms clumps of upright stems and doesn't get taller than 12 inches. Overall, Baby Necklace is easy to grow, but you need to monitor the lighting and watering conditions.
Too much water can kill the plant, and too much bright sunlight may scorch the leaves.
#10 Mangave
If you are looking for fast-growing succulents, check Macho Mocha Mangave. The plant develops stunning large grey leaves with purple spots.
Like many other succulents, Mangave foliage forms a rosette shape. Macho Mocha Mangave is a large plant, and the average diameter of rosettes is almost six feet.
It is a great plant for landscaping in warm climate gardens.
#11 Golden-Toothed Aloe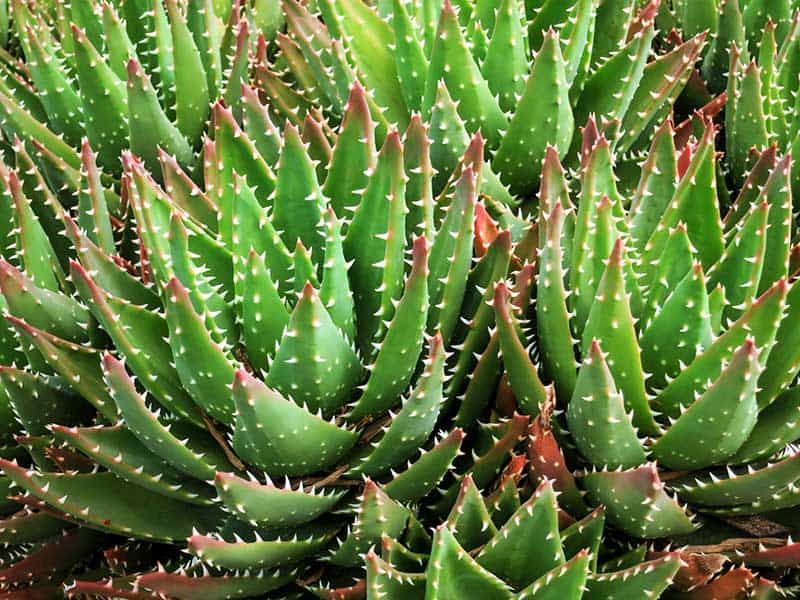 Aloe Nobilis or Golden-Toothed Aloe is an interesting-looking succulent. It grows between six and 12 inches and forms rosettes out of thick and fleshy, pointy leaves. The plant got the name by the yellow teeth alongside leaf borders.
Also, Aloe Nobilis develops red edges and red tips when exposed to a lot of sunlight, colder temperatures, and reduced moisture.
#12 Sunburst Aeonium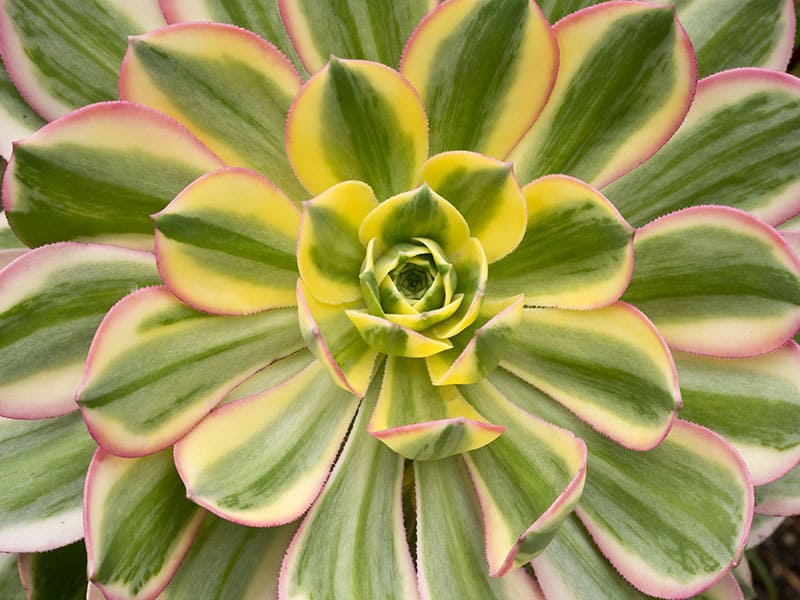 Striking Sunburst Aeonium will make a focal point in every plant collection because of the yellow-striped leaves. The plant goes dormant in summer and doesn't need any care during that time.
During the growing season, all you have to do for your Aeonium is to water moderately and use a liquid fertilizer every two weeks. During winter, only water Aeonium to prevent the leaves from drying out.
Your plant needs a lot of sunlight but may tolerate part shade if the rest of the growing conditions are ideal.
#13 Paddle Plant Desert Cabbage
Kalanchoe Luciae or Paddle plant, variety Dessert Cabbage is one of the most colorful succulents. It features bright green foliage, shaped like paddles and hued with bright red. The plant is tolerant to hot temperatures, salt, and drought.
So it is perfect for coastal gardens. You can grow it in containers as well and mix it with other succulents to create striking floral arrangements.
#14 Purple Heart
Tradescantia pallida Purpurea is native to Mexico. In semi-tropical and tropical areas, you can grow Purple Heart outdoors. In mild climates, grow Purple Heart indoors and ensure warm temperatures and plenty of sunlight.
Purple Heart plant got the name by the vivid purple color of the leaves and stems. The flowers are gentle pink and stand out against dark foliage!
#15 Sunset Jade Crassula Ovata Hummel's Sunset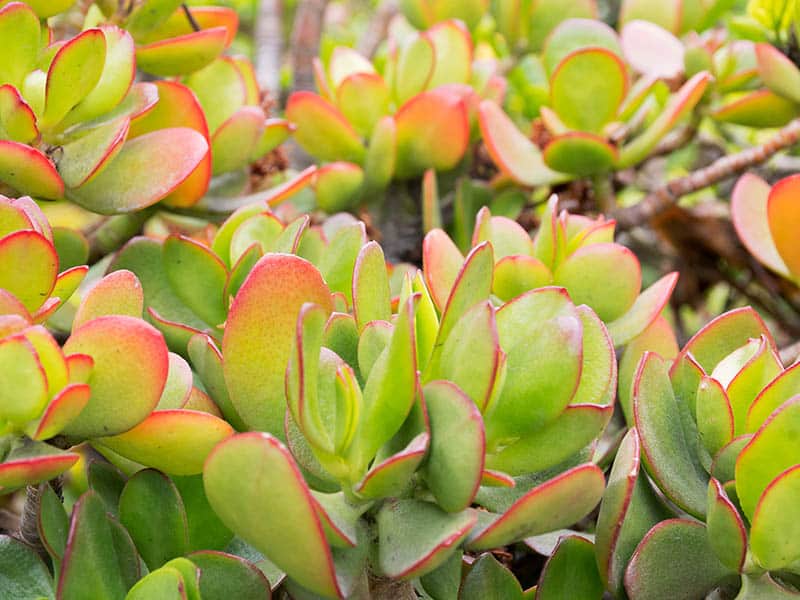 Crassula ovata Hummel's Sunset or Sunset Jade is a cheerful succulent with true green oval leaves with golden yellow borders. The plant instantly brightens up every space!
Sunset Jade isn't cold-hardy and needs cold-temperature protection and a lot of sunlight. You can grow it in containers during warmer parts of the year and bring it indoors to survive fall and winter.
#16 Zebra Plant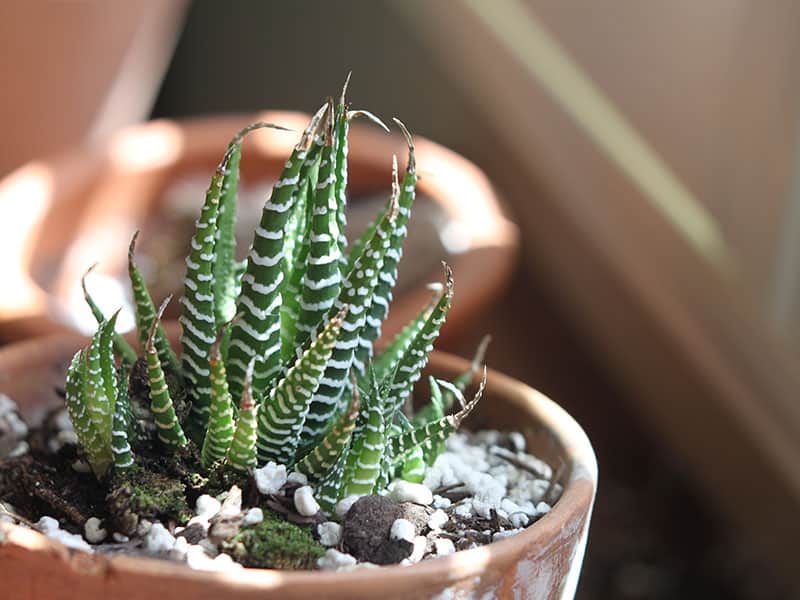 Haworthiopsis attenuata or Zebra plant is a low-growing and beautiful succulent plant. You can easily recognize it by the rich green leaves with white tubercles.
The Zebra plant is an ideal choice for semi-shaded areas. It thrives in warm temperatures and a well-draining potting mix. Fertilization is optional, but beneficial for the plant.
#17 Blue Chalksticks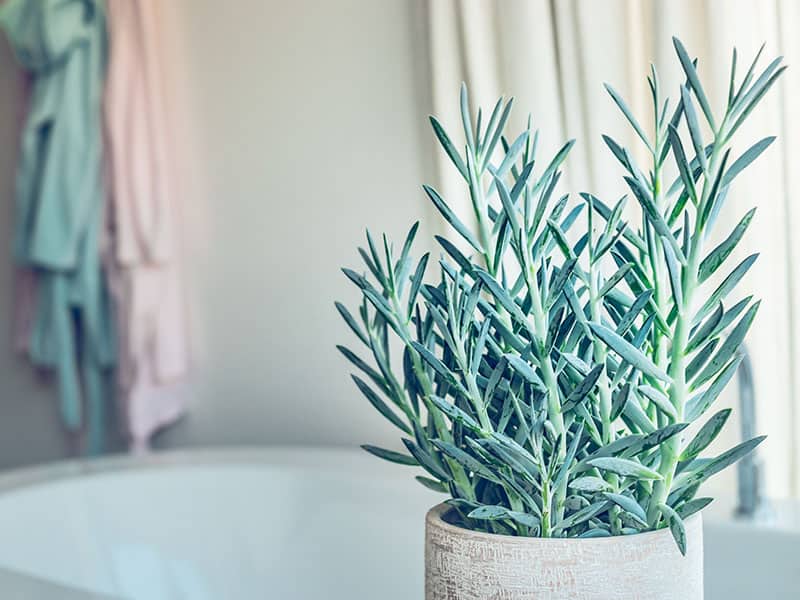 Senecio serpens is known as the Blue Chalksticks plant because of its thick and narrow, blue foliage. The plant is easy to maintain. Keep in mind that the soil needs to dry completely between two waterings to maintain healthy roots and offspring. Occasional use with low-nitrogen fertilizer will help the plant thrive.
Don't forget that the Blue Chalksticks plant is toxic for humans and animals so keep it away from pets and kids.
The best tips for fast-growth of your Blue Chalk Sticks succulent.
#18 Red Pagoda
Crassula capitella Red Pagoda comes from southern Africa. It is a succulent gem, because of the beautiful and unique look! The safe way to induce the rich red coloration on the leaves is to expose Red Pagoda to the sun in the morning. Keep it in a sunny location for at least four hours.
Never let Red Pagoda stay in direct sunlight for the full day, because it can make the leaves appear brown.
Red Pagoda needs infrequent watering and you can propagate it through cuttings.
#19 Coppertone Stonecrop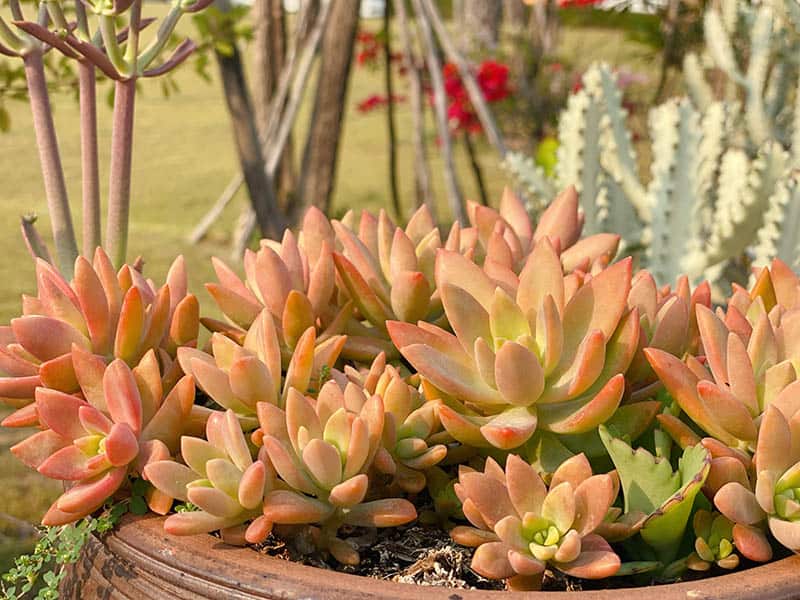 Sedum nussbaumerianum or Coppertone Stonecrop succulent is an eye-catching small succulent. If you live in a tropical climate, you can grow Coppertone Stonecrop as a low ground cover. In other climates, you can grow it indoors or in rock gardens.
To wake up the stunning copper color, expose the plant to full sun, and it will soon transform into a stand-out plant!
#20 Echeveria Subrigida Fire and Ice
Echeveria Subrigida Fire and Ice is wonderful succulent with spade-shaped bluish-green leaves. Every leaf has thin red borders, and you need to remove dead leaves promptly to prevent fungal diseases.
Once the plant overgrows the current pot, you can repot it but ensure the weather is warm. Treat the cuts on the plant with a fungicide to keep the plant healthy.
#21 Cheyenne
Another Echeveria on my list, the stunning Cheyenne cultivar is sometimes called Shaviana. The plant develops a greyish rosette with pink hues and a powdery coating of farina. If you live in a frost-free climate, grow the Cheyenne Echeveria outdoors. If not, keep the plant indoors near a sunny window and it will slowly develop stunning color and recognizable rosette shape.
#22 Black Beauty Aeonium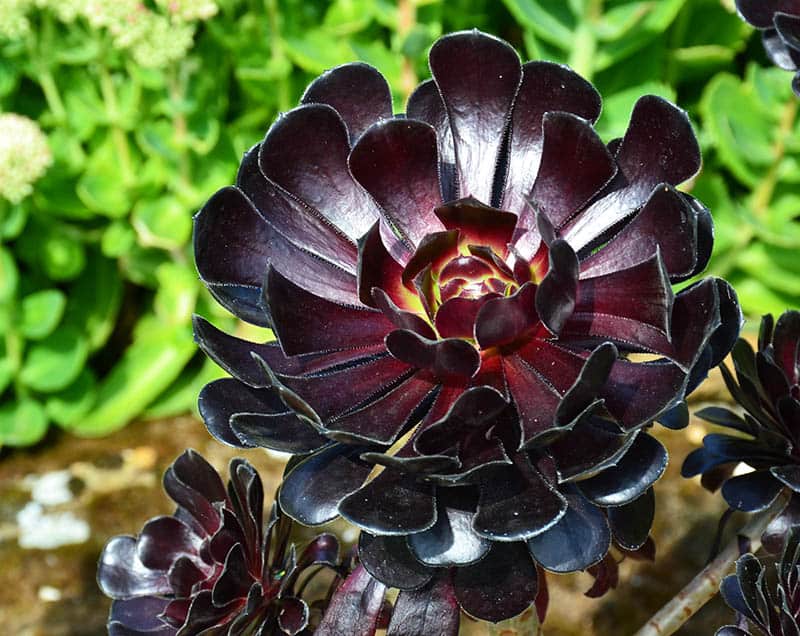 Black Beauty Aeonium is an award-winning succulent with a striking appearance and easy-going nature. It can be difficult to track down, so if you get your hands on this rare Aeonium, never let it go!
The plant develops 8-inch large rosettes with a stunning purple color that turns darker towards the outer foliage. The ideal growing conditions for this succulent are full sun, sandy, well-draining soil, and moderate watering!
#23 Black Knight Echeveria
The purple Echeveria is called Black prince, Black knight or Mexican hen, and it is a succulent worth your attention. The plant needs a warm, frost-free climate, ideally above zone 9. You can grow it outdoors in colder climates in containers but bring it inside when the temperatures drop in fall and winter.
Get more tips for growing Black knight!
#24 Briar Rose Echeveria
Briar Rose develops small rosettes with its pastel green foliage, sprinkled with pastel pink. During winter, Briar Rose Echeveria becomes more vivid and more beautiful.
The rosettes don't get wider than four inches, which makes them perfect for compact spaces.
#25 Chroma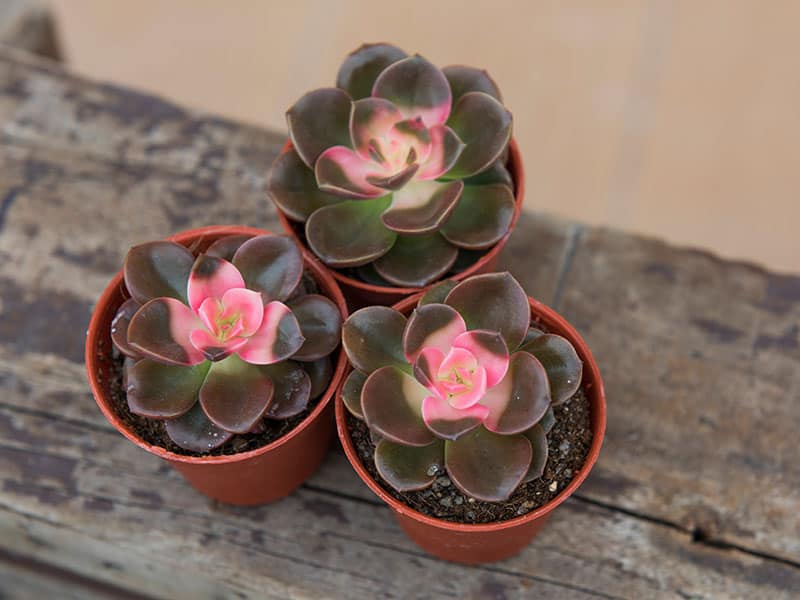 Echeveria chroma or shortly chroma has a unique appearance. Sometimes, the central part of the rosette is colored pink in the winter months, which makes it a standout feature! The rest of the foliage remains true green and contrasts the lovely pink color from the center.
Other times, the leaves get pink stripes!
Chroma isn't much different from other succulents in terms of care. It needs moderate watering and a lot of sun besides warm temperatures.
#26 Wooly Senecio
Senecio haworthii or Wooly Senecio is the perfect succulent for rock gardens! It is also one of the easiest succulents to start from leaves. Use a well-draining, succulent potting mix and basic propagating skills. Senecio haworthii develops fizzy silver foliage, which gives the plant a sophisticated look!
#27 Happy Plant
Who doesn't want a Happy plant in their home? In addition to funny names, the Happy plant is also a delightful houseplant to grow. The botanical name of the plant is Sedeveria Blue Elf, and it is a hybrid plant that is becoming a smash hit on the plant market.
It has been developed to enjoy low maintenance and full sun!
#28 Moon Cactus
Gymnocalycium mihanovichii or Moon cactus, features vibrant red, pink or yellow tops on the thick and fleshy true-green stems.
The plant needs a balance between shade and light so the pigment can develop, and the sun doesn't burn the leaves. It needs a warm setting, low moisture, and well-draining soil to thrive.
#29 Pink Champagne
Echeveria Pink Champagne is a charming pastel succulent. It features pointed foliage in the most beautiful shades of baby pink.
As the pink pigment fades, it becomes more lime green, which maintains the beautiful look of the plant.
#30 Living Stones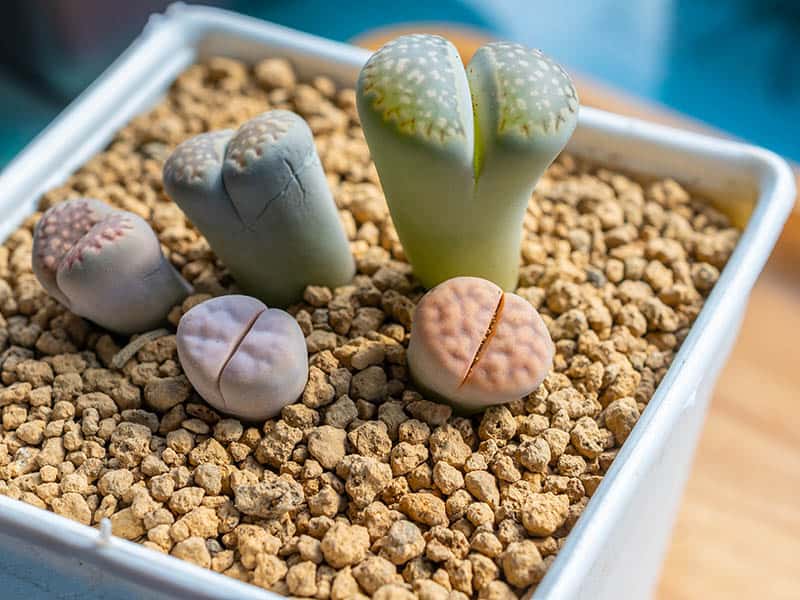 Lithops or Living stones are unusual plants, native to southern Africa. Essentially, these succulents look like colorful pebbles and are great for colorful plant arrangements! Additionally, these succulents bloom, with daisy-like flowers, which give them an out-of-the-world appearance!
#31 Blue Carpet Sedum
Sedum hispanicum, variety Blue Carpet is a blue succulent with broccoli-shaped florets. The succulent looks amazing when planted in containers indoors, but you can also grow it outside in warm areas. The plant gets pink foliage during summer, which aids the visual impact! The plant doesn't need fertilizer, and is easy to grow!
#32 Campfire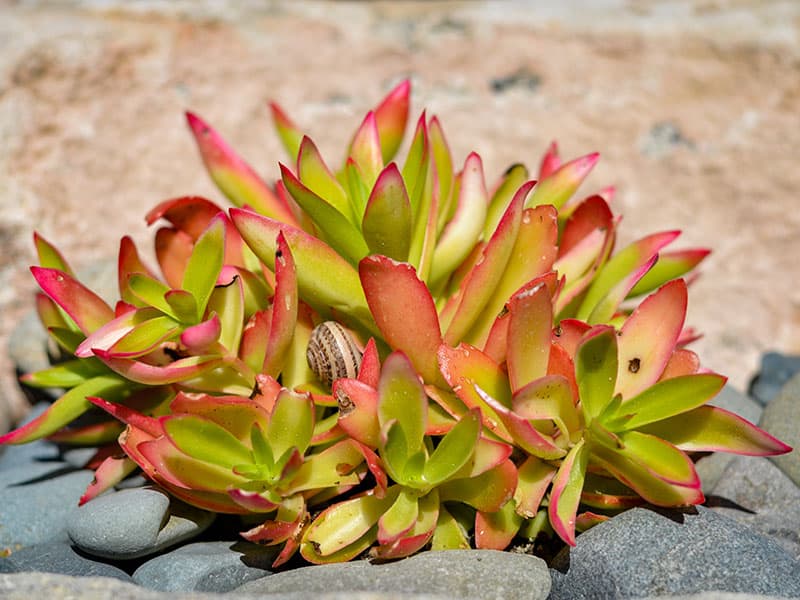 Crassula capitella Campfire, or shortly Campfire, features thick leaves that are bright green for the most part of the year. But, if you keep the plant in full sun for a prolonged time, the light will stress it out and transform it to orange and red succulent!
The vibrant red succulent develops creamy white, gentle flowers in summer.
With Campfire succulent, keep an eye for fungal diseases, as the plant is prone to them.
#33 Pink Moonstone
Pachyphytum oviferum, a Pink Moonstone variety, is a gentle, eye-catching plant that will be a great addition to your plant collection.
The plant grows best in a sunny spot and needs only a minimum amount of water. Overwatering is the quickest way to kill your Pink Moonstone, so water the plant only when the top several inches of soil gets dry.
#34 Job's Beard
Sempervivum heuffelii or Job's Beard features slightly different rosettes than other succulents. The rosettes are formed from flat and thin, pointy foliage outlined with a white hue.
Outer parts of rosettes transform to burgundy red and the central foliage remains vivid green. The plant needs full sun and regular watering during the growing season – spring and summer.
#35 Blue Spruce
Sedum reflexum or Blue spruce enjoys full sun or light shade. It needs fertile, medium-dry, and well-draining soil to remain healthy year-round. Once established, the plant needs even lower amounts of water! But, you need to protect the plant from cold winter temperatures and high humidity.
Blue Spruce is great for rock gardens and borders, but you can also grow it in pots!
#36 Jelly Bean Sedum
Sedum rubrotinctum Aurora or Sedum Jelly Bean is a chubby succulent with colorful foliage! Whether you grow it as a single specimen or alongside other succulents, Jelly Bean becomes a focal point in every setting!
The best thing about Jelly Bean Sedum is that it doesn't mind being neglected! In fact, the less care you provide for the plant, the healthier it will remain!
#37 Purple Giant
Anacampseros retusa or Purple Giant comes from South Africa and Namibia. The plant features foliage growing in a dense pattern. For most of the year, the leaves are brown-green. But, they may get more vivid when you keep the plant under direct sunlight.
Purple Giant is also grown for its pink blooms! Interestingly, flowers open in the afternoon and close several hours later!
#38 Snake Plant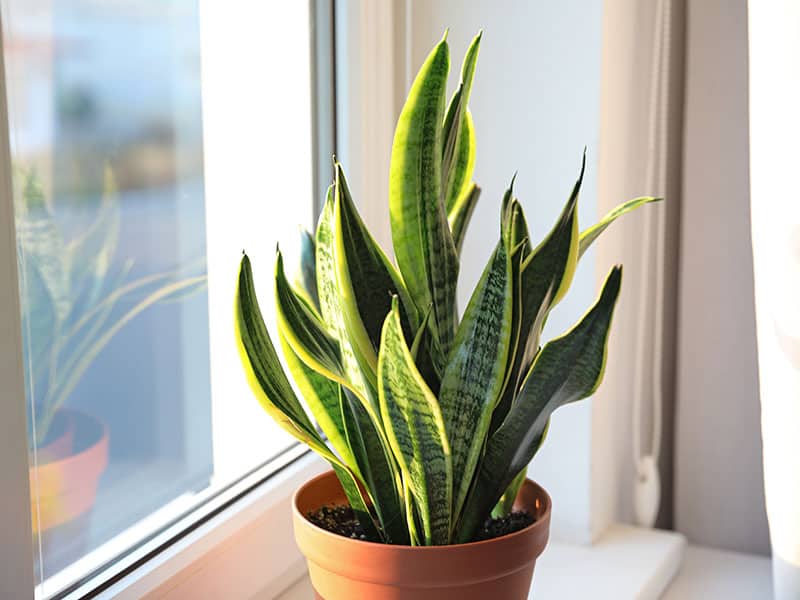 Sansevieria trifasciata or Snake plant is a popular houseplant. It is larger than most succulents from the list, and it shares practical succulent features. Those include attractive foliage and easy care!
This tropical plant develops bright yellow stripes on the margins of the foliage and can withstand different conditions.
Here is everything you need to know about the Snake plant before you grow it in your home!
#39 Tricolor Sedum
Sedum spurium Tricolor is a very adaptable houseplant. Therefore, it is suitable for beginners, because it is fuss-free plant! It also tolerates cold well.
The average size of the plant is 5 inches and 18 inches in spread. It develops small leaves with pink margins! You can also grow it outdoors in light gardens!
#40 Variegated Strings of Hearts
Ceropegia woodii var or Variegated String of Hearts is a colorful version of the popular trailing plant. The plant has heart-shaped leaves, variegated with different shades of yellow and pink. It looks best when grown in a hanging basket, so the thick vines with beautiful leaves can stand out!
Too bad it is a rare succulent!
#41 Variegated Jade Plant
Do you like the original Jade Plant? Then, you'll love the variegated version of it! It is called Crassula ovata Tricolor.
The plant has fleshy foliage striped with creamy yellow grey.
In the bright sun, the pink hue appears on the margins!
Variegated Jade Plant blooms in late winter to signalize that the spring is just around the corner!
#42 Dragon's Blood
Phedimus spurius Dragon's Blood is a striking, colorful succulent that might not be everyone's cup of tea. Also, the plant might be slightly toxic to humans and animals. The plant is attractive and it produces bloody-red foliage, which forms rosettes.
Dragon's Blood succulent thrives in the well-draining cactus mix, and full sunspot, but it can tolerate light shade.
#43 Morning Light Echeveria
Morning Light Echeveria is a charming Echeveria succulent, with lavender-blue foliage and pink leaf borders. The flowers are striking orange, which, alongside colorful foliage, gives the plant a cheerful and colorful look! Like other Echeverias, Morning Light is easy to take care of, as long as you provide warm temperatures and well-drainage.
#44 Giant Chalk Dudleya
Dudleya brittonii or Giant Chalk Dudleya has chalky white leaves, which form solitary rosettes. The rosette diameter doesn't exceed 18 inches.
Giant Chalk Dudleya is also known because of the clusters of yellow flowers which begin to appear in early summer.
It is a common seaside plant and loves tropical conditions with a lot of sunlight and only a small amount of water.
#45 Romeo Rubin
Echeveria Agavoides Romeo Rubin is easy to recognize by its glossy and fleshy foliage, and deep pink rosettes. To remain healthy and delightful, Romeo Rubin Echeveria needs a consistent light.
Overall, the plant grows better in warm climates outdoors, where it looks attractive against rocks and other green plants.
Propagate Romeo Rubin from leaves.
#46 Ghost Plant
Graptopetalum paraguayense or Ghost Plant comes from the same family as the Jade plant. The plant is becoming more popular because of the pinkish-grey foliage and lovely yellow flowers. The Ghost plant is easy to grow from seeds and cuttings! When mature, the Ghost plant gets around 12 inches tall and 20 inches wide.
#47 Love Plant Sunrise
Anacampseros telephiastrum or Love Sunrise plant has multi-colored leaves in shades of pink, yellow and green. The amount of sunlight dictates the brightens of the colors. The more sunlight the plant is exposed to, the brighter the pink is!
You can keep it on the sunny window or grow it outdoors if you live in a tropical climate.
The easy way to propagate Sunrise succulents.
#48 Painted Echeveria
Echeveria nodulosa or Painted Echeveria is native to Mexico, and the plant is almost disease-free. Lovely green leaves feature colorful stripes and borders and the plant develops flowers in summer. The flowers aren't fragrant and they come in dull-yellow color sprinkled with pink.
Echeveria nodulosa is excellent as a houseplant. But, you can also grow it in the garden and it will attract hummingbirds!
#49 Tiger Jaws
Faucaria tigrina is better known as the Tiger Jaws plant. People even call it Shark Jaws! It is a low-growing plant, and the maximum height it can reach is 6 inches. The leaves are triangular, thick and upright, slightly pointy. But, what makes the Tiger Jaws plant stand out are the white serrations that look like tiger teeth!
The plant loves the sun and can be grown outdoors, in zones 9b to 11. Elsewhere, grow it indoors.
#50 Peacock Echeveria
Peacock Echeveria develops small 6-inch wide rosettes with oval and pale blue leaves. When you keep it exposed to bright light, the leaves of Echeveria Peacock develop a red, and orange hue on the margins and tips.
The plant has low water needs and needs a lot of sunlight. Otherwise, it will lose its hue and the leaves won't appear as ornamental.
#51 Dudleya Pulverulenta
Dudleya pulverulenta looks similar to the Dudleya I mentioned earlier, the Brittonii cultivar. But, Pulverulenta needs more complex care and develops different flowers. Pulverulenta has tubular red blooms with white stripes which improve the overall look of the plant.
They are best suited for rock gardens and planting on the slopes where they get excellent soil drainage.
The Unbelievable Beauty Of Colorful Succulents
How did you like my list? There is a tough task for you – pick and find your favorite colorful succulents! You might struggle to find some of them because they are rare and only several nurseries may keep them as part of their standard offer.
Every succulent you choose, the plant will reward you with beautiful foliage and unusual appearance as long as you keep in under bright sunlight!
Don't forget to hit the thumbs up if you enjoyed the article!