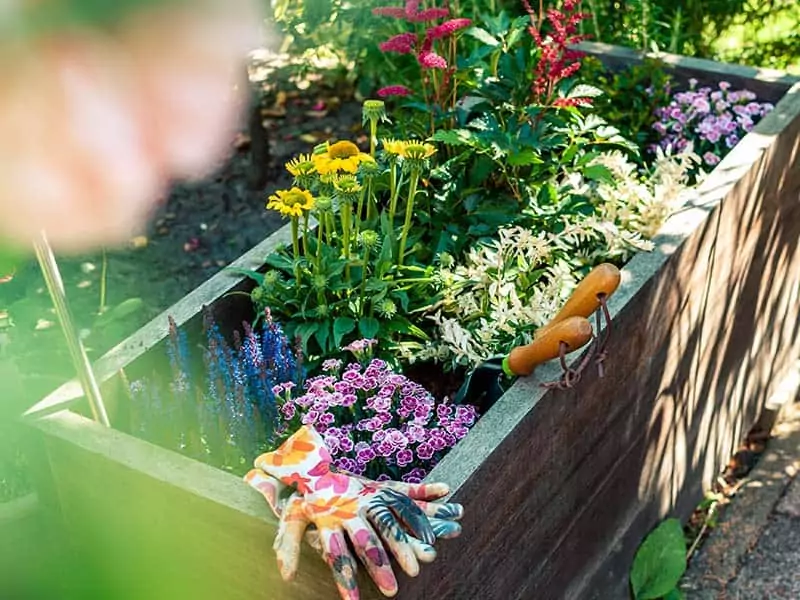 The best container garden ideas don't have to be expensive or complicated to make to be effective! You only have to use your imagination and a little help from my side to spruce up every outdoor setting!
I made a diverse list of attractive container ideas to inspire you to get your hands dirty, get some gardening tools, and show love to your plants! I will mention some excellent plant combinations and bring you details on how to mix plants in containers to create beautiful arrangements.
Get ready, here are the best ideas for container gardening to try!
1. Start Simple With Hydrangeas
If you are a beginner and you want to try something simple, yet effective, Hydrangeas are the solution! The beautiful Hydrangeas shrubs are spectacular in containers. If you are up for a challenge, you can pair your Hydrangea with Euphorbia, Licorice, or Lobelia for even better effect.
It will decorate your garden from spring through fall!
2. Two-Plant Focal Container Combo
Ferns are usually planted with other ferns, but you can make things better! Pick an attractive fern or fern-like plant with standout fronds and plant it with wildflower in one container! The combination is wonderful and so simple!
You can follow the primary guidelines for container planting for the best results. Keep in mind plants' soil, sun, and watering preferences and find the plants with similar requirements.
3. Green & Purple Stand Out in Containers
A green-purple-white combination is always welcome on the patio! Combine purple flowering plants with the ones with lush green foliage. Luckily, you have plenty of flowers to choose from, including part-sun or full-sun plants.
I like purple Wallflower in this mixture, but you can choose whatever purple blooms you've got!
Most of the plants for this idea bloom around Easter, so they will be an excellent spring decoration.
4. Ornamental Grass Adds Texture
Ornamental grass adds texture and visual interest to your containers in the fall. Orange Bougainvillea is such a standout plant in fall container arrangements. You can add several types of ornamental grasses or stick to only one in the combination.
You'll need a large container for the project! I like using more cut branches of Japanese silver grass and one cut branch from all other plants.
5. Two Herbs Container
Herbs are great for container planting. But, if you plan to keep the container outdoors, you need to combine herbs that have the same zone hardiness. For example, I recommend planting variegated Society garlic with lovely purple garden Sage!
The two herbs are low maintenance, and look great when planted together!
6. Make a Bold Statement with Ornamental Veggie
Flowering kale is great for cool-season planting and can transform any flower combination easily. It features open, upright leaves which form a charming rosette.
It will become a bold statement of your container, and the rest of the plants will blend in to make a beautiful floral arrangement.
7. Container That Herald Spring
With spring just around the corner, it is time to spruce up your garden containers! Plant purple and pink flowers for an extra dose of color. A colorful container like this will welcome spring and Easter most spectacularly!
8. Remarkable Caladium Garden Container Idea
If you are following the thriller-filler-spiller formula for container gardening, pick Caladium as a thriller! Large leaves and tall Caladium stems will still show off your container. You can include any weeping plant in the bottom and add herbs as filling plants.
Tips to create your thriller-filler-spiller combination.
9. A Great Option For Tall Containers
Tall containers look elegant when placed next to pathways or doors. The trick you can use to ensure your plants have the best-growing environment and to save some potting soil is to place packing peanuts at the bottom.
Then, you can add your plants! Spike, Petunias, and Sweet potato vine are a simple, yet effective combination which will brighten up any space!
10. Attractive Layering Pattern in A Pot
You can also combine several plants with lush foliage, instead of highlighting the flowers. Cordyline, Geraniums, and King Cole can be mixed with vines to make the arrangement fuller!
Pick a huge container with drainage holes to prevent any future plant problems! Combine plants with similar sunlight requirements, so each plant foliage remains healthy and good-looking!
11. Wonderful Winter Container
Sure, plants thrive in the warm season, but with a little bit of creativity, you can successfully make an attractive winter container!
Magnolia, Eucalyptus, Holly, Grass plumes are just some of the items you'll need. Add spruce twigs, pine cones, Dogwood twigs, and berries. You can use real or artificial berries.
Don't forget to add solar lights and bows as final touches!
12. Burgundy Shades For Fall Planters
If you prefer deeper shades for fall planters, here is a combination you wouldn't want to miss!
Prepare Nandina, Cordyline, and Coleys plants to add to one side of your planter. Fill the rest of the container with dwarf Weeping Loropetalum and that is all! This unique plant mixture will look even better in a copper container.
13. Green Rapsody In a Pot For Every Setting
A combination of delicate ferns and large-leaved plants on your patio is a tremendous way to compliment every space. The combination includes Elephant ears plant with huge leaves, ZZ plant, and red Egyptian star flowers.
During the blooming season, your red Egyptian star flowers will decorate the green rhapsody you have going on in your container with tiny pinkish blooms!
14. Monochromatic Container Idea
Monochromatic isn't always boring. Instead, it can look quite elegant. Prepare Caladium, White Wonder cultivar as a focal point.
Add Silver Falls Dichondra for texture and contrast! Position the container on the full sun or part shade location and let Dichondra fall over the planter rims for an even more beautiful effect.
15. Contrasting Petunias
Here is a bit of an unexpected combination – yellow Cannas and blue Petunias! The best Petunia varieties for this contrasting container will match ordinary yellow cannas perfectly. You can also add Surfinia blue sky cultivar to provide more depth to the arrangement.
Remember to avoid wetting Petunias foliage during watering to keep the plant healthy and thriving!
16. Head-Turner Planter With Huge Succulent
Succulents are usually planted with other succulents for a crowded and attractive look. But, if you pick a large Agave succulent and plant it with Dichondra, you can achieve the epic effect.
The Frosty blue Agave and Silver falls Dichondra is an especially good combo. Still, you can choose whatever agave you have in your local nursery!
17. Add Tropical Vibe to Your Container
If you live in a warm climate, try combining any palm that can survive in a container with other colorful flowering plants. Pick low-growing plants under the palm, to compliment tall palm fronds and accentuate the palm tree. Majesty palm is one of the best options for group planting.
Don't forget to match the sun requirements for your palm and complimenting plans!
18. Hanging Container Fairytale
Who said planting in groups is only suitable for ground containers? You can make a spectacular plant display with only three plants and a hanging container! A large Streptocarpella plant will pair perfectly with Vinca major and Creeping Jenny!
Use slow-release fertilizer to help the plants develop lush foliage and pretty blooms.
19. Water Container
Making a water container isn't as complex as it might seem. You'll have to pick a wide container to prevent algae growth and choose the plant combination wisely.
For example, use floating plants, such as Water Hyacinths, Water Clover, or Lettuce. Add Hornwort as a natural filter to complete the water container.
20. Sun-Loving Container Combination
If you have an empty position on the sun, it is time to get your hands dirty and design an outstanding container with sun-loving plants.
Get a container that can accommodate several plants and enough potting soil. My combination includes Canna Lily, Euphorbia, Superwave Petunia, and irreplaceable Sweet potato vine! Once you plant all of them in the container, fertilize the soil to boost growth!
21. Coral Flowers Add Dynamic
The next planter idea focuses on tall and colorful plants next to gentle coral flowers. The combination of purple-blue salvia with coral Petunias looks dynamic and is easy to maintain.
Add more plants, such as white Impatiens and Creeping Jenny to complete the look. Decide which layout you want and start by adding a layer of pebbles under the potting soil. It will improve the drainage.
22. Welcoming Garden Container With Flowers
Prepare a large container with excellent drainage. Clean it thoroughly and get some high-quality potting soil if you want your plants to thrive! Then, decide on the plant combination.
Purple Fountain grass is tall and can be a focal point in the container. Plant Geraniums and Marigolds around Fountain grass to get a colorful container layout!
23. Container Filled With Summer Joy
If you have an old wine barrel, use it to make a stunning summer container! Fill it with colorful plants to transform your garden and any outdoor setting!
Tall Salvia is an excellent companion plant for yellow Rudbeckia and colorful climbing Petunias. These plants are great for warm summer weather and aren't sensitive to temperature changes!
24. Colorful Succulent Container
In general, succulents are low-maintenance plants that are usually grown in groups. But, if you want to create a lovely succulent container, pick succulents that are hardy for your zone.
For example, Sempervivum is hardy in zones three to nine and shares the growing requirements with blue Sedum. You can mix several Sempervivum cultivars to create a colorful plant display in one container.
25. Container With Different Purple Shades
Is purple your favorite color? If you answered yes, here is a combination to try – Lavender and purple Verbena!
Tall lavender stems rise above delicate Verbena flowers and look beautiful in a silver, metal container. You can keep it in part or full sun. If you plan to use large and established plants, pick the container size accordingly.
26. Veggie and Herb Container Combination
Everything is possible with gardening! You can even grow your herbs, veggies, and flowering plants in one container. However, growing vegetables and flowers together in a container differs from growing them in the ground.
You can plant Swiss chard and Kale with Snapdragon or Pansies. The result is a beautiful container with edibles!
27. Colorful Bulbs in Container Combinations
You can create stunning containers with various bulbous plants. But, keep in mind plant height expectations when deciding on the layout in your container.
The tallest bulbs should go in the center, surrounded by mid-tall flowers. The shortest flowers look best when placed on the edges of the container.
28. Experiment with At Least Five Plants in The Container
If planting more than three flowers in one container doesn't scare you, here is an idea to try! Prepare a large container with excellent drainage, high-quality potting soil, and slow-release fertilizer.
The plants you can combine are vines, cascading flowering plants, ordinary flowers, ornamental grasses. The combination possibilities are endless, and you should only keep in mind the color scheme and growing requirements.
The more plants you choose, the more authentic combination you'll get.
How Coleus behaves with other plants in mixed containers?
29. Impressive Succulent Containers
If you have spent years growing your succulent collection, it is time to display them together! The fool-proof succulent group which can be planted together includes Agave, Echeveria and
Sempervivum. You can add other winter-dormant succulents to the arrangements. Plant summer-dormant succulents separately.
30. Lavish Container for Patio
Dracaena Spikes aka Dracaena indivisa is a versatile, container-suitable plant you can combine with the largest number of plants. Spike isn't difficult to care for, and it will adapt to whatever conditions other plants in the group need.
Mix it with Petunias, Geraniums, and Sweet potato vine or Creeping Jenny.
31. Emerald Dichondra Is a Statement Plant
Silver Falls Dichondra features subtle foliage color, and Emerald Falls cultivar is more of a statement piece in every container.
The lush foliage shines in the light and complements whatever companion plant you choose. Also, Emerald Falls Dichondra can be a single specimen plant or used in a larger group.
32. Versatile Container Hydrangeas
There is more than one way you can grow Hydrangeas in containers. You can plant them as single specimen flowers, or combine them with other plants. However, Hydrangeas need ample space.
Therefore, provide a huge container and pick companion plants wisely so they can develop freely next to Hydrangeas. I like the pastel combination of Lavender and purple Hydrangeas, but you can pick your own duo or plant trio!
33. Cheerful Dahlias as Stars of The Show
The next combination is charming and highlights gold Dahlias in all their shine and beauty. I recommend choosing Durango Dahlia cultivar for this container idea.
A yellow-white-green combination is fresh and perfect for spring containers. You also have a lot of plants that meet these color requirements. Most of them are low-maintenance, inexpensive, and easy to mix with others, such as Petunia and Bidens ferulifolia.
34. Landscaping at Its Best
Do you have a large terracotta pot you don't know how to use for landscaping? Here is an idea to try! Plant Zinnias with their companionship plants! You can keep the color range the same or mix and match colorful flower combinations.
Plant Zinnias in a container from seed.
35. Cilantro with Flowers? Yes, Please!
Combine Zinnias and Dahlias for a colorful container setting! Add Cilantro seeds when planting your flowers, and watch the container get the texture and attractive appearance.
If you aren't ready for experimenting with herbs and flowers, you can plant Cilantro with water-loving herbs, dill, or leafy vegetables. Either way, you will get a charming container, ready for display on the patio.
36. Use Snake Plant For a Dramatic Effect
Snake plant is a typical indoor plant, but you can bring it outside for summer vacation! It is your chance to combine it with other plants to create a dramatic effect on your patio.
Mix it with Echeveria, Sedum, and Kalanchoe. Don't forget to bring the plant back indoors when the temperatures drop in the fall!
37. When you Lack Inspiration, Use Grass
Ornamental grass is relatively easy to grow in containers. It is also one of the best options for mixed planting, and you can pair it with almost anything for fall, spring, or summer container gardening projects!
Consider Optic grass, Blue Arrow rush, Carex, and New Zealand wind grass as great, overall options for container gardening.
Protect your ornamental grass through winter.
Don't Be Afraid To Experiment With Container Gardening
There are some rules to follow when experimenting with container gardening. But, as long as you pick plants with similar needs, you have endless possibilities!
Pick your color scheme and standout plants, and share your ideas with me in the comments!
I will try mixing edibles with flowers this spring and let you know how that went!
I hope you found the article useful!