Different Croton varieties are used for home decoration and landscaping. Do you have a favorite one? Maybe after my list, you'll manage to pick the favorite Croton type to grow at home!
Croton is native to India, Malaysia, and Sri Lanka. But the name – Croton is Greek, because of the specific foliage shape!
The magnificent variegated croton types are the most popular, and they make statement pieces on every plant display.
So, if you are looking for a fresh and attractive new plant to spruce up your current collection, please check the following list!
You'll also find information on the care of each Croton type!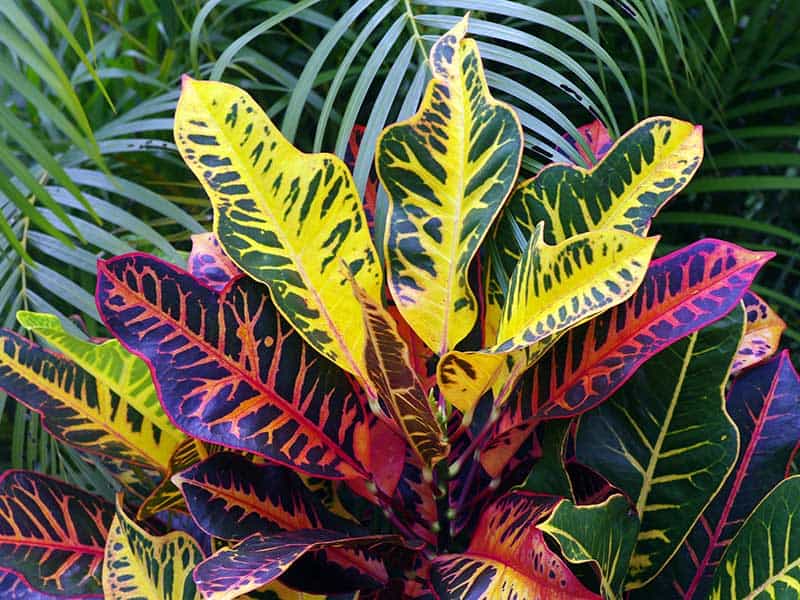 #1 Yellow Iceton Croton
Codiaeum variegatum Yellow Iceton is grown outdoors in the warmest areas of the USA, in zones 10 and 11. Outside these zones, you can grow Yellow Iceton Croton indoors.
The plant has average water needs. Therefore, ensure consistent moisture but be careful not to overwater the plant because it may kill it. Yellow Iceton Croton grows best when fully exposed to the sun, but it can tolerate light shade. Overall, the plant is easy to grow, and has a stunning appearance with showy, evergreen, textured leaves!
#2 Superstar Croton
Superstar Croton has a name worthy of its appearance! The variegated leaves steal the show in every room! If you keep the plant in a sunny location, you can ensure brighter leaves. A sunny window will do perfectly.
Allow the soil to dry completely between two waterings to prevent the root from rotting. Lastly, Croton plants love high humidity. If the air in your home is dry, regular misting or a bowl with wet gravel will overcompensate for the dry air.
#3 Zanzibar Croton
Zanzibar Croton is a true gem in the Croton family. It features strappy, bright-colored leaves. People living in cold climates grow Zanzibar Croton indoors, or you can keep it in the garden if you live in a warm area.
Either way, keep your plant away from drafts and winds and ensure it gets plenty of sunshine! Once the leaves start yellowing, you can remove them to keep the plant tidy. It will also promote new growth!
#4 Croton Petra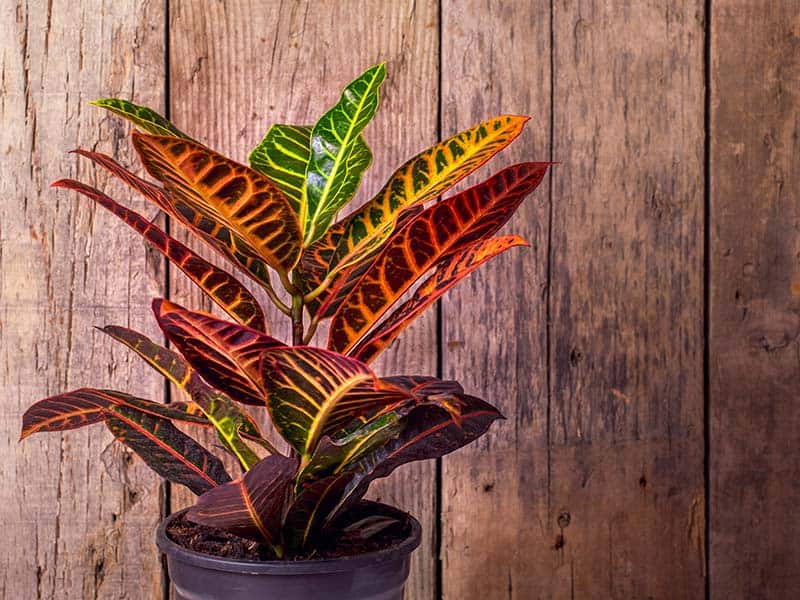 Petra is a popular variety of Croton because of the low-maintenance and ornamental leaves. The foliage is covered with a unique combination of red, yellow, green and orange, which give the plant a tropical appearance!
If you keep the plant outdoors, water it once a week during dry periods. Indoor Petra Crotons will benefit from regular misting, which will keep the leaves healthy.
#5 Mammy Croton
Mammy Croton is a shrubby plant, which grows on average three feet tall and two feet wide. You can prune it to keep the plant within the shape you prefer. Mammy Crotons need space and good air circulation.
So if you are growing Mammy Croton alongside other Crotons or any other plant, space them at least one foot apart. It will allow the plant to develop to its full potential.
Check out basic care tips for Mammy Croton!
#6 Victoria Gold Bell Croton
Victoria Gold Bell Croton features unique, bell-shaped leaves. The leaves are small and appear in intense shades of yellow, red, green, and orange. The shades change and become less or more intense due to different light exposure.
The Victoria Gold Bell Croton thrives in well-drained soil and has moderate water needs.
#7 Red Iceton Croton
Red Iceton Croton is one of the Croton varieties that is easy to identify. The leaves have pointy tips and visible splashes of pink and red, mixed with yellow and orange leaves.
Red Iceton Croton is grown because of the ornamental leaves.
To ensure the best appearance, expose the Red Iceton Croton to plenty of light. Also, use lukewarm water to water the plant to ensure minimal shock!
#8 Croton Magnificent
Croton Magnificent is a stunning plant that grows up to six feet tall! When you grow it outdoors, the plant can get around six feet wide as well. Indoor Magnificent Crotons are smaller. The variety has soft peach leaves speckled with pink and yellow.
Ideally, expose the plant to the bright morning sun, and ensure the afternoon shade.
The plant is native to Indonesia and surrounding areas. It loves high humidity, like many other Croton varieties.
#9 Banana Croton
Banana Croton comes from Malaysia. This tropical plant is a beautiful and unusual houseplant with erect and narrow green-yellow leaves.
The primary care for Banana Croton isn't different from the preferred care for all other Croton types. The soil needs to be well-draining, and the plant only needs water when the top level of the soil is dry.
Indoors, the plant grows best when exposed to bright light. The ideal temperatures for Banana Croton are above 60 degrees Fahrenheit.
Banana Croton is sensitive to draft and sudden temperature changes. Therefore, keep that in mind when picking the location for your plant.
#10 Sunny Star Croton
Sunny Star is a variegated type of Croton. Therefore, it can survive in the shade, but to boost the colors on the foliage, put the plant where it can receive maximum sunshine! It is a common companion to floral arrangements, because of the vivid and cheerful foliage.
The plant is a slow grower, so alongside proper sun exposure and medium watering, occasional use of a fertilizer can boost the growth. Use it only during the growing season!
Croton fertilization – best tips.
#11 Bush On Fire Croton
Bush on Fire is best known for its leathery foliage that may appear in a vivid combination of red, yellow and pink. What makes this plant stand out is the possibility for one plant to have multiple foliages colored differently! It is because of different exposure to the sun.
The plant needs at least four hours of sunlight per day, so people in apartments facing north might have trouble keeping the plant healthy.
Overall, Croton Bush on Fire is easier to grow outdoors in warm climates, in soil, or pots.
#12 Oak Leaf Croton
Oak Leaf Croton has a somewhat woody appearance and noticeable leaves shaped like oak leaves. They can be green, yellow, orange or red!
The plant is unique for holding both male and female flowers on the same plant. Oak Leaf Croton is sensitive to cold temperatures and winds. If you grow it outdoors, plant it somewhere sheltered.
#13 Mrs. Iceton Croton
Mrs. Iceton Croton can reach up to ten feet in its native, tropical habitat. But, indoors Mrs. Iceton Croton usually grows much shorter. Outdoors, people grow it as a windbreak or hedge. It grows best in full sun or partial shade locations with moderate moisture and loose soil.
The plant also develops lovely flowers, which increase visual interest. Mrs. Iceton Croton is, like other Crotons, toxic to humans and animals. Keep it away from kids and pets!
#14 Dreadlocks Croton
Dreadlocks Croton is a statement plant, and people either love it or hate it. It has narrow, curly foliage variegated in bright red and yellow. The plant makes a focal point in every room or tropical garden and quickly becomes a conversation starter!
It is a newer cultivar of the Croton plant, so it still isn't as popular as some other Croton types.
Dreadlocks Croton needs less water than most other Croton varieties and is relatively easy to grow.
Read more about things you might do wrong when caring for any Croton plant!
#15 Chocolate Caricature Jamaican Croton
Chocolate Caricature Jamaican Croton is a rare and interesting-looking plant. The color mixture on deep green leaves looks like water paint. If you live in a colder climate, you can grow it as an annual plant or bring it indoors for cold temperatures.
The plant needs light shade because too much sun can burn the gentle pink spots that develop on the leaves
#16 Picasso's Paintbrush Croton
Picasso's Paintbrush Croton features a stunning color mixture of red, green, orange and yellow!
The plant has thin and narrow, pointy shapes and grows in bush form. It doesn't need complex care. You can wait until the top several inches of soil gets dry to water the plant. Fertilization is recommended, but not mandatory.
Croton doesn't like moving. Therefore, don't worry if your Picasso's Paintbrush drops several leaves once you bring it back home from nursery. Find a suitable spot for the plant. Ideally, it should receive a lot of sunlight and be away from the draft.
#17 Andrew Croton
Andrew Croton is one of the most popular Croton types. It has long and narrow foliage with creamy white streaks. The exotic appearance of the plant blends well with most other houseplants for the stunning display.
When you provide the ideal conditions for the plant, it may grow up to ten feet outdoors. Most indoor Andrew Crotons don't grow taller than four feet.
Repotting Croton is simple.
#18 Eleanor Roosevelt Croton
If you want to add a pop of color to your current plant collection, consider Eleanor Roosevelt Croton. The plant is easy-going, low-maintenance but with a stunning color display on the foliage! Thick leaves are speckled with warm yellow, orange speckles!
It originates from the Eastern Pacific region and Indonesia, and it loves warmth and humidity.
#19 Lauren's Rainbow Croton
Shrubby Lauren's Rainbow Croton is a colorful plant that grows and spreads about the same – four to five feet. The plant develops small white blooms in late fall and winter. The brightly-colored leaves still make the primary feature of the plant.
Lauren's Rainbow Croton is tolerant of drought, so it can be a perfect plant for people who travel often.
#20 Mother and Daughter Croton
People love Mother and Daughter Croton because of its peachy, orange, pointy leaves. It makes an excellent houseplant because you can keep it indoors when the outside temperatures drop below 60 degrees Fahrenheit. For the warmer parts of the year, Mother and Daughter Croton will make a stunning decoration on your patio.
You can grow it in light shade, but ensure it gets plenty of morning sun for the best effect!
#21 Gold Star Croton
The plant Gold Star Croton is a beautiful tropical plant with evergreen, colorful foliage. It is easy to recognize by its gold speckles on every leaf.
The plant needs warm temperatures and high humidity. You can regularly mist the leaves to maintain steady levels of humidity.
Gold Star Croton can be a bit tricky to grow. Too much sunlight can burn the leaves, and too little won't induce the gold spots on the leaves.
#22 Gold Dust Croton
Gold Dust Croton is similar to the Gold Star variety, but it has smaller and more subtle gold speckles, hence the name. The plant needs loose, well-drained soil and regular pruning. When you notice dead stems, remove them as soon as possible to keep the plant neat-looking and healthy.
In spring, transplant the Gold Dust Croton to a bigger container.
The best way to propagate Gold Dust Croton type.
#23 Twist and Point Croton
Twist and Point Croton type have unusual foliage and showy flowers! It is a truly unique plant that requires simple care. Each leaf is twisted, and the yellow-green color mixture of the foliage provides a unique visual effect!
The plant attracts butterflies and is great for landscaping. Also, because it enjoys warm temperatures, Twist and Point Croton makes an excellent houseplant!
#24 Coppinger's Coral Shower Croton
Coppinger's Coral Shower Croton is a popular plant in Florida and Hawaii. At its best, Coral Shower Croton is a unique burst of color starting with dark green, yellow, pink, red, creamy white!
When you expose it to bright light and high humidity, Coral Shower Croton grows taller than six feet.
Similar to some other Croton types, the narrow leaves are twisted and appear curly.
It improves the ornamental value of the plant.
#25 King of Siam Croton
King of Siam Croton might not be as colorful and bright as some other Crotons, but it is still one of the best plants to keep on your patio. The leaves are long, thin and curled, deep green. Next, the leaves feature lovely yellow spots which transform red when you keep the plant in bright light.
You can grow it as a single plant, or keep it near other plants in your collection.
The King of Siam remains compact, and it normally doesn't grow taller than three feet.
#26 Franklin Roosevelt Croton
Franklin Roosevelt Croton features woody stems with brightly colored, long, and narrow leaves. A single Franklin Roosevelt Croton can develop differently colored leaves, which give the plant a unique look.
Since it is a Croton, the plant loves sunlight and is sensitive to wet soil. Franklin Roosevelt Croton thrives in high humidity and warm temperatures.
Read the comprehensive guide on how to grow Croton plants, which may be applied to all Croton varieties!
Keep Your Croton Happy And Colorful
Croton is a delightful plant that may reward you with a stunning appearance if you provide the basic care. When caring for any Croton variety, proper exposure to sunlight is essential for beautiful foliage.
Most Crotons have multicolored leaves and different shades of pink, yellow, orange and red melt into each other, creating gorgeous effects.
My favorite Croton type is Zanzibar, but it was a tough decision!
Which Croton variety is the most beautiful for you? Do you have any Croton types at home? How do you care for them?
If you found this article useful, please consider giving it a thumbs up!