Did you know that various Dieffenbachia types are believed to block negative energy and bring fresh energy to your home? Whether you'll grow the plant for its ornamental value or symbolic meaning, Dieffenbachia is an excellent household plant. It is because the lush foliage of Dieffenbachia is readily capable of removing toxins from the air!
The plant has a tropical vibe and is also known as the Dumb Cane or Dumbcane plant. It got the name of the poisonous substance that can make people lose their voice after they eat the leaves!
As long as you keep Dieffenbachia as an ornamental plant and don't eat it, Dieffenbachia is one of the best indoor varieties to grow.
Here is the list of attractive Dieffenbachia types!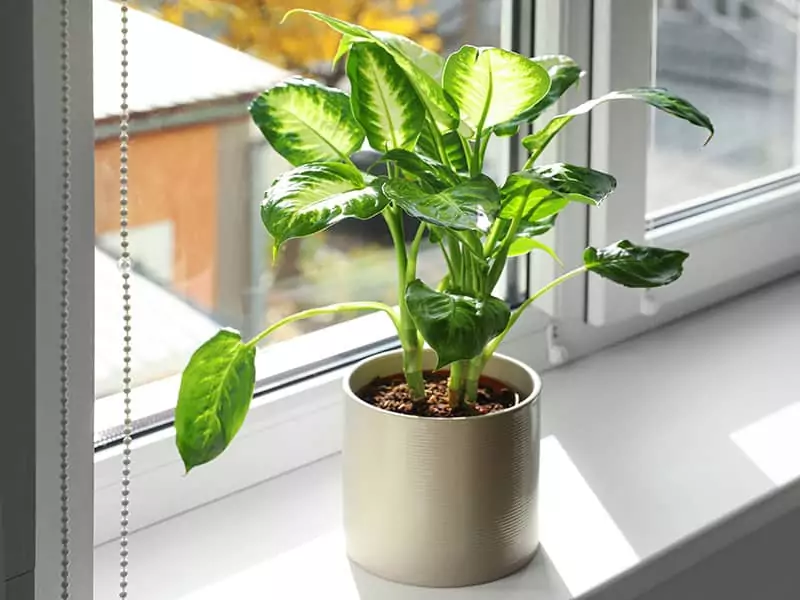 1 Camille
Dieffenbachia maculata Camille, Leopard Lily Camille, or Dumb Cane Camille is one of the easiest plants to grow. The plant needs a shady location but may enjoy filtered bright light as well. If you keep the plant exposed to the sun for more than 6 hours per day, ensure a lot of moisture.
Additionally, if you provide high humidity for the plant, similar to the conditions in tropical areas, your Dieffenbachia Camille will thrive! But, it will also adapt to all other conditions.
Find out how tall Dumb Cane Camille gets!
Discover the best trick to ensure ideal humidity for the Dieffenbachia plant.
2 Dieffenbachia Camouflage
Dieffenbachia seguine or Camouflage Dieffenbachia is a typical houseplant that needs medium light exposure and moderately warm temperatures. However, like other Dumb cane plants, this variety is also toxic. Therefore, keep the plant away from pets and kids.
Camouflage Dieffenbachia has large leaves, variegated with white, yellow, and beige. Because of the scarce branching pattern, the ornamental foliage stands out even more.
It is very similar to the Spathiphyllum plant, but you can learn to differentiate it by stems.
Find out the difference between Spathiphyllum and Camouflage Dieffenbachia stems!
3 Tropic Marianne
Tropic Marianne is recognizable by its ornamental leaves, with bright light green centers and dark borders. The plant needs medium light and may burn in direct light. Also, it needs a lot of moisture, but check the top soil layer to ensure it is dry before you water the plant.
The plant looks beautiful year-round because of the colorful foliage.
Discover more tips for growing Tropic Marianne in your home!
4 Dieffenbachia Snow
The Snow variety of Dieffenbachia needs regular misting to prevent the foliage from drying out and chipping, especially during summer. Keep the plant away from direct sunlight, because it can burn the leaves and cause stunted growth.
You may water the plant each week, and twice a month in the winter. If you ensure good growing conditions Snow Dumb Cane may reach up to six feet in height!
Is Dumb Cane prone to a lot of pests and diseases, or is it resilient more than other plants? You can find out here.
5 Dieffenbachia Star Bright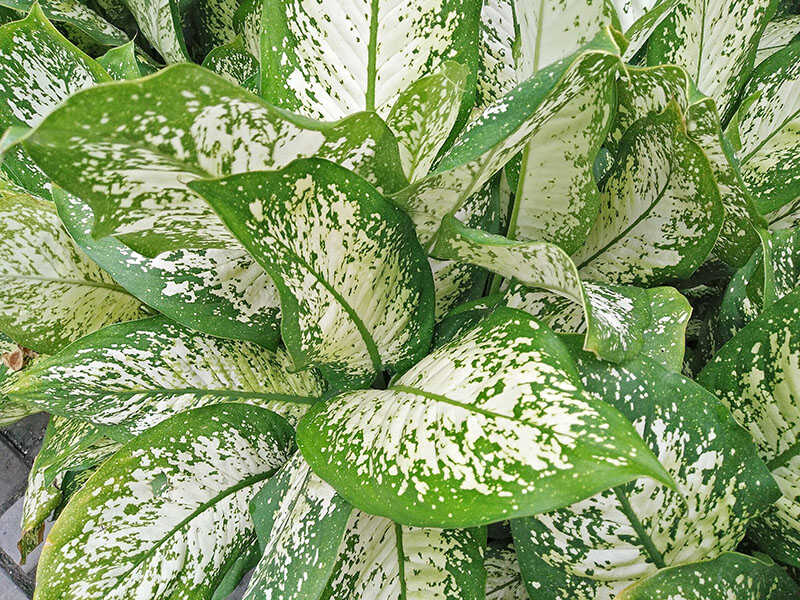 The Star Bright variety of Dieffenbachia is one of the most attractive, low-maintenance houseplants. It features highly ornamental leaves in a combination of cream and green.
The plant needs warm indoor temperature and high humidity to thrive. Therefore, you can keep it in your bathroom so the plant develops stately foliage and then bring it back into the living room.
Find out if Star Bright is the tallest Dieffenbachia out there!
6 Dieffenbachia Sparkle
Dieffenbachia Sparkle gets between three and four feet tall in ideal conditions. These include partial shade and slightly acidic soil. Also, the Sparkle plant needs pots with excellent drainage. Otherwise, roots will start to rot, and eventually, the plant may die.
Even though the plant is tolerant to different humidity conditions, it enjoys high humidity.
Check out the most important information on Dieffenbachia Sparkles.
7 Dieffenbachia Tropical Tiki
Tropical Tiki cultivar of Dieffenbachia is famous for its true green leaves with speckles of white and grey. The plant has a specific tropical vibe and may help transform every indoor space. You can also grow it outdoors, in partial shade locations in zones 10-11.
In all other zones, Tropical Tiki is a great indoor plant!
8 Dieffenbachia Compacta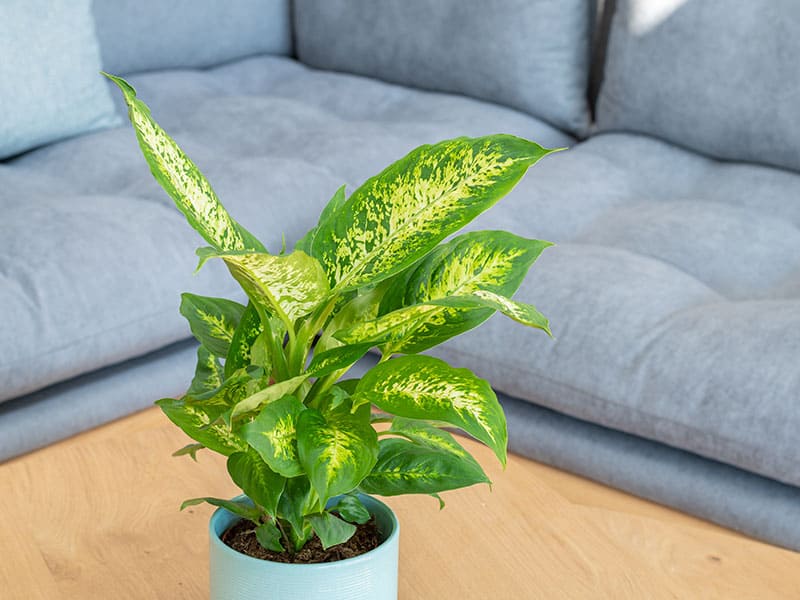 Dumb Cane Compacta needs several hours of sunlight per day. Ideally, bright morning light is great for the plant. If you grow it outdoors choose mid-shade locations.
To ensure the plant establishes as good as possible, plant it in humus-rich soil. But, keep the soil loose and well-draining to provide the best conditions.
The plant rarely gets taller than 20 inches, which is how it got the name. Find out how often you need to repot the Compact Dumb Cane to keep it healthy!
9 Dieffenbachia Delilah
Delilah needs filtered light and moderately moist soil. Also, Delilah needs frequent use of standard houseplant fertilizer to grow to its full potential.
This variety of Dieffenbachia rolls up the leaves before they fall off. That way, the plant provides new space for young growth!
The plant features narrow and pointy leaves with bright green centers.
Learn when the ideal time for planting Delilah Dieffenbachia is!
10 Dieffenbachia Tropic Snow
Tropic Snow Dieffenbachia can get up to 10 feet tall. The plant is robust, statement, and looks best when planted in large and plain pots.
It is also a low-maintenance plant that thrives in acidic to neutral soil. Plant it in the early spring for the best results!
11 Dieffenbachia Mary
The average height of Dieffenbachia Mary is from five to eight inches, and it spreads five inches. The plant has distinct green leaves, splashed with creamy green shade and dark green.
The leaves are broad, and the stems are thick, which gives the plant almost a bushy appearance. Also, Mary develops lovely, beautiful white flowers, but they sometimes won't bloom indoors.
12 Dieffenbachia Honeydew
Honeydew Dieffenbachia develops lovely cream green foliage that grows almost in the rosette shape. The top leaves are significantly lighter than the bottom leaves. The plant doesn't need complex care and is easy to grow with other plants.
Also, it is a drought-tolerant plant, which means you can easily leave the plant alone and go on the trip!
Find out more distinct characteristics of the Honeydew plant, shared by the nursery!
13 Dieffenbachia Rebecca
Rebecca is another Dieffenbachia with a high interest in foliage. The leaves are variegated, light, creamy green spotted with dark green. The plant develops tropical, lush foliage and instantly brightens every space.
Because the plant doesn't need a lot of suns to grow, it is ideal for shady corners in your home.
Dieffenbachia Rebecca has an interesting fall color and can be grown as perennial in zones 10 and 11.
14 Dieffenbachia Sarah
Do you need a houseplant for dark spots? You may consider Sarah because it doesn't need a lot of light to thrive. The plant develops beautiful variegated leaves with dark green borders and cream white splotches of color. Sarah is actually one of the most striking Dumb Cane varieties!
Find out which other plants are great for purifying the air!
15 Dieffenbachia Exotica
The Dieffenbachia Exotica doesn't need special care. Well-draining and moist soil are ideal for every Dumb Cane to grow. Also, keep the Exotica Dieffenbachia away from direct sunlight, because it may burn the leaves.
The best way to propagate Dieffenbachia is by stem cuttings.
Check the complete guide for growing the Dieffenbachia plant which applies to all varieties!
Learn how to propagate most Dieffenbachia types.
16 Dieffenbachia White Etna
Dieffenbachia White Etna is a rare variety of Dieffenbachia, similar to Monstera plant. But, it is much easier to keep alive! The plant has deep, forest green leaves with white variegation.
To ensure the variegation stands out, place the plant in the location which receives bright light. Also, keep the environment humid so the plant can stay healthy!
White Etna needs fertilizer once a month, during the growing season – spring and summer. Find out which fertilizer proves to have excellent results with White Etna Dieffenbachia.
17 Dieffenbachia Puerto Rico Variegated
Puerto Rico Variegated is a statement variety of Dumb Cane. It has long, dusky leaves with white speckles on forest green foliage.
The plant needs consistent warmth and high humidity. So it may be difficult to keep alive in standard household conditions. Nevertheless, it doesn't minimize the beauty of the plant and its collector value!
Interestingly, all leaves on Puerto Rico Dumb Cane have a unique pattern, which gives the plant a more dynamic look.
18 Dieffenbachia Tropic Rain
Dieffenbachia Tropic Rain is a medium-size plant, excellent for common rooms and hallways. It has lush foliage and broad leaves, true green with tiny white speckles.
Similar to other types of Dumb Cane, the plant is poisonous when ingested, so it needs to be kept away from the reach of pets and children.
Find out what are the ideal conditions for Tropic Rain Dieffenbachia.
19 Dieffenbachia Daguensis Aurea Variegata
Dieffenbachia daguensis, more specifically Aurea Variegata, comes from tropical places of Columbia and Ecuador. Therefore, the ideal conditions for this plant are warm temperatures and high humidity, as close as possible to the conditions in the native locations.
The plant has elongated leaves, thick and fleshy, embossed with veins. When exposed to enough sunlight, the plant develops beautiful variegation in bright green, and yellow. The irregular patterns on the foliage make the plant even more charming.
Find out what are the most common mistakes when taking care of your Dieffenbachia plant!
20 Dieffenbachia Aurora
Dieffenbachia Aurora features leaves in the shape of elongated spades. The leaves are true green irregular creamy white variegation.
Moreover, each leaf is embossed with veins that alter from dark green to light green. Aurora is an attractive houseplant that gives structure and dimension to every houseplant display!
Find out what happens when Dieffenbachia gets too much sunlight!
21 Dieffenbachia Amoena
Amoena is an exotic species and a common houseplant because of its easy-going nature and ornamental appearance. Leaves have irregular variegation in white and yellow, and you won't find two leaves that are the same!
The plant needs indirect light and a lot of humidity!
Discover how much water the plant needs!
22 Dieffenbachia Panther
Panter Dumb Cane is known for its long and narrow leaves with white and silverish streaks in the center. People grow the Panter plant mostly for its ornamental leaves and air-purifying properties.
As the plant matures, it develops a shrub-like look and adapts to various conditions.
Because of that, Panther is ideal for low-light areas, such as bathrooms or dark hallways.
Find out more growing tips about Dieffenbachia Panther.
23 Dieffenbachia Carina
The key to taking care of Dieffenbachia Carina is occasional spritzing. It will keep the lush foliage moist but prevent the roots from rotting.
The plant develops stunning rich and bushy leaves, large and bright green. Also, the leaves develop irregular splotches of dark and light green tones in the center and towards the leaves' borders.
You can also use fertilizer in the active growing season to help the plant establish better.
Find out what to do if you have accidentally eaten Dieffenbachia. Hint: Calling a doctor is your first step.
24 Dieffenbachia Longispatha
Longispatha is native to central Panama and Columbia. In its native area, the plant grows as a solitary plant or in small clusters of similar plants. Longsipatha is adaptable to various lighting conditions.
But, if it grows in deep shade, it will grow slower than normal. The ideal light is bright but filtered. Therefore, place it near the window for the best growth rate.
Watch the video: Find out what to do if you Dieffenbachia develops yellow foliage
25 Dieffenbachia Green Magic
I left the most beautiful variety of Dieffenbachia at the end of the list. Stunning Green Magic Dumb Cane features true green foliage with light green, almost fluorescent green central vein. The plant might not be as striking as some other Dieffenbachia types, but the contrast between the vein and leaf makes it very attractive.
Find out how to take care of your Dieffenbachia Green Magic.
Discover if you can grow Green Magic from cuttings.
Dieffenbachia, A Beautiful Plant With Unfortunate Name
Some people shy away from growing any type of Dieffenbachia in their homes. But, Dumb Cane is safe for indoor growing as long as you don't treat it as food.
Pick your favorite variety of Dieffenbachia and watch how the plant can quickly adjust to the conditions in your home and make your home prettier!
My favorite Dieffenbachia is Green Magic! Please share your favorite types!
If you enjoyed the article, please hit the like button! Come back for more interesting guides on plants!