Did you know how many bamboo projects you can make with little inspiration and basic crafts tools? Bamboo is a versatile natural material that you can use for various projects, indoors and outdoors. People make a lot of items from bamboo, build a fence, create cases, make screens, some even build homes!
Bamboo is lightweight and sturdy, but it is also easy to work with, which makes it highly popular for DIY projects.
If you grow bamboo in your garden or you have a place to get bamboo, here are some ideas to try.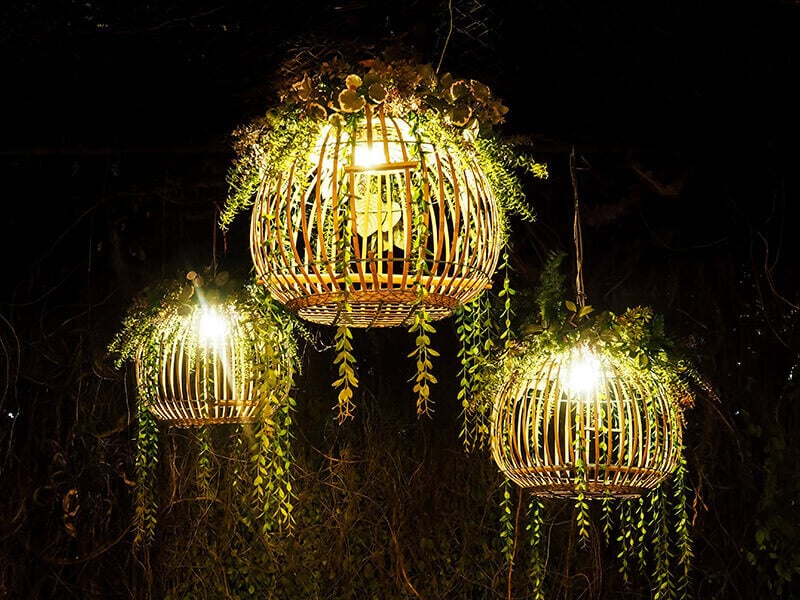 1. DIY Gate
Do you need a gate to keep your space confided? A simple bamboo gate is also a great way to keep your cat or dog in one place without worrying that your pet will run out into the street.
For the gate, I recommend using a combination of bamboo and pieces of sturdier material for the frame. Pallet wood is great for gates, but adding bamboo will make the project easier to make.
2. Budget-Friendly Fence
A bamboo fence is probably the most common bamboo project you will come across. There are a few reasons for it. Bamboo is cheap, easy to work with, and great for large-scale projects, such as fences! A bamboo fence is suitable for any backyard, pool area or playground for your kids.
You should measure the area you want to confine, divide it into several smaller areas so you can make bamboo panels, which will work as a fence.
Use joist holders to connect the bamboo panels.
3. Decorative Ladder
Decorative ladders are a smash hit when it comes to simple, frugal and effective indoor decoration. If you lean towards natural material and clean lines in design, bamboo ladders will be perfect for your space.
Luckily, making bamboo ladders is relatively simple. You'll need large bamboo poles, smaller sticks, measuring tape, a drill and tinted wood filler. Mark and drill the holes on the poles before you start.
You can use your ladders to hang items, but don't expect them to be as sturdy as regular ladders. Keep in mind these are made from bamboo and have only a decorative purpose.
The simplest guide for making a bamboo ladder (no power tools)
4. Balcony Privacy Screen
A privacy screen is a must if you live surrounded by curious neighbors! Several bamboo poles, a few additional tools and supplies, a free afternoon, and a bit of motivation are all you need to make this practical bamboo privacy screen.
In essence, the privacy screen is made from bamboo poles framed by other pieces of wood. You can use L-hooks to connect the frame and secure the sides. Hooks are also practical for securing the poles.
I recommend packing bamboo poles as dense as possible to ensure maximum privacy.
5. Comfy Bench
A bamboo bench? Yes, please! The bench will be comfortable and will give your patio or garden a fresh new vibe and place to relax.
Before you start, sketch the bench and make a wood cutting list. In addition to bamboo sticks, you'll need pieces of sturdier wood, which will ensure the bench can withstand your weight.
You can also repaint the bench and apply a layer of protective gloss so it can withstand the weather.
A bench like this doesn't need pillows, poles are soft and comfortable!
6. Versatile Planters
If you like crafts made from natural items, you will love these bamboo planters! Surprisingly, these planters will do well in outdoor conditions and stand well against harsh winds and rain.
For the project, you need thicker stems. Cut a few inches before one node and a few inches before another one. That way, your planter will include one node on the bottom. Use a drill to make several holes so your bamboo planter ensures adequate drainage.
You may add hooks and hang the planter vertically if you want to increase the growing space. But, you can always display them as regular planters horizontally.
7. DIY Practical Curtain
Who said bamboo is only suitable for outdoor use? You can make stylish, organic indoor and budget-friendly curtains from bamboo! You can make it from store-bought bamboo fencing or cut bamboo sticks yourself and connect them with a piece of rope.
Additionally, you need a glue gun and scissors as well as a curtain rod and cup hook.
Before you start, measure your window and mark the cuts you'll make on the bamboo fencing. You add an inch or two on the sides to ensure the sunlight is passing between the window and curtain.
The idea behind these curtains is that they should be bendable. You can use thin pieces of wire to support the curtain when bent.
8. Calming Water Fountain
Bamboo is common in Zen gardens. If you want to make a calming and relaxing structure, a small water fountain will be perfect for your Zen garden.
The list of supplies for the project includes bamboo poles, hoses, dowels, string, connectors, screws, sealers and more.
Fill the water features with rocks to increase the calming effect of water meeting rocks sounds!
9. Comfy Swing
Here is a perfect idea for your beautiful deck or patio – a swing chair made from bamboo! The whole family will love it and fight for it!
The easiest bamboo swing chair to make is a Maldivian-style one. It consists of several sturdy poles connected together, and pieces of rope and fabric.
You also need at least 60 feet of rope, a wooden drill and a saw. Ensure the fabric remains loose, so you can comfortably sit in your swing chair! If you have kids, you can also make a smaller version, just cut the poles and fabric into smaller cuts.
10. Cheap Garden Trellis
Bamboo grows in the garden, and it makes perfect sense to use it in the garden to support other plants. A bamboo trellis is one of the cheapest and easiest DIY projects for garden trellises.
You can use it to support various flowers and veggies, such as peas and cucumbers. Use a handsaw to cut the canes into the desired size and use twine for tying.
You can see this video to know more:
11. Stylish Pendant
You can make a lovely outdoor bamboo pendant from leftovers you've got from some other project. Or you can get your fresh supply of canes for it.
The idea behind the project is to connect thin pieces of bamboo poles to hold the shape you desire. The easiest shape to achieve is round, but a square pendant might be a bit sturdier.
A DIY bamboo pendant can be used as a decoration for your outdoor containers or an outdoor chandelier. You can paint the construction to give it a more charming look. If you keep it away from rain, your pendant won't warp soon.
12. DIY Tiki Torch
Have you ever considered a homemade tiki torch as decoration for your backyard? Now is the perfect time to make a bamboo tiki torch.
However, because bamboo is light, wind can easily blow away these torches. Therefore, I recommend burying them in the ground for stability. You can also fill a terracotta pot with cement and keep the torches inside. It should keep them in place.
13. Balcony Privacy Decoration
Privacy panels can also be aesthetically pleasing and decorative with a little bit of imagination and creativity. There is so much you can do with bamboo poles. The easiest thing to do is to connect irregularly cut poles and display them close to your Balcony fence.
The irregular size will add dynamic, and you can even paint the poles. Pick a rainbow color scheme for the poles, if you prefer a colorful outdoor setting. Enjoy your vivid balcony decoration/privacy screen!
14. Simple Wall Decor
I spoke about outdoor decoration, but you can also make stunning indoor wall pieces from bamboo sticks!
Cut eight bamboo sticks the same size and join them with a piece of twine or copper wire. Insert a rectangular piece of coconut coir inside and make a small pot! Add fresh or dry flowers in the pot to disguise the joints and hang your decoration on the wall!
You can also play with decorative rocks and other natural items.
15. Outdoor Shower DIY
The outdoor shower is a perfect DIY project for the pool area. If you have a faucet in your garden, you can easily make a bamboo outdoor shower with a hose and a pump.
Get a sturdy cane and drill it so it can hold the showerhead. You can leave it like that or attach it to the nearby wall.
16. Table Lamp
If you like tropical decoration, I've got a perfect craft project for you – a bamboo table lamp!
It is also a great way to give a new life to your old lamp. First, pull off the shade from your old lamp and get it ready for a makeover. Use the two lamp rings to connect the stalks.
But, you'll first have to cut them to match the ring size. Use a hot glue gun to secure the bamboo in place.
I also recommend painting the stalks in white to make your lamp brighter and more stylish!
17. DIY Bathroom Cabinet
Because of its excellent moisture resistance, bamboo is excellent for bathroom items. You can make a practical medicine cabinet with open shelves from bamboo.
This project might seem too complex at first. But if you remove the existing cabinet and mount the cabinet in place while you are building it, the process becomes simpler.
The must-have tools for the project are a table saw, utility knife and a drill.
18. Modern Wall Moldings
Wall moldings are an easy way to add subtle decor to your living room. If you don't have real bamboo stalks, you can also make fake ones.
Before you paint your walls, mark the molding layout on the wall and attach bamboo stalks. Then, repaint the wall in the color you want, and you're done! I recommend a white paint wall for the ultimate elegance.
19. Curved Elegant Mirror
Here is another budget-friendly idea for bringing new life to your old items. If you have an old, plain mirror in your home, get a couple of stalks of round bamboo canes.
Bamboo is flexible and should easily bend to the shape you want. Therefore, you can use it to make various geometrical and symmetrical designs.
Decide which pattern you want to follow and glue the bamboo stalks directly on the backside of the mirror. Hand the mirror on the wall and cut any loose ends if you notice them.
You can see this video to know more:
20. Stylish Room Divider
Large, open spaces are beautiful. But for practical reasons, people use room dividers. You can purchase room dividers or make one by yourself with long bamboo stalks.
You can repurpose an old TV Bench for it and add decorative white pebbles, which will hold the stalks at the same time. Also, I recommend using differently sized bamboo stalks for the divider.
Too much symmetry can make your divider look like prison bars!
21. Tropical Headboard
Making a bamboo headboard is a budget-friendly way to transform your bedroom. It is also a great way to add a cottage or tropical vibe to your home!
Create a headboard panel from bamboo stalks and attach it above the bedroom. It will also disguise the cords or wall damage you might have.
Let's see this video:
22. Wonderful Plant Stand
Lift your plants with this simple, DIY bamboo plant stand. Don't worry, a plant stand constructed from bamboo is sturdy enough to hold even heavier pots with larger plants.
The beauty of this project is that you don't need power or any advanced tools. For example, if you don't own a handsaw, you can cut pieces with a serrated knife.
Cut the bamboo stalks and secure them together with a glue gun. Disguise the joints with rattan to make the construction even prettier.
23. DIY Indoor Lights
Orb lights have a distinct boho vibe. You can make an orb pendant from bamboo with bamboo leftovers from other projects. You'll need thin bamboo strips which you will shape into circles.
Once you have several bamboo circles, assemble your chandelier. Use wood glue to secure the rings where they meet and add clamp until the glue is dry.
If you paint the construction black, it will resemble the vintage iron orb chandeliers!
24. Reusable Eco-Friendly Straws
Ditch the plastic straws and add bamboo straws to your cocktails! You can buy bamboo straws in stores, or make reusable straws quickly. I prefer bamboo straws over cartoon ones because they don't get soggy while I enjoy my drinks.
Cut the stalks to the desired size. You can use a store-bought cartoon straw to ensure all sizes are the same.
Once you are done making your straws, wash them thoroughly with soap and water before first use!
25. Cute Lantern
Lastly, here is a wonderful boho lantern for an outdoor summer party! If you like boho interior style, there is no reason why not put a lantern-like this indoors!
The whole project won't take you more than one hour to complete, and it will cost you just above 10$. If you have bamboo stalks in your garden, the total costs will be even lower!
You can cut bamboo stalks with standard pruning shears and connect them with embroidery hoops with glue.
Spray-paint the lantern and add a candle to make the decor more charming.
Bamboo Is Versatile & Crafty Material For DIY Projects
Bamboo is fantastic for decoration and practical home items. You can use it in the kitchen, bedroom, bathroom, patio and garden! The best thing about bamboo DIY projects is that you don't need any complex tools or special skills to make real pieces of art.
I will experiment with privacy screens and eco-friendly straws! Which project will you try first?
If you liked the article, please consider liking it! Or, you can share it with your friends to get them motivated for a spring DIY project!