I've gathered my selection of the best DIY crochet hanging planters. These are the easy and budget-friendly ways to spruce up your plant display. If you have trailing plants and vines, put them in these crochet plant hangers and watch how they transform the space.
Some of the following ideas are simple, and others are more complex for experienced plant hangers makers!
Why pay money for plant hangers when you can make them by yourself? Here are the best ideas for you to try ASAP!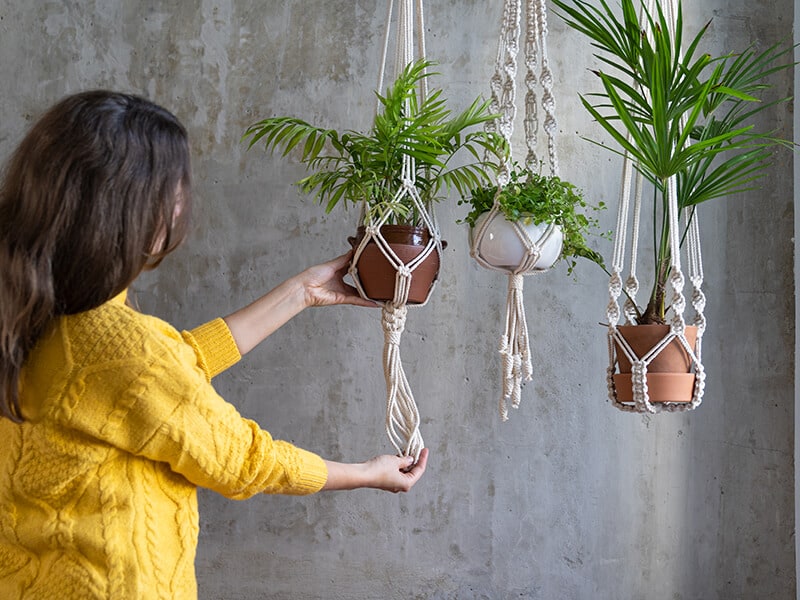 #1 Mini Hanging Planter
The first plant hanger on my list is a cute little hanger, better suited for compact plants. You can make it for the 2-inch and 6-inch pots.
For this one, you need a textile yarn of your choice, preferably size 6, and size 4 cotton yarn, hook, wooden bead, standard supplies such as scissors, stitch marker, tape measure and needle. To make things easier, prepare cardboard and a small pot to work as a model.
Knit the planter in the shape of your pot.
Here is a more detailed guide on how to make this Mini hanging planter!
Learn the easiest way to create this planter. Watch the video:
#2 The Easiest Hanging Planter Ever
Here is something you can easily achieve even if you have never used yarn to make things before. The pattern is simple and only consists of several strings which keep the basket in place.
You can also adjust the size of the hanger to make it fit the size of all your pots. I found that adding a pot with a bushy plant looks best in this planter!
Read the full tutorial for this simple hanging planter!
Learn how to make a slip knot. Watch the video to know:
#3 Hangers for Vertical Garden
If you want to increase the available space for your plants, you can make a three-tiered hanging plant. People with tall ceilings can may these hangers for more than three pots as well.
Before you start, pick the pots you want to put in the hanger, so you know what size you need. Also, decide on the distance between the two plants. If your plant is tall, you'll have to increase the distance.
People who put succulents in these hangers can shorten the distance and squeeze more pots in the vertical hanger.
Get the quick and easy, illustrated tutorial for this vertical plant hanger!
#4 Horizontal Triple Plant Hanger
If you have a large, blank wall to decorate, you can make a plant hanger that will hold three plants at a time. However, because three plants are heavier than one, you'll have to ensure the knitting pattern is sturdy and add a pole for balance.
You can use this crochet plant hanger for herbs in the kitchen or a cute succulent combination.
Get more tips on how to make this triple crochet plant hanger!
#5 Boho Planter
Here is a lovely planter you can make at home. You'll need sturdy textile yarn or a garden twine and pearl to decorate it. But, if pearls seem too much, you can always skip them.
If you aren't skilled with crochet, glue the twine together and skip the crochet fuss.
Once you finish the planter for the pot, attach it to the ring and secure it with additional strings. Use pearls to decorate the strings for hanging!
Read more tips for making this interesting boho plant hanger!
#6 Add a Pop Of Color
Most DIY crochet plant hangers are beige or white. But, you can play with color and create a unique, colorful crochet hanging basket. Ensure to leave enough strings at the bottom of the pot which you can due in the color you want. Use the crochet patterns you are familiar with to make a planter.
Then, you can color it with fabric dye. Be creative with colors! You can make a colorful planter by dying every sting in a different color. Or, create an ombre effect!
Read more about coloring the plant hangers.
#7 5in1 Crochet Hanger
The next idea is a bit more complex and requires time to complete. It will be a perfect weekend project!
You can add a branch from a tree as a sturdy base. It will add an organic vibe.
Pick a sturdy crochet pattern because the five pots are heavy, no matter how big they are.
Here is a crochet pattern you can apply for this project.
#8 Curled Hanger
Here is something a little bit different. Instead of putting all your efforts into knitting the base for the pot, focus on creating a unique design from hanging string. At the bottom, you can secure the piece of plastic or wood to act as a flat tray for the pot.
This crochet plant hanger will fill up every space! It works better with smaller pots, because of the balance.
Find out how to master every crochet pattern.
#9 Spiral Macrame Pattern
A spiral plant hanger is an excellent choice for heavy plants because it can hold more weight than the stings-only hanger. Before you start, pick the pot you'll place it in this crochet plant hanger. That way, you know how large the base should be.
Also, ensure you know how to read spiral crochet patterns so you can easily follow the tutorials.
Even though the spiral pattern may look complex, it really isn't.
Find out how to start a spiral crochet pattern!
#10 Happy Sloth Planter
Here is a cute little crochet plant hanger with a twist! It is actually a crochet pattern in the sloth! When you look at it better, you notice a happy sloth hanging from the branch!
This crochet pattern isn't beginner-friendly. But with practice and persistence, you may be able to master it. It will look great with small pots with succulents, even trailing ones!
You'll need weight 4 yarn, hooks (6 and 4) and a yarn needle. Because the pattern is detailed, you'll need to see small pieces which may be frustrating.
Check out how complex the crochet sloth pattern is.
#11 Bi-Colored Plant Hanger
You can experiment with color combinations when making your plant hangers. If you want to stay neutral, pick a white and beige yarn combination.
For this bi-colored plant hanger to work, you can use any crochet pattern you are familiar with. Make a base for the pot and secure the strings so you can hang the planter on the hook.
Check out the best crochet plant hanger patterns!
#12 Four-String Basket
The next idea requires advanced crochet skills and basic crochet tools, such as hooks, stitch markers and row counters. You can add wooden beads to decorate the side strings.
This plant hanger has an organic, earthy vibe and will make great decor in every room. You can also use it as a gift for your loved ones! I also recommend adding a plate on the bottom of the hanger, so the structure will hold the shape better.
Learn the simple way to crochet a hanging basket and then, move on to the advanced projects!
#13 Hang All Your Plants
The beauty of the next crochet project is that it works with all plants and pot sizes! You'll have to prepare strong hooks and beads for the crochet plant hangers. It actually consists of several plant hangers, arranged to create a unique plant display.
You can place your succulents, herbs, trailing plants, Spider plant, Ivy, etc. Ensure to hang them on the wall that receives a lot of sunlight so your plants can thrive!
Choose the crochet pattern to try with this plant hanger design!
#14 Easy Diamond-Shaped Plant Hanger
In the crochet world, diamond shape patterns are very popular because of their simplicity and beauty. You can apply them to create a simple plant hanger.
Most diamond shape patterns are easy to follow and beginner-friendly. Once you get familiar with the basic steps of the pattern, you can move on to something more complex.
Do you need a simple, easy-to-follow diamond crochet pattern? Click here!
Learn how to crochet diamond shape. Watch the video:
#15 More Complex Diamond Wall Hanger
If you are familiar with different geometrical shapes in the crochet world, you can try to make something more complex, such as this wall hanger. It has a boho vibe and is suitable for various plants, including trailing plants.
You can make the plant hanger in the size you want, but I find that it looks best with 4-inch pots.
Find out what the difference between crochet and macrame is.
#16 Cone-Shaped Planter
The cone-shaped wall planter is adorable and works great with most small plants. Basically, all you have to do is make a crochet potholder and secure it to the wall with wall brackets.
If you don't have brackets, you use longer nails to mount the planter on the wall.
Cone-shaped wall planters are also great for small plants with longer roots, such as Desert Rose.
Find out more information on cone-shaped crochet planters!
#17 Simple Wall Decor
If you have exposed pillars in your home or narrow partition walls, the next idea is great to decorate the wall. You can use it for small succulents and air plants.
Air plants are especially good for this plant hanger because they don't need soil to survive! You can mist them a couple of times per week to keep them healthy!
If you want to display a heavier plant on the bottom, for example, like Echeveria, you'll need a hook at the top and the bottom to keep the structure in place.
Get a full tutorial for this crochet wall hanger!
#18 Chain Plant Hanger
The chain plant hanger looks modern and isn't too difficult to make. But it has a great visual impact. Because the structure is dense and sturdy, you can hang even heavier plants in it.
I recommend you to use size 4 cotton, it will be easier to work with. You also need to prepare scissors, yarn needle, plate to put in the bottom to get the shape and markers.
Because the chain is the foundation stitch in crochet, you'll probably be able to complete this project easily.
Learn the basics of crochet stitch chains!
#19 2-Strands Pattern
If you have bare walls, you can create this simple 2-strand crochet plant wall holder to decorate it. It looks best when used with smaller pots, preferably 3 7/8-inch in diameter.
But, if you are skilled enough, you can adjust the pattern for larger pots. You'll start with a magic ring chain stitch and work your way up.
Find the full guide for making this 2-strand crochet wall hanger!
Practise Makes Perfect Crochet Wall Plant Hanger
There are so many crochets patterns to try for plant wall hangers. It takes a bit of practice to get familiar with basic stitches and moves. Then, upgrade your style and try advanced patterns and designs.
Crochet plant hangers are stunning and a great option for balconies, patio, hallway, and indoor space.
With vertical plant hangers, you'll increase the available space and create the most beautiful plant display!
If you enjoyed the article and found the inspiration you needed, please hit the like button! Stay tuned for more interesting articles on gardening and plants!