With the best DIY garden path ideas, you can quickly transform any outdoor space! At the same time, the garden path makes the garden look tidy and allows you to navigate throughout your space easier.
You don't have to hire professional contractors and pay a lot of money. With great inspiration, good supplies, and some free time, you can achieve stunning results, tailored to your needs and preferences.
Don't just pour a bucket of cement to create a path, create something that will fit in the garden setting better. Try making a Japanese garden, and use different materials to accentuate the natural beauty.
Here are my recommendations for the best garden paths to try!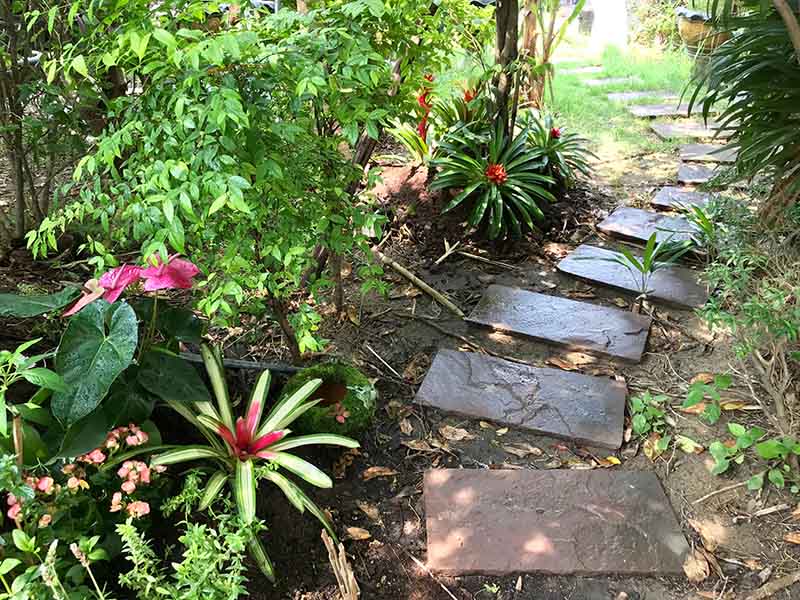 #1 Pallet Wood Pathway
Pallet wood is a cheap and sturdy material that is easy to work with and looks great. For the next project, you don't need a lot of tools and material. Break as many pallets as you need to get enough slats to make a pathway.
Prep the land ahead and level the ground before you lay slats on it. Then, press slats into the ground as densely as you want to make your pallet pathway!
#2 Wood Slices Garden Pathway
Here is an interesting idea, both durable and easy to make.
I prefer the round wood slices, but you can also make square slices if you are into that. You'll need wooden logs and a chain sow and a lot of patience! The larger the logs are, the faster you'll finish the path. You can also fill in the blank spots between slices with the pebble.
#3 Simple Stone Pathway
Sometimes, it is best to keep things simple! Stone pathways work for so many gardens, so they will probably work for your garden as well. You'll have to use a cement mixture and a mold to create the stone-like stepping areas.
The trick I find useful is to mark the place in the ground where the cement panel will go, dig it out and then put the panel.
#4 Wood Mulch Pathway
Wood mulch is excellent for garden beds, but also for making pathways! It isn't the most durable garden pathway, but it is certainly a charming one. Before you start, you'll have to label where you want the path to go.
You can also put stones or bricks on the borders to prevent the mulch from getting all over the place. At the same time, the borders will give your pathway a tidy look and prolong its lifespan.
Testing most common methods for garden pathways: What's the best?
#5 Gravel Pathway
If you are landscaping on a budget, you can choose a gravel pathway. It gives your garden a classic look, but it may be a bit tricky to make.
Creating a gravel pathway is more complex than just pouring the bucket of gravel into the desired space. I recommend pouring tamped gravel with decomposed granite. It will give the pathway the necessary stability and improve the lifespan of your path.
#6 Rustic Garden Pathway
You can create a rustic pathway without the usual material – stone! You'll need crushed gravel and bricks. Yes, I am talking about standard bricks you can use to build walls. These are easy to handle and allow you to create different patterns and design unique rustic garden pathways.
The project might take time, but if you decide a whole weekend to do it, you'll have a stunning pathway on Monday.
Read why bricks make great material for hard garden pathways!
#7 Plastic Bottle Caps Pathway
The next project is colorful and inexpensive but requires time to gather the supplies and patience to lay them down. Bottle caps are great material to decorate the garden pathway on the budget.
This method is also an eco-friendly method, which is always an additional plus! Before you start, level the ground and mark the area that will work as a cap. Then, lay each cap with the opening facing the ground, as dense as you want.
You can pour a protective coat on top to ensure your pathway lasts longer. Filling each bottle cap with cement will significantly prolong the lifespan of the pathway.
#8 Butterfly Walkway
Here is a delightful idea to try out and transform every garden in an instant. You'll need a lot of smaller stones and waterproof acrylic paint if you want the path to remain good-looking in all weather conditions.
First, design the butterfly on a larger piece of paper and fill it in with blank stones. Then, decide which parts of the butterfly will be painted, so sort and paint the stones. Level the ground and decide at what distance you'll put your butterflies!
#9 Mosaic Garden Pathway
There are so many items you can use to create a mosaic garden pathway. Pebble is the simplest one to handle. First, you'll have to prepare the soil and prepare and sort the material.
Then, you'll have to mark the area for the mosaic and damp the concrete mix. Carefully lay down the designed mosaic and spread the topping mix on top.
Check out a detailed, step-by-step tutorial for the pebble mosaic garden pathway!
#10 The Most Beautiful Garden Stairs
If your garden features a cascading configuration, you'll probably have to take the stairs to ease the navigation through the garden.
Excavate the site and prepare the stairs with wooden plants. Then pour the cement solution on top of each stair. You can decorate the stairs with a mirror mosaic to make every stair stand out!
Discover why green mosaic pieces are a great idea for outdoor garden mosaic stairs!
#11 Funny Pathway
Here is an interesting and fun idea to try out. You'll have to level the path, add the sand and press it down to make the even surface. Apart from that, prepare several foot-shaped mosaics from glass or stones in size 11.
It will ensure that each family member can fit his foot in the designated area! The most challenging part of this project is creating a sand pathway, so take the time to do it right!
#12 Wood and Gravel Combo
The next idea is a combination of natural materials – plants, gravel and wooden boards. You can use white gravel as a base for the pathway and lay wooden planks on top.
As a finishing touch plant low plants on the borders of your pathway to make a more cohesive structure.
Check out the selection of the best plants to plant along the pathway!
#13 Use the Old Vine Bottles
Did you know that wine bottles can be used as a building material for your garden path? You'll need a glass cutter for this one and a small amount of cement mixture. Cut each bottle up to the bottom, but ensure you have a couple of inches from the sidings.
If you don't want to fill the bottles with cement, wait until the ground is wet to push the bottles down into the ground. You can use a rubber hammer to press the bottles!
Making a garden wall using old wine bottles.
#14 Symmetric Stepping Stones Pathways
You can lay stepping stones on top of the grass without any need to excavate the ground and kill the grass. I recommend using several groups of smaller stones instead of several large stones for the pathway.
It will give the pathway a unique look! Use a round hoop to ensure all your parts are symmetric and even.
#15 Bricks Only Walkway
Bricks are hardy and ensure your pathway will last for years. They will also survive frost, heavy rains, and extensive heat. But, you'll have to know how to lay the bricks properly, if those will be the only material you'll use for your pathway.
First, you'll have to excavate the soil and fill it in with a graded base. Compressing is a necessary step that will give the pathway density. Then, you need to add a sand layer and lay bricks on top of it. The process is more complex than some other projects on the list, but the durability makes it worth it.
The most practical and effective method for laying bricks.
#16 All-Wood Boardwalk
If you have a large and cascading garden, a boardwalk can be an excellent and durable replacement for a pathway. The project is more complex than laying down stones on the ground, and it will take you several days to complete.
First, you'll have to map the area and build the basic structure of the boardwalk, which includes side planks, supporting planks and dig post holes. Then you are ready to install the decking.
Follow the step-by-step guide for a boardwalk if you have a slightly cascading garden!
#17 Basalt and River Stones Pathway
Using smaller and larger rocks you can create a beautiful pathway. For the next project, use split basalt stones for the stepping surface. Then, lay the smaller stones around to create the pathway shape and emphasize the borders.
The project isn't too complex to complete, but it has high ornamental value and works for all gardens. You can also add mosaic pieces to spice things up!
#18 Tiles-Like Garden Path
There is so much you can do with pebbles and timber slats. You can cut the slats into smaller pieces and arrange them to look like wooden tiles. Then, lay them down on top of the pebble to create an organic tile path! Cedarwood works great for this project.
#19 Garden Tiles Pathway
If you don't mind spending extra money, you can buy several square tiles in some interesting patterns. They will serve as stepping stones and can be laid down the same as regular stones.
Ensure to level the ground well and prep the working side before you push the tiles into the ground. You may even prep the ground with sand to make the pathway more durable. Use dark-colored mulch to make the light tiles stand out.
When choosing tiles, ensure they are good enough for outdoor conditions.
#20 Brick Path Herringbone Pattern
The herringbone pattern is always a great idea when it comes to flooring, whether it is indoor or outdoor. If you need a narrow path, you can create a herringbone pattern using old bricks. With two bricks in a row, the pattern is simple to follow.
Check out how uncomplicated to create this pattern is, using old bricks, sand, and gravel!
#21 Another Wooden Pathway
Wood chips make a great option for ground covering if you have a large area to cover. When you lay down the layer of wood chips, you can put whatever you want on top to make the path more decorative.
Put the small and narrow wooden stick densely in the chips, and you'll get an unusual and attractive idea. But, make sure to have a lot of sticks before you start so you can create a comfortable pathway, despite the texture.
#22 Bricks and Grass Pathway
The next inspiration is perfect for large gardens where you need wide and long pathways. Light-colored bricks are durable, resistant to outer conditions, and make a beautiful contrast with green grass.
You can play around with patterns and create unique ones, such as the one from the picture. It adds a specific vibe to the path and becomes an additional garden decoration! With this pathway, you may find it challenging to cut the grass around the bricks, but after a few attempts, you'll get into it.
#23 Black and White Garden Pathway
Black and white is an elegant combination that will be perfect for formal gardens. Before you start, come up with the desired pattern and mark the pathway so you can fill it in easier.
Don't forget to sort the black and white stones before you start.
In essence, the black and white pathway will work the same as the gravel pathway. Therefore, do all the necessary steps for preparing the site before you start.
Creating a mosaic path outdoors.
#24 Grass Pathway
Grass can also be used as a pathway, as long as you keep it healthy and border the pathway with appropriate plants. Maintaining such a pathway may be tricky, but the results will be exceptional.
An all-green garden and healthy grass on the pathway can look tidy, as long as you eliminate the invasive species and mowe the path regularly.
#25 Charming Bricks for a Family Project
Gather your whole family and buy a set of colors. Then, paint the bricks randomly, so you'll get the beautiful and colorful pathway once you assemble your pathway. A roller or a brush will work with all bricks.
The idea works best for the informal garden and is also a perfect activity for family gatherings! If you have broken bricks, even better. The irregular-shaped and colorful bricks pathway will brighten any space.
#26 Concrete Pathway with a Twist
Concrete pathways remain the most durable and easiest to maintain option for garden paths. Making such a pathway requires strong boards and a bit more work. But, it will last for years.
If you collect large leaves and press them in the wet concrete, you create a natural pattern that is both charming and unique!
Every Path Leads You Somewhere So Personalize It
DIY garden pathways are great for personalizing your outdoor space. They can change the garden and allow easier access to your plants. With the garden pathway, there are no more muddy shoes!
You have so many options for making your own pathway. Pick material according to your preferences and play around with the design until you are fully satisfied with the results.
I hope my ideas are useful to you! If they are, please consider liking the article!