DIY indoor plant wall projects are an inexpensive, but effective way to boost up your interior decoration and create a stunning wall piece! If you love plants or you are searching for a natural way to decorate a blank wall, here are the ideas you need!
A plant wall is not only a beautiful decoration inside your home. Plants are known to improve the quality of indoor air, improve mood and help with relaxation. Additionally, if you are already a plant collector and dissatisfied with your current plant display, a DIY plant wall is the perfect week project!
Here are some projects to try!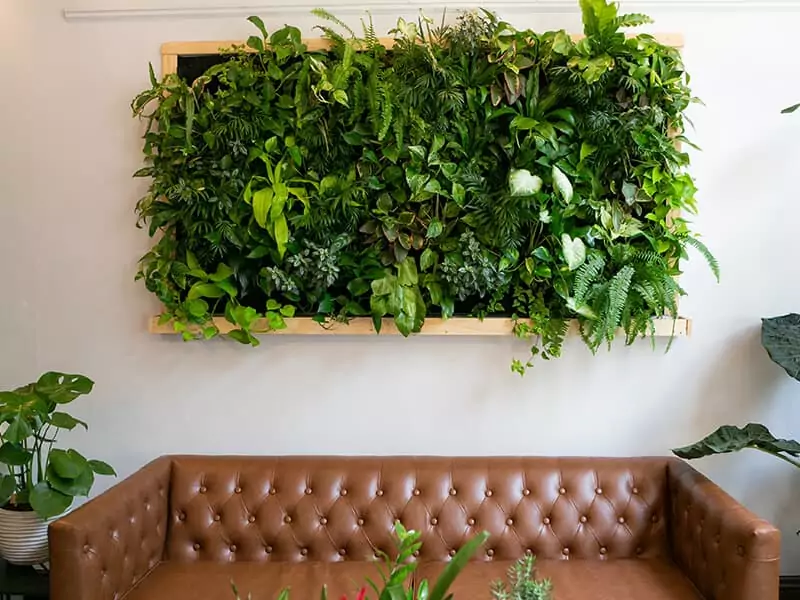 #1 Creativity Meets Functionality
Do you like cooking? What about herbs? You can make a simple, yet useful plant wall in the kitchen.
You need several wooden holders for the rectangular pots and the same-shaped pots. You can set the holders pretty dense and create your own vertical garden. Plant basil, cilantro, bay leaves and other herbs and ensure that the pots are well-draining. With this wall project, you can transform your kitchen and ensure that every dish you make tastes better with fresh herbs.
You can buy wall brackets in every home improvement shop and easily mount them on the wall.
Find out more information on how to take care of plants in the vertical garden!
#2 Succulents Wall
Succulents are among the easiest plants to care for, but with high ornamental value. Lovely succulents are compact and come in various shapes and colors. If you have a stunning collection of succulents, you can use them to transform a wall in your living room. If you have variegated succulents in your collection, pick a wall that receives the most sunlight.
Get as many pots as you have succulent specimens. You can experiment with the pot shapes to create a dynamic structure. If you prefer clean lines and symmetry, pick the pots of the same, heart-shaped for example, and mount them on the wall.
To ensure your wall looks symmetric, you'll have to know the exact dimension of the wall. Then, calculate at what distance you can spread your pots to ensure symmetric construction.
If you don't have enough succulents for the whole wall, you can hang pictures or quotes among succulent pots! Also, hang the succulents at an angle to ensure they are easily visible!
Find out how to make succulent cuttings you can use for your wall.
#3 Diamonds on the Wall
If you are skilled with a drill and hand saw, you can make a lovely construction for your wall, shaped like diamonds.
You'll need sturdy planks to cup in smaller and narrow boars. Then, attach them to the wall in the construction shape you prefer. Wherever the two boards meet, you can install a wall bracket for a pot. Mixing larger and bushier plants with compact ones will add more dimension to your plant wall!
If you have never used a handsaw, here is what you need to know before you start.
#4 Mix and Match Combo
If you are a fan of industrial indoor style, you can transform a wall in your home with modular metal wall planters. This DIY project requires a bit more skills! But, you can always buy some elements online and mount them yourself.
The key to this wall project is to build a base structure behind the planters. The structure will frame each planter. Then, you can arrange your pots in the hexagons you want. When you get a new plant, add a new planter in the hexagon and keep on transforming your wall.
Find out more about hexagon wall planter design!
#5 Pipes Planters
Here is another contemporary and industrial-style wall planter idea. This one only works with young and small plants, and when you finish the structure, it will look like a piece of art! You'll need PVC pipes, nails, a hammer and copper spray paint.
Also, prepare the plants – cuttings or seeds you'll use. For this wall plant idea to work, you'll have to pick plants with short roots.
Put the structure together and fill in the ending spots with soil and seeds!
Check out more detailed tutorials on how to create this unique piece of art!
#6 Living Wall In The Living Room
When creating a living wall, the first thing to determine is the location. For your wall to survive and thrive, you'll have to ensure enough sunlight. If the wall isn't exposed to a lot of sunlight, pick plants that can grow in semi-shade and shade.
You'll have to build your own frame for the planter in the shape and size that you prefer. Creating a self-watering system is a bit trickier, but manageable. Even without the system, your living wall won't need a lot of maintenance! Just install a tray underneath the wall to collect the excess water!
Read more information on building your own living wall!
The easy way to build a self-watering system for vertical garden. Watch the video to know:
#7 Hanging Decoration
If you are growing several vines and climbers in your home, you can use them to decorate the wall. You'll have to build the supporting structure and train your plants to grow in the direction you want – upwards.
Put the plant on the top of the wall and mount several thin, but sturdy trunks for the plant to climb on. Prune the plants to keep the shape you want!
Check out more tips on how to train your plants to grow the way you want!
#8 Round Rock Gardens
Here is another way to utilize succulents on your wall. If you have Echeveria, Ice plant or Aeonium, or any other succulent that can be grown in the rock garden, here is an idea to try. Build a large circular wall planter to mount on the wall. Or, you can also build a few smaller ones.
Fill the bottom with rich soil and add white rocks on top. Plant your succulent cuttings and finish with a glass cover on the planter.
Learn which succulents are great for rock gardens.
#9 Boho Pot Holders
People who prefer boho-chic indoors and in their wardrobe can easily transform the wall with a homemade boho pot holder.
It will work with any type of pot and container!
Start by determining the wall to decorate and deciding which plants you want to display on the wall. Pick smaller plants for your holder and prepare a rope, nail for the wall and the supporting plant. Create a structure that resembles a cloth hanger and make as many holes for the pots as you want to hang.
Carefully knit the structure to ensure it holds the pots! You can also make several single macrame pot holders for the hanging baskets to add to your setting.
Here is how to use a rope to build the wall hanger for plants!
Learn how to make macrame planters in less than five minutes. Let's watch the video:
#10 Rainforest in Your Living Room
The next idea is easy to complete, even if you have never built a structure before. It is basically a structure on which you'll hang all your indoor plants including climbers and vines. Find a sturdy metal pole that can hold up to 100 pounds or more.
Mount the pole on the wall, ideally where there is enough sunlight. You can also mount it above the window.
Then, hang all your hanging baskets to the pole, and cover the ground with larger plants, such as Philodendrons. Ensure that baskets hang on different heights to create more dynamicness!
Read how to install poles on the wall!
#11 Pallet Wall
Here is another inexpensive way to decorate the wall using pallets and plants! You can use sandpaper and wood color to prepare the pallet before you hang it on the wall.
Once the pallet is on the wall, get a few mounting brackets for pots and secure your pots on the palette. If you have climbing plants, train them to use pallet wood as a supporting structure.
Add candles for a charming effect!
Check out how to safely attach pallet wood to the wall.
#12 Propagation Wall
If you are into plants and you are always searching for new ones and propagating the old ones, why don't you build a propagation wall?
Get some glass pots or bowls and secure them on the wall. Add the plant you're propagating and create a stunning display! The structure will look airy and delicate. Make sure to pick a sunny wall to help the plants.
Once your plants are ready to be repotted in the soil, use a glass bowl to propagate new ones!
Find out which plants are great for propagation in the water!
#13 Trellis on The Wall
Vigorous climbers, such as English Ivy and Pothos, can become a focal point on your plant wall. In fact, you might not need any other plant for the wall!
Build a trellis using thin metal poles or wooden planks for your plant to climb on. Create a net-like shape of the trellis and train the plant to climb on it. After some time, your Ivy will cover the structure and create a lovely wall decoration for your home.
Prune the plant to keep it in the shape you want!
Discover simple ways and designs for metal trellises.
Learn the simple way to build a trellis:
#14 Minimalistic Plant Wall
For people who don't like complex structures and bright colors, wooden planks and dowels are perfect for plant walls. It is also a cheap way to squeeze as many plants on the wall as you can! For this DIY wall plant project, you need several wooden dowels, planks, nails, a hammer, a drill, and pots for the plants.
Secure everything on the wall and enjoy your minimalistic design!
Consider the good and bad sides of using dowel joints for your structure.
#15 Floor-To-Ceiling Shelves
If you have large and heavy plants, you'll need a strong and sturdy structure to hold them in place. You can build a large shelf using metal rods and wooden racks. It should be strong enough to hold even the heaviest plants.
There are endless possibilities on how you can arrange the plants on the shelf! Ensure that the wooden racks are modular so you can rearrange the pots as your plants grow!
Find out how to use aluminum to create a unique metal pot stand!
#16 Use Ladders
Ladders are often used as a shelf, so why not hang them on the wall? You can turn them upside down to create a large horizontal structure, suitable for larger walls. Fill the ladders with pots and glass bowls for propagating plants.
You'll have to poke holes on the endings of the ladder to get the space for mounting brackets.
Check out more detailed tips on how to attach the ladder to the wall!
#17 Metal Plant Shelf
Metal shelves are a nice detail in all contemporary styled indoor spaces. It is also one of the cheapest ways to build a plant wall in your home.
You need to design a metal shelf that can hold all your plants and secure them on the wall. Keep in mind to create a structure that will be bigger than your current plant collection, as it will grow in the future!
I recommend you build the shelf out of pieces and assemble it when you are ready to secure it on the wall.
Read how to make a metal shelf for the plants from old wire shelves!
#18 Plant Wall For Small Space
If you don't have a lot of free wall space, you can still create a unique wall plant. Find the sturdy branch outside and attach it to the wall. Then use macrame to create the ropes which will hold smaller pots with plants.
The beige macrame and the natural branch add a charming effect to this wall plant idea.
Check out the list of small indoor plants!
Plant Walls For Modern Home Jungles
Creating a plant wall is an excellent way to decorate your home and stay in touch with nature. If you don't have a garden or live in a small apartment, you don't have to give up on your plants! Use vertical gardens to enhance the available space for planting.
Which idea will you try first? I like the simplicity of the ladders on the wall, but building a live wall is still on my bucket list!
If you enjoyed the article, please don't forget to share it and give it a thumbs up!