Are you searching for creative DIY solar lighting projects to try? Here is a list that will inspire you to repurpose old items and create stunning outdoor lighting!
Electrical outdoor lighting can be a lot of fuss to install. Also, it isn't suitable for DIY projects unless you are an electrician! On the other hand, solar lights are user-friendly. They aren't a wire mess, and they can stand on their own, absorb the sunlight and lighten up your garden in the evening!
Here are 31 ideas to try to brighten your outdoor space!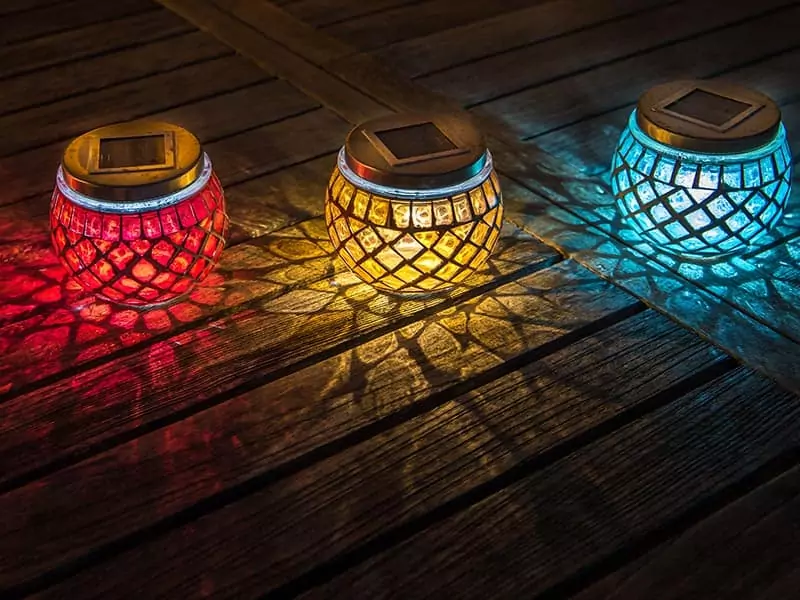 1. Charming Chandelier
Who said chandeliers are only suitable for indoor use? Build a hanging chandelier for your garden using a metal basket hanging frame. Also, prepare a chain or a rope you tie on the chandelier to hang it on the branch and a stake solar light.
You can add decoration for your chandelier – shells, fake crystals, or glass!
The science behind outdoor solar lights
2. Solar Light in a Tin Can
The next project is as simple as it is charming. You'll need an old tin can, outdoor solar light of your choice, a drill, adhesive, and a wire to secure everything together.
I recommend marking the pattern on the tin can before you start piercing it with a drill! Then, assemble the light inside and hang the can!
Get the most out of your tin can solar lantern.
3. Spilling Solar Light
Spilling solar light from a teapot looks much more complex than it is! An old teapot and LED solar-powered string lights are the base of this lovely DIY item that will create a beautiful environment for summer nights!
Create a string from the lights and put it through the narrow part of the teapot to mimic the spilling effect. Hang the teapot in visible sight so everyone can see your piece of art!
4. A Five-Minute Project
If you are in a rush and you don't want to spend hours decorating your outdoor space, here is an idea to try. Use mason jars to create solar lighting objects. Prepare mason jars, solar lights, and glue. Also, the double-sided tape will work instead of glue.
Assemble everything and secure the stake with glue or tape so it won't move inside the jar! Place the jars where you find them fit!
5. Attractive Path Light
Sidelights around the pathway are always a great idea! If you want a beautiful solution on a budget, here is what to try.
Use two cedar boards and any solar light to construct the pathway light. One cedar solar light item for your pathway won't take you more than an hour to build. Then, you can repeat the process and create several more to illuminate the entire pathway!
6. Waterdrop Lighting
A waterdrop lighting setting will transform an ordinary garden into a fairy garden! If you have an old faucet in the garden, make a stunning waterdrop solar light!
Use solar-powered LED string lights and old watering globes. If you cannot find watering globes, look for a round glass bulb you will fill with string lights and attach to the faucet.
7. Rustic Decor for Your Porch
If the porch is your favorite part of the outdoor space, decorate it with a rustic lighting setting! It can be a DIY project for the whole family! You can collect branches and logs during a family day in nature. Tie everything together and add solar light sticks as a final touch!
8. Solar Candle Holder
A candle holder can be an interesting table centerpiece. If you use solar light sticks instead of candles, it becomes a beautiful outdoor lighting piece!
Get a vintage candle holder and use spray paint to customize the color. Put the stick on and place the candelabra where you need a bit of light!
9. Glass Bottle Lights for Porch Lights
It is so much you do with a string of solar lights and a glass item, such as a clean bottle. Before you start, remove all stickers and labels from the bottle and remove adhesive to the bottle to look smooth and polished!
Stick the string lights inside the bottle and create as many glass bottles as you need to decorate your space!
10. Flower Stand Lamp
If you want to illuminate your garden, patio or porch effortlessly it doesn't get any simpler than this: put a few solar lights stakes in the pot! Find different shapes of these solar lights and combine them with a variety of plants to create an attractive lighting system.
If you have more time to spare, you can even build a flower planter, paint it and add solar lighting on top to make the structure pop!
11. Wooden Light Fixture
Those skilled with a saw and nails will enjoy making this lovely stand for solar light stakes. You'll need 4×4 boards and several solar lamps.
Decide what size you want posts to be. I like the combination of several differently-sized posts for an additional structure and dynamic. Prepare a power drill, and wood stain if you want to customize the lamp holders!
12. Give Life To Old Wooden Blocks
If you don't know what to do with old wooden blocks, don't throw them! You can pair them with lantern-style solar lights and spread them around the garden to get an adorable lighting system! Pieces of the old Jenga game will also work for this wooden block lighting structure!
Glue the pieces together and put the solar lamp on top. The wooden block will work as a stand and allows you to move the lamp easily to charge on sunlight most efficiently.
13. Vintage Style Solar Lamp
In DIY projects, repurposing is everything! An old, rusty, vintage lantern can get a new life and become a part of a beautiful solar lamp. First, assess the condition of the lantern, and repaint it if it is necessary.
Find a mason jar that can fit inside the lantern and fill it in with marbles. Add a simple solar light inside, and your vintage solar lamp is ready to be displayed.
14. Traditional Solar Lamp for Outdoor Seating Set
People who are fans of traditional outdoor settings will love the classical-style solar lamp! It looks as if it has escaped from someone's living room. You can easily make one yourself using an old lamp.
Detach the wiring and cables. Instead of a glass bulb, put the solar light stake below the lampshade!
15. Charming Fairy House
Building a fairy house with your family is a nice way to promote imagination in your kids! You will also get them interested in gardening and crafts.
DIY fairy houses and solar lighting is beautiful decoration for your garden. Collect rocks and interesting pieces for a fairy house and include the whole family in the project!
16. Rustic Chandelier for Your Garden
Here is the inspiration you need to create a chandelier for your garden! You can hang it above the outdoor table or make several chandeliers and hang them randomly in the garden.
The first thing to do is to collect your materials! The base for the chandelier can be an old tomato cage which you will decorate with thin boards or wiring so the light can come in and charge the solar lamp.
Once your chandelier is complete, put the solar lamp inside, and use wire to hang it in place!
17. Macrame Solar Lamp
The next solar light project consists of jute twine and a wine cup or a small glass jar. For this macrame solar lamp, you need to create the macrame holder for the jar, assemble the solar light top on the cup, and find a place for it in your garden.
If you have conifers with a dense canopy, you can hang lamps like this across the canopy for the best effect.
The simplest and most charming idea for mason jar solar lighting.
18. Boho Solar Lamp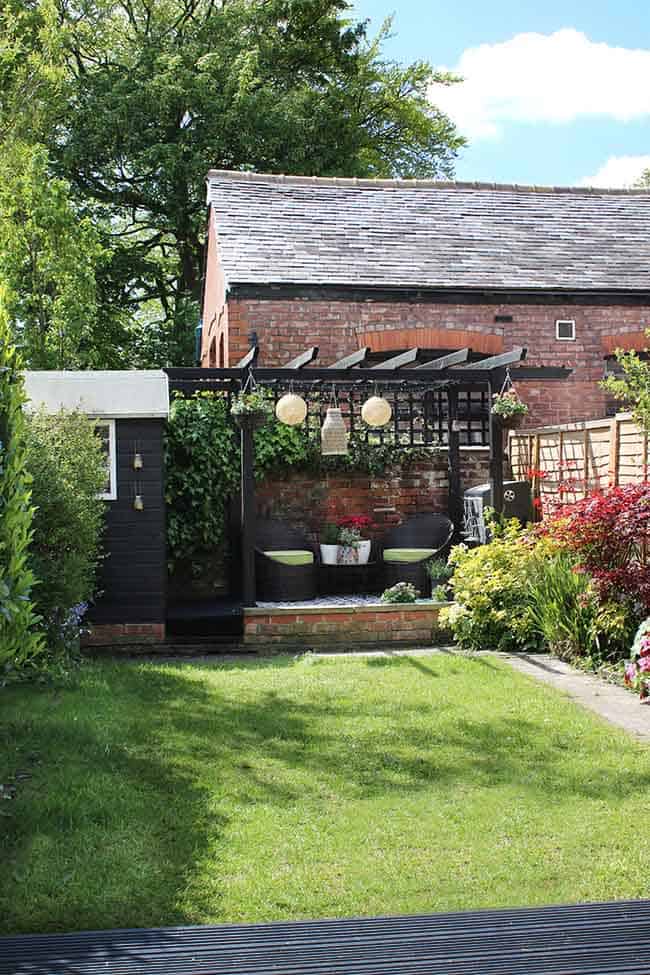 Bamboo is a crafty material that can help you achieve boho chic in every setting. Old Chinese lanterns will be of great help for this project. You also need to prepare twine and bamboo light shade. Silicone sealant will be helpful to keep the twine and bamboo in place!
The trick is to cut the top piece of the lantern and insert the top of the solar light. You can secure it with a twine and hang the lanterns where you want!
19. Illuminated Address Sign
Details always make everything special. The address sign is something people don't usually think of as decoration, but it has a lot of potential!
If you create a solar-powered lighting address sign, your home will stand out! Get a large solar lantern and customize it with vinyl panels. Use a dark marker to put the address in and secure panels with glue!
20. Cute Solar Mushrooms
Did you know that you can make cute mushrooms for your garden using simple glass items, such as a vase and a bowl?
Prepare a strong glue that will hold the bowl on top of the vase and resemble the mushroom shape. But, before that, insert the solar light stake in the vase! You can paint the bowl to get cute little mushrooms for your garden and create more similar projects!
21. Embroidery Hoops For Porch
There are infinitive possibilities for decoration and hanging solar lamps. Do you have metal hoops you don't know what to do with them? Take two of them and combine them together so they can hold a structure inside.
You can glue the solar stake directly to the hoop or put the mason jar with a solar light inside. Add a chain and hang your charming lamps on the patio!
22. Store-Bought Solar Stake With A Twist
Solar light stakes are cheap and you can even get them in dollar stores. The simplest way to use them is to stake them around your pathway.
But, if you want to spice things up, remove the top cap of the stake and expose the light. Glue regular glass or jar on instead and get unique solar pathway lights!
23. Embrace the Beach Vibe
Is summer already there? If not, you can still enjoy some beach vibe with your solar lights! Use the seashells you collected last time you were at the beach and fill the jar with them in half. Then, put the solar light stake top or solar strings inside and distribute the lamps around!
24. Easy Solar Street Lamp
If you are bored with your current street lamp or you want to make it more eco-friendly, here is a way to do it. You'll need fixtures and globes and solar lights.
Most of the supplies you can get from local thrift stores, such as brass fixtures for the inside mechanism. Remove the wiring and glass bulb and replace them with solar lighting.
25. Solar Pipe Tree
Store-bought solar decorative structures can be quite expensive. But, you can build an attractive light tree with an old pipe and several solar light stakes.
You will use an old pipe, several elbow fittings, nipple fitting, and plug fitting. Once you assemble the pipe, insert the solar stakes and coat the structure with an anti-rust spray.
26. Cedar Landscape Lights
The thing about solar stakes is that lights are usually great, but the stakes are made from cheap plastic. You can upgrade your solar lights by inserting them in the deep cedar cubes, which will protect the light stakes from outer damage.
It is also a nice way to create interesting light posts and customize them with wood stain or paint if you want to!
27. Lights Around the Pool
Tall solar lanterns are much pricier than standard cheap stakes. But, you can purchase cheap ones and still create a beautiful light around the pool.
To make a lamppost, you'll need a 1-inch pipe, one solar stake, a large plant container, and a spray with a metal finish effect for plastic! Insert the pipe in the plant, add the solar light on top and spray everything to make it look like a store-bought item!
28. Statement Piece in Your Garden
Don't get intimidated with DIY projects which include concrete. You will need a garden stake solar light with a removable stake, a round oatmeal container, a metal pole, and a bag of the concrete mixture!
Fill the container with concrete, stick a pole in it and put solar light on top! Once the concrete is dry, cut the container, and you've got a concrete pillar with solar light!
29. Solar Lighthouse
If you feel crafty and you've got several plastic cups, make a lighthouse! Plain white cups can work best because you can draw on them and paint them the way you want.
If you want to make the structure even sturdier, you can use clay pots and line them with cardboard. Assemble the structure and draw windows on each pot or cup to make your lighthouse more attractive!
Insert solar light on top and place the structure somewhere sheltered from rains but with a lot of sunlight for charging!
30. Solar Light Flowers
You can find solar lights in different shapes, and special designs are often pricier. But, use spoons and other pieces of silverware to make your solar light flowers instead of buying ones in the store!
You can paint the silverware or use glitter to create shiny lamps! Stake them in flower pots for the best effect!
31. Garden Obelisk With Light
The last project on my list is perfect for large gardens and summer nights! You'll need a glass globe, solar light, and material to build a simple wooden obelisk!
If you already own a garden obelisk or a similar structure, you can assemble the solar light in the globe on top of the obelisk and you're done! If not, build an obelisk from thin wooden planks first, and then add lights!
Step-by-step guide for garden obelisk construction
Improve Ambient Atmosphere with Eco-Friendly Solar Lights
Solar lighting is the future! If you aren't still ready to switch to solar power completely, start by decorating your garden with attractive solar light structures! As you can see, there is so much you can do with solar lights!
Which idea is your favorite? I will make the tin can lantern for my patio ASAP!
Come back for more useful DIY gardening projects!