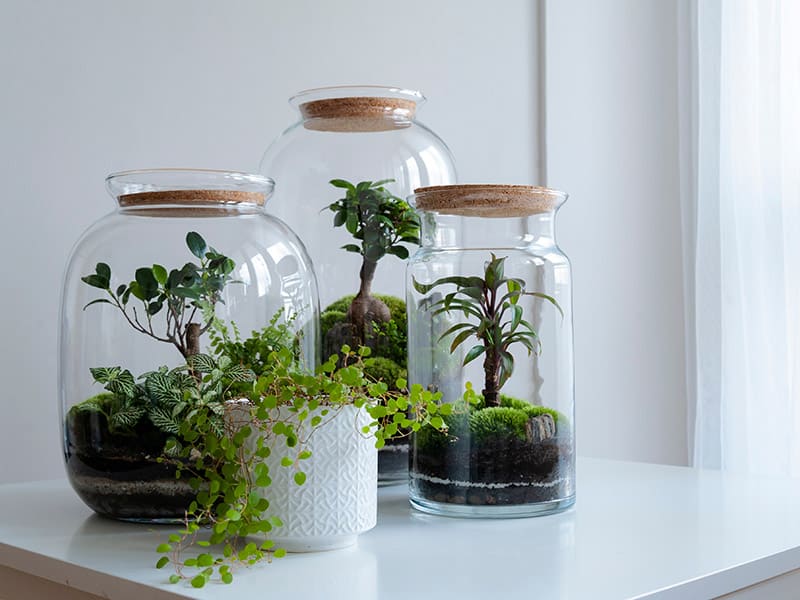 Are you looking for some DIY terrarium ideas? If you answered yes, here is an incredible list for you! I included some ideas with classic terrarium items and things you would never consider for a terrarium! Still, these look amazing as tabletop terrariums or table centerpieces!
Find the ideas for standard terrariums and unique versions of vertical terrariums!
Let's get started, we have a lot to cover!
1. Simple Mason Jar Terrarium
The glass jar is a must-have item if you want to set up a terrarium fast and with a beautiful visual effect. Prepare a small succulent plant, pebbles, moss, and soil. You can also insert decorative pieces, such as plastic mushrooms, to make the terrarium more attractive!
2. Plastic Bottle Terrarium
Here is a project to try with your kids! Get clean plastic bottles, pebbles, succulents, rocks, and soil. Cut the bottle in half and fill the bottom with soil. Insert succulents in and add the rest of the ingredients! Bring the bottle top back and that is all!
3. Small Terrarium From A Glass Container
Here is a basic terrarium guide. You can always customize it and make it more attractive by changing the decoration. Use a clear glass container of your choice. It can be an unusual glass, bowl, or whatever you have around. If the container doesn't have a lid, it will require a bit more maintenance.
Always put pebbles first, as they will improve the drainage! Then add soil and continue layering parts until you assemble everything!
4. Terrarium Fairy Garden
Here is a beautiful, low-maintenance terrarium to create using a glass bowl! Sketch the terrarium to map out what you want to highlight and focal pieces.
Choose a theme for your fairy garden. It can be wilderness or beach, whatever your imagination leads you towards!
5. Unique Teapot Terrarium
If you don't know what to do with Medicine and Paddle plants, save them for a terrarium! Those are perfect succulents for terrariums! Go through thrift shops and find a vintage teapot, fill it with pebble, soil, moss, and add plants! You've got yourself a charming teapot terrarium!
6. Hanging Terrarium
Terrariums aren't only good as tabletop pieces. You can create a hanging terrarium as well! I recommend placing an additional bowl with soil and pebbles inside the container to make the structure prettier and improve the drainage. Use cactus soil mix for best results!
7. Picture Frame Terrarium
If you want to make this Pottery Barn-inspired terrarium, go to the dollar store and get several wooden picture frames.
Use them to build a tiny house for your plants! Glue the frames together for sturdy construction and paint them if you want to customize the terrarium even more. Once the house is done, you can fill it with your plants!
The simplest way to build a terrarium from picture frames.
8. LEGO Terrarium For Kids
If your kids are true LEGO fans and you want to include them in a fun DIY project, build a terrarium with LEGO characters. You can have kids change the characters and customize the story inside the terrarium, and you can pick the plants!
9. Fake Succulents Terrarium
If you want a lovely decoration but you don't want to fuss around with real plants, use fake ones! Prepare copper wires, embroidery hoops, glue, and fake succulents and moss. Assemble the globe from hoops and use wire to support the structure! Fill it in with your fake plants and put it on the coffee table for a lovely detail!
10. Terrarium Lamp
If a simple mason jar terrarium is too plain for you, upgrade it to a lamp! The project might be more complex than some other projects on the list because it includes drilling and making the lamp base. Once the lamp base is ready, assemble it on top of the terrarium!
11. Holiday Terrarium
The holiday season might have been over, but you can use the idea for the next year! Create a lovely Christmas terrarium using a cookie jar with a lid, fake plants, and Christmas ornaments! Bottlebrush trees are perfect for the project!
12. Enchanting Lit Terrarium
Collect a few frames you will glue together to the shape you want. Join the frames and attach the base to the bottom. Put the tap lightly as a centerpiece of your terrarium and hide it with plants and pebbles!
The terrarium will grow and become a beautiful decoration for your home!
13. Minimalistic Terrarium
Who said you have the terrarium that must be complex and include a bunch of items? To create this minimalist terrarium, you only need several items: white gravel, succulent plant, soil, and a glass! You can also make several terrariums like this and display them together!
14. A Terrarium With A Stand
If you want to elevate your terrarium, make an accompanying stand for it. Basically, the structure consists of a small terracotta pot and glass bowl. However, prepare white paint, a hot glue gun, beautiful plants, and get ready to create wonders!
15. Combine Several Terrariums
The easiest way to spruce up things with terrariums is to combine several miniature gardens! You don't need fancy tools or items for the project.
Build three terrariums of different sizes and assemble them together to create a lovely terrarium tower! If you are using live plants, ensure you know everything about do's and don'ts with terrarium plants.
How to take care of terrarium plants.
16. Coastal Terrarium
Bring the beach vibe with this charming coastal terrarium! White gravel and a deck chair will blend great with tropical plants. Popsicle sticks are practical for this terrarium, as you can make a fence or chair with them!
17. Old Fish Tank Terrarium
If you have an old fish tank, you can assemble a large terrarium as a focal decoration in your home! You can also find one in thrift stores and clean it well for the project.
Pick various plants with different textures and colors to create a more attractive terrarium. Adding perlite to the bottom and using white pots will give the terrarium an aquatic vibe.
18. Dino Terrarium for The Whole Family
The dino terrarium is a perfect addition to every dino-themed bedroom! Collect mini dinosaurs' toys and a see-through container for your dinosaur's home! Add black sand, rocks, and mini dinosaurs to complete the project!
19. Rainbow Terrarium
Add colors to your terrarium with rainbow-colored sand. Layer each differently colored sand down and add your plants on top. Using a clear glass vase will help allow the sand to stand out. Also, you can use a straw to create interesting patterns in the sand before you insert the plants.
20. Lightbulb Terrarium
Lightbulb terrarium seems like a lot of work, but in reality, it involves a lot of detailed work. You'll have to use tweezers, small rocks, and air plants and be very patient while you work on your mini garden. A handful of moss and two tablespoons of sand will be sufficient for the lightbulb terrarium.
Building a self-sustaining terrarium.
21. Vertical Terrarium Wall
Terrarium walls are impressive vertical gardens with low-maintenance nature and brilliant visual impacts. Before you start, visualize the design and effect you want to accomplish. The process is simple like making a preserved moss wall!
If you want, use round bowls for terrariums, or add hanging succulents for the best effect. Once you are happy with your terrariums, hang them on the wall to get a coherent structure.
22. Add Waterfall to Your Terrarium
The waterfall is lovely detail in every terrarium, and you can build one easily using styrofoam. First, start by making rocks and painting them with acrylic paint. Use an aluminum clear cast resin to mimic the effect of the water pond. Then, plant your terrarium and enjoy the beautiful effect!
23. Water Terrarium
Water terrarium isn't low maintenance, because the plants require regular water changes and fertilizer. Position the terrarium in sunlight because most plants require bright light to survive in the water! Don't forget to rinse pebbles well before using them!
24. Wine Bottle Terrarium
Wine bottle terrarium is probably one of the most common DIY projects for terrariums, apart from the mason jar. Put the pebbles first, and add a layer of charcoal. On top, put the soil and plants.
You'll have to use a long chapstick to handle everything on the narrow surface! If you choose tropical plants, put the cork on to increase humidity.
25. Fish Bowl Jungle Terrarium
Fishbowl is such a classical item for terrariums. It also allows you to add as many items as you want to create a real jungle in the bowl! If you use fake plants, the fishbowl terrarium will quickly become your favorite piece of low-maintenance decoration!
26. Spice Jar Mini Terrariums
Spice jars aren't only for spices! You can also use them to create a lovely set of mini terrariums. Clean spice jars well and dry them before you add tiny pebbles and moss. I recommend using dried moss and polished gravel for best results.
27. Air Plant Terrarium
Air plants are a great choice for terrariums because they don't require soil to grow! Therefore, you have a lot of options for customization. Add moss, rocks, or sand to create a unique terrarium interior. Include crystals such as amethyst for a prettier appearance.
28. Wedding Favors
Do you have a wedding approaching? Here is a quick, simple, and inexpensive idea for wedding favors. Make mini terrariums for your guests! Use simple glasses as containers and fill them in with standard terrarium items such as rocks, sand, and plants.
29. Herb Terrarium
Who doesn't love fresh herbs? You can grow them in terrariums! Clean the open glass container with half vinegar and water solution to clean the container properly.
Put the soil mixture of peat moss and loam, as the combination works best for herbs. Add your herbs and ensure they are planted deeply enough so they stand upright!
30. Moss Terrarium
If you don't want to use fake plants or struggle with real ones, maybe moss is a good choice for you. Moss is simple to combine with other terrarium details, such as rocks to create lovely greenery. Use dried moss for best results!
31. Wooden Terrarium
You can use glass containers for the terrarium and create a wooden stand for it to make the structure prettier. If you are skilled with wooden planks and saw, the alternative is to build a wooden terrarium from scratch!
In both cases, the final result will look great in every corner of your living room!
32. Chandelier Terrarium
Repurposing things is a great way to save money and create unique pieces for your home! If you have an old brass chandelier, transform it into a beautiful terrarium! You can disassemble it and make several small geometric terrariums or make one large terrarium for your plants! The choice is on you!
33. Halloween Terrarium
Terrariums can be customized to match any theme, including Halloween! If you like a Halloween terrarium, you don't have to wait for Halloween to display it! Fill the jar with spooky items, skeletons, and other miniature figures. Combine dirt and moss for ultimate spookiness!
34. Table Terrarium
If you have an old wooden table you are ready to throw away, upgrade it to a terrarium table! Pick the table with a glass top to finish the project easier. You can make it with live or fake plants. Sand and coat the wooden parts of the table if you don't like the current appearance!
Cheapest, eco-friendly table terrarium.
35. Copper Terrarium
A combination of copper and glass looks elegant and isn't too complex to handle in DIY projects. You can get these terrariums in most home improvement and decoration stores! Fill them in with cactus soil and plant a succulent in each terrarium. Pick several differently shaped containers to make the display more appealing!
36. Dried Floral Terrarium
Anything can go inside the terrarium, including dried flowers! Pick small flowers and keep them in the dark and dry place to dry and preserve them. You can add unscented hair spray to protect the flowers from decomposing on touch. Fill a terrarium with sand, pebbles, or rocks and display your lovely dried flowers!
37. French Press Terrarium
Here is a terrarium you probably haven't seen before – made from an old french press! When the mesh screen in your French press stops to filter coffee well, it is time to repurpose it! Prepare small pebbles, charcoal, small potting plants, and soil for the projects and layer everything.
38. Autumn Terrarium
Pumpkins are standard fall decorations. But, instead of just displaying the pumpkins around, you can put them in a terrarium for autumn decoration. If you have an old clock dome, put several pumpkins inside and have a nice setting!
39. Terrarium With Fake Water
Common items in every terrarium are rocks, soil, and plants. Adding fake water to the terrarium will instantly transform it and make a stunning landscape! You can use candle gel wax, epoxy resin, blue stones, or artificial water products!
40. Outdoor Terrarium
People keep terrariums indoors, but here is an idea to try for your outdoor space! You'll need a large planter, suitable for succulents, the plants of your choice, and a large piece of sturdy glass to put on top! You will get a beautiful table, but also your succulents will be protected from harsh weather!
41. Vintage Terrarium
Vintage decoration isn't everyone's cup of tea, but most people will love a vintage terrarium filled with an attractive terrarium plant combo! An old birdcage with glass may be perfect for the project, but you can use whatever vintage bowl or glass you have!
42. Terrarium Necklace
If you would like to bring your plants with you and you're not afraid of detailed work with tweezers, make this terrarium pendant!
You will have to fill the mini glass bottle with a stopper with terrarium items and attach it to the chain! Make several pendants, experiment with the chain and combine them to make a statement necklace!
43. One Plant Terrarium
If you have one succulent you would like to show, you can make the plant a central and only piece of your terrarium. For example, Echeveria is a beautiful terrarium plant that is better planted alone or with succulents with the exact light and water needs.
44. Christmas Ornament
For the next holiday season, make your own Christmas ornaments! You'll need round glass containers, rope, and something to fill the container with, including soil, real or fake plants! Once you make several ornaments like this, you can decorate the tree with them!
45. Mini Outdoor Greenhouse – Terrarium
If you like spending time outdoors, you can arrange your space to look cozier and to help you nurture your plants even when the weather isn't well. I am talking about a small terrarium/greenhouse you can make yourself!
That way, you can grow even tropical plants year-round and don't have to wait for the summer to enjoy them!
46. Terrarium For True Fans
Themed-terrariums are always nice presents! If you have a true Star Wars fan in your family, surprise him with a unique Star Wars terrarium! You can build a miniature Yoda and add LED lights to make the terrarium stand out in the dark!
Star Wars terrarium guide.
47. Bonsai Terrarium
Don't get intimidated by the growing tree in a terrarium gardening challenge! In essence, growing a miniature tree inside a terrarium isn't very different from growing other terrarium plants.
Choose the correct tree species for bonsai and apply suitable care for it.
48. Into The Wild Terrarium
If you want to bring the wilderness vibe into your home, set up your terrarium to resemble the nature you can find in the woodland! Use moss, rocks, plastic animals, and appropriate plants! You can make several terrariums with the woodland theme to bring the forest vibe into every space!
49. Fantasy Terrarium
Here is a project which will take you time to complete – your fantasy terrarium! You can bring the fantasy world closer to you by filling the large fish tank with plants and fantasy items!
Wake up your imagination and customize the terrarium according to your likings! You'll enjoy making one the same you will enjoy looking at one!
50. Hobbit Home Terrarium
Hobbits do live in small homes and love miniature gardens! You can make one for yourself with moss, pebbles, cotton thread, small animal figures, washi tapes, nail varnish, tiny twigs, and other supplies. Make Tolkin proud with a true Hobbiton in a glass container!
51. Fairytale Terrarium
Does your kid have a favorite fairytale? If you answered yes, build a unique terrarium for the nursery featuring plants and characters from that fairy tale? A terrarium with a well-designed scene like this can also be a beautiful and unique gift for your friends and family!
52. Living Stones Terrarium
Stones and succulents are a common combination for terrariums. But, you can also use a set of succulents called Living Stones to create a unique and low-maintenance mini ecosystem!
Living Stones or Lithops are great terrarium plants. They are low-maintenance, grow well in all conditions, and look great in glass containers!
53. TeaCup Terrarium
If you don't know what to use the transparent teacup for, why not make a terrarium from it? You can either fill the cup with soil and miniature plants or create a set on the plate and put the cup on top. Both terrarium versions are easy to make and beautiful!
54. Large Terrarium
After you've made several tiny terrariums, it might be a good moment to invest in supplies for a large one!
You'll need a large glass container or cabinet, a lot of planning, and knowledge about terrarium plants. Moss is always a great idea, and you can fill in the blank spots inside the terrarium with it.
You Don't Have To Choose Only One
As you can see, there are endless creative terrarium ideas! Luckily, most of them aren't too expensive or complex to try so you can mix and match them to display your plants in a unique way!
I like the family projects and themed terrariums. Also, I wouldn't mind having a fascinating terrarium table!
Which terrarium will you make? Share your thoughts on the list and feel free to add some ideas!