Do kiwis grow on trees? Many people believe that kiwi isn't different from other fruits you can find on trees, such as oranges and apples. But, kiwifruit or shortened, kiwi is a type of berry. It doesn't grow on the tree.
In fact, kiwi grows on the woody vine plant, called Actinidia. Also, kiwi is known by the name Chinese gooseberry. There are several kiwi species, but the most common one is oval, with dark seeds and bright green flesh. The average size of the fruit is 2, 3 inches in length with a diameter of 13⁄4–21⁄4 inches.
If you love kiwi, you may be wondering if you can grow kiwi vine at home. You can do it easily in warmer zones, but first, you'll have to learn the difference between a tree and a vine.
I'll cover every bit of information related to growing kiwi and explain the primary difference between tree and vine, so you can decide if a kiwi vine is for you!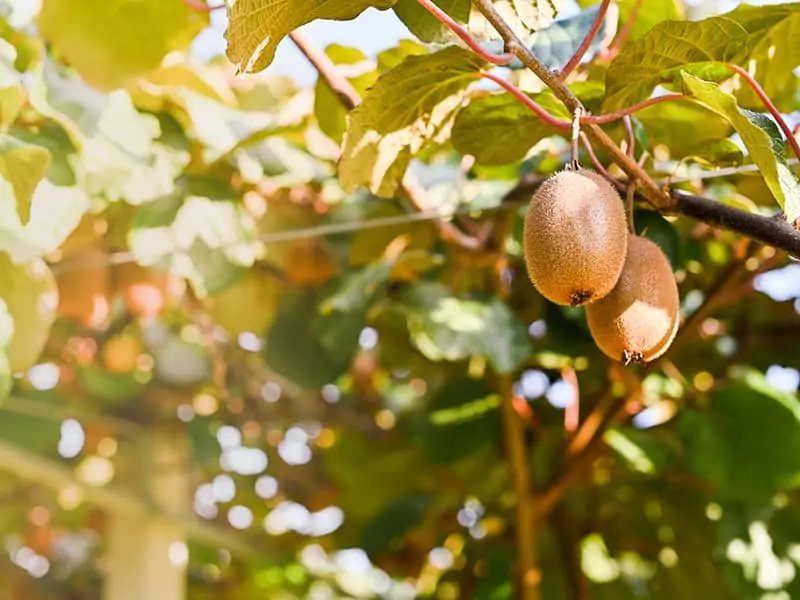 What Is Kiwi?
Kiwifruit originates from China, hence the name Chinese Gooseberry. Different varieties are grown in Asia and parts of Russia. It is a type of edible berry and grows on the vine.
Kiwi is a great addition to your diet because of the numerous antioxidants and vitamin C levels.
You can use it as a snack, in fruit salads, as a dessert topping, etc.
Kiwi belongs to the family Actinidia deliciosa, which includes vines with edible fruits. Most varieties from the family love the sun and need fertile, well-drained soil and medium irrigation. In the warmest zones, the plant prefers light shade.
The plant is frost sensitive, so if you grow it in zones with frost, you'll have to provide sufficient frost protection. So, kiwi can only survive in areas with mild winters.
Where Does Kiwi Grow?
In the USA, kiwi is hardy in zones from five to nine. But, if you live in a zone with harsh winters, you can still grow kiwi vine. Some Russian varieties can survive extremely cold temperatures, up to – 35 degrees Fahrenheit! Those are varieties such as Natasha and Ananasnaja.
Another great variety that can survive almost anywhere is Michigan State and it is known for juicy, delicious fruits.
In the USA, the largest production of kiwi is in California, because the mild climate is suitable for growing the most productive kiwi varieties. Other countries such as New Zealand, Greece, Chile, and China are also known for their commercial Kiwi crops.
Starting Kiwi At Home
As mentioned before, kiwi grows on the vine. Knowing that allows you to customize the care and prepare supporting trellis for the vines. You'll have to prepare a sturdy structure, trellis, or pergola which can hold up to 40 feet tall kiwi vines.
Apart from delicious fruits, you'll enjoy growing kiwi because of the fragrant and ornamental flowers that appear in the summer.
Before I move on to the most important information about growing kiwi vines, here is something you should know. To grow kiwi, you have to plant male and female vines because kiwi doesn't self-pollinate. The male plant bears flowers, while female plants produce flowers and fruits. Therefore, ensure you have enough space for two plants.
Additionally, one variety called Issai is believed to self-pollinate. Get more information about the cultivar hardiness in your zone if you only have space for one plant.
Keep reading to find out more information on growing kiwi at home!
Growing Issai kiwi variety in the container.
Selecting Site
All kiwi vines thrive in sunny locations. The correct amount of sunlight will ensure proper growth and the healthiest fruit production. But, when selecting the site, pick a sheltered location. Young kiwi vines are sensitive to harsh winds.
The soil needs to be well-draining. Drainage is very important because kiwi vines are sensitive to root rot if the soil remains wet.
Lastly, when picking and preparing the site for planting kiwi, keep in mind to leave space for the supporting structure. You'll need a tall and upright system, capable of holding 20 feet tall vines. The average spread of wines is 15 feet and during the peak season, each vine can develop around 100 pounds of kiwi.
Planting Kiwi Vine
The ideal time for planting kiwi is spring. If you live in an area with frost, wait for at least one to two weeks until the last frost has passed and there is no expected frost anymore. Young plants are susceptible to frost damage, so ensure the temperatures are warmer at the moment of planting.
Planting kiwi is actually very simple. You need to plant at least one female and one male plant. However, if you have more space in your backyard, plant a couple of more female plants to get the best value. In reality, you'll get the best space use if you plant one male plant on every six female plants. If you plant to go above that number, get more male plants.
The best distance between the plants is between ten and 15 feet. It will allow the plants to spread to their full potential and the roots can develop freely.
If the roots of the plants you've got from the nurseries are very long, your plant may develop better if you trim the roots ever so slightly.
Dig holes deep enough to cover the roots, put the soil on top and water thoroughly!
DIY trellis for kiwi vine.
How To Care For Kiwi Vines?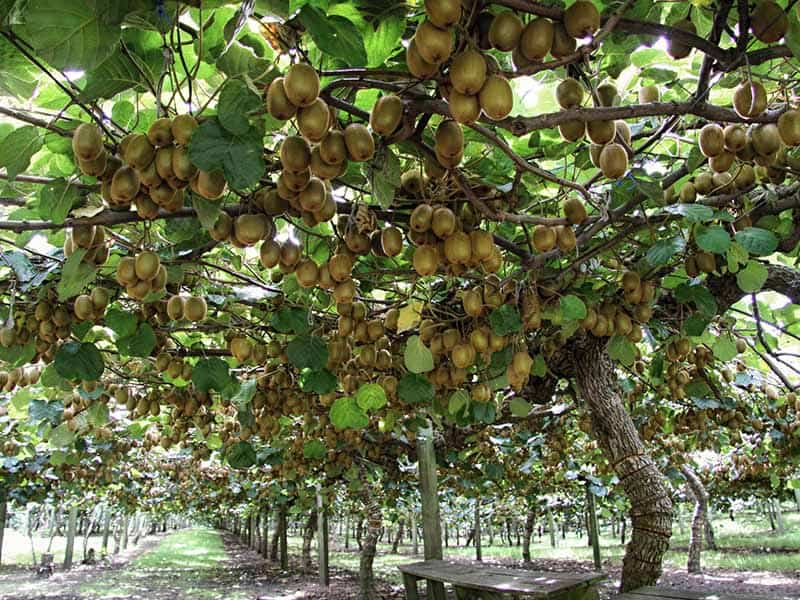 If you picked a kiwi variety appropriate for your zone, and a good spot for the vines, the maintenance of kiwi vines is simple.
Kiwi vine needs several years to reach maturity and start producing fruits. If you know the basic kiwi care, you should be successful at growing kiwi at home!
Here is what you need to know about kiwi care!
Watering
If you have ensured well-draining soil, you should water kiwi thoroughly during the growing season. It applies to extended dry periods, and growing seasons.
Watering during summer is a must because if the soil dries completely, the plant will undergo stress, which will affect further development and fruit production in the future. The average watering frequency that can be beneficial for your plant is four times per week during summer.
In case of rains, you don't have to water the plant extra.
Fertilization
Fertilization is an important maintenance step for growing kiwi.
But, never fertilize young plants during the first year after planting. It can do more harm than good. But, after that fertilization is crucial if you want to get the maximum of your plant.
Hardy kiwi variants are adaptable to different soil types. A proper choice of fertilizer can help the plant to produce prolific flowers and develop bigger fruits.
In most soil varieties, you need to fertilize kiwi every March. Also, repeat the process a couple of times per growing season. If you have planted kiwi in acidic soil, fertilize the plant in May.
Another thing to remember is that mature plants need more fertilizer than younger plants. For example, you can use only two ounces of fertilizer per application for young plants. As the plant matures, the amount increases, so mature plants need around one pound of nitrogen fertilization per year.
After June, you should be done with fertilization until next March!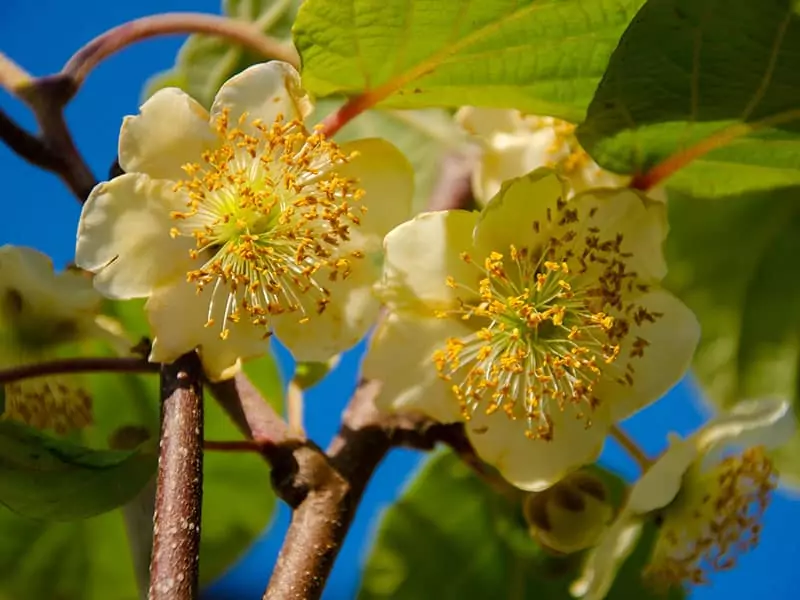 If you are wondering which fertilizer to use for kiwi vines, I recommend standard citrus or avocado fertilizer. It contains all beneficial ingredients for kiwi plants.
The choice of granular or liquid product is up to you. However, don't forget to prepare the plant for fertilization. At least two days before fertilization, water the plants regularly. When the time comes, apply the recommended amount of product around the roots.
As with other plants, morning is always the best time to apply fertilizer. Once you are done, water the plant thoroughly to increase the plant's ability to intake nutrients and prevent root burns.
Pruning
After planting, wait a couple of days to prune the twirling vines and train the plant to grow in an upright direction. Trimming the plant in the first year is important for future plant development.
As the plant grows, you'll have to prune it regularly to support lateral growth. Always remove dead or damaged branches to maintain the health of the plant.
Once you've done that, train the top branches to grow upright. You can fasten them every 20 inches. Everything that goes beyond that direction and beyond the wiring system should be cut. Don't hesitate to trim young shoots that are twisting around other shoots or grow in the opposite direction.
When pruning your kiwi vine, pick sharp and clean pruning scissors. The largest part of pruning should be completed in winter when the plant is dormant to minimize the stress to the plant. During summer, remove the unwanted shoots that grow above fruits. Also, you can cut back the branches without flowers that grow away from the supporting structure.
The best tips for pruning kiwi.
Harvesting
For most varieties, kiwi harvest is in the fall. You can recognize ripe kiwi by its brown skin and black seed.
Harvesting kiwi is simple. All you have to do is crack the stem on the fruit base. Don't judge the fruit based on the softens. Pick one fruit, if you aren't sure if the fruits are ready for harvest.
Cut it and observe the seeds. If the seeds are black, your timing is right! Your kiwi fruits are ready for harvesting!
Storing Kiwi
Storing kiwi doesn't differ from storing most other fruits. Once you pick the fruit, store it in the refrigerator at room temperature away from direct sunlight.
If you want to extend the freshness of your kiwis, store them in a vented paper bag in the refrigerator. It should keep the kiwi fresh for two months, but it only works for hard kiwis. Soft kiwis tend to go bad sooner.
Growing Kiwis In Containers
If you don't have a large backyard, don't worry, you can also grow kiwi vines in containers. The rules are similar to growing kiwi in your garden. You'll have to plant at least two kiwi plants – male and female and place them in well-drained soil in a sunny location.
Prepare trellis for the plant. You can use tomato stake for the support, as those will work just fine.
Also, for starters, you can use 20-inch pots for your plants. After several years, you'll have to repot the plant to larger containers.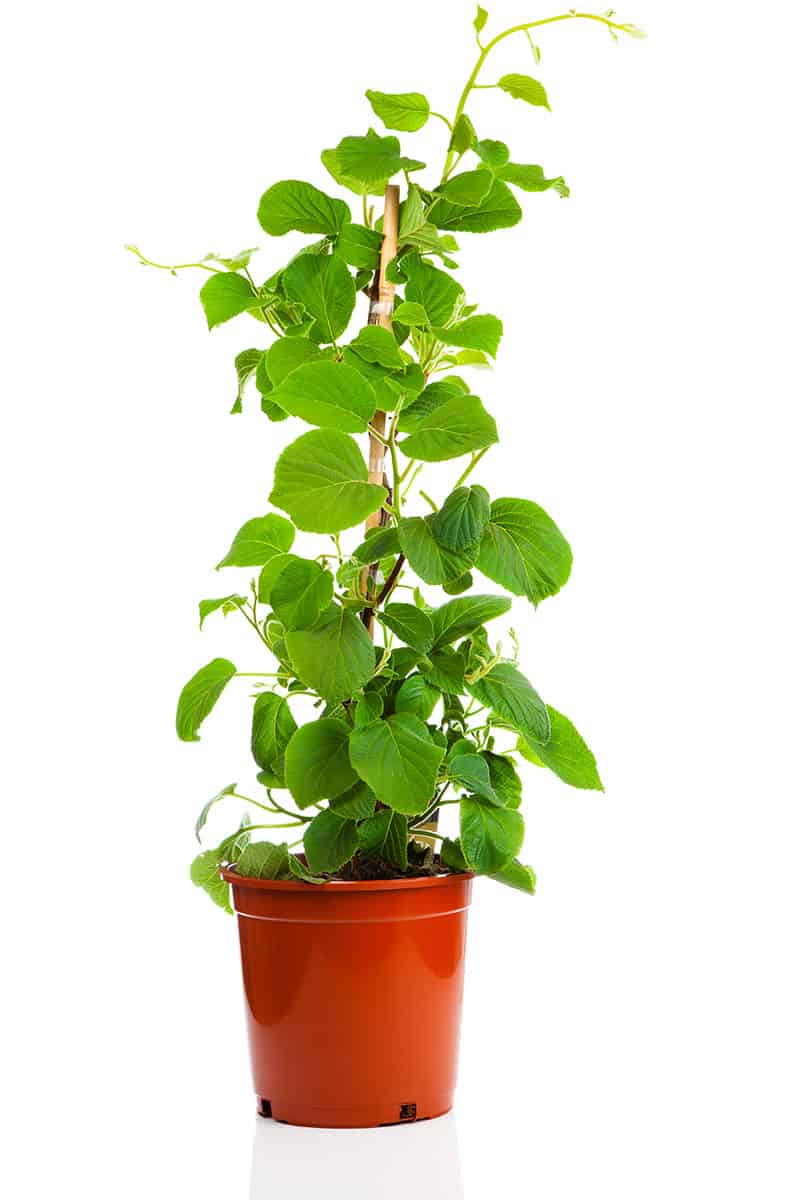 Frequently Asked Questions
Are you a step closer to growing kiwi? If you still have any doubts and misunderstandings about kiwis, here is a section that will explain the most common questions about kiwi plants.
Grow And Harvest Healthy Kiwi At Home
As you can see, kiwis don't grow on trees. Instead, the delicious fruit develops on female vines several years after planting.
Growing kiwi isn't difficult, as long as you fulfill the basic plant needs in terms of soil drainage, fertilization and pruning.
Would you start your kiwi vines in the backyard? How do you feel about growing your kiwi vines on the balcony? Not only will you have a fresh source of kiwi fruits, but you can also enjoy the visual impact of vines and the fragrance of flowers!
If you enjoyed the article, please press the like button! Check the website regularly to find new gardening articles!