Dwarf ornamental trees are the perfect way to grace every garden! You can grow them in containers and decorate the patio, driveway, or have a lovely spot in your backyard! These ornamental plants add color and enhance any outdoor space, as long as you know how to care for them and give them enough time to establish and grow to their full potential.
Luckily, most of them aren't difficult to grow. With a few smart tips, you'll get the most out of your dwarf trees!
Here is a list to consider to help you find a bold and vivid ornamental tree for your garden.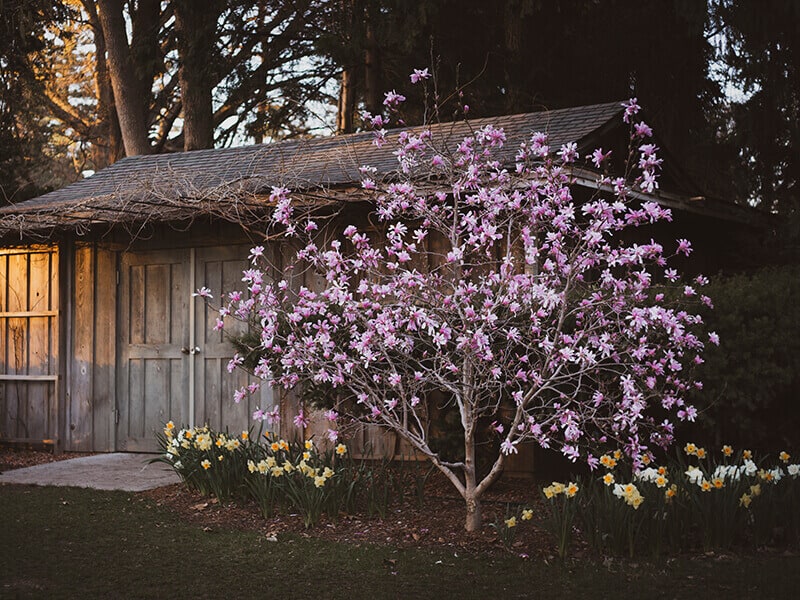 #1 Sargent Crabapple Tree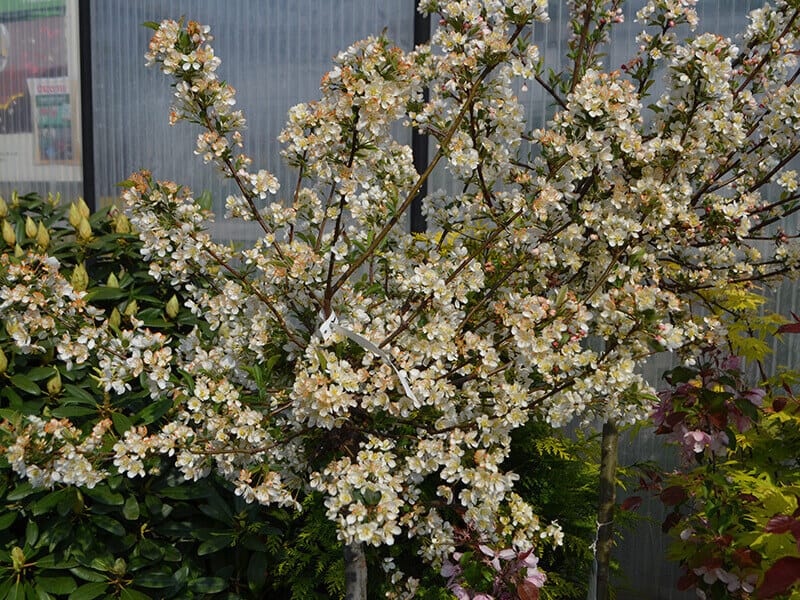 The Sargent Crabapple tree is one of the easiest dwarf ornamental trees to grow. It grows in all soil types, including neutral, acidic, and alkaline. The tree is generally low and gets from seven to nine feet tall. However, what makes this tree stand out is the spring bloom! The tree becomes covered in charming white and pink flowers.
Later in the year, the dark red fruits develop. Both flowers and fruits are heavily fragrant and attractive to birds and butterflies!
The most famous varieties are Pink Princess and Firebird.
Find out if the Sargent Crabapple fruits are edible!
Find out if Crabapples are ideal garden trees:
#2 Jack Dwarf Pear
Jack Dwarf pear is a small ornamental tree, best known for its glossy, multicolored foliage. The fusion of colors – yellow, red, and orange appear on the tree! The blossom is pearly white!
The tree has an upright growing habit and an oval crown. It is great for small gardens and tight spaces. Also, the Jack Dwarf tree has a specific branching structure that doesn't require a lot of effort to maintain.
Lastly, the tree is a moderate grower. It needs around ten years to reach 20 feet of height.
Discover more about the fruit from the Jack Dwarf Pear tree!
#3 Crape Myrtle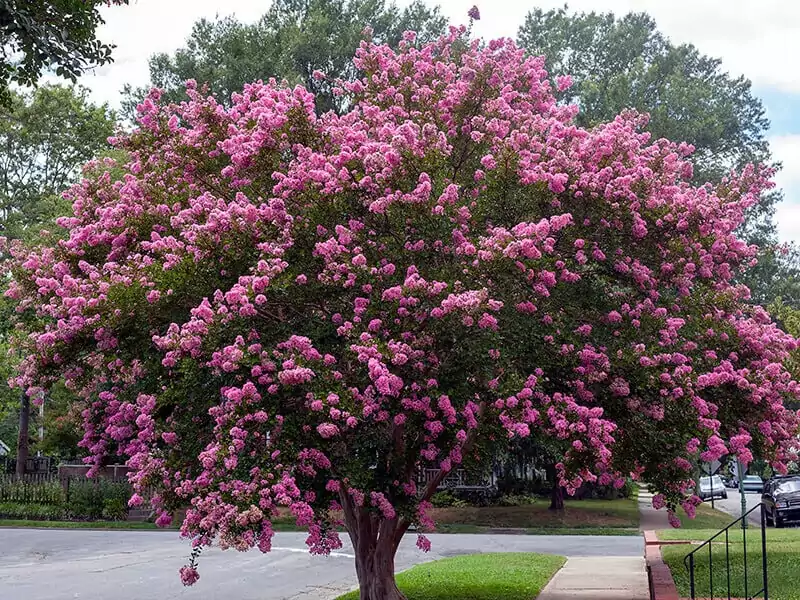 Crape Murtle or Crapemyrtle is a small tree that looks like a shrub because of its multi-stemmed structure. Crape Myrtle is famous for its light pink blossoms and wrinkled petals which resemble crepe paper, hence the name.
Crape Myrtle is beautiful year-round. In the spring, because of the lovely flowers and dark green leaves. In the autumn, Crepe Myrtle slowly transforms into a vivid shrub with numerous shades of orange and red. Also, the bark exfoliates and becomes smooth and multi-colored.
Caring for Crape Myrtle isn't challenging. You'll need to ensure plenty of water to the young tree and pinch the spent branches and flowers. Also, Crape Myrtle needs pruning, and the ideal timing for it is mid-July. It grows around five to eight feet tall.
Learn how to grow the most beautiful Crape Myrtle in your garden!
#4 Seven Son Flower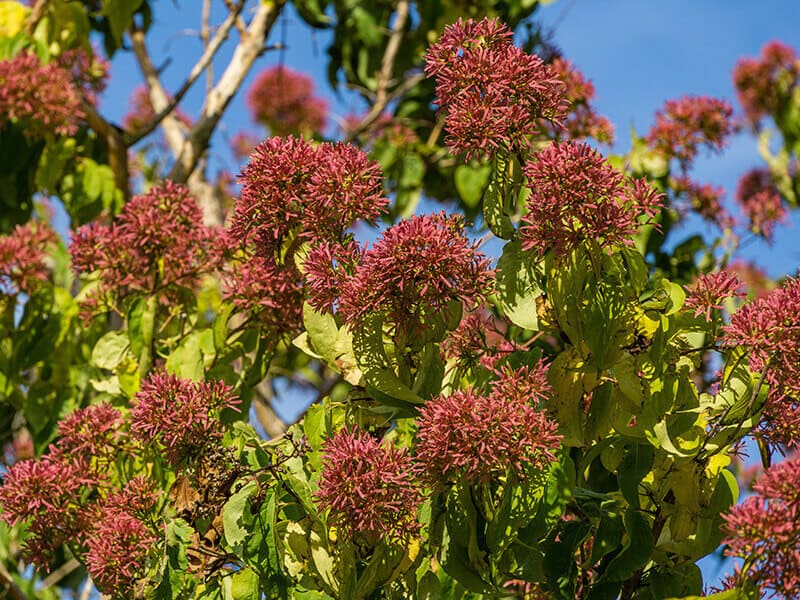 The Seven Son flower tree blooms in midsummer. The plant got the name because of the sets of seven flowers!
This small tree has rich foliage. The leaves are thick and glossy, deep green, and about 6 inches long. In most cases, you can expect your Seven Son Flower tree or shrub to grow up to 15 feet tall. In its native habitat – China, the Seven Son Flower tree can grow up to 20 feet.
Once the white flowers fall away, the plant becomes pink!
Discover more about the unusual, vase-shaped woody Seven Son Flower!
#5 Hinoki Cypress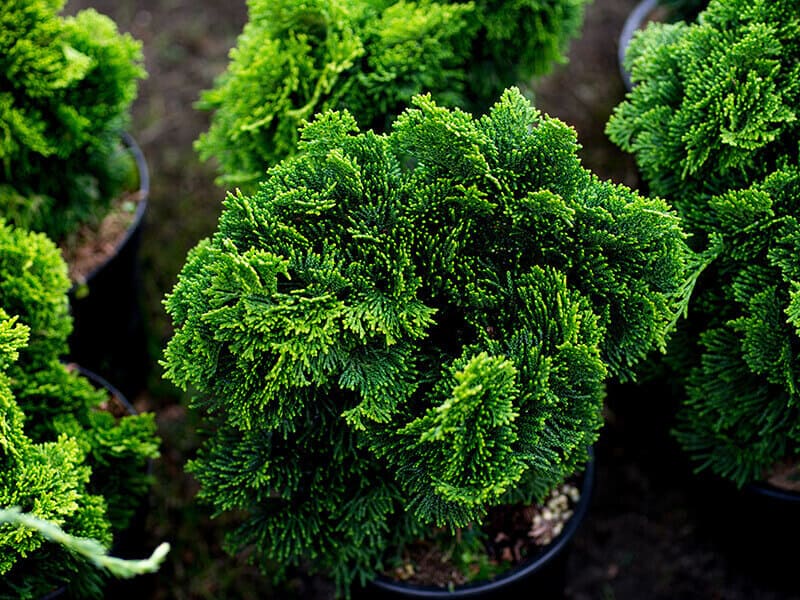 If you are a fan of conifers and you don't have enough space to grow them, dwarf Hinoki Cypress might be an option for you. It is a lovely dwarf conifer that doesn't get taller than five or six feet. In width, the Hinoki Cypress is around four or feet wide and features almost a pyramidal shape.
The plant is a slow grower, but it can survive through different conditions and seasons. The plant stands out because of its deep green foliage and unique leaves texture.
Moreover, the tree is easy to prune. You'll have to cut the new branches instead of the old ones to maintain the plant's shape. The ideal time for pruning Hinoki cypress is summer!
Here is all you need to know about your dwarf Hinoki Cypress.
#6 Redbud Tree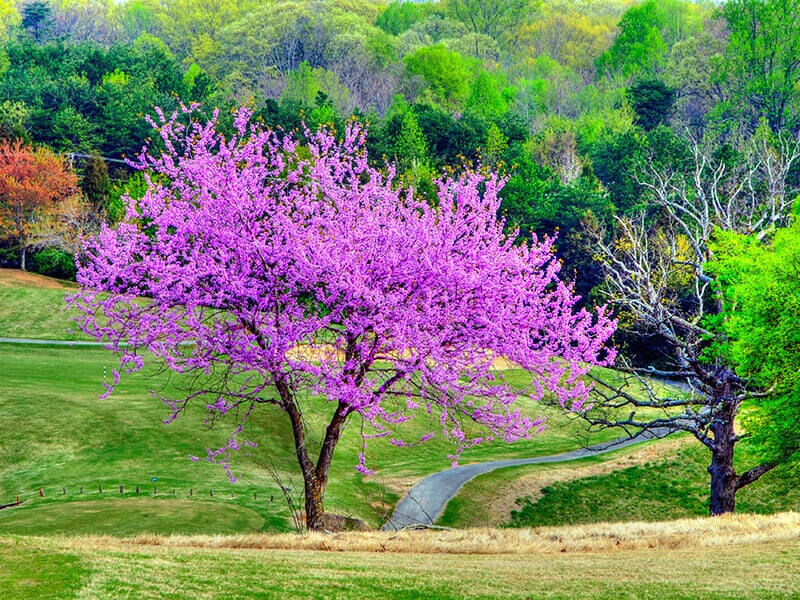 Redbud tree is great for partial shade locations. Ideally, plant it in early spring, and ensure that the soil is well-draining. The Redbud tree is sometimes called Judas tree, because according to the legend, Judas hung himself on the Redbud tree.
The tree has stunning mauve flowers that grace the tree in spring. On average, the blossoms last for three weeks and decorate any landscape.
The Redbud tree is also famous for its foliage. The heart-shaped leaves appear on long stems and have vivid green colors.
The maximum height a Redbud tree can get is between 20 and 30 feet, and about the same in width.
Get familiar with the best varieties of Redbud trees!
#7 Hydrangea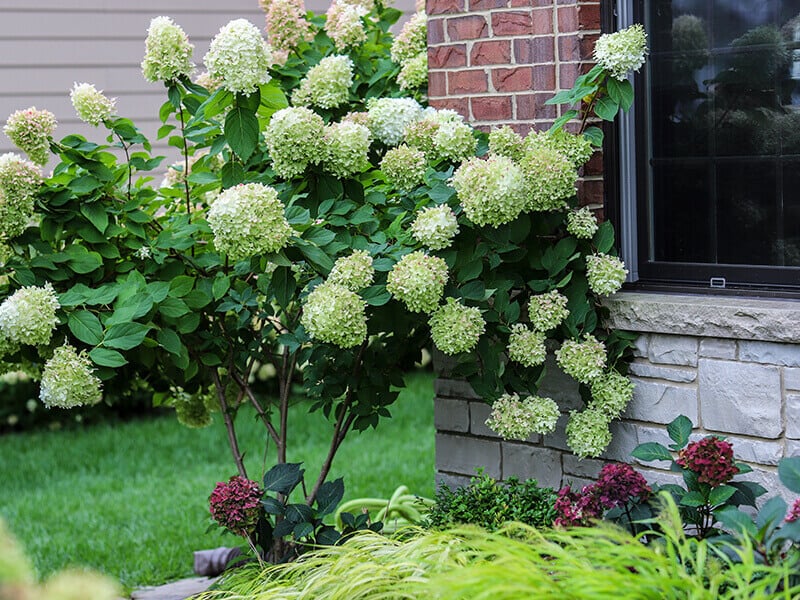 Hydrangea is a large shrub, an old-time favorite summertime garden treat. If you want to plant Hydrangea, choose fall or spring.
Hydrangeas are adored for their large flowering heads that come in different colors. You can have vivid pink flowers, white, lavender, or rose, and clear blue flowers. Surprisingly, one plant can feature all of these colors! Hydrangeas can be grown in the soil or in containers, and they are perfect for borders or around the driveway.
Learn where to plant Hydrangeas for the best growth!
Watch the video to know more:
#8 Weeping Birch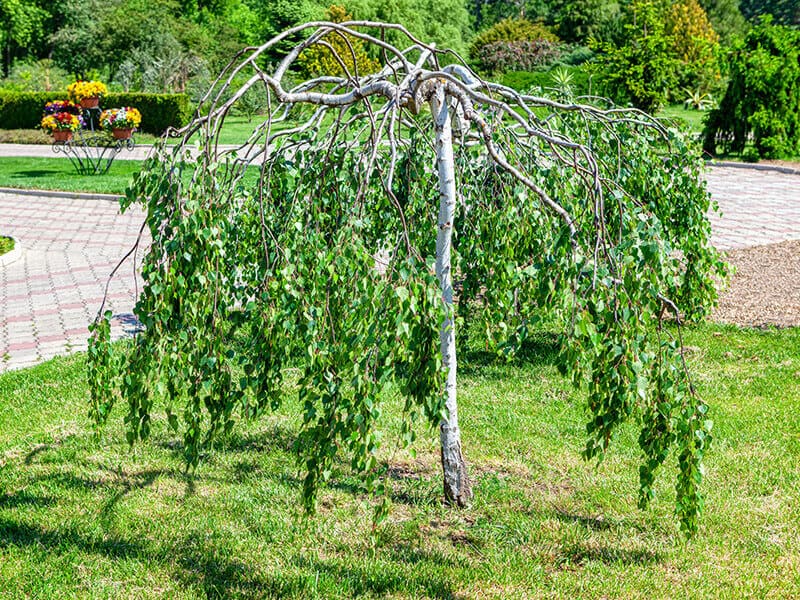 Weeping Birch has a specific, gray-silver bark and pendulous shape of the crown. The tree features flowering branches and oval leaves. Because Weeping Birch isn't invasive, it is great for smaller gardens. The ideal place for a Weeping Birch is near the stream.
You can find varieties that remain small, not taller than 10 feet. Some nurseries sell medium-tall Weeping Birch cultivars that grow up to 30 feet.
Find the complete guide about Weeping Birch care!
#9 Butterfly Magnolia
Butterfly Magnolia thrives in neutral and acidic soil, rich in organic matter. The ideal location is full sun to partial shade.
Butterfly Magnolia has an upright growing habit, with a lovely pyramidal shape. It features large yellow flowers, shaped similarly to tulips! Interestingly, the flowers are fragrant and their scent is citrus with sweet aromas.
Butterfly Magnolia is a versatile ornamental tree. You can grow in the cottage garden, in a city garden, wherever you want a statement springtime bloom!
To ensure the good shape of the tree, you need to prune it every year, in the middle of the summer, when the tree is in full leaf.
Here is how to care for your fine Butterfly Magnolia tree!
Discover more about different types of Magnolias with quick tips for care:
#10 Japanese Magnolia
Here is another Magnolia on my list of best small ornamental trees! Japanese Magnolia is usually tall between 15 and 25 feet. The average spread is around 15 feet.
Japanese Magnolia has large, upright, tulip-shaped flowers in a lovely shade of light and bright pink.
Originally, Japanese Magnolia has a multi-trunk structure, but you can train it to grow as a single-trunk tree.
During the first 20 years of life, Japanese Magnolia is a relatively fast grower, but then, the growth rate significantly decreases.
Get more interesting facts about Japanese Magnolia!
#11 Bottlebrush Tree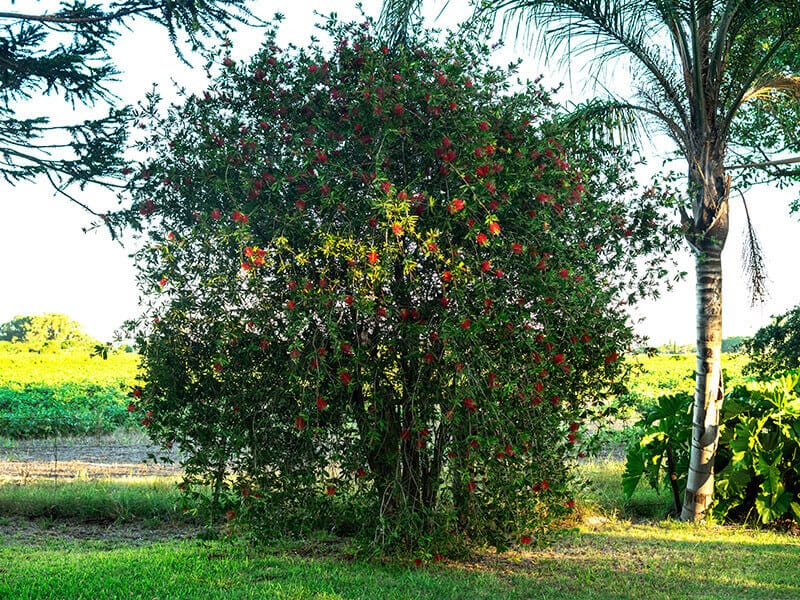 The bottlebrush tree is a fast-grower. You can easily recognize it by its cascading branches with red flowers. The flowers develop when it gets warmer, in the mid-spring, and last through summer and mid-fall.
The flowers are attractive to bees, butterflies, and hummingbirds. Additionally, the bottlebrush tree develops brown fruits, which some small animals use as a food source.
This ornamental tree is sometimes called a Red cascade because of the specific flowers. Foliage is evergreen, and the bark is almost grey.
Find all about lighting, watering, and soil requirements for a Bottlebrush tree!
Expert shares more tips about Bottlebrush tree maintenance. Watch the video:
#12 Dappled Japanese Willow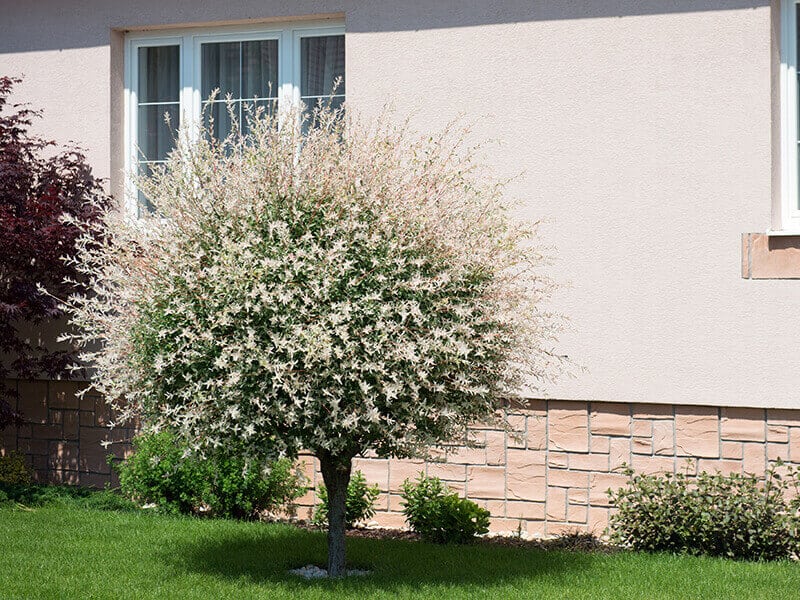 Dappled Japanese Willow or Hakuro-Nishiki is a dwarf variant of the willow tree. The tree doesn't get taller than ten feet and looks more like a shrub than a tree. The tree is beautiful year-round because of its dazzling foliage and compact structure.
The ideal conditions for Hakuro-Nishiki are rich and well-drained soil. If the soil is of poorer quality, the tree will grow but not be as dazzling. The tree prefers moist soil, even though it is more drought-tolerant than any other willow tree.
The bright snowy appearance of the Dappled Japanese Willow gets replaced with a deep red look in the autumn!
Find out more about Hakuro-Nishiki willow!
#13 Dwarf Chaste Tree
Dwarf Chaste tree variety Vitex Blue Diddley grows between three and six feet in height. It has lovely lavender flowers, which are very attractive to birds and insects. In the north, they can grow Chaste trees as perennial trees. In warmer areas, the Chaste tree becomes very aggressive.
The tree is relatively easy to grow, it is drought and salt-tolerant and requires only minimal maintenance.
The plant requires a lot of sunlight and is at its blooming peak in the summer! The flowers are also used as cut flowers, in bouquets, and for decoration.
Is dwarf Chaste tree disease-free? Find out here!
#14 Japanese Maple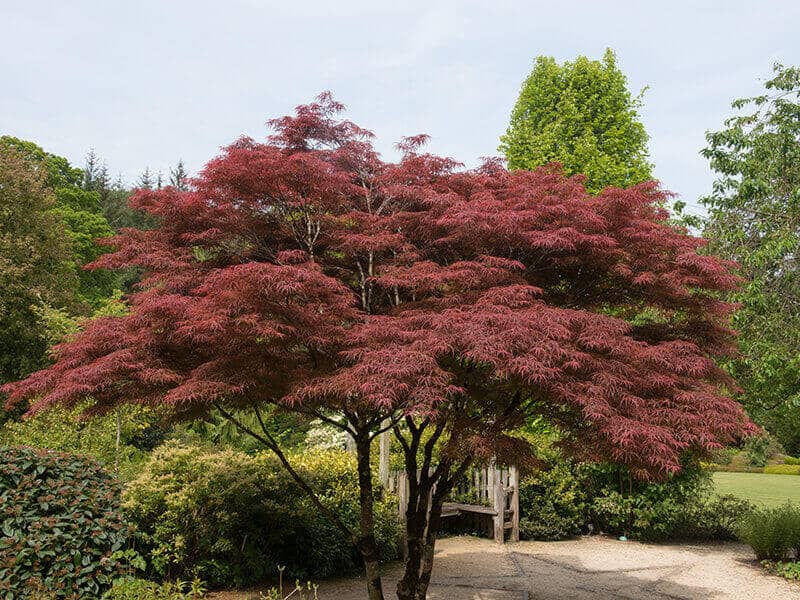 Japanese Maple is a well-known maple variety, praised for its compact size and changing foliage. If you need only one dwarf ornamental tree to become a focal point outdoors, consider Japanese Maple. There are numerous varieties, with foliage going from green, orange, bright red, deep red, and almost purple.
There are different lighting requirements, which depend on the exact variety you choose. Some enjoy full sun locations, while others grow well even in the shade! On average, most varieties grow between six and ten feet.
Find out more about all popular Japanese Maple varieties.
A complete guide to pruning Japanese maple you can apply to other deciduous ornamental trees:
#15 Camellia
A dwarf Camellia tree flowers in October, and the blooming season is two to three months. The most famous dwarf Camellia variety is Dwarf Sasanqua. The plant is usually two to five feet tall and a slow-grower. It features dense branches and doesn't require pruning to keep a good look.
These dwarf plants are adaptable to the various soil types, but they prefer well-drained soil. You can add a layer of organic mulch to improve the growth and get vivid flowers.
People also grow dwarf Camellias as bonsai trees!
Here is all you need to know about dwarf Camellias before planting them!
#16 Wintersweet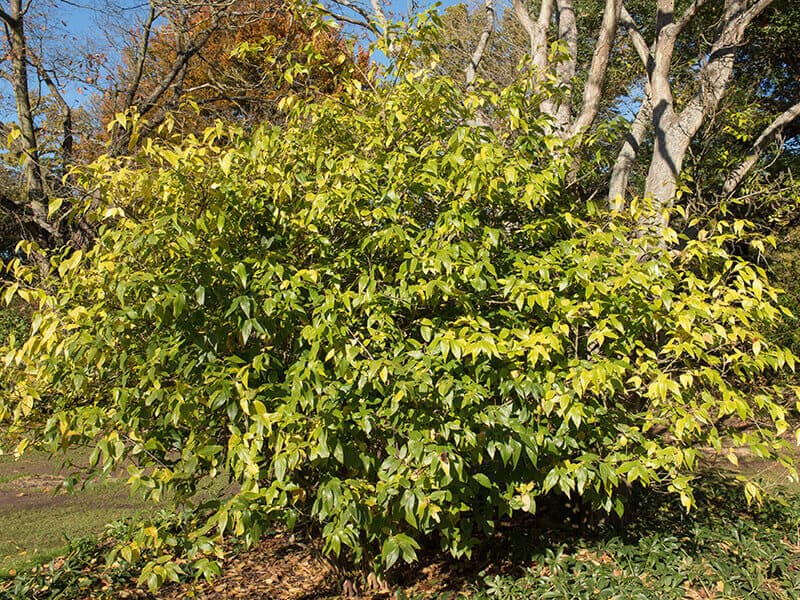 Wintersweet is more of a shrub than a tree. The plant features translucent flowers that appear in the winter and last for a couple of months.
Wintersweet is a fairly adaptable plant. It can grow in different soil types, as long as the soil is moist but well-drained. The ideal location for planting Wintersweet is full sun, but it will tolerate some shade.
After you plant it, don't expect the plant to start flowering in the first several years. But, be patient and the plant will award you with the most stunning blossoms! Plant it around the borders for the best landscaping impact.
Here are more growing tips for Wintersweet shrubs!
#17 Red Dogwood
The Red Dogwood plant provides a pop of color in every garden. During the spring, the plant gets covered in red flowers. In the autumn, the Red Dogwood tree is also attractive with its purple leaves and red fruits.
The tree is often planted in city gardens, near the building, in the backyard. Experienced landscape architects use the Red Dogwood tree as a contrasting tree in evergreen environments.
Generally, the Red Dogwood tree doesn't require pruning or a lot of maintenance. There are quite a lot of Red Dogwood tree varieties, so I am sure you'll find the one that matches your needs and preferences.
Here is all you need to know to ensure the best care for this vivid ornamental tree!
#18 Harlequin Glorybower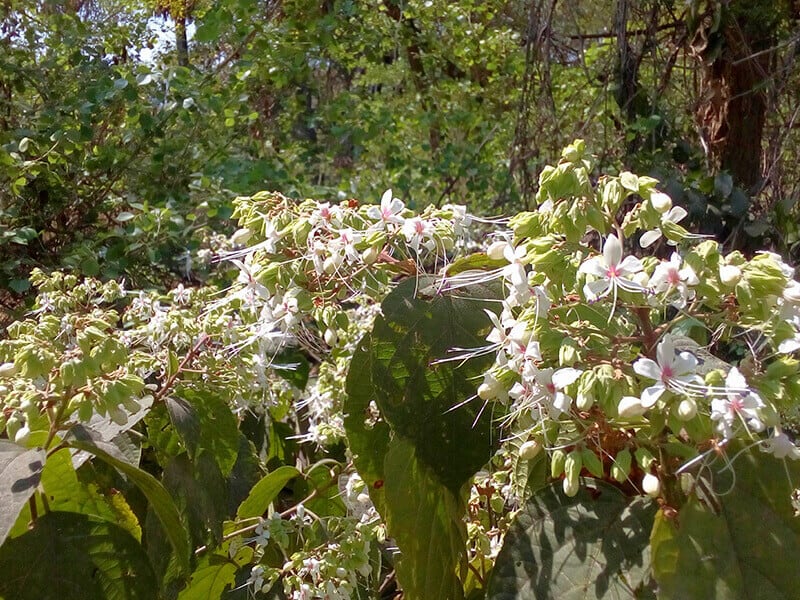 Harlequin Glorybower is a stunning shrub that has beautiful white flowers that look almost like Jasmine blossoms. The flowers are scented and large and replaced with vivid blue berries in the fall.
The tree requires well-drained and ideally, loamy soil.
In ideal conditions, Harlequin Glorybower reaches 15 feet in height.
An interesting fact about this tree is the foliage smells like peanut butter when crushed!
Find more information about this ornamental tree here!
#19 Mountain Witch Alder
Mountain Witch Alder is technically a shrub, but you can train it to grow as a single-trunk dwarf tree. Its maximum height in the mature age is ten feet.
The plant has white fragrant flowers in the spring, which gives the plant a delicate, snowy appearance.
During the fall, the tree slowly transforms its green foliage to vivid red and orange.
The best conditions for Mountain Witch Alder are well-drained, averagely moist, and rich soil, and full sun.
Here is all the most important information about Mountain Witch Alder.
#20 Franklin Tree
Franklin tree or Franklinia is a small tree with rich dark green foliage and beautiful flowers. The tree features clusters of white, five-petal flowers.
The blooming time is late summer, and the flowers have a distinctly sweet aroma.
In most cases, the Franklin tree grows from eight to ten feet. The plant needs well-drained drainage and a lot of sunlight to thrive.
Interestingly, the tree is named after Benjamin Franklin!
Find more interesting information about the Franklin tree!
Small Trees, Big Impact
Dwarf ornamental trees are charming and versatile. You can easily find the spot for them in your garden and use them to transform any landscape. Most of the small ornamental trees pair well with large trees or flower beds and add dimension to your garden.
My favorite dwarf ornamental trees are Camellias, Hydrangeas, and Crape Myrtle. What about you? Have you ever grown an ornamental tree? What were the challenges you faced?
Please share your experience!
If you enjoyed the article, please give it a thumbs up and come back for more gardening articles!