Are you looking for Florida full sun plants to grow in your garden? I've got something extraordinary for you – a complete list of the best plants that grow in full sun and can withstand the tropical climate, like the one in Florida!
Most of the plants enjoy conditions with a lot of sunlight, but a lot of them cannot stand extreme hot temperatures and full exposure to warm afternoon sun. The sun can burn the leaves. But, the plants from my list thrive in full sun and warm temperatures!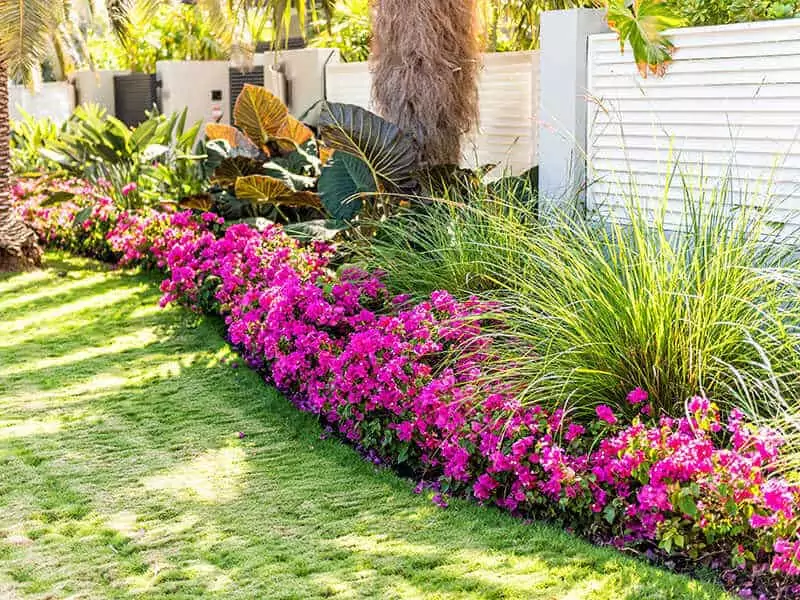 They are beautiful, and some of them bloom all summer long or grace your gardens in late fall!
Get ready for more exciting information about hot climates and sun-tolerant plants!
1 Dutchman's Pipe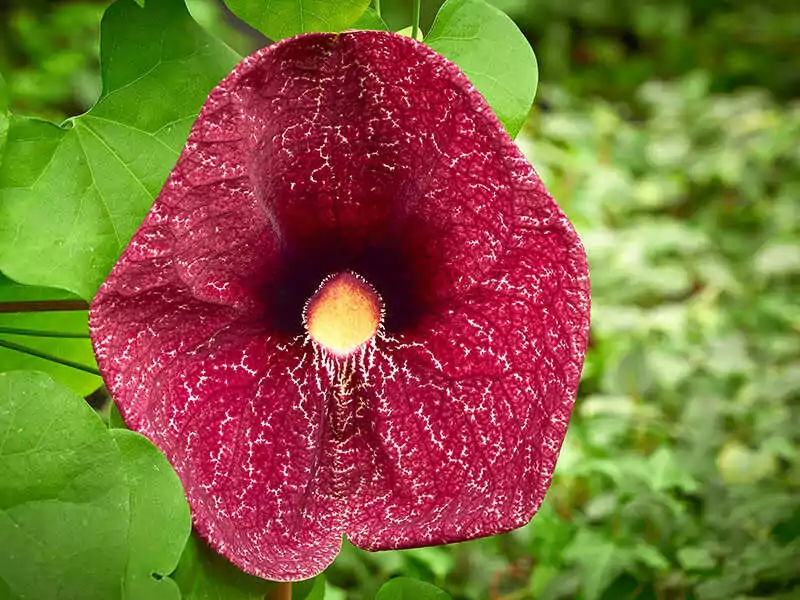 Aristolochia is better known as Dutchman's Pipe or Pipe Vine. You can grow this unusual plant outdoors if you live in USDA hardiness zones from eight to ten. The average height of the plant is around ten feet, but it can grow a few feet taller if you ensure perfect conditions.
Because it is a vine, you'll have to provide a supporting structure for the plant to grow to its full potential. Dutchman's Pipe blooms in early summer with stunning unusual flowers. The plant attracts insects that help keep the pets in your garden under control!
2 Coreopsis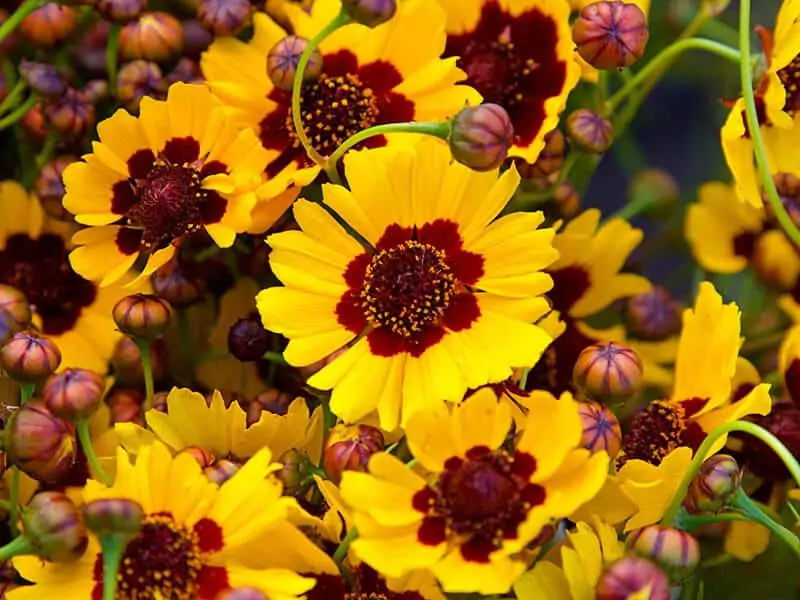 Coreopsis needs a lot of light and warmth to grow, which makes it an ideal plant for sunny Florida gardens! It is one of the easiest plants on the list to grow. You'll have to plant the seeds in spring, keep them moist for 21 days for germination, and once the plant is established, the care becomes simple.
All you have to do is deadhead spent flowers, to encourage reblooming and new growth.
Discover in which colors Coreopsis may develop flowers!
3 Crown of Thorns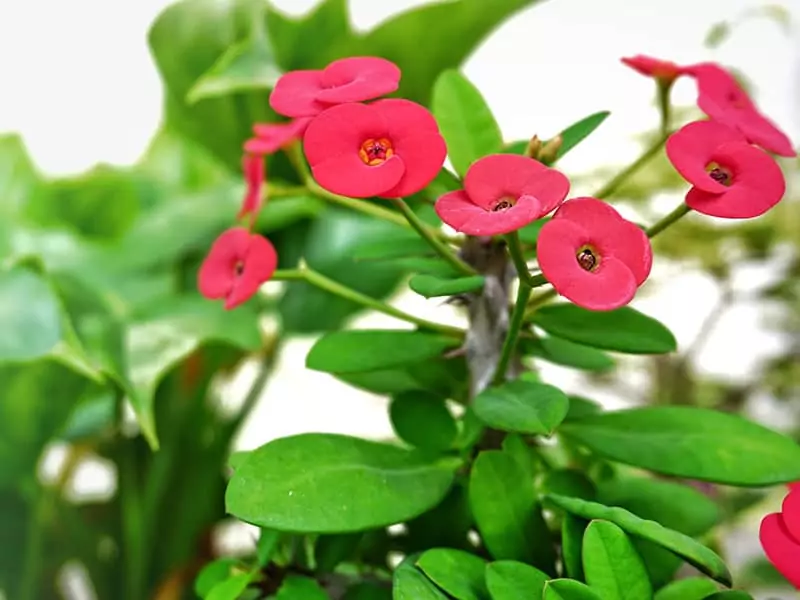 The scientific name of Crown of Thorns is Euphorbia milii. The plant comes from Madagascar and grows best in tropical conditions.
The Crown of Thorns of Christ plant is easy to grow. It needs liquid fertilizer in spring, summer, and autumn. During winter, the plant goes dormant, so it needs only a tiny amount of water.
Overall, limit the amount of water because the Crown of Thorns is prone to fungal diseases and root rotting.
The plant doesn't mind being neglected as long as it is exposed to full sun and temperatures between 65 and 75 degrees Fahrenheit.
4 Gerbera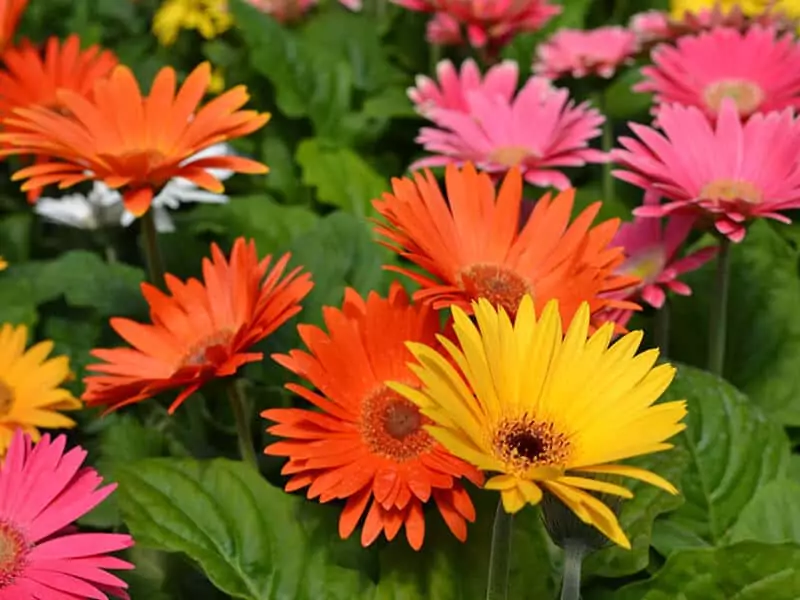 Who doesn't love Gerbera? Luckily, the plant is easy to grow in full sun and warm temperatures. You can let the plant dry between waterings. In fact, if you provide a layer of mulch around the plant, controlling the moisture level around the plant becomes simpler.
Gerbera loves regular fertilization. It is best to use a controlled-release fertilizer several times in the growing season. Pick a fertilizer rich in iron and manganese because Gerbera plants often lack these micronutrients.
The best way to propagate Gerbera plant
5 African Iris
Dietes iridioides or African Iris is a charming plant that develops lovely white-yellow blooms. The plant needs six to eight hours of sun per day to grow, so it is a perfect plant for sunny gardens. Additional growing requirements include well-draining soil, rich in organic content.
With African Iris, you need to ensure proper air circulation to reduce the risk of fungal diseases. The best thing you can do is to plant your African Irises at least 30 inches apart.
Keep the soil moderately moist – one inch of water every week will be enough during drought periods.
6 Salvia
Salvia nemorosa or shortly Salvia grows in full sun areas but may tolerate light shade. When exposed to a lot of sunlight, Salvia produces magnificent flowers!
Overall, Salvia is simple to grow. It doesn't need frequent watering or has specific soil quality requirements. Your Salvia will benefit from the occasional use of fertilizer during spring. I recommend using fish, blood, and bone fertilizer for the best results.
But, if the soil quality is poor, you can also add a layer of mulch to keep the roots healthy during extreme weather.
7 Agave
Agave is such a typical tropical plant that needs a lot of suns to grow. It is also great for landscaping, because of its unique appearance and spear-like foliage. Agave can grow in various soil qualities, but it grows best in rocky and sandy areas.
The plant doesn't need a lot of water. In fact, mature plants need minimal watering only during long periods of drought. But, when you first plant it, keep the soil moist and gradually reduce the frequency of watering.
Learn more about different types of Agave plants so you can pick the one for your garden!
8 Mexican Petunia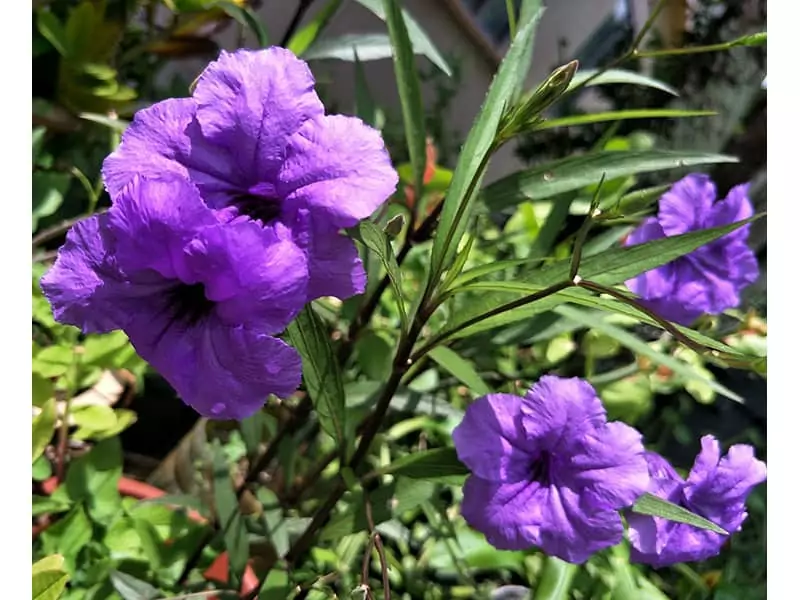 Ruellia brittoniana or Mexican Petunia grows in full sun and produces stunning purple flowers. It may grow in partial shade as well, but it won't bloom.
Mexican Petunia is a hardy perennial, which can be invasive in ideal conditions. The soil needs to be rich, averagely moist especially during the hottest times of the year. Consistent watering is a way to go with Mexican Petunias.
On average, Mexican Petunia gets around three feet tall. But, you can also find significantly shorter dwarf varieties. They look best when planted on the garden borders.
9 Golden Dewdrop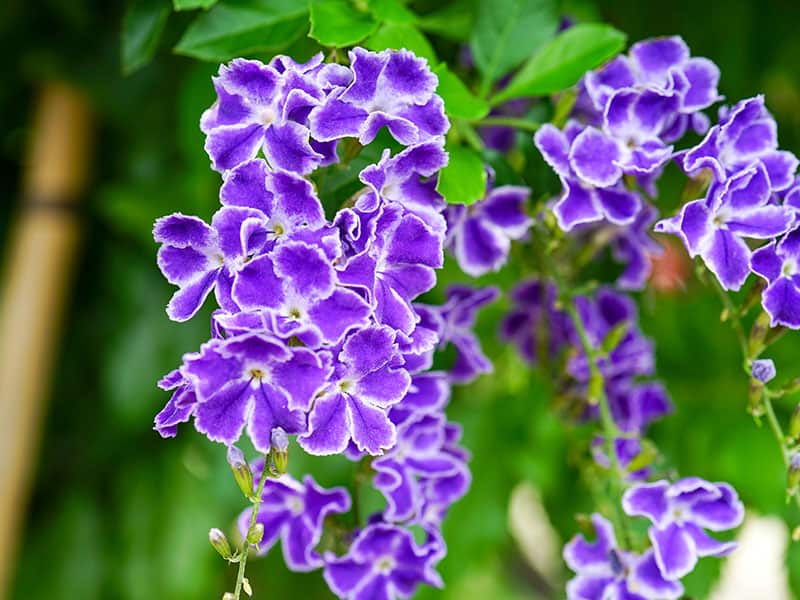 Duranta erecta or Golden Dewdrop is a lovely evergreen shrub that develops thorns and beautiful violet flowers. The flowers appear in tiny clusters and stand out against lovely lush green foliage.
Golden Dewdrop is a fast-grower if you plant it in full sun location, rich well-draining soil. The plant is low-maintenance and isn't prone to pests and diseases.
Because it grows between ten and 20 feet tall and spreads between six and ten feet, it is perfect for hedges and Mediterranean gardens. But, you can also grow it in containers.
10 African Bush Daisy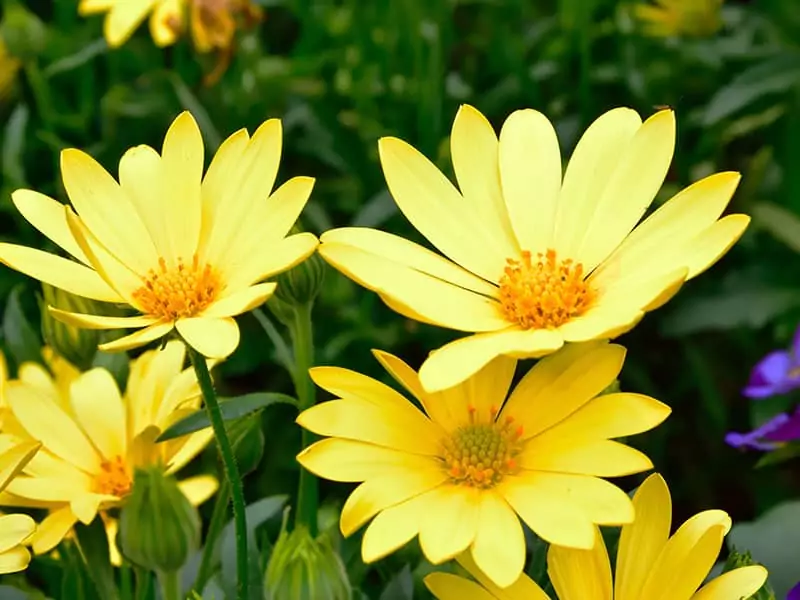 Euryops pectinatus is a fast-growing shrub, known as African Bush Daisy. The plant develops vibrant yellow, daisy-like flowers, hence the name.
The colorful blooms appear on thin and long stalks and stay vital from early summer to late fall. The plant is adaptable to various temperatures, but it cannot survive without a lot of sunlight. Still, you can grow it in slightly colder climates, as long as you provide winter protection.
11 Areca Palm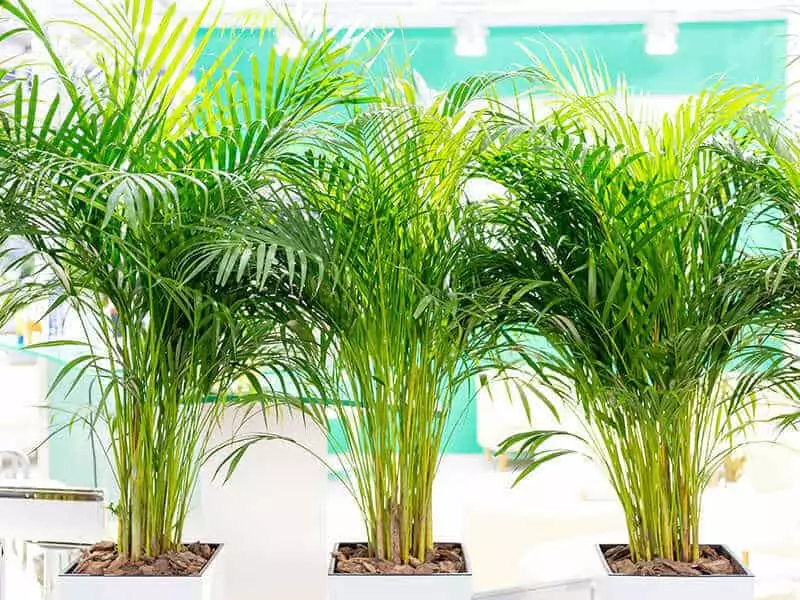 Here is a landscaping gem for full-sun locations – lovely Areca palm, with the scientific name Dypsis lutescens. Areca palm is one of the widely distributed palms in Florida because of its beautiful appearance and simple care.
The palm grows in full sun and partial shade locations as well. When you grow it in full sun, the foliage turns slightly golden, contrasting green leaves in partial shade.
The soil needs to be well-draining, and you can use sand to improve drainage.
Areca palm is a great outdoor and indoor plant!
12 Evolvulus
Evolvulus pilosus, shortly Evolvulus is an easy-going, self-cleaning plant. Therefore, you don't have to worry about pruning and old and dry leaves removal.
The plant is drought tolerant and loves warmth and sun! Keep the plant where it receives six to eight hours of direct sunlight and water it moderately.
Evolvulus spreads quickly, so it is a great ground-covering plant. You can also grow it in containers or garden beds.
13 Bougainvillea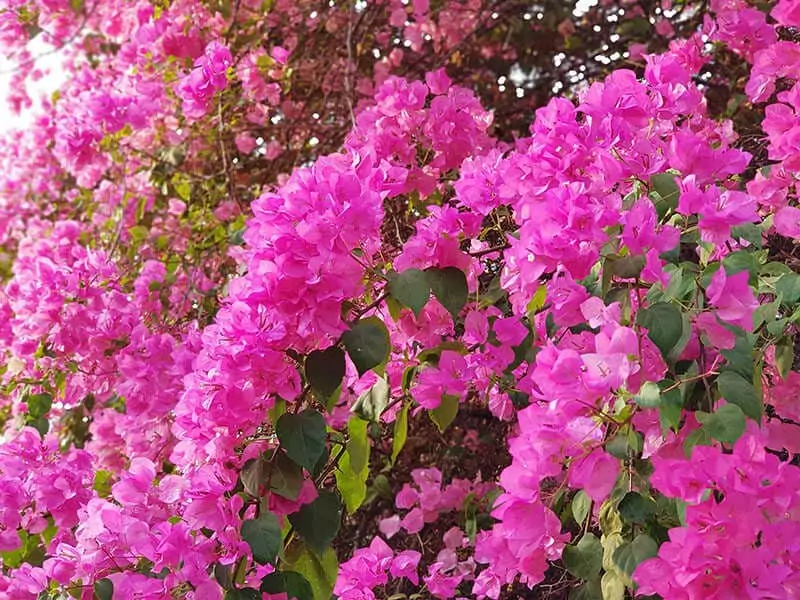 Bougainvillea is a statement landscaping plant which develops its famous bright pink flowers in full sun. If the plant gets less than five hours of sun, the blooms won't be as beautiful.
In the South, Bougainvillea is a hardy plant. But, young growth is sensitive to cold temperatures and frost so it needs protection. The best temperatures for Bougainvillea are between 70 and 85 degrees Fahrenheit. During the night, the ideal temperatures are above 60 degrees.
Also, Bougainvillea is a heavy feeder. It needs phosphorus fertilizer fortified with iron and manganese.
The easy way to prune Bougainvillea and keep the plant formal-looking
14 Purslane
Portulaca oleracea or the common Purslane plant is an interesting, edible plant rich in Omega 3 fatty acids. The plant has been grown as food for more than 4.000 years, and also as a medicine.
But, Purslane also has a high ornamental value. You can grow it in flower beds, around the borders and roads and practically anywhere where the plant will receive at least six hours of sunlight.
The plant develops tiny yellow flowers which appear in the middle of rosette-shaped thick foliage. The blooms don't last for a long time, but they give the plant a charming look.
Read the full growing guide about Purslane and find out more information about this nutritious plant!
15 Bottlebrush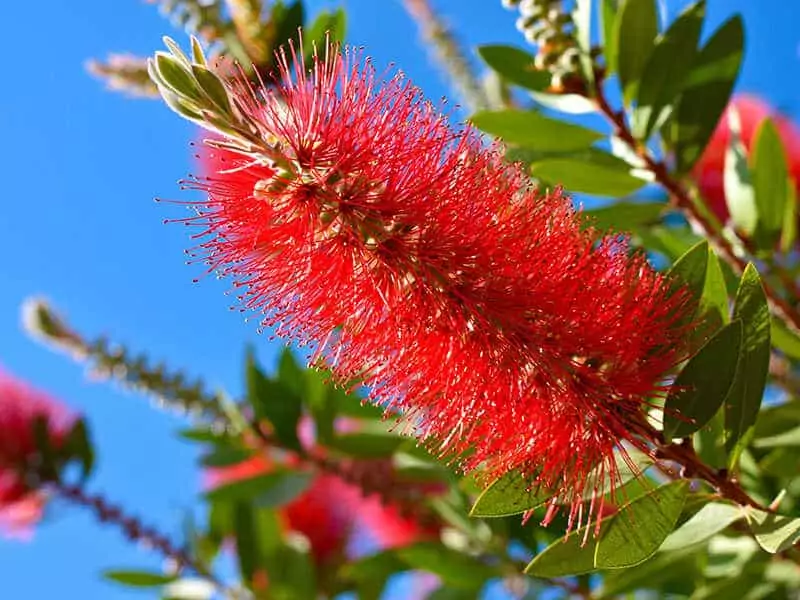 Callistemon or Bottlebrush plant needs six to eight hours of bright sunlight to grow and produce beautiful flowers. Not enough sunlight is the most common reason for the non-blooming Bottlebrush plants.
The plant also needs protection against cold and harsh winds, so pick a sheltered location for it. Bottlebrush looks impressive when planted around Salvia or Lavender, and they together create a stunning tropical and colorful landscape!
16 Canna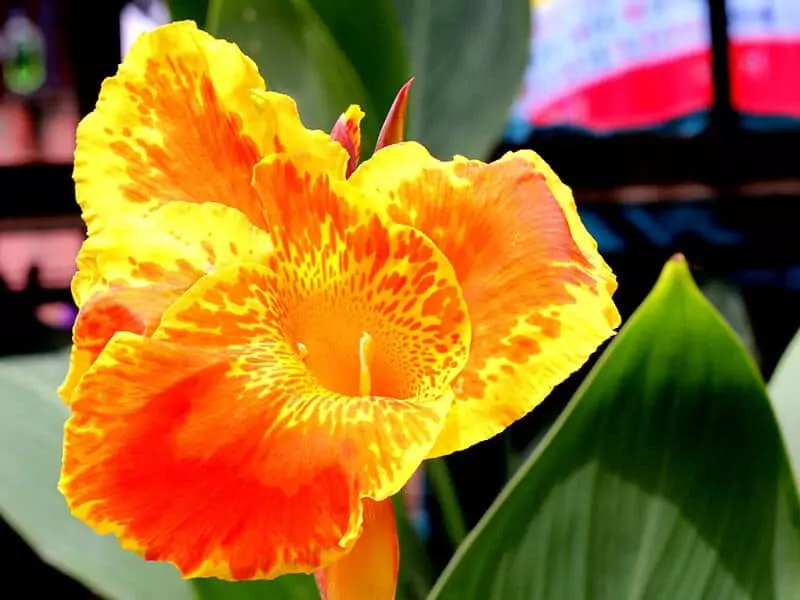 Canna grows in full sun and needs a consistent amount of water. If you live in slightly cooler areas, limit the water intake, and enhance the watering in warm climates.
Grow Cannas on the right track from the start. Put the rhizomes horizontally in the two-inch deep holes in the soil. The distance between two rhizomes should be at least one foot. It will leave enough space for the plants to develop.
There are numerous cultivars with flowers in different shades of orange, pink, yellow, purple, red, etc.
17 Egyptian Star Cluster
Pentas lanceolata or Egyptian Star is easily recognizable by its characteristic red, purple or pink flowers in the shapes of stars. Each flower features a white center and stands erect from spring to fall.
The plant doesn't get taller than two feet and is great for flower beds, borders and pots.
Egyptian Star attracts birds and butterflies, so you can plant it in your garden to use the birds as natural pest and insect control.
You can propagate the Egyptian Star by softwood cuttings in winter.
18 Blanket Flower
Gaillardia or Blanket Flower is native to the US and Mexico. The vivid Blanket flowers have a shape like a daisy plant and come in a bright red color. Narrow petals have yellow endings, which make the plant stand out in all landscapes.
You can find various cultivars of Blanket Flowers with different resistance to frost and cold temperatures. Because it is native to hot and dry climates, the Blanket flower thrives in similar conditions. Therefore, plant it in full sun location and water minimally.
19 Bog Sage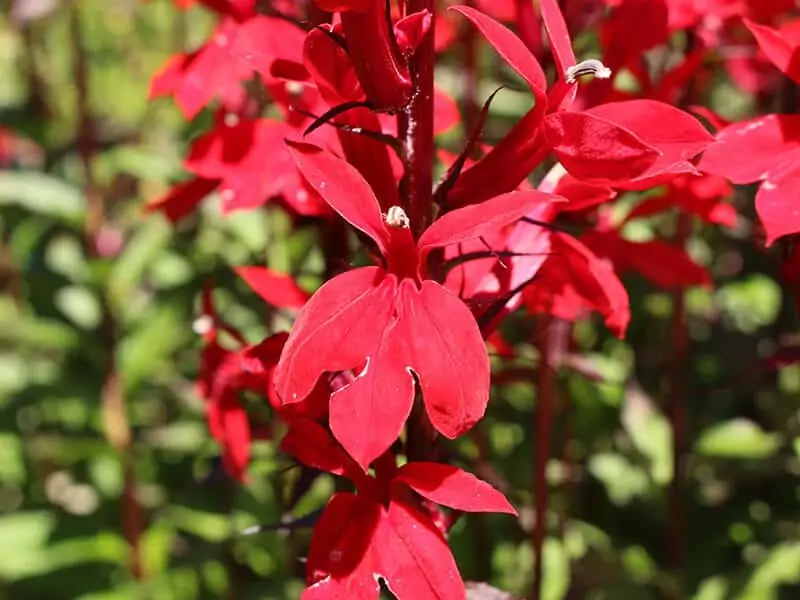 Salvia uliginosa or Bog Sage features clear-blue flowers that appear on willowy stems. These flowers are great as cut flowers, both fresh and dried. Moreover, Bog Sage attracts birds, butterflies and bees. So it can improve the pollination and insect control in your garden.
Because of its exquisite characteristics – low-maintenance nature and beautiful appearance, Bog Sage is an awarded plant by the Royal Horticultural Society.
It is native to Brazil and Argentina.
20 Lantana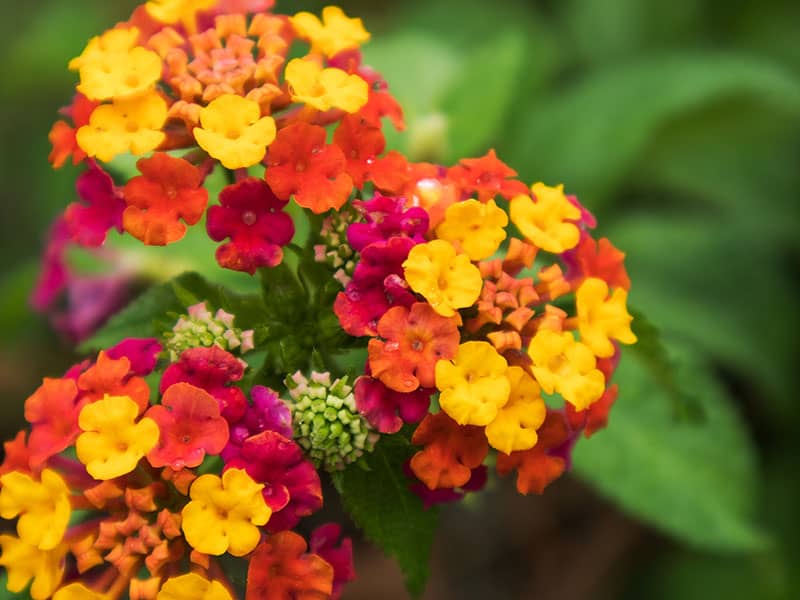 Lantana develops cheerful clusters of multi-colored flowers which last almost throughout the entire growing season! The plant is simple to grow and grows as an evergreen shrub in warm climates. You can also use it as a ground cover.
When exposed to six to eight hours per day, Lantana grows up to six feet tall and spreads up to ten feet. In cold areas, people grow it as an annual plant, and it gets half the size.
Alongside beautiful flowers, Lantana develops ornamental green or variegated leaves. The foliage is textured and produces a scent similar to sage.
Annual plants have thinner stems, and mature plants in warm climates are woody and more resistant to winds.
Discover how the Lantana plant affect the surrounding plants in Florida
Colorful Plants Are The Best For Sunny Landscapes
Have you found your favorite plant to grow in a full sun location? I got my eyes on the Lantana plant, and I think it will be a great addition to the plants in my garden.
A great thing about plants that thrive in full sun is that most of them are drought-tolerant and easy to grow. So, despite little effort, these plants will make a tremendous visual impact in your garden!
If you enjoyed the article, please consider giving it a thumbs up!