Are you looking for attractive flower vase ideas that will brighten up your space and showcase your lovely flowers? Here is a comprehensive list of ideas that will please even the pickiest people!
Expect a lot of everyday items, dollar store items, unexpected paint ideas, and more! The best thing – most of the ideas are easy to recreate!
The following crafty hacks will also make perfect handmade gift ideas and lovely family projects you can make with your kids!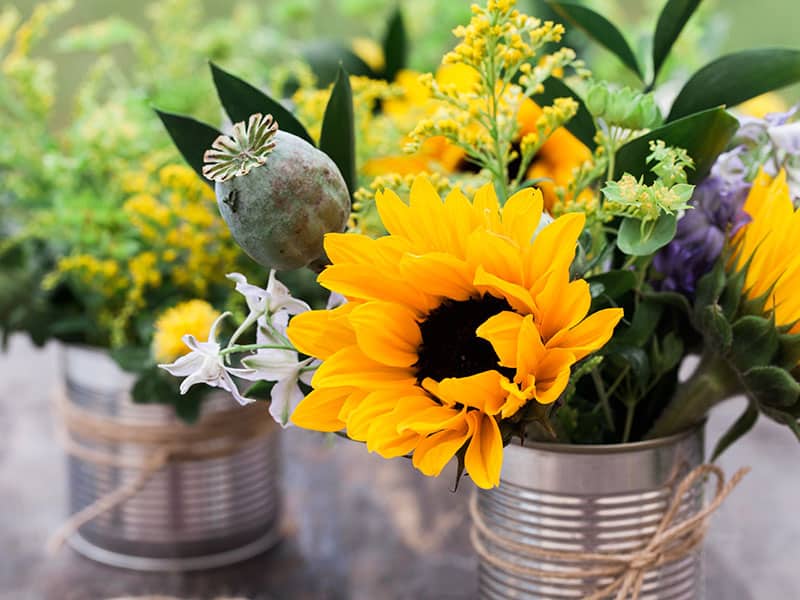 1. Paper Vase
Geometric design and straight lines are always safe choices when picking interior decoration. A paper vase made in the origami style is easy to make and looks fancy!
You'll need several pieces of paper in different sizes and a ruler to make the precise transition. Once your paper vase is complete, insert whatever glass you have inside and fill it with water and flowers!
I also recommend creating several identical vases in different colors to make a unique colorful display.
2. Rustic Bark Tree Vase
Bark tree is an inexpensive, available, and crafty material that can help you create a lovely vase with a natural vibe. For the project, you'll need several pieces of tree bark, a deep and narrow bowl, such as a deep can, glue, and half an hour of your time!
Any hot glue gun will work well for attaching the tree bark. Fill your new tree bark vase with bushy plants and roses for the best effect.
3. DIY Vase Centerpiece
If you are hosting an important event in your home and you want to save money on decoration, I've got a gorgeous DIY vase/centerpiece project to try. The combination of wood, glass, and single-cut flowers looks elegant and will fit whatever theme you've chosen for your table.
The first step is to make a wooden frame and mark the position of the bottles. Three bottles will fit smaller table arrangements, but you can get more glass bottles if you have a large table.
Then use a drill to make holes in the top wooden panel and insert the bottles. Fill them with water and add flowers as a final touch! Tulips will be especially pretty in this vase!
4. Lovely Burlap Vase
Here is probably the quickest DIY vase project to try! If you have a damaged vase, with a major sentimental value, don't throw it away. Disguise the damage with a burlap sack, add a rustic bow and fill it with spring flowers!
In addition, a plain old jar will also work perfectly.
The project doesn't cost a lot, and you can complete it in less than 15 minutes.
5. Elegant Mason Jar Vase
With the arrival of the blooming season, many people look for ways to showcase their beautiful flowers from the garden. If you need an elegant vase, prepare several mason jars, painter's tape, newspaper, and the star of the project – gold spray paint!
Cut the tape to the shape you want, put the jar on the newspaper and paint it! When the paint is dry, remove the tape.
You can also do the same with silver or copper paint, but I prefer a combination of transparent mason jar glass and gold paint. Peonies look especially pretty in this type of vase!
6. Stunning Gradient Masterpiece
The gradient paint effect looks attractive on vases, candle holders, walls, etc. If you choose vivid colors for your vases and achieve gradient effect, you'll get real masterpieces with a distinct spring vibe! The technique looks more complex than it is.
For each gradient vase, prepare four dyes of any matte spray paint. I recommend turning the vase upside down for easier control of the colors. Start at the bottom and slowly work your way up in the different color rings.
Ensure each color overlaps with the following one! Let the paint dry before you fill it with water and flowers.
7. A Flower Vase From a Lightbulb
Did you know you can make a cute flower vase from a light bulb? You'll need a hammer, nose pliers, an old light bulb, and a nail set! You can build a stand for the vase or hang your light bulb vases on the wall.
The trickiest part of the project is to remove the electrical parts in the bulb and expose the opening which will hold the flowers. But, work patiently and gently, and you won't break the bulb. Create several similar vases for the best effect.
8. An Unbelievable Paper Bag Vase
Sometimes the most attractive and unique craft projects include repurposing items you would instead throw in the garbage, such as an old lunch bag. Besides a brown lunch bag, prepare black chalkboard paint, paintbrush, rubber stamp, and black inch pad.
But, you can use whatever color you prefer! Decorate the paper bag before you wrap it around the vase or jar.
9. Polka Dot Vase
Designer vases are expensive but beautiful. You can recreate some of the effects at home with simple items you can get at thrift stores.
All you need for the project are simple vases you can get for 1$, stickers, and washi tape! Use washi tape to get stripes and circle stickers to recreate the polka dot pattern! It doesn't get simpler than that!
10. Tin Vase With Lace
If you have an old tin can, you can use it to make a charming mug vase to hold smaller flowers.
You can use an old canned food tin can, spray paint, and lace. If you want to attach the drawer's handle, prepare a screw and bolt, and add a piece of lace on top for a final touch!
The combination of blue paint and lace looks elegant and will fit nicely with most spring flowers! But, you can experiment with various paint combinations until you are satisfied with the final results.
11. Jenga Vase Family Project
If your kids are over the Jenga game, here is a way to use the game to create unique home decor items and keep the children busy!
For a Jenga vase, start by making several square frames. Connect the frames with wood glue in the zig-zag pattern and insert a thin bottle into the construction. Let the kids paint the vase or keep it like that.
12. Simple Glass Vases With a Twist
If you need a quick project, and you are a big fan of the color block trend, here is a quick idea to try.
The project only includes three items – a glass vase, painter's tape, and paint!
White paint is always a great idea, but you can experiment with neon colors and create statement vases. Painters tape is an excellent hack to achieve clean lines with minimal effort.
13. Textured Clay Vase Planter
Have you ever worked with clay? If you did, you know that you can make lovely craft pieces, and working with clay also has a relaxing effect.
Therefore, it is the perfect time to make a textured clay vase for your spring flowers!
Prepare air dry clay, knife, rolling pin, and a ruler for precise cuts. First, you'll have to roll the clay to a 5 mm thickness. Then, cut it to get a rectangular shape, and cut the round piece for the bottom.
Assemble all clay pieces together and start making decorations. If you want to use it as a vase, insert the glass inside the clay sleeve and fill it with water. For a planter, you can add soil directly to the clay construction.
14. Bubble Magic
Home decor items with bubble patterns are popular at the moment. If you want to follow the trend, but not spend too much money, you can make a cute bubble vase by yourself!
The stars of the project are wood beads! You'll need whatever vase, jar, or tin you have in hand, glue, and paint. Glue the beads to the vase densely, and paint the entire vase to make the structure seamless.
Beige paint will make your vase elegant and fit into every space well. It will also go well with most cut flowers!
15. Boho Flower Holder
A Boho vase is perfect for dry flowers and doesn't take a lot of time, money, and effort to create. You can achieve the textured clay vase surface texture with something you probably have in your hand – baking soda!
Use whatever latex paint you have, but don't use oil paints because they won't work. Prepare baking soda and an object to paint, in this case, an old ceramic vase. The trick is to mix paint and baking soda before you start.
Once you paint the vase, wait several minutes and add additional texture with stippling motions with a brush.
16. Embrace the Antique Effect
Finding an antique vase in thrift shops can be a gamble because most have paint chipping off or missing pieces. If you are interested in an antique vase, you can get the effect on the vases you already have!
The supplies you'll need are an old vase, plaster, matte spray paint – black or gray, and soil. Mix plaster with soil and water until you get a thicker paste consistency. Paint the vase and apply it on paste.
Then, let it dry for several minutes and try to rub off the excess paste from the vase. Repeat the process until you are satisfied with the effect!
17. Budget-Friendly Hobnail Vase
Hobnail glass is relatively expensive, but you can mimic the hobnail effect with cheap items.
Get into your local Dollar store and get supplies for the project! You'll need a simple glass vase, a set of pearl stickers, and white paint! Before you start, clean the vase and stickers from adhesives.
They are usually connected in one row and cannot be detached. Then, cover the vase with glue and disperse stickers in the pattern you want! Paint the vase and add your favorite flowers!
18. Upcycled Old Glass Vase With Gold Honeycomb Pattern
The honeycomb pattern is attractive almost anywhere – on vases, walls, accent tables, lamps, etc. Because it is a trend that will most likely fade soon, you don't have to spend a lot of money to follow it. Here is a budget-friendly way to include honeycomb patterns in your interior decoration!
Prepare geometric stencil, spray adhesive, tape, and ready gold leaf with wax paper backing. Cover the vase with a stencil, add adhesive, and add gold leaf. Because it can bunch, I recommend using the paintbrush to make the application smoother.
If there are some sections you don't want to be covered in gold leaf, protect them with paint tape.
19. Don't Skip Twine
Twine is typical and versatile crafty material, which you can use to make everyday items a little bit better.
For this vase project, you'll need yarn and a spray adhesive. A hot glue gun is an alternative to spray adhesive, but I found spray adhesive easier to handle.
Just add the glue to the vase and spread the twine densely until you cover the entire vase.
That's all! Add statement greenery to your new vase!
20. Faux Marble Vase
A marble vase is another expensive home decor item. If you don't want to spend cash and feel a little crafty, try recreating the look with acrylic paint!
Use three different acrylic paint colors and a pouring medium to replicate the natural marble pattern. The plastic knife is remarkable for mixing colors on the vase. The project is messy, so I recommend doing it outside to minimize the cleaning afterward!
How to mimic the stone effect on the old vase.
21. Gold is the New Black
As you can see from the previous projects, gold is a way to go if you want to elevate a standard glass vase! Gold spray paint is your best ally for this DIY vase project.
In less than five minutes, you can make lovely gold vases! Attach simple rubber bands to the vase, paint it gold and remove the bands once the paint is dry! The effect is simple, yet effective!
22. Stunning Vase With Mercury Effect
Here is a way to recreate the mercury effect on a cheap glass container! The first step is to spray the inside glass container with a solution of diluted vinegar and let it air dry. It will help the paint to stick better.
The next step is to spray the inside of the vase with a mirror effect.
The mirror paint is thin and you'll need to work in layers so repeat the process as many times as needed to create the effect.
Allow each layer to dry before you proceed with the following one.
23. Concrete Vase
Concrete vases are statement pieces in every space, so if you need something new to upcycle your space, here is a project for you! Start with simple shapes and items to get to know the concrete material better so next time, you can experiment with textures and stickers.
You'll need a soda bottle, a straw, concrete mixture, preferably quick-setting cement, a drill, knife, and protective gloves. Also, make the vase outside because the project can become messy.
The first step is to create a mold for the vase with a soda bottle and then decide how to decorate the vase. Using leaves is the simplest way to get ornamental patterns in concrete!
24. Play with Paint
Embrace the inner artist in you with paint and plain old glass vases! The faux terracotta paint finish looks especially nice and resembles those expensive vases you can find in home decor shops.
Use an adhering glass primer before you start and fluff chalk paint. Additionally, add baking soda and cinnamon to recreate the terracotta texture!
Different techniques for painting vases – tested.
25. White Vase For Most Colorful Blooms
If you want to display the most colorful gems from your garden, make a spectacular white vase, so the bright colors can stand out even more. Baking soda is a secret ingredient in this project.
Mix water-based white paint with baking soda to add a textured look to your vases. If you combine it with paint with a satin finish, you'll end up with an interesting texture.
26. Cover the Vase in Glitter
Glitter is an easy way to spruce up every item, including an old vase! A glitter vase is also an excellent decoration for theme parties, such as bridal showers.
You can decorate the vase with a modge podge on the bottom of the vase. Use a brush and painter's tape if you don't want to cover the entire vase with glitters.
The best way to make glitter vase.
27. A Perfect Setup for Spring Flowers
Get ready for a lovely art project you can make yourself or share with your kids. You'll need a transparent glass vase and enamel paint in different colors. Enamel paint is washable by hand or in the dishwasher, and you can create different decorations every season.
I also recommend washing the vase thoroughly or rubbing it with alcohol to remove any residue. Use a thin brush to create poppy flowers, and let the paint dry!
28. Copper-Decorated Vase
Here is an excellent idea for creating a simple and effective centerpiece! Use copper coils to decorate an old vase.
You'll need a wire cutter to cut the ends once you're done.
A transparent glass jar, copper, and green plants are a timeless combination that will fit every decor and theme!
29. Compact Wall Vases
A wall vase? Yes, please! Let's welcome spring with charming details, such as DIY wall vases! You can make the molds from white polymer clay and wax paper.
Shape the clay in the pocket shape and decorate the vases with gold foil. Hang the wall vases with satin ribbons. Add colorful flowers, and your project is complete!
30. Vinyl Decorated Vase
Make durable and decorative ornaments with vinyl on glass vases! Cut the vinyl in the shapes you want and prepare a scraper and weeding tool.
You can paint the glass free-hand or use ready-made patterns, such as cardinals. A lot of the patterns are available for free online and I like the Cardinal Remembrance design!
31. Transform Wine Bottles
If you have several old wine bottles, clean them and wash them well to make them suitable for the wall vase project. It differs slightly from the previous wall vase project because you will use a combo of wood and glass.
First, you'll have to make the wooden construction that will hold the old wine bottle. Secure it to the wall with a ceiling flange. Clean the bottle well and assemble it on the board with a split ring hanger.
You can decorate the bottle if you want or leave it as it is.
The easiest tutorial for a DIY wine bottle vase.
32. Sky-Blue Vases
Turquoise or sky blue vases look magnificent with purple or pink Azaleas, Dahlias, or Carnations. Sky blue vases look coastal, and if you put white flowers in them, the effect will be completely different!
Do at least two coats of chalk paint on each vase, and let them dry before applying the next one! If you need more decoration, glue vintage buttons, and pins on the vase!
33. Make a Vase From Almond Milk Jug
In the world of DIY projects, everything gets a new purpose, such as a milk jug. Basically, any plastic bottle with curves will work.
Use acrylic paint to decorate the bottles! I recommend sketching the design you want on the white paper and then gluing it on the bottle. Then, start painting. If you've decided to create doll faces on your bottles, you can make detailed work, such as doll's eyes with a permanent pen.
34. Vase With Copper Tape Details
If you need a sophisticated vase with subtle details, use copper tape.
Copper foil tape is easy to work with and looks expensive. It will allow you to decorate the glass vase with basic tools, such as scissors.
But, I recommend using a ceramic vase, because copper foil tape adheres better to ceramic than plastic or glass. Cut the tape into strips and then decorate the vase in the style you want. I like the copper corner designs, it looks sophisticated and is quite easy to replicate.
35. Outrageous Vase From A Door Knob
Yes, you've read well, let's make a vase from a vintage doorknob! You can find a vintage doorknob in thrift shops if you don't have it.
A door knob vase is small, and it can hold only a smaller bouquet or one cut flower at a time. A screwdriver will help you remove the rod from the knob and expose the shallow space. Fill it with water and add flowers! White rose will is a wonderful choice for this unique vintage vase!
36. Latex Paint For Unique Effect
If you have mastered the art of making cement vases, it is time to learn how to decorate them! Cement isn't easy to paint, and latex paint is one of the few options.
You can also add colorants to the cement when mixing it. That way, you will get a vase in one color.
If you want more customization, apply latex paint with a thin brush. Explore different color combinations until you find the one you like!
37. Self-Hardening Clay Gives Endless Possibilities
Self-hardening clay is excellent for vase craft projects. Prepare an ordinary glass, a self-hardening clay mixture, and a kid's stamp.
Remember to let the clay dry for a minimum of 24 hours before you remove the glass. If you remove it earlier, the construction won't hold and can break when adding flowers.
I recommend using a self-hardening vase with dry flowers!
Learn how to use air-dry clay.
38. 5-Minute Project
Do you have a mason jar, metallic tape, and five minutes to spare? If you answered yes, here is a quick project to try! Glue the three stripes of metallic tape to the jar, add flowers and water, and boom! You've got yourself a lovely, elegant centerpiece!
The project cost less than $5, and the most challenging part is not letting air bubbles appear on the tape. If that happens, remove the tape as soon as possible and try again.
39. Mosaic Vase
The next project isn't for the impatient people! It takes precision and patience, and all your efforts will be worth it.
You will need to cut wood branches into pieces to get the material for your mosaic. Use glue to secure the pieces to the vase and add wood finish once you glue the final branch piece.
Danish oil is one option. It is affordable and has a long-lasting effect. Also, I recommend skipping concave-shape vases because you'll struggle to sand the end parts. Instead, use a small pot and a drinking glass.
40. Compact Coastal Vases
You already learned how to make vases from old door knobs, but did you know that salt and pepper shakers will work, too?
You can get some at dollar stores at excellent prices. If you paint them blue and glue seashells, you'll end up with lovely coastal vases that will quickly dress up every summer table!
Think Outside The Box To Decorate The Vases
There are so many things you can fill with water and add flowers! The list includes glasses, doorknobs, salt shakers, mason jars, etc.! Play with different types of paint and create unique vases!
I like every idea which includes a combination of gold and transparent jar or vase! But, I would try to achieve the antique effect on my old ceramic vase. I'll let you know how that ends up!
How did you like my list? If you enjoyed it, give it a thumbs up and come back for more creative project ideas!