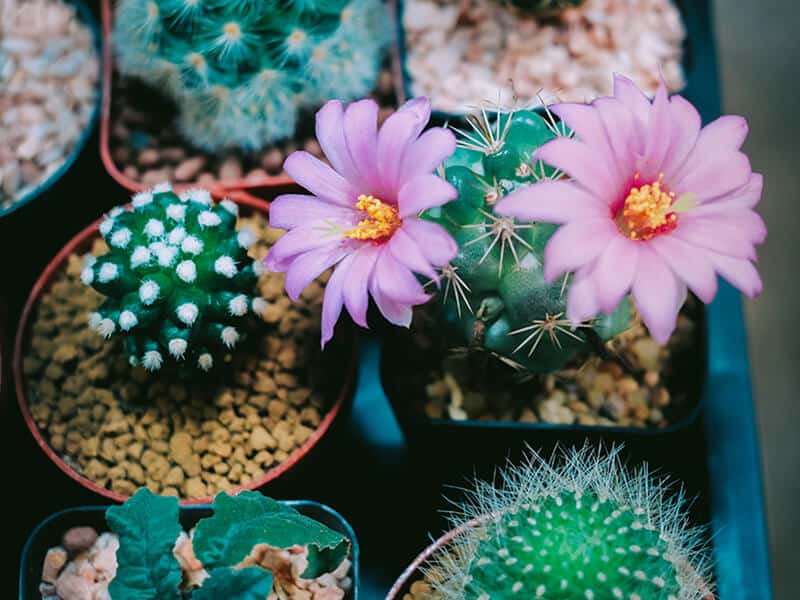 Flowering cactus plants look stunning and can give any landscape setting a new vibe.
They're easy to grow and come in different sizes, colors, shapes, so you have plenty of options to choose from. Cacti aren't just plain, green, and thorny plants. They can also provide lovely flowers!
The next section includes some of the most common flowering cacti, so let's take a look.
15 Flowering Cactus Plants You Can Easily Grow
If you're a fan of cacti, you probably know that you can pick from tropical and classic varieties and easily find something that meets your needs and matches your home or office setting.
Plant enthusiasts who live in dry regions prefer flowering cactus plants that will further boost the scene. Surprisingly, these eye-catchy plants provide some of the most beautiful flowers.
The best part? They all have different colors and shapes. If you're interested in learning more about the lovely flowering cactus plants, below I will discuss some of the most popular ones.
Parodia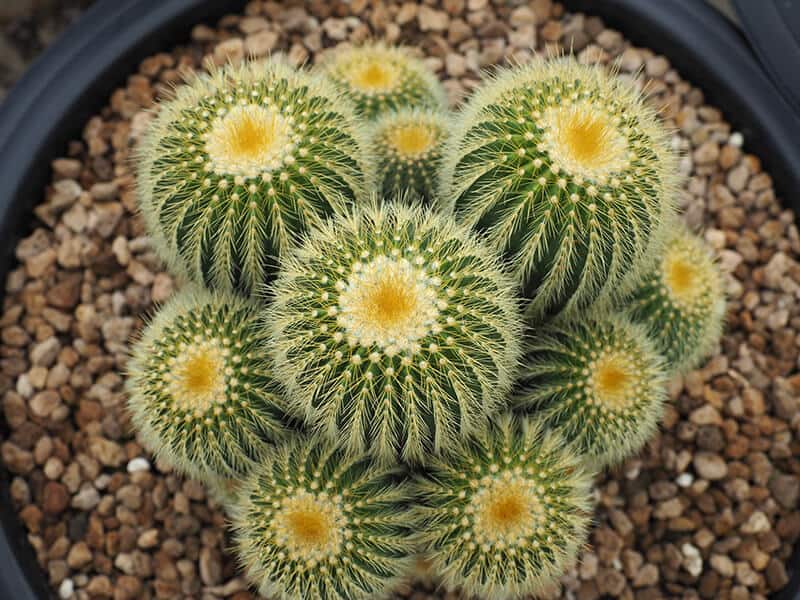 The Parodia cactus provides showy flowers. It's a ball-shaped cactus that doesn't like too much light and water. However, what you will need to provide is a gritty and well-drained ground.
Also, if possible, place the cactus in a cool area during the winter months, as Parodia, usually flowers in winter. The flowers come in orange, red, pink, and yellow colors.
The Parodia commonly shows in a ball shape but you can also find it in barrel shapes. It's a unique, low-maintenance plant.
Learn How To Grow A Ball Cactus Plant Indoors.
African Milk Tree Cactus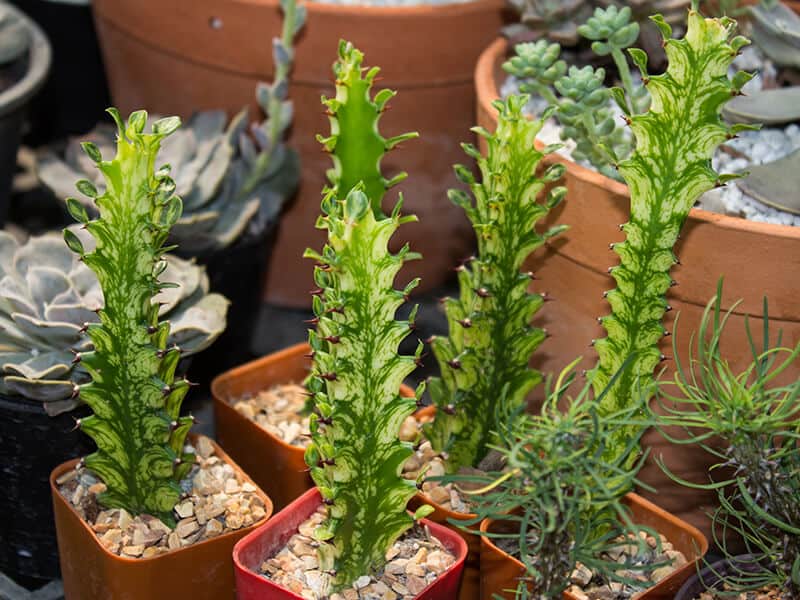 The African Milk Tree Cactus is technically a succulent. It's another lovely and popular container plant in South America and Europe. Plant enthusiasts love the dramatic size of this unique cactus.
What I like most about this plant is that it's low-maintenance. Meaning, you only need to provide well-drained ground and place your cactus in a bright place but avoid direct sunlight.
It doesn't require much watering. What I don't like about this cactus is the sap because it can cause skin irritation.
The Ultimate Guide On How To Care For African Milk Tree Cactus.
Bishop's Cap Cactus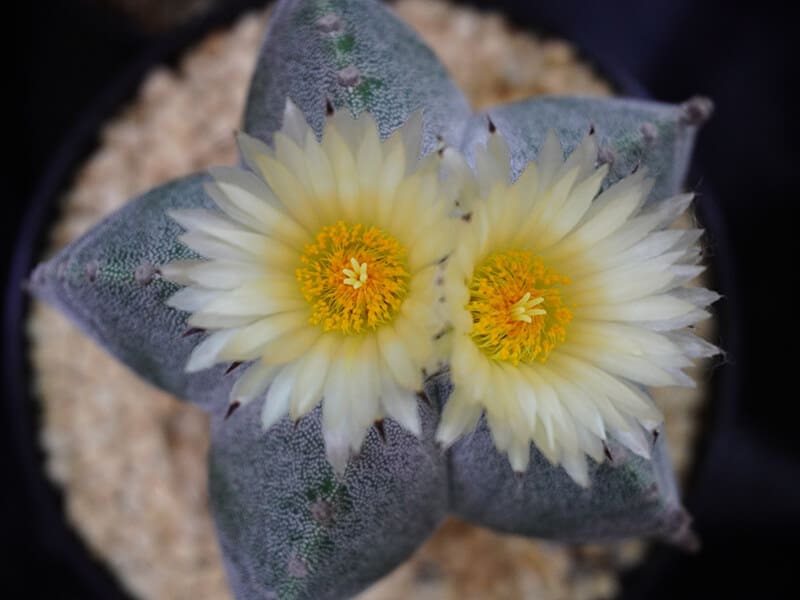 I find this cactus stunning! It's a star-shaped cactus with yellow flowers. It doesn't need much water and space. Meaning, it's super easy to grow in light shade.
Native to mountainous regions of central and northern Mexico, this plant became popular in the United States due to the lovely daisy-like flowers that bloom on the mature cactus.
They're yellow with a red center. Each flower lasts only a few days. However, they flourish in succession, so they're present for a while. They also have a fragrance.
Learn More Information About Bishop's Cap Cactus.
Watch This Video Tips On How To Make Your Cactus Bloom:
Lady Finger Cactus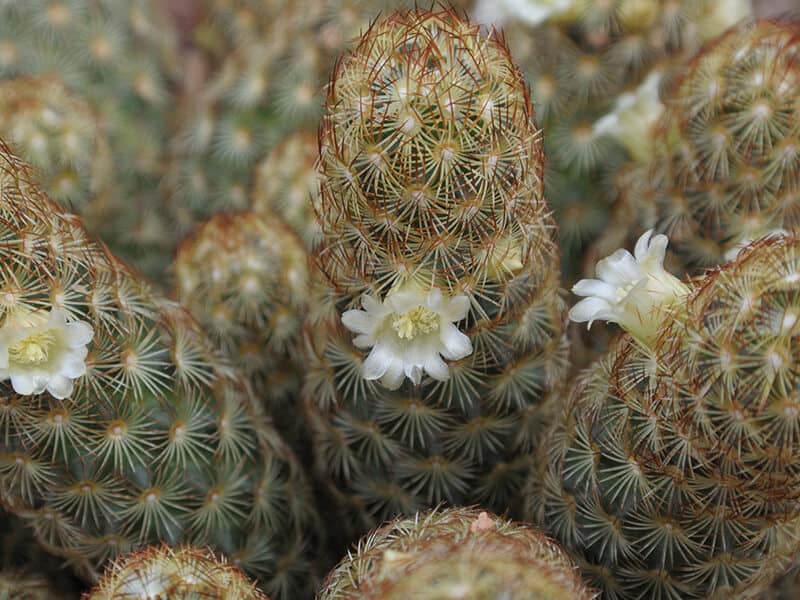 The Lady Finger Cactus, also known as gold lace cactus makes a great choice for people who aren't very experienced in growing plants indoors.
It's a lovely addition with yellow or pink flowers and dense green and orange clusters. The flowers bloom during spring under strong and bright light.
If possible, provide full sun for this plant indoors but prevent sunburning. This cactus doesn't need much water or fertilizer. It has weak root systems.
So, they're prone to root rot. The Lady Finger Cactus grows up to 6 inches in height and makes a perfect indoor plant that grows in tight clusters.
Useful Care Tips For Lady Finger Cactus.
Easter Cactus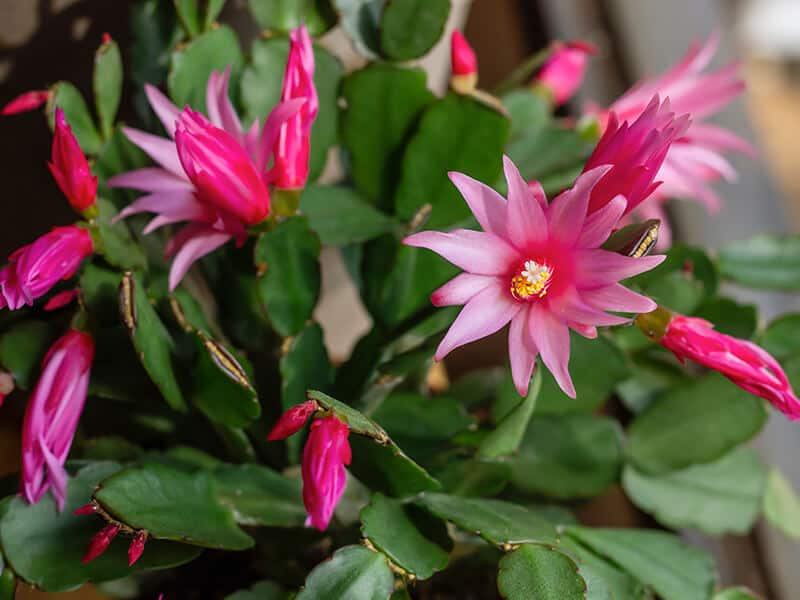 If you're looking to add some colors to your home or office, look no further than the Easter Cactus. With the right care, this cactus will provide lovely flowers in early spring.
And even without the flowers, it's still a beautiful addition thanks to the green leaves. The flowers come in white, red, and purple colors.
I like this plant because it's easy to grow which is why beginners choose it over other cactus plants. It's also popular among experienced gardeners.
The blooms usually appear around Easter which is why this plant is called the Easter Cactus. Also known as the Thanksgiving Cactus, this plant will embellish any living space.
More Tips On How To Keep Your Easter Cactus Happy.
The Ultimate Guide On How To Grow A Happy Easter Cactus With This Video:
Moon Cactus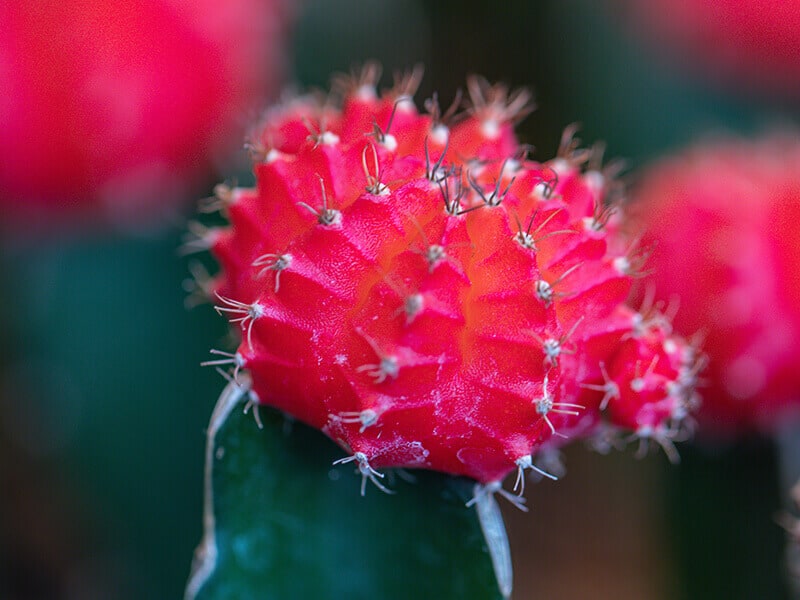 The Moon Cactus is very common and popular among plant lovers. It's a hybrid plant (two different cacti plants combined together) with a shorter lifespan than other species.
The plant lacks the ability to produce chlorophyll, so it should be grafted onto other species that provide chlorophyll so that the Moon Cactus can sustain itself for multiple years.
But here's the kicker. The Moon Cactus comes in vibrant shades of orange, hot pink, and neon yellow, so no matter which one you pick, you will make a statement with this plant.
Just make sure it's surrounded by other species because it's fond of crowded homes. Therefore, you can re-pot it in the same pot for multiple years and enjoy this lovely cactus.
Step-By-Step Guide On How To Grow Moon Cactus Indoors.
Blue Columnar Cactus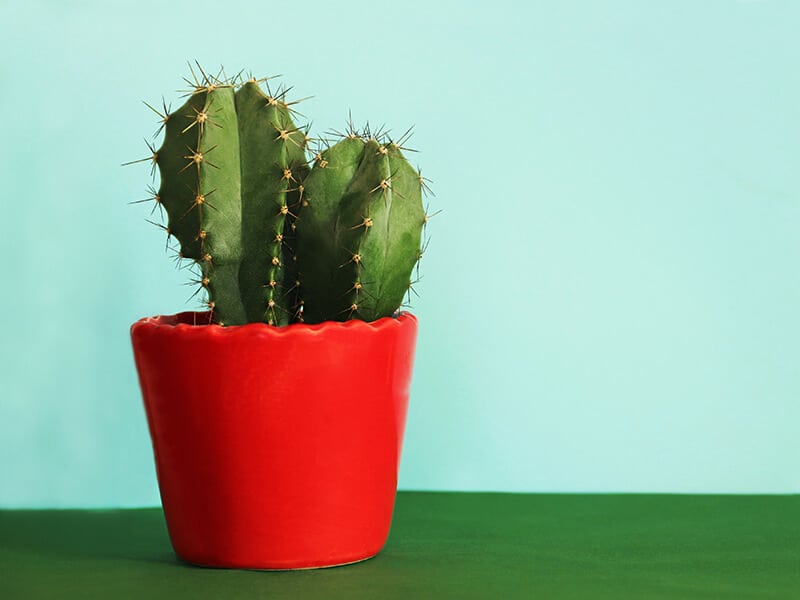 The Blue Columnar Cactus grows fast up to 30 feet tall. And when mature, you will notice funnel-shaped lovely blooms. It's a stunning plant native to Brazil with dramatic blue stems.
The stem gets a more intense color as the cactus ages, however, the unique golden spines become grey over time. Although it's a fast-growing plant, it will remain small for a few years.
However, once this beauty reaches full size, you can provide a new larger spot. Note that this plant likes the sun. And the more sun you provide, the bluer the stem will become over time.
Additionally, before watering the Blue Columnar Cactus, also known as Tree Cactus, leave the soil to dry out fully. Water more when it's growing in the summer and less in the winter.
Everything You Need To Know About The Blue Columnar Cactus.
Bunny Ear Cactus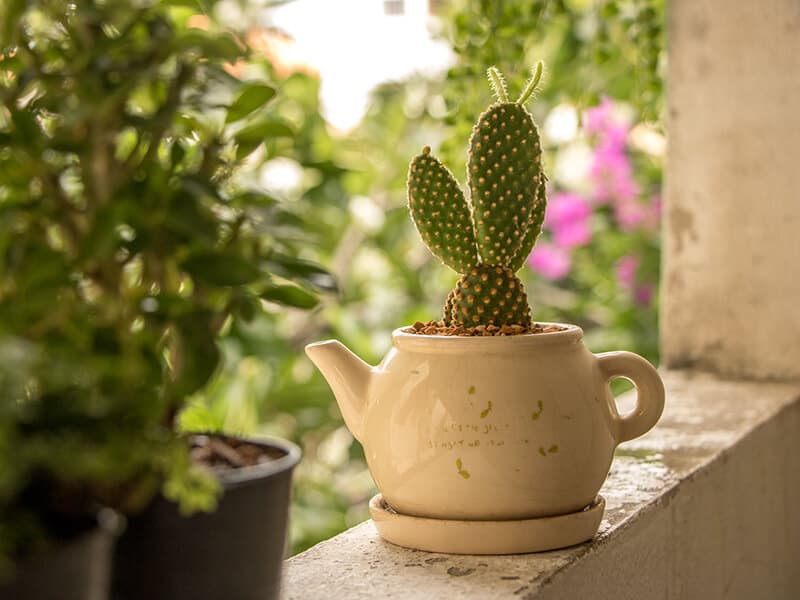 The Bunny Ear Cactus, also known as Angel Wing Cactus and Boxing Glove Cactus captures the attention of plant lovers because it's cute. The lovely shape of this cactus doesn't resemble a traditional cactus but don't let appearances fool you. It's not a cuddly cactus. On the contrary, it can sting you.
Furthermore, it's illegal for sale in New South Wales. Apparently, the species can cause harm to animals and people. However, if you're not in New South Wales and want to grow this beautiful cactus at home, you can do so. It's a low-maintenance cactus that provides yellow flowers in the summer.
This Is How To Grow Bunny Ear Cactus Properly.
Learn How To Take Good Care of Bunny Ear Cactus With This Video:
Old Lady Cactus
The Old Lady Cactus is a popular, sun-loving, and low-maintenance cactus that belongs to the Cactaceae family. It's a type of powder puff cactus with spines and makes a great choice for newbies.
What makes this plant appealing is the spherical stem. However, plant lovers grow this plant because of the beautiful red and purple flowers. Taking care of the Old Lady Cactus isn't rocket science.
Just pick the brightest place in your home or office and place your cactus there. I would suggest a south-facing window for the Old Lady Cactus. Also, provide some well-draining soil. It's that easy!
Guide On How To Take Good Care Of Your Old Lady Cactus.
Feather Cactus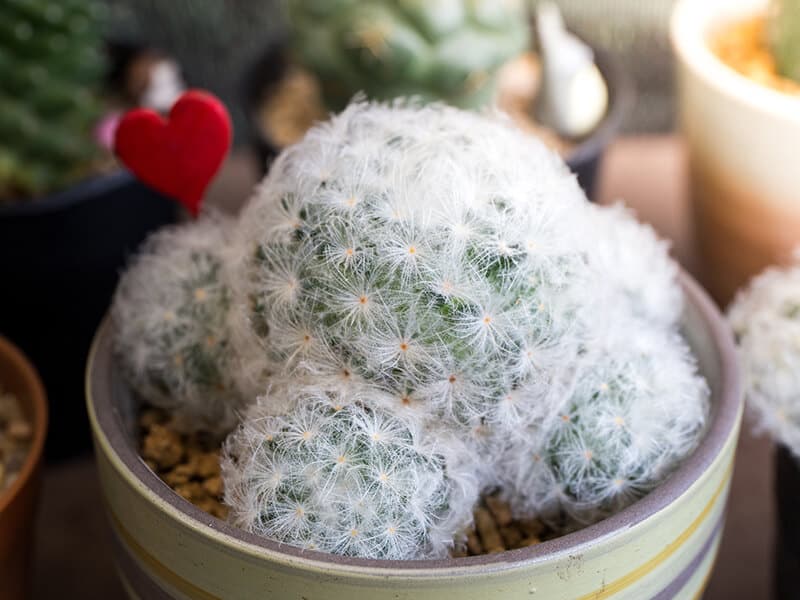 The Feather Cactus, as you can already suppose, has feathers. However, don't let the soft-looking spines fool you. They're actually sharp! And although they protect the cactus from sun and heat, they also add to the beauty of the Feather Cactus. The best part? This cactus also produces white flowers.
They're actually creamy-white flowers with some green notes that appear in late summer. Taking care of this plant is simple. It likes full sun to partial shade and some water just like other succulents.
The Complete Guide On How To Care For Feather Cactus.
Star Cactus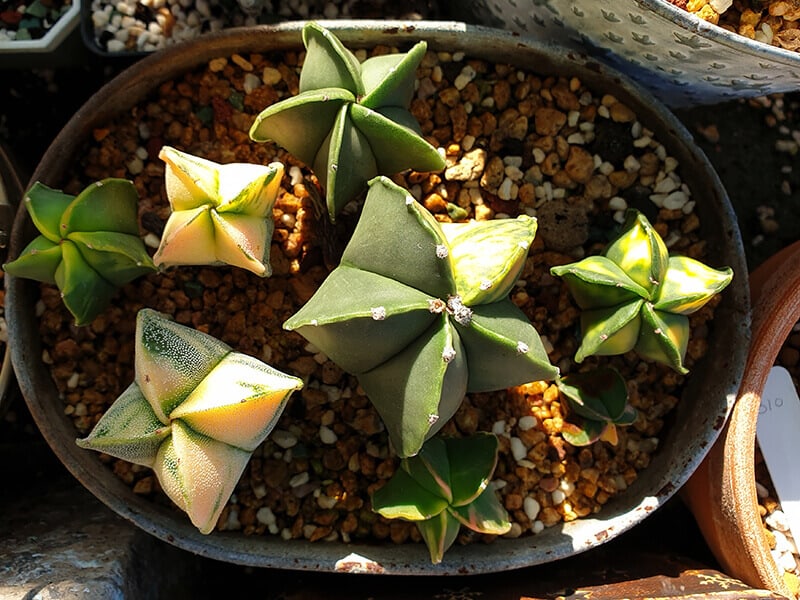 Also known as the Starfish Cactus and Sea Urchin Cactus, the Star Cactus is a lovely, slow-growing, small, and low-maintenance succulent. The triangular-shaped leaves give this plant a unique look.
They bend back and make a rosette form as they grow. However, what I love most about this cactus are the white and yellow flowers. The Star Cactus produces white flowers in the summer and spring.
If you decide to grow the Star Cactus indoors, you will need well-draining and sandy ground. The cactus enjoys direct sunlight, some fertilizer during the growing season, and water in small quantities.
All You Need To Know About Star Cactus.
Christmas Cactus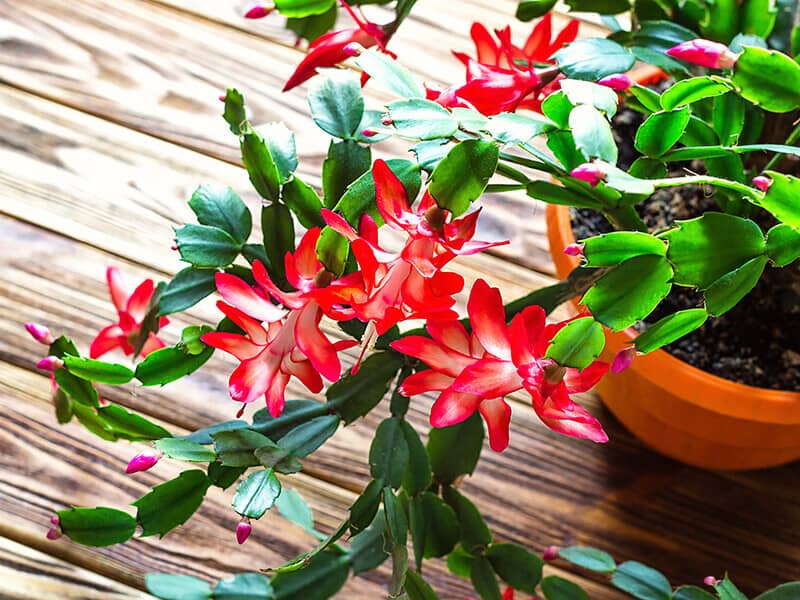 This cactus is very popular among homeowners because it's stunning and doesn't require much to live. It blooms and produces tubular colorful flowers in violet and pink.
The best part? The blooms last for a longer period which is why plant lovers prefer the Christmas Cactus over other flowering cactus plants. However, keep in mind that this plant prefers a more humid climate. It also requires more watering. Find a bright spot with indirect sunlight.
Put your Christmas Cactus in this spot and water it every 2-3 weeks, but only water when the top 1/3 of the soil feels dry to the touch. With little care, this plant will thrive!
The Only Guide You Need On Growing Christmas Cactus.
This Is How To Keep Your Christmas Cactus Happy:
Saguaro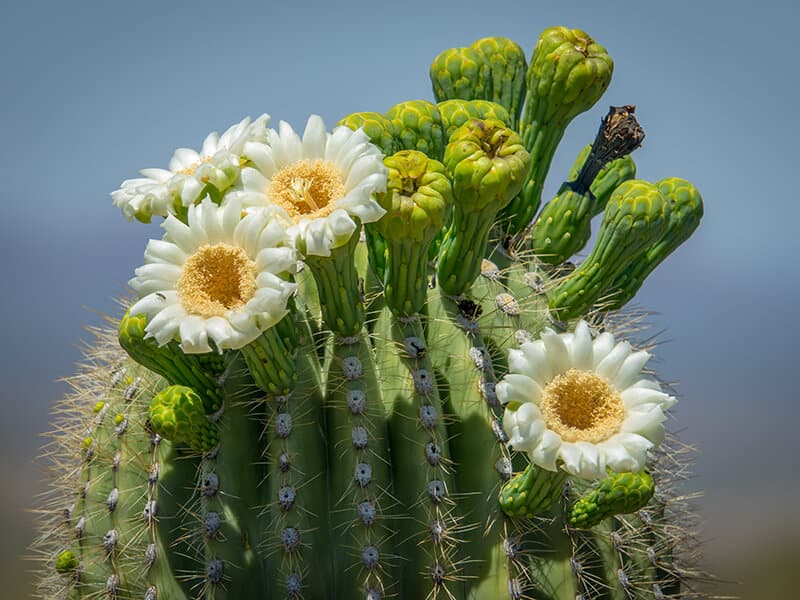 The Saguaro cactus grows slowly and might take about 35 years before they produce the first flower. It's mind-boggling, I know. The flowers only open at night and close during the day.
Meaning, they're pollinated by bats, moths, and other nocturnal creatures. You can notice the flowers of this cactus at the end of the arms. However, they sometimes decorate the sides as well.
They're milky white, about 3 inches across, and produce a sweet nectar that draws many species of bats. If you grow this cactus indoors, provide a lot of sun and water once per month.
Learn How To Take Care Of Saguaro Cactus Indoors.
Spiny Pincushion Cactus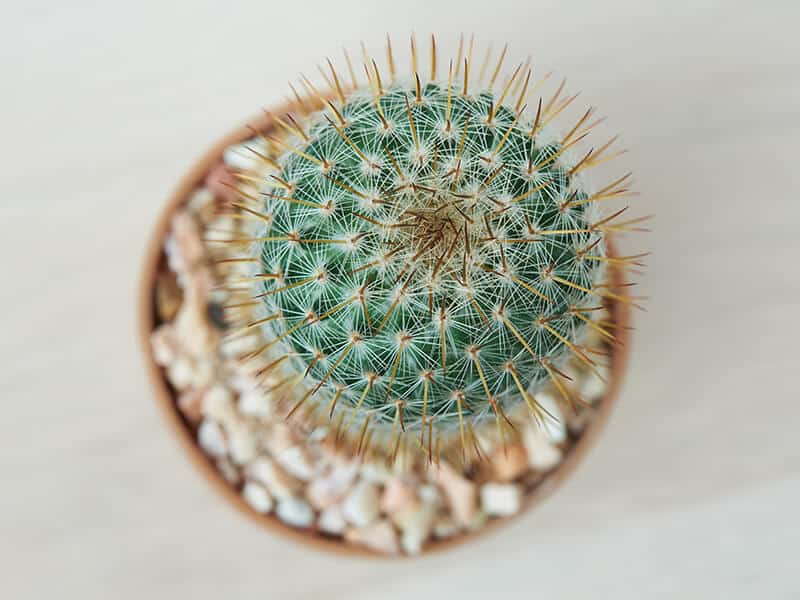 The Spiny Pincushion Cactus creates a cluster of spherical or columnar stems and provides lovely bright pink funnel-shaped blooms. I really like the yellow or red-brown spikes in the middle.
Native to Mexico, this cactus comes in different varieties. This specific variety requires sandy topsoil and temperatures between 50-75 degrees F. Also, between watering, you should let the soil dry out. It's not a hard task to grow this cactus. In fact, it's a very easy gardening project for beginners.
If you meet the basic requirements such as optimum watering and heat conditions and a little bit of food during spring, the Spiny Pincushion Cactus will reward you with lovely flowers in spring.
Important Details On Spiny Pincushion Cactus.
Fairy Castle Cactus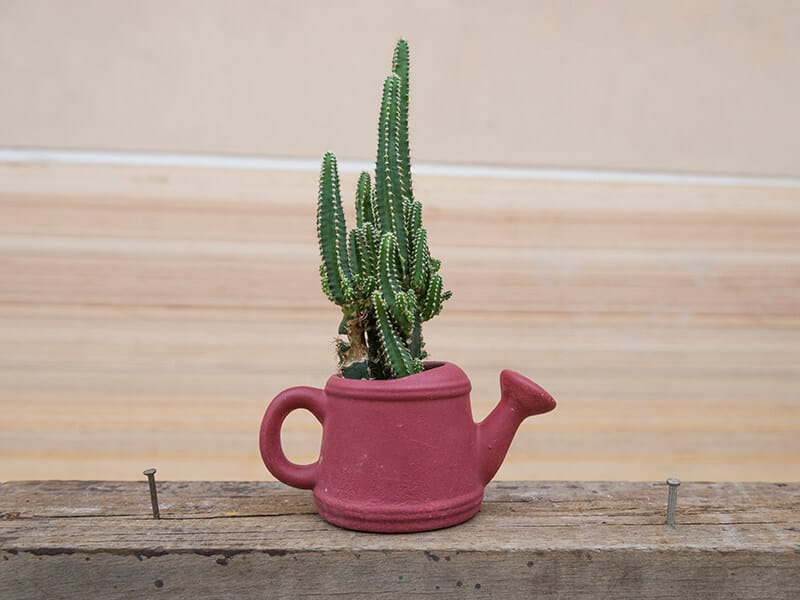 The Fairy Castle Cactus resembles a castle with varied stems. It's a slow-growing plant that can get up to 6 feet in height. Keep in mind that the Fairy Castle Cactus rarely provides real flowers.
Therefore, it's usually sold with fake flowers attached. However, it sometimes produces large yellow and white flowers. If you plan to grow this plant indoors, provide well-drained soil. It's a sun-loving plant so place it in a bright and sunny spot. You can also apply some cactus fertilizer in the spring.
Feed your cactus monthly while it's still growing but stop the feeding in winter. You can either purchase or make soil with some perlite, one part of sand, and one part potting soil for your cactus.
Useful Tips On How To Grow And Keep A Fairy Castle Cactus Happy.
Avoid These 5 Common Mistakes In Cactus Care With This Video:
Every Flower Blooms In Its Own Time!
The flowering cactus plants count for only a small portion of the broad selection of this type of plant. They're stunning, low-maintenance, and make a perfect addition to any landscape setting.
Do you have a favorite flowering cactus plant yet? Do you know some other cactus plants that provide beautiful flowers that haven't been mentioned in this article? If so, drop a comment below!
Share this article where you see fit and help other plant enthusiasts learn more about flowering cactus plants. Also, share your questions in the comments, and let's continue the discussion below.