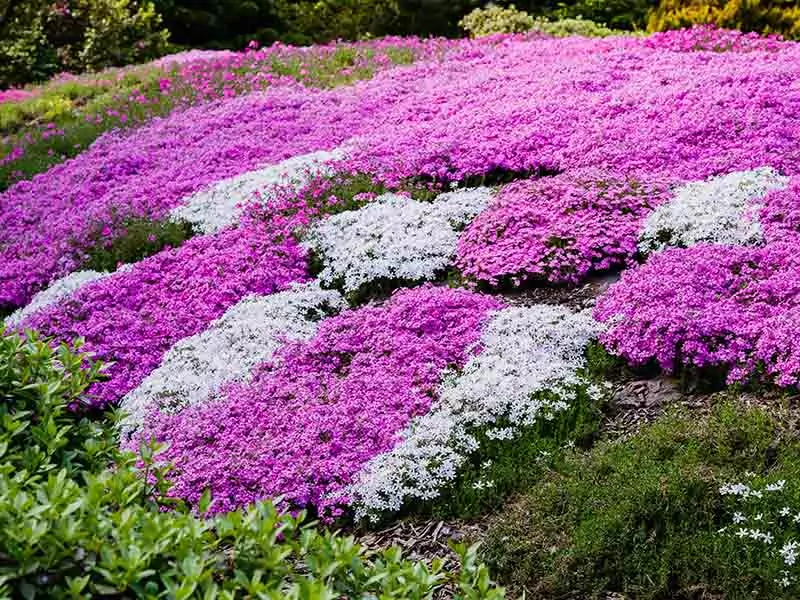 If you are looking for flowering ground cover plants, I have a great list for you! These plants are phenomenal for landscaping and transforming every outdoor space!
Ground covers aren't only beautiful. These plants also help with weed control and keep erosion under control. Some flowering ground covers bloom only for a short time, but they leave a beautiful carpet of foliage behind. So, even outside the blooming season, these ground covers are the perfect addition to problematic gardens.
Check the list and discover the best ground covers with spectacular bloom displays and foliage!
1. Flowering Thyme
Ground cover Thyme or creeping Thyme is one of the easiest ground covers to grow. Because of the minimal growing requirements, and extraordinary visual effect, creeping Thyme is a popular plant. You can grow it in USDA zones from four to nine. It will rarely grow over three inches, and creeping Thyme quickly spreads across the ground in small and dense plant mats.
Creeping Thyme needs well-draining soil and moderate moisture. You can grow it from cuttings, divisions, or seeds. Plant it ten inches apart to promote the natural spreading habit of the time.
2. Creeping Phlox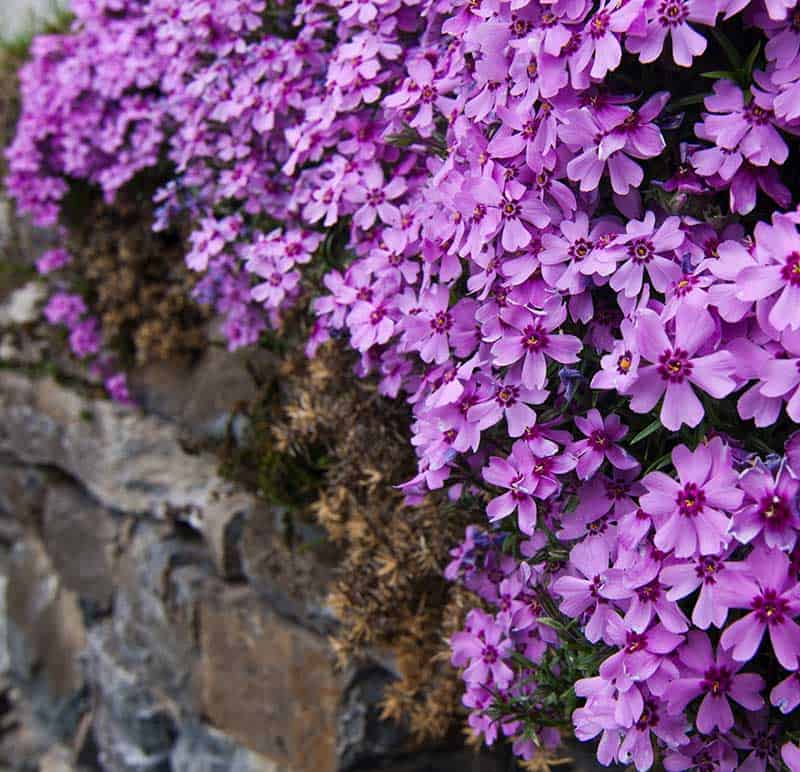 Creeping Phlox is praised for its bright-colored flowers in pink, purple, white, and blue. The ground cover is easy to grow in almost all places. Creeping Phlox loves sun, but may adapt to partial shade, too. The ideal soil type for this beautiful ground cover is humus-rich, well-draining soil.
Also, creeping Phlox prevents erosion, so it is an excellent flower to choose for slopes and hilly terrain. The only downside to growing creeping Phlox is that it needs some trimming to remain good-looking and well-behaving on larger surfaces.
3. Hardy Geraniums
You can plant hardy Geraniums any time you want. But, pick autumn or late winter for planting to help your Geraniums establish and bloom in the first year. Choose bare-root plants if you prefer the mentioned timing.
Overall, hardy Geraniums are low-maintenance ground covers. They need abundant moisture in the first year, and after that, you can reduce the irrigation frequency. Mulching is beneficial for them because it helps control weed and retain moisture.
At the beginning of the growing season, your hardy Geraniums will benefit from applying controlled-release fertilizer. It will help them vigorously grow and provide the most beautiful blooms. Don't forget to trim spent flowers to keep Geraniums tidy-looking.
A tip to get a second bloom of your Geraniums.
4. Alyssum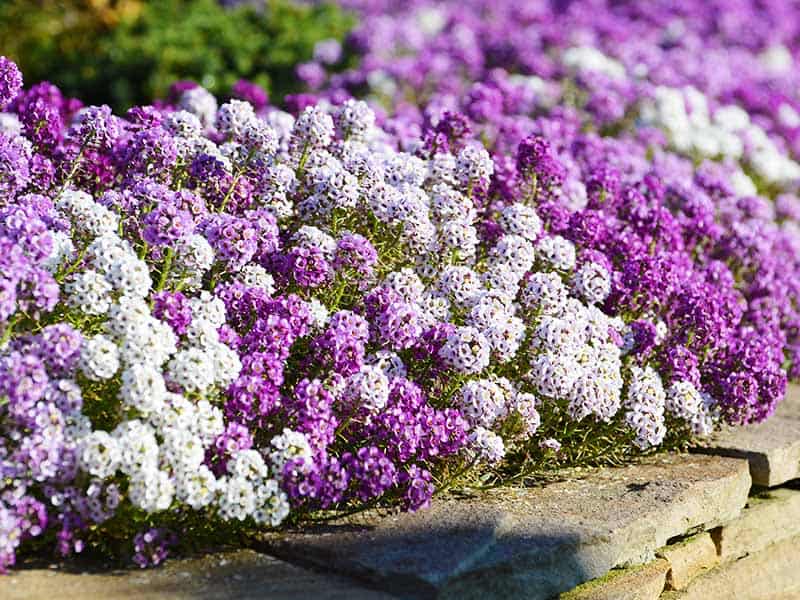 Alyssum is a fast-grower. Sow seeds before the last frost, you can expect Alyssum to proliferate in two months. You can start seeds indoors for the best results.
Pick a sunny location for your Alyssum and give each seeding space to grow. Six or eight inches between them would be sufficient.
Next, Alyssum has average water needs. In most climates, the ground cover needs around one inch of water per week. Check if the soil is dry before watering to avoid waterlogging and diseases.
Another tip to apply when taking care of Alyssum is to deadhead spent flowers. It will encourage reseeding so your newly growing plants will bloom in the continuous process!
5. Flower Carpet Roses
If you need a ground cover with the prolonged blooming season, choose Flower Carpet roses. You can equally easily grow them in pots and steep grounds.
Another benefit to growing Flower Carpet roses is that they are disease-resistant! They bloom all summer long and control weeds. You can grow them in well-drained, fertile soil in bright spots or partial shade locations! Healthy roses don't need pruning. You only need to trim the dead stems and flowers after the blooming season.
6. Hosta
Hostas are praised not only for their lovely blooms but also for their lush foliage. They bloom in summer and fall but look beautiful year-round.
Hostas need consistently moist soil rich in humus. These plants are adaptable to various lighting conditions, and can even survive in full shade. There are slight variations in terms of preference and tolerance of Hostas.
For example, Hostas varieties with thick and waxy leaves better respond to dry conditions. On the other hand, variegated Hostas don't do well in the full sun compared to green-leaved varieties.
7. Sedum Dragon's Blood
Sedum is a succulent plant that doesn't need complex care to provide a beautiful visual effect. Choose a full-sun location for Dragon's Blood and pick phosphorus-rich fertilizer to promote blooming. Also, flower food will help the plant to develop a healthy root system.
If you live in a colder climate, you can pick Dragon's Blood Sedum because it is tolerant of cold weather. Overall, Sedum is an easy-going plant, but sometimes it won't bloom as you expect. In those cases, you need to remove tall stalks in summer and prune dead stalks in the early spring.
8. Bellflower
Bellflower is a lovely colorful perennial which looks beautiful in cottage and rock gardens.
Bellflower needs airy, well-draining soil to thrive. You can prep the soil with compost to ensure long-living flowers.
This bright-colored perennial has moderate water needs. Allow the soil to dry completely before watering and use mid-strong fertilizer in spring and summer. Also, mulch around the plant's base to help with the weed and improve the soil moisture retention.
9. Candytuft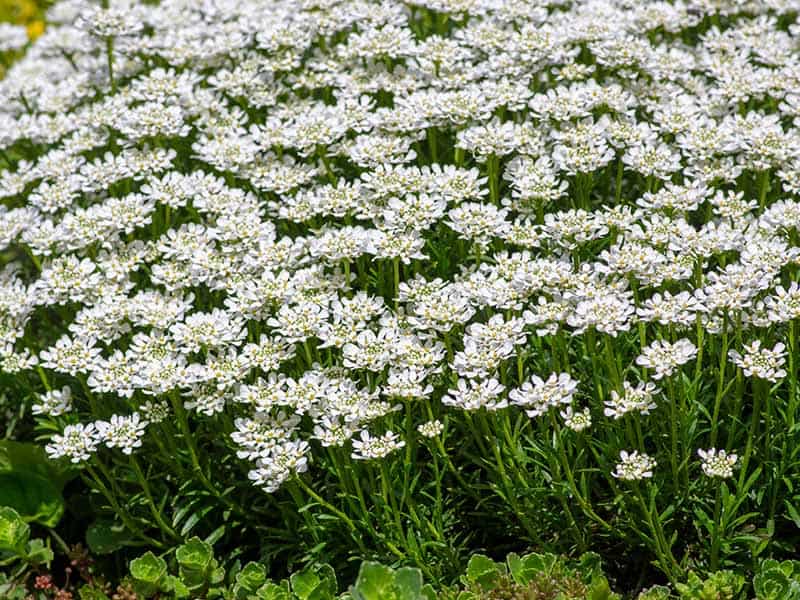 Candytuft is the most beautiful in April and May. You can use it as a border plant, around pathways, or as a ground cover. Start it in an early fall to ensure sufficient growth and development till spring.
Candytuft is a perfect ground-hugger, and it rarely grows over 15 inches. It is native to the Mediterranean, and hardy in USDA zones from four to eight.
If you want to promote the natural spreading habit of Candytuft, space the plants at six inches distance. If the soil is consistently moist, Candytuft will spread quickly.
The ideal location for Candytuft is full sun, but it will tolerate shade in the afternoon.
10. Delosperma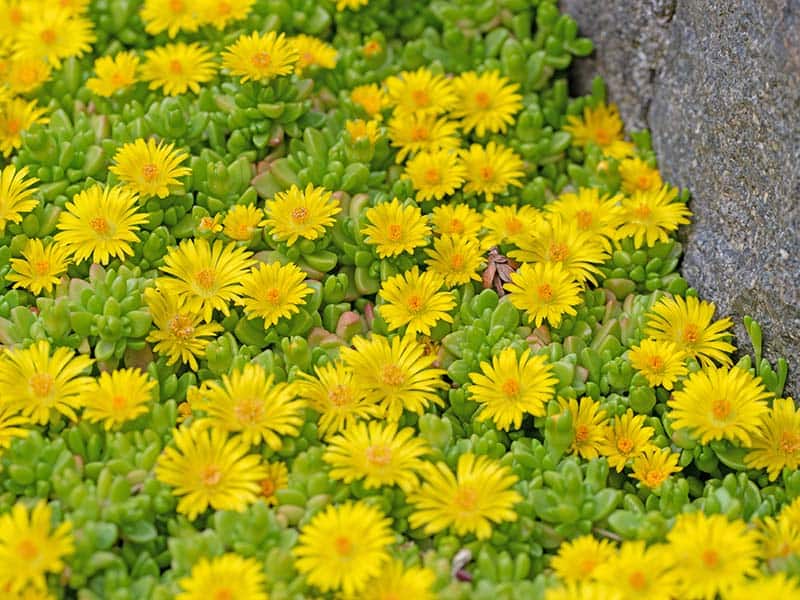 Delosperma or Icy plant is a suitable ground cover for a drier climate. Ideal zones are from six to eight if you want to grow Delosperma as perennial. Outside these zones, people grow Delosperma as an annual.
Delosperma needs a lot of sunlight and fast-draining soil. It thrives in sandy or gravelly soil, but Delosperma can adapt to various types of soil. The exception is clay soil.
Water Delosperma once a week during warm weather and twice a month during winter.
11. Lily of the Valley
Lily of the Valley can spread quite fast. Sometimes the top layer of ground cover can form in only a week or ten days.
It is a beautiful plant adored for its white and fragrant flowers, as well as easy-going nature. You can also pick it for shade and tough spots because Lily of the Valley can grow almost anywhere. It will provide luscious carpet almost year-round!
Outside the blooming season, Lily of the Valley is adored for its green foliage and you can plant it any time in the growing season.
12. Sweet Woodruff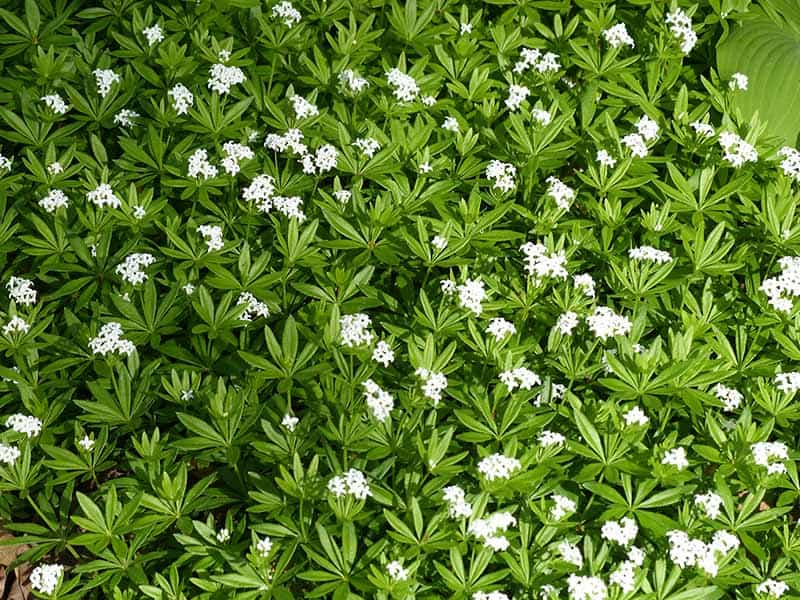 Sweet Woodruff is known for its distinctive sweet aroma, but the plant is only fragrant when you dry it. When you use it is a ground cover, space seedlings with ten inches distance. Therefore, each seedling has enough space to develop and the spacing will encourage spreading!
Sweet Woodruff can grow in any soil type, but it prefers alkaline. It is great for shade, and Sweet Woodruff will provide beautiful uniform green and white carpet until the snow starts!
Sweet Woodruff only needs watering during dry spells. This low-maintenance ground cover doesn't even need fertilizer to grow to its full potential!
13. Black Mondo Grass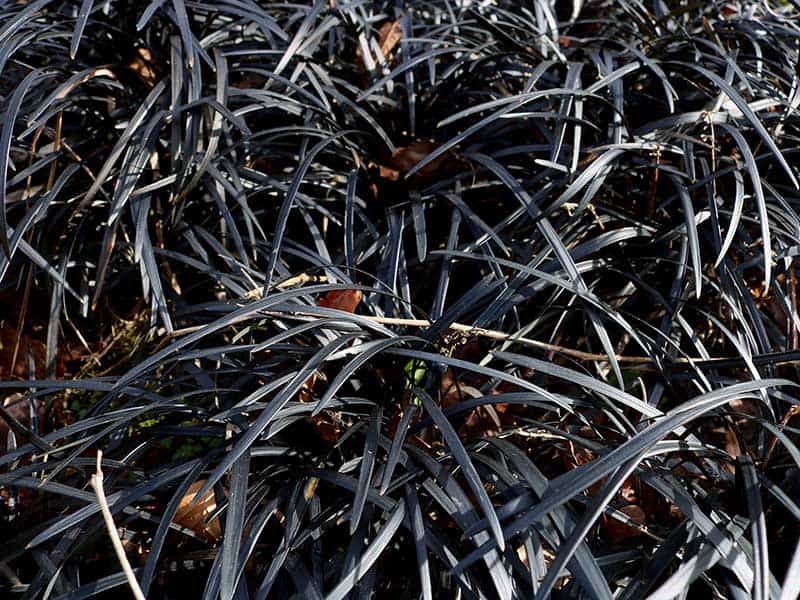 Black Mondo ornamental grass is for those who want something spectacular as a ground cover for their garden. As the name suggests, it is black-grass used for a dramatic effect in landscaping.
The grass forms thick clumps of black foliage and doesn't get taller than 12 inches in the mature age. In late spring, Black Mondo grass produces pinkish flowers which stand out against dark foliage. Later, the bluish berries form from these flowers.
You can use it to cover fast-draining, fertile and moist soil. During the establishing period, Black Mondo grass needs a lot of moisture. If the grass is in rich soil, the fertilizer is optional.
14. Lesser Periwinkle
Lesser Periwinkle doesn't get taller than six inches when mature. It is also very easy to grow in USDA zones from four to eight. Ideally, plant Periwinkle in early spring to ensure healthy plants during the actively growing season.
Periwinkle thrives in partial sun or partial shade locations. It is sensitive to frost, high humidity, and overwatering. Therefore, protect it from harsh conditions and enjoy beautiful carpets of green with purplish blooms!
15. Liriope
Liriope looks spectacular from early fall when spikes of small and fragrant, purple or white flowers appear. You can grow it in zones from four to ten. Despite being a sun-loving plant, Liriope can adapt to slightly shaded locations.
When you grow it in a dappled shade, Liriope won't bloom, but you can still use it as a green ground cover.
People also use it as a border plant and fill the blank spots in their garden. Liriope can tolerate a variety of soil types but will suffer in soil with poor drainage.
Can Liriope survive where other plants can't?
16. Spotted Dead-Nettle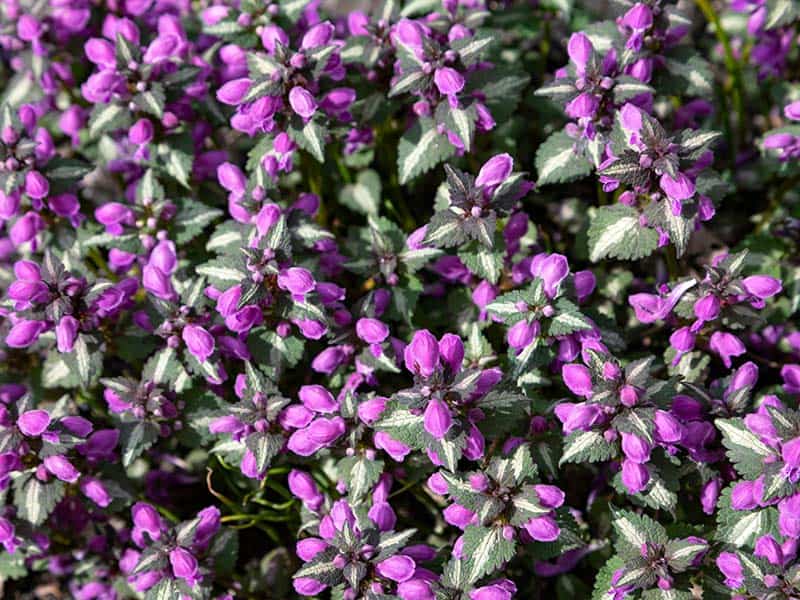 If you need a shade-living plant for landscaping, consider Spotted Dead-Nettle. It spreads easily and doesn't have any complex care requirements. Spotted-Dead Nettle is tolerable of different soil types, but excellent drainage is a must. It is also one of the ground covers to combine with Hostas, for a beautiful landscaping effect.
When taking care of Spotted Dead-Nettle, be careful not to overwater it. Reduce the irrigation if you planted Spotted Dead-Nettle in a shady location, and increase it during dry spells and sunny days.
17. Heuchera
The ideal time to start growing Heuchera is early spring, after the danger of frost passes. Heuchera is one of the best multi-season interest ground covers for the shade because it features nice blooms and spectacular foliage.
It is hardy in zones from four to nine. After planting, Heuchera needs consistent moisture. But, mature, established plants are generally drought-tolerant. Heuchera isn't a heavy-feeder, but it will benefit from standard, mid-range fertilizer.
Similar to most other flowering ground covers, Heuchera demands deadheading to maintain a tidy look.
18. Cotoneaster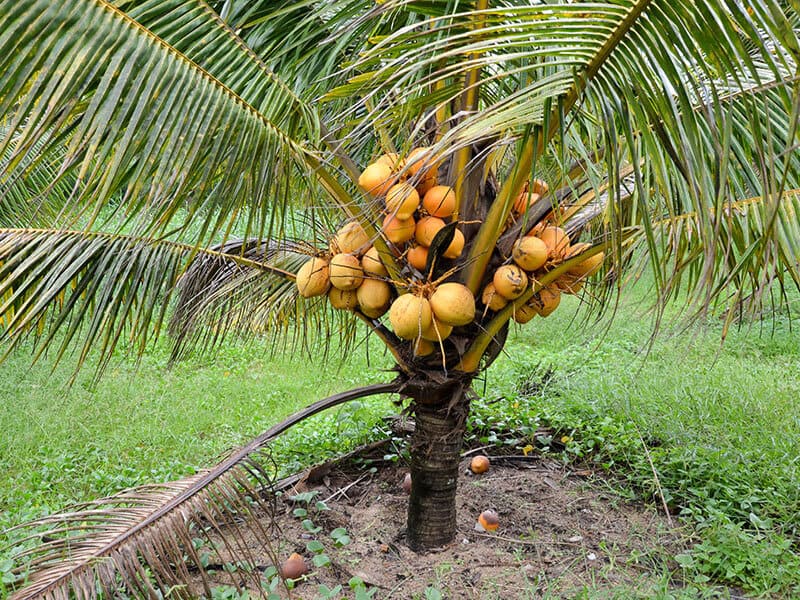 The trick to growing Cotoneaster as low-maintenance ground cover is the planting timing. Plant Cotoneaster in mid-autumn, when the soil is still warm but moist. That way, the root system can establish before the cold hits. Pick full sun or partial shade location for Cotoneaster, and ensure the soil is well-draining.
Mature plants are drought-tolerant and deer-resistant. Mulching around the roots with bark or wood chips in late fall will help with weed control and moisture retention.
For the best results, you can use organic plant fertilizer every month.
You can also use Cotoneaster as a border plant, and it will significantly brighten the garden borders.
Best hacks for growing Cotoneaster as a ground-cover.
19. Lamb's Ear
Lamb's ear features soft, hairy evergreen foliage with a slightly velvety texture. People pick Lamb's ear because of the beautiful foliage, and bright magenta flowers in late summer!
The contrast between bright blooms and toned foliage ensures a spectacular summer display.
It makes Lamb's ear an amazing plant for ground-covering, landscaping, and filling the bold areas in the garden. You can plant Lamb's ear in spring, and it is hardy in zones from four to eight.
There are several attractive varieties with slight differences in preferences and shade. Therefore, before you pick Lamb's ear for your garden, get more information about each cultivar.
20. Lavender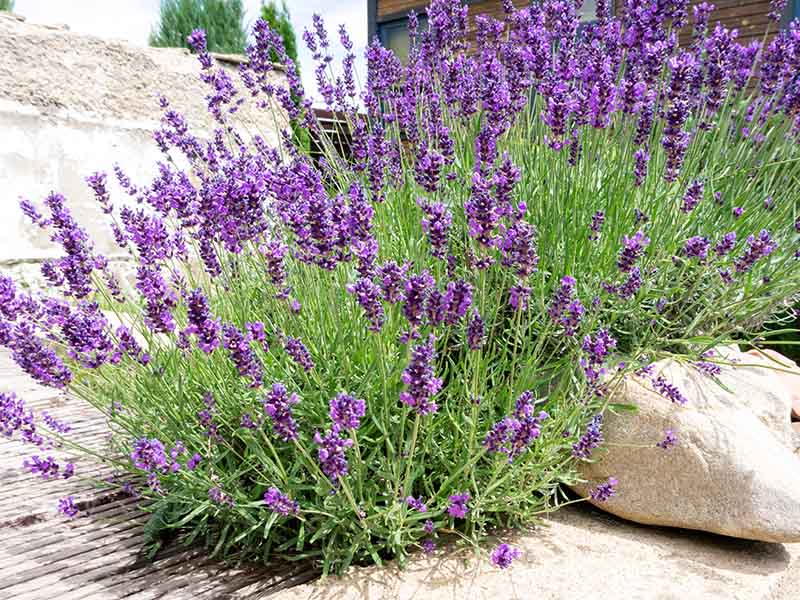 If you live in a hot and dry area, choose Lavender as a beautiful, fragrant ground cover. Lavender features a fast growth and spread rate.
When planting Lavender, space the plants at 15 inches distances for optimal growth and spread.
Lavender is native to the Mediterranean, so it thrives when exposed to at least six hours of sunlight. It can tolerate poor-quality soil and remain good-looking during dry spells.
The proper way to plant Lavender.
Enjoy Landscaping With Best Flowering Ground Covers
The ground covers from the list above give you many options to combine and mix them to create spectacular plant displays. However, each ground cover also looks beautiful when planted as only a ground-hugging plant.
You've got options for shade, full sun, partial shade, and various zones. Which ground cover from the list is your top pick?
I am leaning toward Bellflower, but Lavender is such an elegant choice! Please share your thoughts on my list!
Don't hesitate to ask questions and start a discussion on the most beautiful flowering ground covers!