The most fragrant flowers are something special and a little detail you might need to create a heavenly garden. Non-fragrant flowers can be equally beautiful, but the ones with sweet aromas create delightful atmospheres and make you feel like you are in floral heaven anytime you pass by the fragrant plant!
Fragrance in flowers is designed to attract pollinators and continue the plant's life cycle. It means it is pleasant for you but also the wildlife and pollinators in your garden!
Let me walk you through the most fragrant flowers you can choose for your garden! Most of them are suitable for growing in pots and containers, and you can freshen up your balcony or patio as well!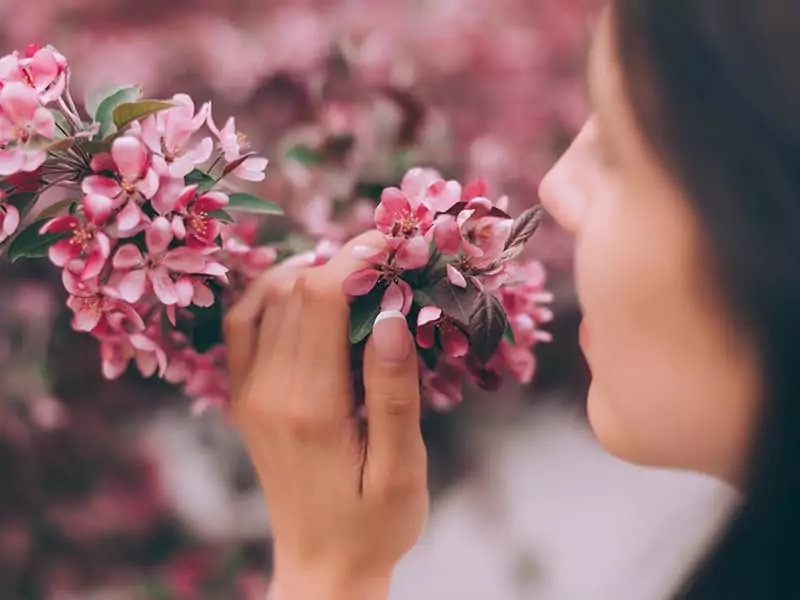 1. Lilac
Syringa vulgaris or Lilac is hardy in zones three to eight. The plant has one of the most distinguishable scents ever! The sweet fragrance and the beautiful purple flowers are the reasons behind common Lilac's popularity.
To grow Lilac, ensure good air circulation. It will prevent diseases, such as powdery mildew and help the plant to keep its lovely foliage for longer.
Lilac loves full sun but may tolerate light shade, especially in warmer climates.
2. Angel's Trumpet
Brugmansia or Angel's Trumpet features trumpet-shaped, heavily fragrant flowers. The plant can get quite large and quickly become a focal point in your garden. This sweet giant is not hardy in cooler zones, especially above the eighth zone.
Luckily, Angel's Trumpet is an easy plant to overwinter. So, next year, your Brugmansia will become even bigger, more fragrant, and striking!
3. Mock Orange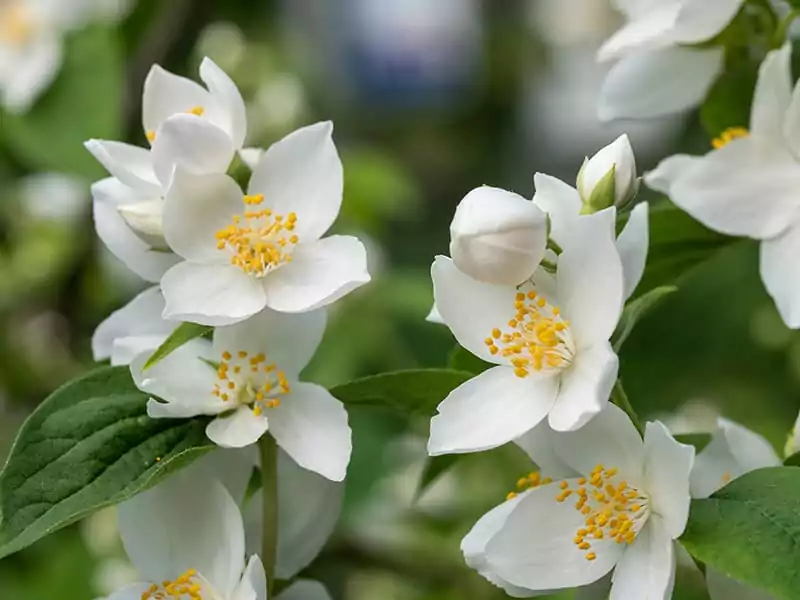 Mock Orange is actually a bush scientifically named Philadelphus. The Mock Orange name's origin is in the sweet scent, which resembles the real, ripe orange smell. The heavy smell can easily overpower the entire garden, no matter which cultivar you choose!
Mock Orange bush is perfect for attracting bees and pollinators.
4. Sweet Osmanthus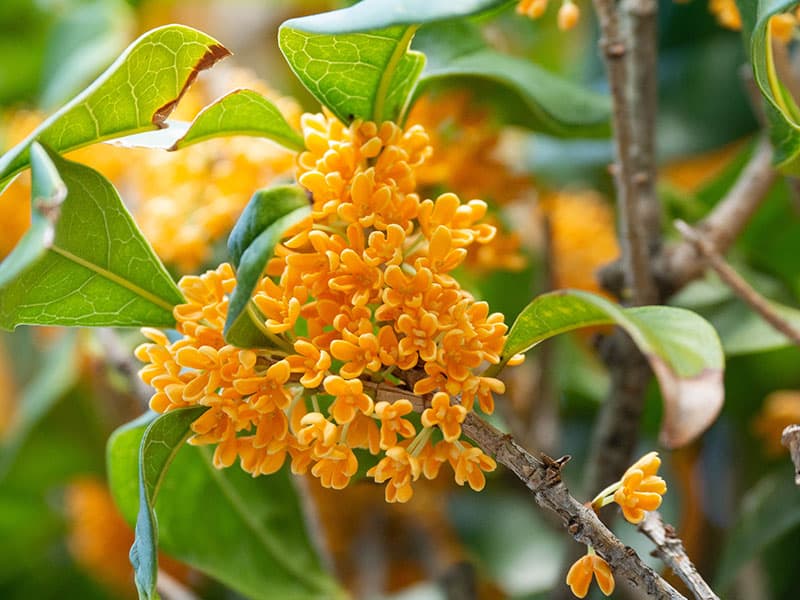 Sweet Osmanthus fragrans plant belongs to the Olive family and comes from Asia. On average, it can grow between ten and 200 feet.
The plant has been known for its heavily fragrant flowers, which develop in spring. Sometimes, Sweet Osmanthus may develop new flowers in fall!
The plant needs moist soil with excellent drainage, full sun exposure. In warmer climates, afternoon shade is recommended.
5. Tuberose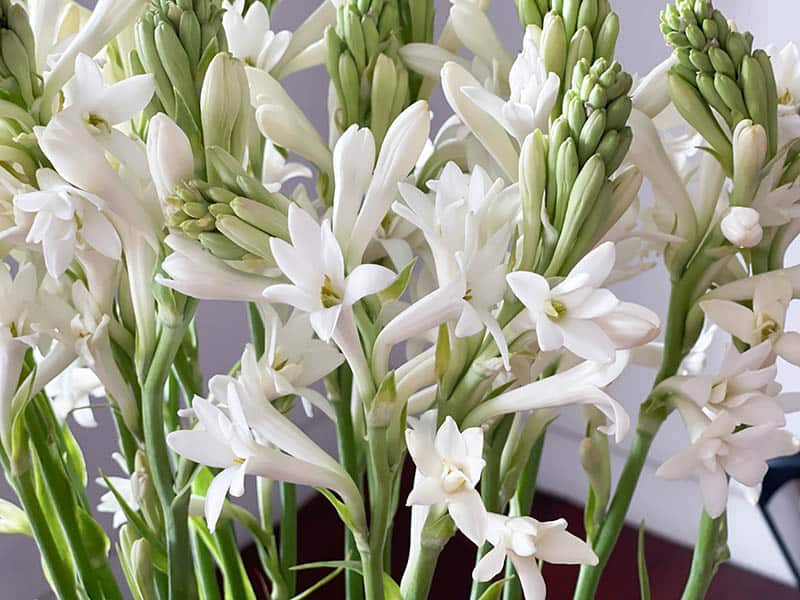 Polianthes tuberosa or shortly Tuberose features fragrant flowers whose aroma inspired some of the best-selling, mid-priced perfumes ever – Zara perfume. Interestingly, once you cut the flower, it can keep the smell for 48 hours more!
Tuberose is a bulbous plant, which requires excellent drainage and at least six hours of sunlight.
6. Viburnum
Viburnum has a classy charm of flowering shrubs, with large and sweet pinkish flowers. The flowering season starts in early spring.
The majority of fragrant viburnum cultivars thrive in full sun. Some may tolerate shade.
You can plant it in spring or fall in fertile soil with excellent drainage.
7. Lily of the Valley
Convallaria majalis is the scientific name of the Lily of the Valley. The plant is known for its fresh scent of flowers. The scent is unique and difficult to describe with slight floral and jasmine notes, but sharp at the same time. That is why it is used in the perfumery industry.
Lily of the Valley should never be let dry for a prolonged time. The plant is low-maintenance, and it doesn't require trimming or cutting.
You can plant it under trees to maximize the space used in your garden.
Comprehensive set of tips for growing Lily of the Valley
8. Nicotiana
Nicotiana is often used as a border plant. It produces lovely blooms with sweet aromas which intensifies in the evening.
The flowers have a tubular shape and have a moderate growth rate.
The plant needs consistent watering and regular deadheading. It will help the plant produce more flowers and disperse a sweet aroma for longer!
9. Ylang-Ylang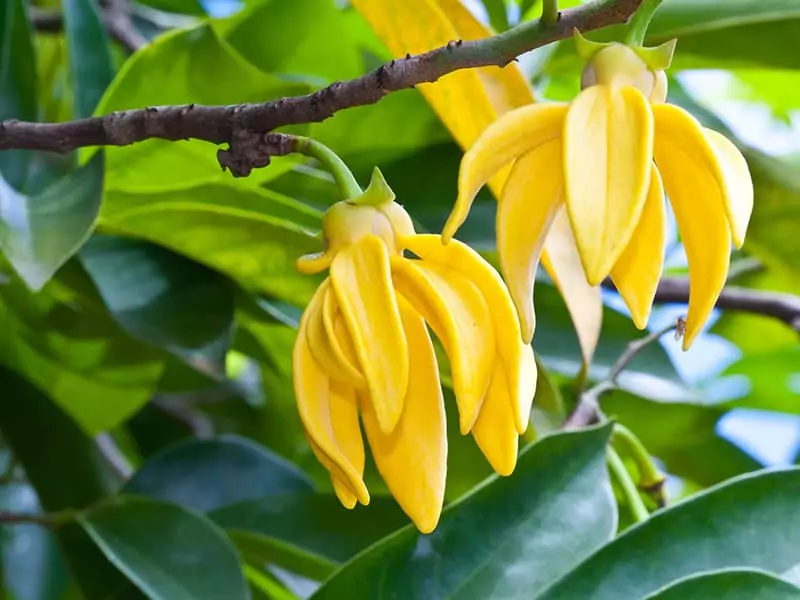 Cananga odorata or Ylang-Ylang fragrant flowers are used for oil extraction, which is popular in aromatherapy. The scent is calming and sometimes used for refreshing perfumes.
Cananga odorata is native to tropical areas and requires high humidity to grow. Also, fertilization is important if you want to grow this lovely tree.
Amend the soil with blooming-grade fertilizer once a month or more frequently in the growing season. It will boost flower production!
10. Scented Primrose
Primula vulgaris is one of the easiest plants to grow, and it will reward you with a lovely aroma. It doesn't need regular pruning or special treatment. The blooming season starts in April and the plant develops charming cream-white flowers.
Regular watering and occasional removal of dead leaves will help the plant grow to its full potential.
The fragrance of flowers is similar to the orange flower scent!
11. Plumeria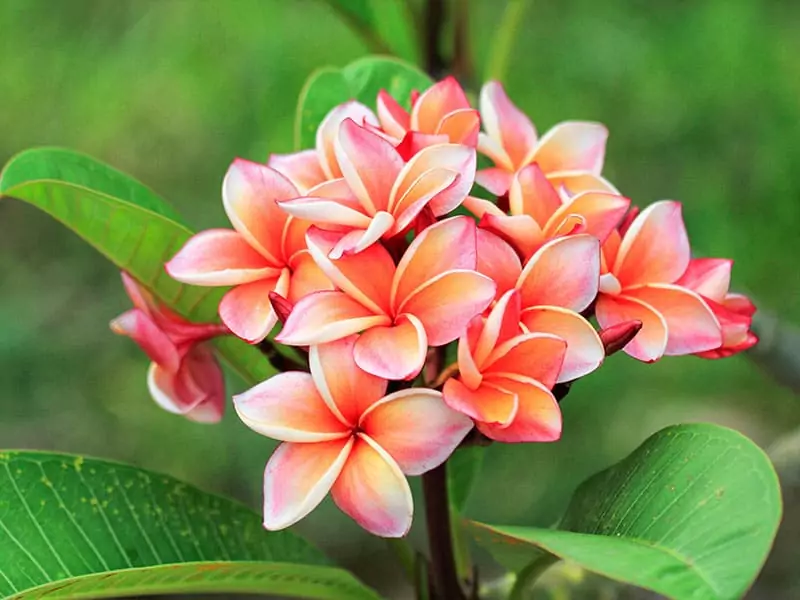 All Plumeria varieties have scented flowers. But, if you are looking for the cultivar with the heaviest scent, pick Singapore!
Plumeria doesn't require complex care. You have to protect the plant from "wet feet" or root rotting. Ensure the soil is well-draining. You can also allow the plant to dry between two waterings.
Every two or three weeks during spring and summer, amend the soil with fertilizer for stunning growth!
12. Sweet Autumn Clematis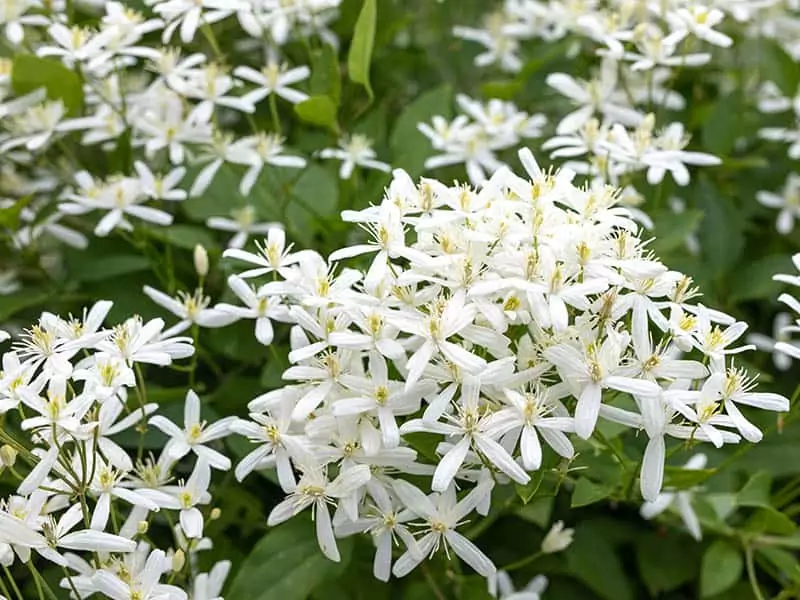 Clematis terniflora or Sweet Autumn Clematis is the perfect fragrant flower for gardens in semi-shade. The plant is an aggressive climber, so planting it under the tree will be a win-win! The tree will become a supporting structure, and help create a beautiful seasonal plant display!
Clematis can grow a few feet per year, so it won't be long until the nice scents will start spreading in your garden!
13. Daphne
Because of its interesting foliage, charming blooms and sweet fragrance, Daphne odora is a popular plant in a variety of gardens. It is also suitable for growing in containers if you don't have enough space in your garden.
It needs partial shade, and moist, well-draining soil to thrive.
The plant originates from China, but it has been cultivated around the world.
14. Night-Scented Stocks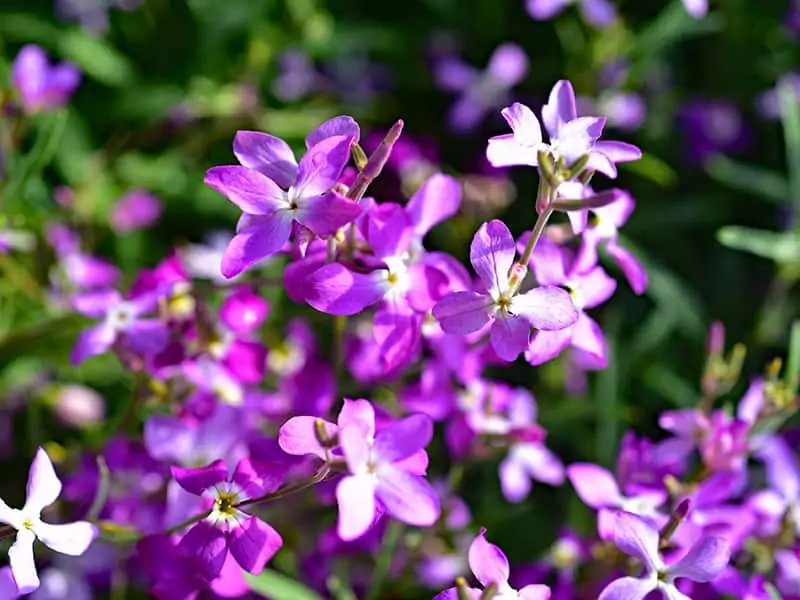 Matthiola longipetala is called Night-scented Stocks because the flowers release their sweet fragrance during the night!
Night-scented Stocks plants aren't difficult to grow. Plant them in a sunny location, and keep the soil moist. During the blooming season, remove dead bloom regularly to encourage prolonged blooming.
15 Magnolia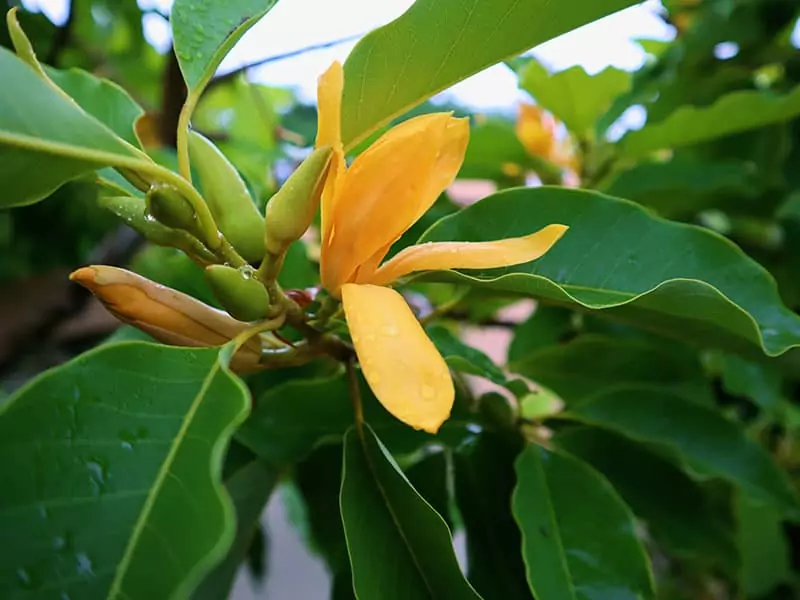 Champaca Magnolia is the popular variety of Magnolia with the most fragrant flowers. Magnolia flowers have sweet or spicy aromas, tart and citrus notes.
However, the growing requirements and plant features don't differ from the basic Magnolia care. The plant needs a lot of sunlight and slightly acidic soil.
Magnolia is a slow-grower that develops flowers at the beginning of spring.
16. Spice Baby Viburnum
Viburnum Carlesii or Spice Baby Viburnum ensures a beautiful appearance year-round. This deciduous bush is grown for its lovely fragrance and bulky, snowball flowers. In the fall, the plant gets attractive foliage!
The plant is sometimes called Korean Spice Viburnum. It thrives in acidic to neutral soil. Ideally, position it where the plant will receive a lot of sunlight!
17. Vanilla Spice
Clethra Alnifolia flowers feature an aroma similar to clove and rose. The plant is native to North America and one of the easiest plants on this list to grow.
It does well in filtered light and regular watering! The ideal soil type is slightly acidic, but Vanilla Spice adapts to other soils as well.
Never allow the plant to dry out completely.
18. Day Blooming Jasmine
Cestrum diurnum is a botanical name of Day Blooming Jasmine, one of the flowering plants adored for its aroma.
It is a large evergreen shrub, which can grow up to eight feet tall and spread up to six feet.
Choose a location where Day Blooming Jasmine will receive a lot of sunlight and protection from the afternoon sun. The plant isn't picky when it comes to soil quality. Day Blooming Jasmine is a fast-grower, so prune it before it takes over your garden entirely.
19. Crepe Jasmine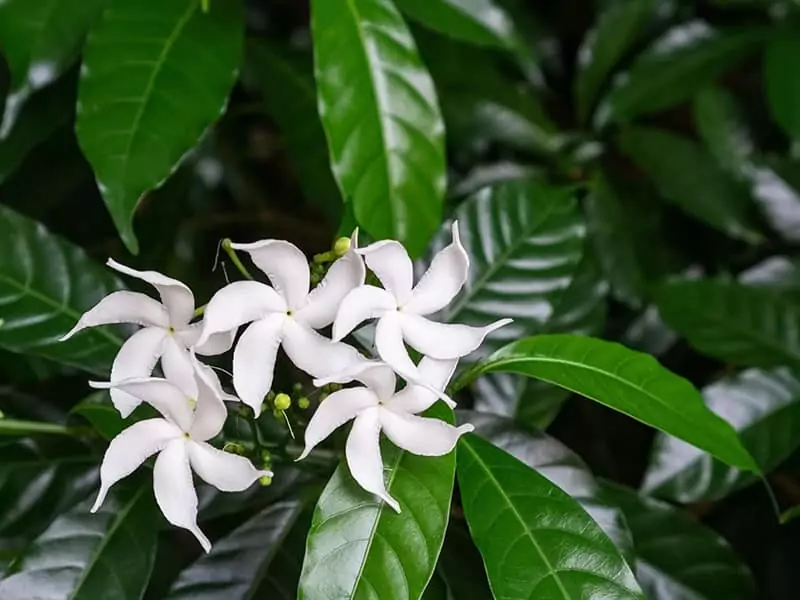 Tabernaemontana divaricata or Crepe Jasmine is native to Asia, more specifically Himalayan hills. It features beautiful five-petalled bright white flowers with yellow centers.
The shrub is a moderate grower and can reach up to 16 feet in height.
The ideal soil for growing Crepe Jasmine is rich, free-draining clay soil. In full sun, the plant produces abundant blooms!
20. Gardenia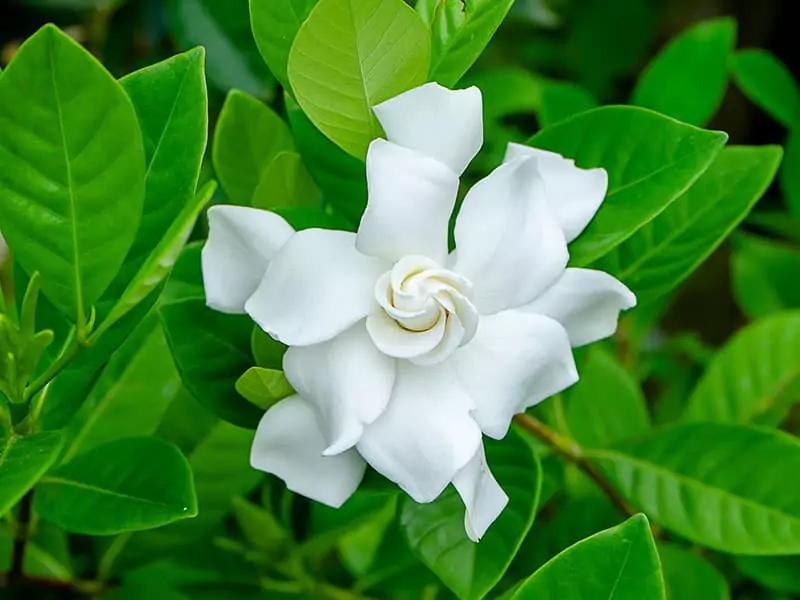 Gardenia jasminoides are large and potently fragrant. The average diameter of the flowers is around three inches. But, the plant is also grown for its ornamental foliage.
The leaves are thick and fleshy, lance-shaped and have rich, dark green color, which remains the same year-round.
Gardenia is hardy in zones eight to eleven and needs full sun exposure to thrive.
It is sometimes called Cape Jasmine!
21. Orange Jasmine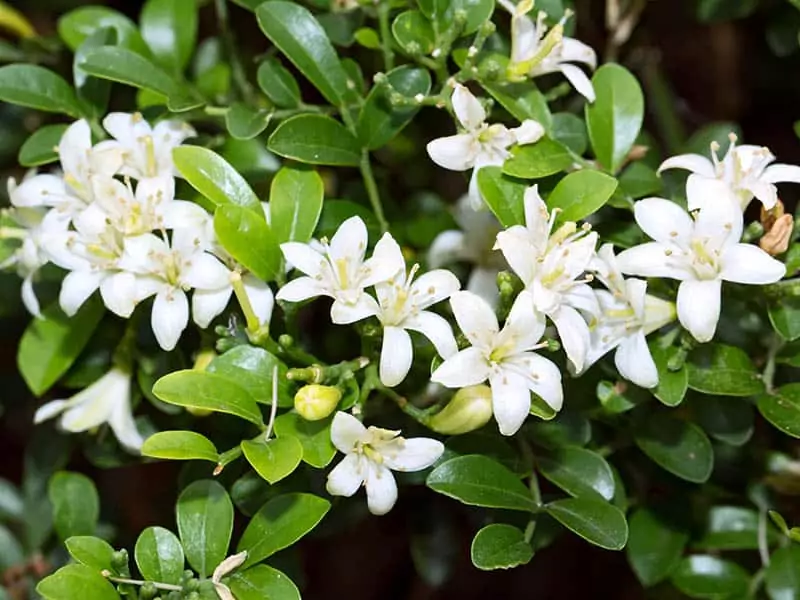 Here is another Jasmine on my list. The scientific name of this stunning plant is Murraya paniculata. People sometimes confuse it with Philadelphus, because the flowers smell similarly. The plant is a moderate grower, and each year grows a fourth of its full size. Some varieties can get up to three feet tall, but most of them are shorter.
The plant is often grown as a hedge and needs full sun or partial shade.
22. Cherry Pie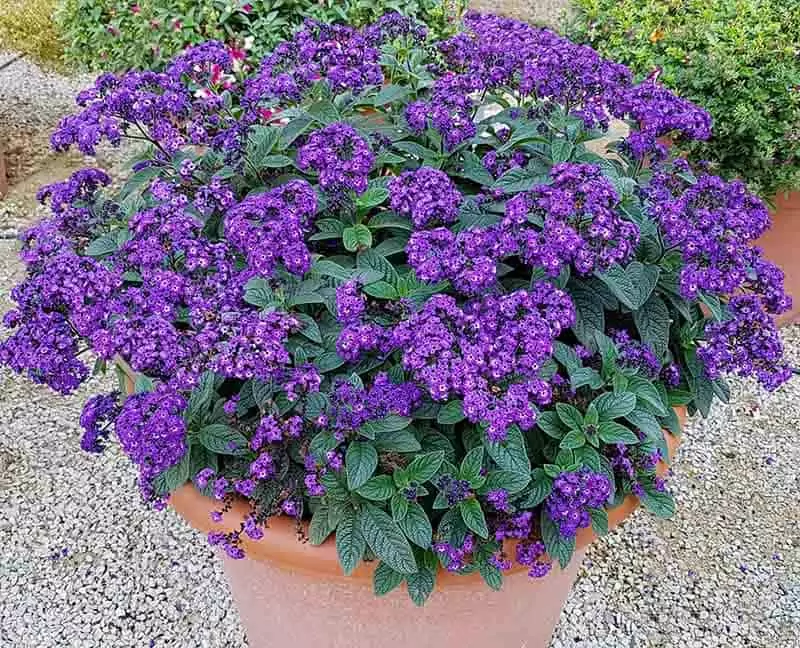 Heliotropium arborescens or Cherry Pie is a common bedding plant. But, it looks and smells pleasantly on its own! For many people, Heliotropium arborescens has the most delightful natural fragrance. It smells like freshly baked cherry pie!
The plant is easy to grow almost everywhere, except for the places with extreme humidity.
23. Puakenikeni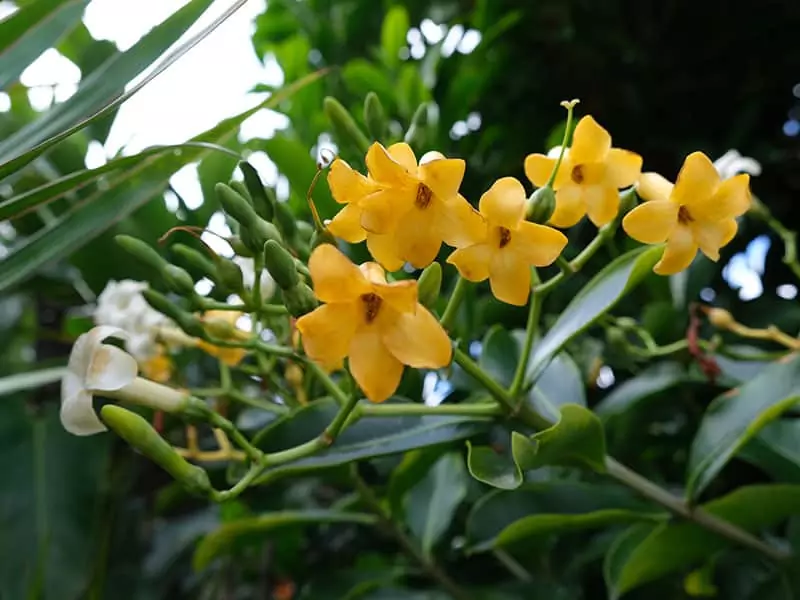 Fagraea berteroana or Puakenikeni is a small tree or shrub, grown for its showy and fragrant flowers. The shrub flowers in late summer, or early fall. But, sometimes the blooming season can prolong from late fall to early winter.
The plant is also called a Perfume tree, because of the distinctive and elegant aroma!
It needs slightly acidic to neutral soil and can adapt to both full sun exposure and partial shade.
24. Spider Lily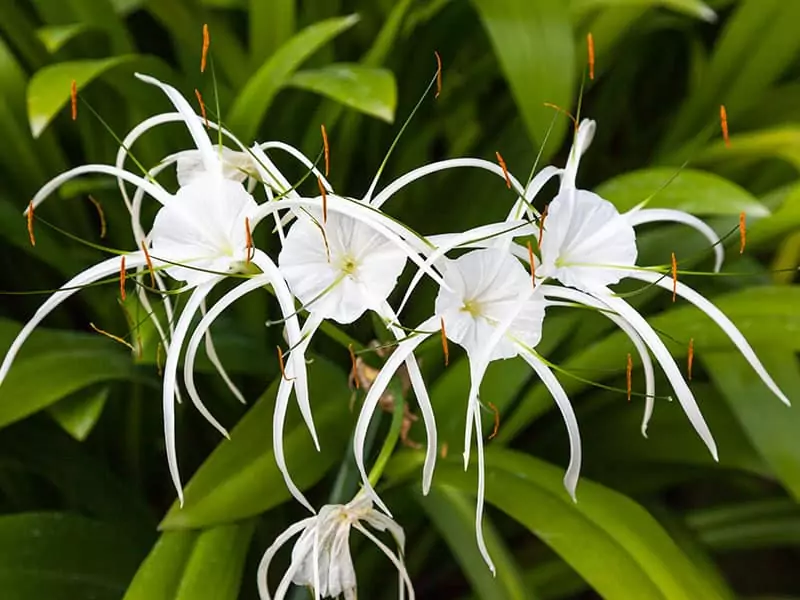 Hymenocallis littoralis or Spider Lily has white, vanilla-scented blooms. The plant is easily recognizable because of the long petals which resemble large spider's legs.
Spider Lily can also be grown indoors. Provide the plant with plenty of moisture, well-draining soil and several hours of filtered light.
Dividing Spider Lily – easy method
25. Sweet William Dianthus
Dianthus barbatus or Sweet William makes one of the best choices for cut flowers! The stems are strong and remain fresh for weeks, as well as the large and showy flower heads. Additionally, the plant maintains a sweet scent for a long time.
The plant is at its highest interest from June to September, during the blooming season.
Dappled shade is perfect for growing Sweet William Dianthus. This dashing plant is one of the oldest plants cultivated in greenhouses!
26. Ginger Lily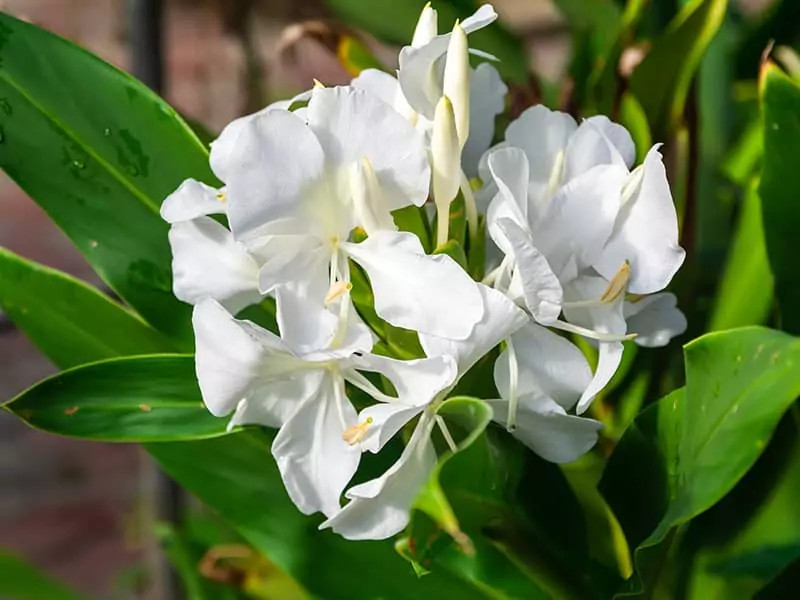 Hedychium coronarium or Ginger Lily is a tropical-looking plant with dark green foliage and bright white flowers. Zones from eight to ten are ideal for growing Ginger Lily. But, you can grow it outside these zones if you protect the plant from harsh cold and extreme heat.
The plant can survive wet soil. But for best results, grow Ginger Lily in well-draining soil.
27. Water Jasmine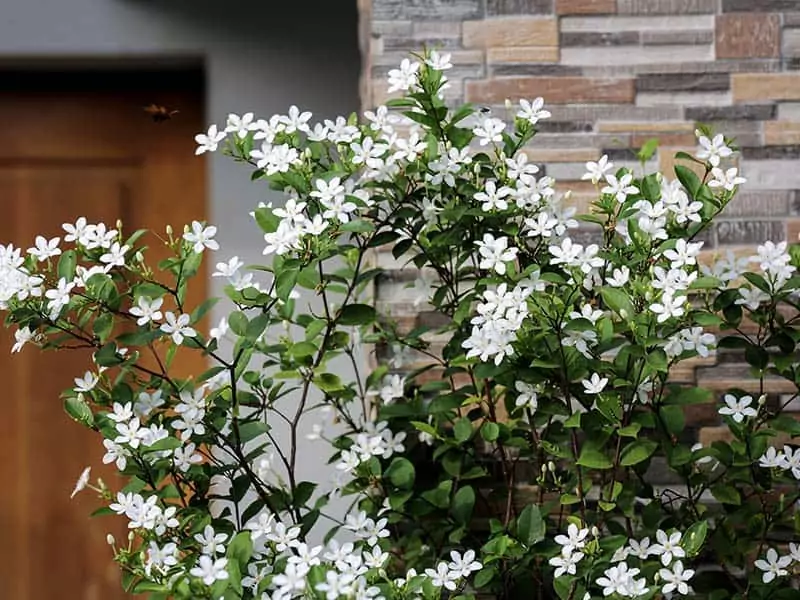 Wrightia religiosa is a beautiful shrub that can reach up to six feet or more in height. It is known for its white flowers which release a sweet scent. These enchanting flowers are thin, somewhat hairy and may last an entire year!
The plant is hardy and needs well-drained and loamy soil to grow. If you live in a hot climate, Water Jasmine needs regular watering or it will dry out. In mild climates, you can reduce the amount of water.
28. Yesterday, Today, and Tomorrow
A classy flower, Yesterday, Today and Tomorrow carries the scientific name Brunfelsia pauciflora. The plant is native to Brazil and considered a retro plant! The flowering season starts in September and lasts until the end of November.
The flowers release a beautiful, delicate sweet fragrance!
Yesterday, Today and Tomorrow also make an excellent pot plant. The plant doesn't mind too much or too little water, as long as the temperatures are warm!
29. Night Blooming Jasmine
Cestrum nocturnum or Night Blooming Jasmine is such a unique flower with a beautiful scent. Interestingly, Cestrum nocturnum opens its flowers when the sun sets.
Overall, Night Blooming Jasmine is simple to grow. It needs a location where it will be exposed to sunlight for six to eight hours per day. Sometimes, the plant can adjust to partial shade. During the first season, this lovely plant needs a lot of water. After that, it becomes somewhat drought tolerant.
30. Oriental Lily
Lilium Stargazer or Oriental Lily develops stunning flowers with six petals. The petals are white with a pinkish hue and disperse an elegant fragrance that stays in the air for a long time.
When caring for this enchanting flower, you need to provide consistent moisture. But, never allow the plant to sit in standing water, as it can cause root problems. Ideally, only water when the top inch of soil is dry to touch. Overall, it is one inch of water or rainfall per week.
31. Garden Phlox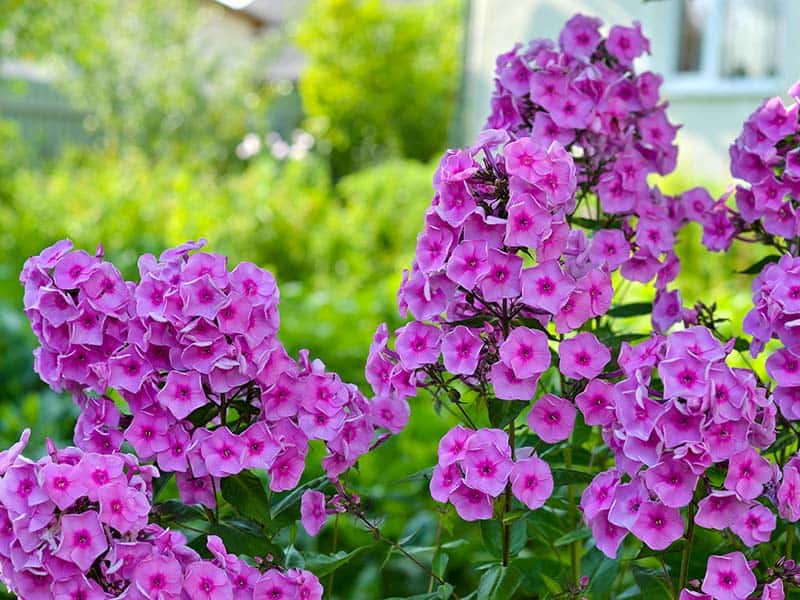 Phlox paniculata remains compact, between two and four inches tall. It is widely cultivated because of the fragrant florets, which come in a wide range of colors. You can create a colorful plant display if you plant different varieties of Garden Phlox together.
The scent is delicate and sweet, but not overpowering. Luckily, Garden Phlox is a simple plant to grow in your garden. When planted in the shade, Garden Phlox won't bloom so the lovely scent will be missing! Therefore, ensure that your plant gets as many sun hours as possible!
32. Hyacinthus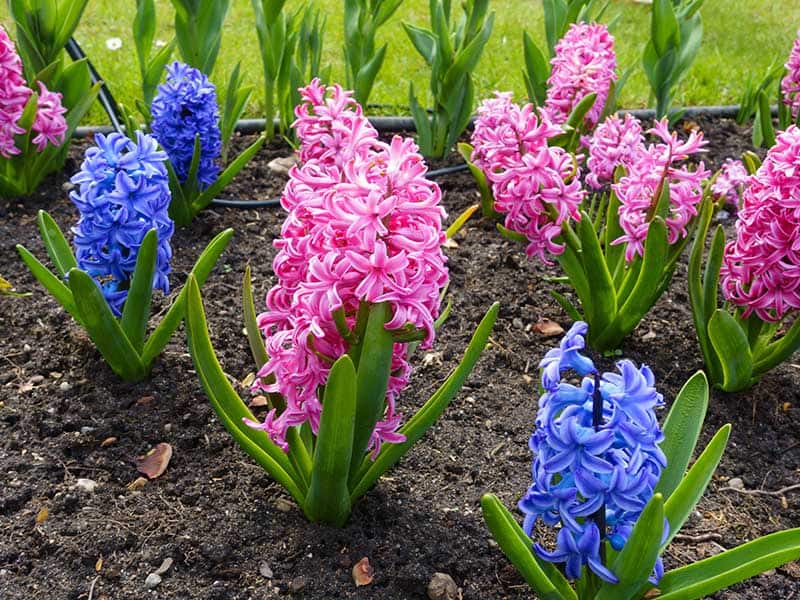 The fragrant flowers of Hyacinthus come in white, pink, blue, and purple colors and are excellent spring heralds. The plant has been adored ever since the Victorian age, because of the lingering fragrance.
The Hyacinthus is easy to grow in zones three to nine and can adapt to different conditions. Don't forget to refrigerate the bulbs before planting. It applies to warmer zones, where temperatures go above 40 degrees Fahrenheit. The perfect time for planting the bulbs is mid to late autumn.
How to use Hyacinthus to create the most stunning floral arrangements.
33. Freesia
Freesia plants can tolerate a slight shade. But, they thrive in full sun. During spring and summer, keep the soil moist but not soggy.
Also, don't forget to deadhead the flowers after the blooming season. It helps Freesia look tidy, and induces more fragrant flowers next time! Apart from deadheading, try not to disturb the plant to allow it to develop freely!
34. Rose
Fragrant roses are such a lovely way to grace your garden. Roses bushes and roses as cut flowers never go out of style!
But, it takes a bit of skill to care for roses. You'll have to plant them in a sunny location and use fertilizer often to ensure blooms.
Don't forget to prune roses in early spring to keep the plant tidy and promote new growth!
The only technique for pruning roses you'll ever need to learn.
35. Lavender
Lavandula or Lavender is one of the most iconic plants with a distinctive smell. The plant remains fragrant for a long time, which applies to both fresh and dry plants.
If you want to grow Lavender, choose a location with a lot of sunlight and well-draining soil. If the soil is too heavy, you can amend it with organic matter. Water the plant when the soil feels dry and prune after the blooming season!
Enjoy Natural Scents – Plant Fragrant Flowers
Fragrant flowers will never go out of style. There is not a machine of chemicals that can produce such lovely scents as Mother Nature. Which one is your favorite? I cannot seem to get enough of the Hyacinthus and Night Blooming Jasmine scent!
If you enjoyed the article, please consider liking it! You can also share it with your friends! Come back for more interesting articles about plants!