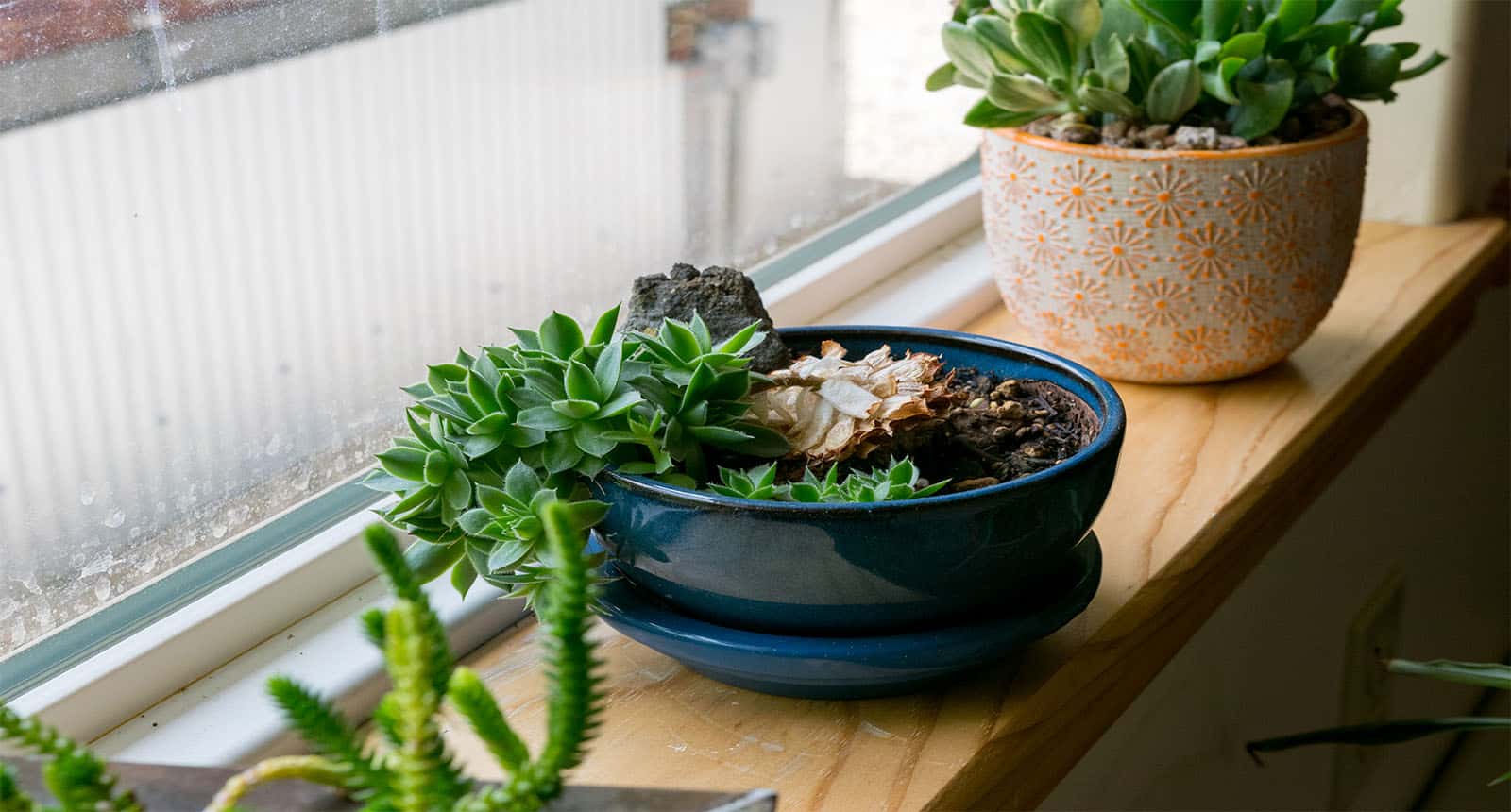 Growing hens and chicks indoors requires some knowledge about this plant and knowing something about how to care for it. And that is not a miracle, only watching out for the plant's needs, giving it proper lighting, soil, and watering. But, that is what you already know, right?
But what you do not know is the amount of care this plant needs. The wrong watering habit or the type of soil may prevent your plant from thriving, or even kill it. I am not going to lie to you, even the wrong pot size may lead to your plant not showing the signs of advancement.
Can You Grow Hens And Chicks Indoors?
Yes, you can grow your hens and chicks plant indoors as this plant requires a little care and in fact, it is a great plant for beginners. Although this plant thrives best out in the open, with some special care, it will also advance indoors, as well. Why is this important?
Now, these succulent plants require a lot of light so it is best to choose a south-facing window that will give your plant a lot of sun during the day. Make sure to water it regularly but not too much as they may fuss and rot due to excess watering.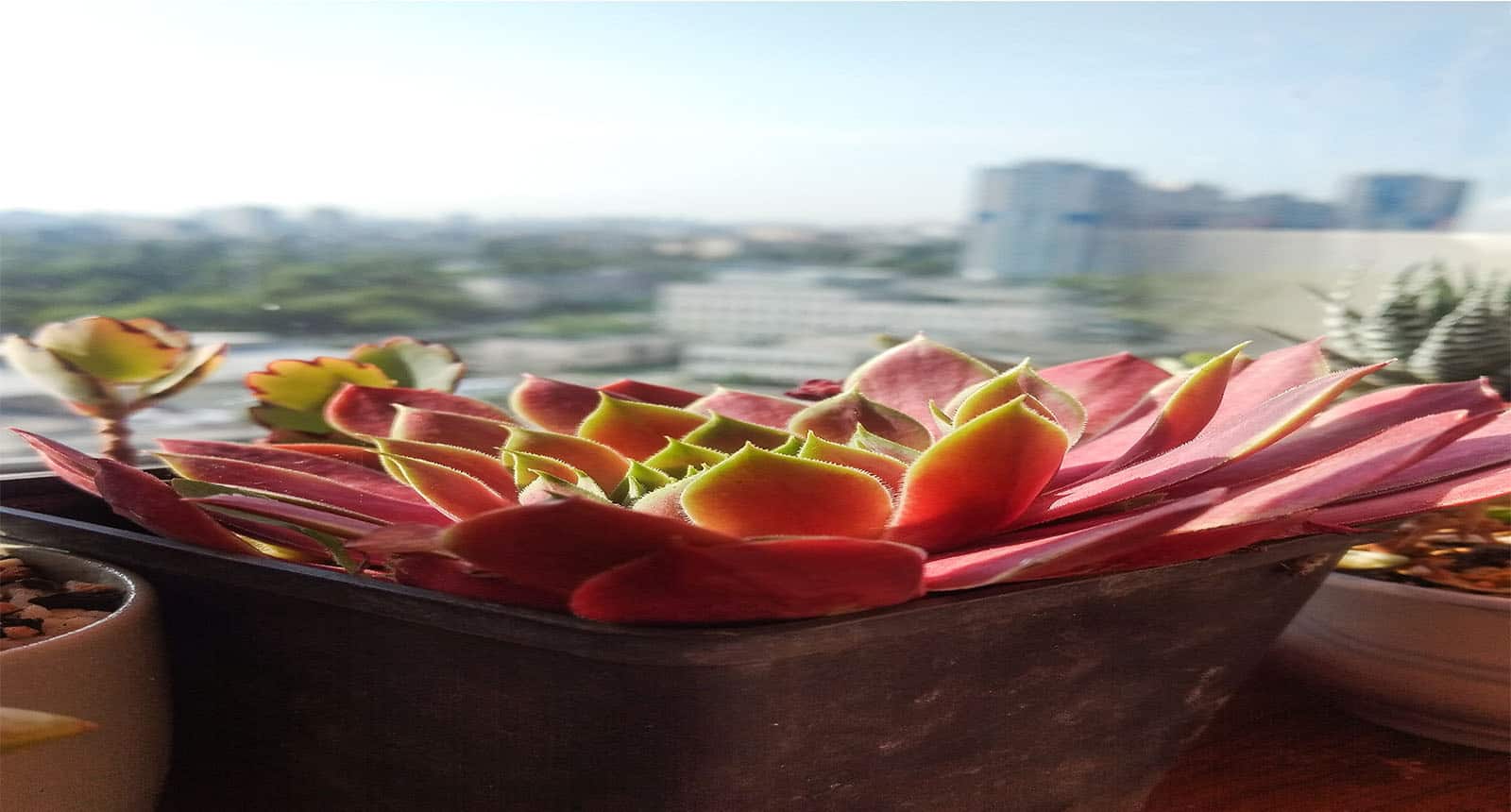 What Is Hens And Chicks?
Hens and chicks plant or by Latin name Sempervivum Tectorum bears a lot of meaning right in its name. Sempervivum means always living or in other words, the plant that does not disappear during the winter. It is a common plant growing on the rooftops from where the other part of the name, Tectorum, comes.
It is an evergreen succulent plant that belongs to the Crassula family. It is known by many names out of which the most known are Hens and chicks, Houseleek, Hen-widdies, or Roof Houseleek. This plant can grow up to four inches tall.
Check this out, the hens and chicks name comes from the plant itself as the main plant – hen sprouts from the root giving new little plants conveniently named chicks, just like a mother hen and its chicks beneath it. It is easy to propagate and to care for as it is a plant that does not require special care.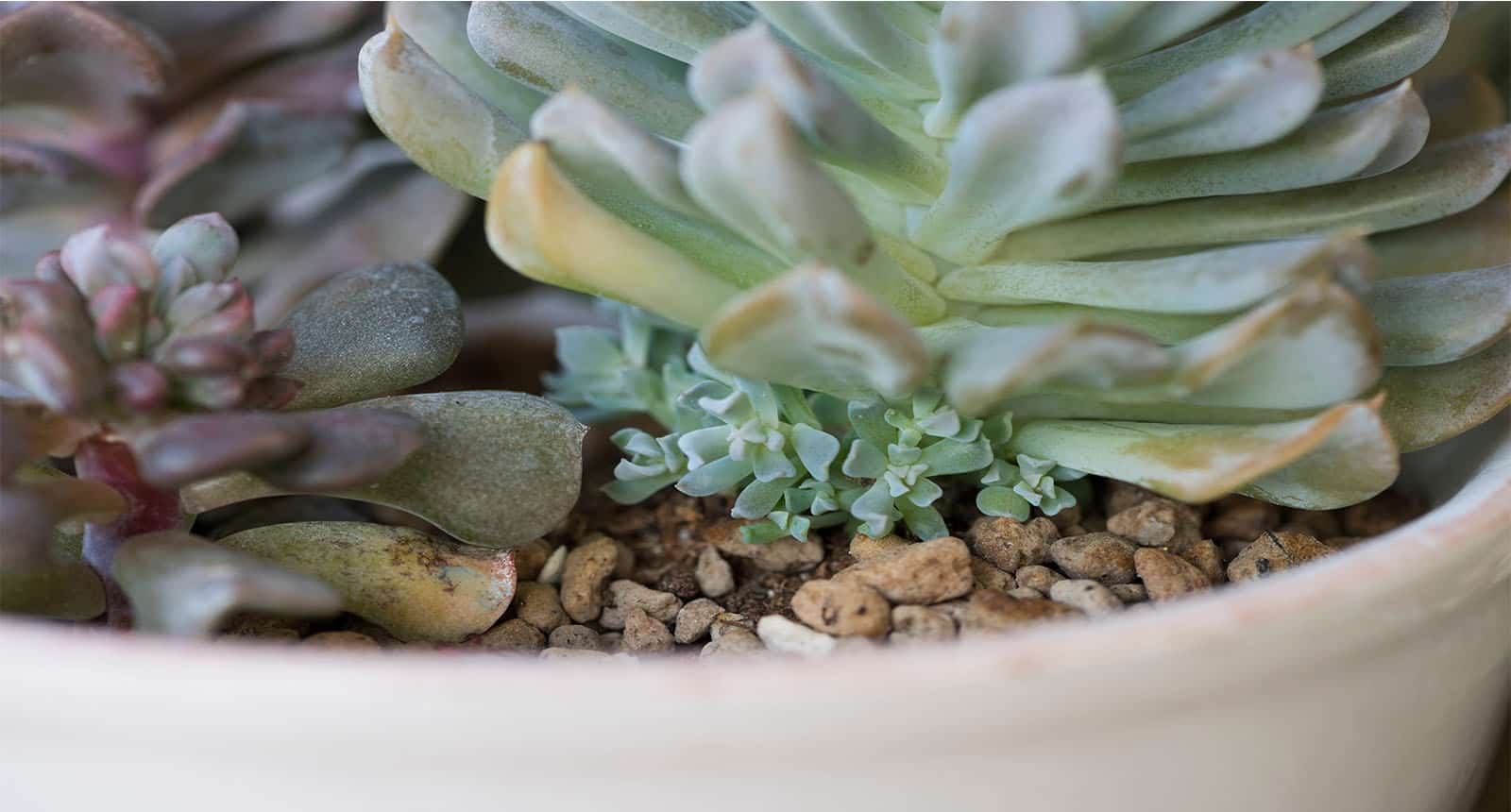 Why Plant Hens And Chicks Indoors?
Besides not having an outdoor space to grow this wonderful succulent, there are some other reasons why you should decide to bring these plants inside. Some of those are weather or special interests in succulents. Some only wish to decorate their place with these adorable plants.
Weather
Hens and chicks is a succulent plant that loves long and hot summers. It will withstand low winter temperatures but it will dormant during them. However, warm weather is when these plants will grow best and produce many new plants.
In areas where is a lot of humidity, this plant will not thrive. It does not like to be exposed to a lot of water. Constant low temperatures will not benefit this succulent, too, so if you live somewhere where it is often cold or humid, bring your succulents indoors.
Hobby
Succulents start with one small pot with a plant in it, and soon that becomes dozens of different succulent varieties. The more you know about these plants, the more you want them near you. So, every possible indoor spot with plenty of daylight seems like a perfect spot for your new variety.
How To Care For Hens And Chicks Indoors?
This succulent plant is an amazing container plant and it will grow both indoors and outdoors. However, this type of plant will thrive best in the full sun with little water requirements. If you live in an apartment without an open balcony or terrace, then you can also grow this succulent plant indoors.
Chances are that you can destroy this plant if you care too much. How can you care too much about plants, you may ask. Too much watering, too little light, the wrong type of soil can all affect the growth of this amazing plant. However, giving the essential care will help this plant show its best qualities.
Check out this video to see more tips and tricks for caring for Hens and Chicks.
Choosing The Soil
Not all types of soil are convenient for these succulent plants. The best soil for it would be specialized soil for succulents as it will give the plant all the requirements and nutrients it might need. The succulent and cacti soil is the perfect soil that will let the roots breathe and grow the chicks.
However, if you cannot find the specialized soil, you can always experiment with the regular potting soil. The regular potting soil will not boost the plant's growth and what you need to do is add some sand. As a matter of fact, you should add a lot of sand as it will prevent the soil to retain water.
The soil that retains water in it will kill the plant as this plant thrives in areas without much water or soil. Too much water will improve the growth of some plants, but this plant's roots will only rot and eventually die. So, if not sure how much sand to add, more is always the better.
Pot Size
Shallow roots of this plant allow this plant to grow in smaller pot sizes. Of course, the mother plant will sprout with its little chicks and they will require more space so replanting them might be the option. Also, make sure that the planter for your new plants is shallow and not too deep.
if you only have a big-sized container, do not hesitate, plant it right in there but allow some time for the plant to fill it up. In these large containers, it may seem that your plant is not growing at all but its roots will be growing at a much faster rate than the plant itself.
Make sure that your pot has good drainage. If the pot does not come with holes, make them yourself not only on the bottom but if possible on the sides of the pot. That will allow good drainage and allow the roots and the plant to grow and prosper.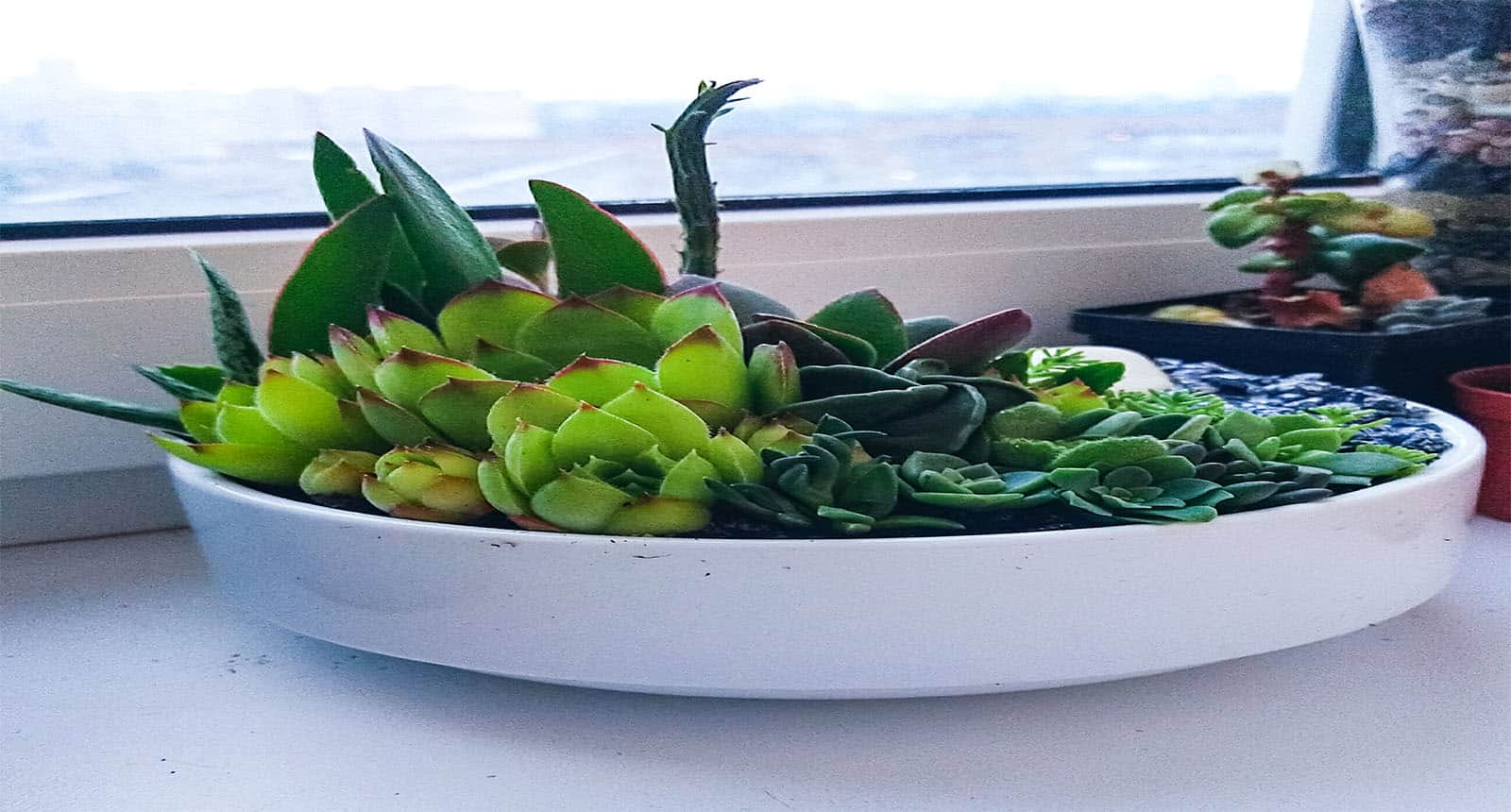 Light Demands
This succulent plant loves warm and light spots. That is why you can see this plant thriving on the roofs with little or no shade at all. Succulent plants store water in their leaves and that is the main reason why they can withstand and enjoy sunny positions.
When planting this succulent plant indoors, make sure to choose the place with lots of natural light, preferably on the south or south-west facing window. That will help the plant grow and eventually bloom when the right time comes.
Check out this video to see how to fix leggy Hens and chick plant.
Watch this video to know more:
However, if you have only east-facing windows, do not give up yet. This plant will also grow in partial shade, only slower. Perhaps only the north-facing windows will not be the right choice for this plant, as it will soon fail to grow and soon it would die.
Temperature Indoors
Hens and chicks simply adore warmth, but they are winter hardy plants as well. That means that when this plant is planted outside, it will enjoy the hot summer temperatures but it will also survive harsh winters. Of course, indoors this plant will certainly have better chances of survival during winter temperatures.
The best temperature range indoors for this plant is between 65o F and 75 o F with at least three hours of natural light exposure that will keep the plant warm but also healthy. In general, both lower or higher temperatures will cause your plant to stop growing.
When it comes to regulating temperature indoors, there is something else you must bear in mind if your plant is placed on the windowsill near the window. The sunlight coming through the window may overheat the soil and the plant and damage it. So, ensure the proper ventilation to cool down your succulent.
Ventilation
Proper air circulation is important when it comes to these types of succulents. Stale air may provoke certain fungal diseases that can kill your plant. It will benefit from opened windows or air conditioning. Ventilating the room at least two times a day will help your plant thrive tremendously.
Fertilization
Is it true that, unlike many plants, this succulent plant does not require regular fertilization? As a matter of fact, it is and you should avoid fertilizing at all. Even poor sandy soil will be rich enough for the plant to grow beautifully. This plant does not need much to survive, and you do not need to worry about fertilization at all.
How To Propagate Hens And Chicks?
Propagating this succulent plant is easy as it will readily root if given the right environment. In spring, your plant can be ready to propagate. There are four most common ways you can create new succulent plants easily. You can try one or all of them to see what works best for you.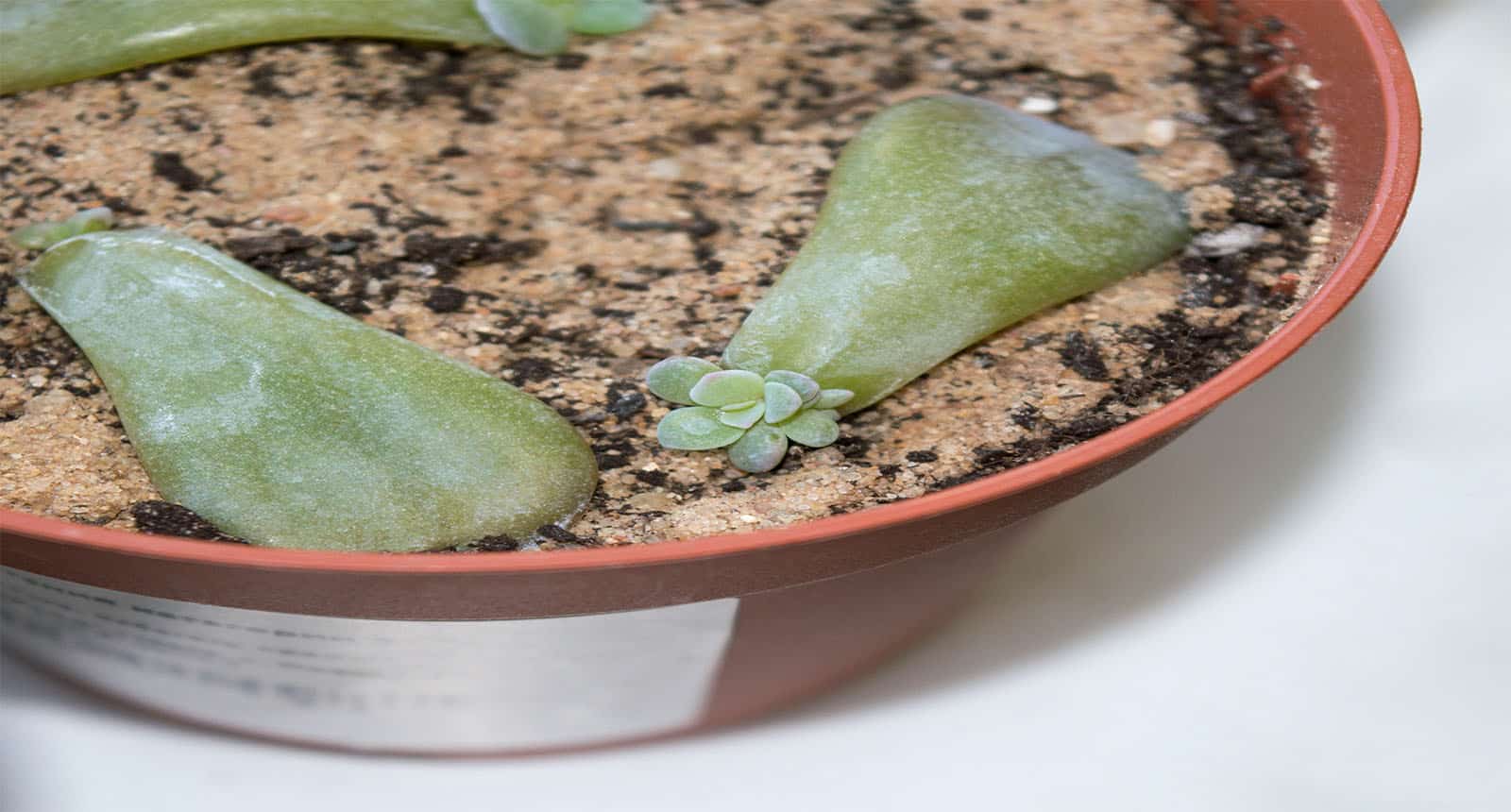 Chicks Rooting
Those young plants growing around the main plant can be separated from the main plant. With this succulent plant, it is easy as those young plants usually have roots of their own. Separate it from the main plant carefully and put it in a separate pot. Wait for the plant to root and you will have a new plant growing.
Cuttings
Some hens and chicks varieties have branches that can be cut in order to make a new plant. When taking a cutting from the main plant always use sharp and clean tools such as sharp knives or shears. Take the cutting about two inches below the head. The cut end should heal for a week and then be put in the soil to root.
Rosettes
These succulent plant varieties that do not branch can also be propagated. For this type of plant, you can take the entire rosette and place it in the pre-mixed soil suitable for growing succulents and cacti. The rosette should get its roots in approximately two weeks' time.
Leaves
You can also get yourself a plant with a single leaf. Take a leaf from the main plant of this succulent by pulling or even cutting from the main plant. If you are cutting the leaf, make sure that you have disinfected sharp knife for cutting.
Put the leaf at the angle to the moist, specialized soil and wait for it to root. It usually takes a bit longer for a new plant to appear so be patient and wait at least two months to see the results. The cut leaf will wilt and rot and the new plant will appear beneath it.
Check out this video to see more about propagating succulents.
Watering – How Much And How Often?
The bottom line, succulents are plants that do not require too much water. However, it needs to be watered regularly when it is planted inside especially if the room is warm. The soil must not retain water as it will cause the plant to rot. Allow the soil to drain water through holes in the pot.
Most varieties require watering every two weeks. The general rule of the thumb is to wait for the soil to dry completely before watering again. Put the finger in the soil and check the dryness. Water the plant until the water runs through the holes of the pot.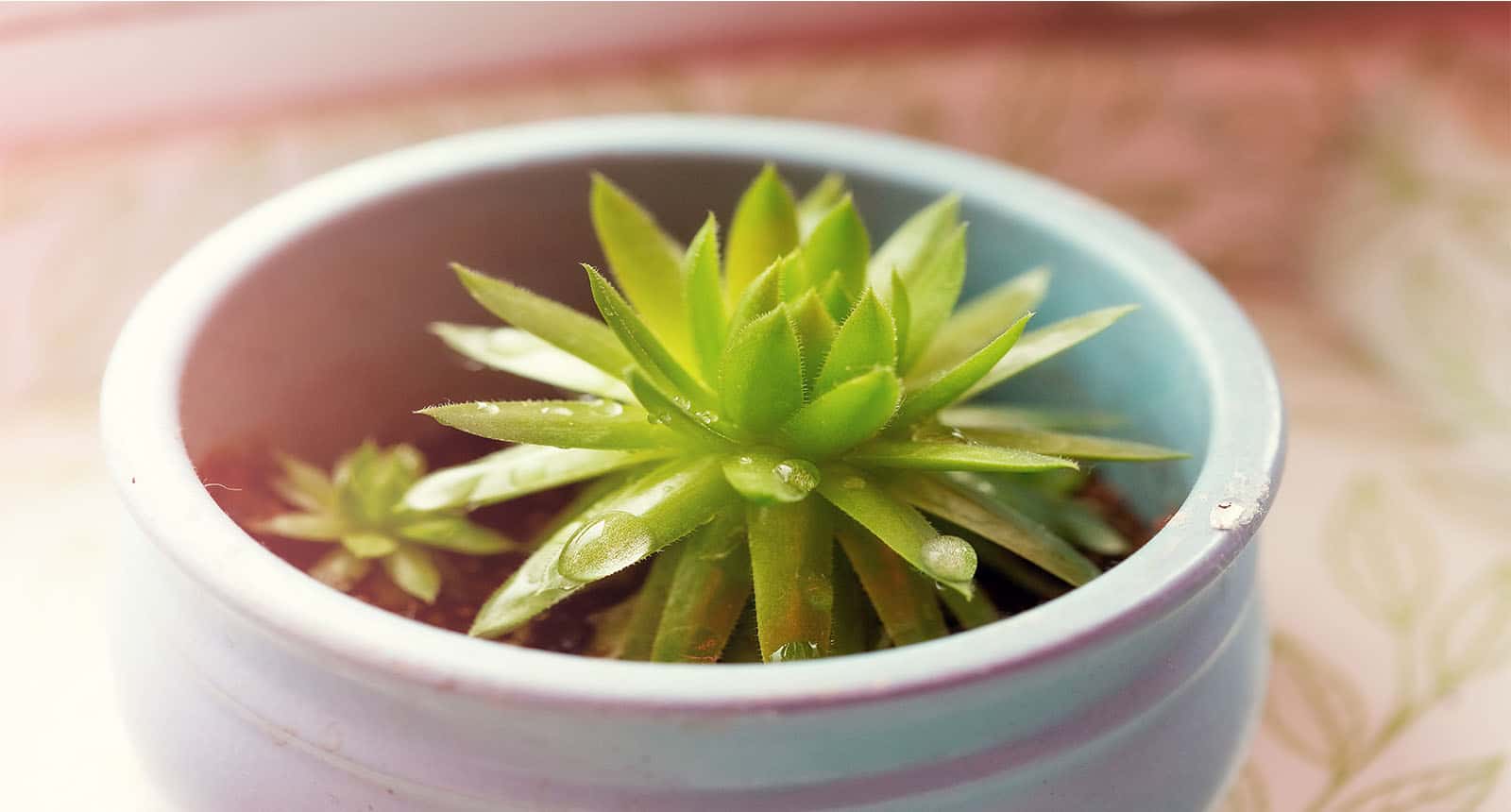 Now, there are some signs of over and underwatering the plant. If the plant's leaves are soggy and seem to rot, you are watering it too much. Here's the deal, if you do not stop the watering for some time and let the plant recover, the leaves will wrinkle or dry out completely, which is another sign of underwatering.
During summertime, it may be necessary to water your plants more often. Likewise, you should lower watering during winter as the plant may start rotting. Also, the soil type may affect the frequency of watering needed for your plant.
Diseases And Pests
Although the care for these succulent plants is quite easy, there are some diseases and pests that can affect and destroy your plant. To make sure that does not happen, watch out for some signs to prevent diseases or pests to make damage to all your household plants, including succulents.
Hens and chicks is a type of plant that is not prone to diseases. However, in certain circumstances, they can be affected by some disease that you need to treat to prevent your plant from dying. The most common diseases that can affect this plant are fungal diseases.
Poor ventilation and wet and cold environments indoors may promote fungal diseases and pests that like to hide beneath the leaves. The fungus will also stop growing if you treat your plant with some non-toxic oils that would repel the insects that promote fungus growth.
Also, if you are not careful with watering and let the water stay on top of the leaves, bacteria that like water will appear and kill your plant. So, misting the Hens and chicks' leaves is the big no-no because it may bring destroy your plant.
Keeping Your Hens And Chicks Indoors Or Not?
This is the truth about hens and chicks, they will grow best outside in the full sun, and even survive those harsh winters with snow. Low temperatures will only keep these plants dormant until the first warm days come to revive them and bring their beauty to your eyes.
However, if you do not have all those amenities like your garden or balcony, your succulent plant should thrive as well in some bright spots in your apartment. And with advice you have just read, you can enjoy the plant fully and expect it to grow new babies soon.
Did you try to grow hens and chicks indoors? Do you have tips for growing them indoors? What works best for you? Share your thoughts with me in the comments below.