How do almonds grow? Find out how to grow almonds from scratch! Almonds grow on deciduous trees and, apart from growing drupes, the trees are good-looking and used for landscaping.
In the flowering season, gentle flowers decorate the tree, and in the fall season, drupes mature and become ready for harvest.
In general, almonds aren't challenging to grow as long as you live in a warm climate and apply a few growing tips.
Let me walk you through the complete process, from choosing the location site and planting to harvest!
Why Grow Almonds?
People grow almonds for more than one reason. Healthy nuts are possibly the most significant reason because almonds have numerous benefits for your health.
First of all, almonds are great for cholesterol and have high levels of magnesium and potassium, alongside vitamin E. The combination allows the oxygen to travel through your blood to all organ systems. Almonds also have a high content of healthy fat and fiber.
They also keep you full for longer, so they can be a great snack when you are trying to lose weight.
But, almond trees are also ornamental and practical. Almond trees can get between 15 and 30 feet when they mature. It can provide shade and improve the look of your garden.
In spring, the delicate flowers appear, in summer the foliage seems luscious and beautiful until the tree loses leaves naturally in the fall. But, the delicious nuts overcompensate for the lack of foliage in fall!
Where Do Almonds Naturally Grow?
Almonds are native to Asia, but mass production of almonds is mostly completed in California. Other countries, large almond producers, are Spain, Iran, and Morocco. But the amount of almonds grown in these countries is significantly smaller than the one in the USA.
The ideal climate for almonds is hot and dry, ideally Mediterranean climate with a lot of sunshine. Because of that, almonds also thrive in the Middle East.
In the USA, you can grow almonds from zones five to nine. If you live in a colder area, your tree might survive winter. However, flowering buds may appear before last winter frost and get damaged. Therefore, the yield can get compromised.
How To Grow Almonds – From A To Z
The botanical name for the almond tree is Prunus dulcis. Technically, the fruits aren't nuts, but most people think of them as such. Almonds are hard fruits – drupes with a hard shell and an edible seed. Like other drupes, almonds also have an outer hull.
If you want to grow delicious almonds, keep reading!
Choosing Varieties
Most almond varieties aren't self-pollinating. It means that you need female and male trees to ensure the tree produces fruit.
A rule of thumb to follow when choosing varieties is to get to different cultivars for pollination.
But, choose carefully. There are great pollinating varieties and some which aren't good for pollinating other cultivars. For example, Ne Plus Ultra almond variety is one of the best pollinators, compatible with most other varieties, except Price.
Nonpareil cultivar makes a great pollinator that works with Price almond tree and several other cultivars.
Choosing Site
The almond tree can get up to 30 feet tall, so you need to find a place where the tree can develop freely. Also, the site needs full sun exposure. Almonds trees don't do well near power lines, buildings, and other trees. So, choose a site that is at least 15 feet away from the mentioned objects.
The ideal soil for the almond tree is loamy soil with excellent drainage.
If you don't have enough space, you may plant male and female trees in the same hole. But, your trees might need more time and nutrients to develop and start producing fruits.
The ideal distance between male and female almond trees is between 15 and 25 feet.
But, if you don't have that much space, try to find the All-in-one almond variety because it is self-fertile and doesn't need a second tree!
Prep the Tree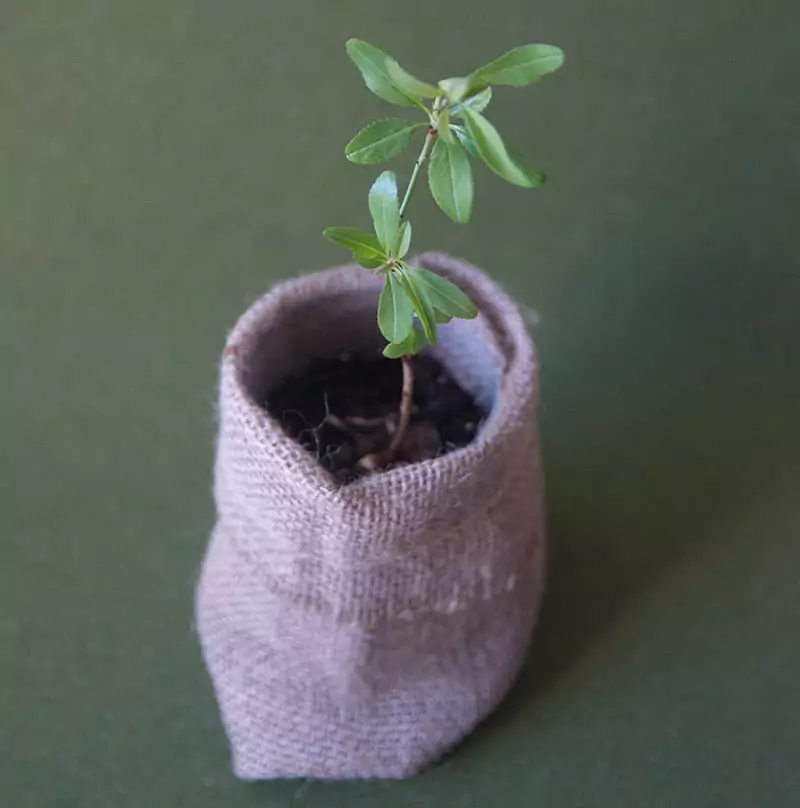 When you have chosen the correct site, I recommend you check your tree before you put it in the ground. You can grow almonds from seed, but it will require a lot of patience. The easier and less-risky way to grow almonds is from small trees you can get from nurseries.
Before you plant the tree, rinse the root ball well. It will provide necessary hydration and improve the roots' contact with soil. That way, your tree will absorb nutrients better!
Planting
When planting the tree, don't dig too deep a hole. A hole 15 to 18 inches deep will be enough. If you have bought the tree in a container with soil, skip the rinsing part and dig a hole that can accommodate the root ball with the soil from the container. Be careful when handling the taproot, because it is sensitive and gets damaged with inadequate handling.
Backfill the tree and firmly tamp the soil. It will remove the air and help the roots to establish. Once you plant the tree, water thoroughly. You can also add one layer of mulch to help the soil retain moisture.
How to Plant an Almond Tree From Seed?
Growing almonds from seeds isn't possible with processed seeds. You'll need fresh and unshelled seeds. Here is a quick step-by-step guide on how to start the process!
You can skip the stratification and plant the seeds after soaking them overnight, but germination will be slower, and the plants will need more time to establish.
Plant the seeds in a container in February, doing the steps I described in the section above.
Water it every week until your plant is ready to be transplanted into the garden soil.
Wait until the plant is around 18 inches tall to put it in the garden soil.
Identify which seeds are good for planting after stratification and which you can toss away
Fertilization
If you have chosen soil well, your tree can survive without fertilization until it gets mature. For young trees, only a small dose of nitrogen should be enough.
Once the tree is mature, you'll have to fertilize the plant two times per year. The ideal timing is February and June. Use 12-12-12 NPK fertilizer to boost the nuts production.
Watering
Watering is an important part of almond tree care. Almonds need a lot of water during the entire year! If you live in a tree without water for too long, it can die.
Here is the thing, you should water your trees frequently during spring and summer. Young trees need at least two inches of water per day during the growing season. You can reduce the watering frequency for mature trees, but ensure their soil remains moist. Ideally, water the mature trees with four inches of water every two weeks.
But, two weeks before you plan to harvest your fruits, don't water the tree.
Watering is an important part of almond tree care. Almonds need a lot of water during the entire year! If you live in a tree without water for too long, it can die.
Here is the thing, you should water your trees frequently during spring and summer. Young trees less than two inches of water per day, during the growing season. You can reduce the watering frequency for mature trees, but ensure their soil remains moist. Ideally, water the mature trees with four inches of water every two weeks.
But, two weeks before you plan to harvest your fruits, don't water the tree.
Surprisingly, you can also overwater your almond tree. It can happen if the soil isn't draining well, so the roots are drowning. You can easily spot if you have overwatered the tree if the new growth appears, but dies before it establishes.
Also, if you suspect you may have gone over the edge with water, check the foliage. If the leaves break down easily, the chances are that you have overwatered the tree. But, the safest sign is the constantly wet soil around the base!
When you notice any overwatering signs, stop the irrigation immediately. Poor drainage soil causes most problems with almond trees, so be careful with the watering schedule.
Pruning
Pruning an almond tree is simple, but you need to know more about timing and technique. Generally, for almond trees, you need to prune after the first growing season to ensure the good growth of the tree.
Remove dead and broken parts and branches that grow toward the tree center. You should also remove the branches that cross and remove as many branches as you need to help the tree keep an upward shape.
During the second growing season, you can prune the tree again. Remove lower branches that can mess irrigation and the branches that block the air circulation. If you notice water sprouts, you can remove them, too.
In the following years, keep the shape of the tree. But also remove dead branches and crossing limbs. After several years, required pruning is minimal and only focuses on dead growth and the shape. No special skills are required!
You can hire a professional to prune the tree after the first growing season and maintain the shape afterward. But, keep in mind that too much pruning may cause reduced crops.
The ideal timing for pruning is late autumn or winter.
Best almond tree pruning technique – explained
Winter Care
Once you've completed pruning, clean the area around the trunk. Remove everything, including fallen leaves, weeds, or nuts from the ground. Also, animals can nest in the base and chew the trunk. You can spray fungicide to prevent the diseases. Do it occasionally from late autumn through spring. If you live in a cool climate, apply fungicide in early spring.
You can also use horticultural sprays for trees and plants in dormancy as standard almond tree care.
Harvesting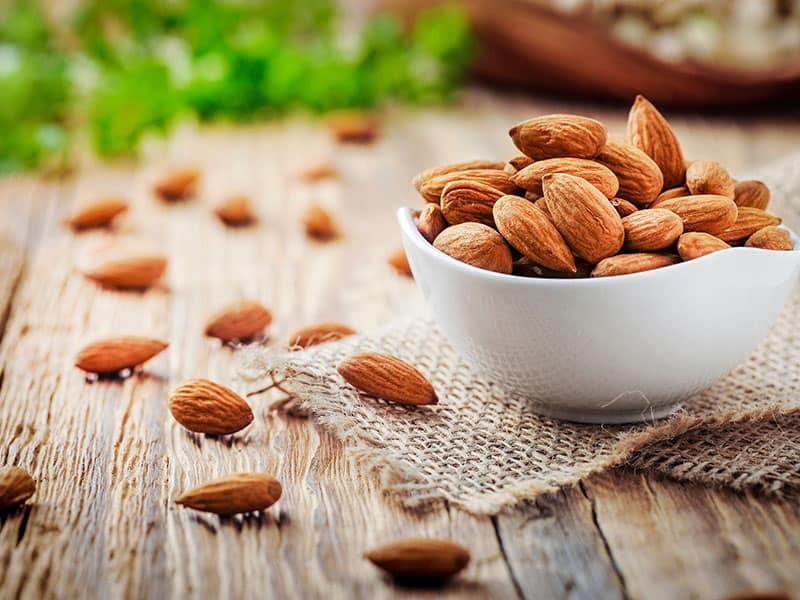 If you did everything well, it is time to enjoy the abundant harvest! Harvesting almonds is simple. Shake the fruits from the tree and collect them from the ground. To simplify the process, even more, you can put a piece of cloth or groundsheet on the ground.
If you have a lot of trees to harvest, you can buy special machines that serve for shaking the trees. But, it is really an investment, tailored to commercial growers. Instead, use a large pole to shake the fruits of your backyard tree!
Don't forget to wear a protective hat or goggles to prevent the fruit from falling on your head or debris from scratching your eyes.
Once you harvest the nuts, dry them to prevent rotting. Spread what you've collected on a tray and let them sit somewhere with great air circulation.
Check your nuts occasionally. When kernels are broken, it is a sign that nuts are dry.
Storage
Decide whether you want to store shelled almonds or not. Shelled almonds are good for eight months at room temperatures. Without a shell, you can keep them at a temperature between 32 and 45 degrees Fahrenheit for a year.
But, remember that almonds collect smells. So, keep them away from anything smelly such as garlic! The best way to store them is in sealed, airtight containers.
If you notice dark, moldy and bitter-smelling almonds, toss them away. Those are signs that your almonds have gone bad. Don't keep them with healthy fruits, because the mold can spread.
A few tips for the prolonged freshness of nuts
Pests and Diseases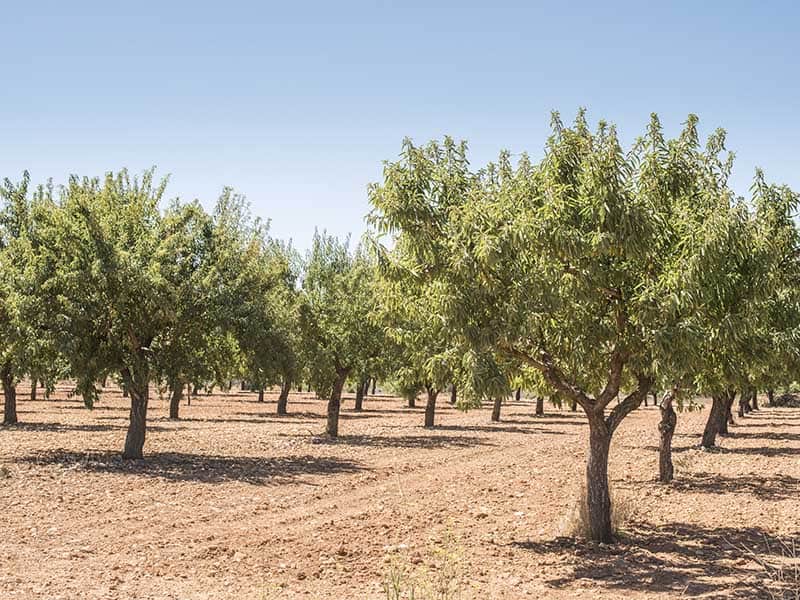 Unfortunately, almond trees are susceptible to fungal diseases.
The two most common are Botryosphaeria canker or band canker and Ceratocystis canker. The first one is more common in commercially grown trees. Unfortunately, if the tree gets it, there is no cure. You'll have to destroy it. You can identify it by sick wounds after pruning and fungal spores after rainfall.
Ceratocystis canker is spread via fruit flies and beetles. It causes scaffold loss and reduces crops.
Additionally, your almond tree can Anthracnose, but the treatment is simple. You'll have to remove dead branches and watch for additional deterioration.
When it comes to almond trees pests and diseases, prevention is the most important.
Keep the area around the tree tidy, and prune after harvest, never before. Also, good air circulation and soil drainage are half the work!
Frequently Asked Questions
Here are a few more things to know about almond tree care! Check the answers to the most common questions about growing almonds in your backyard!
Growing Almonds At Home – Interesting And Healthy Hobby
Almonds are very healthy. So if you are lucky enough to live in a warm and mild climate, you can grow your own almond tree! Enjoy the delicious nuts, and watch the tree transform your landscape as it matures.
The basic care is simple, so most people can expect their trees to produce fruits in years to come!
I hope you found the article useful! If you did, please consider sharing it with your friends and family!
Come back for more interesting articles about gardening!