Lungwort is one of the rare plants that blossoms in the early spring. If you want to have beautiful lungwort as your herald of spring, keep reading to learn how to grow and care for lungwort.
Despite its unpleasant name, lungwort has distinct and pretty flowers, so there is no reason not to make it part of your garden resident.
Lungwort is part of the Boraginaceae family, a forget-me-not family.
The plant is deciduous or semi-evergreen and has different leaves color. The color depends on the species or time of the year.
Lungwort is known as Bethlehem sage, Jerusalem cowslip, or blue cowslip in some parts. You can easily recognize it by deep blue, white clusters of bell-shaped flowers.
Origin of Lungwort
Lungwort grows well in different parts of the world, but it is native to western Asia and Europe. Most gardeners know it by its botanical name – Pulmonaria.
The plant has lung-shaped leaves, and it's why it got the lungwort name. In the past, people used lungwort to treat different lung conditions. Nowadays, it is used with other plants and substances, but you should restrain from using it as medicine on your own.
Pulmonaria is a perennial flower, and people prefer it because it is one of the first flowers that bloom in the spring. At the time when the lungwort blooms, other plants start to poke through the soil.
This landscape flower isn't challenging to grow and care for, and it is a suitable choice for anyone who wants to have a blossoming garden as soon as the frost passes.
Generally, lungwort, as a woodland plant, doesn't need too much sun. It grows better in a shady location with lots of moisture.
IMAGE: Bushy lungwort with green, white-spotted foliage looks charming in all gardens.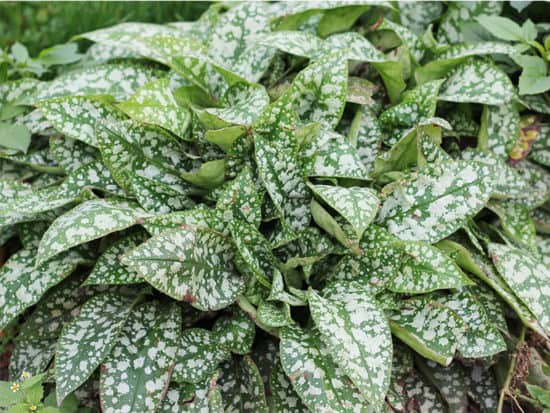 Pulmonaria Species
Nowadays, you can find different Pulmonaria species, some native and some hybrids.
Let's take a closer look at the most common native lungwort species you can find and their properties.
If you don't have a shady location, you can get Pulmonaria Affinis, as it is one of the species that tolerate the sun the best. You can recognize it by its typical silver-spotted leaves.
Pulmonaria Angustifolia or Pulmonaria Alba
Gardeners are often confused with the Pulmonaria Angustifolia, as it is available in several cultivars. It has stunning green foliage and cobalt blue flowers.
Pulmonaria Longifolia has long narrow leaves, and also grows well in the sun. Three common species are classified as Pulmonaria Longifolia. The plant has excellent mildew resistance.
The largest of all Pulmonaria species is Pulmonaria Mollis. It can get 2′ tall and has large, green leaves. The leaves can be speckled with silver or light green shade.
If you want red flowers, you can opt for Pulmonaria Rubra. It grows up to 1′ and has beautiful, salmon-red flowers. However, it grows better in a cooler climate.
Pulmonaria Hybrids
Pulmonaria hybrids' quality and resilience have improved over the years. You can find different Pulmonaria hybrids with attractive names and distinctive looks. Some hybrids, such as Roy Davidson, have better resistance to heat and humidity, while others are differentiated only by their appearance.
There are lots of hybrids on the market with variations in the flowers and leaves shape and color. Currently, the most popular are the Pulmonaria Samurai and the Pulmonaria Trevi Fountain. These grow excellent within different growing conditions and have lovely large flowers.
Check the comparison chart of the most common Pulmonaria hybrids.
| | | |
| --- | --- | --- |
| Pulmonaria hybrid | Foliage | Flowers |
| Samurai | Spear-shaped grey-green leaves | Blue flowers |
| Trevi Fountain | Bright and long leaves with silver spots | Cobalt blue flowers |
| Benediction | Silver-speckled dark green leaves | Cobalt blue flowers |
| Roy Davidson | Narrow dark green leaves | Light blue flowers |
| Berries and Cream | Silverish leaves | Light pink flowers |
| British Sterling | Silver leaves with narrow margins | Magenta flowers |
| Excalibur | Silver leaves with green midribs | Pink flower |
| Janet Fisk | Marbled leaves | Pink flowers slowly fade to blue |
| Sissinghurst White | Leaves with silver and white dots | White flowers |
| Spilled Milk | Large, silvery-spotted green leaves | Blue flowers slowly turn pink |
| White Wings | Green leaves with silver spots | Large white flowers |
| Smokey Blue | Silvery spotted leaves | Gentle pink flowers shift to blue |
| David Ward | Dull green leaves with white edges | Coral flowers |
| Bertram Anderson | Barrow dark green leaves with silver dots | Violet flowers |
| Mrs. Moon | Leaves with silver and white spots | Bright pink flowers |
| Pierre's Pure Pink | Silver-spotted green leaves | Gentle pink flowers |
| Raspberry Splash | Bright green leaves | Bright, raspberry-pink flowers |
How does Lungwort Look?
Lungwort doesn't grow high, but the flower stalks in some cultivars reach 18 inches.
The solid green leaves are oval and pointed. Sometimes, the leaves can have spots of lighter green, white, or silver color.
The majority of lungwort species feature fuzz on the leaves, and alongside different shades, the leaves get a distinct look.
The lungwort flowers are bell-shaped. They can be blue, red, purple, and white. One of the typical lungwort characteristics is that flowers change their color as the plant matures.
Scientifically, the color change is a result of changes in soil ph.
Lungwort is a perennial plant, and it develops a lovely ground-cover patch over the years. Therefore, it is an effortless way to improve the look of your garden.
IMAGE: The color of tiny clusters of small flowers depends on the species, but all color combinations look lovely against green foliage.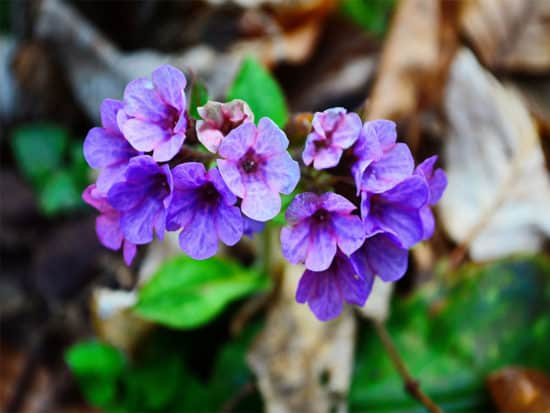 What is the Best Location for Lungwort?
Shady but moist locations are the best for lungwort. But, you need to pick the spot carefully to ease the maintenance. For example, if you plant your lungwort under the tree, it will be in the shade, but you need to water it frequently as the tree will absorb most of the water.
Around the fence or under the garden wall is a more suitable location. That way, the plant will get the necessary shade, but it won't have to compete with other plants for water.
The alternative is planting lungwort under tall perennials.
Besides, Pulmonaria is one of the few plants that grow well under the black walnut tree.
Further, you need to take care that the soil is moist but not soggy. If you ensure proper growing conditions, the plant will award you with beautiful flowers and greenish ground cover. The plant will struggle to survive if the conditions are far from ideal. For example, if the plant is in a sunny location, it will look sick.
How to Grow Lungwort from Seeds?
While it isn't common for gardeners to grow lungworts from seeds, you can still do it.
Sometimes, the price tag for a beautiful hybrid can be too high, so gardeners might want to grow their lungwort from seed. It is suitable for people who don't opt for some specific hybrid type and can enjoy an ordinary Pulmonaria.
The alternative is to get one bushy plant of lungwort and divide it into several plants. Still, if you decide to grow Pulmonaria from seed, you have to give it a couple of years to grow to its full size.
When sowing outside, you will have to cover the seeds lightly with topsoil. The best time for sowing outside is the early spring. However, don't expect your plant to stay true to the seed.
Additionally, if you want to sow inside, give the seed four to six weeks for germination. The seed germinates the best on average temperature from 60 to 65 degrees Fahrenheit.
Therefore, you need to prepare your seed two months in advance and transplant the seed outdoors in autumn. When transplanting outside, keep the spacing between the seed around six to 18 inches. That way, your seeds will have enough space to grow freely.
How to Plant Lungwort Properly?
The ideal time to plant lungwort in your garden is the end of the spring or autumn. Lungwort loves humus-rich soil, and you need to take care that the soil is moist in the growing season. The alternative is black peat enriched soil.
Once lungwort starts growing, it requires almost zero maintenance. The best way to ensure fair growing is to plant lungwort 15 to 18 inches one from the other.
I recommend getting lungwort from the nursery at the end of the spring. That way, you will be able to pick the plant with the flower colors you want. If you get them in the autumn, you might end up with blue flowers, and you wanted purple.
How to Ensure Fresh Foliage after Blooming?
When you get your plant, inspect if the stems are trimmed after the blooming season.
Once you trimmed the brown leaves, your plant will develop a fresh flush of foliage. Sometimes, nurseries prepare the plants for gardeners, but you can also do it yourself. If that is the case, you should cut the leaves on the base, but try not to damage the plant stalk.
How Much Light does Lungwort Need?
As I noted before, Pulmonaria doesn't love the sun too much. It is best to grow it in part or even full-shade location. However, lungwort can do well with a little sun at the beginning of the blooming season.
If you have planted lungwort under the tree, it will enjoy the sun until the tree develops its leaves. Once the tree leaves out, its leaves will protect the plant from the summer sun.
However, if you have planted lungwort under the fence, you should keep the soil moist because the plant tolerates more sun when it has enough water.
What are the Ideal Soil Conditions?
Ensuring proper soil conditions for lungwort can be tricky. Generally, lungwort doesn't do well in too dry or overly wet soil.
The best soil conditions for lungwort to grow are well-draining soil. The soil needs to preserve the moisture until the roots soak the required amount of water.
Moreover, lungwort grows well in neutral to alkaline soil.
How Much Water does Lungwort Need?
Lungwort grows in the shade, so the soil stays moist for longer. It is essential to prevent the soil from drying completely out. If your plants are exposed to harsh summer, make sure to water them thoroughly, ensuring the water depth is ten to 12 inches.
It is useful to apply a layer of mulch, around 2-inch tall around the plant. You can use wood chips, leaves, or shredded bark for the mulch layer. Then, water your plants once every seven or ten days during hot temperatures.
What is Optimal Amount Fertilizer for Lungwort?
Conveniently, Pulmonaria doesn't need frequent fertilizer. The only time where it could use a bit of boost is early spring.
You can use an all-purpose garden fertilizer, for example, 10-10-10, and sprinkle it sparsely around each lungwort plant.
What are Ideal Air Conditions for Lungwort?
Lungwort grows excellently when the frost passes. Generally, lungwort doesn't enjoy extreme temperatures, including hot, humid, and cold weather.
If the summer in your area is extremely hot, you can see the lungwort wilting. Then, keep it moist, and don't worry, the plant will perk up when the temperature gets lower with the first days of autumn.
What are Pulmonaria Common Pests and Diseases?
Lungwort is a resilient plant that isn't prone to pests. Moreover, this plant doesn't have serious problems.
The only thing that can occur is powdery mildew, which can happen when there isn't enough air circulation. Additionally, the slugs can damage plant foliage.
If you notice any changes in the leaves, you can remove them to help the plant regrow new leaves and remain healthy.
When you identify large holes on the leaves, the reason might be snails. Unless you inspect the plants at night, you won't notice snails. But, the snails can be easily noticeable around the plants.
You can apply an old trick with crushed eggplants and sprinkle them around your plants. It can repeal the snails and help keep your plants safe from snails. Besides, you can also make snail traps. For example, leaving a beer pan during the night can be effective against snails.
How to Propagate Lungwort?
Modern Pulmonaria plants are hybrids, so gardeners don't plant them from the seed. You can buy your plants in nurseries and replant them in the proper location in the garden. Conveniently, lungwort doesn't need frequent divisions, because they spread slowly.
The easiest way to get more plants is to divide the clump carefully. However, keep in mind that you should do it only after the flowering season.
Lungwort self-seeds, but you don't have to remove the unwanted seedlings too often.
The average time on which you need to divide your plants is every five years. It will help your flowers to remain true to color.
First of all, once you trim the flowers and old leaves, you can use a fork to lift the clump. Shake the soil so you can see the roots. Dividing Pulmonaria is easy, but when you divide your plants, re-plant new plants immediately.
How to Prune Lungwort?
Lungwort needs pruning to ensure beautiful flowers and a healthy look in the next season. Similar to dividing, pruning needs to be completed when the blossom season ends.
When the blossom season ends, the stalk browns slowly, and the leaves deteriorate. You will have to remove the old leaves directly from the base to let the plant rejuvenate.
Keep an eye on your plants during dry and hot summers. When you notice the leaves deteriorating, remove them from the stalk.
How to Use Lungwort in Your Garden?
Lungwort is convenient because, unlike other garden plants, it grows well in shady gardens. The beautiful flowers look stunning against green leaves, and they provide a burst of color in the early spring.
You can plant them alongside Dicentra, a plant with fringed leaves. Conveniently, both plants blossom around the same time, so lungwort and Dicentra combination with ensuring a structured and dynamic look of your garden.
IMAGE: Pulmonaria is one of the first plants that blossom in the early spring, under the snow.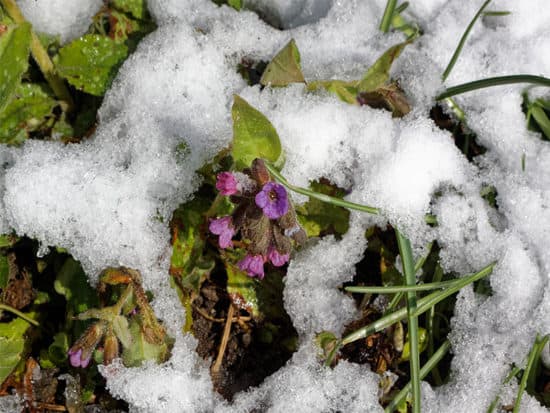 Can you Grow Pulmonaria in Containers?
You can grow lungwort in pots, but the plant will need a lot of maintenance. Generally, growing Pulmonaria in containers and pots is more challenging than in the ground. It is because this planet loves semi-shade and moist conditions. The soil in the container dries sooner, and you need to prevent it from drying out completely to boost the growth and save your plant year-round.
If you want to grow lungwort in a container, I would suggest applying a mulch layer to retain the water longer.
Additionally, you can use water-retaining gel and find a semi-shade location for your container.
Additional Considerations about Lungwort
Solitary bees love lungwort flowers. When the lungwort develops its flowers in the early spring, or when the frost passes, the flowers become attractive to bees. They provide needed nectar in early March and April.
Lungwort has been used for relieving cough and for treating lung diseases. In the past, it was one of the most common treatments for tuberculosis. But, it can be toxic to pets. Even though most pets aren't attracted to lungwort, you should still keep your dog away from the plant.
Final Thoughts
Lungwort or Pulmonaria is one of the few beautiful plants that grow well where other plants cannot. That is why it is an attractive plant for gardens that don't get enough sun.
This perennial is rarely grown from the seed because it is available in most nurseries and easy to divide yourself. You can find different varieties with all shades of blue, pink, purple, and white flowers.
Have you considered lungwort for your garden? What flower colors seem the most attractive to you?