If you are looking for a simple yet effective way to include a statement plant in your garden, a goatsbeard might be an excellent choice. I am here to help you learn more about this plant and how to grow a goat's beard.
Goatsbeard has a distinct look and is known for its white feathery plumes. This perennial plant can be a statement piece in every garden, but it needs a few years to grow to its full potential.
Goatsbeard Origin and Common Names
Goat's beard (goatsbeard) is native to the Northern hemisphere, Chicago area, and Illinois. It can be seen in moist woods and shady meadows, but some species can grow in sunny California.
Goatsbeard comes from the Rosaceae family and goes under the botanical name Aruncus dioicus.
Goat's beard is close relative to spirea shrub and meadowsweet.
Many people know this plant by its other names, Bride's feathers or Eastern Goatsbeard.
Whatever name you choose for this attractive plant, a goat's beard will improve the look of your garden wherever you plant it.
How does the Goatsbeard Look?
Goat's beard is beautiful as a decorative plant with its large leaves and white inflorescence. Generally, a goatsbeard is a large plant that can grow up to six feet. It grows in bushy clumps and is best known for its tall, white flower plumes. In mid-summer, the delicate flowers emerge above the fern and look like attractive leaves.
Image: The contrast between dark green leaves and creamy-white flowers will become a charming setting in every garden.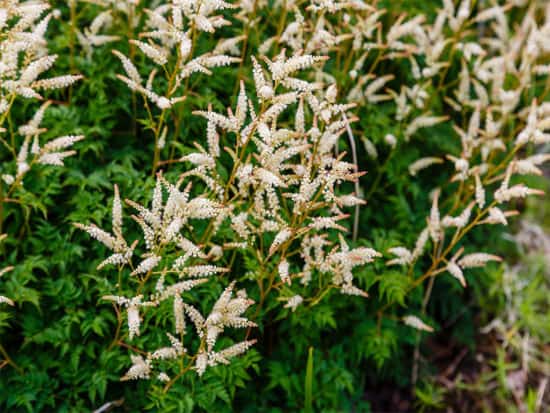 In the North, the blooming starts at the beginning of the summer, while in southern locations it can start even sooner, in late spring.
Because a goat's beard forms colonies when the plant blooms, it creates a stunning effect due to upright long spikes of white feathery-like flowers. In taller plants, these spikes can be 12 inches long.
In autumn, the foliage slowly turns brown, and the plant keeps its good looking. Therefore, it is an excellent choice for everyone who wants decorative plants in their garden year-round.
How to Differentiate Aruncus from Astilbe?
The plant resembles the astilbe plant, which is somewhere called a false goat's beard. But, the plants are quite different. They belong to different families. Aruncus or goatsbeard is Rosaceae (Rose) family, while astilbe is Saxifragaceae, commonly called Foam flowers.
First of all, goat's beard flowers aren't as vertical as astilbe flowers, and not as dense. Moreover, aruncus is easier to grow in different conditions and is significantly taller than astilbe.
Besides, the goatsbeard is taller and has white flowers, while astilbe flowers are commonly violet, pink, red, and rarely white.
How to Differentiate Goatsbeard Perennial from Goatsbeard Weed?
If you are a beginner in gardening, you might get confused about two plants with the same name goat's beard. The goat's beard I am referring to as a beautiful gardening decoration is perennial with white flowers. But, there is an edible weed, a wildflower also called goat's beard.
The wildflower goat's beard has yellow flowers and goes under another name Yellow Salsify. The roots of this plant are edible, and you can eat them raw or cooked. Grated roots are an excellent addition to salads, and steamed roots are similar to artichoke hearts.
It is vital to learn the difference between these two plants because the Aruncus is considered poisonous.
Additionally, the wildflower goat's beard looks like grass with big yellow flower heads. It is a biennial plant that grows in sunny locations, so the flowers are open and directed to the sun.
Image: Wildflower goat's beard has distinct, single yellow flowers!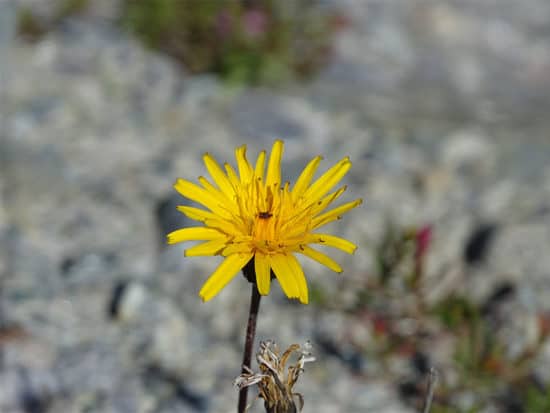 How to Tell if the Flowers are Male or Female?
Goat's beard is a dioecious plant. It means that one plant has all female or all male flowers. The easiest way to differentiate the two plants is by blooms.
Male flowers come in noticeably larger bushes and are generally more beautiful than female flowers. Therefore, if you can choose between the plants, I recommend male plants for larger gardens and more striking effect. The gentle female flowers are a better choice for smaller and crowded gardens.
Both plants aren't invasive, and won't spread across the garden spontaneously. The plants will stay exactly where you have planted them.
Goatsbeard Species
Aruncus doesn't have that many varieties. The original plant is the tallest, and other species and hybrids are significantly shorter with slight appearance differences.
Let's briefly go through goat's beard species, including hybrid forms.
Korean Goatsbeard
This species grows originally in Korea. It has a botanical name Aruncus aethusifolius. It is a dwarf form that grows around 10 inches high. The maximum height is 12 inches, while it can reach the width of 18 inches. The foliage is dark green, and the flowers are similar to the original goatsbeard. It is native to Korea.
Horatis
The Aruncus Horatis is a hybrid between the original goatsbeard and the Korean version. It grows somewhere between the two plans, with a maximum height of 4 feet. The plant is around 3 feet wide.
Misty Lace
Aruncus Misty Lace is another dwarf form that can grow maximally 2 feet in height and get about the same width. Ferny foliage with lovely creamy flowers looks stunning in all gardens.
Kneiffii
Lastly, the Aruncus Kneiffii gets half of the height of the original goatsbeard. The foliage is capillaceous cut, and the flowers are the same as other species.
The Best Location for Goatsbeard in Garden
Goatsbeard plant is easy to care for and grows best in partial shade. But, if you live in a colder climate, your goat's beard will grow well even if you plant it in a sunny location. Generally, a warmer climate requires that you ensure partial shade and consistently moist to wet soil.
The plant can tolerate dry soil, but it won't get as tall and beautiful as it would in moist soil.
You can plant it under the tree or around the fence as well.
The soil needs to remain moist, and you can prepare it to ensure ideal conditions. Because a goatsbeard loves moisture, it grows best around woodland streams.
For example, before you plant the goatsbeard you can improve the soil with organic matter. Compost will make ideal soil amendments for growing a goatsbeard.
Image: Goat's beard can grow taller than other plants, which makes it perfect for the edges of your garden.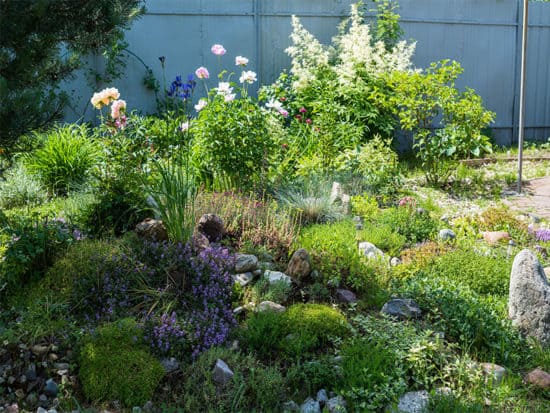 Growing Goatsbeard from Seeds
It is relatively easy to grow a goat's beard from seeds. You can start from the seed in early spring or cold frame autumn.
You can use pots or cell packs and sow the seed in 2 inches in the pot. Next, you need to press the seed, but avoid covering it.
The goatsbeard seed needs proper light exposure to germinate and an average temperature of 55 to 65 degrees Fahrenheit.
Once you have sowed it, you leave the pot in a sunny location for around four to five weeks. It is an average period for germination.
Next, plant the goat's beard in your chosen location, and leave plenty of space for growing in height.
Give your plant a few years to grow to its full potential.
Growing Goatsbeard from Rhizomes
The second and more effective way to grow your goat's beard is to get underground rhizomes. Many nurseries sell bare-root plants, which aren't difficult to replant in your garden.
The best way to preserve the roots is by using terra-sorb silicone gel. The gel helps the roots to retain enough moisture and survive the plastic packaging. It is especially important if you will be ordering your plants online. But, even in these conditions, the roots can only survive for ten to 12 days. Therefore, pick the nursery that can comply with this shipping period and provide proper protection for the roots.
Once the roots arrive, replant them in shady and moist soil carefully. Make sure that the soil is almost wet in the first couple of days.
Growing Goatsbeard in Pots
It can be challenging to find a perennial that grows well in a pot, but aruncus is one of those plants. Therefore, if your balcony isn't on the sunny side, the aruncus can be a wonderful decoration for it.
The plant will grow tall, so you need to ensure it has enough space. Find the large container and pot and pick the place where you won't move the plant often. As it grows, the lower leaves can cover the pot completely, but you can trim some of them for a better appearance.
The challenging thing when growing aruncus in the pot is finding a suitable water regime. Generally, plants will grow well in humus-rich free-draining soil.
Those who want to prevent the plant from growing too high can put the plant in the sun and water it sufficiently.
If you notice that the leaves decline, it is the sign that the soil is dry. Therefore, water the pot more frequently.
Maintenance
Goat's beard requires simple maintenance. As long as you ensure enough water and moderate sun exposure the plant doesn't need anything else.
You can mulch to help the plant retain the moisture during hot summer, but that is about it.
Moreover, if you notice any deteriorated flowers or leaves, you can remove them to improve the plant look.
How to Prune Goatsbeard?
Pruning a goat's beard will improve its look and keep your plant healthy. The things you need are pruning shears and a bucket.
The best time to prune your plant is after the blossom season, around the middle of the summer.
You can use the shears to trim the stems, making sure you're trimming them at the plant base.
Removing deadheads will arouse second blossoms. Next, you need to remove the foliage you have trimmed. If you leave the dead foliage around the plant it can affect the plant's health.
Put it in the bucket and throw it in the trash or save it for compost.
The second time when you need to trim the dead growth is at the beginning of the spring. Use your shears to remove dead growth above the soil. It will refresh the plant and make it more vibrant during the growing and blooming season.
Goatsbeard Pests
Conveniently, a goat's beard is a healthy plant that isn't prone to pests and diseases. Moreover, the plant isn't attractive to rabbits and deer.
But, there is one insect that can put its larvae on the goat's beard leaves. It is a type of sawfly that cuts the tubes in the foliage of the plants. The official name of the insect is goatsbeard sawfly (Nematus spiraeae).
These insect attacks are seen in Europe and less in North America. It leaves the foliage skeletonized, with the veins remaining visible.
If you notice damage on the foliage, inspect your plant for light green caterpillars with brown heads and a length of 20 mm. Generally, the insect attacks the plant in late spring and lays its eggs under the leaves. The larvae feed on the leaves, and it is what causes the foliage damage.
The second attack is in the early autumn, and the insects are hard to identify until they visibly damage the leaves.
How to Deal with Goatsbeard Sawfly?
You can control the spread of goat's beard sawfly by occasionally inspecting the plant for larvae, especially during early summer.
If you notice larvae on the plant, you can knock them off and eliminate them using a bowl of soapy water.
Conveniently, these insects are gregarious, meaning they focus on one particular part of your plant. Therefore, when you notice one larva, the chances are that you will find others around the same spot.
Another effective way to deal with sawflies on your goatsbeard is to use a pyrethrum-based insecticide. Spray this organic insecticide in the evening, but avoid using it during the blossom seasons.
Keep in mind that organic insecticides work better on young insects, while mature insects can be resistant to organic insecticides.
Additionally, keep in mind that these caterpillars are false caterpillars and different from butterflies ones. Therefore, there is no point in using BTK as it works only on true caterpillars.
How to Propagate Goatsbeard?
Goatsbeard can spread widely, from two to six feet. It is why you need to ensure enough space for it when planting. The only challenging thing related to this plant is transplanting it to another location or dividing it.
Generally, the plant develops creeping rhizomes – ground stems. If you plant to propagate your goatsbeard, you can choose between division or propagating by seed.
Dividing Goatsbeard
Dividing a goatsbeard is a more challenging method. If you decide to do it, you need to lift the clumps in the spring. Next, prepare the sharp knife to cut tough rootstock, and leave at least one eye per plant.
However, if you don't ensure ideal growing conditions, moisture, and sun exposure, the divided plants will die soon.
Propagating Goatsbeard by Seed
During the late summer, you can you female plants and find the tiny brown capsules – seed. You need to separate the seeds from dry flowers and store them in a cold place until you are ready to grow new plants from the seed.
How to Use Goatsbeard in the Garden?
Goatsbeard can be used as a background plant or as a central piece of a small garden. Due to its white flowers, the plant is easy to mix with other colorful plants. It improves the look of the garden by making it look more gentle and balanced.
Because it loves wet soil and shade, you can use it in water and woodland gardens. Furthermore, the goat's beard is an excellent inhabitant of bog gardens. Also, it makes a beautiful addition at the borders of your garden, around the fence.
The plant attracts butterflies and different birds.
Which Plants Go Well with the Goatsbeard?
Goat's beard is best mixed with other plants growing in partial shade. Those include red Columbine, and the two plants make a beautiful colorful display.
Trillium and monkshood also look when planted around the goatsbeard.
National Use of Goatsbeard
Goat's beard isn't edible, but you can make a pain-relieving bath for your feet using goat's beard. You can shed the flowers with mild water and let them sit for a while. Soak your feet in the bath to help ache.
Final Thoughts
I've been looking for a perennial that grows in pots and shade, and the goat's beard satisfies all my criteria. It requires only moderate maintenance, but it significantly improves the look of any garden.
I used it to fill in the bold spaces around the borders of the garden. The easiest method to plant this perennial is by underground rhizomes, and the plant will award you with beautiful, gentle white flowers.
I also like that it is a healthy plant, and you don't have to worry that deer and rabbits will eat it!
Do you like the gentle look of the goatsbeard? If you know of other perennials that are this easy to grow and care for, please share the plants in the comments!