Learning how to make a flower bed is the most creative thing that you can do for your garden. They can serve as homes to many colorful plants, whether annuals or perennials, that will make your garden more beautiful. The flowers will then attract insects, butterflies, and even pollinators.
Your garden is a blank canvas that you should use to show your creativity. Flower beds are just what you need to make your design dreams true. It could take a lot of work to make flower beds all over the garden, but the finished product will make it all worth it.
If you have been thinking about or looking into making flower beds, I encourage you to start with the project immediately. You will certainly not regret it, and I am here to give you all the tips and tricks that you need to create the best flower beds ever!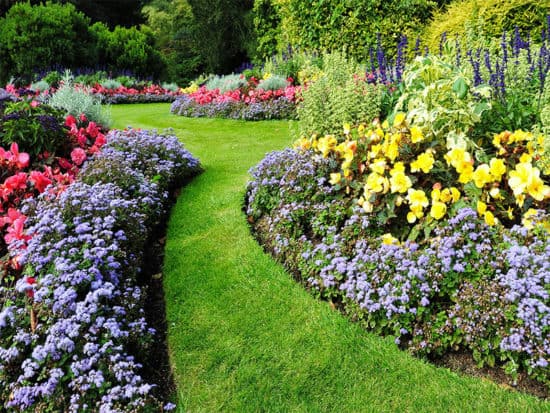 Colorful Flower Bed Example:
Start Planning Your Flower Beds
Before you get to work, you need to visualize your garden. How would you like it to look when you are done? Where you do want the flower beds, and how many of them do you want to have? You should make a plan before getting to work.
What Should You Consider?
It is not only about the position of the flower beds – but it is also about their size and shape. To add to that, it is about the flowers that will go in them and their size and shape, as well as the colors, textures, and a lot of other things that should be considered.
Plan Before Planting
There are different stones that you can add, some shrubs or small trees, maybe even lanterns for all the summer nights when you will want to sit in your garden and enjoy the view. If anything, this makes it clear how much thought goes into planning the garden and the flower beds before the actual making of the beds begins.
An interesting strategy that you should consider is layering. This means that in the flower bed, you will put taller flowers in the back and the shortest, dwarf flowers in front. Layering will make the flower bed look visually stunning and is sure to attract many stares from people passing by your yard.
What Kind of Flowers Will You Use in the Flower Bed?
This is a very interesting question. Considering where the flower bed will be created, there are things that you must think about when it comes to the choice of flowers.
If the flower bed is in a sunny spot, then you can add flowers that like to be in full sun. However, if it is going to be in a shady part of the yard, then you should use flowers that can thrive even in shade.
Also, there is the texture and color of plants that you should think about. You should consider planting flowers with harmonious colors in one flower bed. And when it comes to texture, you can bring in texture by using small shrubs.
What Will the Focal Point of the Flower Bed Be?
When you start planning the flower bed, you should think about the little something extra that will make it stand out. A focal point will make the flower bed look even better and it will be the exclamation point of the garden.
This could be anything from an interesting, unusual plant that no one expects, or maybe a ceramic planter in an unusual color. Maybe you can add a dramatic ornament or a tree. It is up to you and your design ideas!
Size, Shape, and Edge of the Flower Bed?
When you are creating or redesigning a flower bed, you should think about several things – height, width, shape, and length. Only when you think about these things and outline them in your garden will you be able to begin with creating the flower bed.
Another thing to consider is the border or edge of the flower bed. What will you mark the edge with, will it be stones or small wooden blocks? The possibilities are endless!
How to Make A Flower Bed Without Digging?
If you have a patch of soil that can be planted immediately, then there are a few steps that you can follow to make your flower bed.
Once you have carefully thought out the look of your garden and the arrangement of the flower beds, you can start making them. Building a flower bed can be a lot of work, but once you get into it, you will surely enjoy the process. Here is a step-by-step guide that will help you make the best flower bed possible!
1. Make Sure You Have Thought Everything Out
Do not rush to get started. Before you start with the digging, look at your yard again and go over all the important things – the pattern of the sunlight, the moisture of the soil, the water access.
Check if there is a slope and if it will affect your flower bed. Go over the size once more and if everything seems okay, that is when you can start with the process.
2. Soil Type and Access
Building a flower bed means that a bare part of the group will be planted with various flowers. However, the soil's pH needs to be checked before you get to the planting because if the pH is not adequate for a certain flower, the flower will not be able to thrive in it.
Do a quick soil test to determine the soil's pH before you get started. If the pH is too low, raise it by using wood ashes, lime, or limestone. If the pH is too high, you can lower it by using composed leaves, sulfur specific for horticulture, or pine needles.
There are five types of soil – silty, which is smooth and fertile; clay, which holds water pretty well; sandy, which is mostly gritty and dry; loamy, which is an ideal combination of clay, sand, and silt; and peaty, which contains acidic water.
Considering the plants that you will use in a flower bed, you will want to adjust the soil type to fit. So, it is very important to have this checked before you start planting.
3. Choose the Flowers and Plants
Annuals or perennials, taller or smaller, there are a lot of plants that you can choose from. Some are more low-maintenance, while others are not. Some will come back after a year, others will not. If you followed my instructions so far, chances are that you already have a plan in mind when it comes to the plant arrangement.
An important thing that I will mention here is the companion planting. This method allows you to combine plants so that they can help each other grow. Professional gardeners suggest that marigolds should be planted together with tomatoes, while zinnias are best combined with cabbage.
4. Watering Schedule
In order to encourage plants to grow and become established, you need to water them regularly. Not just that, you need to know how much water they need in order to prevent overwatering or underwatering.
Watering plants that have just been planted is crucial. Learn about the draining abilities of the soil and about the amount of water the plants need. This will help you succeed in making the flower bed bloom sooner rather than later.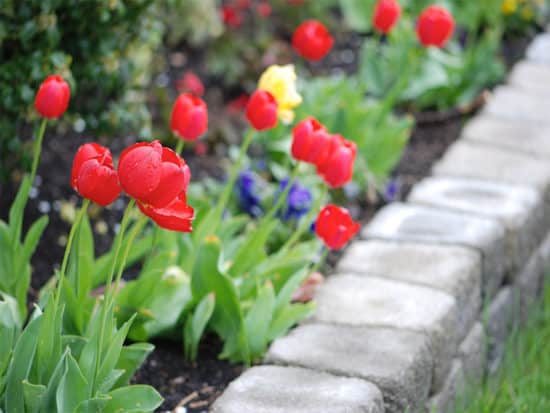 Flower Bed With Tulips:
How to Make a Flower Bed with Digging?
If the case is that you do not have a bare patch of land available to you, then you will have to do some digging in order to build yourself a flower bed. Here are the steps that you should follow to build a flower bed!
1. Mark the Flower Bed
Take a hose, string, or anything that you can use to mark the outline of the flower bed that you have in mind. Once you mark it, take a can of spray paint and make the desired outline on the grass. If you have that settled, then get ready to start digging.
2. Dig Up the Flower Bed
This step will require some strength and time from the person making the flower bed. You should use a shovel to remove the piece of land or grass that you no longer need. Start from the center of the outline and move towards the edges.
In order to remove the grass or land, you will need to put the shovel under the edge of it. Then, try to lift it and peel any sod from it. When you are done removing the layer that you do not want, you have to start preparing the soil for planting. The layer of grass or soil that has been removed can go in the compost bin.
3. Make a Weed Barrier
The weed barrier should be combined with mulch. This will help keep the weed from moving, it will shield it from any harmful rays, and it will hide it from everyone. Usually, people use woven landscape fabric as a weed barrier. This is because the fabric will allow water, air, and nutrients to get to the soil and plants which will make them grow faster.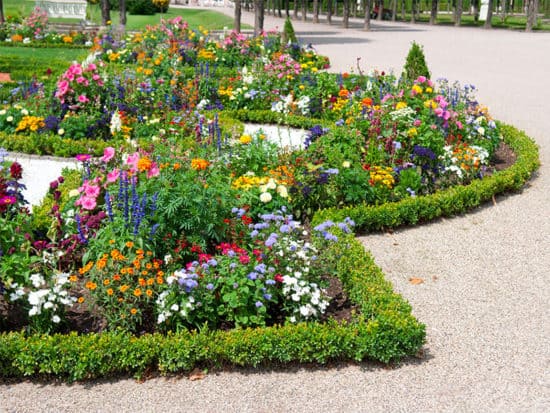 Star-shaped Flower Bed:
How to Make a Raised Flower Bed?
Since I have already covered making flower beds with and without digging, the remaining type of flower bed that I can mention is the raised one.
You can go about it in a few ways. Either you can make wood boards to mark the outline of the flower bed, or you can buy a raised flower bed kit that will provide you with the needed supplies. Usually, the kits can only help with your smaller flower bed shapes, not larger ones.
You can use boards, plastic sheets, or landscape fabric to build a raised flower bed that will have a hard surface underneath it. This will help you keep the soil in place and avoid any messes.
Another way to make a raised flower bed is to build it on existing grass. This process includes several steps. First, you should cover the land with newspaper sheets. Then, put some planting mix on top of the sheets. Once you have that ready, you should add a layer of compost on top.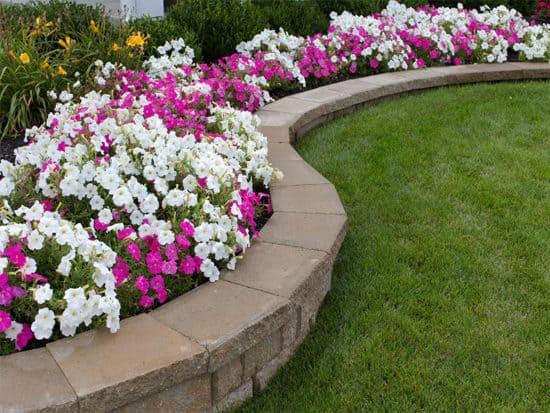 Raised Flower Bed Ideas:
Start Planting in the Flower Bed!
You should have the flower bed ready now, the barriers laid down, and everything prepared for the plants and flowers. Now, you can start with what will be the most fun part of the flower beds!
Marking the Spots
Once you have all the plants set in their location, you should get a knife and make simple X-shaped openings on the weed barrier. Remove the mulch and the weed barrier first, then dig a hole in the soil where the plant will go, and just place the root ball into that hole.
Some people tend to do the planting first and then add the weed barrier. However, this could be much more complicated. In this way, you know that all the heavy lifting is finished even before you start the actual planting.
Front Row of Flowers
The front row should be reserved for the smallest, low plants. Consider adding fescue grass, like 'Elijah Blue' or 'Festuca Blue' or stonecrop like the 'Angelina.'
Middle Row of Flowers
Moving on to the middle row, you can add plants will medium height. Some of the most commonly used plants for this purpose include the salvia plants like 'Victoria Blue' and 'Blue Hill,' or maybe 'May Night' and 'Caradonna'. There are many plants to choose from.
Backrow of Flowers
As for the back row, this is where the tallest plants are. Shrubs, irises, cypresses – they can all be used here. Adding the plants in this order will help create a sense of unity within the flower bed and it will make it look more appealing to the eye.
Focal Point of Flower Bed
Last but not least – remember the focal point that we mentioned earlier? This is the cherry on top for the flower bed, a part that pulls everything together. Once you have all this intact, your flower bed should look as good as the ones in gardening magazines!
Additional Tips for Flower Bed Designing
Want to do even more with your flower beds? Here are some tips that will make your flower bed look even more amazing:
Do not be afraid to try different things and go crazy with the colors – the first outline of the flower bed does not have to be the last. Continue thinking about the design and the flowers you would want to include, add some and take others out. Make it your own!
Experiment with shrubs, ornamental grasses, and trees to get more texture, movement, and a better structure.
Get long-lasting color by adding plants that bloom in different periods all over the year. Also, add some evergreen shrubs and small trees to keep the greenery even during the winter frost.
Plant as many groups of plants as possible, included different colors and heights to avoid monotony. Repeat the plant groups to make the flower bed look more cohesive.
Do not plant according to pot size, plant according to the maturity of the flowers. Take into consideration that some plants will grow and spread more than others. You will need to avoid overcrowding the flower bed as you will not want to promote competition among the plants.
Do not be afraid to include groundcovers! They will help you attract more pollinators, as well as bring color and fragrance to the garden.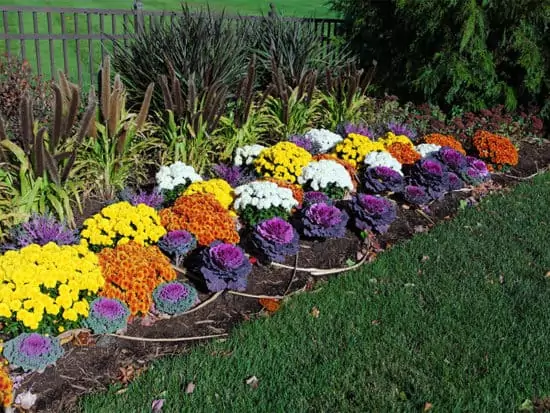 Fun Flower Bed Design:
Conclusion
After going over this article, it should be clear to everyone that the possibilities and design options are endless. I hope that this article will help you make better choices when it comes to the design, and will help you make the flower beds more easily.
Nothing can beat going into your garden after a tough day and seeing the gorgeous flower bed that you made yourself. You should use the infinite beauties that nature has given you to make your home and yard look better. Believe me, you will definitely enjoy the fruits, or should I say blossoms, of your labor!