There are several indoor Ficus plants worth your attention. Today I will walk you through the most attractive ones! Those are also easiest to grow and most beneficial for indoor air!
I compiled this Ficus growing guide which you can save and come back to whenever you have doubts about varieties or growing requirements.
Most Ficus houseplants are medium to large in size and thrive in average household conditions.
Hopefully, with the help of the following images and descriptions, you will learn how to identify each type. Additionally, I mentioned the potential problems you may encounter with your indoor Ficus plants!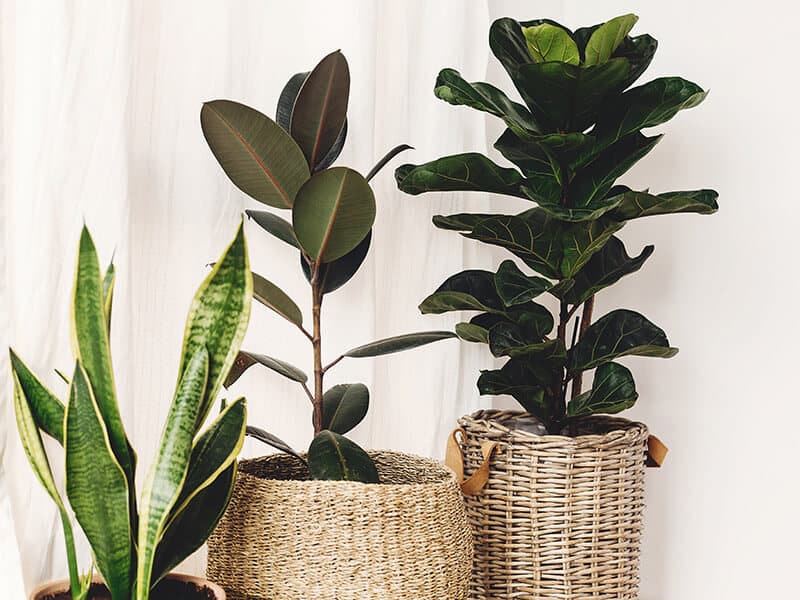 1. Rubber Plant
Ficus elastica aka Rubber plant is one of the most popular Ficus varieties. In its native habitat – India, Nepal, Myanmar, and China, the Rubber plant grows up to 100 feet. But, when you grow it as a houseplant, the Rubber plant reaches a much more manageable height. In household conditions, Ficus elastica grows between one and eight feet tall.
Most people appreciate the adult Rubber plant because of its ornamental leaves and tree shape. The leaves are broad and glossy with an attractive burgundy hue.
Ficus elastica is an easy-care Ficus. It loves light but may adapt to low-light conditions.
Ficus elastic doesn't like to be moved often. Find a nice spot for it, and keep it away from draft and cold. Be careful when watering the plant, because too much moisture is the quickest way to kill this hardy plant.
Rubber plants have mild toxic properties and are best to keep away from cats and dogs.
Spider mites and scales are the most common pests that can attack your Rubber plant. Luckily, you can try rubbing alcohol or pest treatments to keep the plant pest-free.
2. Weeping Fig
Weeping Fig is easy to grow, but it has a reputation of being a bit temperamental. The scientific name is Ficus Benjamina, and there are a few things to keep in mind when caring for it.
Well-draining soil is required for Weeping Fig. Next, water your Ficus only when you check if the top layer of soil is dry.
To boost the Weeping Fig growth, fertilize it once every two weeks in spring and summer. Use half-strength liquid fertilizer you use for your other houseplants.
The plant is sensitive to cold drafts and sudden temperature changes. It also doesn't do well in a dry environment. Therefore, keep your Weeping Fig away from AC units and radiators.
Similar to the Rubber plant, the Ficus elastica also doesn't like to be moved. When you reposition your Ficus elastica, the leaves can turn yellow or drop.
Allow the plant a few weeks to adjust to new conditions, and it will soon come back in all its shine and beauty! During that period, reduce fertilization and watering.
3. Creeping Fig
Ficus pumila or Creeping Fig is a high-humidity-loving plant! The plant needs aerated soil and will thrive in a slightly acidic potting mix. Creeping Fig is a beautiful vining plant, which needs a lot of moisture after planting.
The new vines prefer weekly watering so the roots can establish well. Adult plants are somewhat drought tolerant, and you should water them only if the top layer of soil seems dry on touch.
As a houseplant, Ficus pumila rarely grows over six feet. The vines may go out of control, but you can prune them. But, never prune Creeping Fig during the rest period, in autumn and winter.
Wait for the early spring and prune the vines when you notice new growth. Don't forget to wear protective gloves when pruning Creeping Fig. Milky sap from the plant can irritate your skin.
Also, Creeping Fig needs monthly fertilization in the actively growing season. Use diluted liquid fertilizer for the best results.
Lastly, watch out for mealybugs and aphids. Any natural pesticide, including neem oil, will help protect your Ficus against these pests.
Also, if the leaves are getting brown, it is a sign that the air is too dry for Ficus. Use a humidifier to increase humidity in the room, or place a moist pebble tray near your Creeping Fig.
You can see this video to know more:
4. African Fig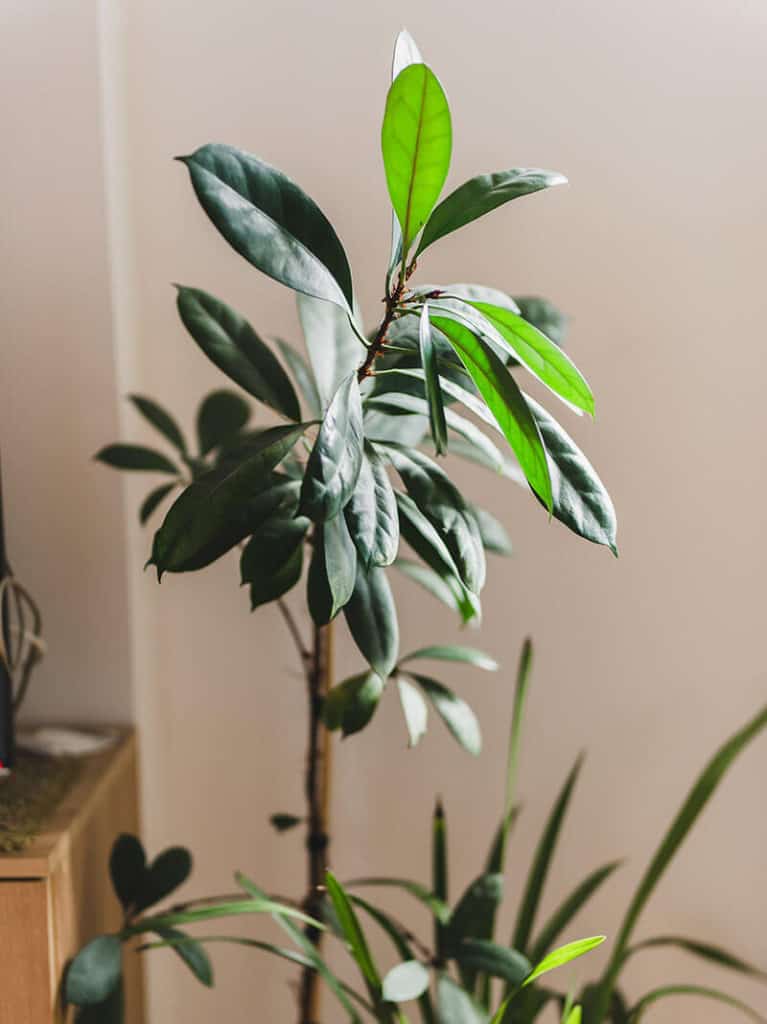 Ficus cyathistipula or African Fig comes from central Africa. You can recognize it by its round and deep green foliage.
If you find the right spot for it, your African Fig will grow fast! The plant doesn't love too much warmth or direct sunlight. Therefore, a north-facing room might be an excellent location for your African Fig.
This Ficus loves humidity. In fact, in native habitat, African Fig grows near rivers and springs, and people even call it River's gift in Kenya!
To ensure the foliage remains beautiful, you should rinse the Ficus once a month in the shower. When the tree becomes too heavy, use a damp towel to remove the dust from the leaves.
African Fig grows fast and will require repotting every two years. Pick a bigger pot and well-draining potting mix. Be very gentle when transplanting your African Fig. If you damage the roots during transplantation, your African Fig may die.
Repot in spring and use common houseplant fertilizer in spring and summer to help the plant grow vigorously!
Spider mites are the most common pests which attack African Figs.
5. Fiddle Leaf Fig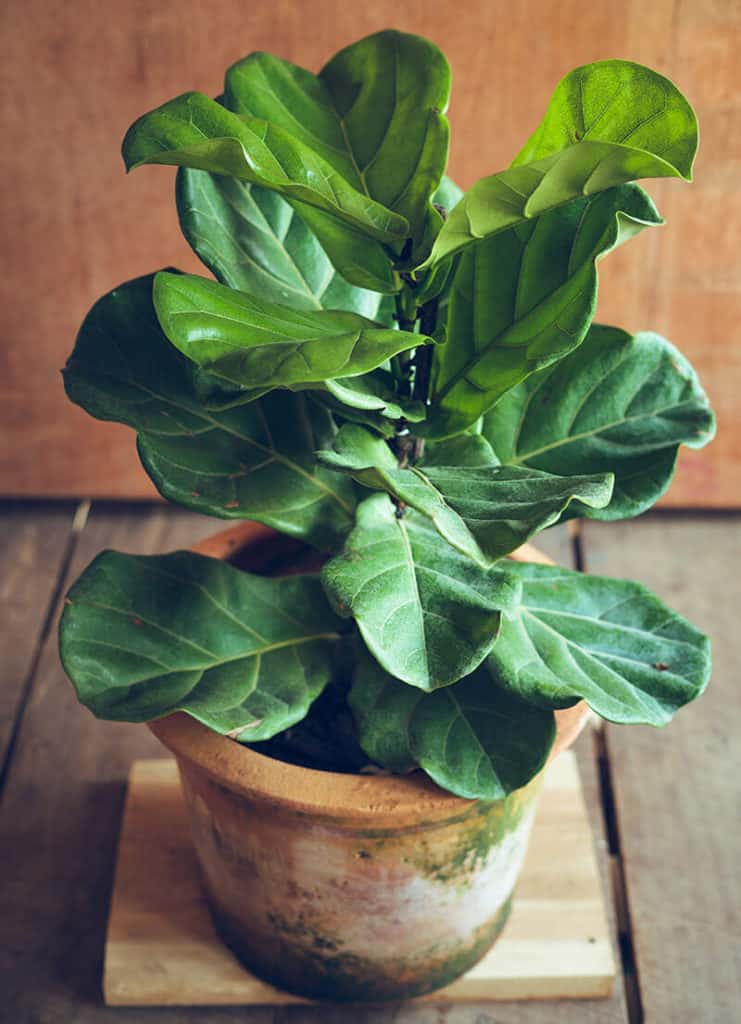 Ficus lyrata or Fiddle Leaf Fig is probably the most common indoor Ficus! It is native to tropical parts of Africa. There, Ficus lyrata grows in warm, wet, and humid environments. Therefore, it can be challenging to replicate those conditions in average households.
Luckily, Fiddle Leaf Fig is a resilient plant that can adapt to different conditions in the long run.
The trick to help the Fiddle Leaf Fig grow healthily is frequent rotation. Every several days, rotate the plant so every inch of the plant is exposed to sunlight equally. Rotation will ensure the plant grows evenly.
Once a month, use a damp cloth to remove dust from large Fiddle Leaf Fig leaves and restore the foliage shine. If you notice damage, dry or dead leaves, remove them immediately. That will make the plant look tidier and help it to use all nutrients from the soil into new growth!
Bright, indirect light is most beneficial for your Ficus lyrata. Direct sunlight can burn the leaves, and complete shade will stop photosynthesis.
Fiddle Leaf Fig isn't picky about the soil. Any well-draining potting mix will work well. You can use fertilizer in spring and summer and your plant will grow faster with more beautiful foliage.
Moderate watering is recommended for Fiddle Leaf Fig.
You can see this video to know more:
6. Bengal Fig
Ficus benghalensis Audrey, Bengal Fig, or Audrey Fig is a beautiful indoor plant because of attractive and textured foliage. Audrey Fig features velvety leaves with eye-catching white veins. It can be difficult to find in local nurseries, compared to other common Ficus varieties.
Bengal Fig grows at a moderate pace and develops rich branching on the way. Mature Bengal Figs look luxurious with deep green, velvety leaves and can become a focal point in every plant collection.
Optimal growth is manageable in bright locations. However, Audrey Fig needs protection from direct sunlight to prevent leaves from scorching. This Fig loves moist soil. However, the plant is also sensitive to overwatering. So it is safe to allow the top two inches of soil to dry between drinks.
If the leaves get hard water marks, allow the plant to dry a bit and switch to filtered or distilled water for watering.
Audrey Fig doesn't have special soil requirements. It loves high humidity, and Fig will benefit from frequent misting. During dry winter months, you can place a humidifier near the plant. Thrips, mealybugs, and spider mites are the most common pests.
7. Ficus Triangularis Variegata
Ficus Triangularis Variegata features attractive green leaves variegated with creamy white spots! This Ficus is one of the most unusual plants on the market, and you can customize the amount of variegation on the plant by reducing or expanding the sunlight exposure.
Ficus Triangularis Variegata is a hardy plant and rarely suffers from issues. On the other hand, this unusual Ficus is a slow-grower. Its maximum height is around four feet in ideal conditions.
Variegated Ficus Triangularis needs bright, indirect light to grow. The brighter the light is, the healthier the plant will be! At the same time, the creamy-white spots will be more visible.
Don't ever put Ficus Triangularis Variegata in direct light. It can burn the leaves.
Also, the plant doesn't like cold drafts or heat ducts. Irrigation is required only when soil seems dry on the touch. High humidity is preferred for Ficus Triangularis Variegata. You can try the trick with a moist pebble tray to increase humidity around your Ficus!
8. Ficus Elastica Tineke
Ficus Elastica Tineke is a widely appreciated cultivar of the Rubber plant. It is different from other varieties because of the light variegation on the edges of the foliage.
Tineke thrives in standard household conditions, near the window. Bright, indirect light is preferred, even though Ficus Elastica Tineke can adapt to lower light conditions. When exposed to insufficient sunlight, your Ficus won't get striking variegations.
The ideal temperatures for Tineke Ficus are around 55 degrees Fahrenheit. The plant also prefers moderate humidity levels. Therefore, if the air in your home is too dry, consider placing a humidifier in the room.
Sudden temperature changes and cold drafts can kill the plant. Therefore, keep the plant away from heating and cooling vents, and AC units.
Tineke is relatively low maintenance. Fertilization is optional. But, if you used poor-quality soil, fertilize the plant monthly in the growing season.
Ficus elastica Tineke is sensitive to overwatering. Never let the plant sit in the water because it can cause root rotting, increase the risk of fungal diseases and kill the plant.
In general, Tineke grows relatively fast. It might need repotting every year. Use a slightly bigger pot and transplant Ficus in the summer, taking care of the roots. If the plant gets in transplantation shock, it may drop the leaves.
9. Ficus Alii Plant
Ficus binnendiijkii Alii aka Ficus Alii is also called Banana Leaf Fig because of its similarity to Banana tree foliage. Ficus Alii grows in Asia, India, and China, and in the USA, people grow it as a houseplant.
Compared to other indoor Ficus plants, Alii is easier to grow.
However, it may drop leaves if the environment is too dry.
Put the container with your Ficus Alii near a bright window. But, the plant needs protection from direct sunlight, the same as other Ficus types. Keep in mind that Ficus Alii doesn't tolerate low-light conditions.
Ficus Alii will lean toward the sunlight source. To avoid uneven growth, rotate the plant every once a week to ensure even growth.
Ficus Alii is easily recognizable by its slender foliage, which gets broader on the top. It is a beautiful plant, but unfortunately, it might be troublesome to track down in local nurseries.
10. Ficus Ginseng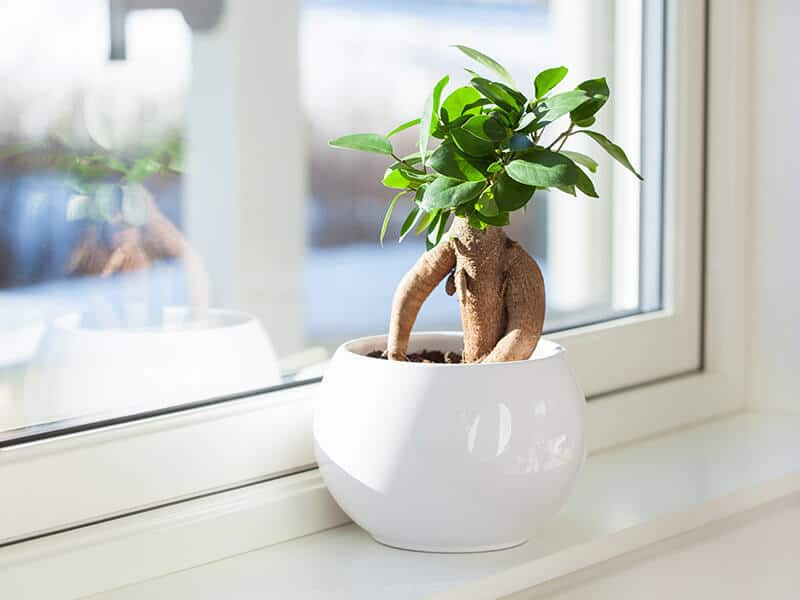 Ficus Ginseng is a beautiful bonsai tree that is relatively easy to grow indoors. Because of its compact form, Ficus Ginseng is an excellent choice for smaller apartments. It prefers warmth and bright indoor light. But Ficus Ginseng also benefits from occasional summer trips outside.
Ginseng Ficus is tolerant of drought and overwatering. Keep it moist in the warmer parts of the year, and reduce the watering in winter. The only thing to keep in mind is don't let the plant sit in water to prevent root rotting.
The important step when taking care of Ginseng Ficus is pruning. In general, prune the plant to your likings, but never take over three leaves on every six new leaves which appear. Each branch should have at least three leaves left to ensure a healthy growth after trimming.
Fertilize your Ficus from spring to fall for optimal growth.
You can see this video to know more:
Ficus – A Plant For Everyone
How did you like my list? I love Weeping Fig, but I wouldn't mind getting my hands on the Alii Ficus! It will make an excellent contribution to my collection!
Most Ficus types are relatively easy to grow as long as you provide them with bright light and moderate moisture. Remember, Ficus has to adjust to the new conditions.
Therefore, don't worry if your new Ficus drops leaves when you bring it home from nursery! Give it some time, and soon, your Ficus will shine in its full glory!
If you enjoyed the article, hit the like button!