You'll need a few things to successfully replicate indoor succulent planter ideas, including succulents, drainage, soil and accessories! Succulents have thick foliage, unusual shape and often, beautiful flowers and low maintenance nature.
These lovely plants grow best in breathable materials, such as terracotta or ceramic pots. Wood and several unusual items for a planter you'll come across in the following article also provide good breathability.
Keep reading to find how to combine succulents, where to plant them, and all the things you can use as planters! In addition, you'll find more than a few ideas for decorative accessories!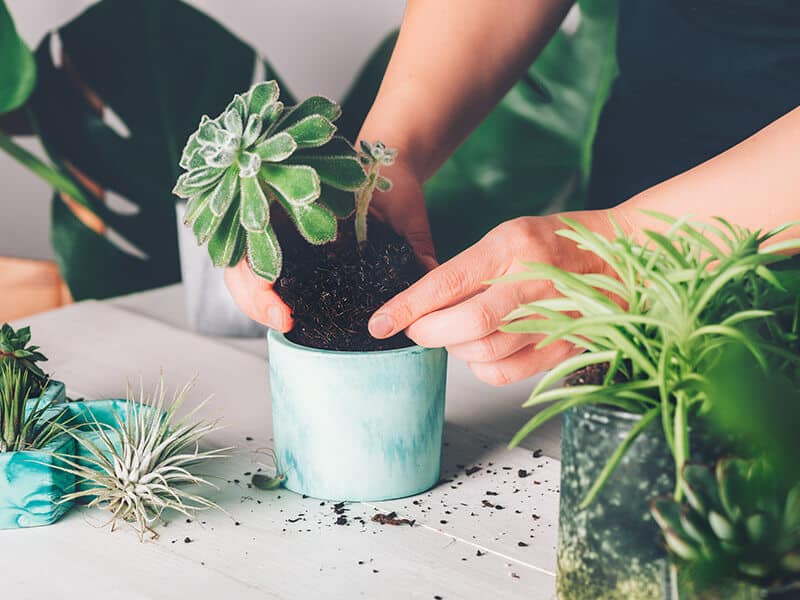 1. Rustic Hanging Planters
If you have a nice piece of chicken wire and burlap, you can make a lovely rustic vertical planter. You will wrap a piece of burlap around a small pot, so ensure you have enough material to wrap the entire pot.
Choose healthy succulents for the project and place them somewhere the plant will get full sun exposure.
2. Cookies or Succulents? Three-Tiered Planter
The next idea can be accomplished with an old cake stand rod and additional plates. It has a small footprint but still can hold several plants at a time. Therefore, it is the perfect choice for a small space.
Use different size plastic pot saucers and spray paint to give your three-tiered planter a fake cement or enamel look!
3. Classic Terracotta Planter With a Twist
An ordinary terracotta planter doesn't have to look dull. You can spruce it up with the additional small terracotta jug and a special selection of colorful succulents!
Also, use colored aquarium gravel on top of succulents compost to complete the look. You can arrange succulents to look like a bouquet for a wonderful look!
4. Multi-Plant Tray
Use an old vintage press tray as an inspiration to make a succulent planter out of it, which can hold multiple plants.
You'll need a large piece of plywood, ruler and pen to mark the tray layout. Cut the plywood to resemble the tray compartments and add potting soil.
I also recommend using wood stain to achieve the vintage appearance of the press tray.
5. Succulent Wall
If you have an old shadowbox, you won't need to do any woodworking. A deep picture frame will also work.
Cut the wire so it matches the size of the box or frame and staples it in place. You'll also need to cut the holes in the wire to hold the succulents.
Make several boxes like this to cover the large wall surface and create a stunning vertical decoration.
6. Rectangular Succulent Planter From Pallet Wood
Classical rectangular planters work well in every indoor setting. You can make one with a pallet of wood and use it to plant single specimens or several succulents at a time. A miter saw, nail gun and hammer are all the tools you'll need to make a classic geometric planter.
Do markings on the pallet before you make the cuts. I also recommend using sandpaper to make the surface around the cuts smoother.
Connect the pallet wood pieces with a nail gun and your planter is ready. Painting the planter is optional!
7. Grow Succulents in The Bowl
If you don't feel very crafty, here is an idea to try! Grow your succulents in the decorative bowl! Or use a plain white bowl and paint it yourself!
Put the pebbles on the bottom of the bowl before you add potting soil to improve the drainage. Then, plant the succulents and use your bowl as a table centerpiece.
8. Unique Driftwood Planter
With driftwood, you can make a wonderful indoor succulent planter made from outdoor supplies! Next time, you go for a walk, look for a well-preserved piece of driftwood, medium to large.
The project will take about half an hour. Use a drill with a special hole cutting attachment to simplify the process. Once you drill the holes for plants, fill them with soil and add plants. Combine moss with plants to get a fuller appearance.
Quick guide for making a beautiful planter from old driftwood piece.
9. Kitchenware Succulent Planter
A combination of an old teapot, teacup and old bowl on a cake stand is another variation of the three-tiered planter. You can keep it in the kitchen to make it stay in the kitchen theme!
All you have to do is drill the holes in the size of the cake stand rod in a bowl, teapot and cup. Put a layer of pebbles on the bottom of each dish and then add potting soil. It should ensure good drainage and prevent root rot in your plants.
Clean the kitchenware with a paintbrush!
You can see this video to know more:
10. Triangular Succulent Display
Most succulents prefer a lot of sunlight. So, keep them near the window, on a window sill, for example. The alternative is making the triangular hanging succulent planter which you can use to hold tiny plants.
A wood rack is good for the project, and you can use live or faux succulents for it.
11. Magnetic Succulent Pots
For the next project, prepare a set of strong magnets to attach to the refrigerator or other magnetic surface. You can make them out of cement in less than 15 minutes. However, the drying time will take some, and you can plant them as soon as they are dry.
Also, use spray paint to decorate the planters and fill them with one plant per pot. Glue the magnet on the backside of your homemade planters and attach them where you want!
12. Narrow Planter Box
A narrow planter box will be a wonderful decoration for your console table or any other limited space. You can repurpose any narrow box, such as a tea box or make one yourself from plywood. Plant mini succulents in it and use wood stain to complete the look.
A 21-inch planter box will be enough for a skinny planter, but you can make it the size you prefer.
13. Repurposed Poultry Feeder
A lot of things can work as a succulent planter, including the poultry feeder. Because it already has holes, the craftwork is minimized. We can use these holes for mini succulents.
Use a regular drill to make holes in the bottom for drainage. Then, fill the chicken feeder with succulent-suitable soil and add your plants! Rotate your new planter to ensure each succulent gets enough sunlight!
14. Grow Succulents in an Old Colander
If drilling holes seems like an unnecessary fuss, why not use something which already has holes, such as a colander? An old colander used as a planter makes perfect sense. It is also a beautiful gift!
Fill it in with moist cactus soil and a combination of the larger succulent plant to create a unique flower arrangement.
Adding gravel in the bottom is also recommended for excellent drainage.
15. Display Succulents in Favorite Tin
If you like to collect cookie tins, here is finally how you can repurpose them! Drill the holes in the bottom and use them as succulent planters.
If you don't want to drill holes, put a layer of rock on the bottom of the tin. Add cactus potting soil and your succulents!
16. Industrial Planter from Plain Tin
For the next idea, I also recommend using a tin. But, unlike the previous cute cookie tin, this idea focuses on industrial decor. It will look great in modern industrial apartments and is easy to make.
You'll need a metal tin, a piece of rope and succulents, and planting supplies. Put rocks or styrofoam on the bottom to improve drainage and use cactus potting soil. It also works with faux plants.
17. Hexagonal Succulent Planter
Hexagonal wall planters have been a smash hit in the past several years. You use them individually or in a honeycomb pattern. Either way, they look fantastic, indoors and outdoors.
Making a hexagonal planter at home is quite simple. You can also paint it the way you want to match the rest of the apartment decoration.
18. Old Roast Pan Succulent Planter
Don't throw away your old pot or pan! Use it in the garden or indoors as a cute succulent planter! I found that pans work great for succulents and are easy to set up.
Succulents need little water and simple maintenance. You can also find vintage pans in thrift shops and repurpose them to make beautiful retro succulent planters! The possibilities are endless!
19. Elegant Planter For Tiny Succulents
Elegant brass succulent planters require a little effort to make, but it is worth it! You'll need several different sizes of PVC drain caps for the project. A power drill, aluminum sheeting in the brass shade, and permanent spray adhesive are required for the project!
Each brass planter will work for one medium-sized succulent or several others. These brass planters look best when you display them together!
20. Wine Bottle Planter
Displaying your succulents in a wine bottle is a statement decoration, which will fit in any interior decor. Nowadays, you can purchase already made succulent planters in the shape of a wine bottle or cut one by yourself. Cut the bottle in half vertically to get the most planting space.
Be careful not to cut yourself and use a hand-held glass cutter for the most precise work.
Let's see this video:
21. Rainbow Planters
Gorgeous rainbow succulent planters can be displayed on a sunny window where they will shine in their full beauty! Making them looks more complex than it actually is.
You'll need various pieces of crockery you can buy in thrift shops, glue, and spray paint! Combine them to create lovely planters and fill them with pebbles, soil, and succulents.
22. A Clock-Like Planter
Here is an attractive idea to try – a vertical, wall planter – shaped like a clock! Attach planters to the spots where the numbers for hours should stand.
A planter like this is perfect for succulent enthusiasts! You can display your whole collection with it. Or only add plant compartments on certain positions and wait to fill in the entire clock as your plant collection expands.
Use tiny terracotta jugs or small ceramic planters for succulents.
23. A Simple Tea Cup Planter
I already mentioned that ceramic is an excellent material for succulents. Therefore, using a teacup as a planter makes sense and allows you to experiment with various plant combinations and cups design.
Don't forget to pierce the holes in the cup bottom for drainage and put a saucer to collect excess water. If you have a large succulent collection, use a pack of cups to create a stunning plant display!
24. Cute Toy Planter
Are there any old toys your kid isn't playing with anymore? Save them and convert them to fantastic decorative succulent planters!
If you don't have kids and you like the idea, you can purchase suitable toys in dollar stores and make lovely modern planters.
25. Souvenir Planter
Traditional wooden shoes from the Netherlands are decorations on their own. But if you plant succulents in it, things become even better! These Dutch shoes can also be used for other plants, not only succulents.
If you hang them on the wall, you'll get an attractive vertical planter you've always wanted!
26. Vintage Metal Oil Container
Almost anything can work as a succulent planter, including an oil container, but you need to adapt it a little.
First, cut off the top of the container, remove the label and paint it. Then, drill the drainage holes and holes on the sides where you will place your succulents. I recommend placing a trailing succulent on top for the best effect!
27. Monogram Succulent Planter
Monogram planters are charming and look cheerful in every indoor or outdoor setting. Professional florists charge a lot of money for a monogram floral arrangement, but you can make one at home.
Once you create the monogram base in the shape of a letter you want, you can use it to plant real or faux succulents.
28. Succulent Ball Planter
Hanging planters are always an excellent idea for a patio or indoor setting. If you want to try something new, consider a traditional Japanese art called Kokedama ball.
The process is actually quite simple. You'll need rooted succulent plants, twine, soil, moss, and simple tools such as a knife and scissors.
29. Tropical Succulent Planter
Bring the tropical vibe into your home with this stunning seashell planter! Pick a large ocean shell for the planter so your planter can accommodate more succulents.
You can find big seashells in souvenir shops anywhere near the ocean. Don't forget to drill the holes in the shell for drainage.
Take good care of your succulents no matter where you grow them
30. Star Planter for Most Beautiful Succulent Garden Ever
When you feel especially crafty, take your time and make your star-shaped planter. You can make it from plywood or pallet wood.
Sketch the construction before you start and make precise cuts. Add pebbles and soil and create a unique succulent combination for this lovely planter! It will also become your favorite decoration for the 4th of July.
31. Cute Mason Jar Succulents
Lastly, if you have only basic tools and supplies, pick a Mason jar planter for your succulents. It is easy to make, frugal, and can be combined easily with all other items.
The formula for success focuses on multiple-layer structure. The pebbles go on the bottom, covered by a layer of loose and well-drained soil. Then, you can plant your succulents on top and decorate jars according to your preferences.
Indoor Planters Don't Have To Be Dull
Most people pick ordinary pots for their plants. But, with a little bit of inspiration, you can make your plants even more attractive! I like the wine bottle planter and a star-shaped one, but I wouldn't mind making a succulent clock planter!
Which idea seems the most wonderful to you? If you have more inspirational ideas, please share them in the comments!
I hope you found the list useful! If you did, please share the article with your friends and come back for more gardening ideas!