Are you looking to upgrade your plant display and build an indoor window plant shelf? Here are some ideas you can use in every space!
Most houseplants do well near a window because they receive a lot of sunlight there. But, how do you store and display them to look stylish and don't come in the way when you want to open a window and get some fresh air?
Additionally, when you install a practical indoor window shelf, you can expand your indoor garden and nurture more plants than ever.
So, let me walk you through the most attractive designs and DIY projects for window shelves!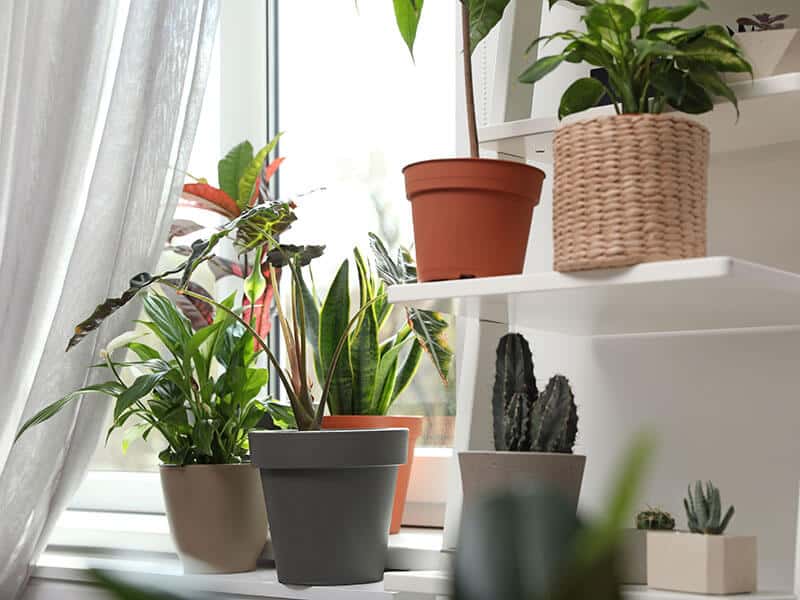 1. Floating Window Shelves
You can create simple acrylic shelves which can hold smaller plants. If you have heavier pots, you can glue two acrylic shelves together. Or buy thicker acrylic sheets. Prepare glue, manual saw, drill, screws, poly-acrylic sheets, and thin pieces of timber for frame.
The first thing to do is get all the measurements, including the height and the width of the window. Then you can make the brackets for the shelves and continue building a frame.
Sand the brackets to achieve a smoother finish.
Wait for the glue to dry before you put your plants on the shelves!
2. A Solution For Hanging Pots
If you have a small window and a few hanging pots you don't know where to store, here is a simple idea to try. The shelf/hanger works great for kitchen windows as well!
Prepare several round wood dowels, curtain brackets, and clip rings. You also need jute or macrame as holders for your pots. Hang them with a clip ring once you have mounted the round dowels.
Trailing succulents are great plants for this idea because they need a lot of light and look great in the hanging pots.
3. A Simple Shelf To Hang On The Window
A hanging plant shelf is a great way to include your flowers in the decor. Luckily, the shelf you can hang on the window is easy to build, and won't take more than several hours! Use a rope and two pieces of wood for a shelf with two racks.
If you need more racks, prepare more wood planks. Eye hooks and a drill are must-have items for this project.
Make the holes for the rope on the ends of the wood planks. If you want to customize the shelf, sand it lightly and coat it with a wood stain of your choice. Once the shelf is complete, tie the knots on the sides and find a place to hang the structure.
Let's see this video:
4. Easy Shelf For Deep Window
If you have a deep window with seating, you can make a practical tall shelf and ensure plenty of sunlight for your plants.
I recommend pine wood, because of its durability. Also, get construction adhesive, wood paint, and a piece of plywood. First, build the interior support so your shelf can hold the plants. Then cut and prepare the board you'll mount on the support.
The project is simple, it includes drilling and measuring, and only basic skills and tools! You can paint the shelf to match the style of your room!
5. A Shelf For Herbs
If you don't want to fuss with multiple rack shelves for your herbs, here is the simplest DIY window shelf for your herbs.
The magic of this shelf is in its simplicity! You'll have to screw corbels on the side of the window frame. Ensure they are leveled with each other. Then, put the 1-inch board on top, and your shelf is complete!
6. Removable Window Shelf
Furniture with removable pieces is great if you want to save space. A removable window shelf is a better solution than displaying your plants on the windowsill. It is more decorative and allows the plants to absorb more sunlight than on the sill!
To create a removable shelf, make two blocks and install them in the corners. Once you assemble the shelf, check if there are some exposed edges. You touch them up with sandpaper and paint to make the shelf prettier!
7. Compact Shelf For Kitchen Window
Having a window in the kitchen is practical to get rid of all cooking smells! A south-facing kitchen window is also a great place to grow plants that need full sun exposure!
Get a pine board and cut it to the size of your window. Install two brackets on the sides of the window and put the board on top. Caulk the edges to improve the look and fill in the split seams to get a beautiful shelf!
8. Self-Standing Plant Shelf
If you have a large and heavy pot you want to display in the sunny window, a self-standing shelf might be a sturdier solution than the mounting ones.
Basically, the shelf consists of three pieces – sides and top board. Install angle brackets to hold the top rack and display your most beautiful plants!
9. Elegant Glass Window Shelf Between Cabinets
There is so much you can do with pre-cut tempered glass. Prepare round moldings, and you can make a glass window shelf! Decide which height you want your glass shelf to stand on and mark the height.
Pre-drill holes on the side cabinets and install the support. Gently install the glass sheet, and your shelf is complete.
10. Pipe Corner Shelf
Pipe shelving is the latest trend in interior design and is suitable for people who prefer the industrial interior style. You make a pipe shelf yourself or get the one from handmade websites and customize it to match your window height. Making a pipe shelf might be slightly trickier, but the right tools and materials will simplify the task!
Heavy and sturdy pipe shelves can hold more than 100 pounds of weight and can be great for heavy plants.
You can see this video to know more:
11. Attractive Window Shelf
Some window shelves can be used indoors or outdoors. The construction is the same. Start by trimming off parts of the window sill. Next, you need to build sturdy shelf brackets.
If your window, hence the shelf is longer, you can build brackets to support the shelf on the sides and in the middle. Then, drill the holes to prevent wood splitting.
Once you assemble everything, attach the shelf to the wall.
12. Transparent Shelves With Gold Brackets
How many times have you heard that beauty lies in the details? If you want to decorate your space, thick transparent shelves with gold brackets will help! You'll need several acrylic pieces, a drill, brackets, tools.
Don't forget the gold spray paint, which will upgrade the entire design! Lightly coat the brackets from both sides with gold paint. Let them dry thoroughly before using them. You can add two layers of paint for durability.
Also, make sure to mark everything before you start drilling because when you work with acrylic.
13. Two-Racks Plant Shelf For Window
The next project includes two racks – one is mounted inside the frame, and the other one goes outside the window frame. A design like this gives you more space to grow your plants indoors.
The inside-the-frame shelf might be slightly trickier to build because you'll have to make a few more cuts and use L-brackets. The second shelf isn't fancy and includes side brackets and a few holes with screws to hold the top board in place.
Once you install the shelves inside and outside the frame, you can paint them to match the color of your window.
14. A Beautiful Iron Hanging Shelf
A combination of iron grating and a thick piece of rope works well with industrial elements of interior design. It is also quite easy to make by yourself.
You can use whatever iron grating you have, even an old barbeque grating will work. The key is to learn how to tie sturdy knots, so your shelf is secure. You can tie it to the curtain pole or hang it on the nails.
15. 2 in 1 Shelf And Curtain Rod
Here is a timeless design that will work in every space and for every window! The window shelf goes above the window frame, so use it to display plants that don't need a lot of sunlight.
Before you start, head to the home improvement list and get all supplies – curtain rod, hooks, shelf brackets, wood, screws. If you don't mind doing an extra step, get the paint you want to customize the color of your structure.
Cut the wood to match the width of your window. Sanding the wood will make it extra soft, so the paint will lay smoother. Add anchors to hand the brackets you need for the shelf. Then, put the shelf on and secure it with screws in the front holes. The back holes hold the curtain rod.
16. Suction-Cup Shelves
Suction cups shelves are often used for bathroom supplies. But, you can also use them for displaying small plants! These shelves will work great for herbs or plants in the propagation process.
It is a cheap and effective way to create simple window shelves. However, the trick is to make the suction cup stick as good as possible. You need to follow the directions and rub something greasy to have the cup stick better to the surface! You can use vaseline or coconut oil.
17. Pipe Hanging Shelf
I already mentioned that pipes are great construction material for DIY projects. Start with a simple pipe hanger with excellent visual effects. It also provides additional space that allows you to expand your plant's collection.
The most challenging part of the project is attaching the pipe to the ceiling. Once you do that, you can use S-shaped hooks to hang the plants.
I recommend using iron pipes, iron elbows, connectors, and pipe nipples to ease the process.
18. Multifunctional Window Shelf From a Shoe Rack
The beauty of DIY projects is that you can repurpose practically anything and create modern and practical pieces for your home.
Each shoe rack needs two brackets for mounting. You can install them above the window. You can simply put the shoe rack on the brackets and secure them with wire. Use a piece of twine to disguise the wiring and make the shelf more attractive. Put the plants in pots on the shelf and attach hanging pots on the rack for a more stunning effect.
19. Box Shelves For The Window
The next idea works great for all types of windows, but especially for deep and narrow windows. Each flower will get its dedicated shelf. You can use plywood to make the shelf because it is easy to work with and only requires basic tools.
Draw a sketch of the shelf before you start, and ensure you leave space for the taller plants to develop! These open boxes can be replicated many times you want as simple shelves in all corners of your home.
20. Small Pallet Wood Window Shelf
If you have a short window just above your sink or kitchen working surface, you can use pallet wood to create a small window shelf. Measure the distance between the working surface and window to ensure your plants are leveled up with the window glass.
That way, they can get the sunlight they need. If your pallet is old and doesn't look attractive, sand the wood and apply wood stain to make the shelf prettier!
21. A Shelf Like No Other
Swiveling shelves aren't that common, but they are very attractive and practical! You can make one yourself with industrial pipe and plywood. Prepare a sturdy pipe and two boards for the shelf. You'll need an additional stopper that will hold the board from gliding down.
Drill the holes in the boards before you attach the pipe to the window side. Then, put the put through the board and secure the boards in position.
Inspiration you needed for swivel shelf you can use for speakers or plants.
Bring Your Plants To The Light With Best Window Shelf
As you can see, there are plenty of ideas for you to try to provide your plants with enough sunlight! Window shelves are easy to make and can be a fun DIY weekend project.
I like the last idea, the swiveling shelf, and I have already been looking for the pipes and the required supplies. I like it because I can provide my plants with a lot of sunlight but hide them during the warmest parts of the day. Which window shelf fits the best into your home?
If you enjoyed the article, please give it a thumbs up!