Magical plants intrigue people for centuries and longer, and now is the time to learn more about them! Some are associated with mystic properties, and others were common in various rituals throughout history.
They are also common in fairy tales and folk stories from all parts of the world. These magical plants wake imagination and intimidate children and adults! Let me walk you through the most comprehensive list of magic plants that capture people's imagination until ancient times!
The plants may intimidate or delight you, but you certainly won't stay indifferent towards them!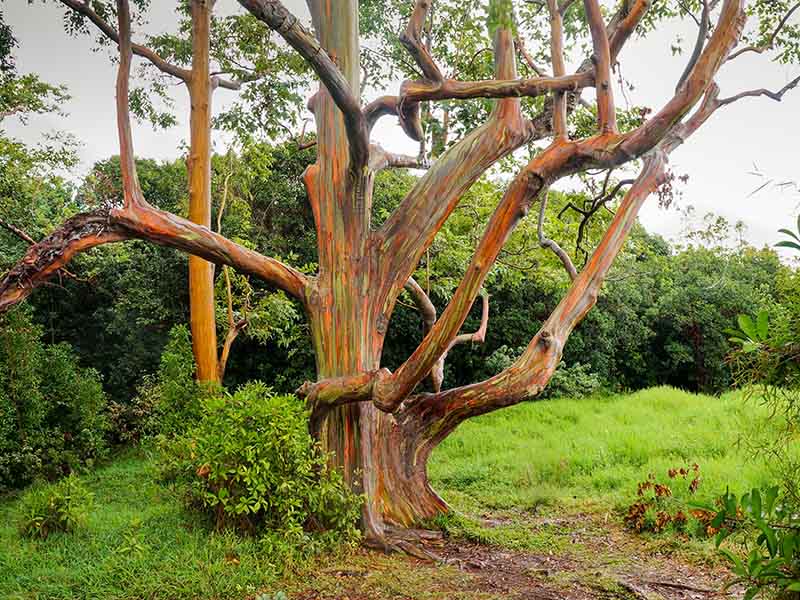 1. Strangler Fig
Strangler Fig or Ficus altissima is one of those intimidating plants. It grows on host plants which the Fig slowly chokes to death! The spooky characteristic of Strangler Fig isn't exclusive to this cultivar only. There are other Figs with similar behavior.
On the other hand, Strangler Fig has a hollow center, which serves as a natural habitat for small bats and some birds.
The ideal zones for growing Strangler Fig are from nine to 11 because of the rare freeze and warm day temperatures, even during the winter.
You can grow it from seedlings, and it will need time to establish on the host tree. During storms, Strangler Fig works as additional support to the host tree. It may prevent it from breaking.
2. Dragon's Blood Tree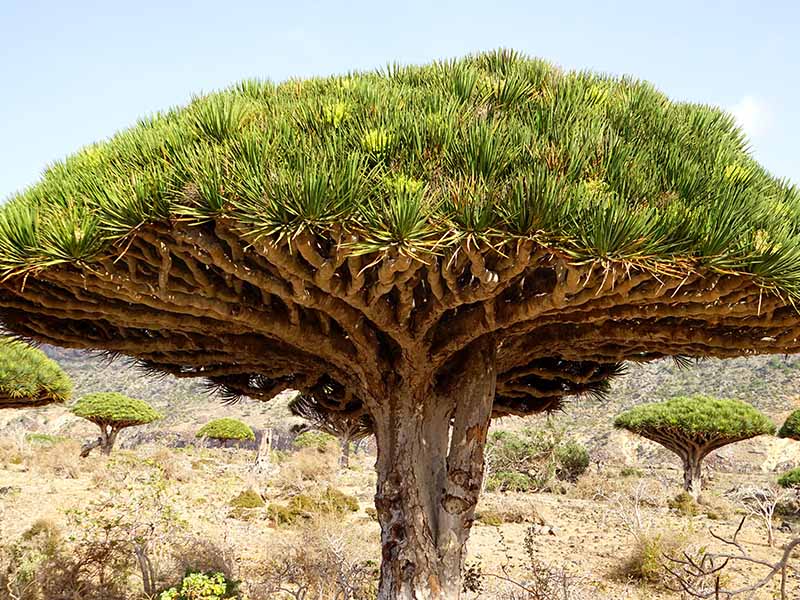 Dracaena cinnabari, or Dragon's Blood tree has a centuries-long history of various uses in human communities. It was a part of certain magical ceremonies, and people used part of the tree for healing. Dragon's Blood tree has been used for wood staining.
You can grow Dragon's Blood tree from seeds, but ensure you purchase good quality seeds from a reputable dealer. After planting, baby Dragon's Blood tree needs approximately three months to show. At first, it will grow as a palm, and then it will slowly get the shape of a mature tree.
The soil needs to be kept moist at all times. Dragon's Blood tree likes partial shade, with morning sunlight exposure. Too much sunlight can burn it.
Don't harvest red sap from Dragon's Blood tree, it can be harmful to the tree.
Things to know before growing a magical Dragon's Blood tree in your garden.
3. Rainbow Eucalyptus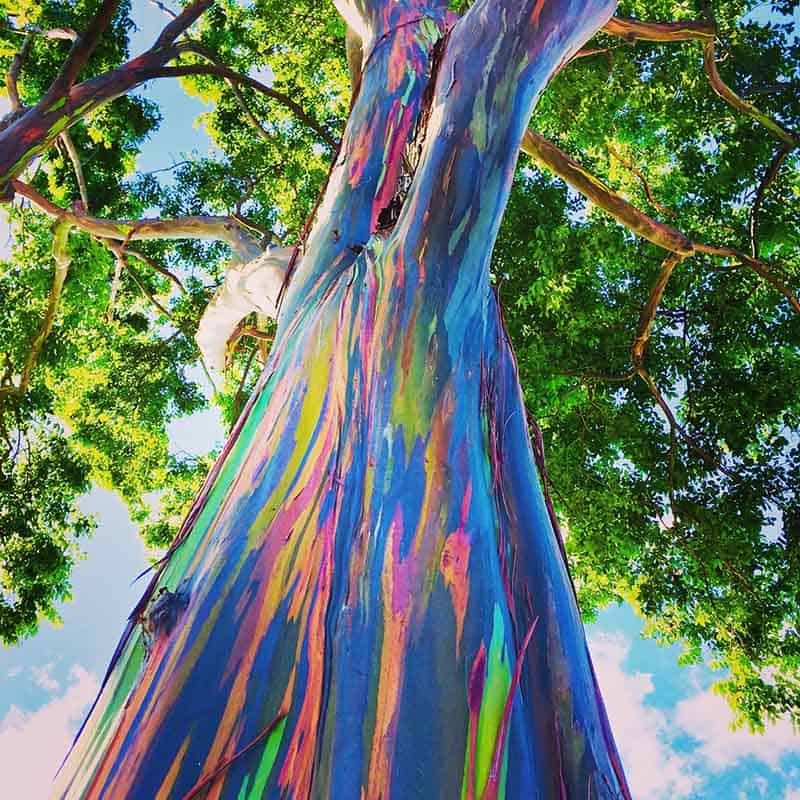 The unusual appearance of Rainbow Eucalyptus inspired many legends. The scientific name of the tree is Eucalyptus deglupta. It is one of the most enchanting plants ever discovered.
Rainbow Eucalyptus features unusual orange, purple, green, and red stripes. These go through down the trunk and branches and stand against darker bark.
Rainbow Eucalyptus is a fast-growing tree. It needs plenty of space to grow and develop to its full potential.
Outside tropical native habitats, the colorful stripes might not be very showy. But, Rainbow Eucalyptus is still one of the most beautiful trees for your garden.
It grows best in acid and neutral, evenly moist soil. Plant it in a full sun location for best results! Expect the tree to grow up to 100 feet tall in ideal conditions!
4. Tillandsia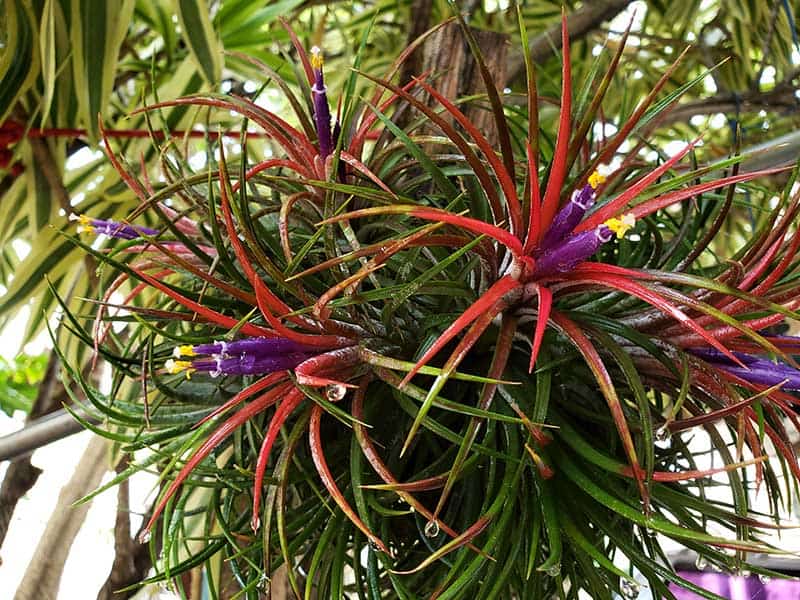 Tillandsia is an air plant. It doesn't need soil to grow, which fascinated people from an early age! Over time, people associated the sense of freedom with it! The plant is colorful and brightens up every room!
If you are a modern nomad or know someone like that, Tillandsia can be a perfect plant!
When growing Tillandsia, ensure protection from cold and drought. The ideal temperature for Tillandsia is above 60 degrees Fahrenheit. This unusual plant also needs several hours of bright, indirect sunlight to develop!
Tips to grow happy Tillandsia
5. Shame Plant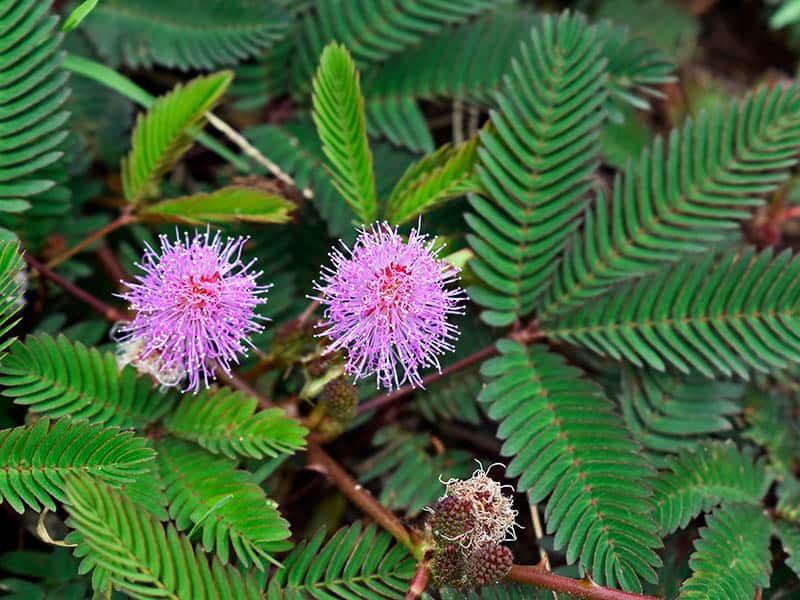 The Mimosa pudica or Shame plant is one of the most intriguing plants ever. It features rare phenomena which allow the plant to close its leaves when you touch it.
Nowadays, scientists know that closing the leaves is a reaction to the pressure change in the plant's cells. It is also part of a defensive mechanism against predators.
In the past, people associated various symbols with the plant. The plant is called Touch Me Not or Zombie plant.
It is a low-growing creeper that grows in Central and South America. In Asia and Australia, Mimosa pudica grows an invasive weed. Mimosa pudica can be over five feet long and less than half feet tall.
People grow Shame plants as annual garden plants or houseplants. If you live in a tropical climate, you need to monitor the plant to prevent it from spreading too much. The plant can't survive cold, and it makes a perfect houseplant.
Mimosa pudica needs full sunlight or partial shade. Well-draining soil is a must, as well as medium moisture. It is better to water the plant consistently than soaking it in water because it can cause rotting.
6. Venus Flytrap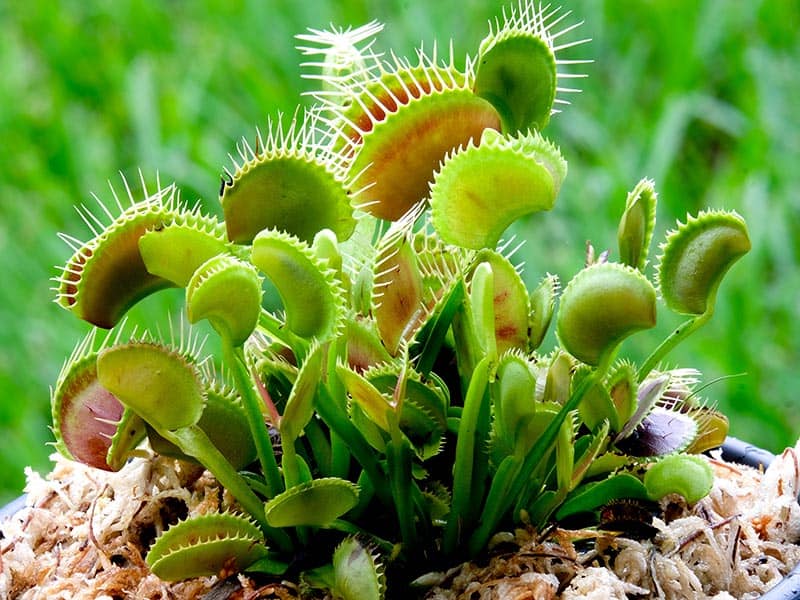 Venus Flytrap or Dionaea muscipula might spook you at first sight! It is a carnivorous plant, actually a predator that captures flies and insects to feed!
Because it is such an unusual plant, people often struggle to take good care of it. The first and most common mistake people make when taking care of Venus Flytraps is improper feeding. Because it is a carnivore, people believe it can eat human-grade meat! If you feed the plant with your dinner leftovers, you will kill it quickly. Only spiders, mites, and flies are suitable.
In general, Venus Flytrap isn't fussy. It goes into dormancy like many other carnivorous plants.
7. Living Stone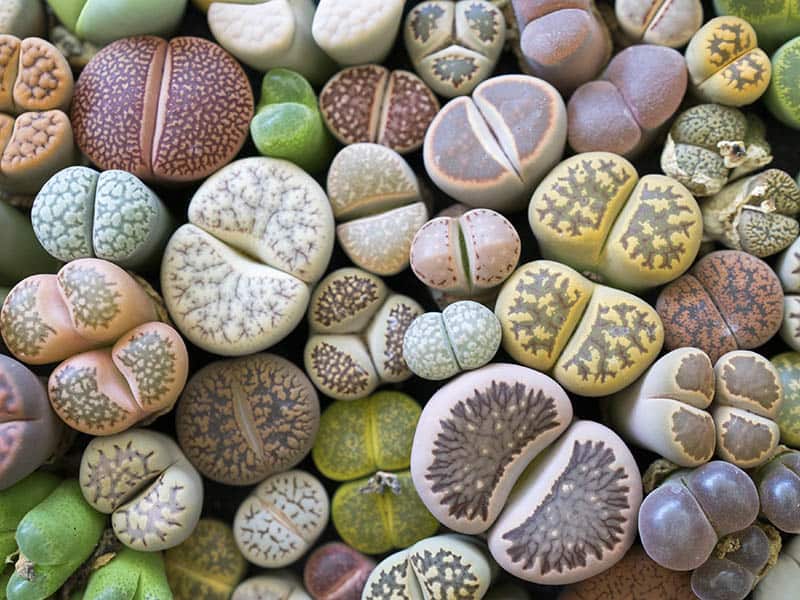 Lithops are succulents called Living Stones because of their remarkable similarities to rocks. Living Stones are native to Southern Africa, but they appear in folklore stories around the world.
For example, in Scandinavian Stories, stones may come to life to save you from trouble! Lithops are the only rocks that can do that!
These succulents resemble stones as their natural defense mechanism. They blend into the rocks, and the predators don't eat them.
Lithops have two leaves and a tiny stem. During the blooming season, in the autumn or the middle of the summer, Lithops bloom with a fragrant flower that appears between two leaves.
You can grow Lithops in acidic, alkaline, or neutral soil. Plant them in full sun and water scarcely because they don't need a lot of moisture to thrive. On the other hand, too much water can kill them.
8. Deadly Nightshade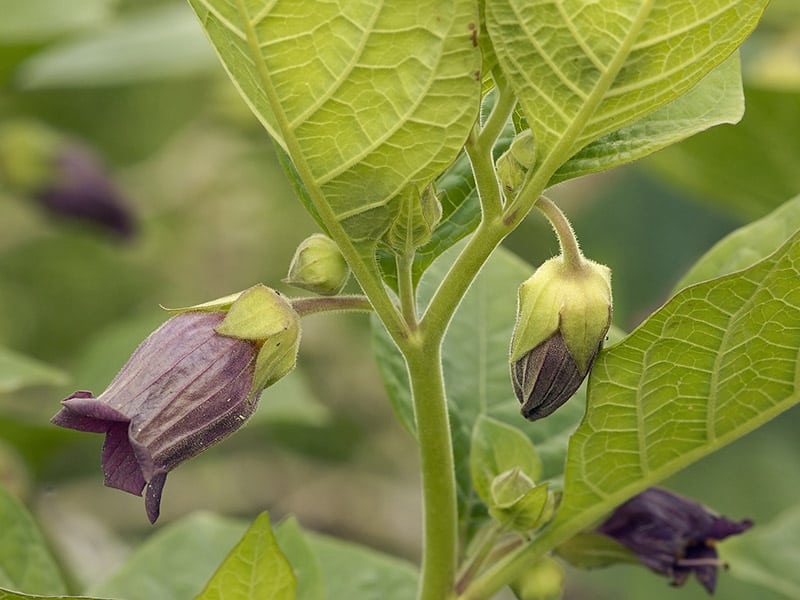 Deadly Nightshade or Atropa Belladonna is a perennial plant with a spooky history! Belladonna is famous for its role in witchcraft. Interestingly, Belladonna was associated with flying sensations.
However, the actual effect Belladonna has on humans is hallucinogenic. In some cases, when applied after being soaked in fat, Belladonna can make humans feel as if they are flying. Some also reported astral projection sensations.
Belladonna is in the flowering season from June to September. It develops a beautiful, enchanting dark purple bell-shade flower with a green coloration.
Deadly Nightshade grows as a native plant in woodlands in Great Britain. It is more common in southern parts of Great Britain than elsewhere, and most legends surrounding the plants come from there. Belladonna grows in chalky soil.
Also, people used Belladonna as a cure for abdominal pain and sickness. Some believed Belladonna is a Devil's plant! Whichever you choose to believe in, never eat Belladonna berries. They are poisonous to humans.
9. Black Bat Flower
Black Bat Flower doesn't look like a usual flower! It looks more like an animal than a blossom! The scientific name of the plant is Tacca chantrieri.
The flowers symbolize strength, confidence, and progress! People believe the Black Bat flower promotes good in people and helps them use their energy for good!
The black Bat flower comes from Asia and features black blooms with bracts around the flowers. You can grow the plant from seeds, but the process is a bit tricky. Black Bat flower has unique growing requirements which are more suitable for experienced gardeners than newbies.
You need to allow the seed to mature to get the best chances for germination. Then, plant the seeds in high-quality moist potting soil and don't move them for a while. In general, the Black Bat flower is sensitive to location changes and needs time to adapt to new conditions.
The Black Bat flower is native to tropical areas. Therefore, ideal conditions are warm temperatures, high humidity, and filtered light.
Fool-proof guide for growing Black Bat flower.
10. Night Sky Petunia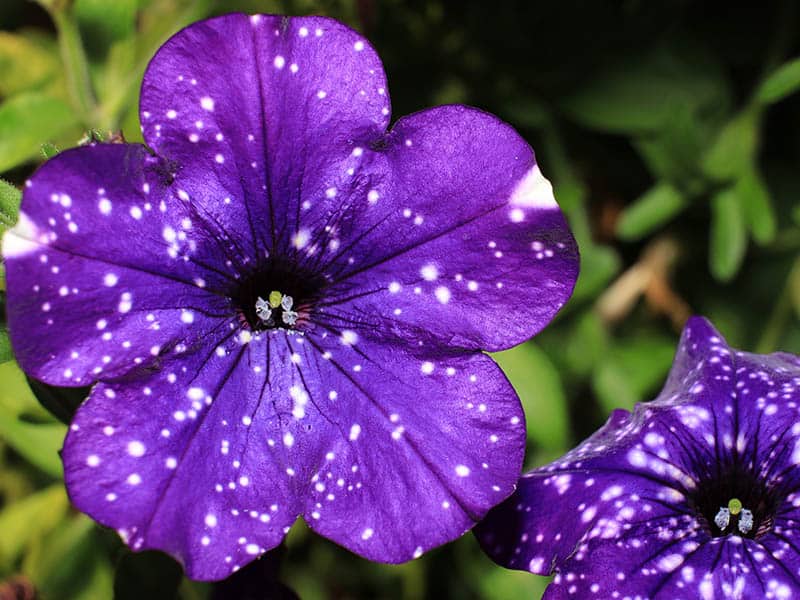 Night Sky Petunia is a magical plant with wonderful blooms. Each flower of the Night Sky Petunia is believed to represent a tiny universe! It inspires imagination and decorates your garden in such a unique way.
Next, Night Sky Petunia is a new cultivar and has been around only for several years. But, it is quickly gaining popularity because of the attractive blooms!
If you decide to grow Night Sky Petunia as an annual plant, you can do it without any struggle.
Petunia will bloom when it receives at least six hours of direct sunlight. Night Sky Petunia flowers won't be showy if the plant doesn't receive enough sunlight.
Lovely Petunia needs well-draining, fertile soil. Next, your Night Sky Petunia becomes a heavy feeder in poor-quality soil. Frequent fertilization will induce continuous blooming!
11. Flame Lily
Flame Lily or Gloriosa is a magical plant that symbolizes honor and glory. People also associate Flame Lily with passion, beauty, and purity. But, this unusual magical flower can be difficult to handle, because every contact with skin causes skin irritation. Additionally, Flame Lily is a highly toxic plant for humans.
Flame Lily is easy to grow in zones ten and 11. But, you can also survive in zone nine with the help of a winter mulch. After planting, the soil needs to be evenly moist. As the Flame Lily grows, you should reduce the watering frequency.
Flame Lily is a climbing plant, so don't forget to ensure trellis or supporting structure!
Full growing guide for Flame Lilly.
12. Girlfriend Kiss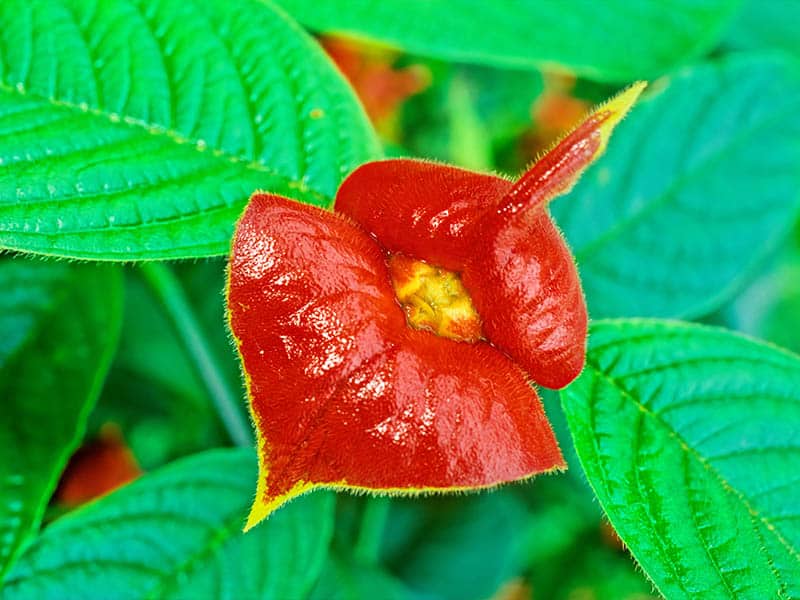 Girlfriend Kiss, scientifically Palicourea elata, is a cold-sensitive perennial plant with bright red blooms. It is often called the Hot Lips plant!
Hot Lips needs well-draining soil and temperatures above 70 degrees Fahrenheit to grow.
Palicourea elata is a well-known psychedelic plant. People used it to treat pain, importance, and infertility. Therefore, some believed in the magical features of the Hot Lips plant.
The Hot Lips plant grows as a shrub or small tree. It attracts birds and insects.
Also, because of the unusual look, name, and symbolism, Hot Lips is a common gift for Valentine's Day in the USA. It is native to Costa Rica, Ecuador, Panama and Columbia.
13. Huernia
Huernia guttata, or shortly Huernia is native to Africa, and it is a well-known succulent. The plant is called Lifesaver because the central parts of the flowers look like a lifesaving belt!
It is a low-maintenance plant with attractive blooms. In its native habitat, the Huernia grows underneath shrubs and small trees. The unusual plant needs a lot of sunlight to develop showy flowers and stay healthy. However, too much bright sunlight can cause scalding, so finding a sunlight balance might be tricky.
Magical Beauty of The Plants World
Learning more about each plant is a magical experience. But, with the plants from the list, get ready for the unexpected! The magical plants are beautiful, inspiring, intimidating, and unique Mother's Nature gems.
With the exception of Night Sky Petunia, magical plants confused people for a long time. Nowadays, you can grow these head-turners in your garden and enjoy their superior appearance and unusual nature!
Which plant is the most fascinating for you? I like them all!
If you enjoyed the article, please give it a thumbs up!