Do you want to know the muskmelon VS cantaloupe difference?
Both are sweet and healthy fruits, and the terms are often used interchangeably. But, to avoid looking like a fool in front of other people, read the article to the end to understand what muskmelon and cantaloupe and why you should never mix the two!
In general, muskmelon and cantaloupes have similar growing requirements. The two fruits are about the same time in season! They are delicious summer treats, both used in salads, smoothies, and with numerous health benefits.
Here is what you need to know to distinguish the two!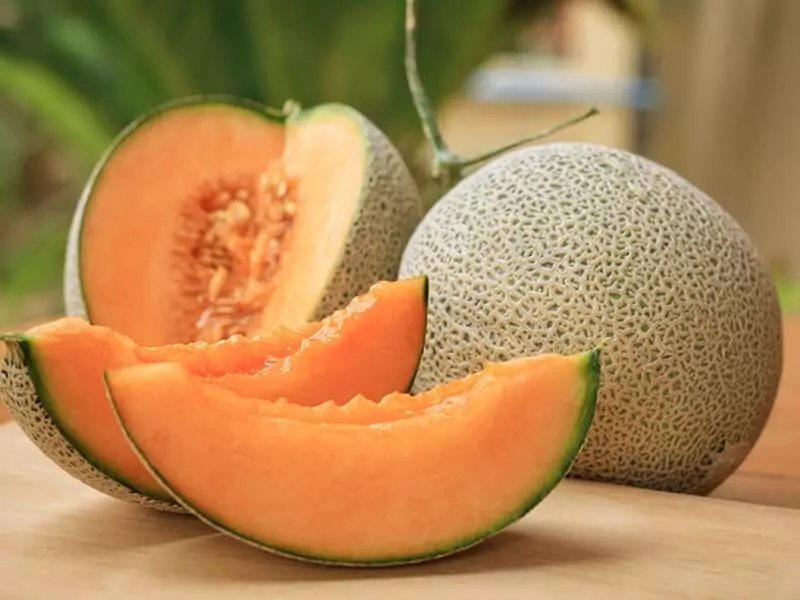 Are Muskmelon and Cantaloupe the Same?
In simple words, all cantaloupe fruits are muskmelons, but not every muskmelon is a cantaloupe. Is it clearer now? As you can see, muskmelon and cantaloupe aren't the same things.
Muskmelon is a name of the popular, sweet melon people adore for flavor and health benefits. Cantaloupe is a term used to describe two varieties of muskmelon – North American Cantaloupe and European Cantaloupe.
You have probably heard of honeydew, Persian melon, Santa Claus melon. Those are all varieties of muskmelon.
All muskmelon varieties look similar, and it is easy to get confused. In addition, sometimes you can notice wrongly labeled fruits in supermarkets, which only contributes to the confusion. But, after this guide, you will never be in a dilemma again.
Muskmelon VS Cantaloupe: Differences
Let's go through each important fruit feature so you can identify cantaloupe and muskmelon easier. If you have noticed additional differences between the two, please don't hesitate to share them with me!
Appearance
Muskmelon and cantaloupe aren't easy to distinguish with a simple glance. It takes a closer look to notice slight differences between them.
The average muskmelon weighs around 1.5 pounds. The average cantaloupe is twice as heavy. The shapes are similar and most cantaloupes and muskmelons are round to ovate, with a slight squat shape. You can also find elliptical and oblong cantaloupes.
The muskmelon skin is tanned and ribbed. It is smoother to touch than cantaloupe's skin.
Cantaloupe features light green, net-like skin. The difference between North American and European cantaloupe is in the shade because European cantaloupe is slightly paler compared to the American cousin.
Muskmelon flesh is high in water and features a bright orange color. Cantaloupe is more salmon-hued and has a central seed cavity.
Difference between vertical and horizontal production of muskmelons and cantaloupes.
Origin
The scientific name of the muskmelon is Cucumis melo. This sweet fruit is native to Persia (Iran nowadays). The name of the fruit also tells the story about its origin!
Musk in Persian translates as perfume. It refers to the rich and sweet aroma of muskmelon features.
Muskmelon was mostly grown in the west and eastern and western Iran. India and Afghanistan are also native habitats of muskmelons.
Muskmelon was used in the ancient era for medicinal purposes. Later, it was Columbus who brought muskmelon seeds to Europe and contributed to the global spreading of this wonderful fruit.
Cantaloupe is believed to come from South Asia and Africa. But, some sources specifically refer to Egypt as the native habitat of cantaloupe.
Taste
Muskmelon has a sweet and slightly bland flavor, with a dose of musky aroma. North American cantaloupe has a subtle flavor, slightly fresher. European cantaloupe is sweeter but in a subtle way.
In general, muskmelon and cantaloupe are sweet, fresh and juicy packed with plenty of nutrients.
Nutritive Value
Muskmelon and cantaloupe have very similar nutritive values. Cantaloupes are exceptionally healthy, potentially healthiest muskmelon varieties. Compared to honeydew, for example, cantaloupe has fewer calories and carbs. At the same time, cantaloupes are richer in fiber, vitamin A and vitamin C.
One cup of sliced cantaloupe, which is equal to 156 grams, contains on average 53 calories. The same amount contains around 13 grams of carbs, 2 grams of fiber, and 1 gram of protein.
Cantaloupes are richest in vitamin C, and only one cup of sliced cantaloupes ensures 64% of vitamin C's daily intake. Vitamin A, B6, K, and minerals Potassium, folate, niacin, thiamine, and magnesium are also present in cantaloupes.
For comparison, the same amount of honeydew, another popular muskmelon variety, contains half the amount of vitamin C, more calories, and fewer minerals and fiber.
Use
Because cantaloupe and muskmelon are similar in taste and texture, people use them interchangeably in the kitchen.
The best way to consume cantaloupe or muskmelon is to eat them fresh, chopped, and peeled. You can add them to salads, fresh desserts, juices, and smoothies.
They pair well with other fresh fruits and nuts. But there are also some surprisingly great flavor pairings for muskmelon and cantaloupe. You can mix them with olive oil and sliced cucumbers, add them to sour cream, or prepare a dipping sauce from lemon, honey, and may.
Like most other melons, cantaloupe and muskmelon go heavenly with prosciutto, fresh basil, and olive oil!
Muskmelon Easy Salad To Try
If you are looking for a simple and refreshing summer salad, try the muskmelon salad with muskmelon and fresh mint.
Prepare:
1 cup of cubed muskmelon
2 tablespoons chopped fresh mint
1 lemon
A pinch of sugar, black pepper, and chili powder
Mix spices with cubed muskmelon and squeeze a juice of one lemon. Chill the salad and serve with freshly chopped mint leaves! Add mango cubes and pomegranate seeds to make the salad more colorful.
Cantaloupe Quick Sorbet Recipe
Here is a quick and refreshing cantaloupe sorbet recipe to try. You won't even need to use an ice cream machine for it.
Prepare:
1 medium-sized cantaloupe, sliced in cubes and frozen
1 tablespoon lemon or lime juice
2 tablespoons raw honey
2 tablespoons water
Mix frozen cubes of cantaloupes with the rest of the ingredients in a food processor until you get a smooth texture. Add more water until you are satisfied with the texture!
Health Benefits
Cantaloupes and other varieties of muskmelons are associated with great health benefits. Let's take a look at why you should pick cantaloupe over other muskmelon types and fruits!
Cantaloupe Is Rich in Beta-Carotene
Compared to other orange fruits, cantaloupe is richer in beta carotene. Those include apricots, oranges, tangerines, nectarines, mangoes, and peaches. Fresh cantaloupe contains as much beta carotene as the carrots, the queens of this nutrient!
When you eat cantaloupe, beta carotene converts to vitamin A and helps against free radicals. It is a double power of this sweet fruit. If you aren't a big fan of carrots, cantaloupe can be an excellent alternative to including more beta carotene in your nutrition.
It contributes to eye health, a healthy immune system, and red blood cells production.
Cantaloupe Is A Great Source Of Vitamin C
As I already explained, a cup of cantaloupe contains more than half of the recommended daily intake of Vitamin C. It maintains healthy blood vessels, contributes to collagen in bones and muscles.
Vitamin C also helps fight against diseases, such as common cold, asthma, diabetes, some cancer types, glaucoma, etc. Overall, vitamin C from cantaloupes is your great ally in maintaining overall body health!
Cantaloupes Are Great For Pregnant Women
Cantaloupes are rich in folate, also known as vitamin B-9, one of the most important supplements in the prenatal period. Folate and folic acid help prevent neural-tube defects and contribute to the healthy development of fetuses and the health of pregnant women.
Folate also prevents memory loss and may reduce the risk of certain diseases.
Cantaloupe Prevents Dehydration
Cantaloupe is rich in water. Therefore, eating cantaloupe as a snack keeps you hydrated and alert. Hydration is essential for kidneys, healthy blood pressure, and digestion.
If you don't have a habit of drinking water, bring a box with cantaloupes with you at work. The sweet and fresh flavor of the fruit will also protect you from mild dehydration symptoms, such as headache, dizziness, and dry mouth,
Cantaloupe Prevents Constipation
Because cantaloupes contain high fiber content, they can prevent constipation. At the same time, fiber-rich food contributes to weight loss, because fibers keep you fuller for longer. Because of the high-fiber content, cantaloupes reduce the risk of diabetes and certain heart diseases.
Cantaloupe Contributes To Nerve Health
Because cantaloupe is rich in potassium, an essential mineral, this sweet fruit contributes to nerve health. It also maintains proper muscle contractions and is recommended for physically active people.
Varieties
When talking about muskmelon and cantaloupe varieties, you need to distinguish the following. Cantaloupe is a variety of muskmelon, which includes two cultivars – North American and European cantaloupe.
On the other hand, there are several muskmelon varieties, including cantaloupe. Let's take a closer look at the most popular muskmelon types.
Complete guide to pruning cantaloupes and other melon types.
Cantaloupe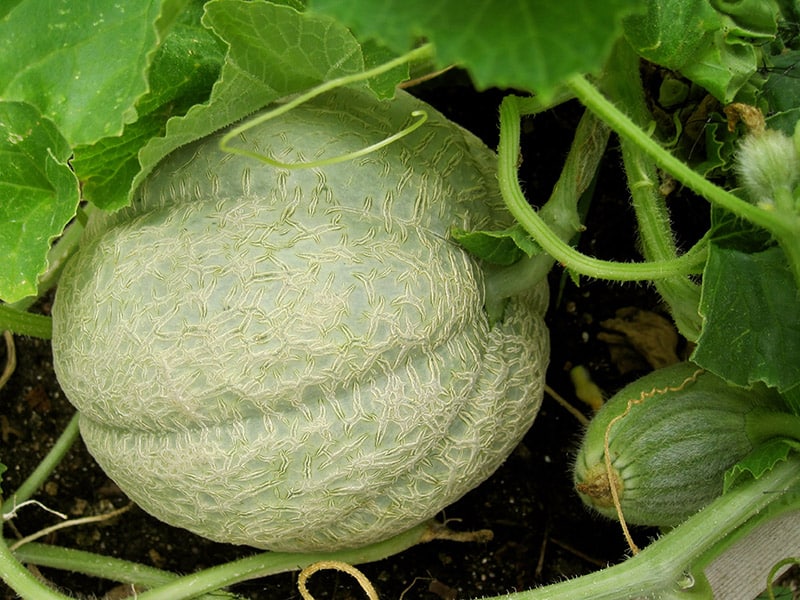 Cantaloupe is a popular variety of muskmelon. The scientific name is Cucumis melo cantalupensis, and it belongs to the Cucurbitaceae family. It is sweet and fresh, commonly eaten in salads, raw or in sorbets and smoothies.
Honeydew
Honeydew muskmelon features smooth rind and doesn't have the typical muskmelon aroma. It features sweet flavor and soft flesh. Unlike other muskmelons, honeydew flesh is pale green, compared to predominantly orange flesh in most muskmelons.
The scientific name is Cucumis melo L. (Inodorus Group) Honey Dew.
Santa Claus
Santa Claus is a variety of muskmelon, often referred to as Christmas melon or Toad skin. It belongs to the same family as Cantaloupe, the family of Cucurbitaceae. Santa Claus muskmelon is native to Spain and features an ovoid shape.
Growing Requirements
Muskmelons and cantaloupes are in season during summer. Ripe cantaloupes are available from June through September, and some other muskmelons can even be ripe in early May.
Growing muskmelons in your garden requires an average monthly temperature range between 65 and 75 degrees. However, muskmelons and cantaloupes need a dry and warm time to ripen. If the summer is not as warm and there are lots of rains, your fruits might struggle to ripe.
In general, growing muskmelons and cantaloupes is very similar. All muskmelon types, including cantaloupes, require excellent soil drainage and air circulation. It will prevent fungal diseases, rotting and allow simpler harvest.
When planting musk melons and cantaloupes, you need to keep the distance between plants. It will prevent common foliar diseases, such as Alternaria leaf blight.
Don't forget to plant cantaloupes and muskmelon in full sun and amend the soil with compost or organic matter to boost the nutrient value of the soil.
Keep the weed at a minimum and keep young plants off the ground. Use an upside-down flower pot as support. That way, the cantaloupes, and muskmelon vines can grow freely.
Frequently Asked Questions About Muskmelon and Cantaloupes
Are things clear about muskmelon and cantaloupes? Let's break things down about the most commonly asked questions about muskmelon and cantaloupes!
Muskmelon and Cantaloupes Are Tasty Summer Treats
The core difference between muskmelon and cantaloupe is that cantaloupe is a specific variety of muskmelon. At its core, muskmelon and cantaloupe are the same fruits, with slight differences in appearance and flavor!
Whichever you take, you won't make a mistake!
If you have additional questions about muskmelon, cantaloupe, or other melon varieties, please ask them in the comments below!