Ornamental grasses are getting more popular daily, because of the simple care and beautiful effect they provide. There are different ornamental grasses, and most of them aren't picky about the soil, light, and other growing conditions.
In this article, you will learn more about the use of ornamental grasses, types, and growing tips.
Moreover, I will cover the most important benefits of using ornamental grass in your lawn as an alternative to other plants.
What is Ornamental Grass?
The term ornamental grass refers to a variety of plants that ensure an abundance of texture and are easy to use in garden landscaping. These plants are available in wide color, starting from pink through shades of green and purple.
Ornamental grass is suitable for cold climates because most varieties can withstand cold temperatures and frost. On the other hand, there are also ornamental grasses suitable for hot climates and extreme heat or coastal weather conditions.
On the wind, ornamental grass produces unique rustling and creates an admirable effect. But, some types are highly invasive, and you need to control their spreading.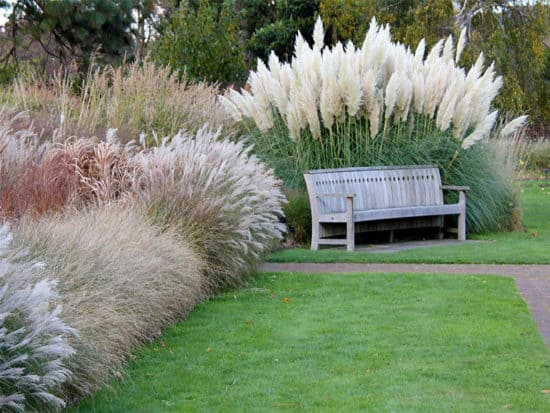 Annual VS Perennial Ornamental Grasses
A large group of plants with the common name ornamental grass includes both annual and perennial plants. The evident difference is in the length of their life – annual die after one season, while most ornamental grasses live for two or more years.
Some grasses are perennial in some zones, while some cannot grow more than one season in a colder climate. For example, ornamental grass called Fountain grass is hardy in zone 6 and can survive for several years. In lower zones, Fountain grass is grown as an annual plant.
If you want to build a beautiful, long-lasting garden landscape, pick ornamental grass that is hardy to your zone.
Top 20 Types of Ornamental Grasses for Your Lawn
Within a wide range of ornamental grasses, it can be challenging to choose the type of grass for your lawn. Hopefully, my selection of the most attractive and easy to grow ornamental grass types will help you pick!
Let's take a closer look at ornamental grasses you can consider for your lawn.
Fountain Grass
Fountain grass has a beautiful shape and soft and feathery texture. The maximum height it can reach is 5 feet, and you can grow it in zones 5-9. On the wind, the grass gracefully moves and creates a stunning effect.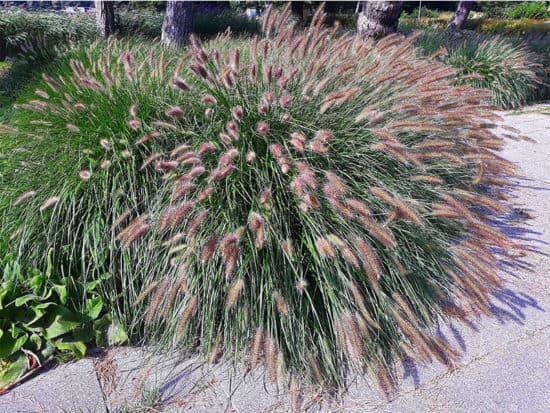 Switch Grass
Switchgrass is native to North American prairies but grown in gardens for decorative purposes in zones 4-9. The grass features airy plumes that turn red in autumn. The maximum height is 5 feet.
Feather Reed Grass
Feather reed grass is a highly popular ornamental grass, hardy in zones 5-9. It can grow up to 6 feet and doesn't require any special growing conditions. The grass thrives on full sun and in well-draining soil.
Cord Grass
Cord grass is not as popular as some other grasses, but it is just as beautiful. The grass grows in moist to wet soils and reaches up to 7 feet. Also, it is grown in zones 4-7.
Hair Grass
Hair grass is evergreen in some climates and has golden and silver plumes. It is hardy in zones 5-9 and can be 6 feet tall.
Blue Oat Grass
Blue oat grass is famous for its unique cold blue shade. The plant isn't invasive and requires no care, and grows in zones 4-9.
Maiden Grass
Maiden grass features narrow and tall arching foliage and has a beautiful shape. The grass also has silvery plumes and reaches up to 8 feet in zones 4-9.
Purple Moor Grass
If you have a shaded garden, you can choose purple moor grass. In autumn the mounded leaves get a goldy look. Besides, the plant is common in zones 5-9 and reaches 5 feet in height.
Little Bluestem
Little bluestem grows up to 3 feet in height and grows in zones 4-9. It has a distinctive sturdy texture and unique grey leaf blades. In autumn, the grass turns violet, purple, and orange.
Big Bluestem
Big bluestem is a tall and easily adaptable plant. It grows in zones 4-9 and usually reaches 8 feet in height. Most people like it because of the blue-green leaves and red shades in fall.
Liriope
Liriope is known for its other names – lilyturf and monkey grass and is frequently used as ground cover. The plant controls erosion and has delightful lavender flowers with blackberry fruits. Liriope is more of a Lilly, but people use it in zones 5-9.
Ravena Grass
Ravena grass is the most wonderful ornamental grass with tall silvery plumes that can grow up to 10 feet. It is hardy in zones 6-9 and grows very fast.
Zebra Grass
Zebra grass features green leaf blades with bright yellow stripes, which gives the plant a unique look. People in zones 4-9 often grow it as border plants.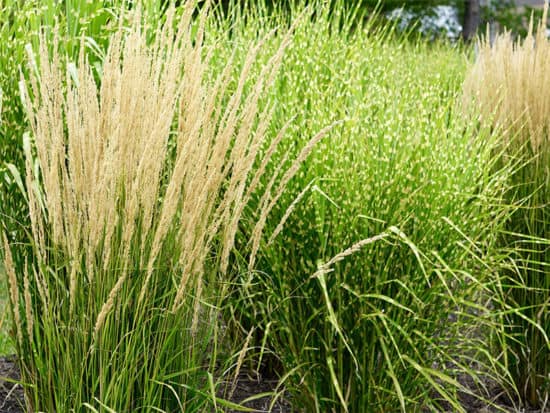 Northern Sea Oats
This grass is often grown for its unique seed heads, which resemble wind chimes. The plant won't grow taller than 3 feet and succeeds in zones 5-9.
Japanese Forest Grass
Japanese forest grass is a short plant that grows only to 1 foot in zones 5-9. It features bright green leaves and prefers shady garden corners.
Dwarf Pampas Grass
This dwarf version of pampas grass reaches 4-5 feet in height and is known for its white and fluffy plumes developing in the summer. You can grow it in zones 6-10, but make sure to control it, because it is highly invasive.
Mexican Feather Grass
During the light breeze, Mexican feather grass creates a charming dance with its long and narrow stems. The plant grows in dry conditions and controls erosion and is commonly grown in zones 6-10.
Fiber Optic Grass
Fiber optic grass is perennial only in zones 10-11. In colder zones, people grow it as annual for its delicate texture and small growing habit.
Purple Millet
Purple millet is an annual grass that grows up to 5 feet in height. The grass has an authentic look with burgundy leaves and makes an impressive decoration in all gardens.
Blue Fescue
Blue fescue is short and people often use it on garden borders. The plant has blue foliage and grows in zones 4-8.
Top 6 Varieties of Ornamental Grass to Grow in Containers
You can grow ornamental grass in containers, too, and place the containers on your balcony, patio, or around the walkway. Here is the selection of the 7 best ornamental types of grass for growing in containers.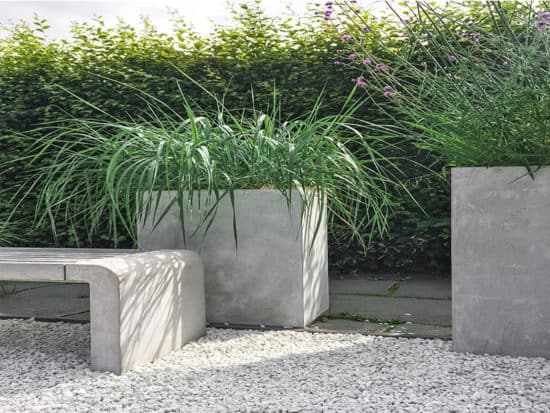 New Zealand Flax
New Zealand flax is one of the most ornamental grasses grown in containers. It has sword-shaped foliage in a wide range of colors, including green, yellow, red, and copper.
Different cultivars grow from 1 to 12 feet in zones 9-11.
Japanese Silver Grass
Japanese silver grass features silver-green foliage and strives in full sun in zones 5-9. The plant doesn't get too tall and grows well in pots and containers, softening the plant display wherever you place it.
Leatherleaf Sedge
Leatherleaf sedge is not grass per se, but it looks and acts like one. When you grow it in gardens, other plants may take it over. That is why it gives a mesmerizing effect when able to stand out with its bronze foliage and narrow blades in containers. It is hardy in zones 6-9.
Bamboo Muhly
Bamboo muhly is native to Arizona and California and got its name because of bamboo-like stems. It is hardy in zones 8-11, but people in colder zones grow it as an annual plant.
Blue Lime Grass
Blue lime grass is invasive and spread fast, so it is better to grow in containers. It won't get more than 3 feet with its blue foliage blades and spiky flowers. The plant tolerates dry and wet soil and grows in zones 3-9.
Japanese Sweet Flag
Japanese sweet flag is excellent if you want something short for the container as the plant won't overgrow 12 inches. It has beautiful gold foliage and a sweet fragrance. The plant is hardy in zones 10-11 and prefers medium moist soil.
Ornamental Grass Growing Guide
Different types of ornamental grasses require slightly different growing conditions. Beginners in the gardening world can grow any type of ornamental grass applying the advice from the following guide.
When to Plant Ornamental Grass?
Ideally, you can plant ornamental grass in spring. You can plant it in the fall in warmer zones.
When you plant grass in early spring, before the summer temperatures, grass will have enough time to develop roots in optimal conditions.
Also, if you live in a climate with harsh winters, you can plant ornamental grass in early fall or late spring to avoid harsh conditions.
Where to Plant Ornamental Grass?
First, you have to decide which type of ornamental grass you want and choose the location accordingly. Most varieties thrive in full sun, but several varieties grow in partial shade or full shade.
For example, you can choose Japanese forest grass or Northern sea oats shade. On the other hand, purple fountain grass tolerates light shade but grows better in full sun.
Blue fescue, little bluestem, and feather reed grass are suitable for full sun locations.
The soil requirements for all ornamental grasses are similar because these plants are adaptable and tolerate different soil conditions. Ideally, the soil needs to be well-draining and moderately fertile. If the soil is dry, you can water the plants more frequently and still get excellent results.
How to Plant Ornamental Grass?
Planting ornamental grass is straightforward, and it doesn't require any special skills or knowledge. Let's see how you can start the most ornamental grasses in your garden.
Plant Seeds
Ornamental grass sometimes has flowering stems with seeds. Planting ornamental grass via seed is very easy.
You can buy seeds in a local gardening center and start germination in the container. Sow the seeds in potting soil with a layer of sand on top. Make sure that the soil is moist all the time.
To help germination, you can put a plastic bag on top of the soil.
Wait until at least two sets of leaves appear and transplant your plants to larger pots or in soil.
However, different ornamental grasses have different germination periods, but you can inspect the seedlings frequently for true leaves. Once they appear, you can continue with the planting process.
Planting Seeds Directly in Outside Soil
Additionally, you can start your ornamental grass by sowing seeds directly in the garden soil. Prairie varieties are excellent for this type of planting. You can do it in the fall to induce spring or summer blossom next year.
Before you plant the seeds, mark the areas for clump seeds with plant markers or any tool you might find helpful, such as a plastic fork. It will help you track the progress of your grass. Also, you won't mix it with other plants in your garden.
Pick the location in the garden which won't get flooded in the next few months. Sprinkle the seeds in clumps and cover them lightly with soil, thoroughly water, and that is all!
Plant Root Balls
Start by digging the hole in the chosen location to plant grass with developed root balls. The hole should be twice as wide as the root ball width and only deep enough to accommodate the entire root ball.
The top of the root ball should be poking 1 inch above the ground level.
Gently remove the plant from the container and place it in the hole. You can fill in the hole with garden soil and soil potting mix for better results. You can also add compost. I recommend soaking the soil with water as you fill the hole up to half. Stop filling it at the ground level, and don't put soil on top of the root.
If the location of the grass is far from water, you can make a water catch basin. Once the plant establishes after a year, you can remove it. Use the remaining soil and spread it around the perimeter of the hole to help collect rainfall. That will reduce the hand-watering, as the water will collect in the basin and keep the soil moist.
You can use a root stimulator to help the plant develop stronger roots and reduce the transplanting shock.
How Much Water Ornamental Grass Needs?
The water needs for ornamental grass depend on the variety. Most of them need watering twice a week once they developed the root system.
After planting, you should water plants every day for seven days. Then, slowly extend the time between two waterings, and end with a twice or once a week watering schedule.
Some varieties such as Golden sedge, common reed, and giant maiden grass prefer much water.
On the other hand, more of them are drought tolerant. Those are pampas grass, zebra grass, blue oat grass, and fountain grass. However, they can tolerate drought after they have been established.
Does Ornamental Grass Need Fertilizer?
The good thing about ornamental grass is that it doesn't need fertilizer. It applies to most varieties, but you can still occasionally feed the grass with a slow-release fertilizer.
Moreover, if the soil is rich in nitrogen, ornamental grass can start looking rangy and floppy, because the nitrogen affects foliage.
You can amend the soil with a balanced fertilizer in early spring.
Use half a pound of 10-10-10 fertilizer on 100 square feet of soil to help the plants during the summer. After that, water the garden area thoroughly.
Control Weeds Around Ornamental Grass
Ornamental grass doesn't do well with weeds. You can control weeds with mulch layers around grass which are especially useful to heavy reseeding weeds.
Should you Cut Back Ornamental Grass?
You should remove dead grass to keep your garden looking tidy and pretty. Cutting back ornamental grass is easy, and suitable for beginners, too. You can use pruning shears to cut back ornamental grass.
However, before you start cutting back your grass, make sure you are familiar with the type of grass you have in your garden to know when to cut it back.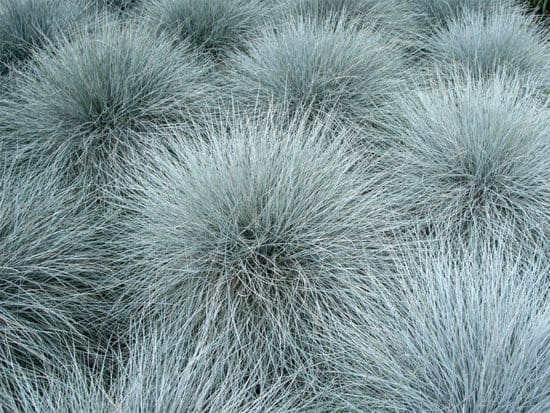 Cutting Back Ornamental Grasses in Spring
If your grass strives in early spring and reaches its full potential until summer, you should cut it before the growing season. These grasses are called cool-season types. Those are blue oat grass, autumn moor grass, fescues, etc.
Cut them back just when the snows clear and avoid cutting too much, as you can harm the plant. Only remove dead leaves.
Cutting Back Ornamental Grasses in Fall
Warm-season grass types, such as northern sea oats, Japanese silver grass, pampas, fountain grass, cord grass should be cut back in the fall.
These varieties grow in mid-spring or late spring as the temperature rises.
Most of the flowering happens during hot summer days, and the foliage turns brown in the fall.
If you don't like the look of the plant in the fall, you can easily cut back dead foliage to improve the plant's appearance. You should cut these warm-season grass types to the ground level.
How to Cut Ornamental Grass?
Some varieties are bushy, and it is challenging to cut them easily. You should wear protective gloves and bundle the stalks to complete the process sooner. I prefer using biodegradable paper tape for bundling the grass easier.
Wide bushy grasses might need to be divided into several bundles for an easier approach.
When cutting back ornamental grass, a rule of thumb is to cut cool season by two-thirds of the plant, and warm-season varieties to the ground.
If the stems are too thick for pruning shears, you might need to use a power hedge trimmer.
When cutting the grass, keep the bundle entire.
Clean up after completing the cutting and use debris for compost.
Also, if you used biodegradable tape, you can leave it on, but remove the vinyl tape if you used it to bundle the stems. How to Propagate Ornamental Grass?
How to Propagate Ornamental Grass?
You can propagate ornamental grass by seed or by division.
Both methods are easy and effective.
Collecting Seeds
Many ornamental types of grass have flowering stems with feathery seeds. You can wait until the seeds are completely dry and collect them, which is usually in mid-fall. Once you collect the seed you can store it with fresh seeds to improve germination. Sow the seeds in containers or the soil and water them thoroughly.
Dividing Ornamental Grass
I prefer propagating ornamental grass by division, as it is a more reliable method. All you have to do is dig the plan out and cut it in half with a sharp knife. Make sure you have one clean cut to reduce the harm on the root. Larger roots can be cut in several individual plants.
Remove rotten or dead parts and replant immediately. Again, water the plant thoroughly.
How to Kill Ornamental Grass?
Ornamental grass can be very invasive and take over large parts of your garden. Therefore, you can control it by digging the plants from the soil.
The simpler alternative is to cut the plant down to the ground level and pour white vinegar mixed with dish soap on top of it. You can also use any weed killer to control it, but make sure to saturate the soil completely to stop the plant from spreading.
If the plant doesn't turn brown in the next couple of days, reapply the solution.
Ornamental Grass Disease
Ornamental grass is resilient and healthy, but some varieties are prone to pests and diseases more than others. You will notice changes in the foliage if something attacks your grass.
Here are the most common issues you may encounter when growing ornamental grass.
Powdery Mildew
Powdery mildew attacks different plants, including ornamental grasses. The symptoms begin on the upper parts of foliage and as the infection spreads, the whole plant gets a powdery look. It can appear when the grass isn't tolerable to shade, or when the humidity levels are high during moderate temperature.
You can transplant the ornamental grass to well-draining soil with sun exposure to prevent powdery mildew. Warm-season ornamental grasses suffer from powdery mildew more commonly than cool-season types.
Rust
If you grow cool-season ornamental grass, you can expect rust problems.
Rust appears on the plant as reddish spots and is easy to treat. All you have to do is cut the infected parts to the ground level or just a few inches above the grant. The plant will recover easily.
Anthracnose
Anthracnose is another fungal disease that spreads via lesions on stems, flowers, and foliage. It happens in moist conditions. It can affect both cool and warm-season ornamental kinds of grass. Sometimes, the disease appears as brown or black growths on the grass.
Treatment
Optimizing growing conditions is the best treatment and prevention for ornamental grass. That includes quality soil with well-draining properties, enough light, and good airflow.
Overfertilization can be an issue, so fertilize the plants sparsely in summer.
You can use a fungicide to treat infected plants or remove all infected parts for the best results.
How to Use Ornamental Grass in Your Garden?
Ornamental grass is versatile and has plenty of purposes in your garden. It can easily improve the look of the garden and lawn, or act as a focal point. Here are several ways you can use ornamental grass in your garden.
Add Privacy
Tall ornamental grass can be perfect for ensuring privacy if you plant it in large groups. Big bluestem and Ravena grass are best for this purpose.
Add Texture
Ornamental grass goes well with all kinds of plants and provides texture and a bolder look. You can combine mounded grass with tall flowering plants or vice versa to create an illusion of a dynamic garden landscape.
Create Charming Borders
Using ornamental grass around the garden borders is a nice way to complete the look of your garden. Also, the ornamental garden can highlight pathways and central points in the garden. Medium tall grass works the best for this purpose.
Around Vegetable Garden
If you grow veggies in the garden, adding ornamental grass can transform your dull garden into a charming space. For example, feather reed grass goes magnificently with rich foliage of eggplants.
Cover the Ground
Short, mounded ornamental grasses are great for covering the ground. They will smooth the weed and improve the whole look of your garden landscape.
Ornamental Grass – Simple Way to Create a Dream Garden
Ornamental grass is a large group of plants that are easy to grow. Most varieties are gorgeous and versatile. You can get creative with ornamental grass to create a dream garden or highlight other plants.
Planting, propagation, and caring for ornamental grass is simple, as well as pruning them. It makes them ideal plants for beginners and creative gardeners.
Which variety is your favorite one?
If you liked my ornamental grass growing guide, don't forget to like the article and share it with your friends and family!