Plant hanging ideas may be more than just a decorative element. For your information, houseplants not only increase oxygen levels and function as natural humidifiers, but they also reduce CO2 and dust levels in the air, making it easier to breathe and less likely to become sick.
Start developing your indoor garden right now with our collection of the most incredible DIY and ready-to-buy hanging planter ideas!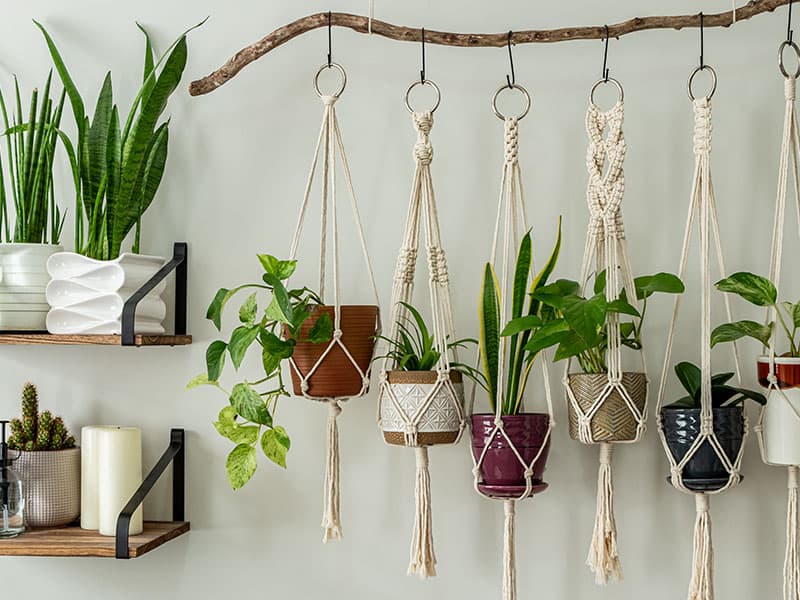 DIY Macrame Plant Hangers
Macrame was trendy in the 1970s. Retro-inspired or boho-chic rooms look lovely with it. To create beautiful fabrics, the macrame uses several knotting techniques. Macrame plant hangers may be hung from the ceiling or the wall. You'll love how your plants liven up your home while they're hanging from an aesthetic and textural appeal.
Here are some DIY macrame plant hangers for your home:
1. Wall Plant Hanger 1
On a tight budget, you may create this stunning plant hanger. This is an excellent craft for macrame novices! Hang your plants and flower pots from this stylish Boho wall plant hanger. Find out more about macrame hangers!
Wall Plant Hanger 1 Full Instructions.
2. Hanging Planter With Beads
The ideal plant hanger for exhibiting pots, plants, or flowers in any room of the house. It may be used to make accessories for your bedroom or bathroom, as well as for a variety of other purposes. This is an excellent project for beginners. For more options, here is another beaded plant hanger!
Hanging Planter with Beads Full Instructions.
3. Hanging Macrame Nest
Your plants are in need of a comfortable macrame nest to relax in. Because it's weaved into loops, this charming Boho plant hanger will catch everyone's eye wherever it goes! Here is a mini version of this nest for your succulents!
Hanging Macrame Nest Full Instructions.
4. Wall Hanging Basket
You may put or store flower pots, fruits, and other items in this hanging macrame basket. A plant hanger that is suitable for indoor and outdoor use. A home décor that is attractive, basic, and functional, what else can you ask for?! Want a bigger version of a macrame basket, discover it here!
Wall Hanging Basket Full Instructions.
5. Dyed Plant Hanger
Discover a unique technique to begin a plant hanger, as well as how to create a beautiful macrame plant hanger using dyes to change the rope's colors! Pair it with your beautiful flower and plant pots. If you are into two-tone color macrame hangers, here are more DIY inspirations!
Dyed Plant Hanger Full Instructions.
6. Plant Hanger With Fringe
This unique macrame plant hanger design will look excellent in any home and will add a touch of Boho to the space by hanging plants from it. Create this macrame plant hanger in a jiffy and fantastic way! Find out how to make a longer fringe for your plant hanger!
7. Plant Hanger Perfect As A Gift
Making a macrame plant hanger is simple as long as you want crafts. With this plant hanger, you can show off your boho-inspired flower pots and plants, and it is a perfect gift, too! Today is the perfect day to make catchy plant hangers for your friends!
Plant Hanger Perfect As A Gift Full Instructions.
8. Owl Plant Hanger
Macrame owl with a basket made by hand. They are a unique way to showcase flower pots and plants in any space, and they're especially appealing to owl aficionados. If you can't get enough of owls, make a plant hanger version for your home!
Owl Plant Hanger Full Instructions.
DIY Plant Hangers For Renters
A great idea if you want to transform your flat into a tropical haven but don't have the room to do so is to invest in some hanging indoor plants. Indoor plants provide color and interest to a dreary space!
The disadvantage of this approach is that you'll have to drill holes in the ceiling for the hooks, which may not be a popular decorating concept with your landlord. Fortunately, there is a viable solution that will not leave us hanging…
Here are several easy-to-make plant hangers that don't need drilling or holes:
9. Coat/Hat Stand Plant Hanger
This DIY plant hanger will give your plants a retro feel with its vintage design vibes. Hanging plants may be displayed on a hat or coat stand, depending on their size. It's ideal for anybody who lives in an apartment or is in a temporary living arrangement.
10. Ladder Plant Hanger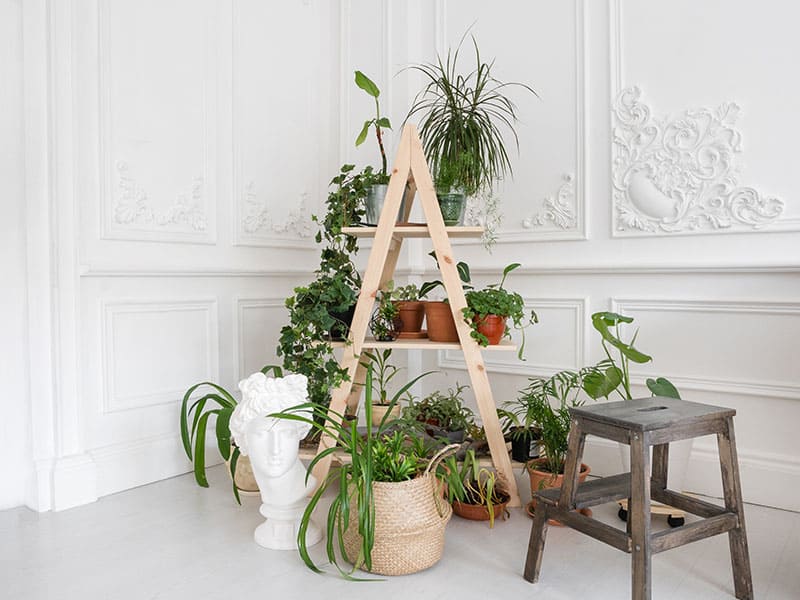 Of course, you could just hang your plants from simple hooks or brackets, but why not take hanging plants to the next level with a DIY ladder display? One of a kind, attractive, and functional—and it can hold far more plants than a single hook or bracket could ever hope to handle!
11. Curtain Rod Plant Hanger
One of the most beneficial aspects of this DIY curtain rod plant hanger for renters is that, assuming you already have blinds put in your window sill, it does not need drilling or nailing nails or hooks into your ceiling. You may now quickly arrange and hang your plants in whatever configuration you like!
12. Tension Rod Plant Hanger
In the past, tension rods have been used to raise curtains and create temporary storage solutions, but many people don't realize that they may also hang plants in various ways. Consider the weight limit of your rods before putting up a whole indoor garden, and be aware of the added load after watering to prevent a loud, messy fall!
13. Wall-Mounted Hook Plant Hanger
Use command or wall-mounted hooks instead of hammers and nails to make your own indoor vertical garden. If you're a tenant, you'll love this one!
14. S-Hooks Plant Hanger
These hand-forged iron s-hooks are ideal for hanging your beautiful plants a little additional length. These are ideal for any size and are sturdy enough to sustain even enormous ceramic planters.
15. Over-Toilet Storage Plant Hanger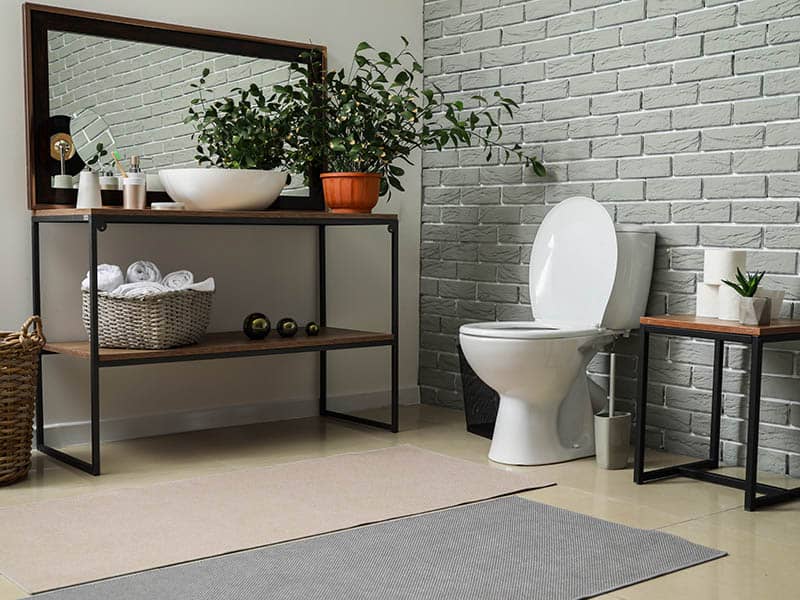 In recent years, houseplants have grown so fashionable that it's reasonable to say they're a design mainstay. And now the trend has spread to every part of the house—even your bathroom! It's definitely spicing up your toilet storage.
16. Clothes Rack Plant Hanger
It's possible to fit as much greenery as possible onto a clothes rack, macrame planters, and a DIY vertical garden. It simply takes a few minutes to put together. If you don't have a patio or a backyard, or if you simply want an excuse to buy more plants, this simple do-it-yourself project is for you!
17. Kitchen Cupboards Plant Hanger
Does the greenery in your kitchen, significantly above the cabinets, seem to be out of date? This is a simple and hassle-free method of putting plants in your place without your landlord's consent!
18. Rod Hooks Plant Hanger
Hooks of various sizes and shapes may be used to hang a plant. Although the location of a hook is not always ideal for every plant, at the absolute least, they do not become an eyesore for your landlord!
With these no-hassle plant hangers, tenants can now decorate their apartments in style.
Easy And Unique DIY Plant Hangers
If you're searching for a fast and creative idea that's suitable for newbies like you, these DIY plant hangers are the right solution. The majority of these hangers can be completed in less than an afternoon, and they are simple enough that anybody can accomplish them on their own.
Here are a few examples:
19. Basket Plant Hanger
Basket hanging planters that are both aesthetic and functional, as well as adorable plants? That, my friends, is a prescription for stylistic success.
20. Boho Hanging Shelf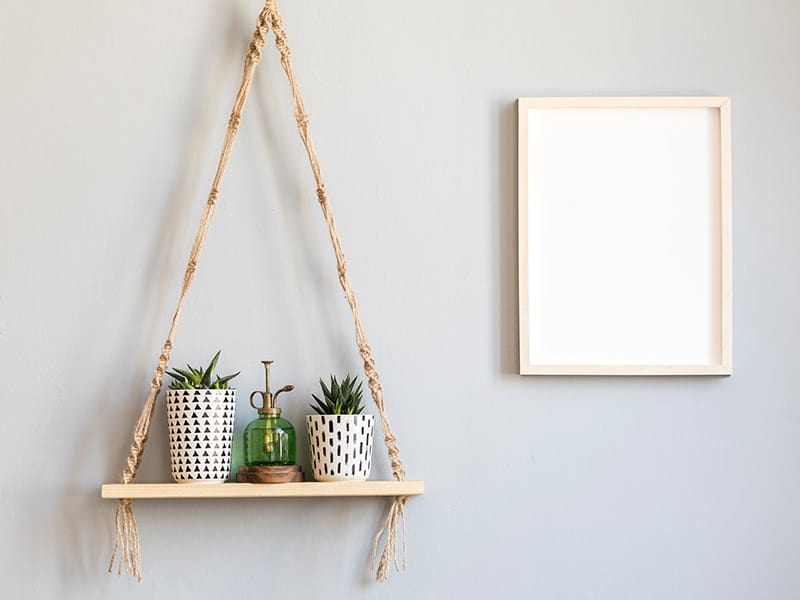 Elegantly display your favorite plants on this Boho hanging shelf. Keeping things basic is a terrific way to inject contemporary flair into your house without going overboard with the frills.
Make sure that the wood shelf is lightweight yet solid enough to prevent it from falling off the wall when you place your favorite things on it.
21. Hanging Bottles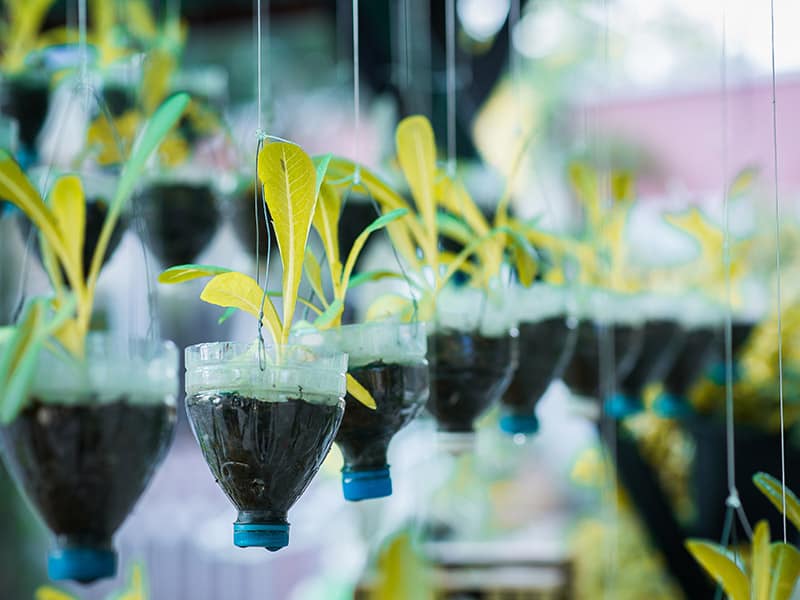 A hanging bottle pot is a fantastic way to turn an empty plastic bottle into something functional and artistic by recycling it! Apart from preventing bottles from ending up in trash cans, it is also a simple DIY project that can be used to hang plants all around your home with little effort.
22. Plastic Containers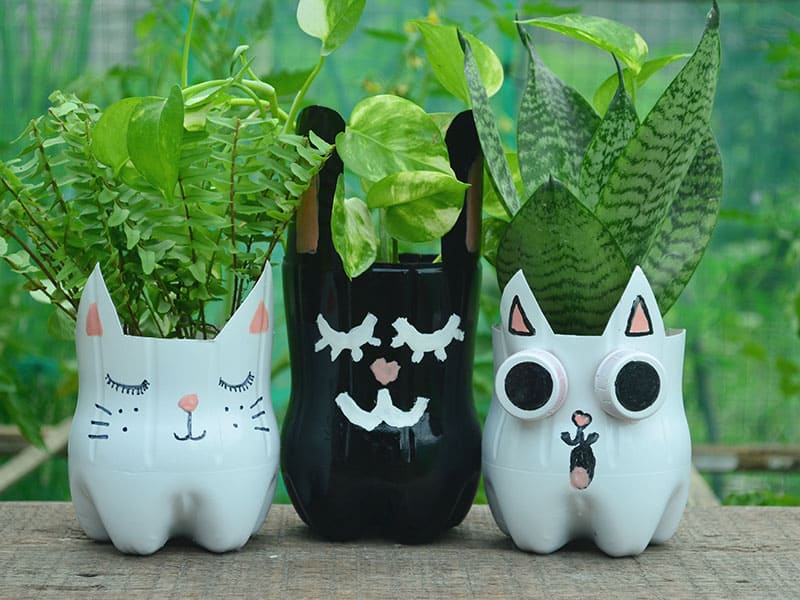 Nothing compares to a recycled plastic container that has been adorned with your favorite pet's appearance. As long as you pair it with some little green plants, you'll be set to go.
23. Three-Tier Planter
If you like succulents, this three-tiered planter is perfect for your home. The fact that it is vertical saves you space in your bedroom or living area, which is essential when you have a limited amount of available space. Make this planter to add warmth to your cozy place!
Here is a summary of easy and creative ways to hang plants inside your home.
Innovative Plant Hangers
Introduce vegetation to your house in the most inventive, exquisite, and fashionable manner with these! Here is a combination of DIY planters and even easily accessible to buy:
24. Hanging Wood Slice Plant Stand
With the aid of this DIY, you can create an incredibly unique plant stand out of a wood slice for your indoor plants! Here are the 4 simple steps to make this cute wood slice plant stand!
Hanging Wood Slice Plant Stand Tutorial.
25. IKEA Stool Plant Shelf
The following IKEA Frosta hack would appeal to anybody like you who enjoys finding creative ways to showcase plants in your house. Create this plant shelf and join the trend for plant selfie on Instagram!
26. Modern Planter Using Floral Hoops
Are you a fan of the simple DIY hanging planter? It's so simple, you just need a few flowery (or brass) hoops, and it makes such a statement. Even in a small space like your bathroom, it will look fantastic in front of windows and on a wall near a bed. You simply need seven materials to create this modern planter!
27. Pine Board Hanging Planter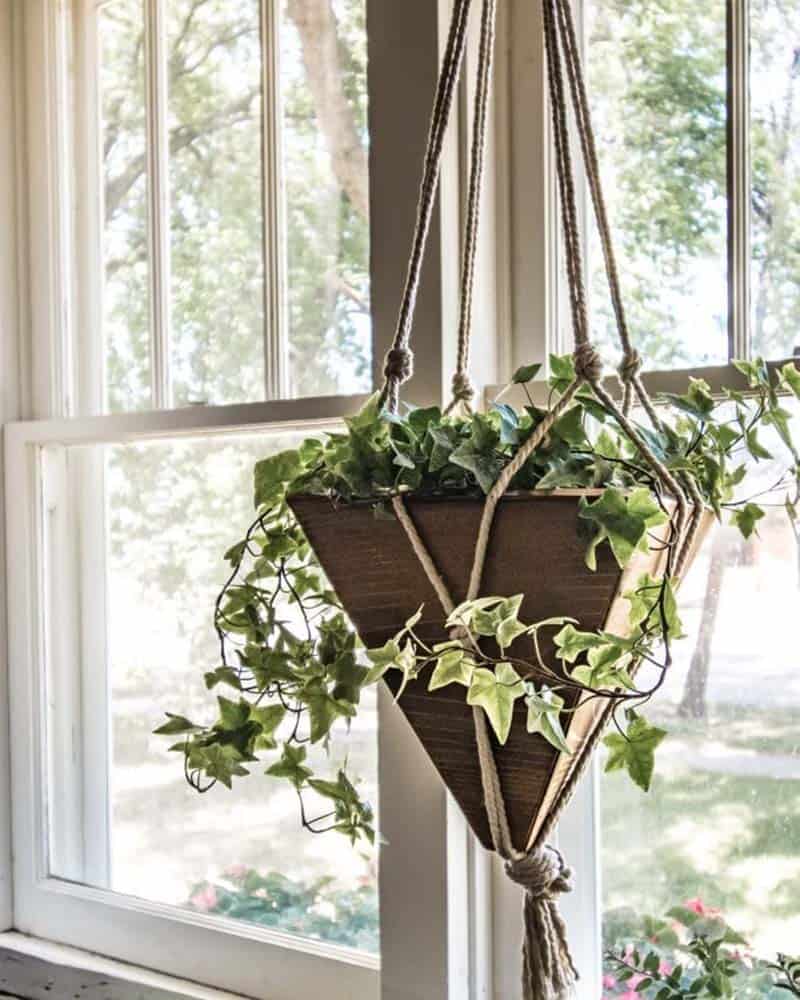 One of those hanging plant ideas for inside that needs a certain amount of handiwork and carpentry. If you love woodwork, this one is for you! Know how to make this hanging planter by not spending too much!
28. Tropical Palm Frond Hanging Planter
This one-of-a-kind hanging planter is made out of a dried palm frond. It's an excellent complement for your flower arrangements and tiny green plants! Creating this hanging planter is a piece of cake!
29. Bottle Lid Air Plant Holders
Are you a fan of unconventional concepts? After spray painting some quirky bottle lids upside down, you can display your air plants in the most fashionable manner! Learn how to make this simple plant holder by using recycled materials!
30. Modern Leather Sling Planter
Simple to make, this sleek leather sling planter is perfect for hanging tiny succulent plants or herbs. This is a lovely and unusual way to show off your gorgeous plants! To know how to make this sling planter and place it in your indoor sunny corner!
31. Colorful Copper Pipe Hanging Planter
Hanging planters are more popular than any other craft right now, but there's always room for improvement! You may also add colorful embellishments like large hand-painted wooden beads and copper pipes. Make a set of three complementing hangers for a cleaner, more ideal home. Try this easy-to-make hanging planter with your favorite beads!
32. Coconut Shell Hanging Planter
This plant hanger craft used a half coconut shell intact. Use it to fill up any gaps around your bigger succulents with little cuttings if you have some. Make this easy hanging planter out of coconut shells now!
Coconut Shell Hanging Planter Tutorial.
33. Urban Hanging Plant Holders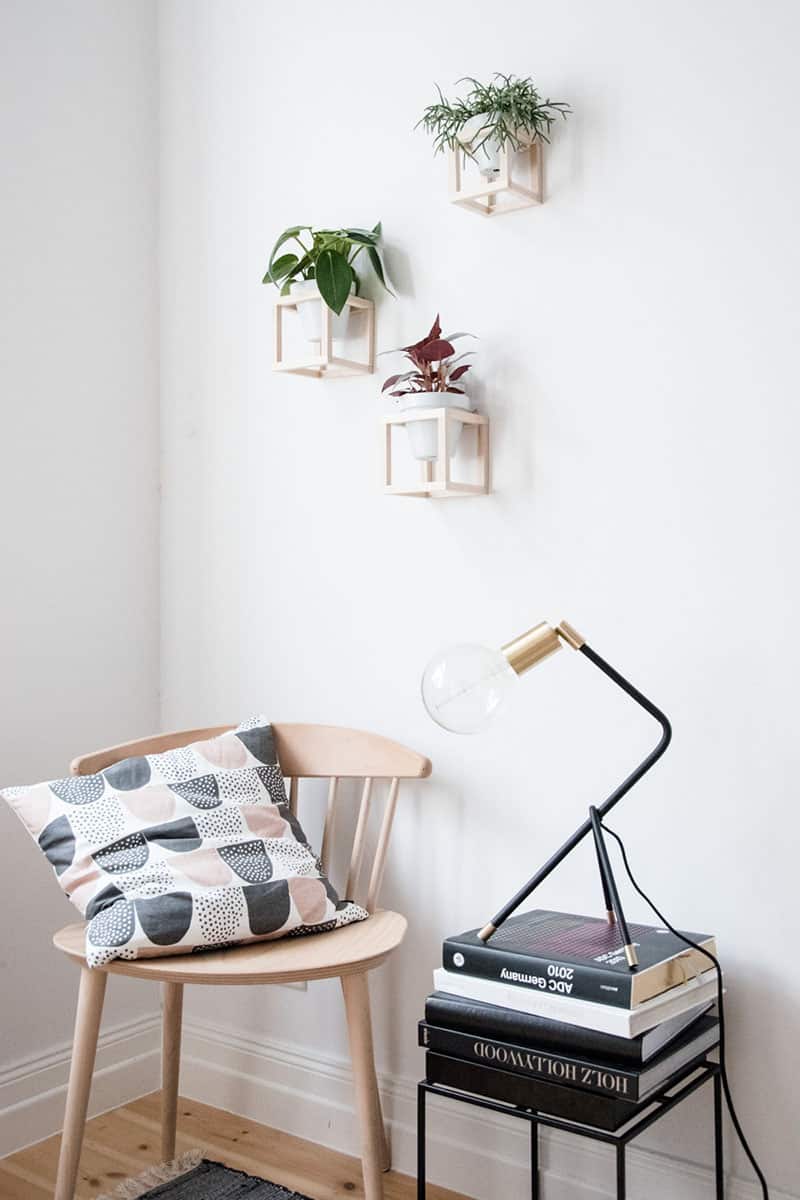 This wall-mounted plant container is appropriate for any urban residence. Select an area of the apartment that is not too dark and put your new plant holder there. Create this plant holder now to test your creativity and woodwork!
34. DIY Air Plant Pendant
Are you someone who appreciates being surrounded by plants all of the time? Why not wear one around your neck when you're out and about? You may also use it to decorate your house.
This unique piece of jewelry serves as an excellent introduction to small-scale wood bending and mold-making techniques. Make this cool planter and fashionable plant necklace in one!
35. Moss Ball Hanging Plants
Kokedama, which means "moss ball" in Japanese, encases a plant's roots with moss. Hanging gardens not only look beautiful but also offer plants with essential moisture and nutrients. Be prepared to get messy by making this cute hanging planter!
Moss Ball Kokedama Planter Tutorial.
36. Mason Jar Hanging Planter
Mason jar hanging planter is one of the numerous methods to reuse mason jars. It's perfect with your wonderful succulents! Make this hanging planter by recreating your unused mason jars at home!
37. Hanging Globe Terrarium
Choose your favorite succulents and place them in a hanging glass globe to create a beautiful display. Bring your terrarium and put it on your ceiling! Set up this eight different globe hanging planter now!
Hanging Globe Terrarium Tutorial.
38. DIY Hanging Plant Lamp
This hanging plant light is a unique way to get some greenery into your house without taking up much space. It may be decorated with your favorite plant, or you can use it to display your most recent floral arrangement. If you are into chic and modern decorations, this hanging planter is for you!
39. DIY Leather Planter
It will get you less than an hour to complete this DIY planter, and all you need is an old leather belt and your favorite plant to showcase it with! Make your own planter with a pair and a spare!
40. DIY Air Plant Sphere
Three embroidery hoops are required for this hanging air plant spherical. The finished product will look great when you hang it in your bathroom! Make this air plant sphere in your homes in 45 minutes!
41. Modern Hanging Planters
Wow, that's incredible! Plastic bottles were used to create these lovely hanging plants. It may be hung on a curtain rod or an ornamental tree branch, anything you like. Follow this procedure to make a hanging planter by using recycled materials you can find in your house!
42. Indoor Herb Garden
Without a doubt, this DIY is one of the most creative methods to grow herbs inside vertically that can be seen on the internet today. Forget about leaving your house to obtain your herbs any longer! Make this indoor herb hanging planter in four easy steps!
43. Copper Air Plant Holder
For this project, you'll make stylish air plant carriers out of copper connections and leather. These are great for folks on a small budget but yet want something that seems to be of high quality! Create this minimalist copper plant holder with just two steps!
44. Tropical Hanging Planter
Inside, this enticing planter emanates tropical feelings that are hard to resist. It seems to be a present that you may give to your friends, or it might be used as a memento, or it could simply be hung in your house! Create this lovely hanging planter by letting your imagination run wild!
Tropical Frond Hanging Planter Tutorial.
45. Plywood Hanging Planters
Are you looking for low-cost methods to spruce up your front porch with some hanging planters? You may want to experiment with these beautiful plywood hanging planters to liven up your porch! This easy-to-make hanging planter may be made without spending a lot of money!
46. Small Hanging Water Gardens
Get some glass jars and hang them from a hook to cultivate little aquatic plants if you want to put as little work into caring for your plants as possible. Create this awesome hanging planter for your low-maintenance plants!
Hanging Water Gardens Tutorial.
47. DIY Crescent Moon Hanging Planter
Are you a big lover of the moon? This air-dry clay plant hanger in the shape of a crescent is perfect for your bedroom! Go and recreate your moon lamp with this crescent moon-shaped planter!
48. Indoor Vertical Garden
Bring your vertical garden inside your house by using repurposed plant holders to add a splash of color to your wall. Create this wall planter and you'll have a newly decorated room in no time!
49. Disco Ball Hanging Planter
This DIY disco ball planter will add a touch of glitz to your home décor, and it is the perfect way to keep your passion for plants and parties alive all year long! For the love of dancing, decorate your home with this cute disco ball planter!
Disco Ball Hanging Planter Tutorial.
50. DIY Hanging Plant Bar
Displaying joyful green plants or little bouquets of flowers on this hanging plant bar is a great way to brighten up any room. Hang this bar over a low bookcase or immediately behind your sofa for a unique display. Recreate this hanging planter with a rod!
51. DIY Painted Metal Planter
Bring some life to your area with these half-moon hanging planters, which are both trendy and functional. Spray paint makes this project fast and simple, and you can match it with your favorite plants to complete the look. Here is a no-sweat DIY planter you can do in just 5 minutes!
52. DIY Hanging Rain Gutter Planters
In another variation of the hanging rain gutter planters, a thicker, hemp-like rope provides rustic charm while also providing more support for the planters. If you have an empty wall, this huge planter will be ideal for adding visual appeal! If you have spare gutters, recreate this hanging planter for your home!
Hanging Rain Gutter Planter Tutorial.
On Choosing The Right Plant Hangers For Your Home
The majority of plant hangers may be effortlessly included in any interior design scheme or house mood you may be attempting to recreate.
Most individuals started to embrace a more environmentally friendly lifestyle, in part, owing to the good elements of making their houses more livable and nature-loving.
Aside from the proper quantity of water and attention, most indoor plants do not need any additional effort. Your house will be converted into a new ambiance with a pair of attractive plant hangers!
So, what kind of plant hanging ideas do you want to try out in your house right now? Remind everyone in your circle of friends and family about it.