Have you ever been compelled with stunning plant wall ideas but hesitated to try something for your space? Now is the right time to assemble a trendy vertical wall created entirely from vegetation!
I gathered the best ideas and created a list that will inspire you to start with your project! You can position your plant wall indoor or outdoor, and the location will help you determine the plants.
Some plants are more suitable for indoor use, but others will make a stunning decoration on your southern or western house wall!
Get ready for the best living wall ideas!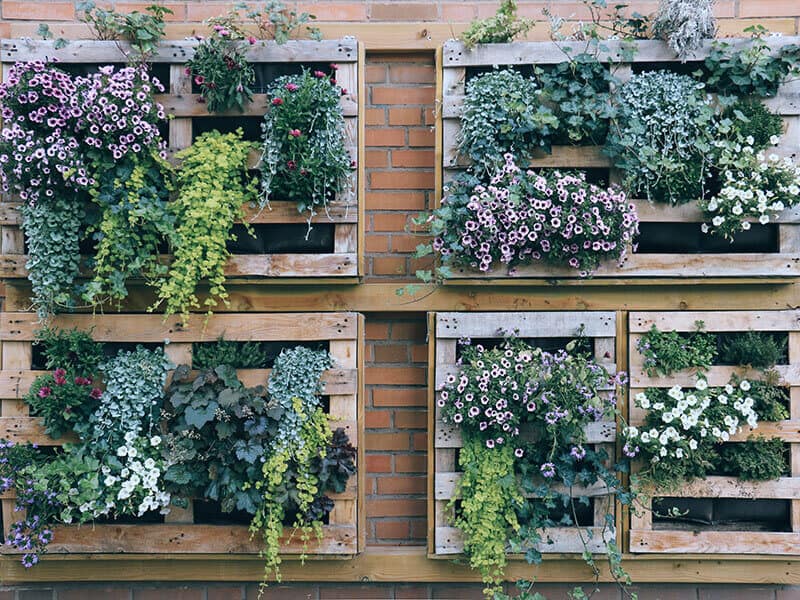 1. Simple Vertical Garden
Here is an interesting vertical garden design to try indoors or outdoors. You can arrange polyurethane sheets and arrange trailing plants for the most beautiful visual effect.
These sheets can be installed indoors or outdoors, but make sure to pick the right plants in terms of temperature and lighting requirements.
2. Stripes On The Wall
The next idea looks elegant and can fit every space, but it is especially good for small living rooms. Instead of creating one bulky vertical garden, you can arrange two narrow vertical stripes.
You'll need the same supplies and conditions for the large garden, including good orientation, water, drainage, and nutrition.
You can see this video to know more:
3. Picture Frame Succulent Wall
Succulents are great plants for vertical gardens. Most of them are low-maintenance and very attractive.
Succulent plants are also perfect for beginners because they can adapt to various conditions. You'll need a slightly larger picture frame, plywood backing, and several other supplies. Don't forget to prepare potting soil, staples, and hardware cloth.
4. Include The Wall In The Shelves Design
If you are remodeling the shelves in your living room, why not make a dedicated space for your vertical garden? That way, the entire structure will look more cohesive, and the garden will become an integral part of your decor. Start with several plants and pay attention to every individual plant.
You can talk with your carpenter about the potential designs and use mesh behind to hold the potting soil and plants.
5. Great Hallway Decor
Bare walls in hallways are great places to start a vertical garden, especially if you have a window nearby or your doors allow sunlight to pass through. On the other hand, if your hallway is dark, combine plants that grow well without sunlight for a maximum visual effect.
6. Plant Pegboard
Here is an interesting idea to try if you haven't made up your mind about vertical gardens entirely. You can build a wooden pegboard and fill it with the shelves and plants you want.
An excellent thing about pegboards is that you can customize the display!
Once you decide the size of the pegboard you need, draw a grid of holes for the shelves. Don't forget to keep a single peg to hold the hanging pots for an even more beautiful plant display! Once you fill in the pegboard entirely with shelves and plants, you'll get a similar effect as if you planted your flowers vertically!
7. Ombre Plant Wall
The Ombre effect looks great on hair, walls, and plants! If you are ready to bring your game to the next level, choose Pothos plants for the living wall ombre project. Pothos plants come in various foliage colors, from neon green to dark green, and those will blend beautifully.
You'll need a couple of days to complete the project, white wall planters, and a lot of patience!
8. DIY Wooden Plant Wall
You don't have to invest a lot of money into making vertical wall planters. First, you'll have to build a sturdy base and frame using wooden planks. Drill the holes and mount wooden pot holders, for the heavy pots with soil and plants. You can also paint the structure to blend better into your interior decor.
9. Customizable Outdoor Plant Wall
Wooden slats offer endless possibilities for practical and decorative outdoor gardening solutions. If you want to expand the gardening space, build a garden fence wall from wooden slats. It will look great on every patio and you can always arrange the pots as you think is the most beautiful!
Fill it with your favorite plants and enjoy your customizable outdoor plant wall!
10. Use a Crib Fencing
If your kids have overgrown their cribs, keep the railings from the crib. You can find a new life for it, and one of my favorite ideas is to become an outdoor plant holder on the patio!
Transformation is simple – set the railings vertically and decide which plants you want to fill your wall with. Then, you can use nails, zip ties or metal brackets to mount the pots on your new wall planter!
You can even paint the railings to match the decor on your patio.
11. Herb Wall for Your Kitchen
Fresh herbs make a huge difference in every meal. I am sure every chef will agree! So, if you are ready for a quick and practical gardening project, prepare a wide wooden plank and get your herbs clippings.
Attach the jars with herb clippings on the plank at a slight angle to improve drainage.
If you have more plants and herbs to grow, you can use a wider plank or connect several planks together to create a stunning plant wall!
You can see this video to know more:
12. Attractive Moss Wall
If you are wondering if moss is a plant, it is! But, instead of flowers, moss produces spores. Anyway, the moss wall makes a beautiful decoration. The creative process is straightforward as well as the maintenance!
Preserved moss works best for this project, and you can use several frames on the wall to cover a large surface.
13. A Wall for Propagation
A plant wall doesn't have to be a permanent structure! Like plants, your plant wall can be living and changing according to your needs. If you have a sunny wall in your home that isn't too close to the AC unit or radiator and works as a great propagation spot, create a propagation wall!
As one plant becomes ready for transplantation in the pot, it is your sign to start propagating another plant and fill in the blank spot on your wall!
14. LED-illuminated Plant Wall
If you have a bare wall indoors far away from windows and without sunlight, here is an idea to try. Incorporate LED bulbs as a way to meet lighting requirements for your plants. Additionally, LED illuminated wall plants will look even more decorative!
Ensure you pick special grow LED bulbs for the best effect. Also, check if the plants you want to grow under these lights don't mind artificial lighting!
15. Pallet Wood Vertical Plant Wall
Pallet wood is a versatile, user-friendly material, excellent for DIY construction projects. You can also use it to build a rustic plant wall!
You'll need at least one shipping pallet, mounting brackets, and something to use as a backing. Before you mount the pallet against the wall, clean it thoroughly, sand lightly if it is necessary, and find the ideal location for your brand new plant wall! Add soil and water and start growing your plants!
Because of the rustic appearance, I recommend placing the pallet plant wall outside rather than the inside.
16. 2in1 Plant & Privacy Wall
Is your balcony too close to your neighbor's? Here is an idea to try – build a dense plant wall that you can use as a privacy wall at the same time.
You can use such a wall even on a small deck or patio. You'll need a large frame in the suitable size, a large piece of mesh rebar, hanging planters and pots, tools – drill, scissors, measuring tape, etc.
The denser you arrange the plants in your plant wall, the better privacy you'll have!
17. No Drilling Plant Wall
If you aren't skilled with drills and advanced construction tools, you can make a simple hanging planter. Combine several hanging planters and fill in the bare wall. Arrange the plants in your hanging pots carefully to improve the appearance of your plant wall!
18. Plant Wall from Terra Cotta Pots
The next plant wall project basically consists of open shelves and terra cotta pots. It is ideal for the large western wall of your home. You can grow multiple plants this way, combine flowering plants with shrubs, fill the blank spots with herbs and use trailing plants as well!
Terra cotta pots will provide the necessary insulation, and they will add a charming effect!
19. A Simple Detail for Your Vertical Plant Wall
Use an old ladder (or several ones as holders) for the plants! If you don't have old ladders, you can make one using wooden planks. Once the ladders are ready, use S-hooks to hang the metal containers with plants.
A plant wall from the ladder is great for the outdoors. Place it on the balcony or porch!
20. Elegant Plant Wall
The white-green combination is elegant and attractive in every setting. If you want to create an elegant plant wall, use simple wall planters in white. I also recommend coming up with a planter layout first, for practical reasons. You can get these planters at any gardening shop or make them yourself.
Your plants don't have to be densely distributed on the wall, a foot of distance will also be fine. You can fill it in, as you collect more plants!
21. Arrange Air Plants on The Wall
You can build a cheap and effective wall plant using several air plants! Thicker paper or a piece of cardboard will work great as backing. I also recommend using glass vases or jars for the plants.
These are easy to mount on the wall with hot glue! Fill in the bold patches with moss for a better visual effect!
You can see this video to know more:
22. A Wire Trellis or A Wall Plant
If you have a vigorous climbing plant, such as climbing Hydrangea, you can build a wire trellis, and a plant will soon overpower the wall entirely. If you want to spice things up you can plant several climbing plants around the trellis to create a bushier and more lavish plant wall!
23. Industrial Plant Wall Inspiration
A combination of metal containers and metal poles for holding them can be a great decoration in an apartment with an industrial interior design. You can also use it as an office decoration, as it will blend in with office furniture well!
It is also a simple plant wall to create and can be used for numerous plants.
You'll have to mount several metal poles on the wall. With S-hooks, attach the containers on the pole until you are happy with the results!
24. Interesting Plant Wall Details
If you have several succulents, combine them with unexpected details to create a unique plant wall. Old movie reels are the prop that you will give a new purpose! They can work as succulent planters!
If you don't have that many good-looking small succulents, you can use the faux plants too. For the project, use sisal rope, old reels, succulents, and a hot glue gun!
Ditch The Pictures, Plant Flowers On The Wall
Wall plants are a big trend right now, and it seems like their popularity won't decrease anytime soon. It is easy to get creative with plant walls! You can experiment with attractive plant combinations.
Succulents are always a great idea for wall plants, but so are the trailing plants. Which idea seems the most attractive to you? At the moment, I like repurposing things, such as using an old crib fence as a vertical planter holder or decorating plant walls with movie reels!
Please share your thoughts on my list and give the article a thumbs up if you enjoyed it!