Do you want to know which plants can grow in jars & bottles, without soil and make excellent low-maintenance houseplants? Below is the list for you!
These plants are versatile and grow better with bottled spring water than tap water. Tap water often has improper nutrient content because of the chlorination and purification process. Most people believe veggies and kitchen herbs are the only plants you can grow in mason jars. But, some of the ornamental house plants also thrive when you grow them without soil.
Similar to the traditional growing methods, come up with irrigation frequency and position the bottle or jar well. Some plants like to be exposed to direct sunlight, but others prefer dappled shade.
Customize the care for your soil-less growing plant, and watch for any signs of problems. The prompt reaction will keep the plants healthy and alive!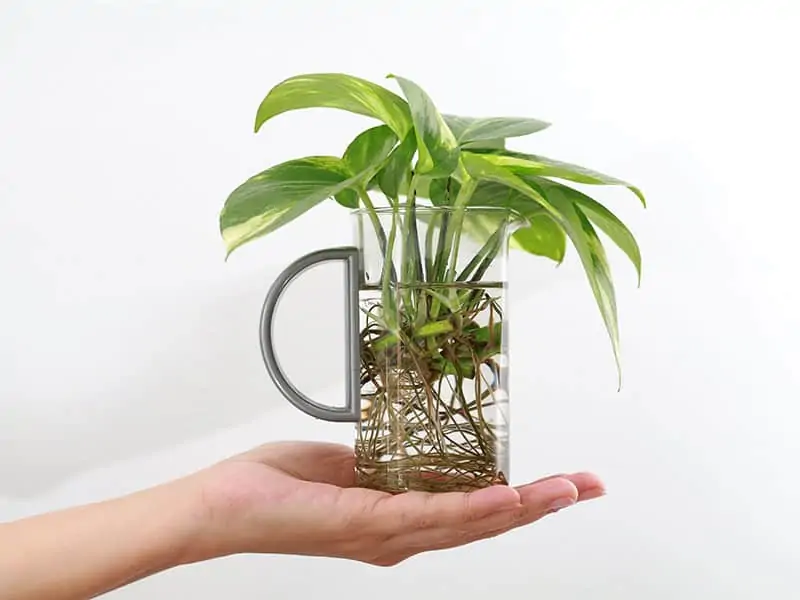 Now, let's talk more about plants you can grow without soil, in bottles and jars!
#1 Pothos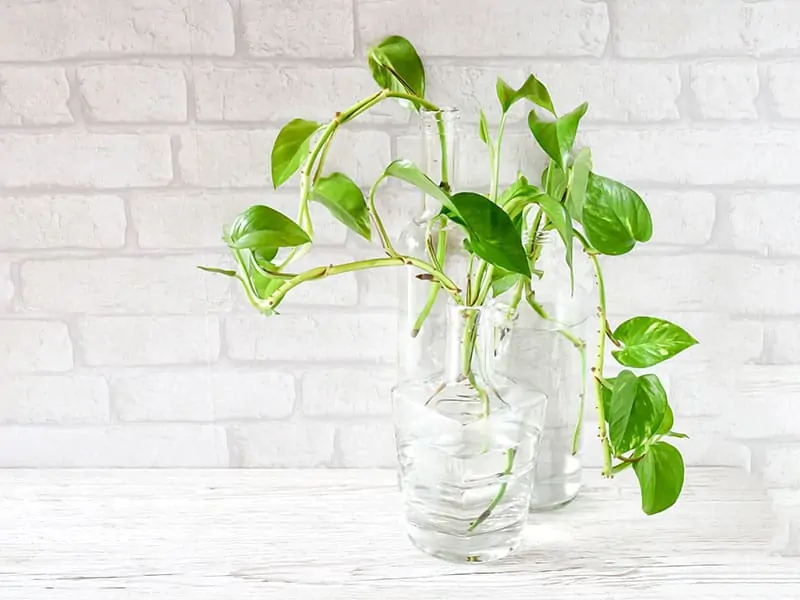 Growing Epipremnum aureum or Pothos in water, in a jar, is a mess-free, fool-proof method! It is great for people who live in apartments because there is no potting soil, heavy pumps, or pots. All it takes is a vase or a glass jar, bottled or tap water, and healthy Pothos cuttings.
Whether you grow Pothos or Devil's Ivy in water or soil, the plant is hardy and doesn't mind being neglected. You can use a liquid fertilizer every month to help the plant thrive!
#2 Chinese Evergreen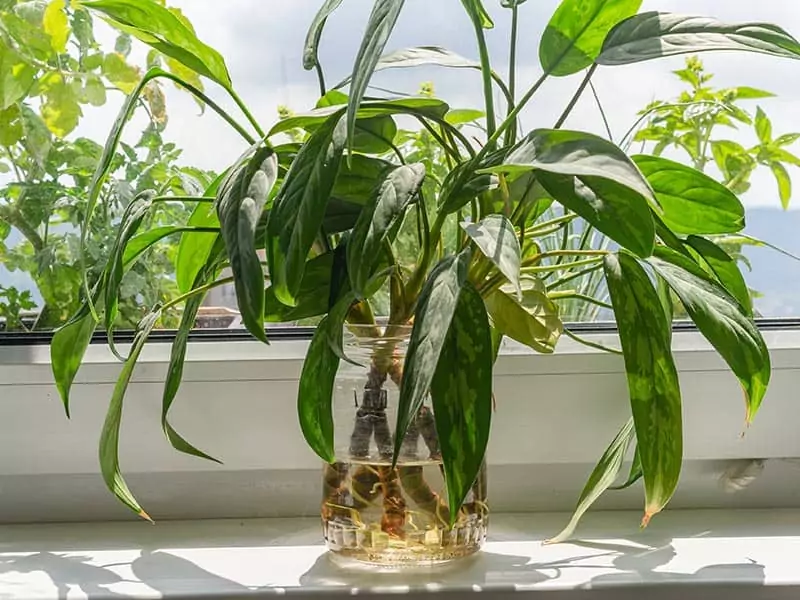 Aglaonema is better known as Chinese Evergreen. Surprisingly, it grows pretty well in a jar with water. Moreover, the plant is easy to propagate in water using stem cuttings! Aglaonema and similar plants which are suitable for water propagation might have issues when potted in soil. But, they thrive in the water!
Aglaonema is a beautiful plant, most commonly grown for its ornamental leaves. If you decide to grow it without soil, use a glass vase and fill it with water to cover lover parts of the cuttings. Never fill the vase completely, because it can make the plant rot.
Check out more practical tips for growing Chinese Evergreen in the water!
#3 English Ivy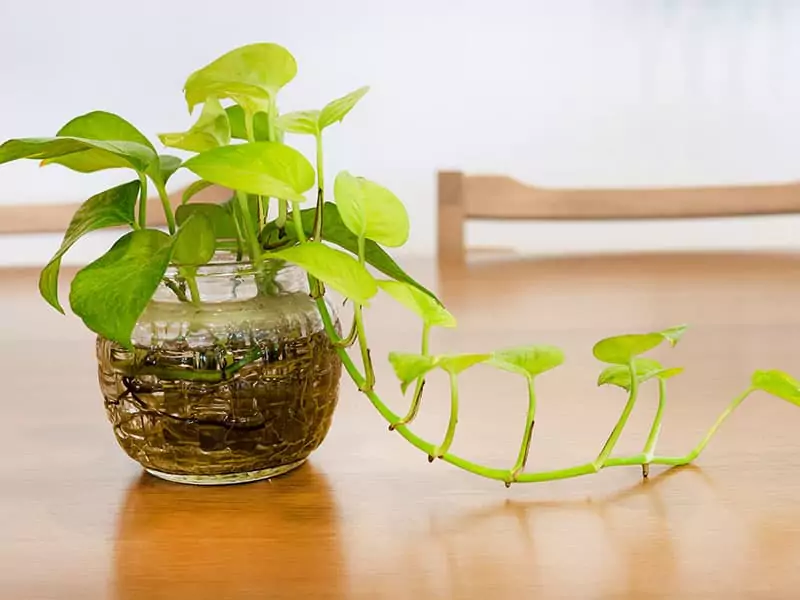 The easiest way to propagate Hedera helix or English Ivy is in water. Also, you can keep the plant in water if you want! The plant will remain healthy and beautiful. Still, the Hedera helix in the soil might be bigger and showier than the one you grow in liquid.
Growing English Ivy in water is generally a fuss-free process. If the plant looks pale, it means it doesn't receive enough light. Oppositely, too much direct sunlight makes the plant look scorched! If the plant wilts, it means you have to reduce the amount of water in a jar!
#4 Plantain Lilies
The botanical name of Plantain lilies is Hosta. This lovely ornamental plant is easy to grow in water or soil! A transparent jar or decorative glass bottle improves the visual impact of the Hosta plant.
Hosta plants don't need too much light to thrive. Therefore, it is a perfect plant for apartments with no natural light.
#5 Peace Lily
When you think about Spathiphyllum or Peace Lily, you probably have an image of a beautiful, potted plant. But, did you know that Spathiphyllum also makes a stunning plant for growing in water? Some people even prefer the soilless growing method because they believe growing Spathiphyllum in water provides a more elegant display.
If you decide to grow Peace Lily in water, keep only the roots wet and the rest of the plant above the water. It will prevent rotting, which is the most common reason for sick Peace Lily plants.
The best way to start Peace Lily in water.
#6 Wandering Jew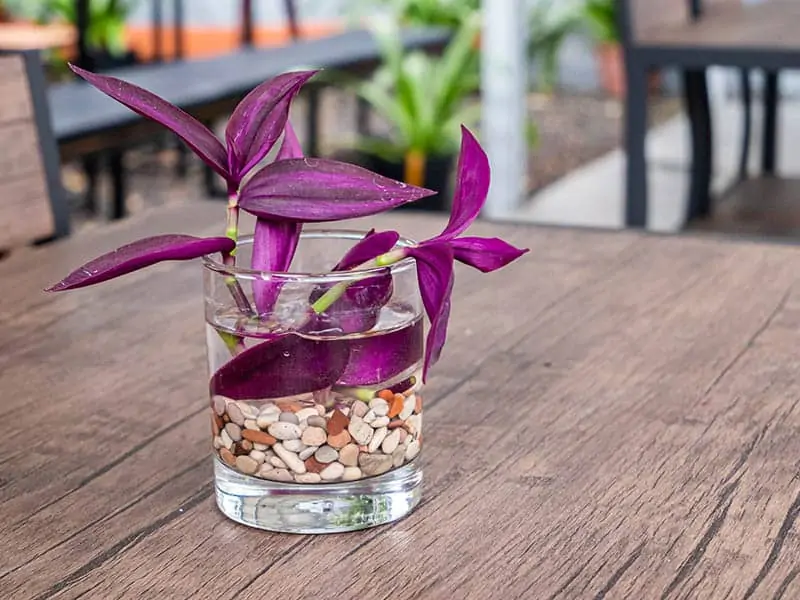 Tradescantia is a botanical name of the attractive plant you probably recognize as a Wandering Jew. The propagation starts in water with healthy cuttings. You can keep the plant in water for months, especially in the winter months as a lovely plant display.
Growing Wandering Jew in water also helps with the humidity.
The plant loves humidity and keeping it in the water ensures a consistent moisture source!
The key to maintaining Wandering Jew health is to replace the water regularly.
#7 Philodendron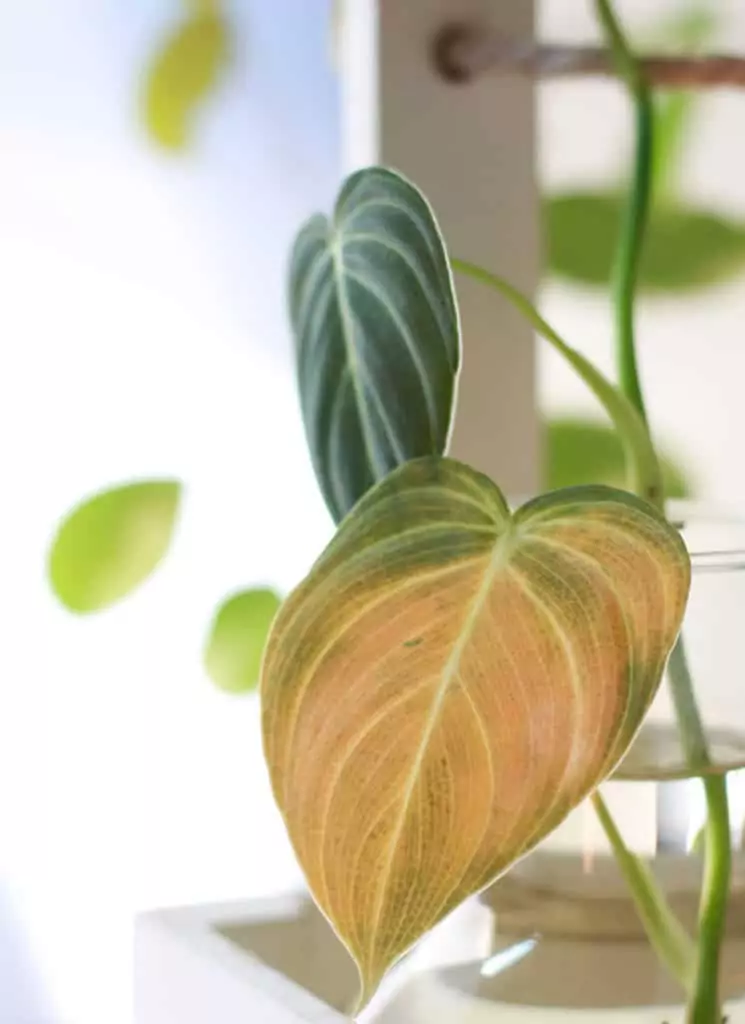 Whether you grow Philodendron in soil or in water, it is one of the most rewarding and low-maintenance houseplants you'll ever come across.
You can start by taking a vine longer than three inches from the healthy Philodendron. Then, place the vine in a jar filled with warm water! It will reduce the shock for the roots.
From that point, all you have to do is replace the water weekly and keep the plant under filtered light.
You can prune the plant to get the desired shape! It will also help with the new growth.
#8 Spider Plant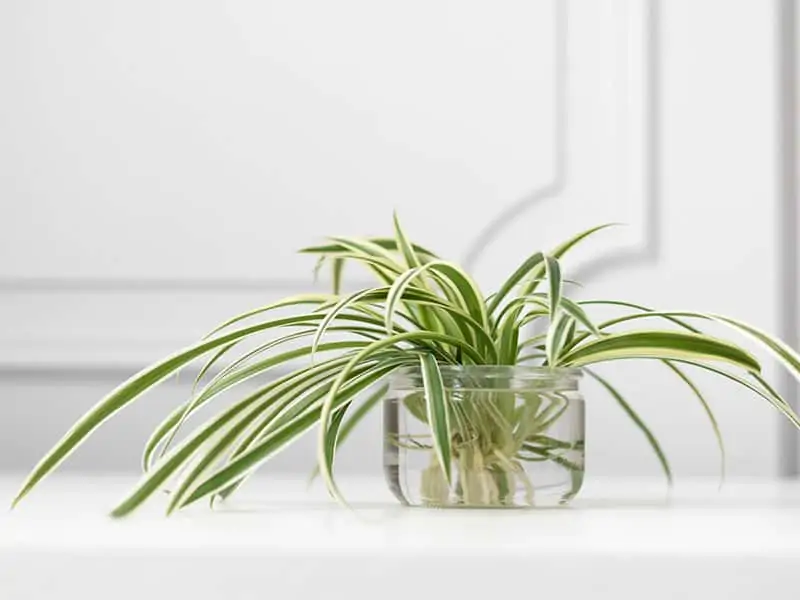 Popular Chlorophytum comosum or a Spider plant is simple to grow in water as long as you keep the foliage above the water level. If the leaves get submerged in water, the plant will start to rot. The more time passes, the less chances are that you'll save it.
Additionally, Spider plants will rarely develop only in water. You'll have to ensure continuous use of liquid fertilizer for the plant.
Also, I recommend using demineralized water over chlorinated tap water for better success! Don't forget to change the water frequently to keep it fresh!
#9 Coleus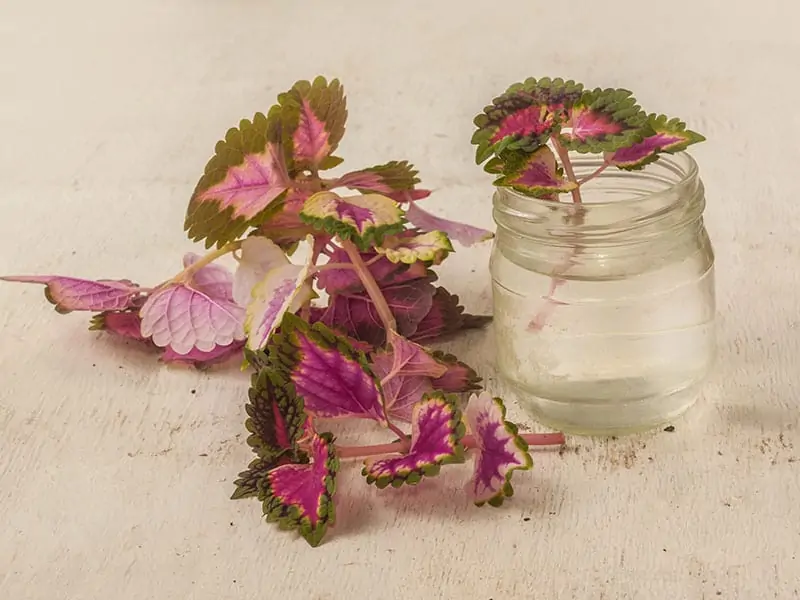 Coleus is a beautiful plant with variegated, colorful foliage and low-maintenance nature. The botanical name of the plant is Plectranthus scutellarioides.
You can start Coleus in water with cuttings. You'll have to keep the plant on a sunny window sill. The ideal temperature for the plant to develop is between 70 and 75 degrees Fahrenheit!
A few weeks later, your Coleus plant will establish and bloom! At that point, you'll have to pinch the blooms if you want to induce more foliage and keep the plant healthy in water.
#10 Swiss cheese plant
Monstera deliciosa or a popular Swiss cheese plant is famous for its decorative leaves with unusual cuts and beautiful texture. People can grow Swiss cheese plants in water for extended periods. If you keep the plant in freshwater and use liquid fertilizer, the plant will progress and grow to some point.
However, if you want your plant to reach its full potential, you'll have to transplant it to the soil. But, if you wish to keep the Swiss cheese plant compact, let it grow in water!
#11 Geranium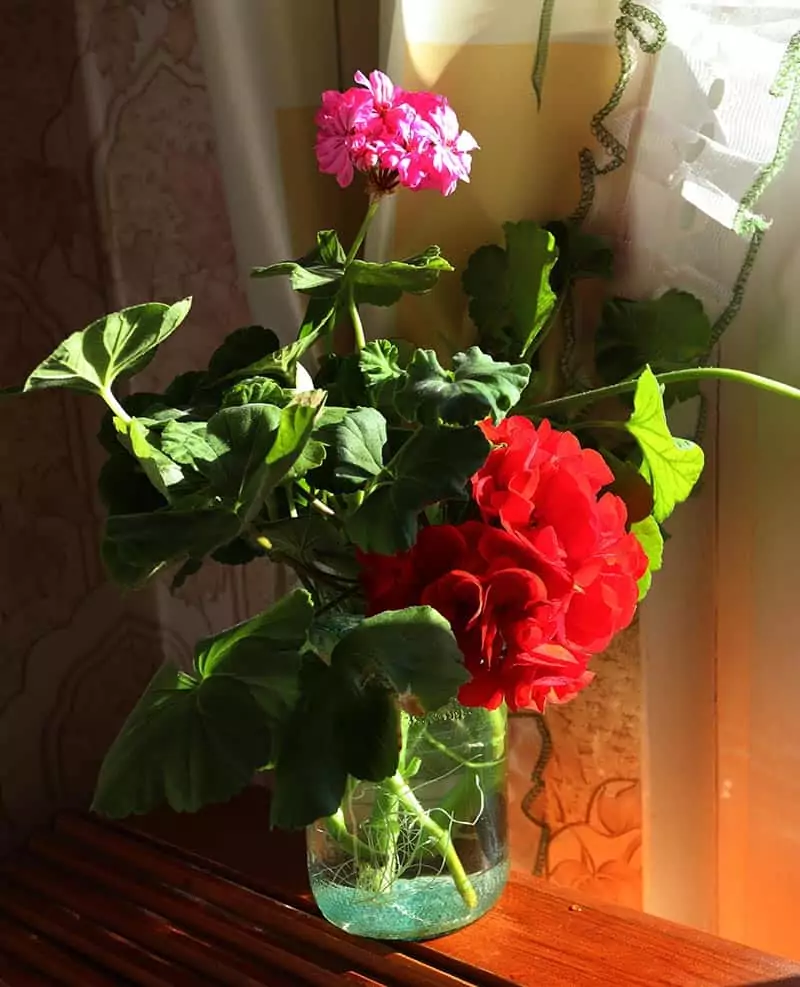 Geranium or Pelargonium are easy to start in water using cuttings. Remove all the leaves that may be submerged into the water because it will cause Geranium to rot and die soon.
Taking cuttings from Geranium might be tricky if you have never done it before. Don't forget to keep the tools clean and sharp to ensure minimal distress to a parent plant!
Ideally, pick a glass bottle four to six inches deep. Clean it thoroughly before you put Geranium cuttings in it!
#12 Lucky Bamboo Plant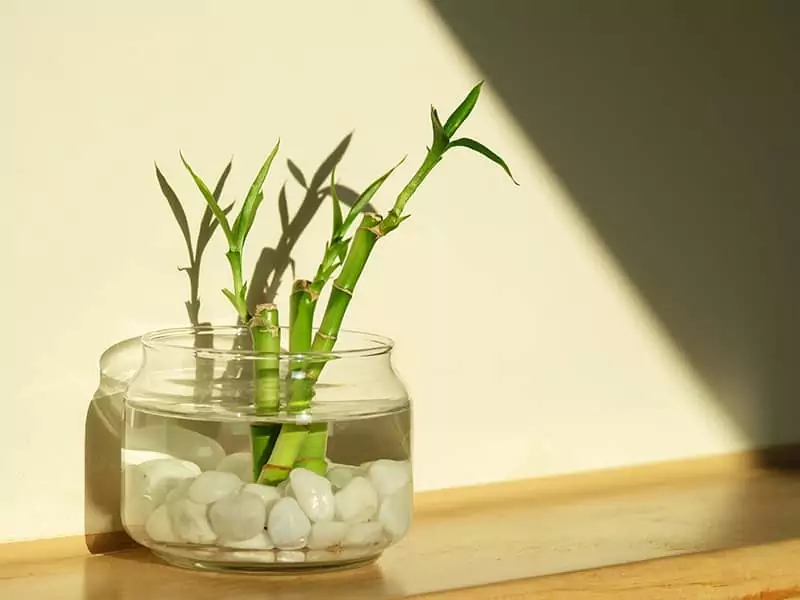 Dracaena sanderiana is popular as the Lucky Bamboo plant. To grow it in water, you'll have to know a few tricks. First of all, the Lucky Bamboo cuttings may be flimsy and won't hold still in the water jar. So, you can use pebbles to keep the cuttings upright.
Next, distilled water provides better effects than tap water. The plant also requires regular water change and maintenance of the jar!
Interestingly, the number of stems of the Lucky Bamboo symbolizes a different meaning. But, you can start with two stems for double luck!
#13 Cactus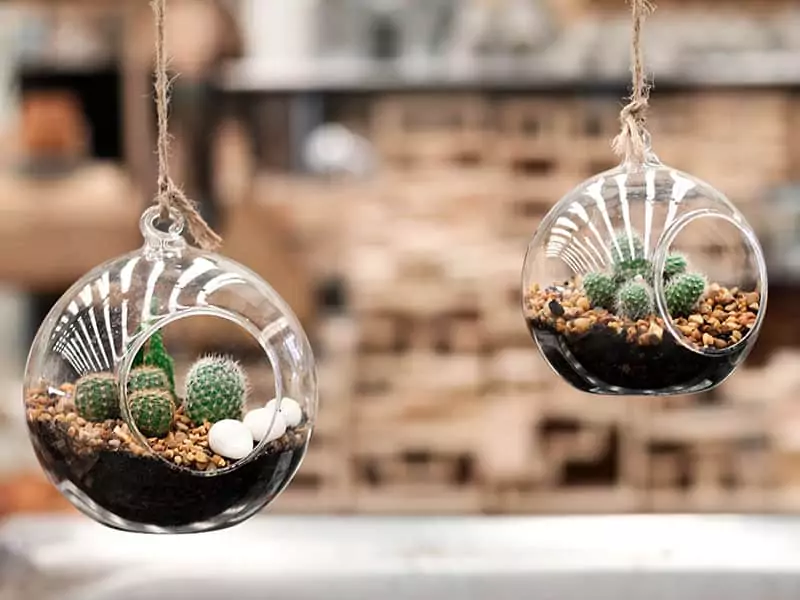 A cactus or Cactaceae is the biggest surprise on the list. Overwatering the cactus is the easiest way to kill your plant, but you can train it to grow in water. Offshoots are generally a better solution for water-only growing methods. Before you start, leave the offshoot to dry to prevent them from absorbing too much water.
Put the plant on the rim of a bowl with water and display it somewhere sunny. Callused ends need to be above the water level, but close to it. Slowly, the roots will develop!
Discover how to prevent the cactus root from rotting!
#14 Aloe Vera
Aloe barbadensis miller, shortly Aloe Vera is a tricky plant to grow in water. The plant is generally not tolerable to too much moisture, but luckily, you can do something about it.
The trick to growing aloe vera in water is to submerge the roots but keep the rest of the plant dry with an inverted bottle. It will work as a specialized hydroponic system and allow you to control the light, fertilizer use, and watch out for diseases.
#15 Wheatgrass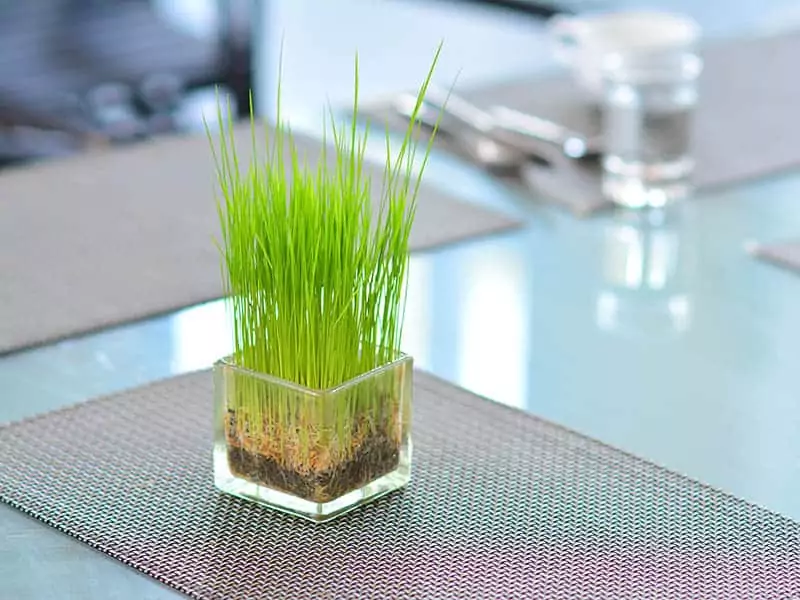 Growing Thinopyrum intermedium or Wheatgrass without soil is simple. Instead of spreading seeds in a potting mix, spread them on a wet paper towel so the seeds can germinate.
Then, make a waterbed in a vase using pebbles and sprinkle the germinated seeds on top. Place the vase somewhere sunny and watch your Wheatgrass thrive!
It won't take long until the plant develops!
#16 Snake Plant
Dracaena trifasciata or Snake plant looks attractive in soil, but even more when you grow it in water. Sometimes, your plant can even survive in water with perlite for years!
But, I would always recommend the use of fertilizer to compensate for the lack of nutrients from the soil. Compost tea can also be one way to boost health.
Wash the pebbles before you put them in the vase and use distilled water for the best-looking snake plants!
#17 Anthurium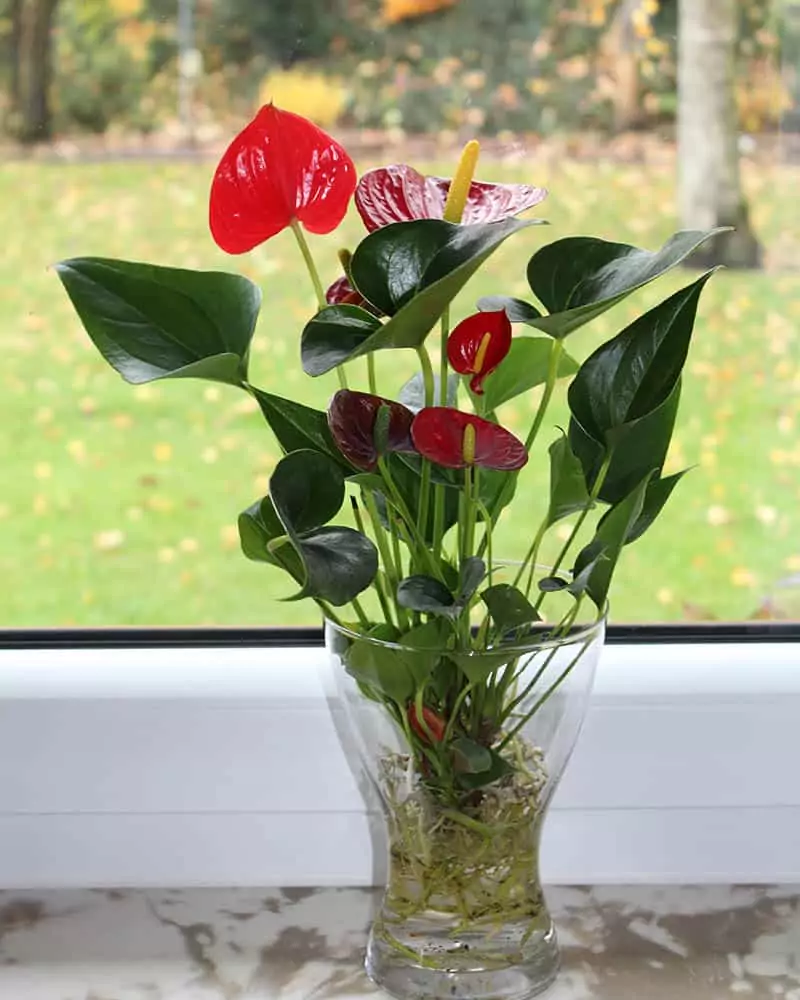 Anthurium andraeanum, shortly Anthurium is a striking plant with unusual bloom and beautiful foliage. The plant is easy to grow in water. But, you first have to wash the roots completely using lukewarm water to remove the soil leftovers. Those can cause the roots to rot!
Anthuriums are narrow in their shape, so you can use whatever decorative glass bottle, jar, or vase you have. Anthurium in water will grow and bloom, but you'll have to boost its development with the use of liquid fertilizer! Still, Anthurium in the soil might get bigger, but the one in the jar will be equally pretty!
Simple Anthurium in water care.
#18 Succulents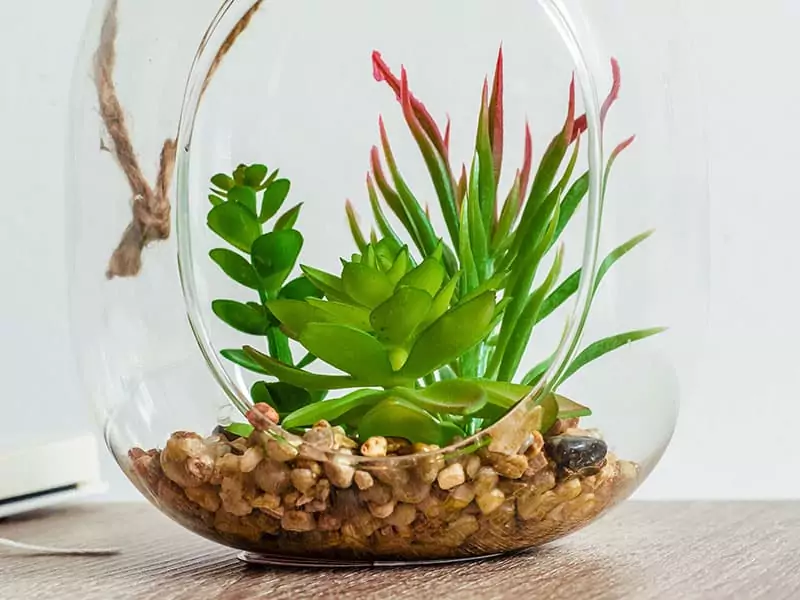 Similar to cactus plants, succulents can also be grown in water. Also, growing succulents in glass vases make them even more beautiful.
Echeveria and Jade's plants are the best candidates for growing in water. You can propagate them easily, and start over if you fail the first time! The thing with succulents is that growing them in water takes time. But, be patient and your efforts will eventually be rewarded!
Read a comprehensive, step-by-step guide on planting succulents in the water!
#19 Purple Oxalis
Purple Oxalis can be started in water and grown for several months. Because of its ornamental purple leaves, the plant looks stunning whether you use soil or not to grow it!
You can start it from cuttings and use pebbles to help the plant develop and grow upright. Growing an Oxalis plant in water beds will become maintenance-free as soon as the plant establishes.
Still, Purple Oxalis is easier to grow in a garden in well-draining soil.
#20 Alocasia
When you decide to grow Alocasia in water, you can expect fewer issues with this beautiful plant. In fact, you can help dying Alocasia with yellowing leaves if you transplant it to water!
When growing Alocasia in water, the key is to pick the right size vase. It should be tall and not very wide. You can replace it as soon as the plant develops so many roots that they get tangled.
If the plant remains happy and healthy in its water environment, you'll never have to put it back in the soil!
#21 Horsehead Philodendron
Horsehead Philodendron or Thaumatophyllum bipinnatifidum can survive a long time in the water, but it won't get as big as the Philodendrons in soil. Therefore, if you don't want this giant plant to take up all the space you've got, start it in water from cuttings.
The plant has medium sunlight needs and flowers only after 15 years. Also, the varieties you grow in water rarely blooms, but their ornamental foliage makes up for the lack of flowers!
#22 Arrowhead Plant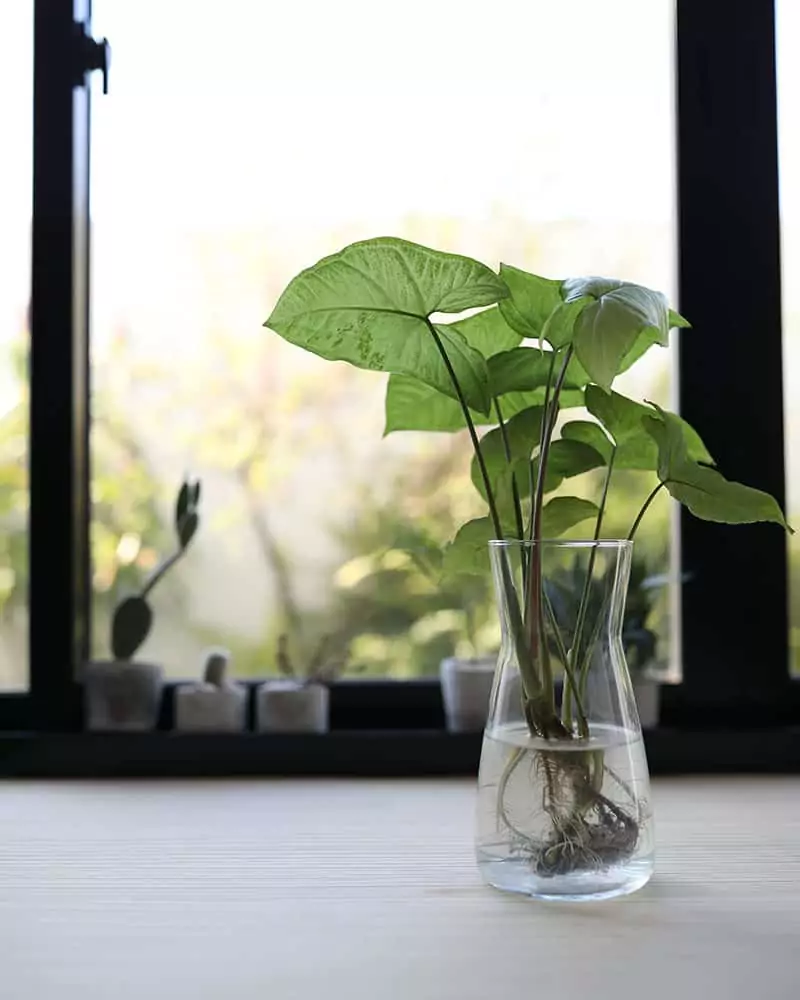 Syngonium podophyllum or Arrowhead plant is ridiculously easy to grow in water. The plant can remain healthy and beautiful in glass bottles or jars for years!
The soft stems and lovely leaves will stand out even more if you decide to grow the plant without soil.
The trick to growing Arrowhead in water is to pick the healthiest plant possible and the rest will be a breeze! Change the water regularly to keep the plant fresh.
Avoid these mistakes when starting your plants in water.
Get The Most Out Of Your Plants
Growing plants in water without soil generally provides more efficient use of water. It is something that eco-conscious people will appreciate!
Additionally, growing plants in water require less space and help some plants to develop faster!
Ultimately, some plants such as Spathiphyllum and Arrowhead plant look significantly prettier when grown in glass jars and bottles!
Which plant will you try to grow in a jar or bottle?
If you enjoyed the article, don't forget to share the list with your friends and family!