Shrubs for shade are a great way to fill in the blank spots below tall trees or just decorate the garden which doesn't receive too much sunlight. Even if only a few sun rays get through your garden, you can still have a wonderful garden with lush foliage and colorful flowers.
But, the trick is to pick your plants wisely and based on the conditions you can provide.
The good thing about shrubs for shade is that most of them are low-maintenance.
On my list, you'll find the shrubs that are so versatile so they can survive in different light conditions – from the light shade, through the full sun to full shade!
Take notes, here comes the list!
1. Mountain Laurel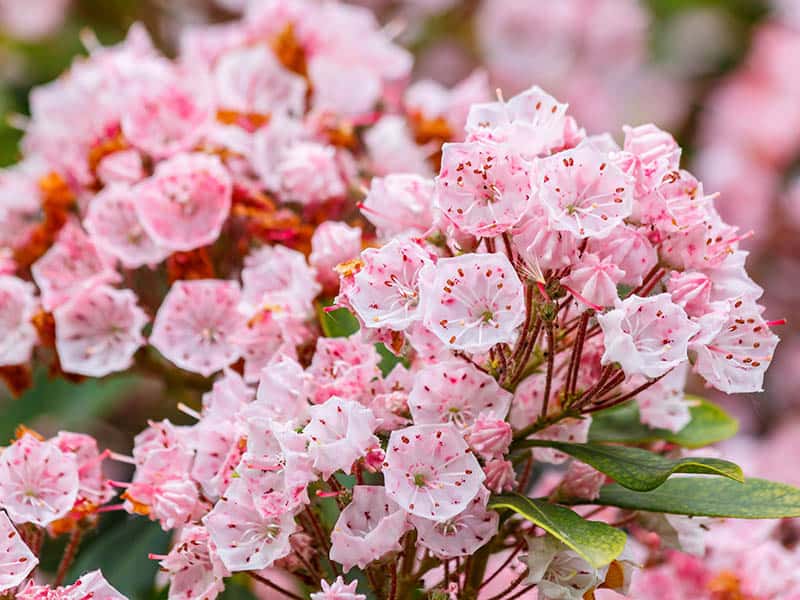 Kalmia latifolia or Mountain Laurel is a beautiful shrub that can survive in the shade and partial sun. The shrub grows between five and 15 feet and spreads about the same. In the middle of spring, Mountain Laurel produces densely distributed pinkish flowers.
The ideal growing conditions for this gorgeous shrub are well-drained, acidic soil and moderate watering! The roots should be kept cool and moist. If you plant it in clay soil, Mountain Laurel might not grow as you expect.
2. Azalea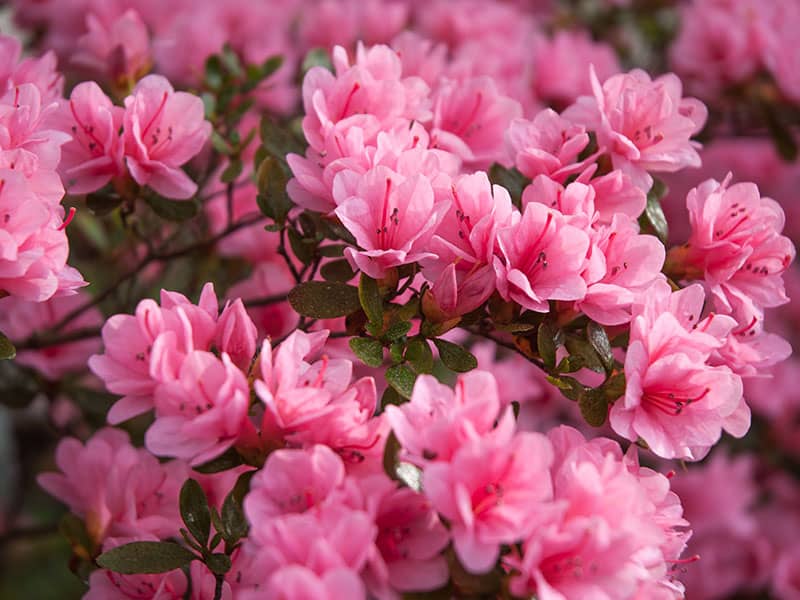 Rhododendron or Azalea looks the most beautiful in spring with the large bright pink flowers. But, you can also find Azaleas with blooms of different colors.
When planting Azalea, ensure you plant them as single plants and not around others. But, if you have a large area to cover, you can plant multiple Azalea plants and even mix different Azaleas with various blooms.
The plant loves acid soil and prefers cool spots. You can also grow in the shade or expose the plants to partial sun.
3. Japanese Rose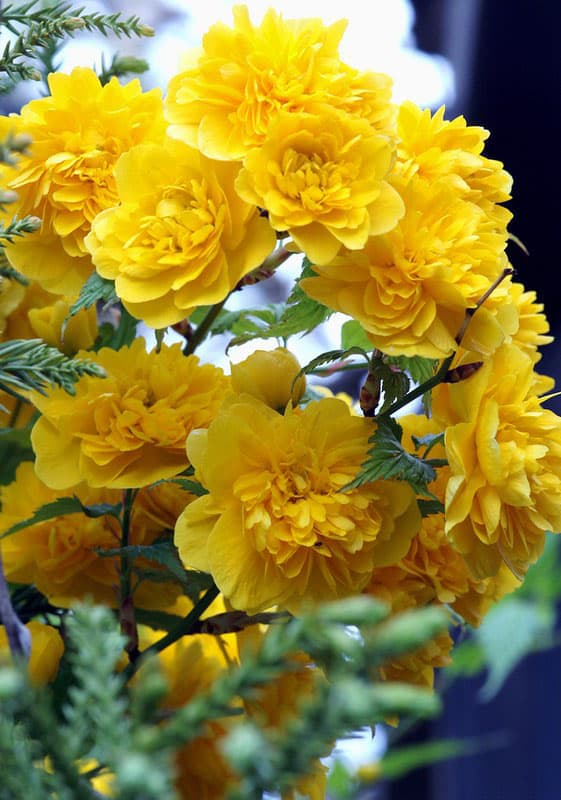 Kerria japonica is commonly known as Japanese Rose. It is a deciduous shrub that can survive a range of different conditions. You can grow it in sun, shade, partial shade, and different soil types.
The plant blooms with bright yellow flowers with tiny petals. Kerria japonica is a great plant for the borders and garden dark corners. Also, Kerria japonica is easy to propagate in summer or fall.
4. Hydrangea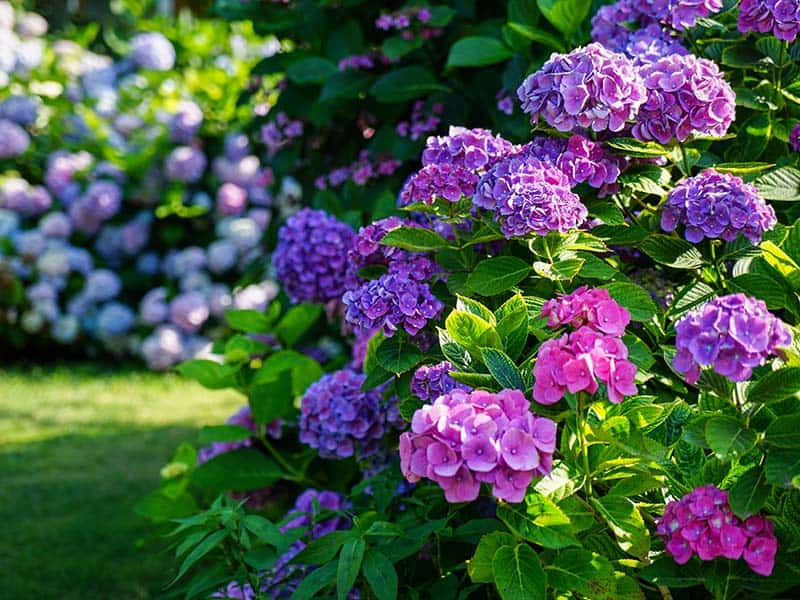 Hydrangea is such a classical garden shrub. You can grow it in full shade or areas with slight morning sun. However, the harsh afternoon sun will burn the foliage and flowers.
Hydrangea is one of the shrubs on my list which shouldn't be planted beneath trees with dense roots. The root competition might cause stunted growth and affect the plant look. Other than that, Hydrangea is a relatively easy plant to grow.
5. Climbing Hydrangea
Hydrangea anomala subsp. petiolaris or Climbing Hydrangea differs from standard Hydrangea by woody vines and specific flowers. Actually, the flowers are huge clusters of tiny white flowers, which stand out against green foliage.
Climbing Hydrangea isn't very invasive, like English Ivy for example. It can climb up on the surrounding tree and it won't harm it. You can also grow Climbing Hydrangea against the wall.
6. Hostas
Hostas are irreplaceable plants for shade. Quite a few Hostas varieties thrive in deep shade, and some may enjoy slight exposure to sunlight. Try Devon Green cultivar. It is praised for large, textured and glossy foliage and beautiful flowers.
In general, Hosta shrubs are easy to grow. They are sensitive to slugs and snails, so you need to protect them. Mulching is also beneficial for Hostas.
The stunning effect Hostas can make in the shade garden.
7. Carol Mackie Daphne
Carol Mackie Daphne usually grows up to four feet and spreads about the same. Daphne shrubs have a slightly rounded form, even without pruning.
The plant features tiny, oval leaves with white edges.
Outside the blooming season, the shrub remains fresh looking and beautiful. Water the shrub every week or even more frequently during extreme heat.
8. Pink Camellia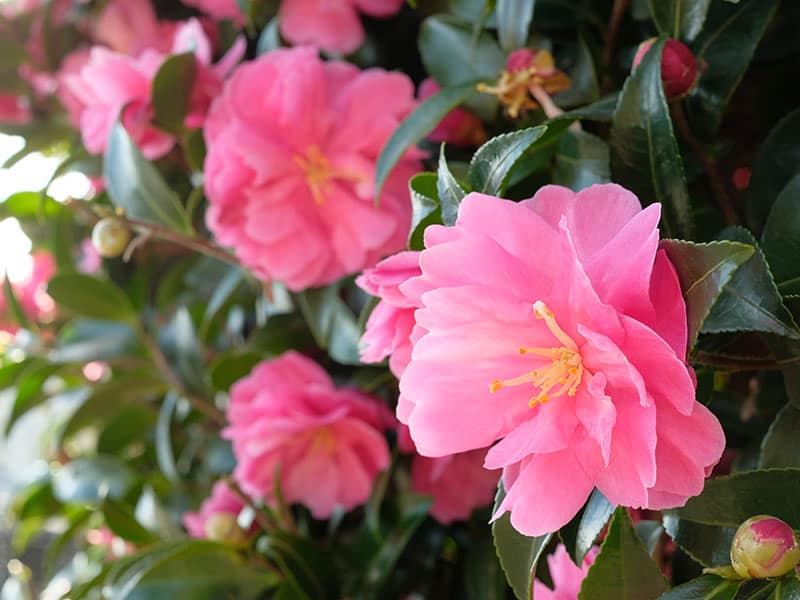 Camellia sasanqua blooms in fall with stunning, large and bright pink flowers! It is the perfect shrub for landscaping in the shade. You can prune it to hold the round shape for the best effect!
Sasanqua Camellia needs moist and acidic soil to thrive. You also need to protect the plant from wind. For example, plant it near walls and fences.
9. Hetz Japanese Holly
Ilex crenata Hetzii is Japanese Holly is an evergreen shrub that grows up to six feet in height. The shrub spreads between three and six feet.
The plant only needs basic care, which includes moderate watering. Japanese Holly is dioecious, which means you need to plant both male and female plants to ensure flowers. However, the flowers aren't very showy. So, you can grow this shrub only for the foliage.
10. Sky Pencil Holly
Ilex crenata or Sky Pencil Holly originates from Japan and other parts of Asia. It is a great plant for urban gardens because it tolerates partial shade and grows in all types. Also, Sky Pencil Holly doesn't mind air pollution.
It has an upright growing habit, and you can prune it to grow narrow and tall. Sky Pencil Holly is a remarkable shrub for landscaping in small gardens because of its small footprint and high visual interest.
The pruning technique for Sky Pencil Holly.
11. Allspice Michelia
Allspice Michelia shrub is sometimes called Banana Shrub because of the banana-like fragrance of the blooms. The shrub develops lovely, magnolia-like flowers and grows in a pyramidal shape. As the plant matures, Allspice Michelia develops a round form.
The plant is easy to grow in warm temperatures, ideally from nine to ten. It also needs protection against harsh winds and occasional pruning.
12. Northern Bayberry
Myrica pensylvanica or Northern Bayberry can be seen almost everywhere in the USA. The plant is hardy and can tolerate salt, drought, coldness, and wetness! It is somewhat invasive because the plant easily forms colonies.
The flowers are insignificant. But, the overall appearance of the plant is lovely. It requires minimal care and can grow mostly on its own.
13. Canadian Hemlock
Tsuga canadensis or Canadian Hemlock is an evergreen shrub that can be grown in sunny areas or spots with slight shade. It has a medium-fast growth rate.
You can prune it to serve as a hedge and use it for screening. Canadian Hemlock is drought and cold-sensitive and doesn't do well in heavy soil. The feathery needles lay horizontally on twigs and improve the visual interest in the plant.
It grows best in zones three to eight.
14. Beauty Berry
Callicarpa or Beauty Berry is the most stunning in autumn when it develops beautiful purple berries. Callicarpa is easy to grow in neutral soil and partial shade. The plant can tolerate acidic soil and can benefit from annual mulching. Well-rotted compost will work great.
If you are unsatisfied with the shape of the plant, remove unwanted growth or dead branches in spring.
Check out which Callicarpa varieties to try for the stunning visual effect!
15. Yews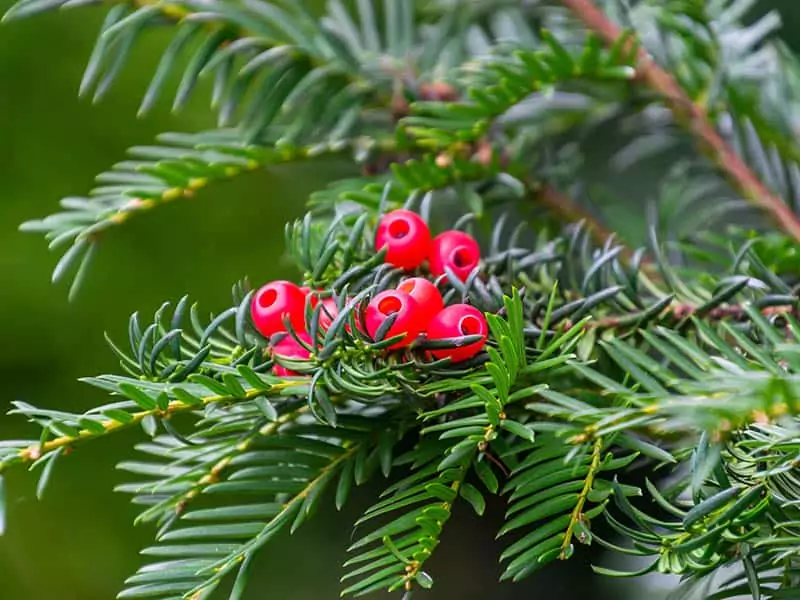 Taxus genus or Yew is a short shrub or small tree with reddish bark. Yes is a slow grower, and you can easily prune it to hold the shape you want. If you don't cut back the tree, it grows up to 120 feet.
There are more than 400 cultivars of Yes, all of which are used for landscaping.
Yew shrub is easy to grow because it tolerates various light conditions and different soil types.
16. Bush Anemone
Carpentia califromica or Anemone Bush is a common shrub in California. People love it because of its low-maintenance nature and charming white blooms! It can spread between one and four feet, and get eight feet tall.
The flowers have a sweet aroma, and the bush is simple to grow to its full potential.
17. Andromeda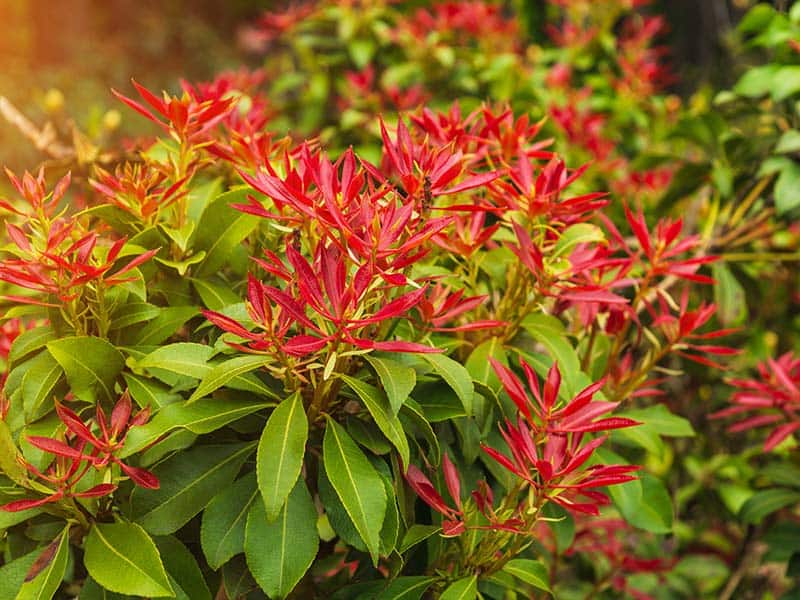 Pieris japonica is widely known under the name Andromeda. Sometimes, it is called Japanese Andromeda as well.
The foliage is evergreen and glossy, so the plant looks beautiful year-round. Gardeners across the US grow it to provide a pop of color in their gardens in the early spring!
When growing Japanese Andromeda, it is crucial to prune the plant as soon as the blooming season is over. It will allow the plant to develop new buds until next spring.
The shrub grows best in acidic soil with a pH value between 5.5 to 6.5.
18. African Scurf Pea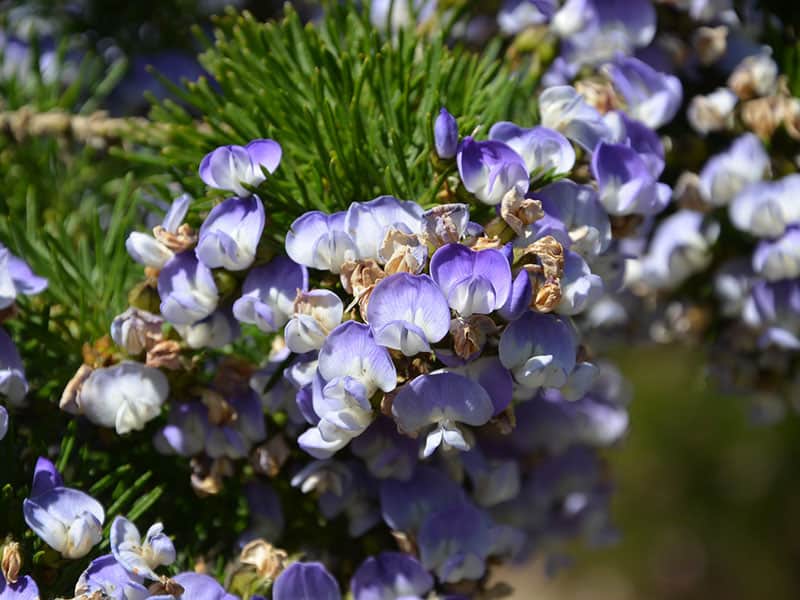 Psoralea pinnata is the botanical name of the African Scurf Pea plant. The plant develops violet flowers with a lovely aroma. Moreover, the ornamental leaves are good-looking year-round with a narrow shape and dark green shade. African Scurf Pea also develops tiny fruits. But, those don't have any significant visual interest.
The average height of the shrub is between six and ten feet. The plant spreads around six feet.
19. Dogwood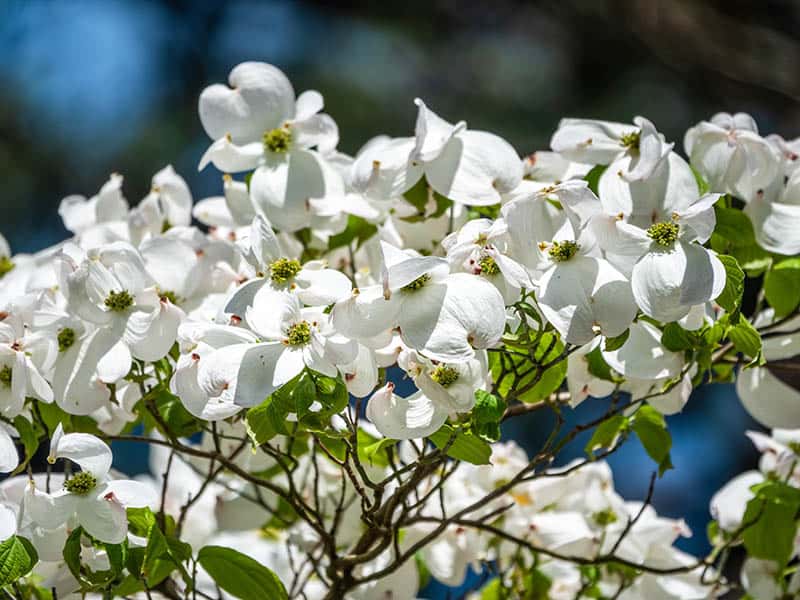 Cornus Florida or Dogwood is a deciduous shrub or tree which develops showy flowers in spring! It is available in various colors, including white and different pink shades. Also, Dogwood is stunning in autumn, with the scarlet bronze foliage!
Dogwood is a relatively easy shrub/tree to grow in zones five to nine. The keyword for Dogwood is moderate – light, water and sun!
20. Alder-Leaved Serviceberry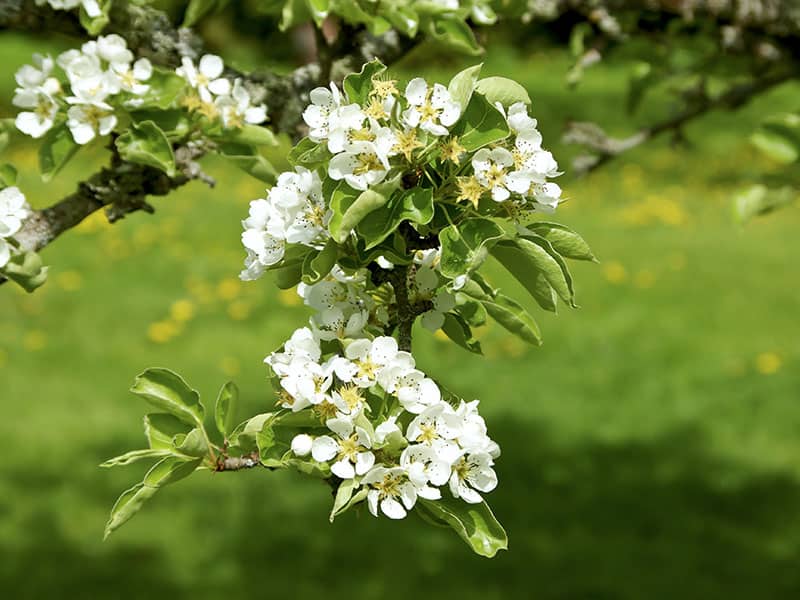 The botanical name of Alder-Leaved Serviceberry is Amelanchier alnifolia. The plant features a multi-stemmed shape, but you can also cut it back to get the form of a small tree. The new foliage is oval and has a purple shade, which slowly turns to dark green as the plant matures.
In spring the plant produces stunning flowers with a mild and sweet aroma. People also know this plant for red berries, which you can eat fresh. Some people also like to make pies with these berries.
Alder-Leaved Serviceberry has moderate water needs and needs fertilization after planting.
21. Mountain Witch-Alder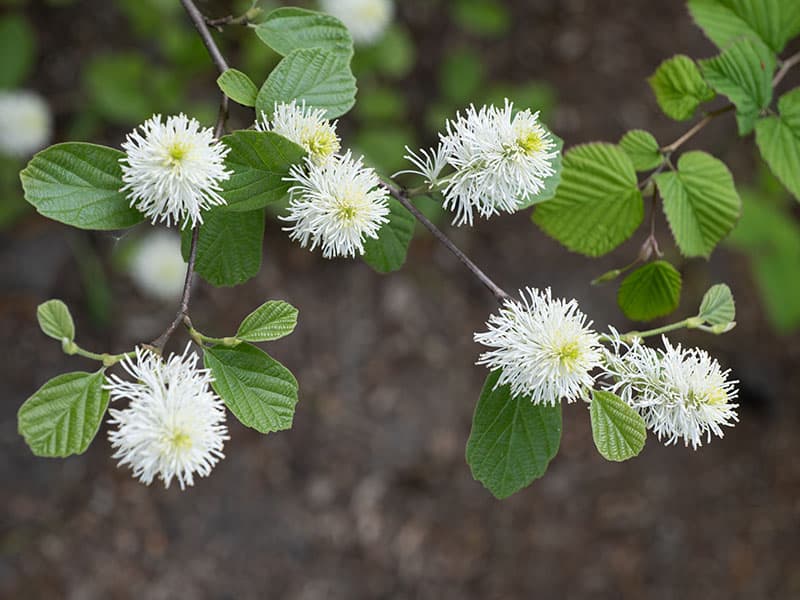 Fothergilla major has an upright growing habit and grows best in clay, loam or sandy soil type. The plant tolerates shade but thrives in partial shade.
People grow it for lovely white flowers and low-maintenance nature. The average height of the bush is five feet, but the bush can sometimes grow a few feet more.
22. California Flannel Bush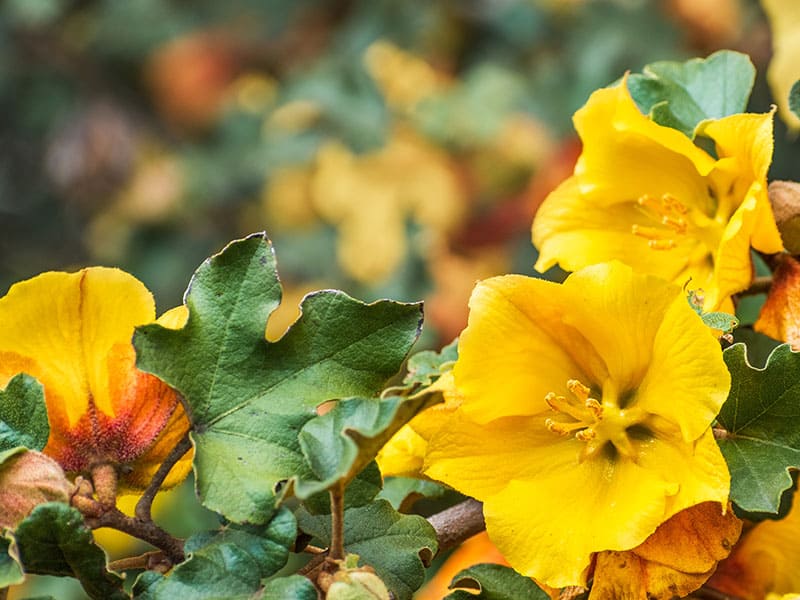 Fremontodendron californicum is the scientific name for the wonderful plant you might recognize as California Flannel Bush. The plant is normally grown in full sun spots. But, it can adjust to shade as well.
Once the plant establishes, it becomes drought-tolerant.
You can grow in Mediterranean gardens, on the borders or as a hedge.
23. Alpine Currant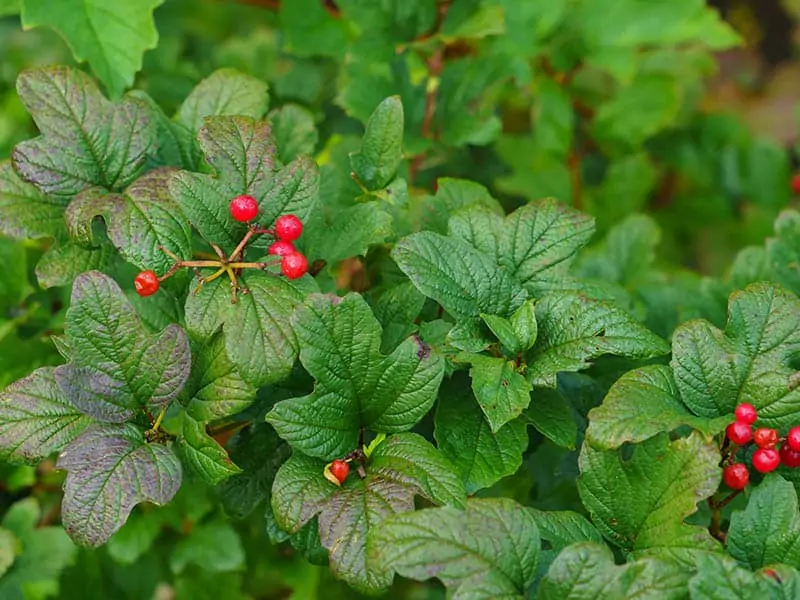 If your garden is small and you are looking for a compact, shade-loving bush, check Alpine Currant. It features small, three-lobed leaves and develops charming red berries.
Also, Alpine Currant is one of the bushes you can easily set and forget because of the zero maintenance it needs!
The botanical name of the plant is Ribes alpinum. You can use it for xeriscaping or hedges.
Here is how to harvest Alpine Currant berries!
24. Carolina Allspice
Calycanthus floridus blooms from mid-spring to mid-summer with charming brown blooms. The flowers are slightly fragrant and are commonly used as cut flowers.
Carolina Allspice is the common name of the bush. Surprisingly, Carolina Allspice grows shorter when exposed to sunlight! You can prune the plant after July to keep the plant tidy.
25. Gold Dust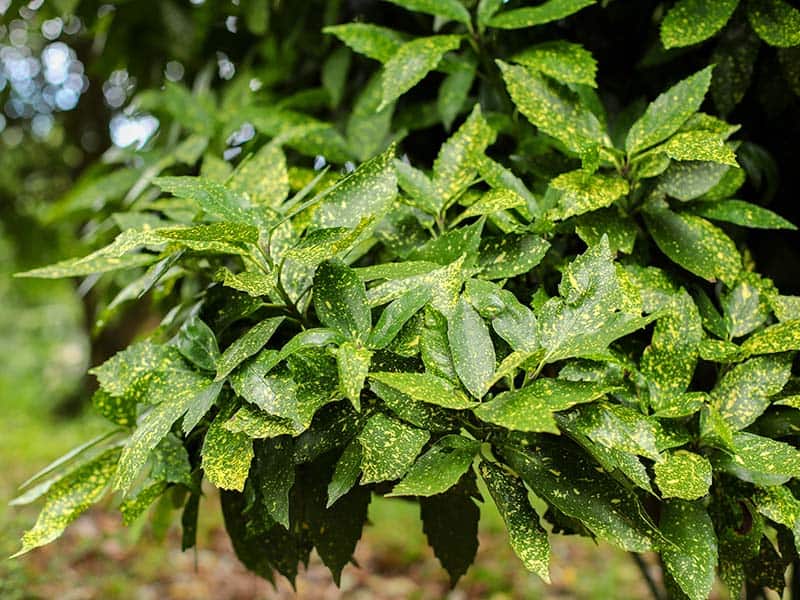 Aucuba japonica Variegata is a slow-grower. It develops a round shape, and the evergreen foliage is densely packed. The plant thrives in moist and loose soil, in full shade, or when exposed to the morning sun. The only thing that can be worrisome is overly wet soil because the roots are susceptible to rotting problems.
The flowers are pretty and appear in the spring.
But, because of the evergreen foliage, the plant remains attractive year-round.
26. Chinese Fringe Flower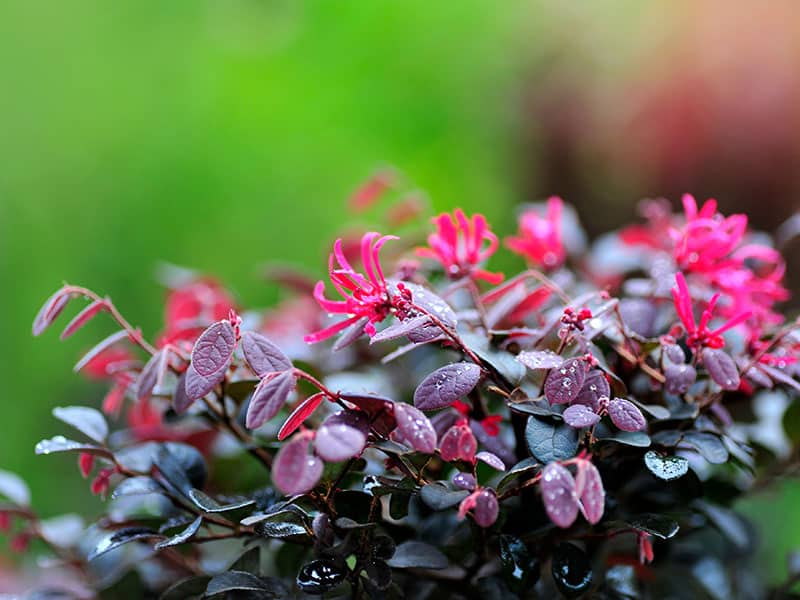 Loropetalum Chinese or Chinese Fringe Flower is a colorful shrub and perfect addition to gardens in warm climates. It has evergreen leaves and develops stunning clusters of tiny, purple flowers!
Chinese Fringe Flowers feature a layered branching pattern and the evergreen leaves transform to burgundy in the fall, which makes this shrub more attractive.
The plant enjoys partial sun but can survive in full shade as well. But, the flowers won't be as showy in the shade spot.
27. White Camellia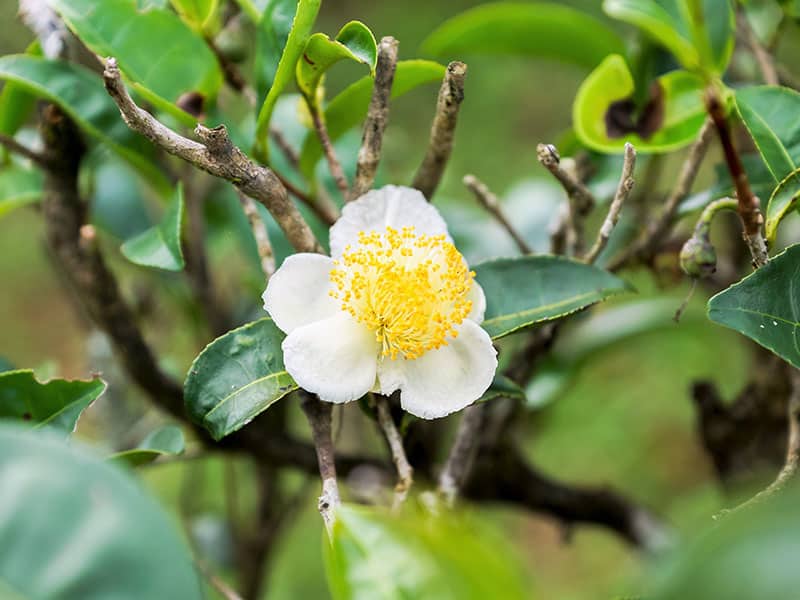 Camellia sinensis is another Camellia bush on my list. This one produces large white flowers with bright yellow centers. The buds and leaves of the Camellia sinensis are used for tea making. Therefore, the plant is also known as a tea tree or tea shrub.
Interestingly, Camellia sinensis gives both green and black tea. But, the exact cultivar of the shrub determines whether the plant is for making green or black tea!
Partial shade and sheltered positions are crucial for growing Camellia sinensis.
28. Canadian Bunchberry
Cornus canadensis, Creeping Dogwood or Canadian Bunchberry is one of the best plants for deep shade. It grows perfectly in acidic soil, and you can boost the growth by adding compost to the planting site.
You can easily propagate the plant via cuttings. Some people grow it from seeds, but it takes more time for the plant to establish.
29. Coast Leucothoe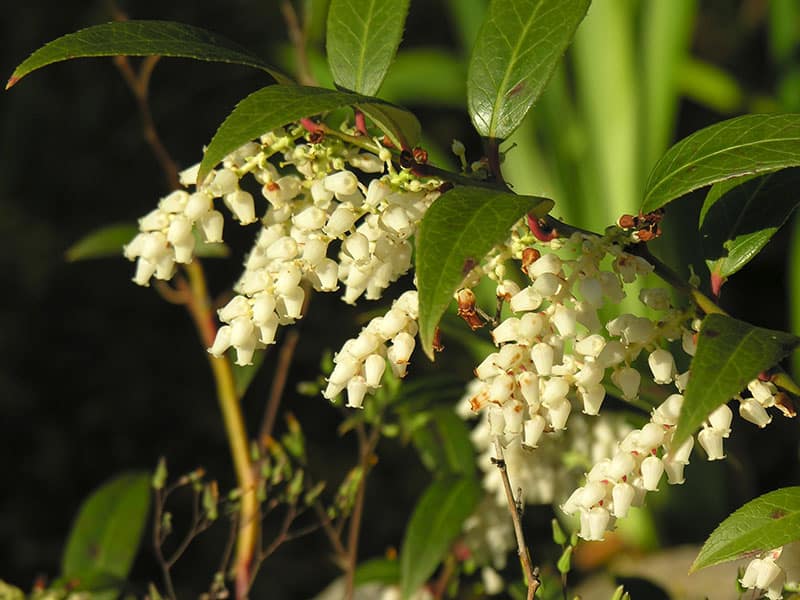 If you prefer weeping bushes for your garden, check Coast Leucothoe. It stays low but spreads quite a lot. The plant develops dark green, pointy leaves and a cluster of white flowers.
In the eastern U.S, Coast Leucothoe is grown as a native plant. You can mostly find it near water, but interestingly, the plant doesn't need a lot of water to thrive. The botanical name of the plant is Leucothoe axillaris.
Unfortunately, the plant is susceptible to quite a few diseases. Poor soil drainage increases the risk for diseases.
30. Paperbush Plant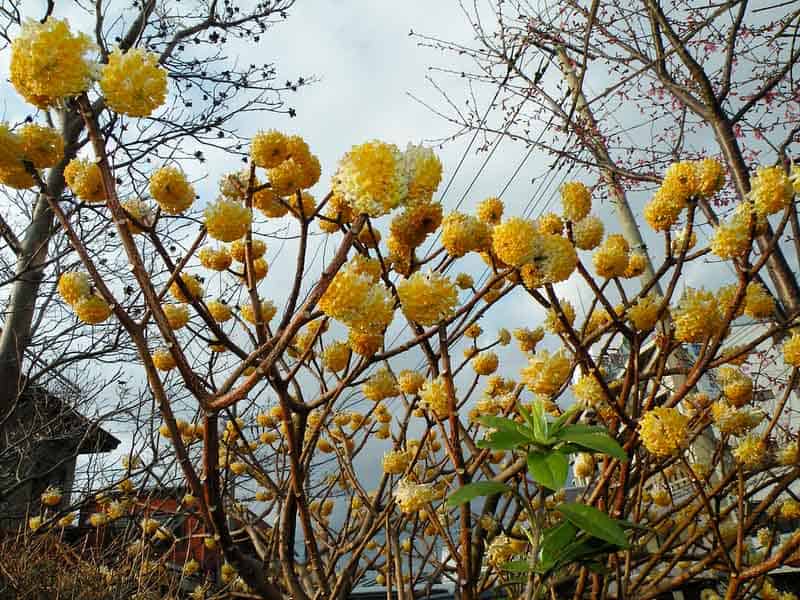 Edgeworthia Chrysantha or Paperbush plant grows in well-drained, but moist soil. Ideally, the soil should be slightly acidic with a lot of organic matter.
The plant needs consistent moisture during summer and autumn.
Once the plant establishes, it is easy to keep alive.
Also, you can prune the bush to keep it tidy. Or remove only stems that fall out from the shape. Pruning should be done after the blooming season.
Lastly, the Paperbush plant is virtually pests and disease resistant!
Easy way to take cuttings from Paperbush plant
31. Thunderbird Foamy Bells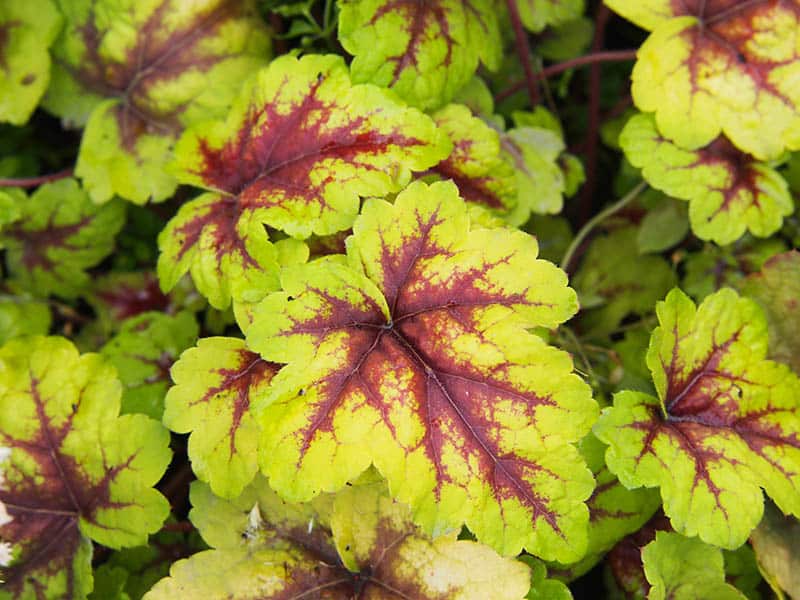 You can grow a hybrid plant Heucherella from zone four to nine. Plant it in well-draining soil, which you can amend with compost to boost the growth.
The plant is better known by the name Thunderbird Foamy Bells and doesn't need complex care. It is relatively drought-tolerant, but the water needs increase during summer.
32. Tree Peony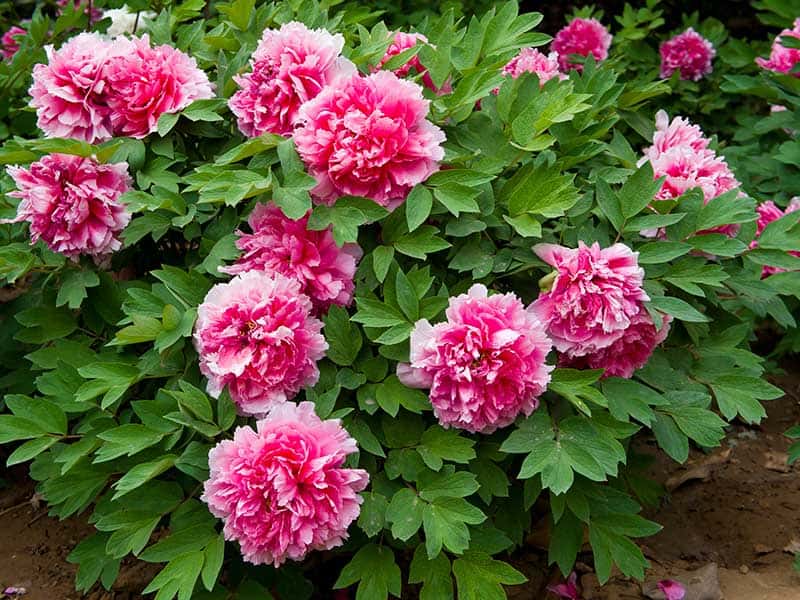 Paeonia suffruticosa or Tree Peony is best known for its showy flowers. The plant can live for years in light shade and is protected from winds and coldness.
To maintain the beautiful look, you have to prune the spent stems, ideally in winter.
If you want to keep the plant healthy and thriving, fertilize it in spring and mulch.
Transform Your Shade Garden With Bushes
As you can see, lack of sunlight isn't an obstacle to having a beautiful and colorful garden! Instead of trying desperately to grow any plant you like, pick the bushes which can tolerate shade or thrive without sunlight. There are plenty of them!
My top picks are Azalea and Sky Pencil Holly. What are your top picks?
If you enjoyed the article, consider sharing the article with your friends!