Did you know about stunning Snake plant benefits? The plant isn't only grown for ornamental purposes. Instead, it has additional health benefits that make Snake a beloved plant in every home!
Dracaena trifasciata is a botanical name of the Snake plant. In the past the plant was called Sansevieria trifasciata. But the plant is well-known under the additional common names, such as Mother-in-law's tongue.
The Snake plant is a succulent plant, well-known for its low-maintenance nature. Because it is a perfect plant for beginners, the Snake plant is also a great housewarming or birthday gift!
Once you find out about the following additional benefits of the Snake plant, you'll love it even more!
Here are the fascinating advantages of growing Snake plants in your home!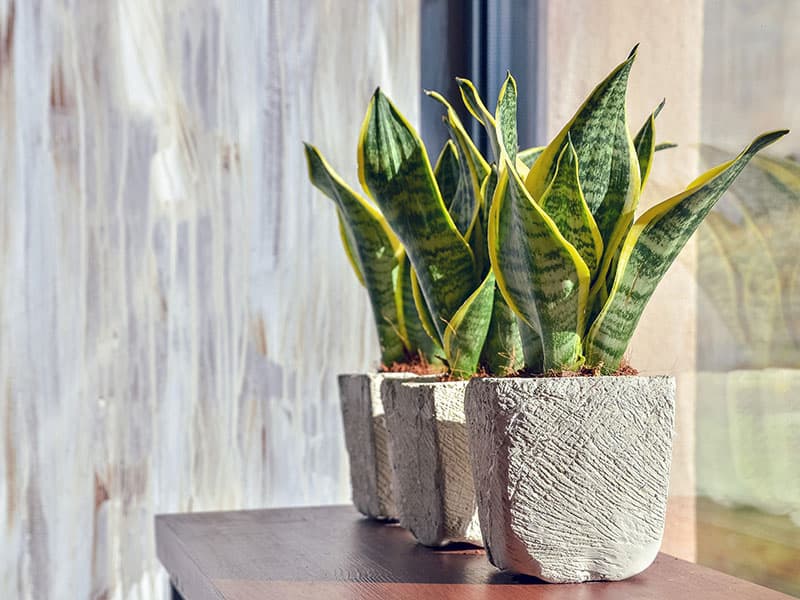 #1 24-Hour, 7-day Oxygen Production Machine
As I already mentioned, the snake plant is succulent. It filters the air like other succulents. But, the Snake plant has a unique feature that makes it stand out from every other plant. It can produce oxygen even by night!
Moreover, the Snake plant is a unique houseplant that produces the highest amount of oxygen! Because of this excellent feature, a Snake plant makes a great plant for a bedroom (and every other room in your home).
#2 Air-Purifying Capabilities
The Snake plant has an additional health benefit. We all know toxins are bad for our health. But unless you are living in areas with the cleanest air, you are probably exposed to certain toxins. It is especially true for people living in large cities.
Here is when the Snake plant comes into the spotlight! The plant absorbs toxins from the air through leaves and stems.
NASA scientists published that the Snake plant can effectively remove xylene, toluene, nitrogen dioxide and formaldehyde from the air. Therefore, it is one of the best plants to grow in your home, if you are familiar with the importance of clean indoor air.
According to NASA, you'll need around 15 medium or large-size Snake plants to purify the air in an 1800 square foot size. If you own a smaller home, reduce the number of plants and enjoy perfectly clean air!
#3 Great Feng Shui Plant
Do you want to decorate and organize your indoor space according to the Feng Shui principles? If you answered yes, bring the Snake plant in!
The plant is associated with prosperity and good luck. Moreover, the Snake plant provides wood energy to the space, which is believed to help fight against negative energy in the room.
If you decide to grow the Snake plant in your home, you can place it where you would put any plant according to Feng Shui. It includes the Southern and Eastern sides of your room.
#4 Snake Plant Fights Allergies
With all the benefits and effects on the air quality, the Snake plant makes an excellent allergy fighter. The plant produces oxygen non-stop, removes toxins, and increases humidity by releasing moisture into the air.
So, the plant reduces the amount of air-borne pollutants such as dust and dander, which are the most common allergens.
Therefore, if you experience itching throat, nose, and eyes, especially during the night, placing a Snake plant in your bedroom can help you relieve discomfort.
#5 Low-Maintenance Plant
Some plants require complex care. Those may need constant watering, a certain amount of sunlight hours, fertilization, pruning, ideal humidity, etc. Some plants can be really difficult to keep alive.
But, it isn't the case with the Mother-in-love tongue plant! It is one of the easiest plants to grow. Snake plants adapt to all conditions, regardless of sunlight and moisture. You can leave the plant for days or even weeks without water and it will grow without any issues.
In fact, the best thing you can do for your Snake plant is to leave it alone. Find a nice place for the plant in your room and let it be. Water the plant occasionally, and it will thrive under all conditions!
Next, the Snake plant is almost free of all pests and insects. On rare occasions, the plant can suffer from spider mites. The problem is easily solved with increased humidity in the room. Mealybugs infestation is rare but possible. If your plant is under the attack of mealybugs, wet the cloth with alcohol and wipe the leaves.
The only problem you can expect with your Snake plant is root rot. But, it only happens if you overwater the plant. Luckily, letting the plant dry out completely usually solves the problem so your plant continues to grow!
All things considered, Sansevieria has a great visual and beneficial impact on the air, but only requires basic care. It makes it a great indoor plant!
Find out why are the leaves of your Snake plant falling over
#6 Simple Propagation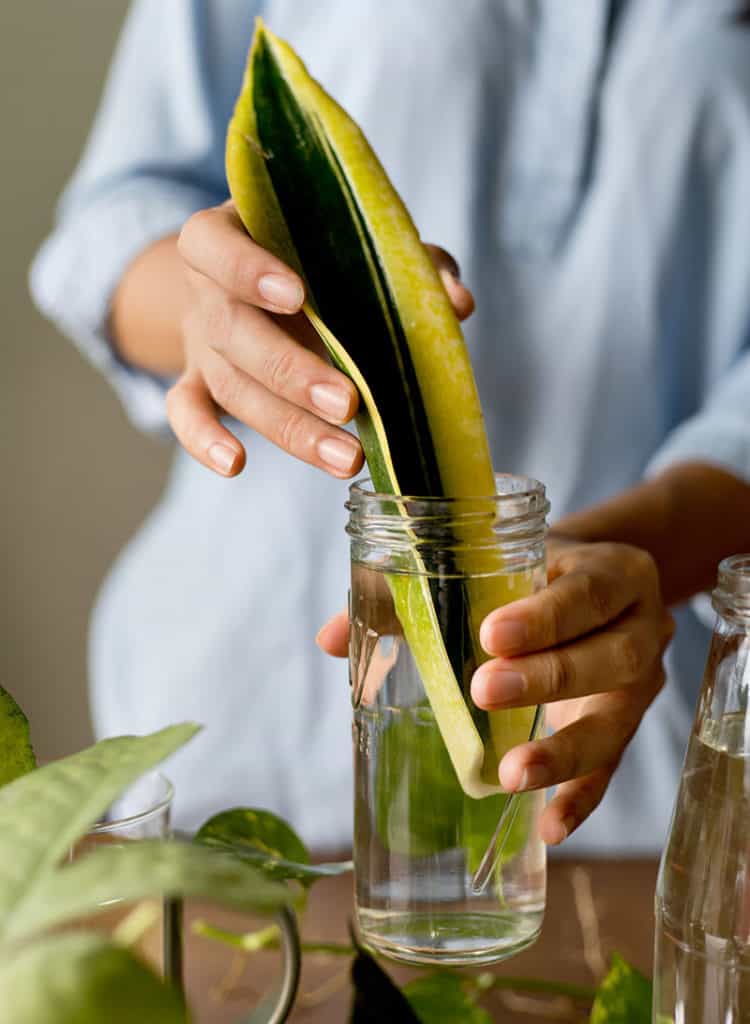 Alongside simple care, the Snake plant is easy to propagate. It is a cheap and quick way to get new plants and spread them around your home to ensure good air quality everywhere!
You can propagate the Snake plant either by leaf cut or with rhizome cuts.
The process is so simple that even beginners can do it. If you choose a rhizome cut, cut it close to the stem. Placing a rhizome in a glass jar with water will help the plant develop stronger roots. Once the roots have been established, you can easily transplant them to a pot.
The process is the same with leaf cuts! Get a leaf cutting and put it in a jar with water. Watch one of the leaves develop roots as a sign that you can plant your young Snake plant in the pot.
Quick guide to propagating Snake plant through leaf cuttings
#7 Great Visual Impact
Sansevieria is a beautiful houseplant. With the long and narrow foliage, a Snake plant is an eye-catching detail in every room. But, it isn't too showy and it is difficult to display with other plants.
A great thing about the Snake plant is its versatility. Sansevieria is bright green, so it looks stunning in rooms with neutral furniture and a neutral or pastel color scheme. When mixed with white details, the Snake plant makes a beautiful contrast and provides balance.
Also, because the plant is adaptable to all lighting conditions and can survive even in the dark, the Snake plant can be placed anywhere as a great decoration.
You can put it on tall stands in dark corners, use dark or light pots, glass bowls, etc. Snake plants in wooden pots help you achieve a rustic effect.
Planting a Mother-in-law tongue in the simple, minimalistic pot will emphasize the foliage and blend well in modern indoor spaces. Brown pots are classy and work with almost every setting! As you can see, there are numerous ways to use Sanseveria to decorate your home!
#8 Grows Where Other Plants Cannot Survive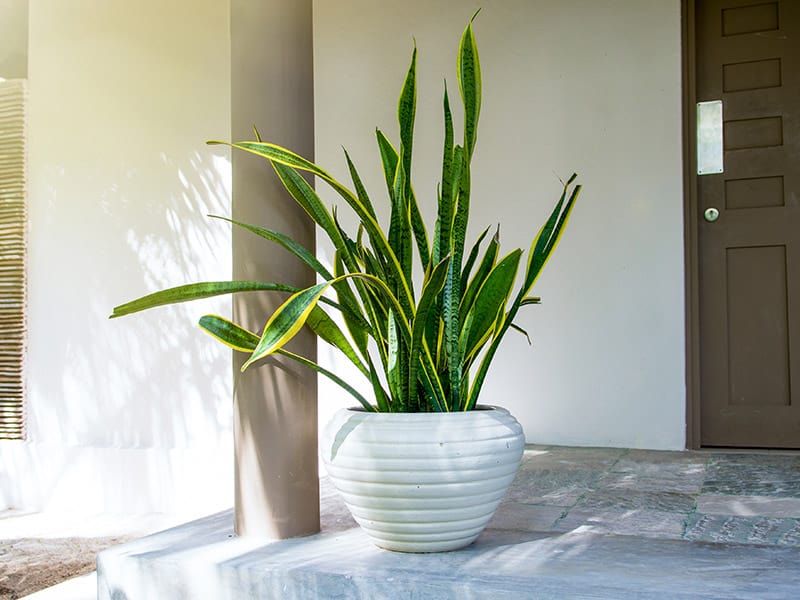 Here is another benefit of the Snake plant to consider. Because of its resilience to drought, humidity and lighting, the Snake plant grows where almost no other plant can survive. It is an amazing feature of the plant and a great way to decorate not-so-plant-friendly spaces in your home.
Additionally, you can grow the Snake plant indoor and outdoor. It is a tropical plant, so the plant likes warmth, and makes a stunning decoration on the patio or your balcony.
The safest way to get your Snake plant through winter is to bring it indoors. But, with the proper care, the Snake plant can survive winter outdoors. First of all, let the soil in the container dry.
Dry soil increases the resilience toward cold temperatures, so water sparsely when the temperatures drop. Be careful not to allow the water to touch the leaves or stems and water only at the base of the plant.
Also, don't use fertilization during winter and move the plant where it can receive more sunlight.
In most cases, Snake plants are grown in containers. But, you can also grow them in soil. But, pick a place exposed to plenty of sunlight, to help the plant grow stronger and resilient to cold. Avoid overwatering.
Next, use all-purpose fertilizer during the growing season to help the plant establish stronger. It is also important to remove weeds regularly, to prevent them from absorbing helpful nutrients instead of Snake plants.
The simple way to treat fungus on Snake plant
#9 Anti-Cancer Plant
Formaldehyde is on the list of the worst carcinogenic substances. Unfortunately, formaldehyde is also one of the carcinogens we are exposed the most to because it is a common industrial disinfectant.
You can also find it in composite wood products, insulation, glues, paper products, cleaning products and cosmetics. Shampoos, toothpaste, shower gels, nail hardeners, soaps may contain small amounts of this toxin.
Formaldehyde is absorbed through inhalation, so it might not be harmful in all products.
Snake plants can remove formaldehyde from the air and reduce the possibilities for inhalation. Therefore, it can help prevent cancer to some point, but more research is needed in terms of the reach and importance of formaldehyde removal.
#10 Snake Plants Improves Sleep Quality
Undoubtedly, the Snake plant improves the air quality in the room. During the night the plant produces fresh oxygen, increases humidity, and removes toxins.
All of these positive features combined help people relax and sleep calmly. If you have trouble falling asleep, try placing a Snake plant near your bed. The plant provides a better sleeping environment so you will get up refreshed and ready to cope with every new day ahead!
Frequently Asked Questions About Snake Plants
If you are on the fence with Snake plants, here is a section that might be helpful. Let me clear out the most common and important questions about Snake plants so you can make an informed decision whether the plant is good for your needs!
If you don't find the answer you were looking for, please ask in the comment section!
Embrace the Low-Maintenance Snake Plant and All The Benefits
As you can see, the Snake plant has it all – low-maintenance nature, great appearance and plenty of benefits for your health and the environment. Also, the plant is readily available in plenty of nurseries and never goes out of style. Therefore, if you have been looking for a new plant to grace your plant collection Dracaena trifasciata or Snake plant is a perfect choice.
Have you known any of the benefits from the list above? Will you grow a Snake plant?
Come back for more interesting articles about plants!