Are you looking for some excellent strawberry planter ideas? Here are things to try and expand your growing space and boost your harvest!
I will walk you through the best DIY ideas for growing strawberries in pots and containers. Luckily, strawberries grow well in containers of all types, and inspiration is all you need to grow strawberries most efficiently and stylishly!
Before we move on to the planter ideas for strawberries, here is what you need to know about growing these red treats! Strawberries don't need a lot of water and need space to grow. Ensure your containers are on the bright spot, and excellent container drainage is a must!
Check the list and get ready for the best DIY strawberry projects!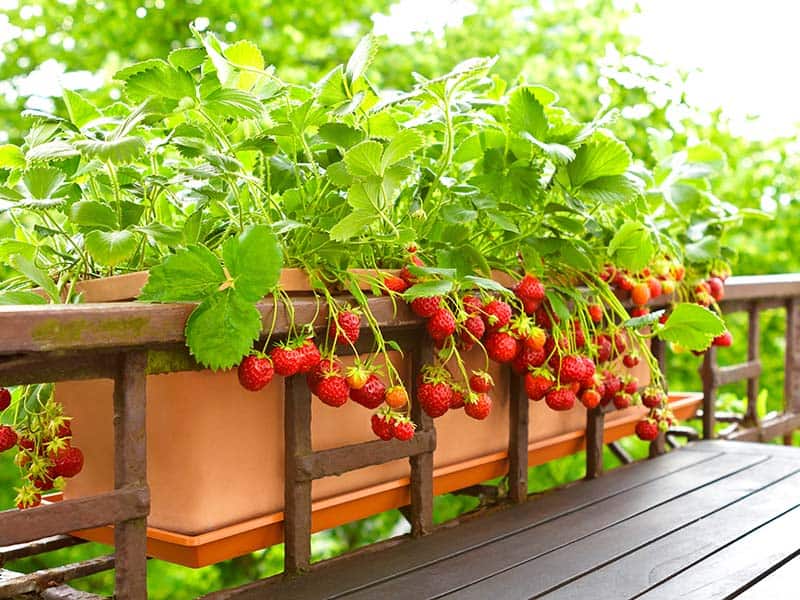 1. Tube PVC Planter
Growing strawberries in a PVC pipe is a great way to save space and grow more plants than ever! Get a PVC pipe and cut 1 1/2 inch holes at a six inches distance. Insert wire mesh inside the pipe to hold the soil and plants. You can position the pipe planter vertically or horizontally!
2. Wood Pyramid Planter DIY
The next idea requires some carpentry tools and skills! Build a pyramid planter for strawberries and herbs from available plans you can find online. You'll have to make a frame first and then create all the pieces separately. Assembling is the last step before planting your strawberries.
3. Vertical Planter For Patio
Build a vertical wood tower for strawberries with cedar fence pickets. Don't use pressure-treated lumber for the project, as it may contain chemicals that can damage your plants. Once you create the wooden tower, drill the holes for your plants. Don't forget to sand the construction to make it smoother.
4. Strawberry Pot
Strawberry pots are an excellent way to maximize your crops. You can buy these pots in the gardening shops or use the ones for herbs.
Planting a strawberry pot might be a bit tricky for rookies, but if you pick small plants, you'll finish the task easier. Don't forget to use fertilizer to help your strawberries establish sooner!
5. The Simplest Strawberry Tower Ever
You already know that vertical gardening is your solution to lack of space, but have you tried pulling up pots to get more planting space?
You'll need several pots of different sizes, and the footprint required for the project is the one from the largest container. Fill pots in half and then add the larder pots on top! Continue until you don't have any pots left!
6. Tiered Planting Solution
To create a tiered planter, you will need wood planks, basic carpentry tools, and a plan! The bottom planter should be spacious and sturdy so it can hold the rest of the plates. Before you fill it with soil, find a place for it. Otherwise, the planter will be too heavy for moving!
If you are worried about watering your plants, a PVC pipe will be a suitable solution.
7. Pallet Planter
You can make privacy screens from old pallets and also flower planters. They can also work for strawberries! The cascading strawberries look beautiful, and harvesting fresh fruits becomes easier! You'll have to do some cuts and build a backside wall for the planter, but you will love the final result!
8. Recycle Old Plastic Bottles
Plastic bottles are common material for gardening DIY projects. They are easy to work with and cheap! You can grow strawberries on your balcony in several plastic bottles. Cut them in the middle and hang them where the plants will receive enough sunlight.
You can also use 1.5-gallon containers for the project. Don't forget to use transparent bottles and remove all labels so the roots are exposed to sunlight as much as possible!
9. Tin Cans As Planter
Save your cans from beans and use them to grow strawberries! You'll have to drill holes in the cans on the bottom for drainage. Plant and grow strawberries in cans as you would use regular pots and display them in a bright spot!
You can have your kids decorate the cans for a more appealing display!
10. Rectangular Pallet Container
Use an old pallet of wood to build a versatile garden container. You can grow strawberries and other plants easily in it. One pallet in good condition with all nine facing planks will be sufficient for one medium-size container.
If you need more containers, purchase more pallets and repeat the process! You can complete the whole construction with a handsaw, hammer, and nails!
Cut the pallet into three equal pieces and connect them together to build a container.
11. Grow Strawberries in Hanging Containers
Using hanging baskets on your patio is a great way to enhance your plant's collection. Plant strawberries in hanging baskets and enjoy the lovely appearance of baskets on your patio and fresh fruits every several weeks!
I recommend using compost or fertilizer after planting to boost the health of your young plants!
12. Build A Strawberry Wall
If you have a sunny spot on your fence or wall, don't waste it! Instead, attach containers on every inch of the wall where your plants will receive sunlight and grow!
Vertical gardens are trendy and practical, and strawberries are the easiest fruits to grow in wall gardens. You can mount the shelves on the wall or attach containers directly.
13. Self-Watering Planter
Strawberries are the perfect choice for self-watering planters because they are compact and have shallow roots. If you want to build a self-watering system yourself, you'll have to make a wicking system with cotton, microfiber, felt, or nylon.
The alternative is to purchase self-watering pots. You can also get several pots and make a stacking planter by yourself.
14. Plastic Barrel Planter
Making a plastic planter for your strawberries out of a plastic barrel is a project you can complete in one afternoon. Prepare a grinder to cut the barrel, heat gun to treat the cuts, and old bottles to loosen the cuts!
It is as simple as that! If you don't like the color of your plastic barrel (they are usually blue) you can repaint it to match your style preferences.
15. Bucket Planter DIY
If you have an old bucket, don't throw it away. Repurpose it and transform it into the strawberry planter. Use a drill to make holes on the sides of the bucket.
The trick to making a perfect bucket planter for your strawberries is to insert the plastic bottle in the center of the central bucket! It will make all the difference and ensure your plants are evenly moisturized.
What you need to know about growing strawberries in containers.
16. Strawberry Pillar for Narrow Space
DIY strawberry towers are usually wide and can take a significant amount of space. If only a small area on your deck receives enough sunlight for growing strawberries, build a narrow construction – a strawberry pillar if you want!
Connect narrow wooden planks and drill holes on all four sides. You can keep the pillar in the garden or secure it on your deck. Put the tin pipe inside the pillar for watering and add soil and plants!
17. Make a Shoe Organizer Planter
Here is a cost-effective idea to try this spring! Use a shoe organizer to grow your strawberries. The same idea also works for various herbs and smaller plants.
Pick the organizer with a breathable back and poke small holes in each section for drainage. You can use a door hanger to hang your budget-friendly vertical garden.
18. Simple Window Boxes For Strawberries
Strawberries are versatile fruits, and you can pick whatever container or pot you want to grow them. Simple, cheap rectangular window boxes will work great. You can position them on a shoe shelf or let them sit on the window sill.
However, pick strawberry varieties well, because not all types of strawberries grow well in containers. Some are better suited for sunny gardens.
19. Growing Strawberries in Plastic Bags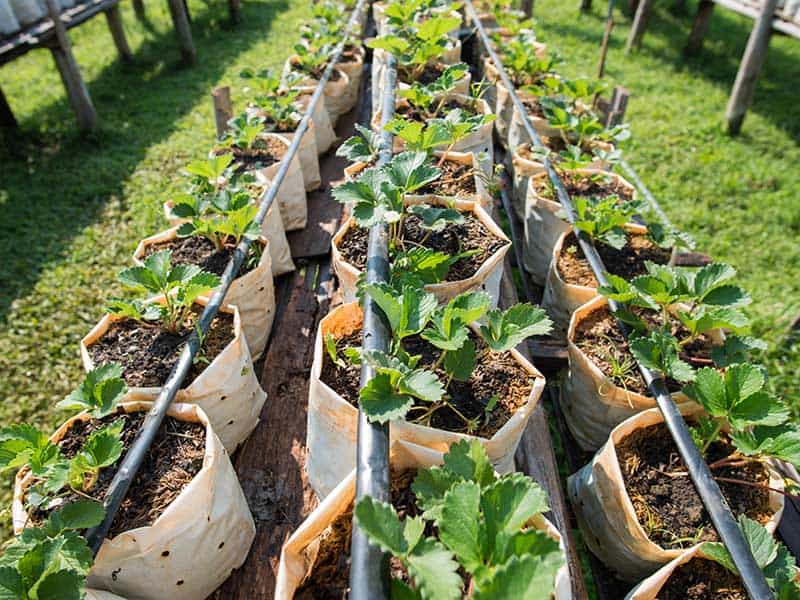 Plastic grow bags are a modern trend in strawberries growing! Pick bags smaller than two-gallon capacity for compact varieties and only plant three strawberries per bag. Even though strawberries are compact plants, they still need room to grow.
20. Pick Fabric Containers As Simple And Durable Solution
Fabric containers are a better alternative to plastic bags. These are more eco-friendly planting solutions and can be reused for other plants as well. Basically, you can use a fabric container like any other container.
Use a soil mix with peat, coir, and compost and add a tray for strawberries. It will ensure your strawberries are well-watered!
21. Versatile Mason Jars For Small Gardens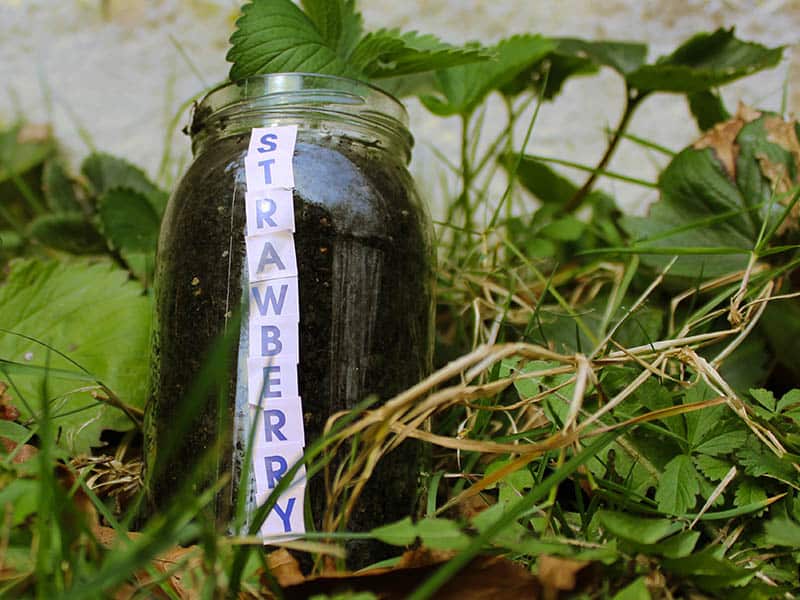 Mason jars are versatile items and you can use them to plant juicy strawberries. But, if you choose a mason jar instead of a regular pot, you have to provide proper drainage.
Fill the bottom of a mason jar with gravel and use nylon pantyhose to separate gravel from the soil. Then, add soil and make soil pockets to plant your strawberries and pat the soil. Repeat the process for as many strawberries as you want!
22. Rain Gutters For Maximum Space Use
Using rain gutters for growing plants is an efficient way to expand your garden and use the space maximally.
Keeping the strawberries off the ground is beneficial because it will ensure they get more sunlight and they stay clean. Also, you won't have trouble picking fresh strawberries when they are ready!
However, grow strawberries in gutters only if you live in warmer zones, so you don't have to worry about root insulation.
How to make a strawberry rain gutter.
23. Use Old Car Tires
People often use old car tires to grow flowers and herbs. You can either grow your strawberries in one car tire or make a tire pyramid! The first step to do is to level the ground where you would keep the tire pyramid. It will prevent improper drainage.
Mix soil and compost to create the best environment for your plants!
Things to know before you use old tire as a planter.
24. 2 in 1 Strawberry Planter and Garden Sprinkler
Strawberries planted in soil don't need a lot of water. However, the ones in planters need more watering, especially during warm and dry weather. The same applies to the majority of plants in your garden!
Therefore, you can make a sprinkler system in the middle of the strawberries planter! You don't need a lot of money at all, but a few hose adapters are required. A construction like that will keep your lawn fresh and well-watered.
25. Cinder Block Strawberry Planters
The hole in cinder blocks makes an excellent place for growing plants, strawberries included. When growing strawberries in cinder blocks successfully include additional soil in the block center to cover the roots.
Unfortunately, you also need to keep an eye on the weed and check it weekly. However, be gentle when pulling weeds to avoid disturbing delicate strawberries' roots.
You can group several blocks to create attractive planting construction!
26. Save Wine or Old Whiskey Barrel
Even people with small gardens can successfully grow strawberries, but they need to be creative! An old wooden barrel is one of the possible creative planting solutions. Before you add soil and your plants, put the empty barrel in full sun.
Don't forget to clean the inside of the barrel to ensure there aren't any chemicals that could affect your crops.
27. Crates Planters
If you need a budget-friendly and simple solution for growing strawberries, pick wooden crates! Not only are crates cheap, but they can also be stylish and you can use them for various flowers and herbs.
Drainage is essential, so check the bottom of the crate. Sometimes, crates come with a slatted bottom, which ensures quick drainage.
If the water is draining too slow, drill a few holes in the bottom to improve the drainage.
28. Grow Strawberries in Hay
Here is a crazy idea that will amaze you with its results! Grow strawberries in the hay!
Did you know that hay bales or straws are great for growing fruits? It prevents root rotting and fungal diseases. Also, when you grow strawberries in hay bales, you can pick fresh fruits easier.
To get the best crops, only plant strawberries in hay bales when there is no danger of frost.
A crazy gardening hack – use the straw to grow strawberries.
29. A Wreath For Strawberries
A living strawberry wreath is not only a piece of art and a beautiful landscape decoration, but it is also a way to use the space maximally.
You can make a strawberry wreath easily with a wire wreath and regular potting soil.
Ideally, use a wire wreath form, which contains liner. Poke holes on the liner and fill them with soil. Secure the loose plants with a florist's pin and water frequently.
30. Laundry Basket Planter DIY
Growing strawberries in an old laundry basket is an easy project. You can also use the old basket if it isn't too damaged.
Prepare a large cloth to put inside the basket and poke the holes for your plants before you fill it with soil. Water thoroughly after planting and put the basket in full sun!
A quick video tutorial in transforming ordinary laundry baskets to strawberry planter.
31. Wooden Ladder Planter
A ladder planter for strawberries consists of three or more vertical tiers. It is a perfect way to save space and bring the strawberries above the ground!
You can build a ladder planter for strawberries if you keep every tier shallow and wide to pack as many plants as possible. Before you start, create a scheme for cutting materials or use available PDF online.
32. Wheelbarrow Planter For Strawberries
Repurpose an old wheelbarrow to make a lovely, stylish and practical wheelbarrow planter! Before you fill the wheelbarrow with soil, use a drill to make drainage holes. Move the wheelbarrow to a sunny place and plant your strawberries.
Add liquid fertilizer and water freshly planted strawberries thoroughly to help them establish as soon as possible.
Why Pay For Strawberries, When You Can grow Them In Various Planters Everywhere
The key points when growing strawberries are a lot of sunlight, excellent drainage, and root protection! When you know that it is easy to customize planters! You can use wooden crates, old barrels, plastic laundry baskets, old tires, and whatever you have on your hand to grow your strawberries.
I am interested in trying fabric containers to see how that will turn out! What about you, which strawberry planter idea seems the most appealing to you?
If you enjoyed the article, please give it a thumbs-up. Share it with your friends! Come back for more gardening information and lists!