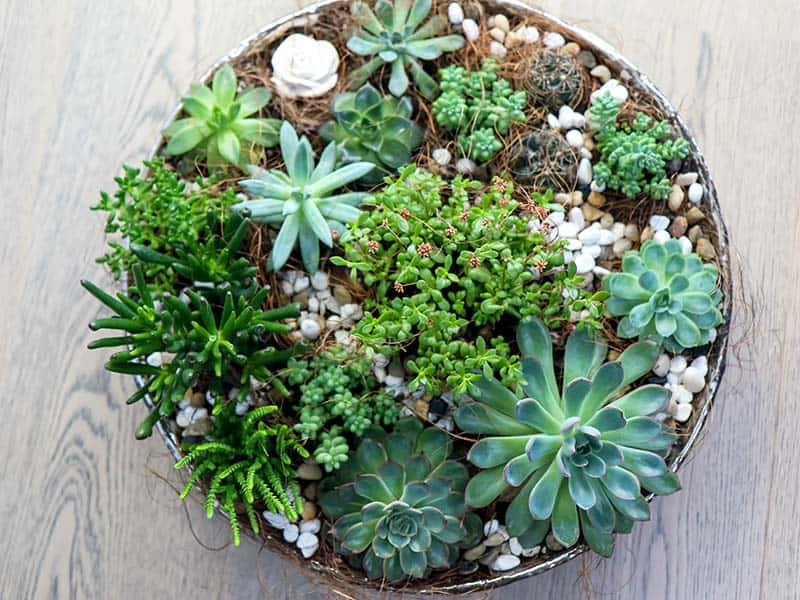 Here are wonderful succulent planter ideas to get the most of your succulent collection! Check the article and find out what you can do with your succulents!
Do you need succulent planter ideas, but you lack creativity? Here is the inspiration you need to display your precious little succulents and make stunning decorations!
Succulents are available in all shapes and colors, and some of them look out of this world! It makes mixing, displaying, and planting them fun!
The following list features the most beautiful ideas to display succulents indoors and outdoors! Let's start, we've got a lot to cover!
1. Wood Log Succulent Planter
Using wood logs with flowers, candles and rocks give infinite opportunities for rustic decoration! The first thing to do is to hollow out the wood log and then fill it with soil.
You can also carve out the log so it becomes stable. That way, you can be used as a tabletop decoration. Pick plants according to the size of the wood log.
2. Monogram Planter
You can buy a monogram planter, or you can make one yourself! It isn't too complex to do, and basic tools and materials are needed. For this project to work, you need a piece of wood, miter saw, measuring tape, and materials for succulents, the soil, and plants.
3. Cute Tabletop Centerpiece
Use a reclaimed wood planter to build a base for a stunning succulent centerpiece or a planter box. You can combine it with candles and flowering plants for a really spectacular centerpiece.
If you have an old pallet wood plank, you can also use it for the project.
4. Succulent Wreath
If you have an outstanding succulent collection, combine them in a beautiful succulent wreath to display all the diversity in shapes and colors.
Making a wreath out of your succulents is a fun and easy DIY project which uses a moss wreath as a base. Use green pins to secure the plants on the wreath and spray them with water to keep them fresh.
5. Outdoor Chair Planter
Once your outdoor chair loses shape and becomes unsafe to sit on, transform it into a planter! If you like the idea and you don't have an old chair, you can get one at thrift shops, or backyard sales. You'll have to remove the upholstery, top layer, and prep the chair for planting!
Simple tutorial for a chair planter.
6. Cute Succulent Turtle
Making a turtle out of your succulents seems intimidating, but it is quite simple to do! You'll need four smaller pots for the legs, a large one for the body, and a few more items to complete the look. Chicken wire will help keep everything in place and restore the shape.
7. Birdcage Planter
You can easily transform an old birdcage into a succulent hanging planter. It can be perfect outdoor and indoor vintage decoration. Succulents are great for this project because they are drought-tolerant and visually attractive.
The trick is to hide the nest you will fill with soil for succulents and then fill it with plants.
8. Broken Pot Makes The Beautiful Fairy Garden
The beauty of DIY projects is that you can repurpose everything, even broken items such as pots! Transform a broken pot into a magical fairy garden. Add moss and a combination of different succulents to create a lovely fairy garden.
You can also use plastic garden decorations, such as home and fairy figures as a final touch!
9. Cute Fake Stone Pot
Yes, you can use stones for decoration. But, you can also make a planter out of them! Pick river stones for larger succulents or smaller rocks for tiny succulent plants. Build a base and wait for the construction to dry before filling it with potting soil. Then, it is safe to add plants!
10. Cinder Block Planter
Cinder blocks can be used for succulent groups or larger single specimen succulent plants. You can use tape or color to customize the block to make it more attractive. Use cacti potting soil for your plants.
Next, rocks are great for simple and cheap decoration! Luckily, there are endless possibilities for combining plants!
11. Unusual Pots
The easiest way to spruce things up when it comes to displaying your plants is to choose some unusual pots! Nowadays, you can find pots in all shapes and sizes. I like Jin and Jang pots which fit in together perfectly!
12. Paint the Pots
Instead of buying unusual pots, you can make your masterpieces! It is easy to paint terra cotta pots with acrylic or spray paint, but you can also use nail polish. Wake up the artist in you and have the whole family participate in this colorful DIY project!
13. Succulent Hat
If you have an old stray cat you don't wear anymore, save it for decoration. One of the things you can make from it is impressive succulent decoration! You can wear the hat for striking photo shooting or decorate indoor or outdoor space with it!
14. Succulent Frame
There is so much you can do with wooden photo frames. You can get those at great prices in dollar shops. If you are proud of your succulent collection, frame it and hang it on the wall as a beautiful succulent picture!
But, if you want to keep your plants fresh and alive, you'll have to use a shadow box and plywood backing.
Succulents top care tips for beginners.
15. Tea Cups for Small Succulents
Do you know what makes charming planters for all those tiny succulents you have around in plain, little pots? The answer is teacups! Use a drill to make the drainage holes and keep the roots healthy!
Can you use broken tea to make planters?
16. Shower Caddy Wall Planter
The easiest way to display your succulents vertically is to use an already built planter holder – a shower caddy! It is also easy to attach to any wall apart from your shower, and can look delightful when you fill it in with different succulents.
17. Typewriter Planter
Don't throw the old typewriter yet! Instead, make a vintage planter from it and create a unique and attractive succulent planter. Combine succulents with moss for an even better effect!
Sure, you can use fake plants for the project, but I always recommend real succulents!
18. Don't Throw Old Footballs
Is your kids' football pierced? Save it and make a planter out of it. The hole can work as a drainage hole, and you'll have to make a couple of more to keep the soil fast-draining. If you have football fans around the hose, a football succulent planter is a perfect decoration for their rooms!
19. Vertical Planter
People whose plant collection is fast-growing soon may lack space for displaying. It is when vertical gardens come into the spotlight! Making a vertical garden is an advanced gardening project.
But, with succulents, you have better chances for success, because they are low-maintenance and drought tolerant.
20. Mason Jar Planters
If you don't feel very crafty, you can put your succulents into mason jars! However, prepare the soil well to ensure good drainage. Adding pea gravel will help the drainage so you don't have to pierce the holes in your mason jars. Try with colorful stones to decorate your planters!
21. Pallet Wood Boxes
If you have the leftovers from a pallet you've already used for another DIY project, save them. You can build cute succulent box planters in less than an hour! The project won't cost you much, and you can complete it in an hour.
Don't forget to use well-draining soil in these planters to provide your plants with an excellent start!
22. Succulent Ball
Here is an idea that will transform any outdoor place – a succulent ball! It is an advanced version of a hanging basket but may take a little time and effort to make.
You'll need cardboard, a metal hanging basket to hold the shape, foam blocks for filling, moss, florist pins, a chain, and simple tools such as a screwdriver and scissors.
23. Try Mini Clay Pots
Did you know you can make your own clay pots, instead of buying them? Making clay pots for your succulents gives you more opportunities for customization.
It is also a perfect family project. You can make mini clay pots from toilet tubs and several additional items!
24. Glass Planters
Glass planters will never go out of style. You can purchase dedicated glass containers, or repurpose old bowls or glasses for succulents.
However, taking care of plants in glass containers is slightly different. These containers don't have drainage holes, so soil preparation before planting is everything.
25. Hanging Succulent Planter
Decorating your patio with a hanging planter is a stylish way to display your gems! You can make a hanging succulent planter yourself without spending too much money.
Your best allies for the project are the embroidery hoop and ceramic bowl.
26. Seashell Succulent
Seashells are beautiful crafty material you can use to decorate almost everything. But, if you have larger seashells, you can glue them and make multiple-planters for your tiny succulents! It will add a tropical vibe to every space!
27. Large Cement Planter
Find an attractive mold you'll use to create a gorgeous cement planter. You can find various molds in dollar stores. You'll also need a cement mixture and protective gloves for working. Ensure the cement is completely dry before you add soil and plants.
28. Three Tiered Succulent Planter
Displaying succulents in multiple vertical rows is an easy way to combine as many succulents as possible in the smallest space. It also gives you many options for combining in terms of shape and color.
You can arrange the plants by their size, color, type, etc. Some people prefer to repurpose an old cookie saucer and repurpose it, and some enjoy making three-tiered planters themself.
29. Tree Trunk Planter
The old rotted tree trunks can ruin the look of your garden. But, if you make an outdoor succulent planter from a tree trunk, things get better! You need to prepare the tree trunk and remove the rotten parts before adding soil and your plants.
If you want to make a mobile planter, remove the part of the trunk with a chainsaw. Then, attach the plastic piece to the bottom. That way, the tree trunk will work the same as any other planter!
Don't cut the trunk back, make something out of it.
30. Bird Bath Succulent Garden
Here is the easiest DIY succulent planter idea with the most stunning visual effect! If you have an old birdbath you wish to remove, keep it and make a succulent planter!
You'll only need to clean it well and prepare well-draining soil and several succulent plants! Pick plants according to their light requirements and birdbath position in the garden.
Making a planter from a cracked bird bath.
31. Driftwood Succulent Planter
Did you know driftwood can be a beautiful base for your succulents? It only takes a little bit of implantation and creativity to transform driftwood into a beautiful planter. If driftwood has holes, use them to accommodate your succulents. If not, floral glue will help to secure the plants on top.
32. Succulent Fan Planter
Old fan models with wires might not be as effective as AC units to cool you down, but they can make beautiful planters for your succulents. A planter like that seems like a unique piece of vintage decoration, and you can easily make one by yourself.
Cover one side with a mesh that will hold the plants and soil. Cut the mesh to match the preferred shape.
33. Book Succulent Planter
If you've just finished reading the hardcover book which you don't intend to read again, make a succulent planter. The larger the book, the more space you've got for plants. You need to carve the hole inside the book first. Fill it with soil and pebbles for improved drainage and add plants, rocks, and figurines!
34. Glass Bottle Succulent Planter
An old wine bottle can serve well for various craft projects, including succulent planters. You can cut it to make a pot-shape elegant and narrow container. Fill the bottle with soil and plants and display! The alternative is to make vertical holes in the bottle and put plants inside!
35. Aztec Temple Planter
There is so much you can do with wooden planks, glue, a nail gun, sandpaper, a bag of soil, and several succulents. Making a standard wooden planter is one option.
Those who feel very inspired can make an Aztec temple planter! I recommend sketching the planter before you start working on it, so you have the scheme to follow.
36. Boots Planter
Here is an idea to keep your old favorite boots alive! Give them new life by making an authentic succulent planter. Because they are old and you'll never use them again, you can confidently pierce drainage holes in them. Fill them with airy, well-draining soil and add succulents!
Endless Planter Options For Succulents
Succulents are such beautiful, low-maintenance, and easy-to-handle plants! It makes them ideal for DIY planters! As you can see, you can make a succulent planter out of everything, including books, bowls, dishes, cement, wood, etc.
Which idea is the most attractive to you? In this case, I prefer the crazier, the better! So I will pick a hat as a base for my succulents! I may pair it with my old boots to make the display complete!
I hope you find the list useful! If you did, don't forget to give it a thumbs up!