Are you looking for the most attractive Syngonium varieties for your home? Here is a list for you! Syngonium or the popular Arrowhead vine plant is an old-time favorite plant in many households!
The plant has specific pointy leaves, which resemble the look of arrowheads, hence the name. Arrowhead is a trailing plant, which makes it great for hanging baskets and trellises.
Most indoor Arrowhead vine varieties are relatively easy to grow. You can find cultivars with dark and lush leaves, variegated foliage, even bicolored ones!
Let's hop right into the list of the best Syngonium plants!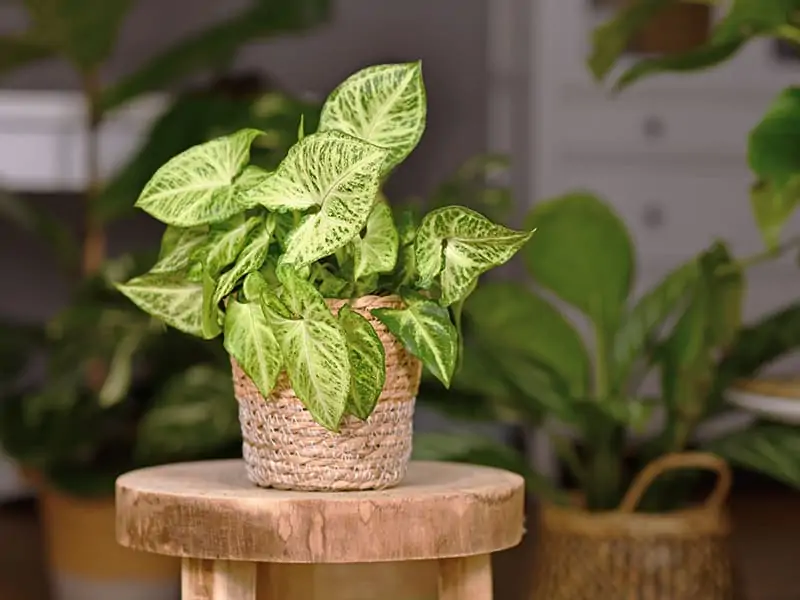 #1 Holly
The Holly variety of Syngonium is a perfect housewarming gift. The plant is easy to care for and isn't picky about the perfect location. Holly grows best in partial shade and indirect sunlight. But, even if your home doesn't get a lot of sunlight, you can put Holly in the shade and it will brighten up every corner.
Therefore, you can put it anywhere near the window and let it grow on its own!
What are the water needs of Holly? Click here to find out!
#2 Emerald Gem
Emerald Gem is a real Syngonium gem. The plant has beautiful, emerald-green leaves, often variegated with pure white. The plant produces showy white flowers as well, and the blooming time is year-round!
Similar to other Arrowhead plants, Emerald Gem is suitable for full and partial shade locations in your home.
#3 Wendlandii
The Wenlandii features true green leaves with bright white centers and veins. The contrast between green and white improves the ornamental value of the plant. Arrowhead Wendlandii is also easy to mix with other houseplants for a stunning plant display.
Like other Arrowheads, Wendlandii is easy to grow but needs slightly more sunlight than other varieties to thrive.
Discover the complete growing guide on Syngonium Wendlandii
#4 Albolineatum
If you are looking for a fast grower and vigorous climber, Arrowhead Albolineatum might be a perfect choice. Young plants feature true green leaves, and in different light conditions, the foliage becomes deep green with white veins.
Albolineatum is a resilient plant that grows best when left alone. You can provide a sturdy supporting structure, like a stalk and it will grow on its own.
Check how variable the Albolineatum leaves can be!
#5 Exotic Allusion
The Syngonium Exotic Allusion looks different from most other Arrowhead indoor types. It features pale green, almost pastel mint leaves with darker borders. The plant needs pruning to stay in the shape you desired though.
Despite its delicate appearance, Exotic Allusion is an easy to grow and toxic plant.
Read more about the Syngonium Exotic Allusion.
#6 Pink Allusion
If the pastel Exotic Allusion seems pretty, you'll probably love the Pink Allusion. It has the same pastel vibe to it, with pinkish and light green foliage. Pink Allusion likes shade, but ensure it gets a minimum amount of sunlight per day.
As the plant matures, the leaves get slightly darker and the pink veins become more obvious!
Find out everything about Pink Allusion!
#7 Painted Arrow
Painted Arrow features creamy white and green leaves. It is a versatile indoor plant, adaptable to most conditions.
You can prune the Painted Arrow to encourage fuller growth or encourage trailing vines. It will look stunning in a hanging basket or around the pole.
Painted Arrow and other Syngonium types rarely bloom indoors.
Discover more information on the Syngonium plant!
#8 Maria Allusion
Syngonium Maria Allusion is a great plant for small spaces. It has a compact growing habit, with rich branches at the base.
The most attractive is the new growth because the young leaves are pink and bronze. As the plant grows, the leaves become dark green with a bronze overlay!
Find out what the soil and water needs for Maria Allusion are!
#9 Pixie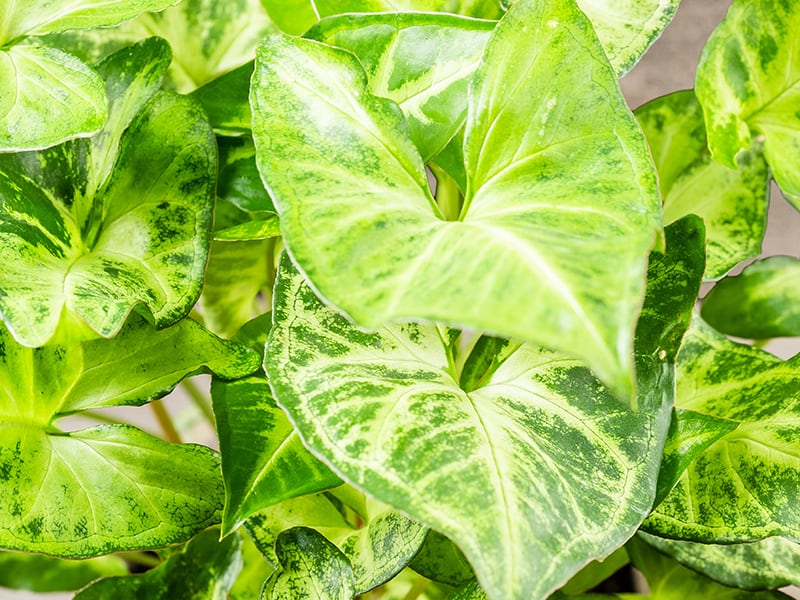 Pixie is a small plant, but strong and vigorous. It is a low-maintenance, fast-growing plant that needs a little bit of love to thrive.
Pixie leaves are white with light green in the center. As time passes, the foliage darkens.
Find out how to take care of the Syngonium Pixie.
#10 Trileaf Wonder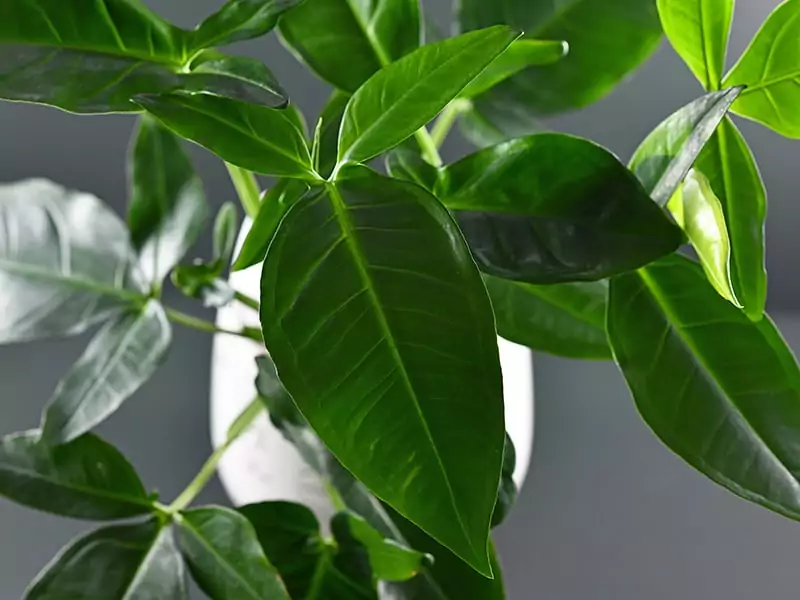 Trileaf Wonder has an exotic vibe due to its large and glossy leaves. The key to having your Trileaf Wonder shiny and healthy is regular misting!
Another interesting fact about the Trileaf variety is that the leaves split into three parts, almost lobs. It is how the plant got the name!
Discover more interesting information on Trileaf Wonder!
#11 Strawberry Cream Syngonium
Syngonium Strawberry Cream is a lovely indoor plant. As the name suggests the plant has foliage in the pastel shade of red and pink, which resemble the color of strawberry cream!
This variety needs a lot of light, but it needs to be filtered. Too much direct light can burn the leaves.
Also, Strawberry Cream doesn't like too much water all at once. Rather, water the plant often but sparsely and avoid soaking the plant in the water!
Here is all you need to know about the Syngonium Strawberry plant!
Discover the best tips for growing any Syngonium variety with this video:
#12 Berry Allusion
Berry Allusion needs an optimal amount of water when the top couple of inches gets dry. The ideal soil for Berry Allusion is rich soil with lots of organic matter.
Generally, Berry Allusion doesn't need a lot of light to thrive. But, if you want the splotches of color to become more obvious, expose the plant to more light.
New leaves are pinkish, with bright pink veins, and have a high ornamental value!
Read more information on Berry Allusion Arrowhead.
#13 Cream Allusion
Cream Allusion is a pale green variant of Arrowhead. It has typical pointy leaves and a trailing growth habit. The plant is low-maintenance and can be pruned easily to maintain the shape you want.
Also, Cream Allusion foliage has light pink veins, which stand out more on the pale green!
Is Syngonium a Feng Shui plant? Click here to find out!
#14 Five Fingers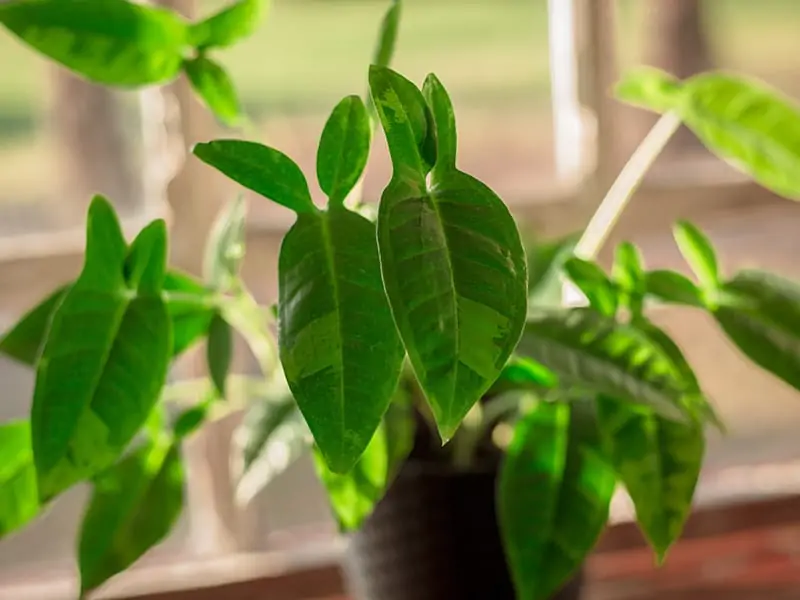 Five fingers or Syngonium auritum has distinct segmented leaves. The plant starts with three segments and develops a maximum of seven segments per leaf as the plant matures! It gives them an attractive fan shape.
Overall, the Five Fingers plant is easy to grow.
It needs medium light exposure and water when the topsoil level becomes dry. Use a well-draining pot and standard potting mix.
Discover when the Five Fingers plant causes stomach pain!
#15 Erythrophyllum
Syngonium Erythrophyllum is sometimes called the Red Arrow plant. It is a relatively rare plant, native to Bolivia and Mexico. The plant has an elegant appearance with dark green and burgundy foliage.
You can train the plant to climb on the supporting structure or have it grow as a bushy plant.
Discover more interesting facts about this rare Syngonium variety!
Learn how to identify new leaves and mature foliage on the Red Arrow plant:
#16 Emerald Green
Here is another emerald variety of Syngonium. It is a lovely decorative houseplant, but it can also be quite effective in air purification. It is different from other Syngonium varieties because the foliage gets a rubber texture when the plant reaches full maturity.
Another name for the plant is Green Allusion.
Here is more information on the Emerald Green plant!
#17 Marble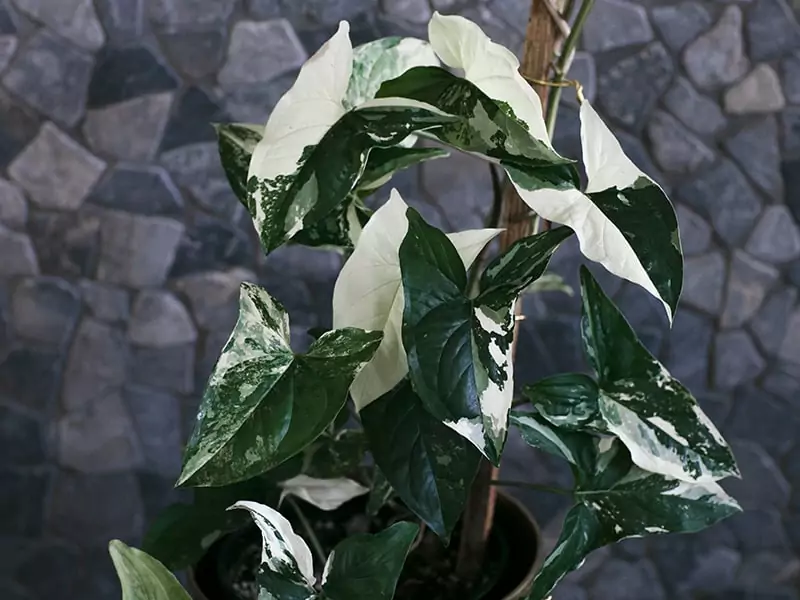 Syngonium podophyllum albo-variegatum or Marble Syngonium is sometimes called the Magic Mable plant. It has light green leaves with chimeric variegation, which resemble the natural patterns of marble stone.
The plant looks best when grown in hanging baskets, so the trailing vines can hang from the pot. The plant grows best in full sun and partial shade locations with a moderate watering schedule.
Read more information on Magic Marble Syngonium!
#18 Three Kings
Three Kings Arrowhead is similar to the Magic Marble variety because of its variegated leaves. The plant has minty green, large leaves with big splotches of dark green color. Contrast on the leaves make the plant more attractive and it can quickly become a focal point in every room!
The plant is a fast grower, but you pinch it back to maintain the compact shape.
Find out how to propagate Syngonium Three Kings!
Discover the difference between Magic Marble and Three Kings Syngonium. Watch the video to know:
#19 Red Spot Tricolor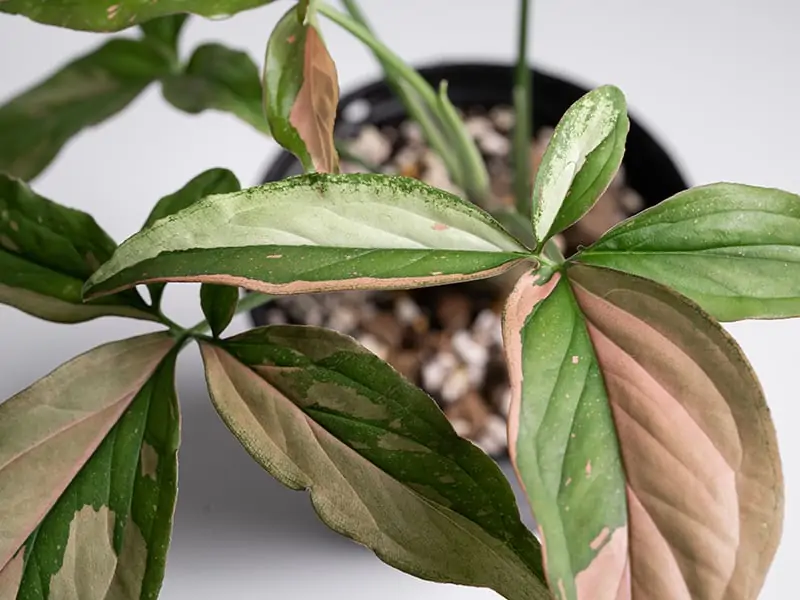 Of all attractive Syngonium varieties, the Red Spot Tricolor is the easiest to recognize! The plant has a tropical vibe, with dark green and hot pink foliage. Moreover, the leaves are speckled with white, hence the Tricolor in the name.
If you get your hand on the Red Spot Tricolor Syngonium, don't hesitate to get it. The plant is rare and difficult to find in most nurseries. Syngonium.
Find out how to identify what is wrong with your Syngonium plant.
#20 Batik
If you prefer greenish plants over pink cultivars, you can choose Batik Syngonium. It develops lush leaves with white veins.
It is a climbing plant, native to tropical areas. Therefore, the plant thrives in humid conditions. You can grow it in the bathroom or anywhere else in your home with regular misting.
Here is how to take care of Syngonium Batik!
Find out how to repot Syngonium Batik:
#21 Syngonium Godzilla
The Godzilla Syngonium is a popular plant among collectors. It is an evergreen vine, tender and beautiful. Once the new growth appears, it is soft and green. As the plant matures, foliage crinkles and develops white centers.
The contrast between new leaves and mature ones makes the plant stand out among all other Syngonium varieties.
Here is what you need to know before you start growing Syngonium in your home!
#22 Syngonium Mojito
Syngonium Mojito needs more moisture than other Syngonium varieties. Regular misting and frequent watering during the growing season are important. The Mojito variety has green foliage speckled with different emerald green, from light to dark shades. It is a decorative plant and can be tricky to find.
It is also up there in price.
Read the experienced-nursery guide for growing Syngonium Mojito.
Syngonium Varieties – A Plant for Everyone
Syngonium varieties offer something for everyone. Whether you prefer classic, green trailing vines or rare multi-colored plants, Syngonium is your choice. On top of everything, the plant is easy to grow and thrives even in low-light areas!
My favorite varieties are Red Spot Tricolor and Magic Marble. Unfortunately, some of the most beautiful Syngonium, such as Red Arrow, are rare.
Which Syngonium is your favorite one? How do you prefer to grow them – in standard pots or hanging baskets?
I hope you find the article useful! Come back for more interesting information on houseplants!